The complete Marrakech Guide For First Time Travellers
Marrakech, also known as  the "Red or Ochre City"  needs no introduction and the name alone invokes images of red sandstone buildings, vibrant souks and unforgettable sunsets.
Founded in 1062, Marrakech has once given its name to the kingdom and served as the country's capital under two dynasties. One of 4 imperial cities and the most known of all, Marrakech has fascinated historians, political leaders and many generations of artists. Winston Churchill believed that "Marrakesh is simply the nicest place on Earth to spend an afternoon" while Yves saint- Laurent has been a regular visitor since the 1960s and upon his death had his ashes scattered around his favourite garden.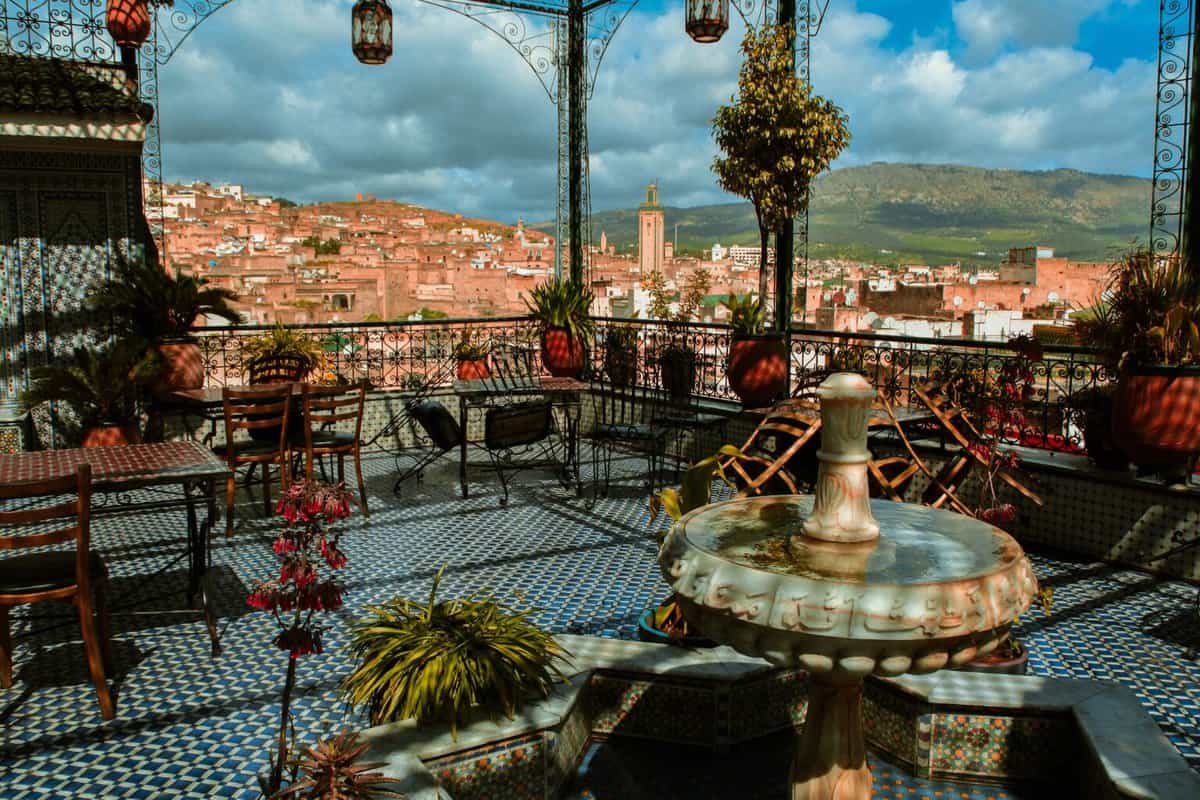 The city has gained a reputation for being a world- class tourist destination and attracts millions of tourists every year.
Although the city is relatively small, there is so much to see and do that you can end up feeling overwhelmed and exhausted on your first visit. Marrakech is one of those places that need to be explored at a slow pace ideally, to connect deeply with its history, its cultural heritage, and its ancient architecture that has stood the test of time. I've been visiting Marrakech since I was a kid and I am always eager to discover new places or revisit old places with a fresh eye and a new perspective.
But if this is your first visit to Morocco and you only have 2 or 3 days in Marrakech then this guide will help you plan ahead so you can see all the major sights and have a memorable time in this enchanting city. 
Getting there
There are many flight options to Marrakech from the UK. Prices depend on seasons with the highest being at Christmas and the New Year, and at the peak of summer. Tickets can be as cheap as £60 with no-frill airlines in the low season.
EasyJet fly from Gatwick and Manchester, and Ryanair from Luton and Stansted. British Airways and Royal Air Maroc fly daily from Heathrow to Marrakesh.
Flights typically take around three and a half hours.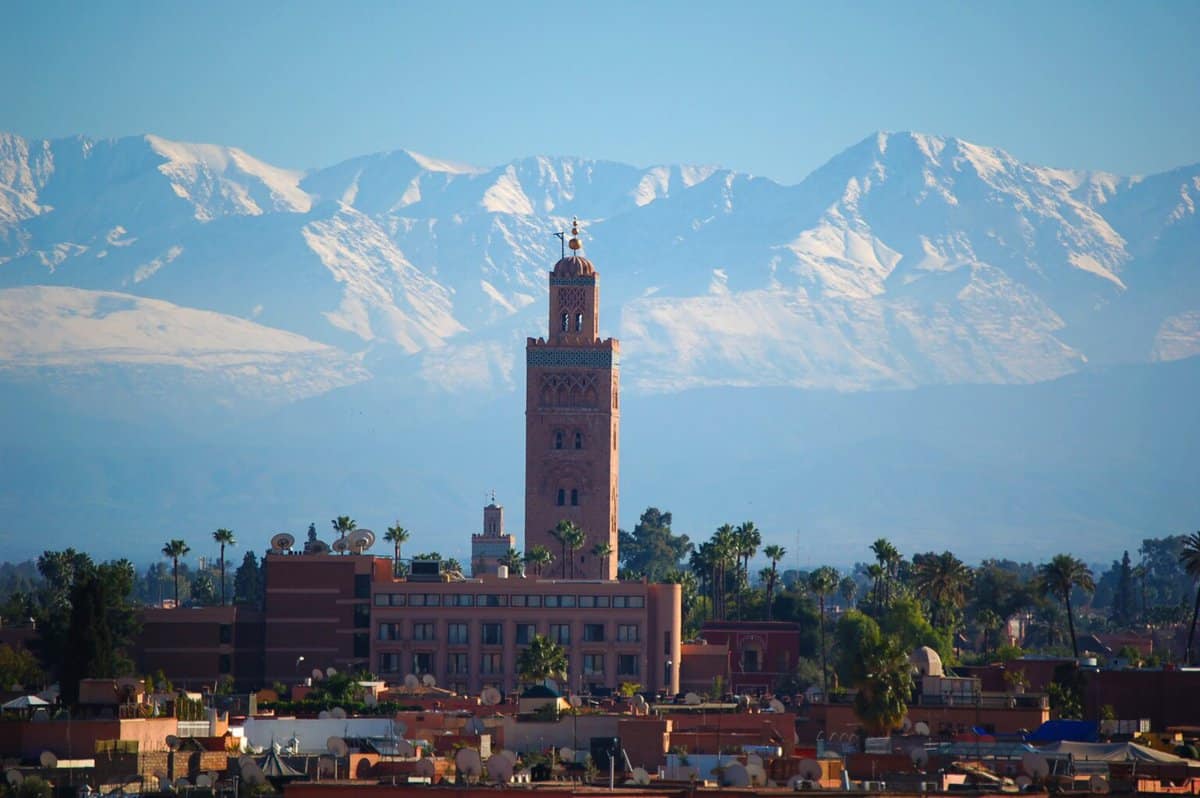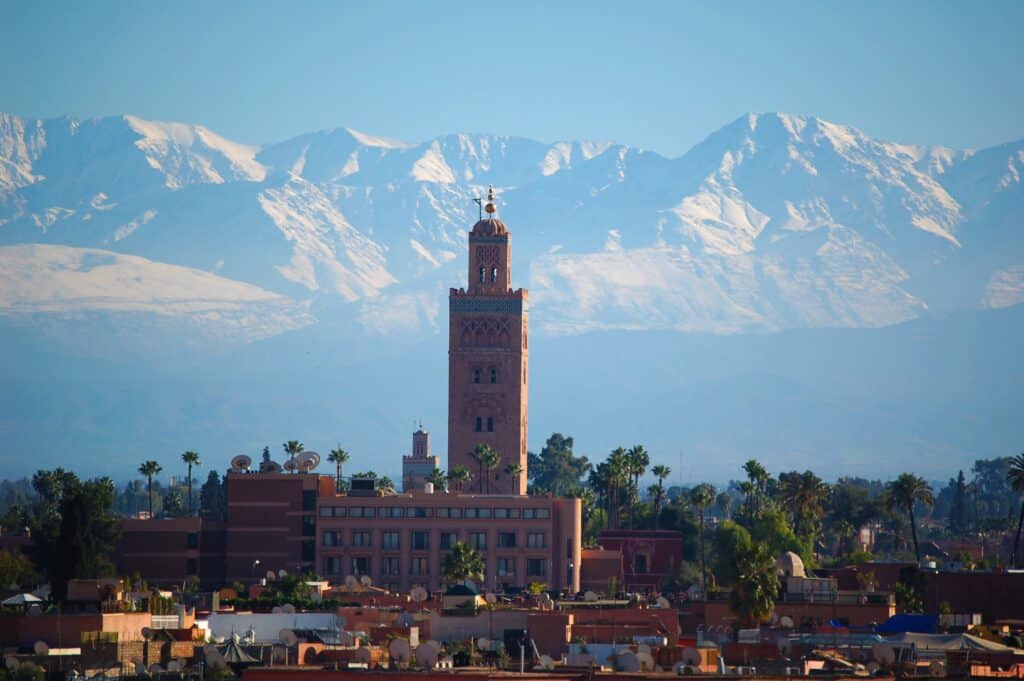 The weather 
Marrakech has a dry climate and can witness extreme heat in the summer months. However, it's not an arid region due to its placement at the foothills of the Atlas Mountains. The wettest period of the year is between January and April when as much as 31 mm of rainfall can be expected each month. July and August are the hottest months when temperatures average 37 °Cand can reach 44°C. It's worth noting that Marrakech has little humidity which doesn't go above 45% even in the hottest months.
Spring and Autumn are the most pleasant seasons for visiting as you can enjoy cooler temperatures during October and November, however the average temperature in September can still reach 33 °C. The rainfall in Autumn increases significantly from an average of 13 mm in September to 27 mm by November.
Marrakech guide for first time travellers
Experience the madness of Jamaa el fna
Jamaa El-Fna Square has been the heart and soul of Marrakech since the 17th Century at least, and today remains a meeting place for locals and tourists from around the world.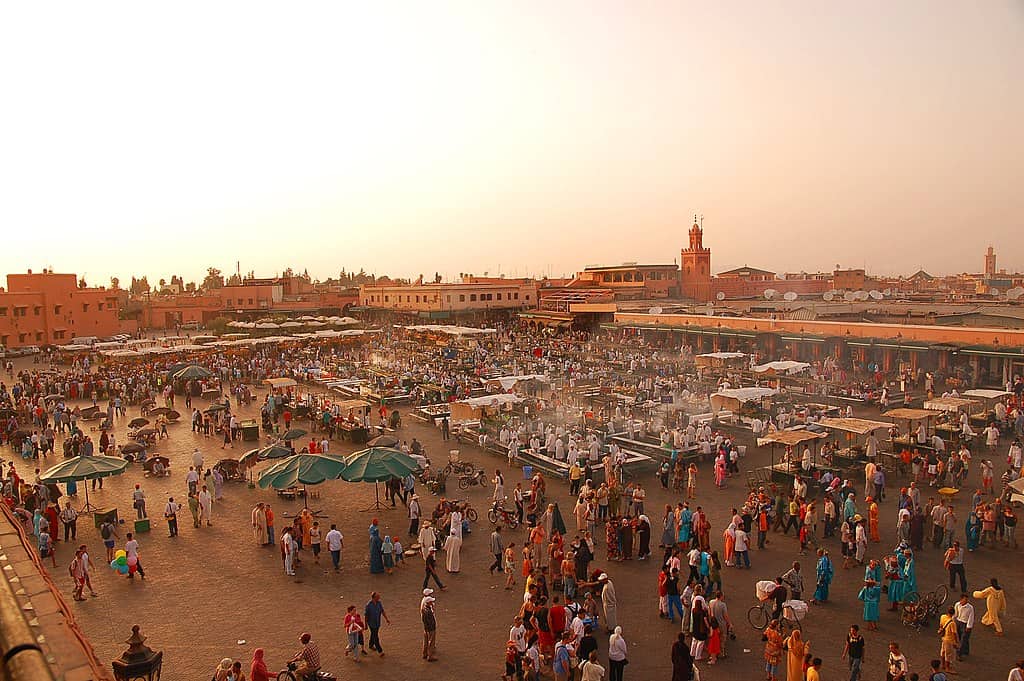 The place bustles with life from morning till night. While it is mostly occupied by fresh orange juice sellers, henna tatooists and herbalists during the day, it's really after sunset that the square comes to life. Here, you will encounter a wonderful chaos of several food stalls, snake charmers, fortune tellers, acrobats and story tellers or as best described by The New York Times:  "It is a marketplace, a fun fair, a medieval fete, a lecture hall, a dance hall, a zoo, a hospital, a psychiatric clinic, a place in which magic still gives science a run for its money".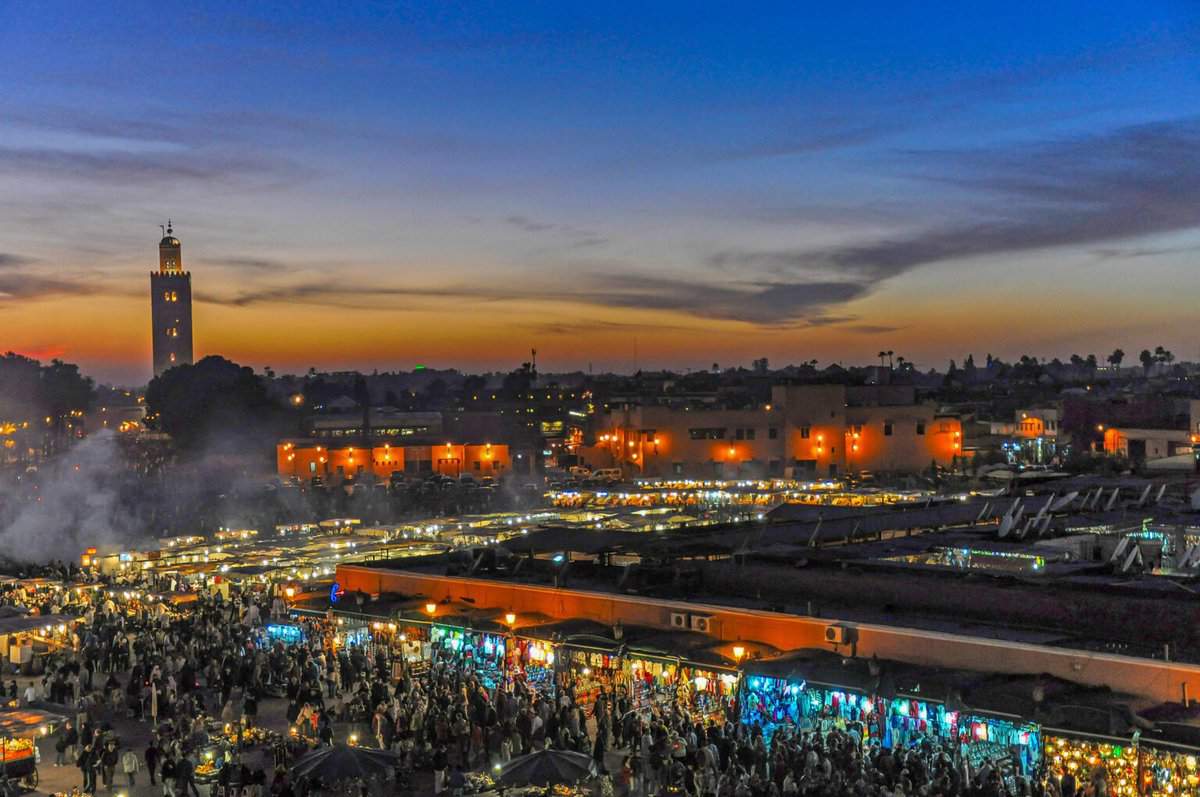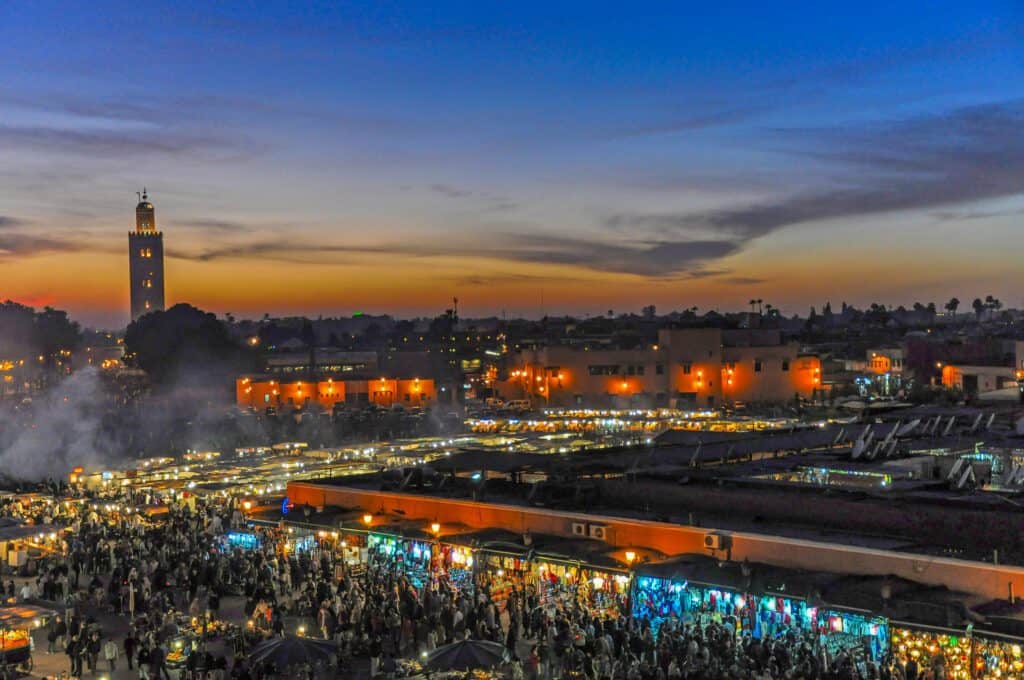 The square was used throughout the centuries as a giant market where traders flooding down from the mountains set up their tents and shops. It is said that the entertainment that remains today is similar to that when the Caravan traders were around.
When Unesco launched its 1998 programme for the declaration of Masterpieces of the Oral and Intangible Heritage of Humanity, Jamaa El-Fna was one of the first places to be proclaimed a Masterpiece of World Heritage for bringing urban legends and oral history to life nightly.
In February 2022, British Ambassador to Morocco Simon Martin paid a tribute to storytelling by performing in the city's International Storytelling Festival where he told the tale of Churchill's love story with the city.
Watch the Ambassador's brilliant performance in the video below.
While Jamma El-Fna should not be skipped, it can feel like an assault on the senses for anyone not used to this flurry of activities.
But you can still experience all the vibes from a distance. One of the best ways to do that is by sitting at one of the many rooftop terraces surrounding the square. Places get filled quickly so do plan on getting there before 5 pm. Most of these places serve food so order a meal and some mint tea and enjoy the spectacle before you decide if you want to experience it at close range.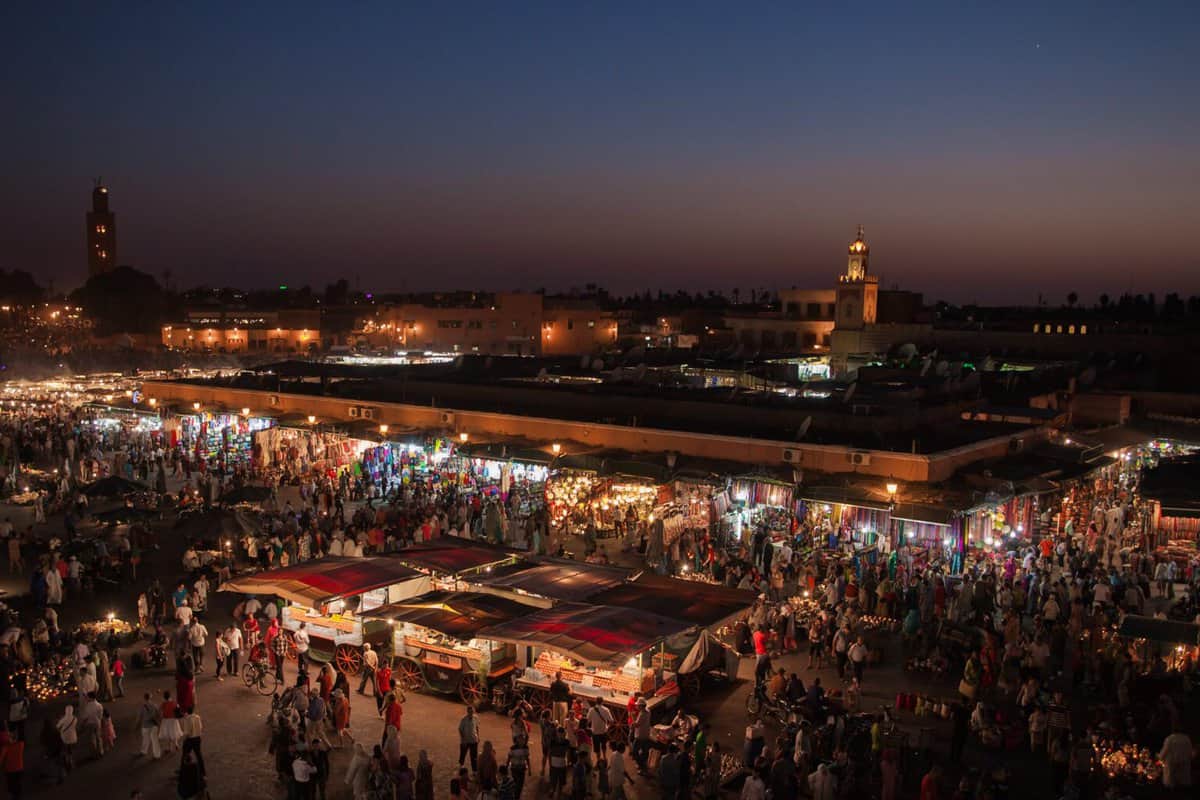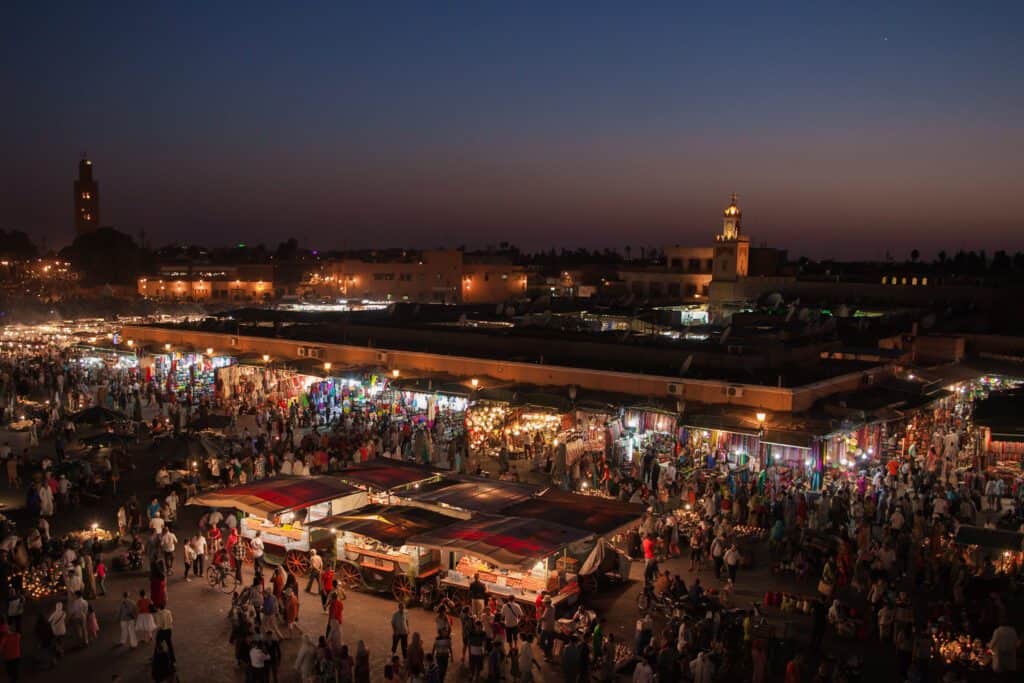 GRAB A BARGAIN (OR TEN) AT THE SOUK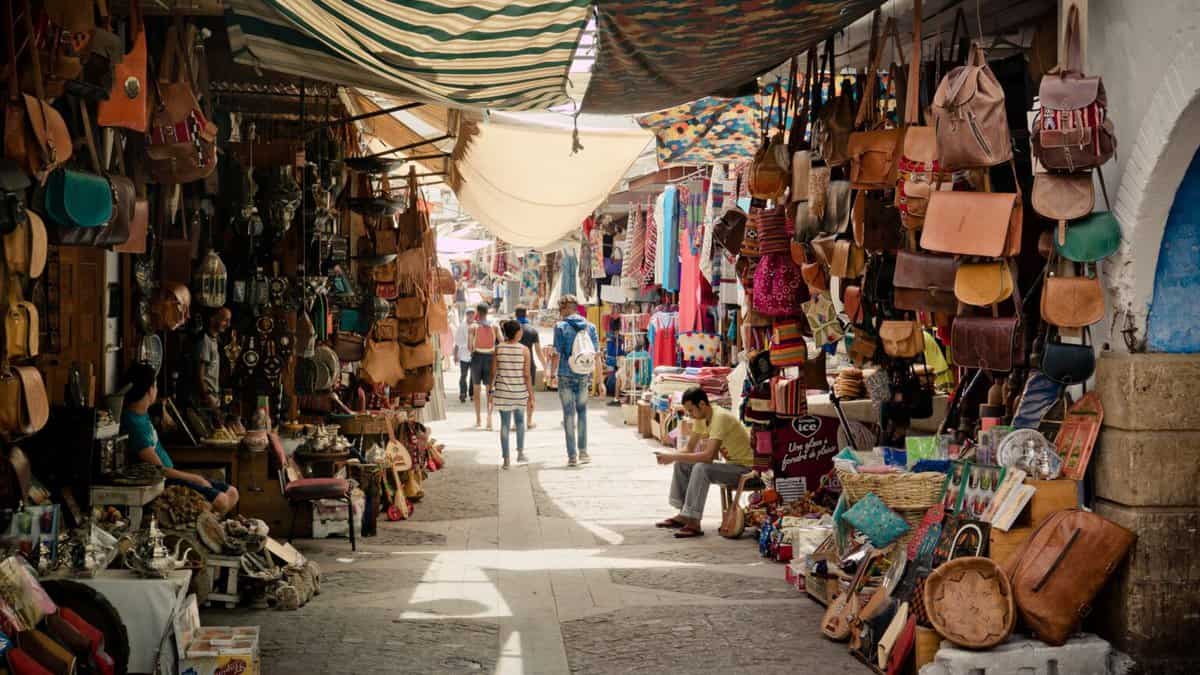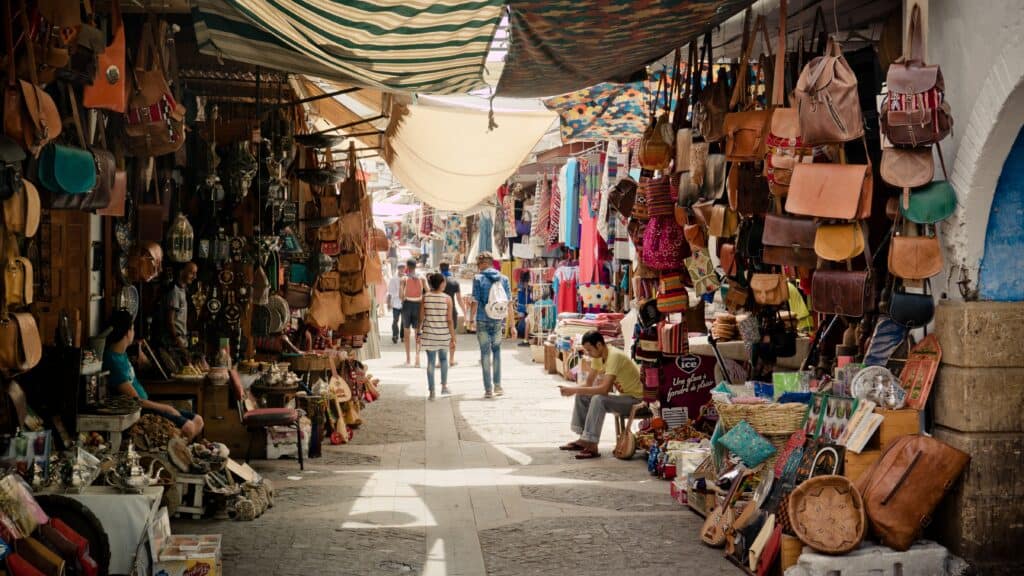 The souks of Marrakech are the largest in Morocco and live up to their reputation of being the most exotic marketplace in the world. Be prepared to dive in a world of multicoloured carpets, giant racks of spices, spectacular displays of lanterns, leather products, pottery and jewellery.
Historically, souks were divided and named according to the products being sold a thousand years ago and this layout continues to this day.
The souks start north of Jamaa El-Fnaa and spread through a series of winding passageways finishing at the Musee de Marrakech.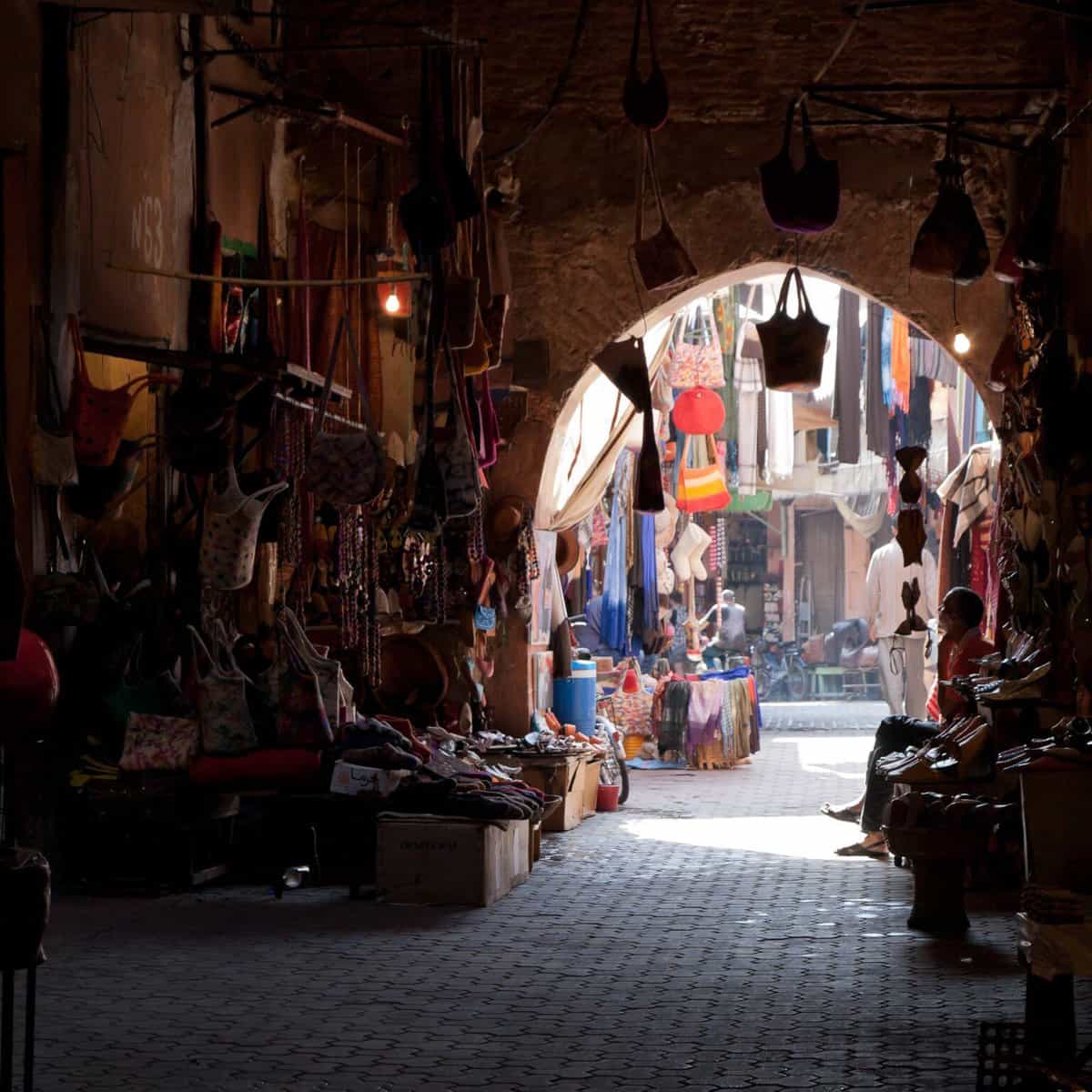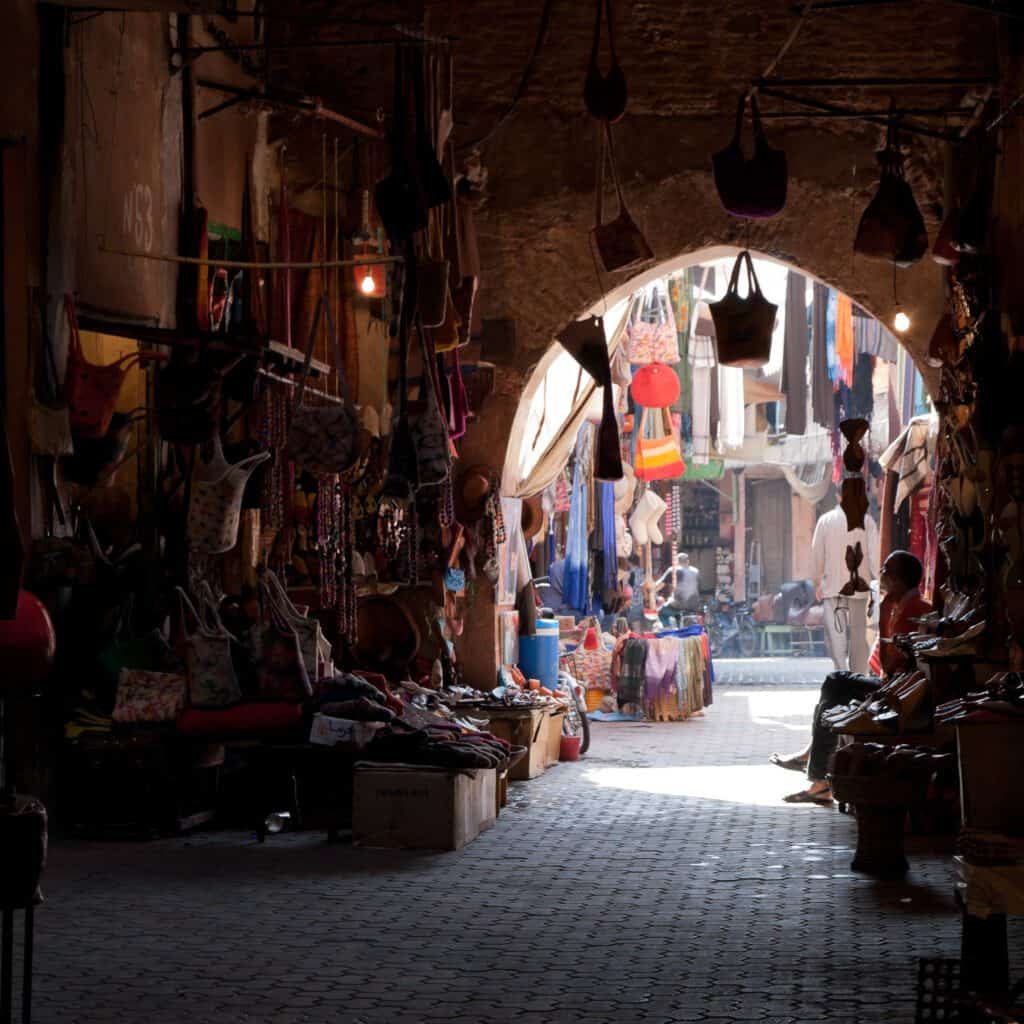 Navigating the souks is not an easy task as it doesn't take much to get lost in the narrow alleyways. If you do you can ask any shop keeper to show you an exit, people in Marrakech are very friendly so don't be surprised if someone offers to walk you all the way to the exit but if you are concerned about getting lost then wandering the souks with a licensed guide is the best way to explore the old medina with a peace of mind. Using a Sat nav can be useful but avoid using them in narrow and small streets and always use a landmark such as the Koutoubia Mosque as your reference point or destination.   The souks are open from 9am to 9pm but the best times to visit are early in the morning or after sunset.
SEE THE KOUTOUBIA MOSQUE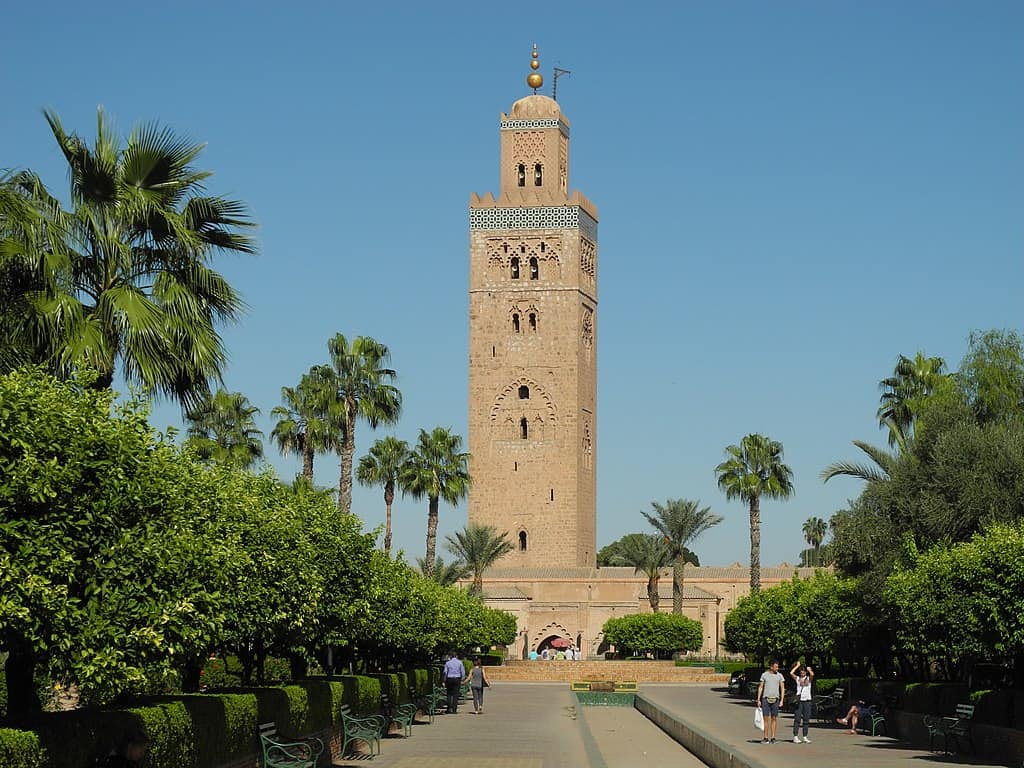 One of the most important landmarks in the city of Marrakech, the Koutoubia mosque was built in 1120 under the Almoravid dynasty but its construction didn't end until 1196, under the Almohad dynasty. the mosque is famous for its minaret which culminates at 77 meters in height, making it both the most emblematic and the tallest building in the city. The minaret has also served as a model for the Giralda in Seville and the Hassan Tower in Rabat.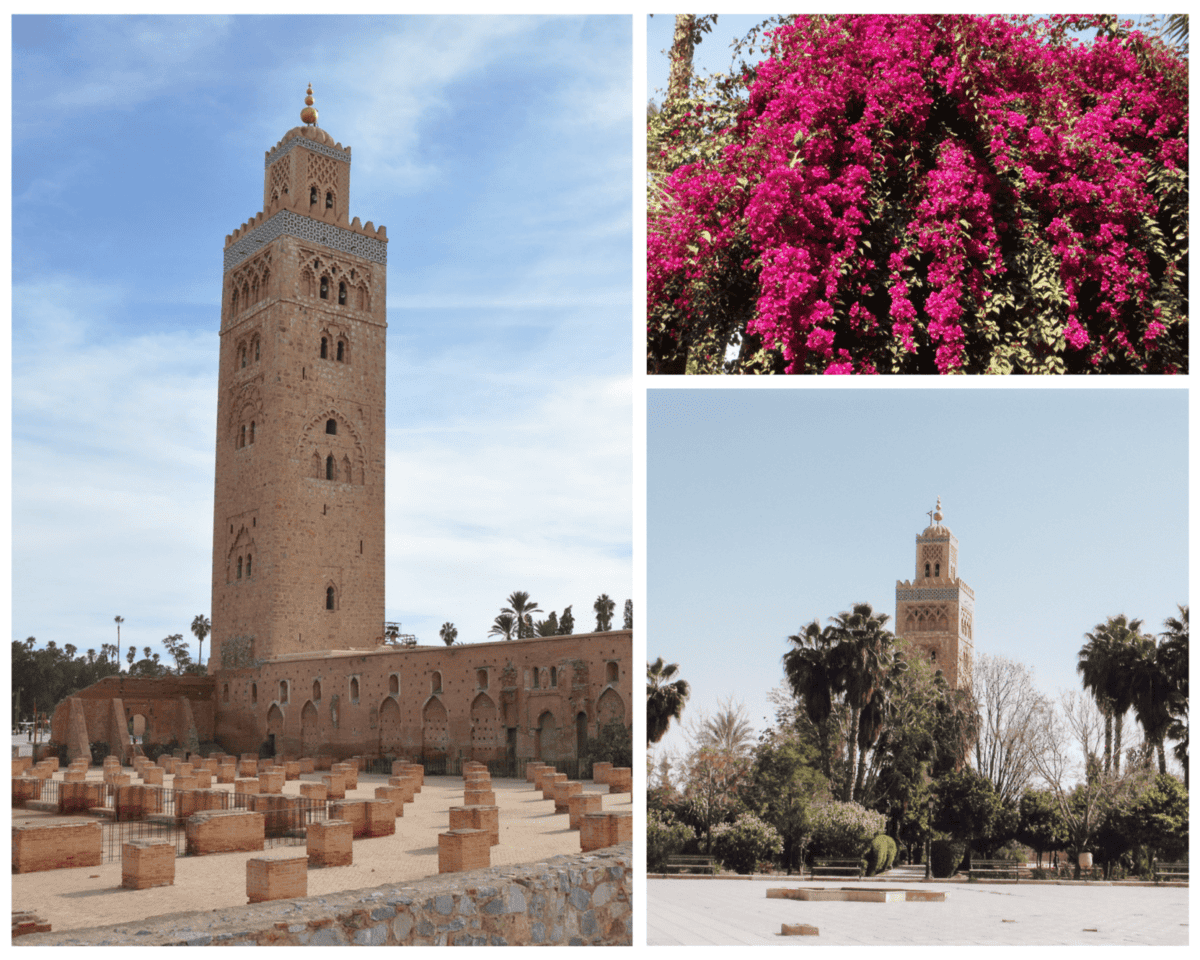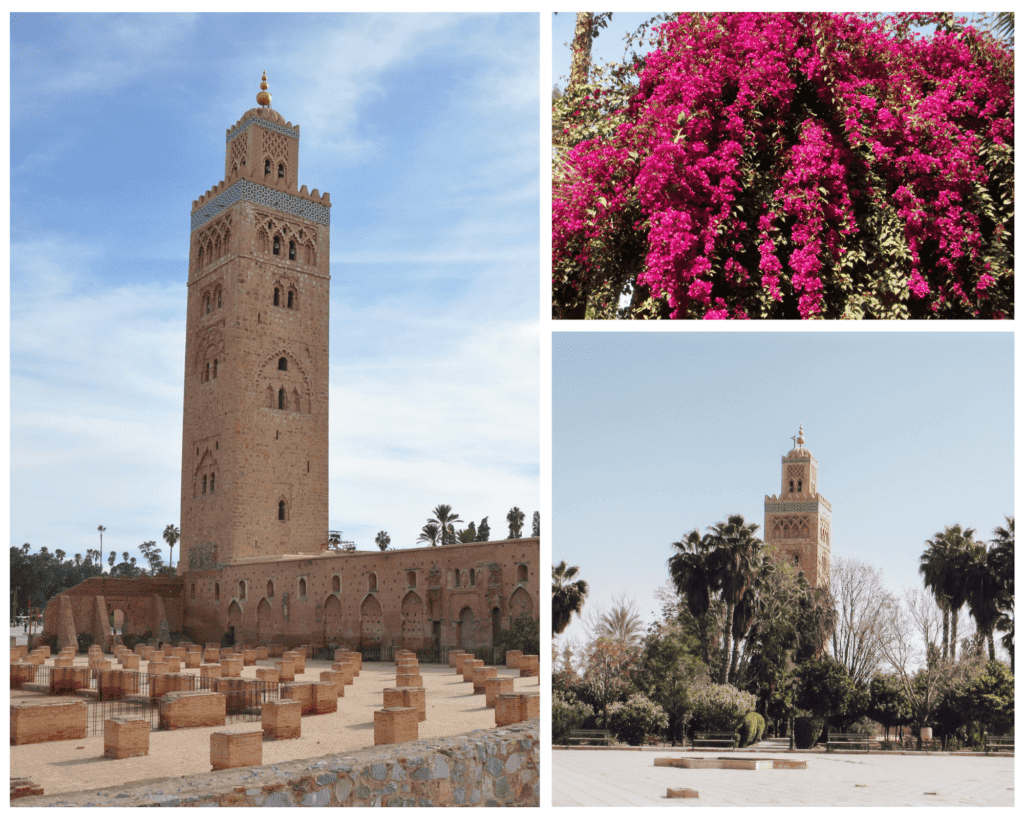 the mosque's name which means the booksellers was given due to its former location in the souk of the manuscripts merchants.
Located about 500 meters southwest of the Jamaa El- Fna square and visible from miles, the inside of the Koutoubia mosque can only be visited by Muslims but the outside of the mosque is what attracts most visitors. The view is particularly beautiful from the gardens south of the mosque and in the evening when the mosque is lit up.
VISIT THE MADRASA BEN YOUSSEF
Madrasas are Islamic religious schools and the Ben Youssef madrasa was one of the largest schools in North Africa and the largest in Morocco.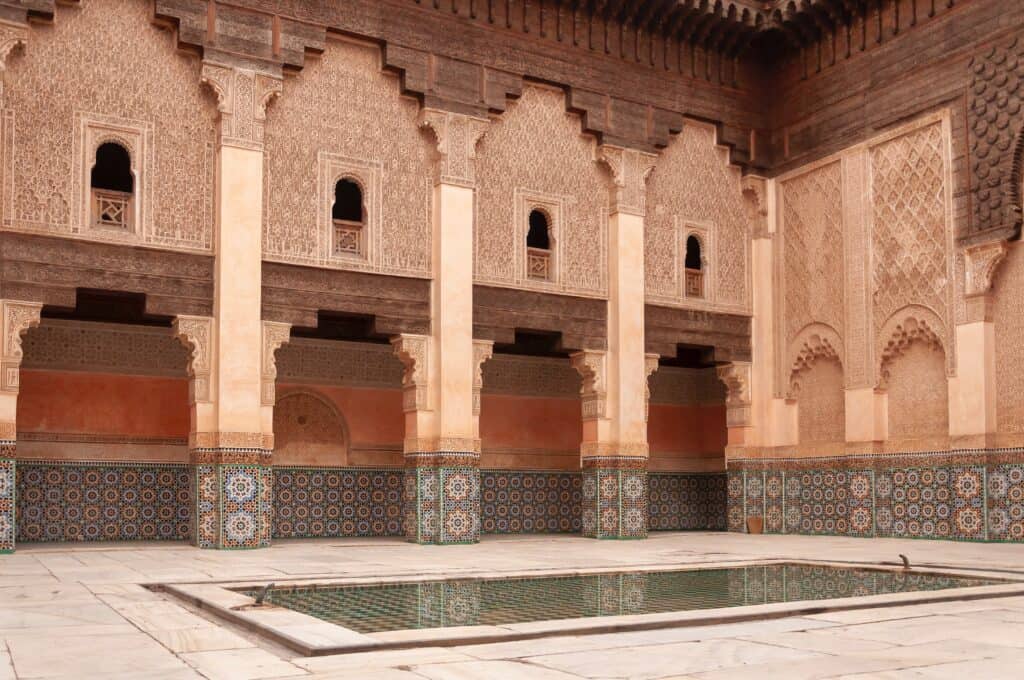 Located a few steps from a mosque that bears the same name, the Quranic school was founded in the 14th century by a Merinid Sultan  and rebuilt in the 16th century under a different dynasty. The madrasa was for more than four centuries a home for students of theology and was designed to host 900 students within its 132 rooms that surround its sumptuous central courtyard and the marble basin that was used for ablutions. The school is a unique architectural masterpiece and worth a visit to admire this craftmanship and indulge in its history. The Ben Youssef Madrasa became a museum in 1960 and was refurbished in 1999, making it one of Marrakech's most visited attractions.
Open daily from 9 am till 6 pm but closed on some holidays.
Entrance fee: £6
WANDER IN MAJORELLE GARDEN: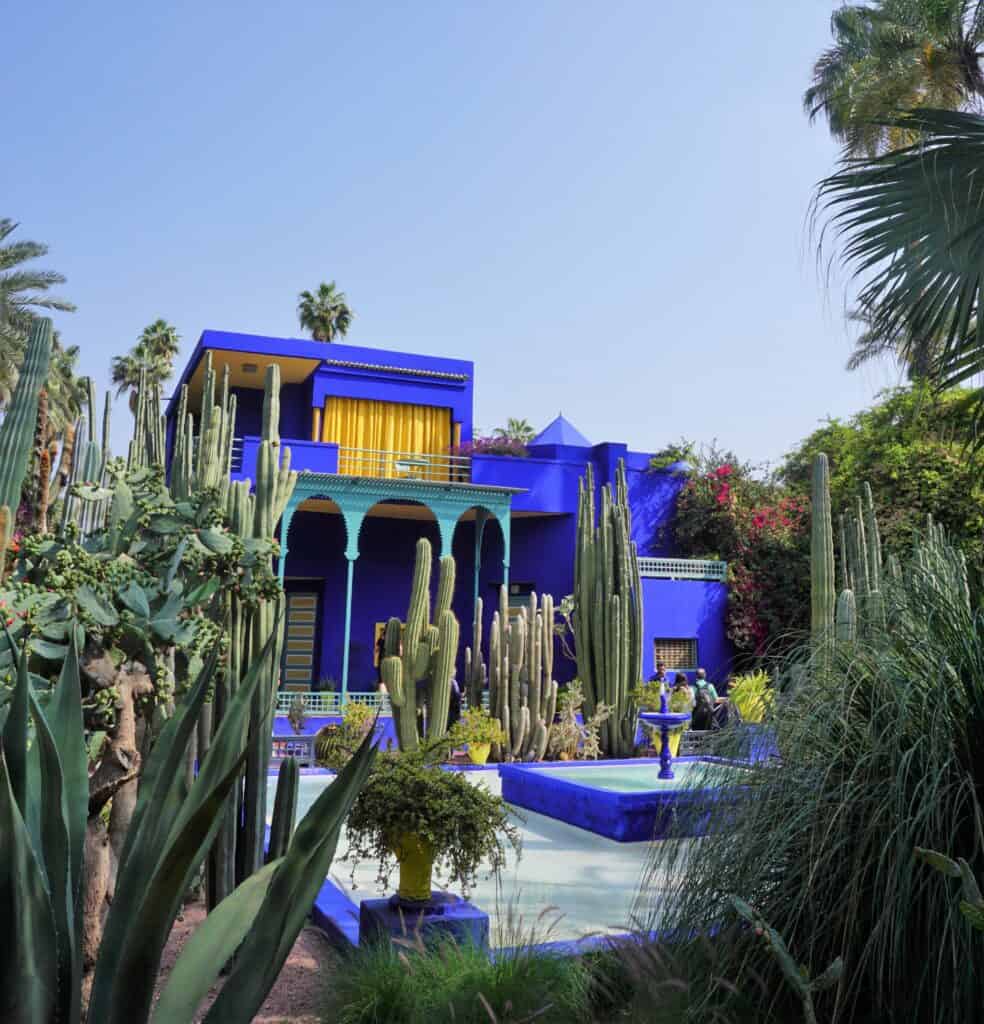 Majorelle Garden takes its name from its creator, the French painter Jacques Majorelle who fell in love with Morocco in 1917 and bought a land northwest of Marrakech where he built a Moorish-style villa and a painting studio and later on created a botanical garden. Majorelle spent 40 years acquiring different plants from all over the world to furnish his garden and used his painter's eye to turn the garden into a magical sanctuary. The garden was first open to the public in 1947 to help with the costs of maintenance and was sadly abandoned after the painter's death in 1962.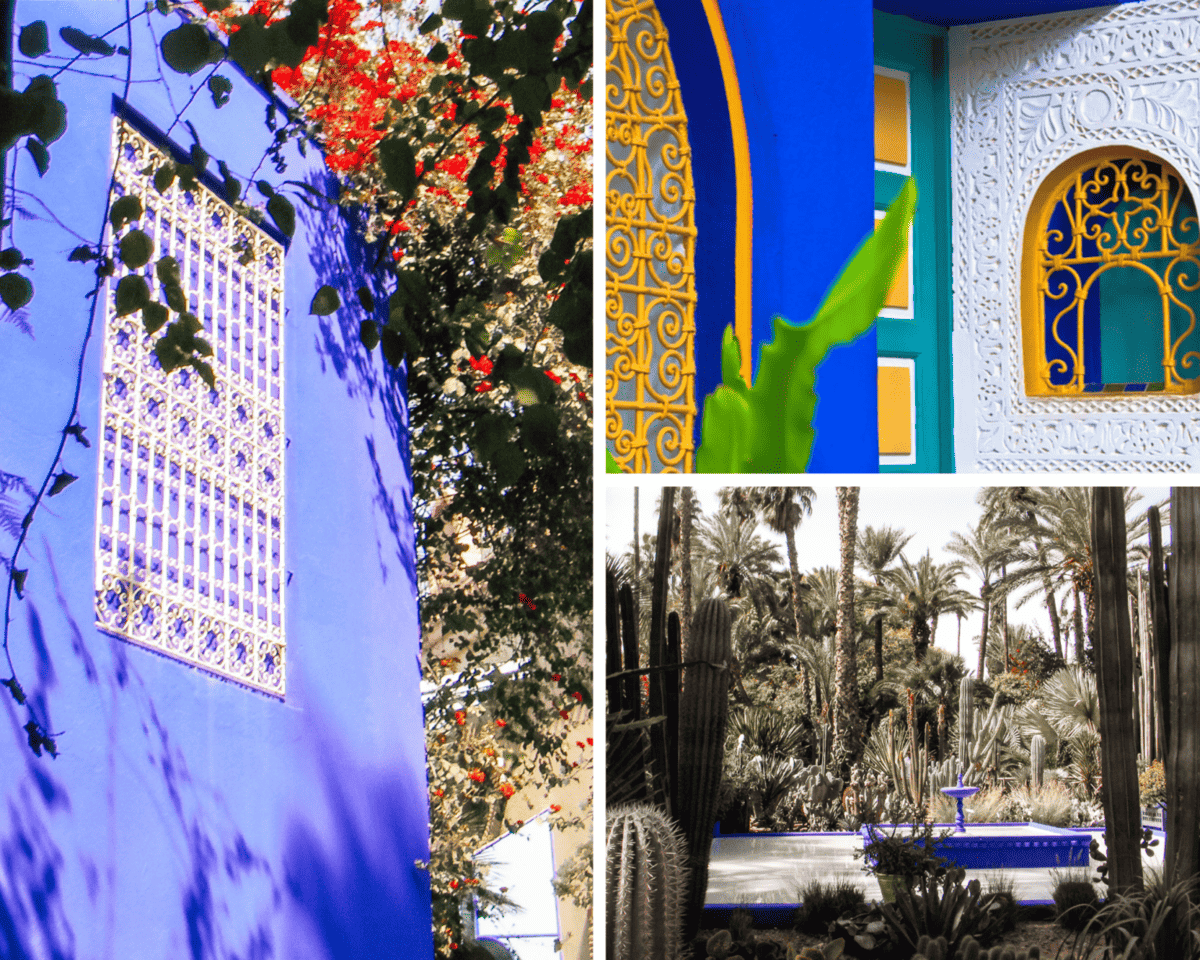 In 1980, the garden was acquired by fashion designer Yves Saint Laurent and regained its splendour under his care. After his death, friends of Yves Saint Laurent scattered his ashes in Majorelle garden where he often found inspiration and refuge.
In 2017, a museum dedicated to the work of Yves Saint Laurent opened its doors next to the garden. It houses an important selection from the Fondation Pierre Bergé – Yves Saint Laurent's impressive collection, as well as a 150-seat auditorium, a research library, a bookstore and a café.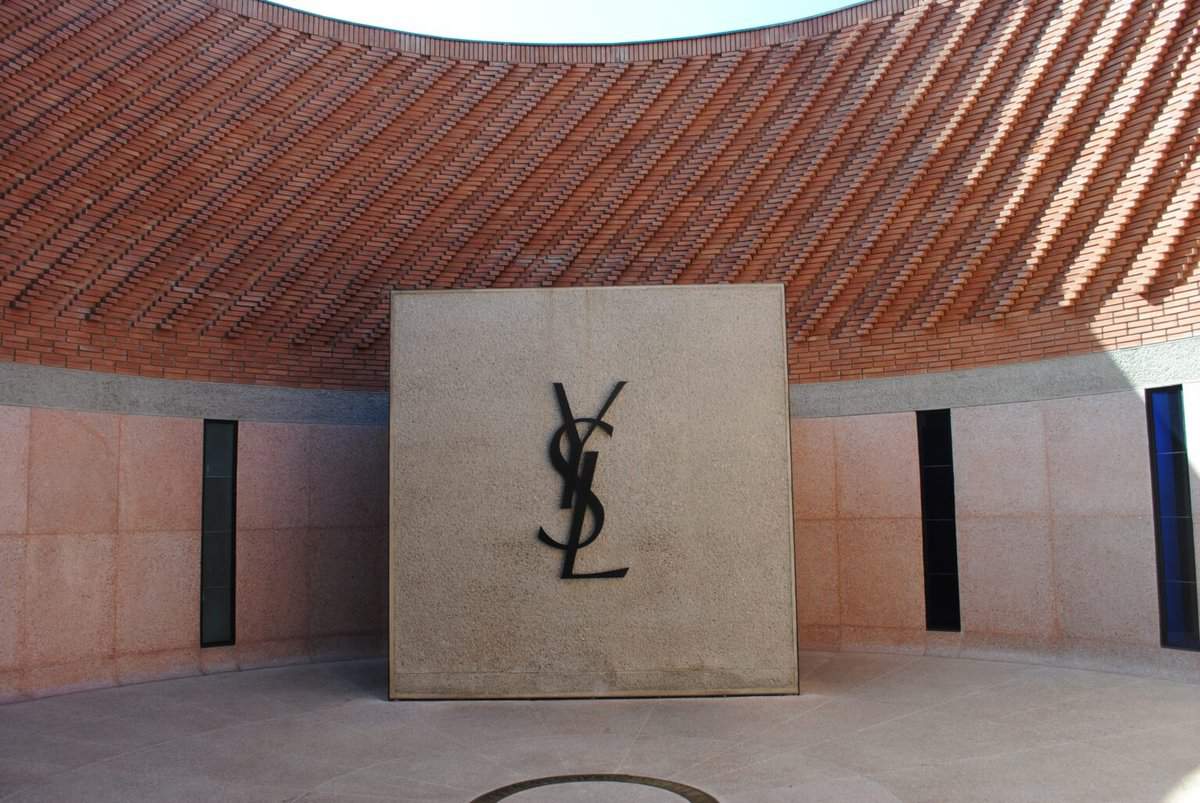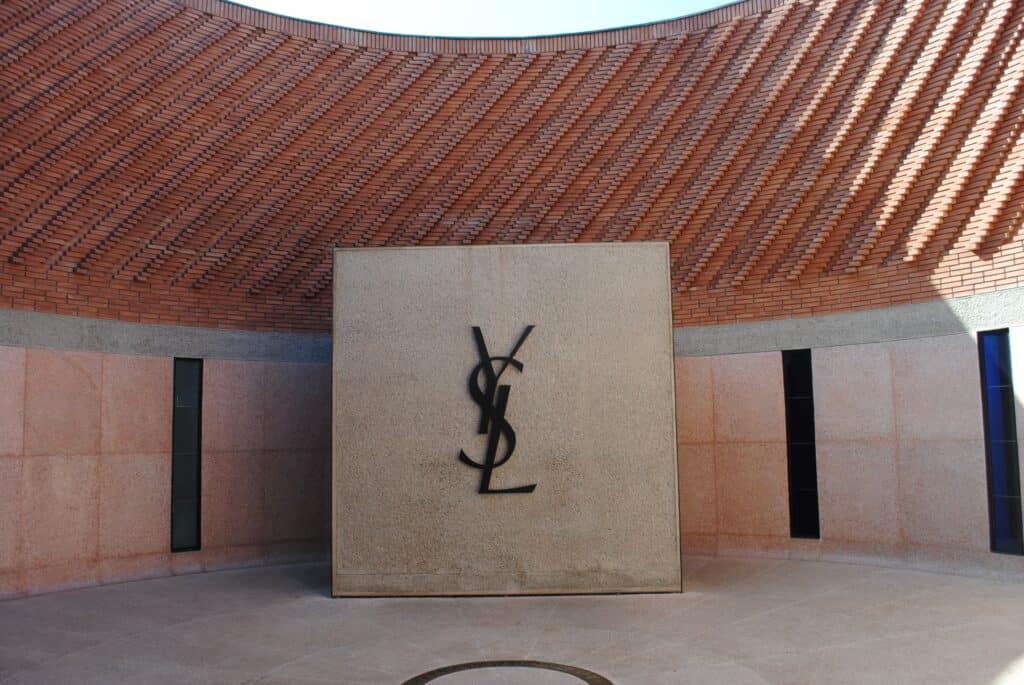 It is worth noting that Majorelle Garden is quite small so don't plan on spending a whole morning or afternoon there. You can get a combined ticket here to see all three attractions which is what I would recommend doing.
STEP BACK IN TIME AT EL BADII PALACE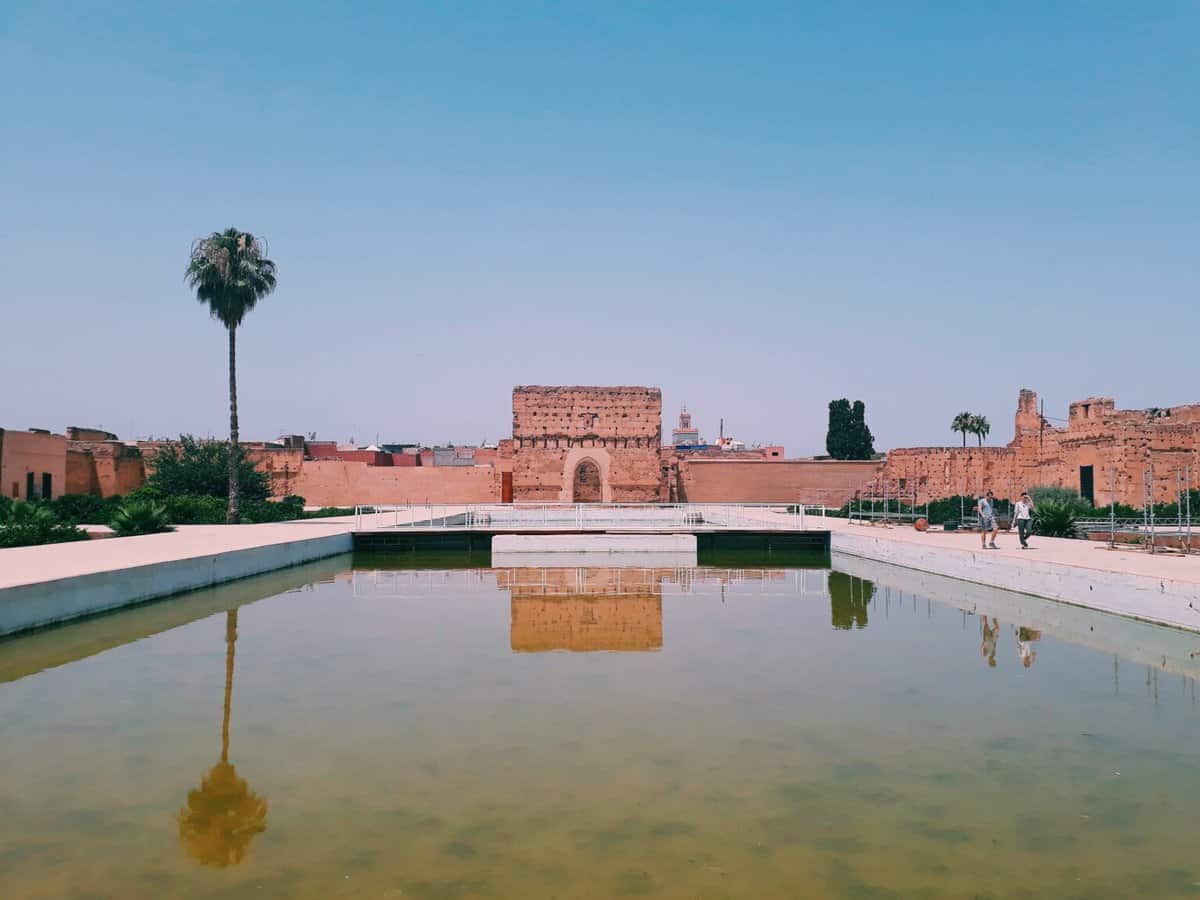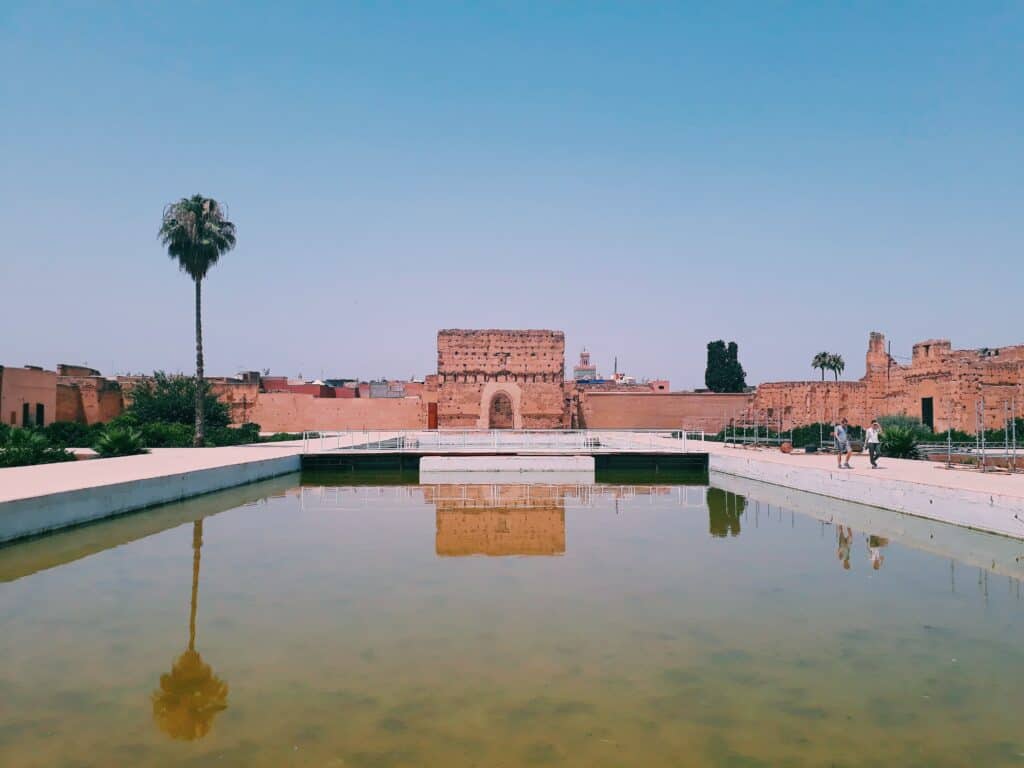 This old palace was built by the Saadian sultan Al-Mansur to celebrate his victory over the Portuguese army in 1578.
El Badii palace was built over 16 long years, using the finest materials from all over the world such as marble from Italy and jade from China. The palace was a symbol of power and took 16 years to finish.
Its courtyard is a large version of that of the Alhambra and Its underground system allowed servants to move through the palace and its 360 rooms without being seen.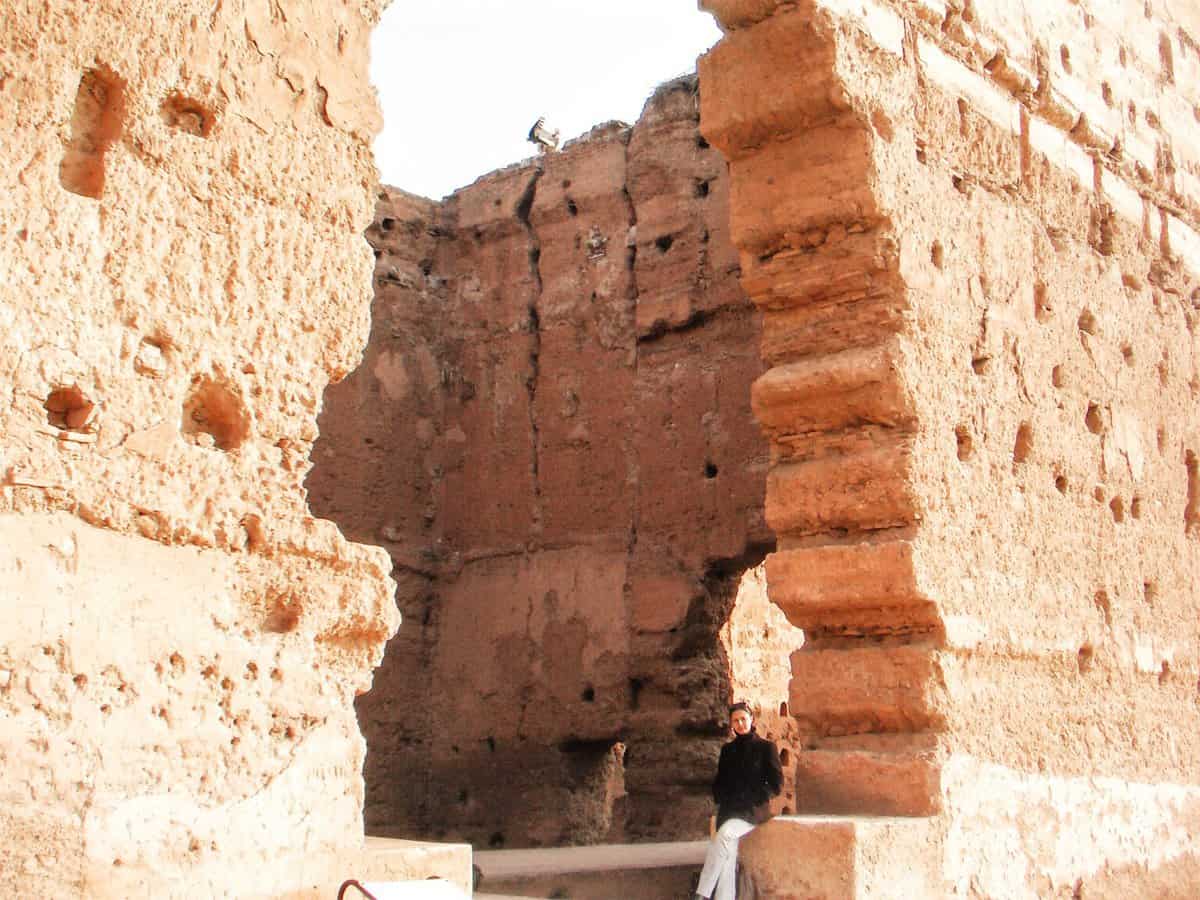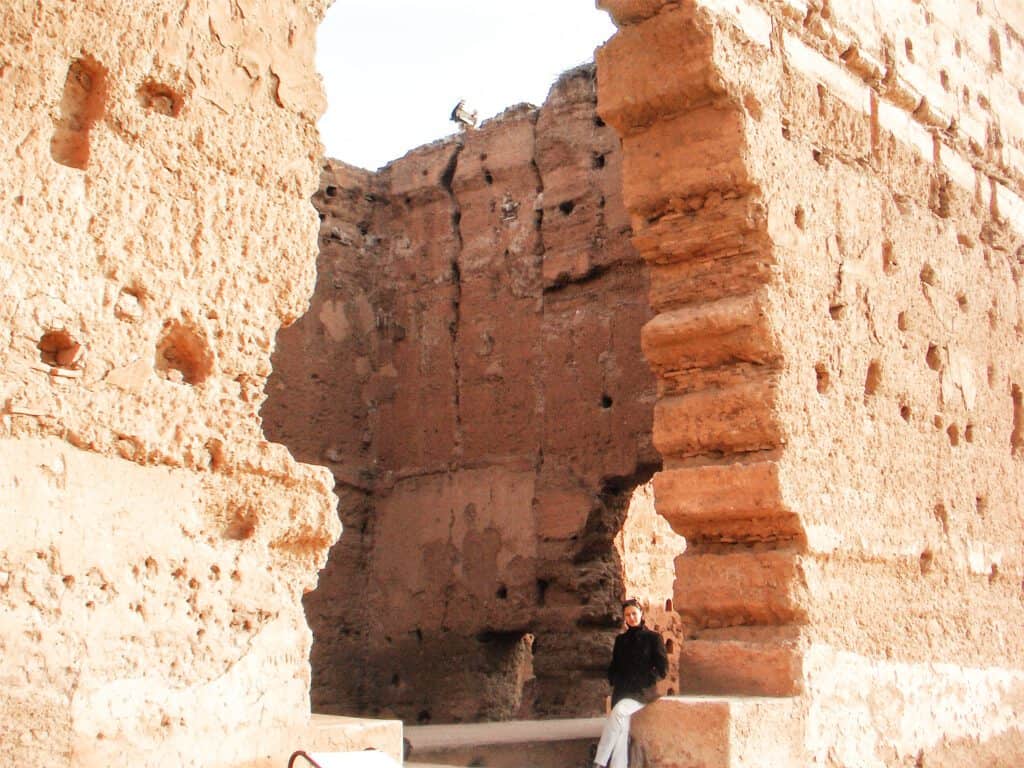 When the new ruling dynasty came to power in 1696, the new sultan ordered a complete stripping of the palace from its marbles and other treasures and transported them to his new capital, Meknes ; a task which took 20 years to complete. The once sumptuous palace is now an impressive ruin that's worth visiting.
Palace Badii is open daily. Times may vary Entrance fee is £6.
HAVE A MINDFUL MOMENT AT LE JARDIN SECRET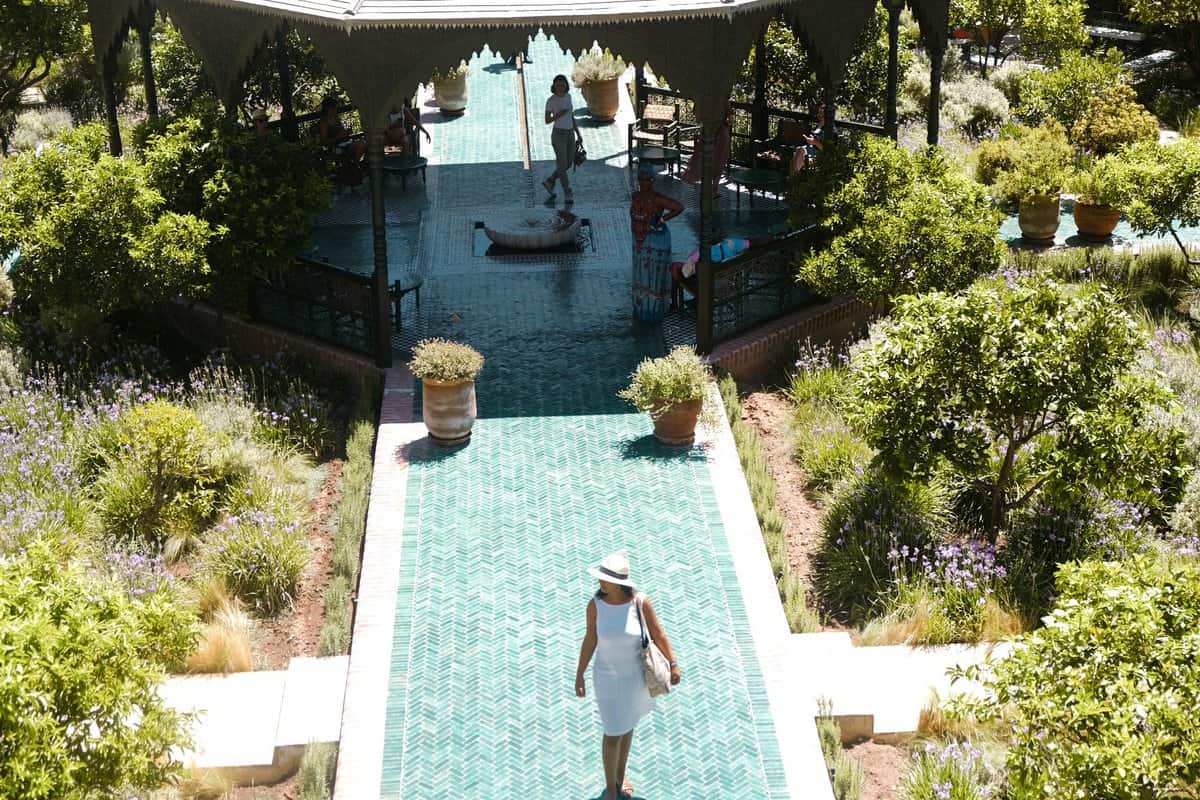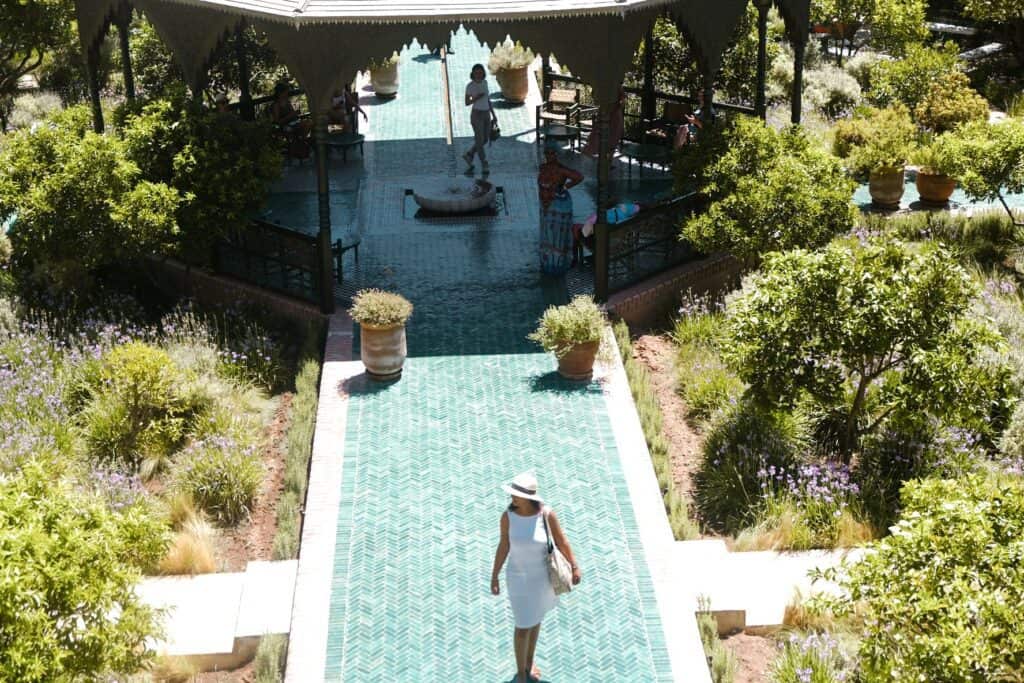 This 400-year-old palace dates back to the Saadian dynasty. Tucked away in the heart of the medina, the building once belonged to the elite of Morocco and reflected the splendour of Moroccan architectural art. It ended up derelict and abandoned following the death of its last owner in 1934 and has been restored into a garden and museum in 2008 and finally open to the public in 2017.  Besides the totally renovated palace, visitors are also surprised to discover two wonderful gardens: an exotic garden and an Islamic garden. The Exotic Garden brings together many plants from the five continents while the Islamic Garden is designed to be a representation of Paradise on earth, as described in the Quran and is home to several species of olive, orange trees and lavender.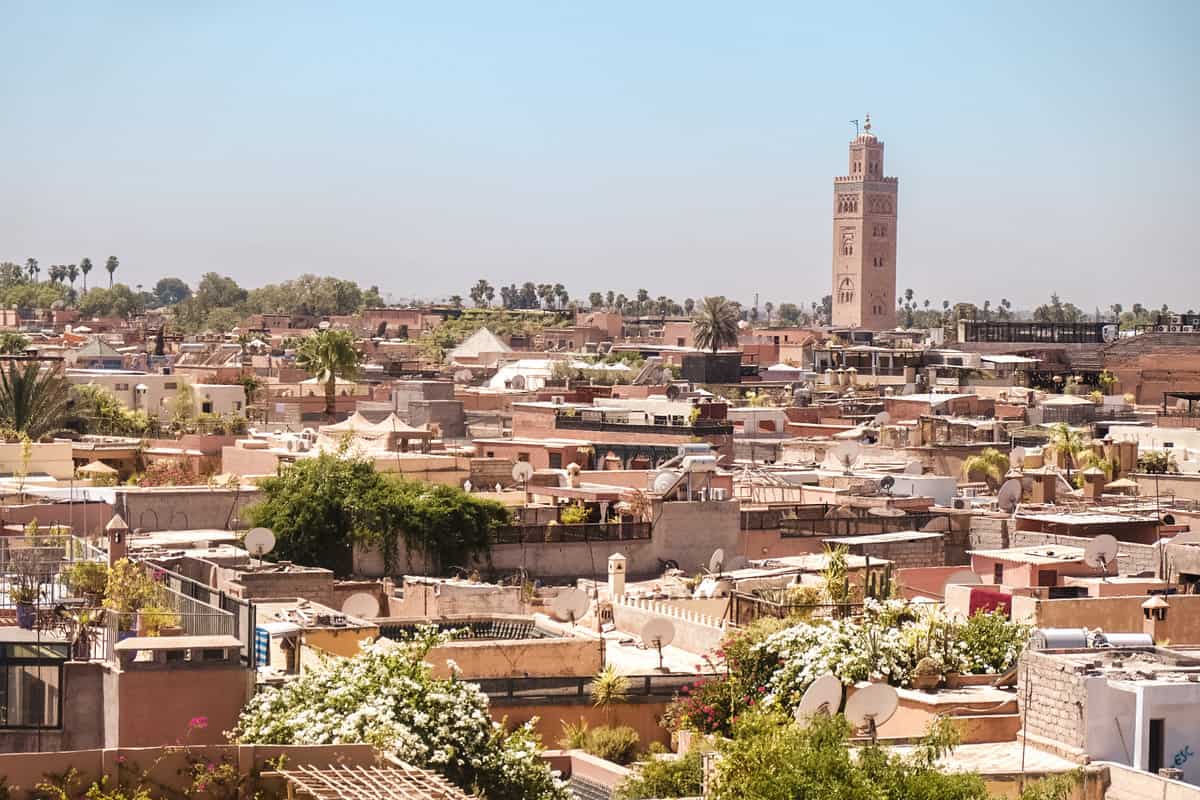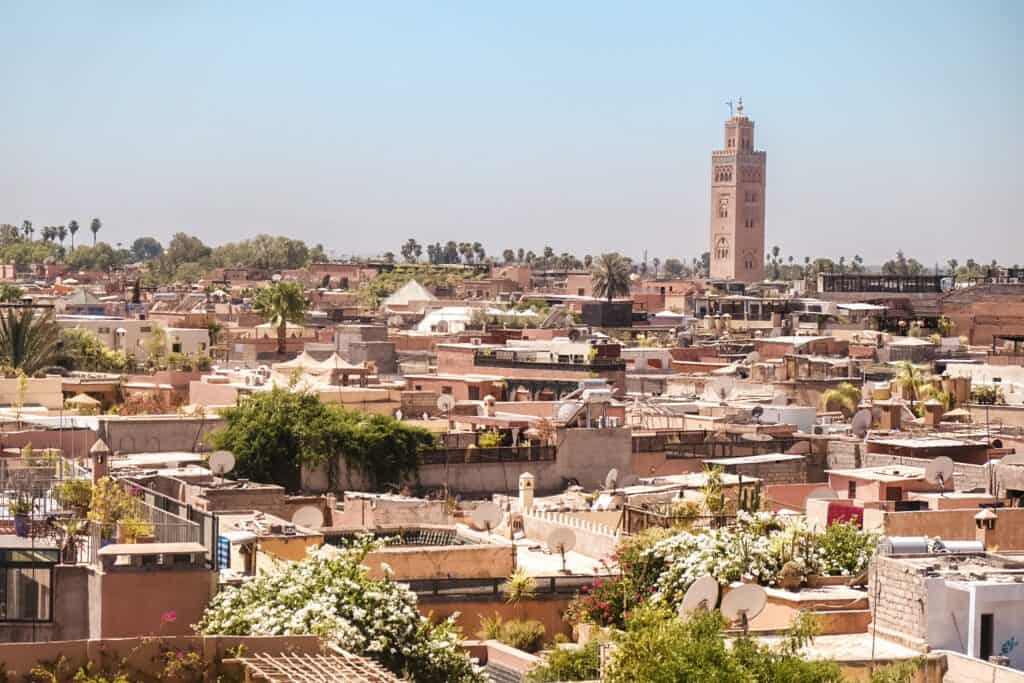 You can also visit the tower (for an additional fee) which offers stunning  views of the Medina and its surroundings, including the Koutoubia mosque.  There is also a restaurant overlooking the entire garden, as well as a café and several souvenirs shops.
The Jardin Secret is open all year between 9:30 am and 7 pm (times vary according to seasons).
Entrance fee is £7 for the garden and £3.50 for the tower.
MARVEL AT THE ARCHITECTURE AT EL BAHIA PALACE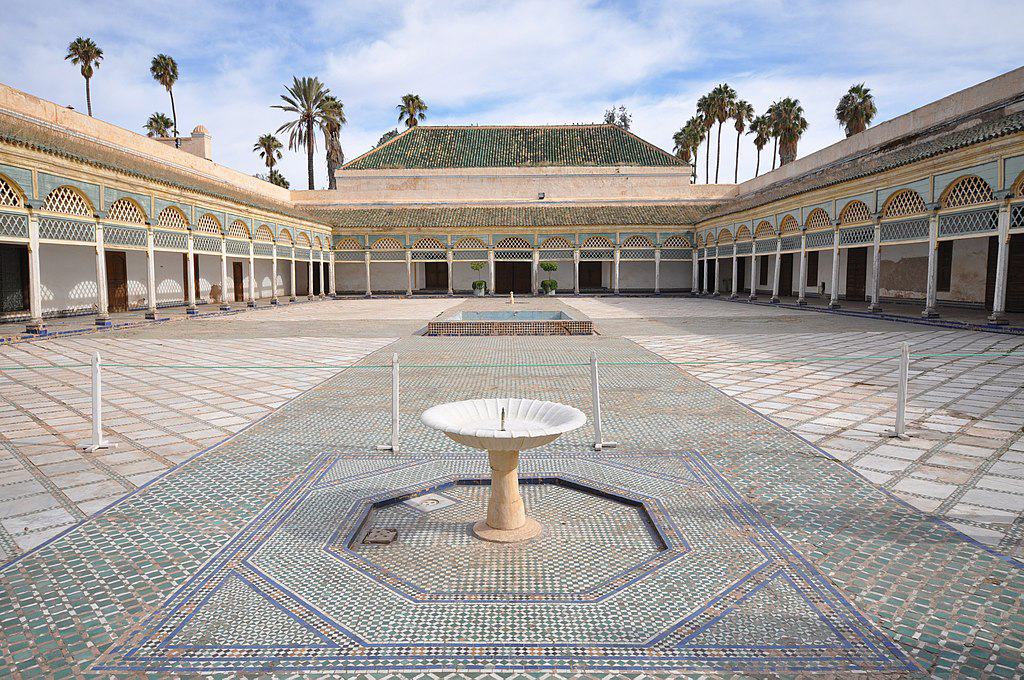 The Bahia Palace is located south of the Medina of Marrakech near the Casbah. Built in 1900, it was designed to be the most sumptuous of the palaces of Morocco and included 150 rooms decorated in floral paintings and sculptures, several gardens showcasing several plants and a huge courtyard.
Today the gardens are still the highlights of the place and you will be able to enjoy a display of orange trees, grapefruit and various yellow, red, purple flowers.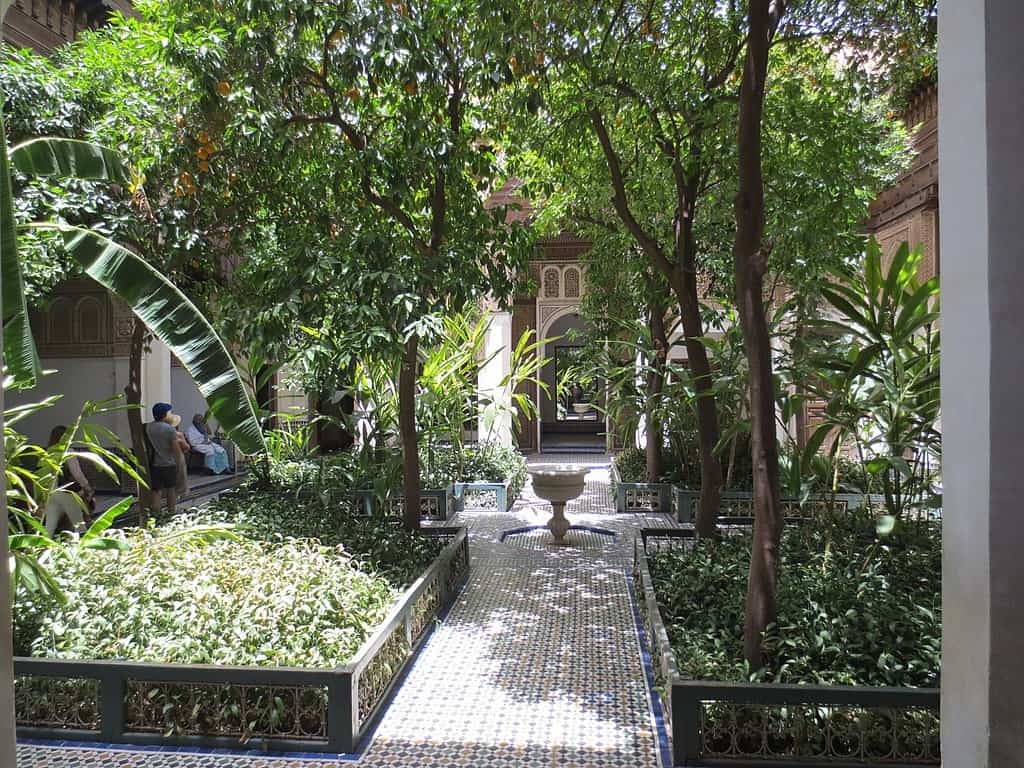 The rooms inside the palace don't have any furniture but you can still appreciate the architecture and original features.
El Bahia palace is open daily between 8 am and 5 pm. Entrance fee is £6.
Do a Food tour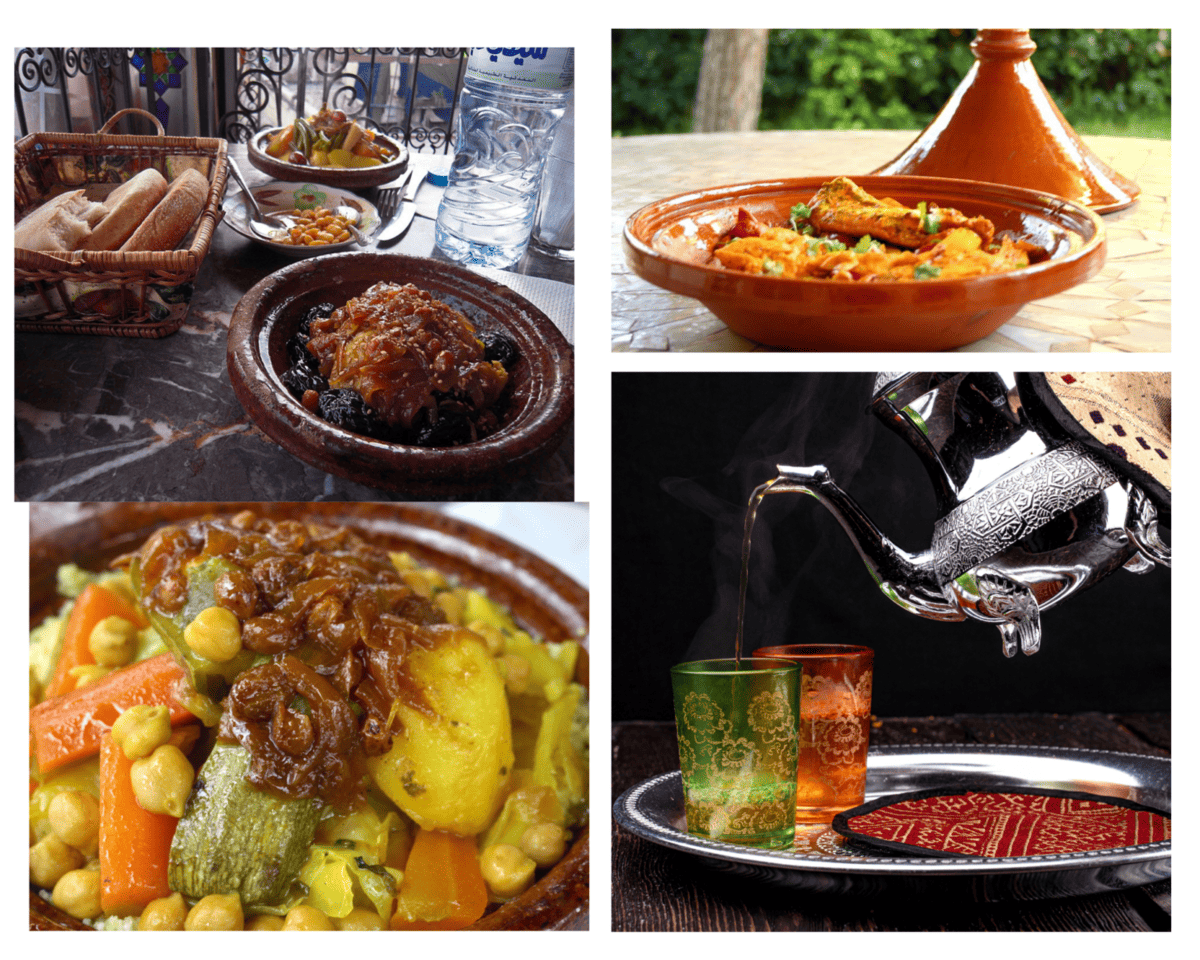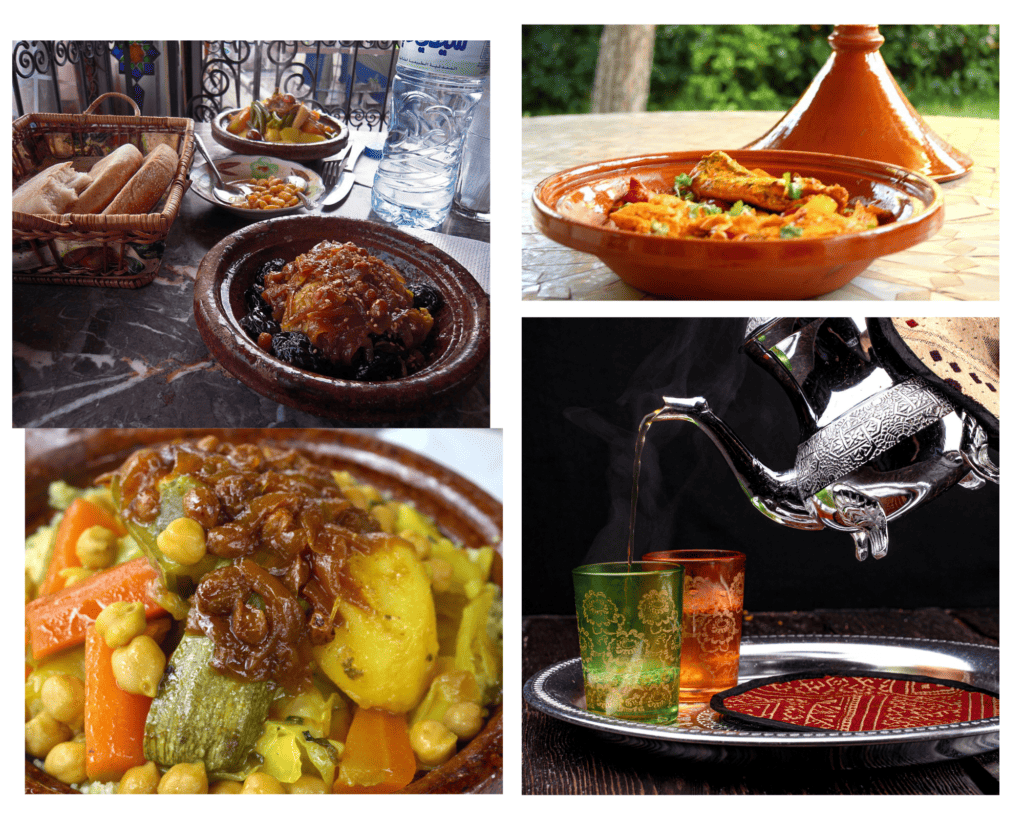 You can't go to Marrakech and miss out on all the delicious food! There are a lot of great restaurants in Marrakech but it can be hard to know which ones are genuine and which ones are tourist traps. One of the best ways to discover Moroccan cuisine is via a food tour with a local reputable company. Marrakech Food Tours provide authentic culinary tours using high quality English speakers. The tours take you through several districts where you sample a variety of national and local dishes and offer a great insight into the culture and history of Moroccan cuisine.
Tips for your first time visit to Marrakech
Haggling is part of the culture in Morocco and you must be prepared to bargain if you don't want to end up paying ridiculous prices. Don't be afraid to haggle if you really like something but do it in a respectful manner and offer a fair price. I always have a final price in mind so I don't end up wasting my time or theirs. Again, if you are unsure of the value of something it helps to have a local guide with you. Also note that haggling is only expected in the souks for souvenirs and touristic items. You can't haggle in restaurants or food shops.
You will be amazed how friendly and hospitable people in Marrakech are but you may get hassled in the souks by stall holders especially if you start expressing interest in something but decide to walk away. Avoid a conversation in this case and just smile politely and say "la, shukran" (no, thank you).
If you are a female travelling solo, don't get fooled by all the Instagram posts showing women in short dresses and crop tops in the souks. While there is no established dress code in Morocco and you can wear pretty much anything you like, it's good to be aware of the culture and etiquette so as not to offend the locals. Wearing revealing clothes is frowned upon especially in neighbourhoods around the medina where people dress conservatively. You do not need to cover your head but avoid wearing outfits which are too short or revealing.
Taxi drivers in Marrakech are notorious for ripping people off and if I could avoid using them I absolutely would but sometimes they are the only choice available. Asking a taxi driver to turn the meter on can avoid being overcharged, unfortunately the majority don't do it. If you must take a taxi, ask a local how much they would normally pay for the journey so you have a guide price and can negotiate with the driver.
Don't exchange more money than you would spend. Moroccan currency is a closed currency and can't be exchanged outside of Morocco so make sure to budget accordingly.
Beware of pickpockets in Jamaa El-Fna and avoid taking photographs of the snake charmers and captured animals unless you don't mind paying them. Taking a photo without permission can often result in an aggressive exchange. This also applies to shop keepers in the souks.
Have you been to Marrakech? How was your experience? Share your tales and tips to help make someone's first time special.