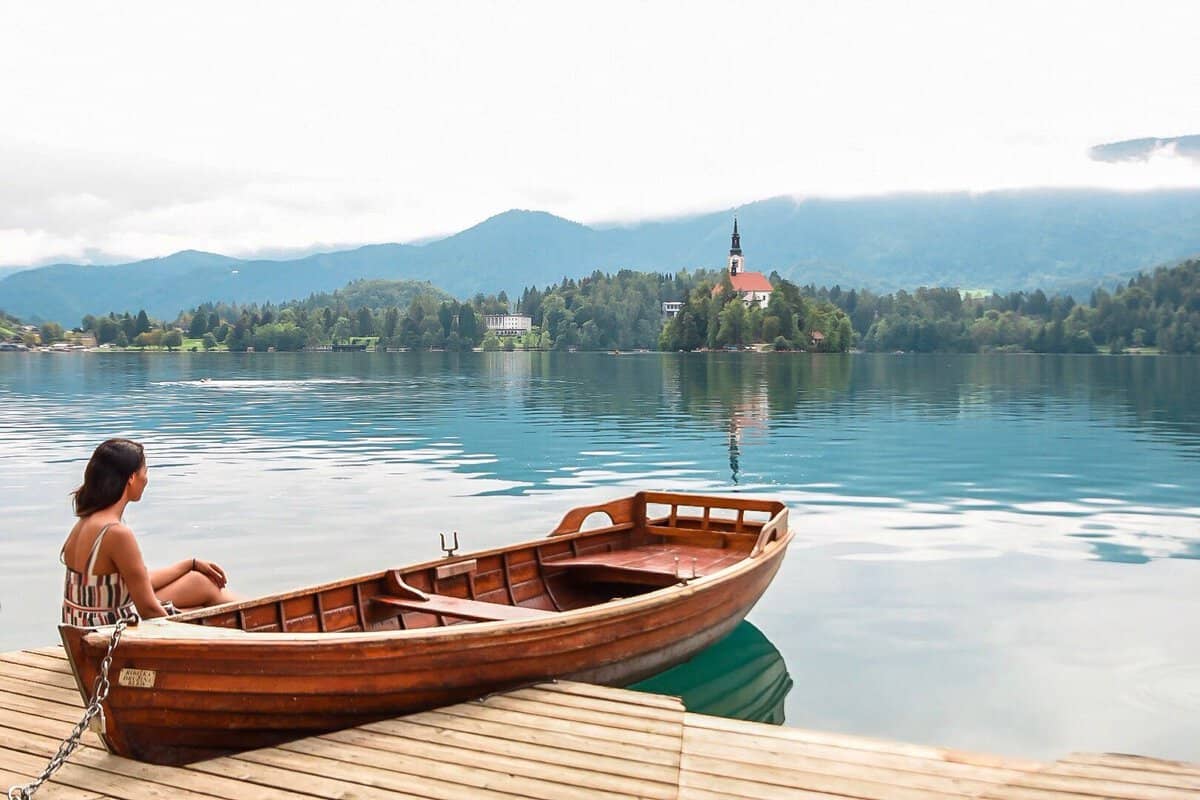 Bled is Slovenia's most visited attraction and I couldn't wait to see it in person during my visit in 2019.  There is so much to do in Bled and its surroundings and I recommend you spend at least a day exploring the area. Below are 8 fabulous activities you can do in and around Bled on your first visit.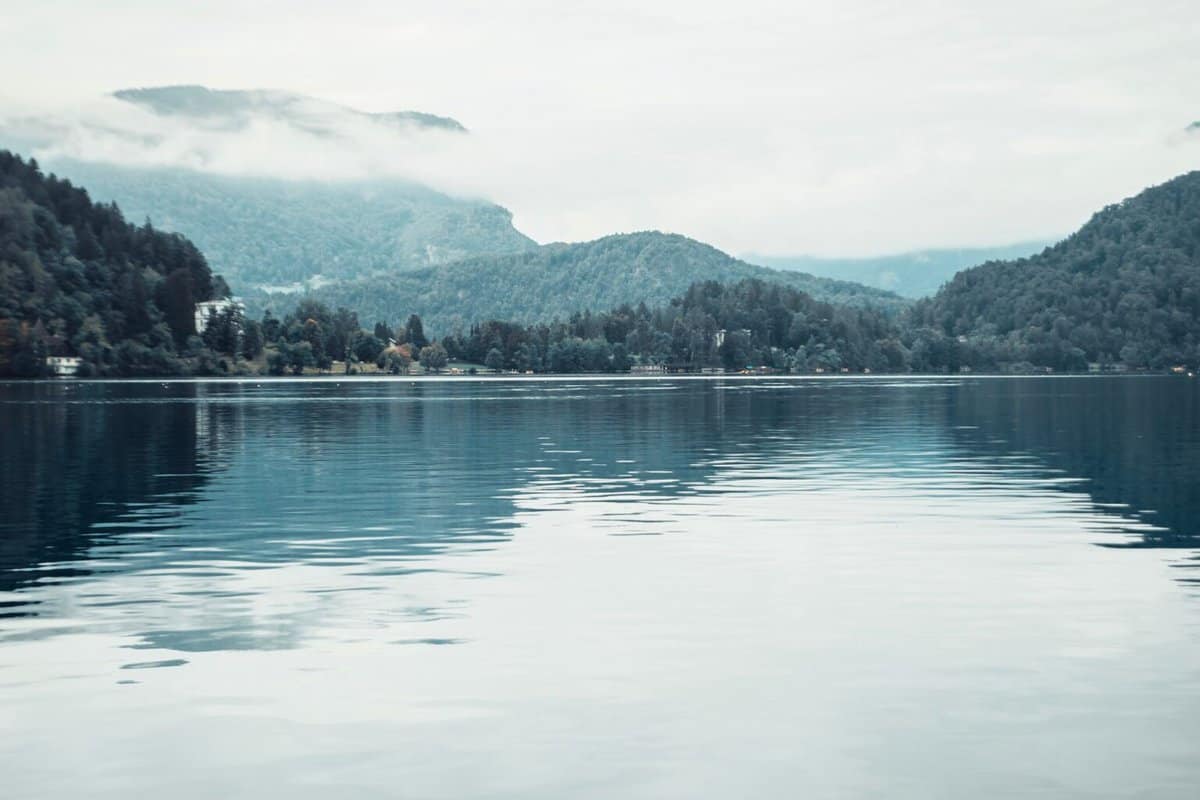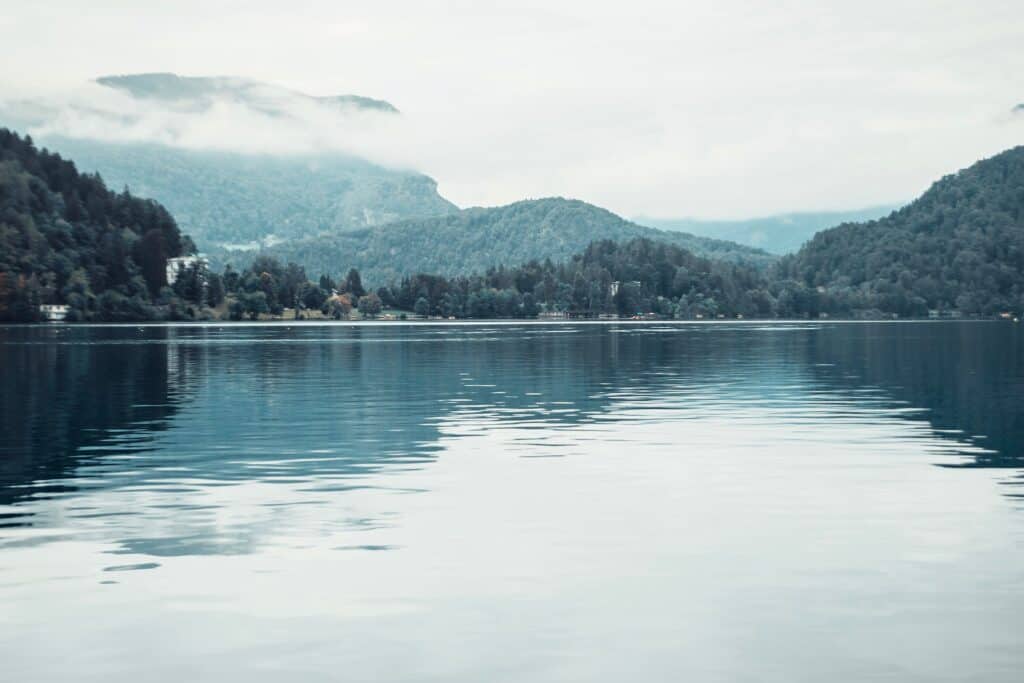 I had seen hundreds of photos of the lake before but nothing prepared me for the sheer perfection and beauty of this place. Icy blue waters, trees stretching up as far as the eye can see, forests and promenades, all surrounded by a backdrop of mountains and a castle perched atop a steep cliff rising 130 metres above the water. Bled is truly a fairytale place.
8 Fabulous activities to do in and around Bled
1-Walk around lake Bled
The walk around the lake is circular so you don't need to worry about going a certain way and missing the rest. It was very misty when I arrived, thick fluffy clouds cutting through the mountains and casting various shadows on the lake. The famous Bled Island was completely hidden by the mist but that made the landscape look even more dramatic. I was mesmerised.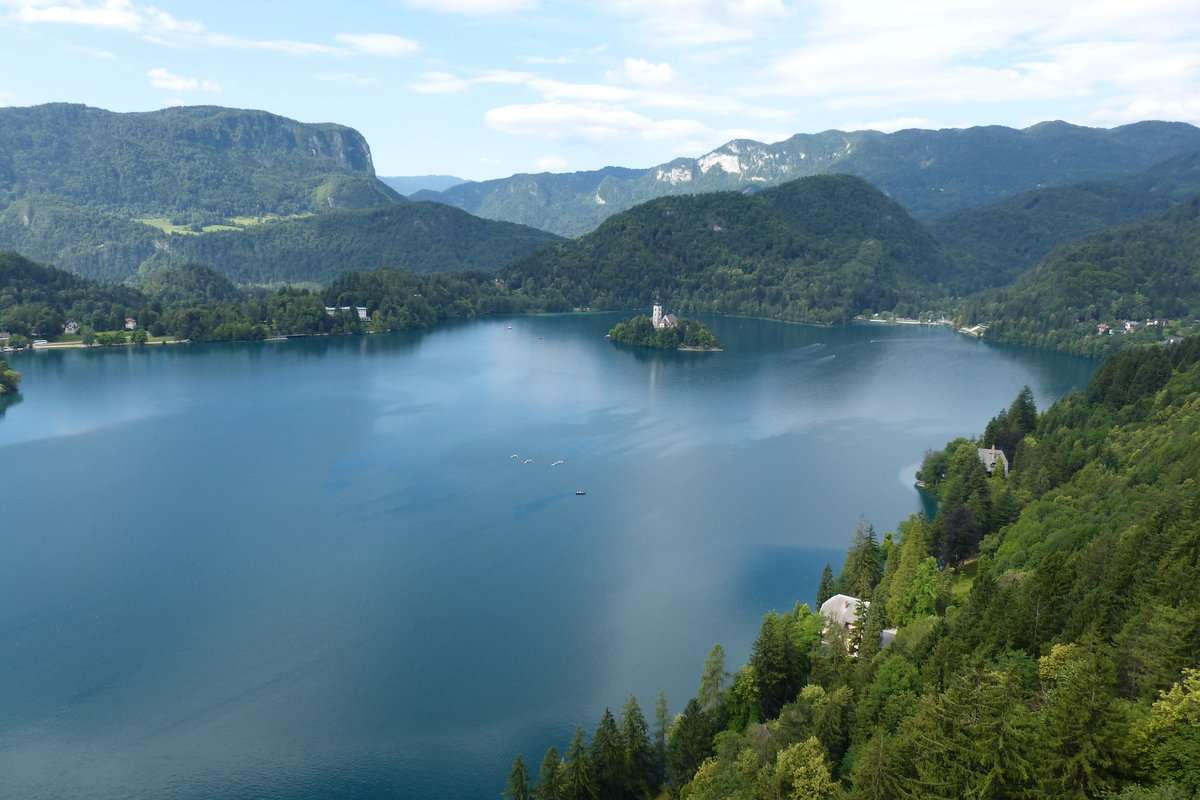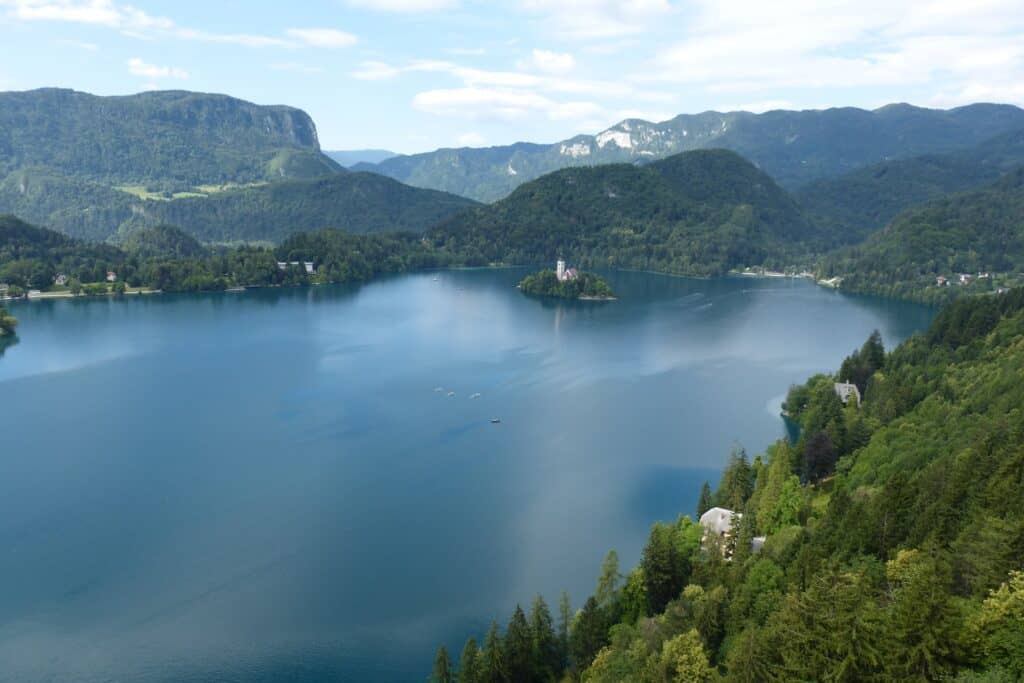 Walking around the lake takes around 1h30. From there, there are many walking trails that can take from 20 mins to 1 hour.
2-Climb up to the castle
Bled castle is the most visited attraction and the walk up there is the easiest as it takes only 20 minutes to get to the top but note there are some steep steps to climb. You can also drive up there and park for a fee or take a taxi. The castle is located in the North East shore of the lake on a precipice and you will be rewarded with stunning views.
The 1000-year-old castle also includes a free museum, a wine cellar, a blacksmith's workshop and a restaurant.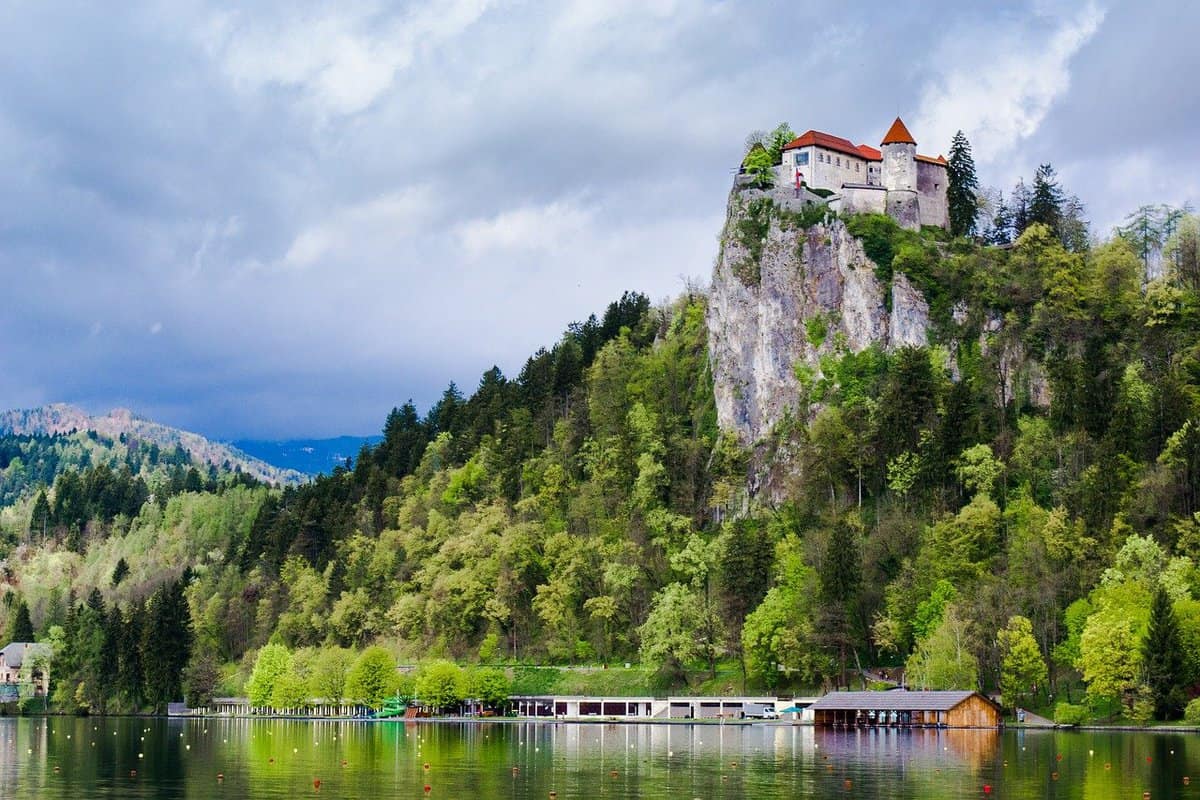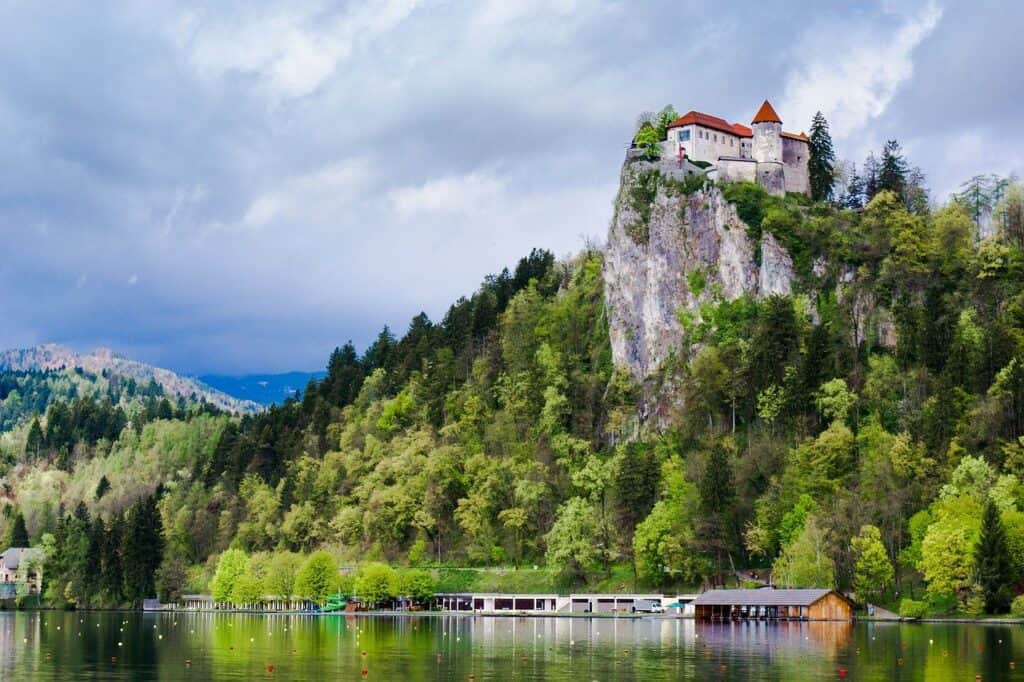 Bled castle is open all year around and its opening hours vary from season to season but in the summer it's open from 8 am till 8 pm. Tickets cost €13 per adult and €5 for children up to 14 years old.
3-Take a boat to Bled island
You can visit Bled island on a traditional pletna boat which are unique to Lake Bled and operated by a single rower with two long oars. You can hop off the boat and explore the island for a while or visit the Church of the Assumption where you can ring the wishing bell, which has been ringing over Lake Bled since 1534.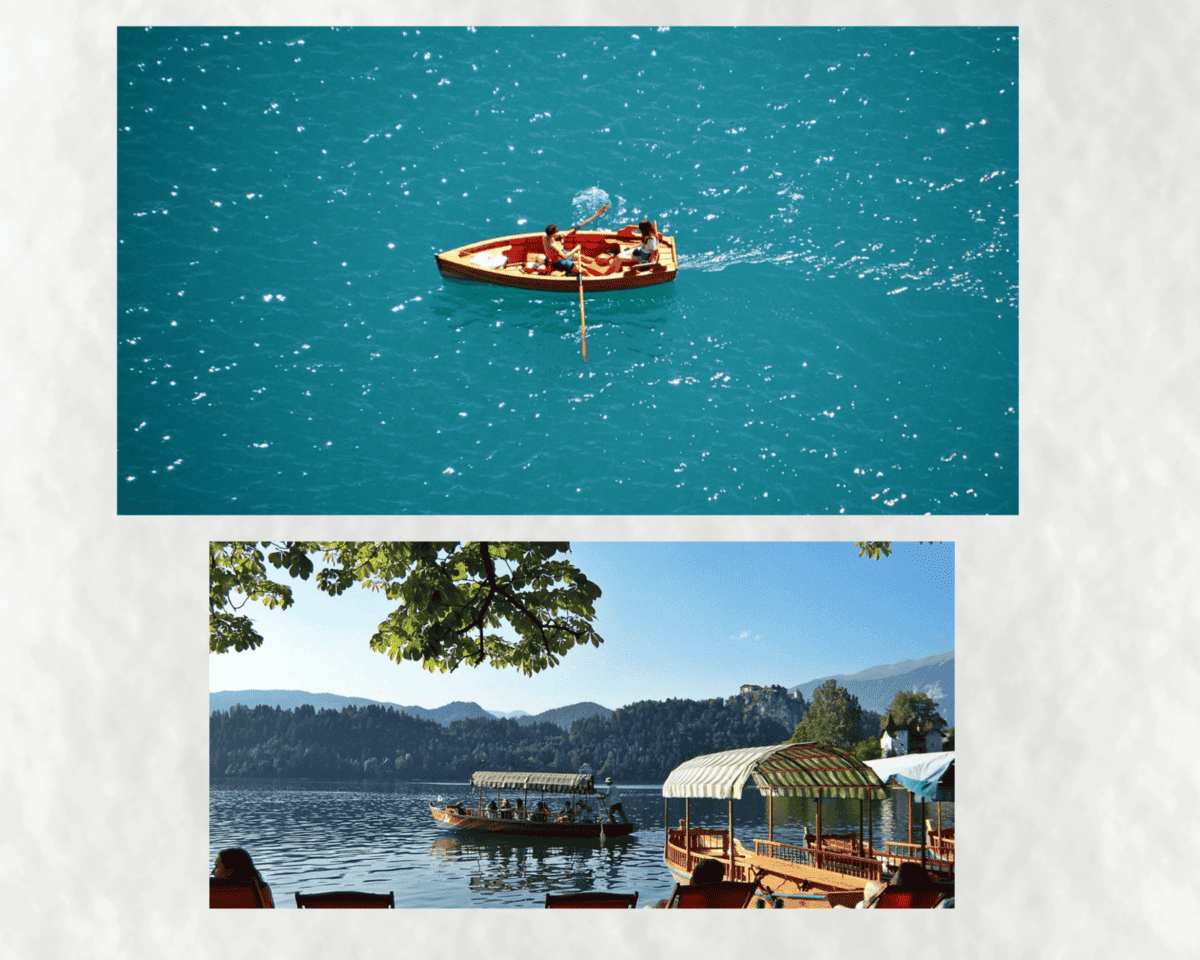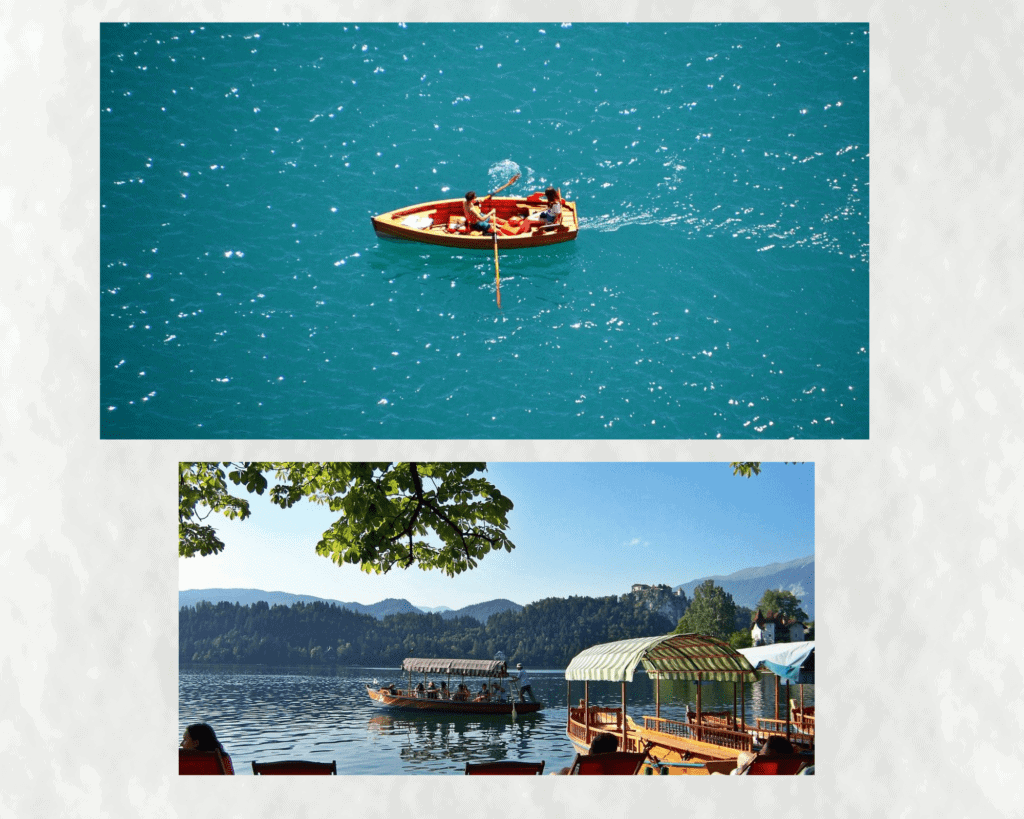 You can also hire your own rowing boat if you have strong muscles. Rowing can be tiring but it offers more flexibility and you can choose where to go. There are several boat renting companies around the lake and the price ranges from 15 to 20 euros per hour.
4- Hike to Ojstrica hill or Mala Osojnica
If boating is not your thing you can hike to a nearby hill to see the lake from a different angle. I decided to hike to Ojstrica hill because I heard it had the best viewpoint over Bled Island. Ojstrica is the hill with the little bench you often see in pictures. I bumped into a couple from the UK who were coming back and after briefly chatting about directions, they looked at my cute ballerina shoes and said "hopefully you have some decent trainers with you because those won't do it". Luckily I did. I was going on a trip to the mountains that same evening so had my whole hiking gear with me.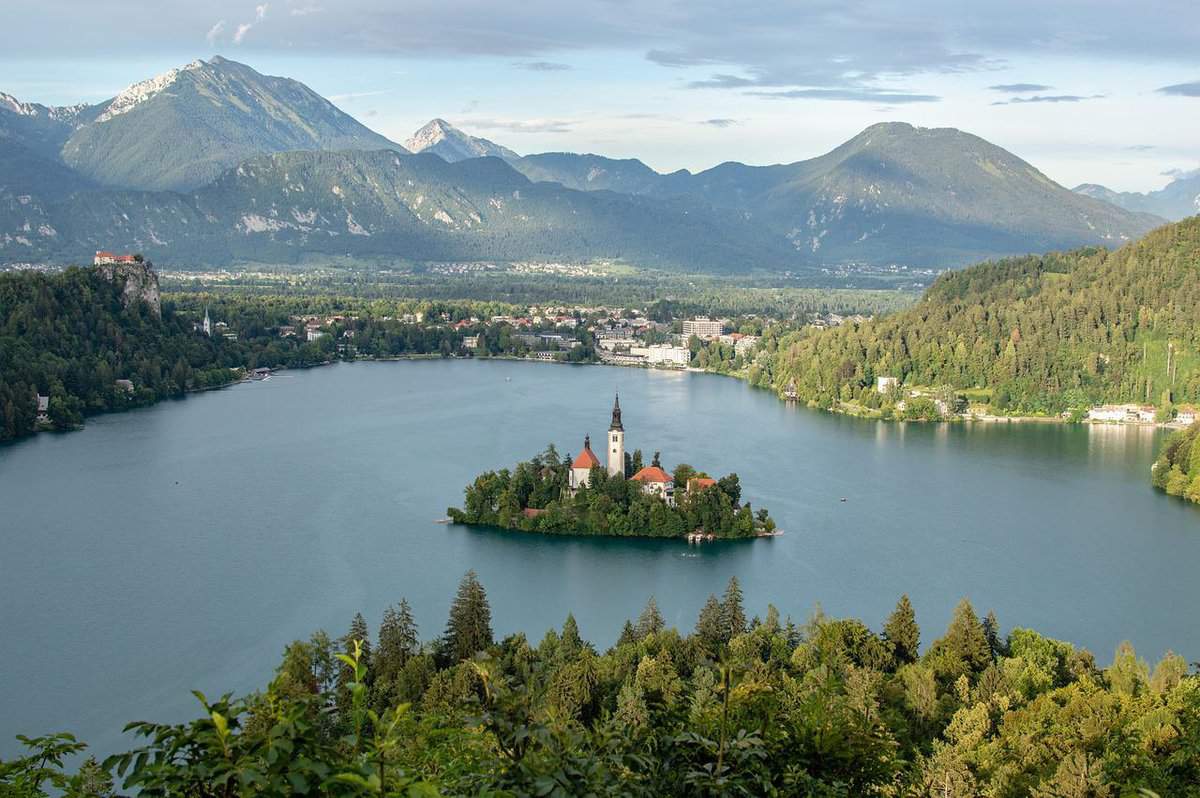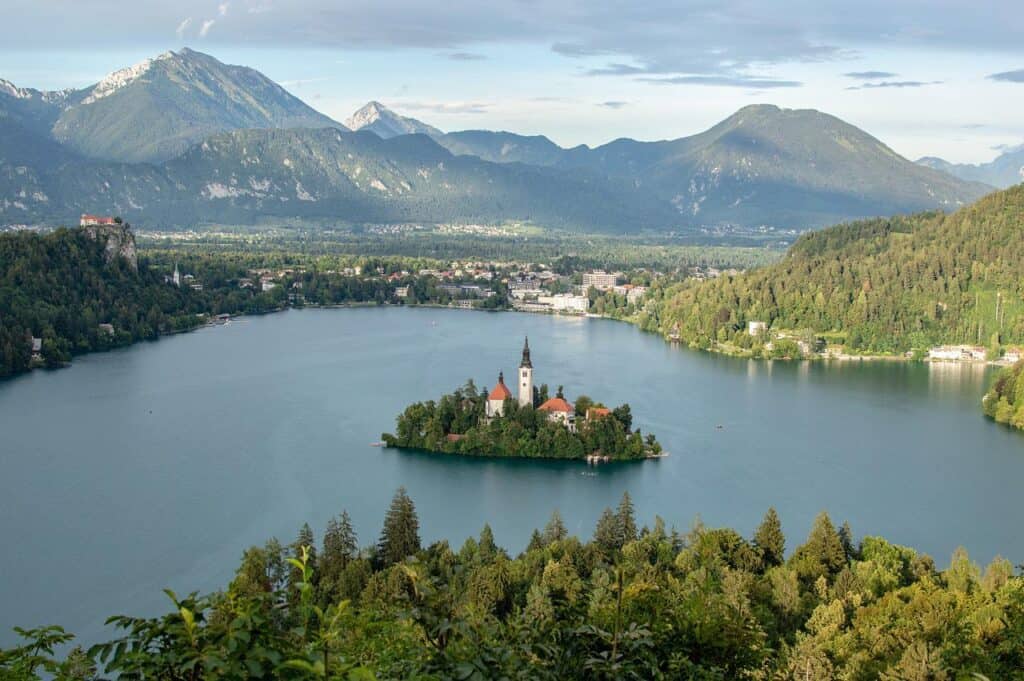 The hike took only 35 minutes but it was a steep and rocky ascent and I struggled as I was carrying both my photography and hiking gear. The trails were muddy and the rocks slippery, I saw some people in flip-flops give up halfway and felt grateful for my hiking boots. The path started to widen and diverge but there were signs every few metres. I misread the signs and accidentally took the path that goes to Mala Osojnica but being directionally challenged I walked in the opposite direction of that trail. I found myself in a dense forest with lots of huge trees and fallen branches in gorgeous colours, it was like a scene from Maleficent. I met a couple of hikers who were coming back and asked them if I was close to Ojstrica hill, they looked puzzled as they didn't know any hill names but they told me to carry on to the top of the footpath as the views were beautiful, so I decided to do the same thing and ignore the signs. 10 minutes later I found myself at the top, overlooking acres of green valleys, farmhouses and countryside roads but there was no sign of the lake! It was a tranquil spot though and I had it all to myself so I sat there for a short rest soaking up the views.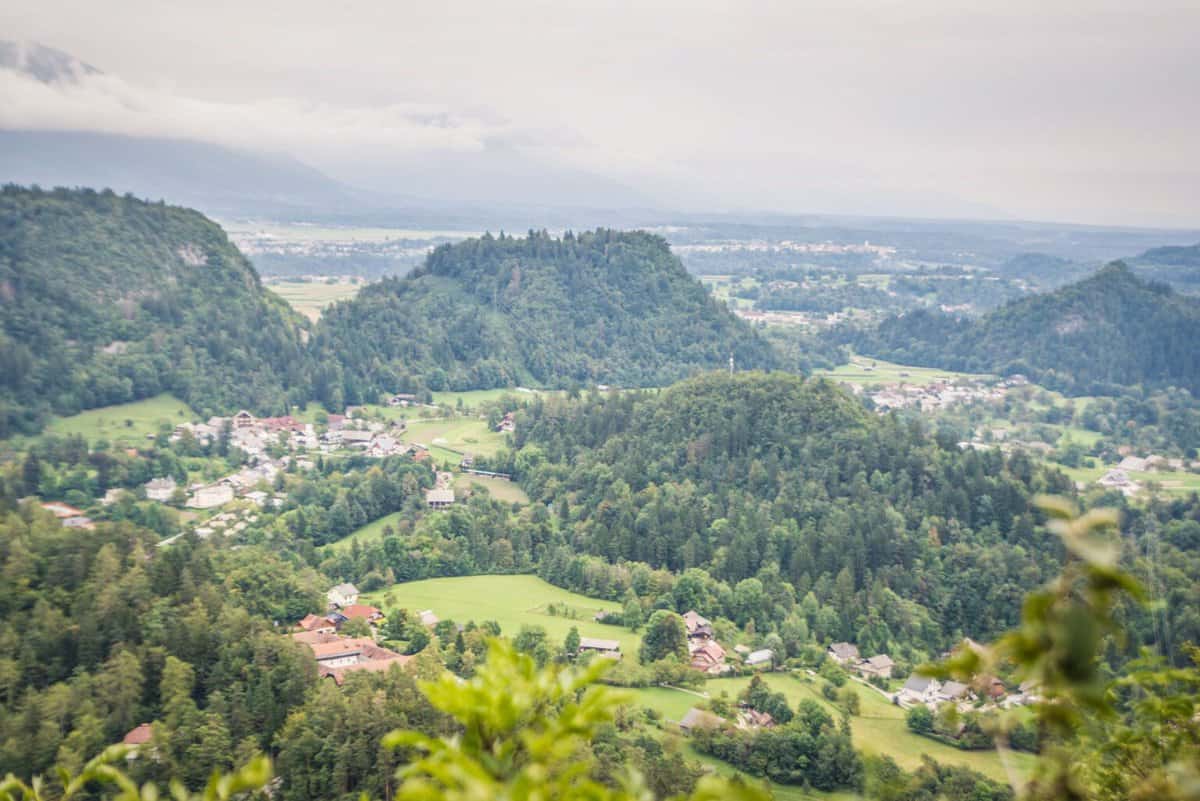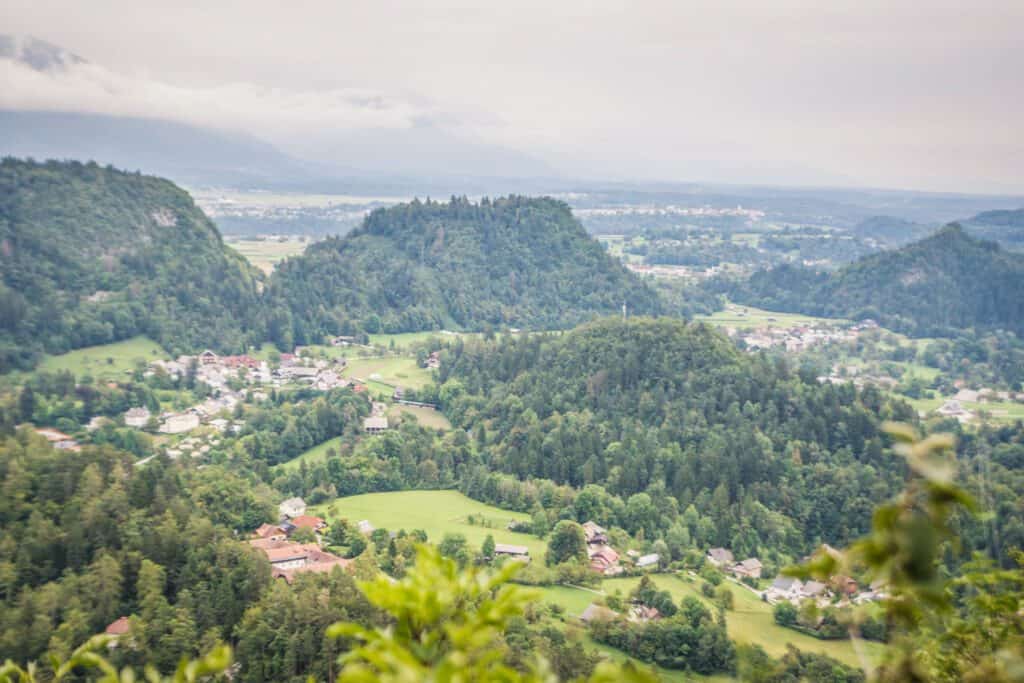 As I was coming down, I decided to walk in the opposite direction and noticed another footpath that goes up so I carried on walking. As I reached the top I had my first glimpse of Bled Island, majestically sitting in the middle of green calm waters, the sun had just come out as well so the lake looked a completely different colour. It was jaw-dropping and absolutely worth the pain. I realised after a while (and no sight of the bench) that I had taken the wrong footpath to Mala Osojnica instead of Ojstrica hill (did I mention I'm directionally challenged?) but I'm glad I did because there were so many viewpoints with various angles for photos.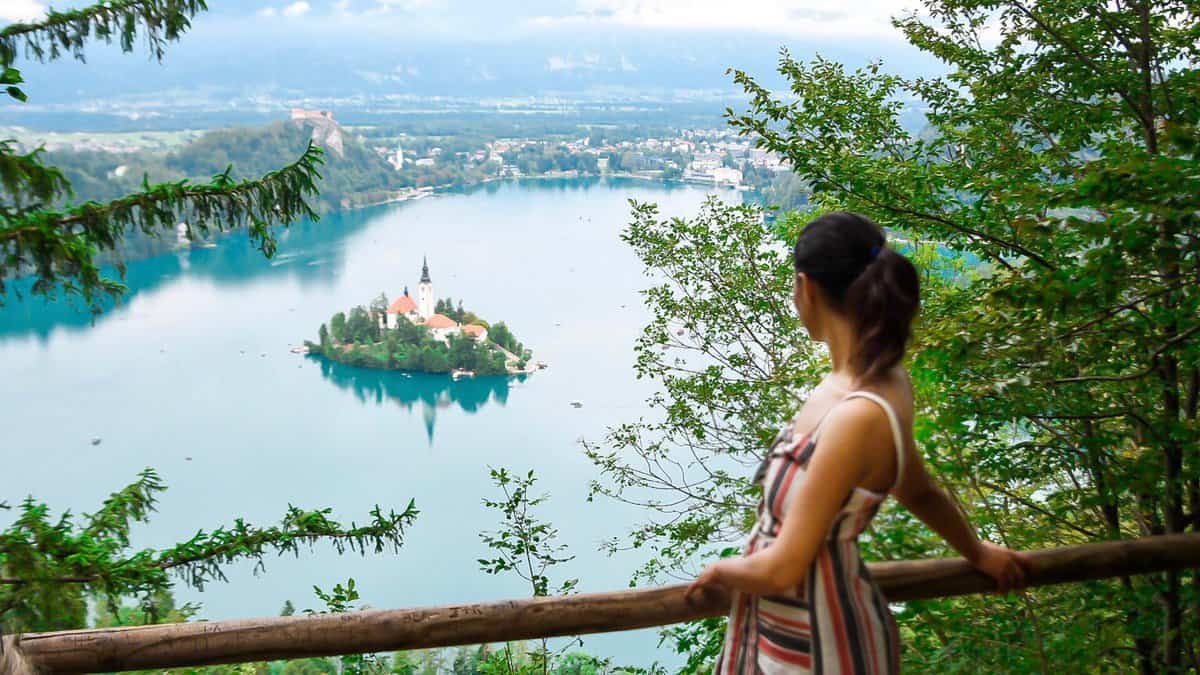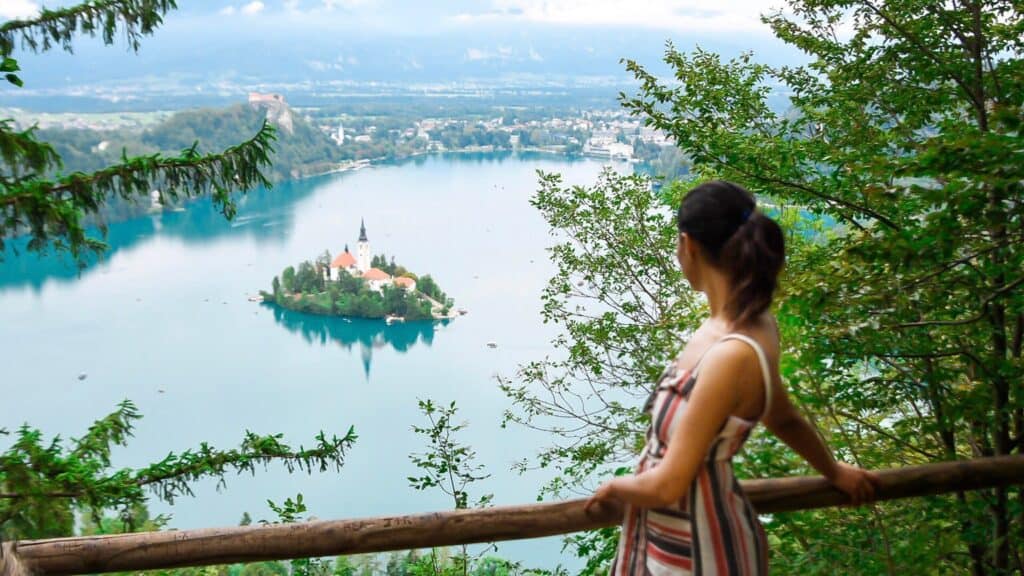 Morale of the story: Wear hiking shoes and don't worry about following a certain path because they all lead to stunning viewpoints of the island.
5- Take a refreshing dip in the lake
Coming down the hill was much easier and took less time. I took a different path so I could see the other side of the lake which was busier by then. The sun was out and casting reflections on the water which looked emerald green now. There were kids playing in the water, people canoeing and swimming. It was like stepping inside a Monet painting. I got closer to the water and touched it, it was cold but refreshing and I wish I had brought my swimming gear so I could take a dip.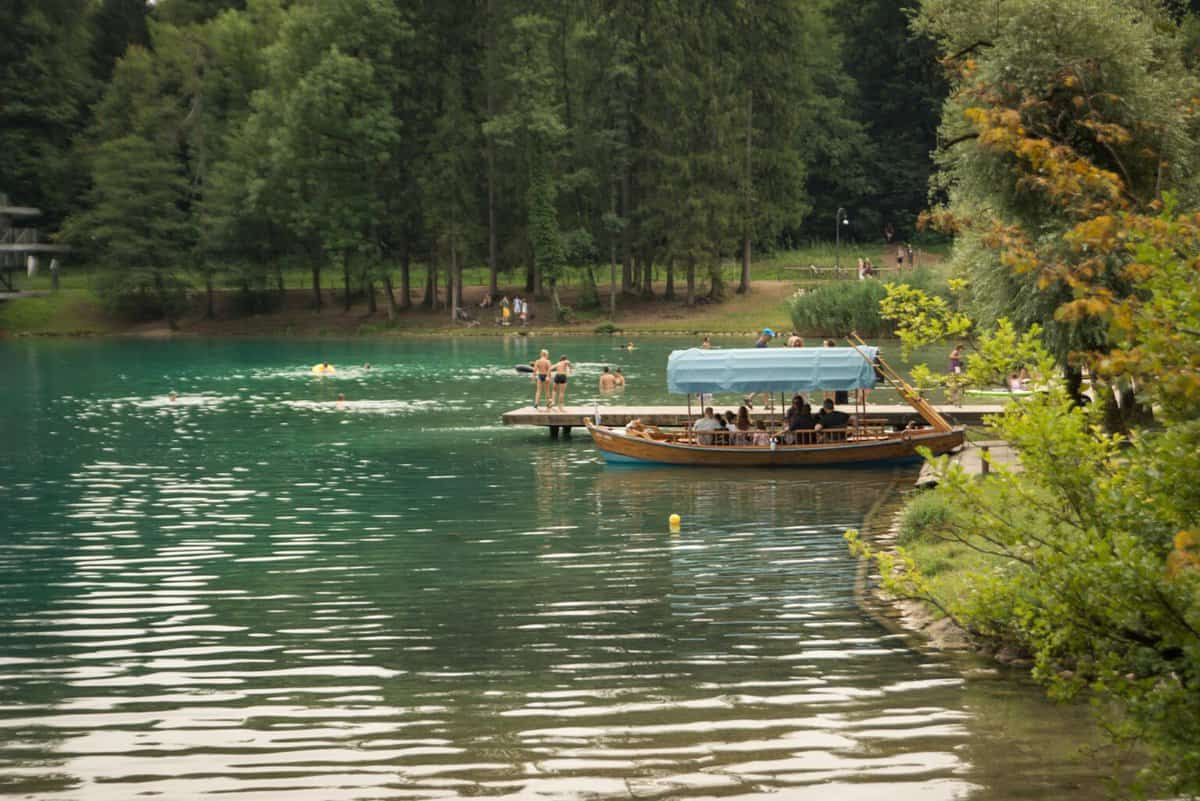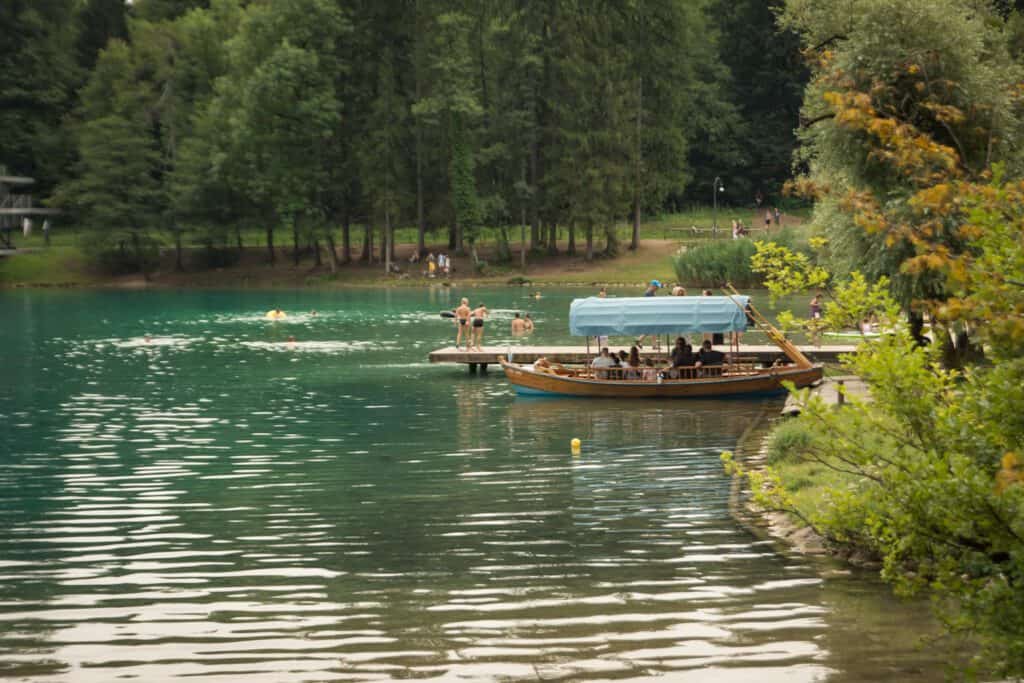 6- Go paddleboarding
Stand-up paddleboarding is one of the most fun activities to try in Lake Bled as the calm waters make it an ideal location for first timers. If you feel confident enough to try this activity unsupervised, there are SUP rentals within the lake where you can hire a board for around €10 for 1 hour (or €5  from 9 to 10 am). Otherwise, you can join a guided tour which includes a 2-hour lesson and practice with a private instructor.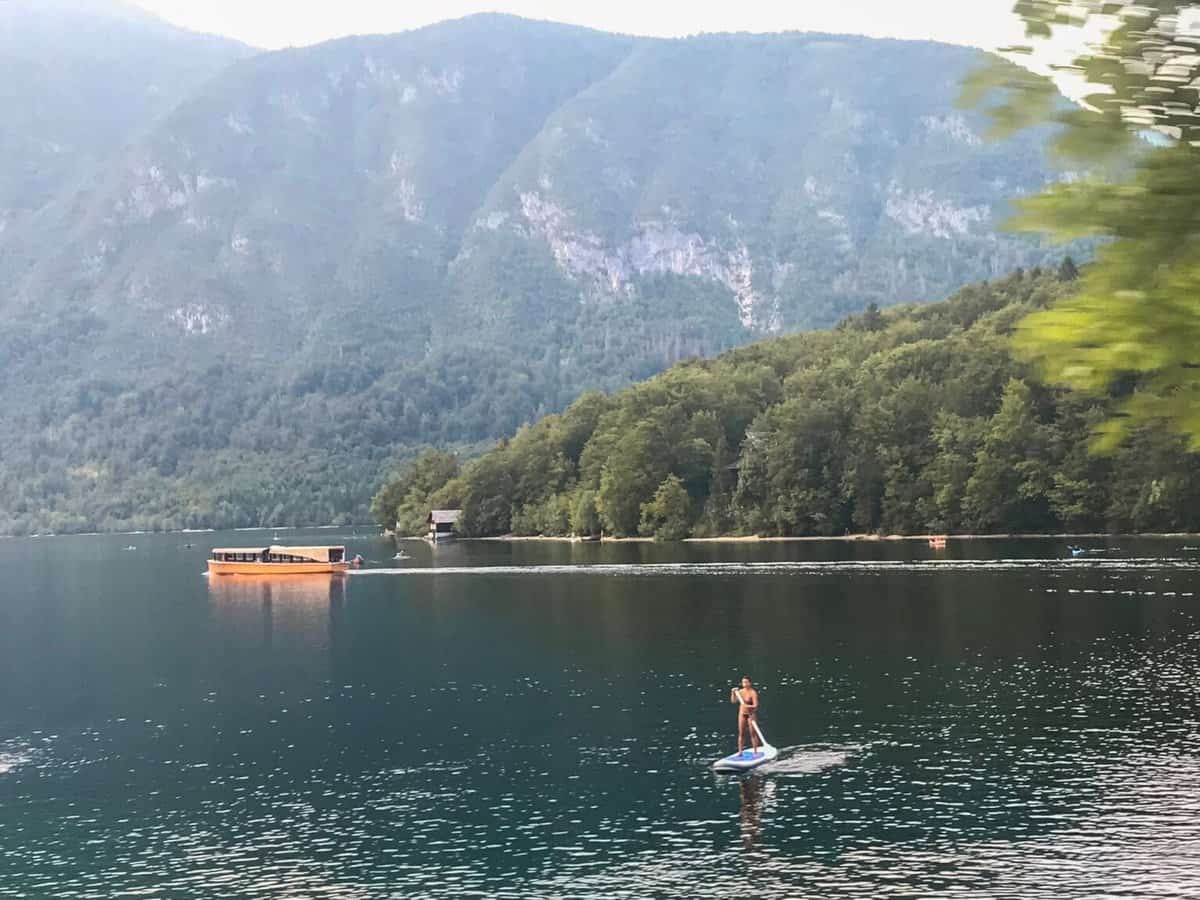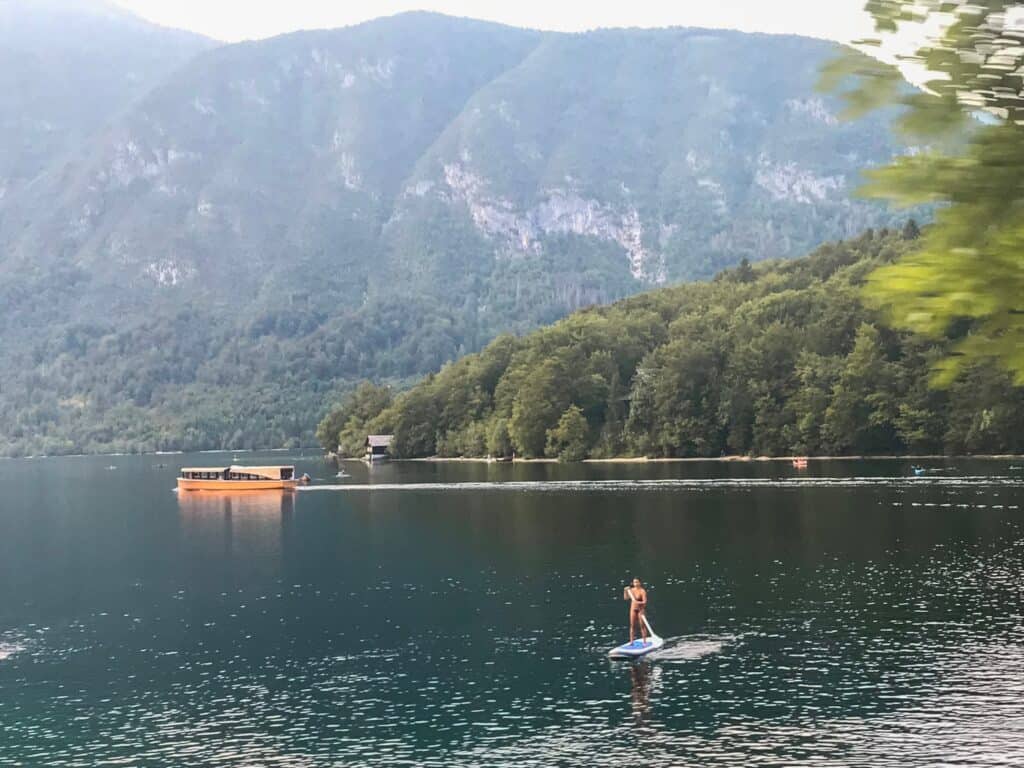 7- Have an afternoon tea
As I was walking back and ready to leave Bled, I walked past a café restaurant with a beautiful terrace on the shores of the lake. There were plenty of empty tables so I decided to sit and order a coffee. I chose the best spot with a direct view over the castle and treated myself to their incredible Bled cream cake, kremna rezina, a delicate square cake made of puff pastry, cream and custard. Heavenly delicious. The lake is dotted with restaurants and hotels all of which have terraces overlooking different views of the lake and all offer the famous Bled cake.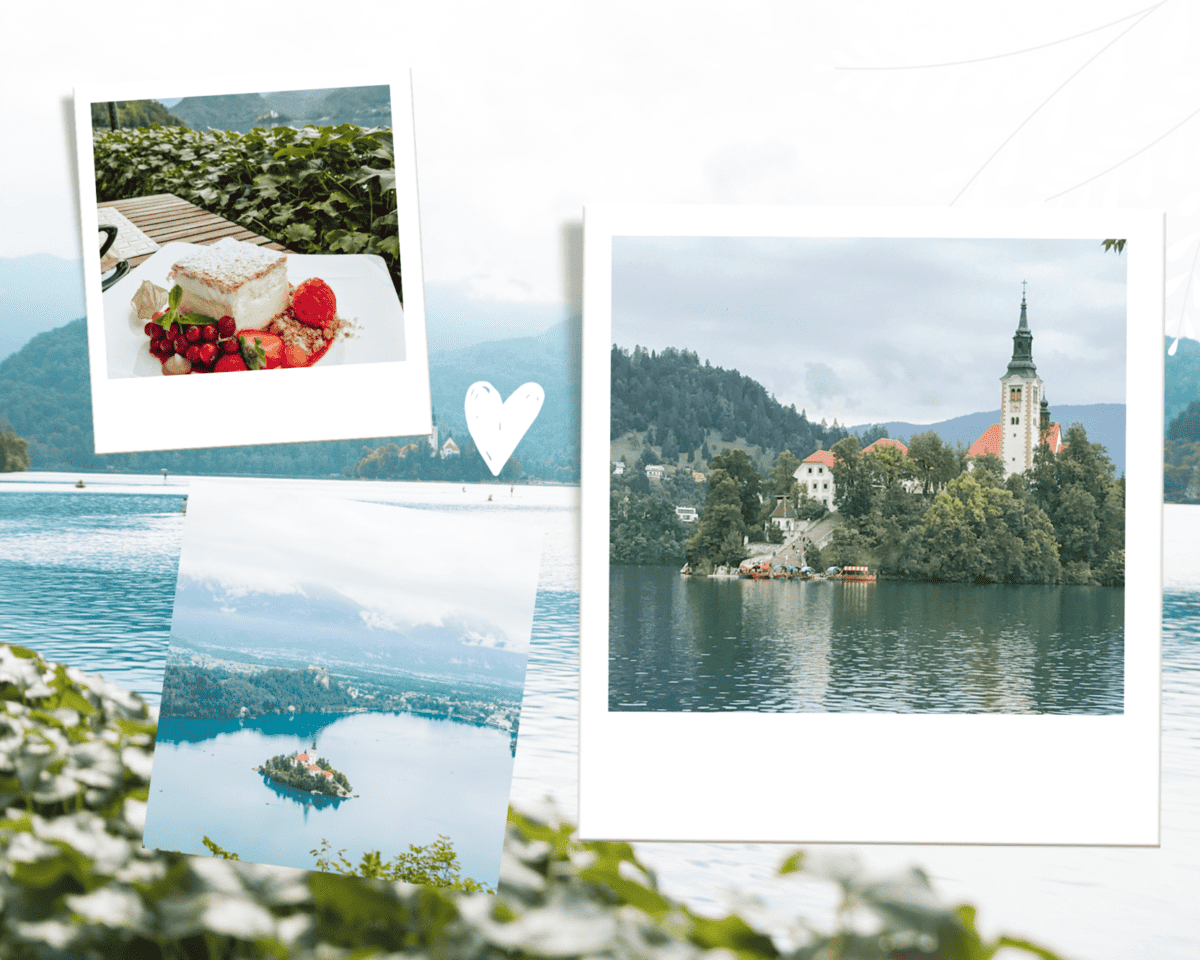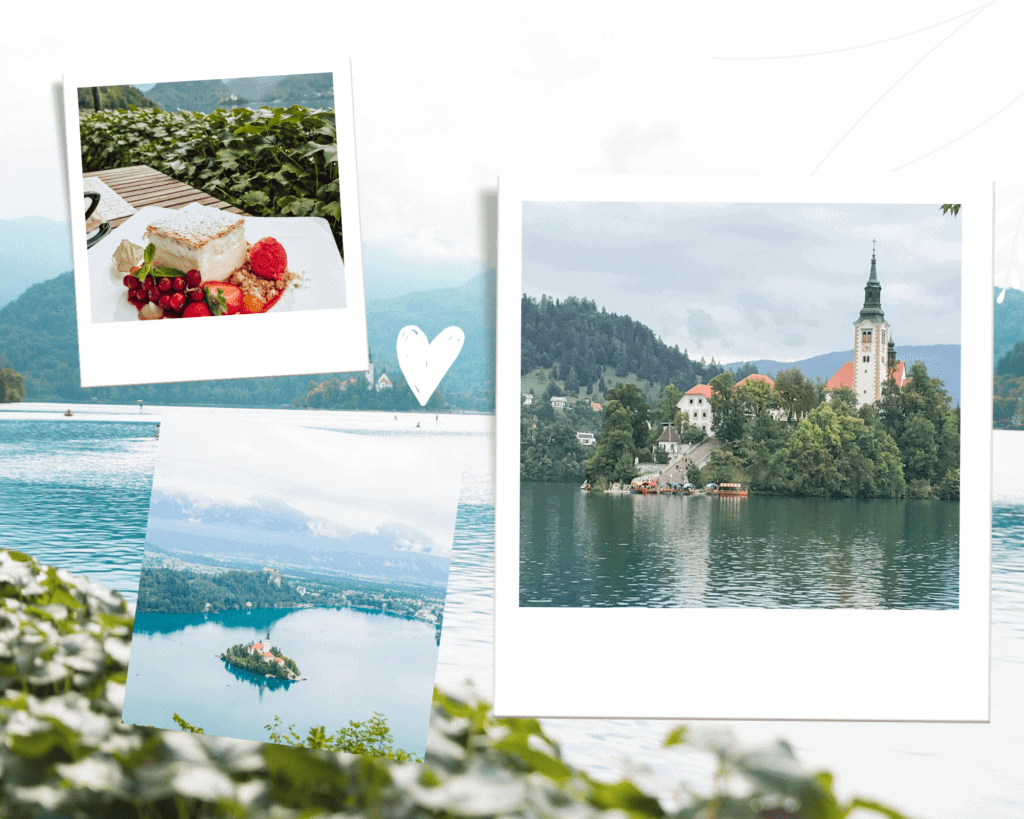 8- Visit Vintgar Gorge
I did this on a different day but you can easily include it in your day trip to Bled as it's only a short bus ride (€1). You can even walk if you have time (5 km= 60 mins approx.) The visit shouldn't take you more than 90 minutes but I recommend going first thing in the morning or late in the afternoon to avoid the crowds.
This is one of the most picturesque and relaxing walks you'll ever do and I highly recommend you don't skip it especially if you are travelling with kids.
located in Triglav National Park, the gorge is carved out by the crystal clear Radovna River, which created many pools and rapids that end in a giant 13 m waterfall, Sum Falls, the largest river waterfall in Slovenia. The Slovenians did an impressive job at building bradwalks which run along 1.6 km and provide a fun and very Indiana Jones like experience for adults and kids as you are momentarily suspended over the gushing river, looking directly into the emerald water.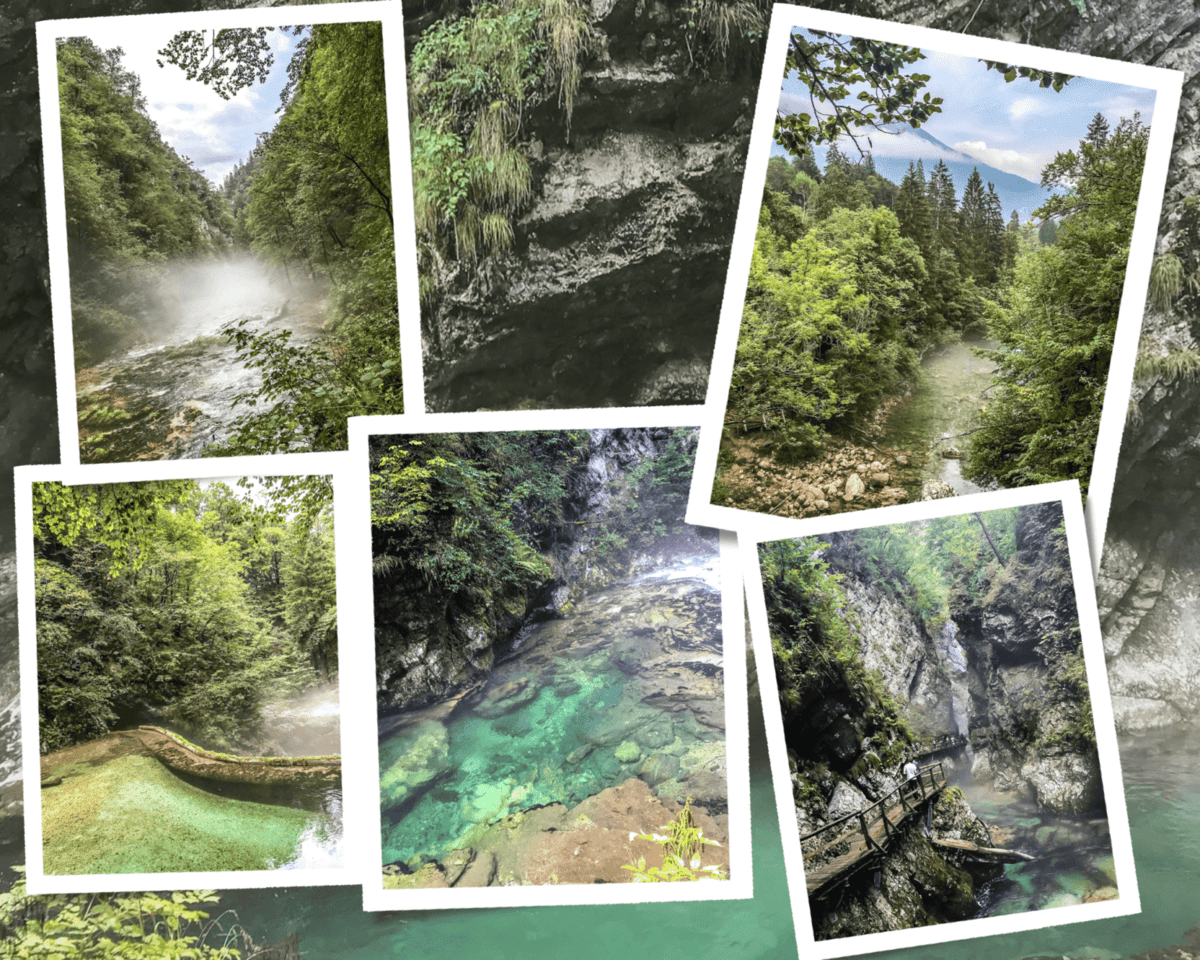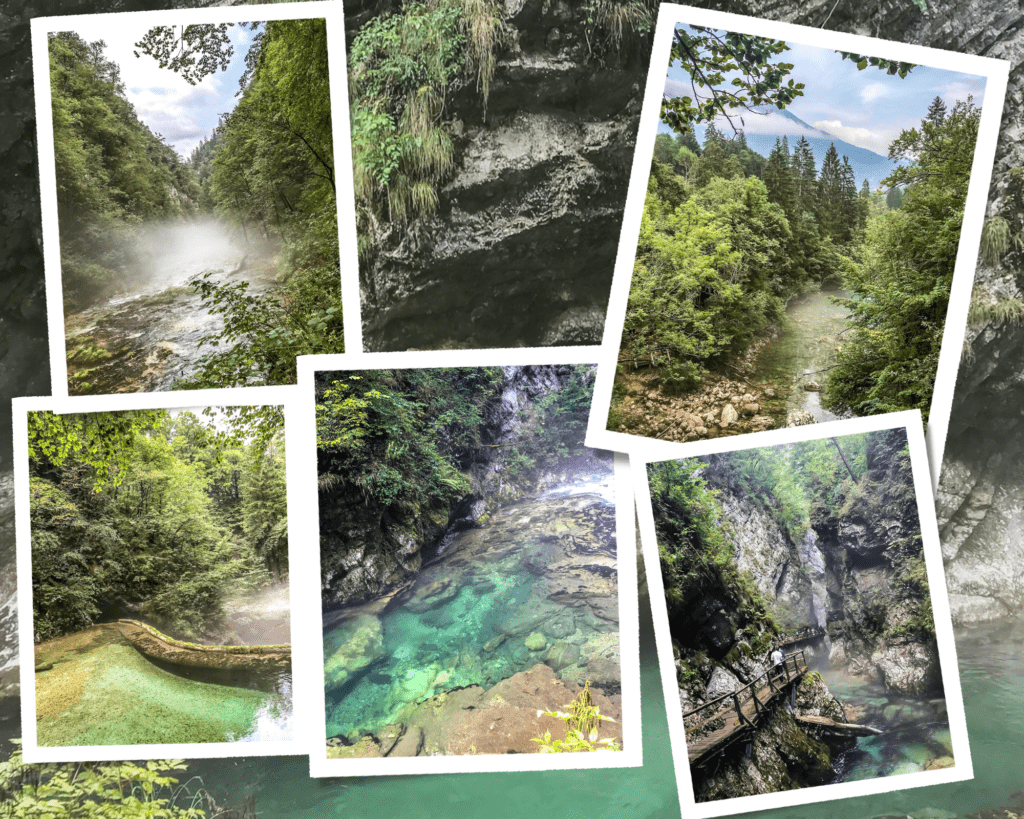 Vintgar Gorge is open from 7:30 am till 7pm in the summer months. The entrance fee is €10 for adults and €2 for kids.