A trip to Morocco isn't complete until you've stayed in a riad and Marrakech is home to some of the most exquisite riads in the country.
What is a riad?
Riads are traditional houses located in the medinas or the oldest parts of the cities in Morocco. In Morocco, a house is called "Dar". A "Riad" is an Arabic word which means "garden". Riads were inspired by the traditional Arab-Andalusian architecture and were called so because they were built with a focus on an interior garden or a courtyard. They are usually square or rectangular in shape and arranged around a central patio with a fountain, living rooms and a kitchen downstairs and bedrooms upstairs arranged over one or two floors with visible columns forming a succession of galleries which open onto the patio. Riads were designed with a view to offer families privacy from the outside world and protection from the elements and as such they don't have windows on the exterior.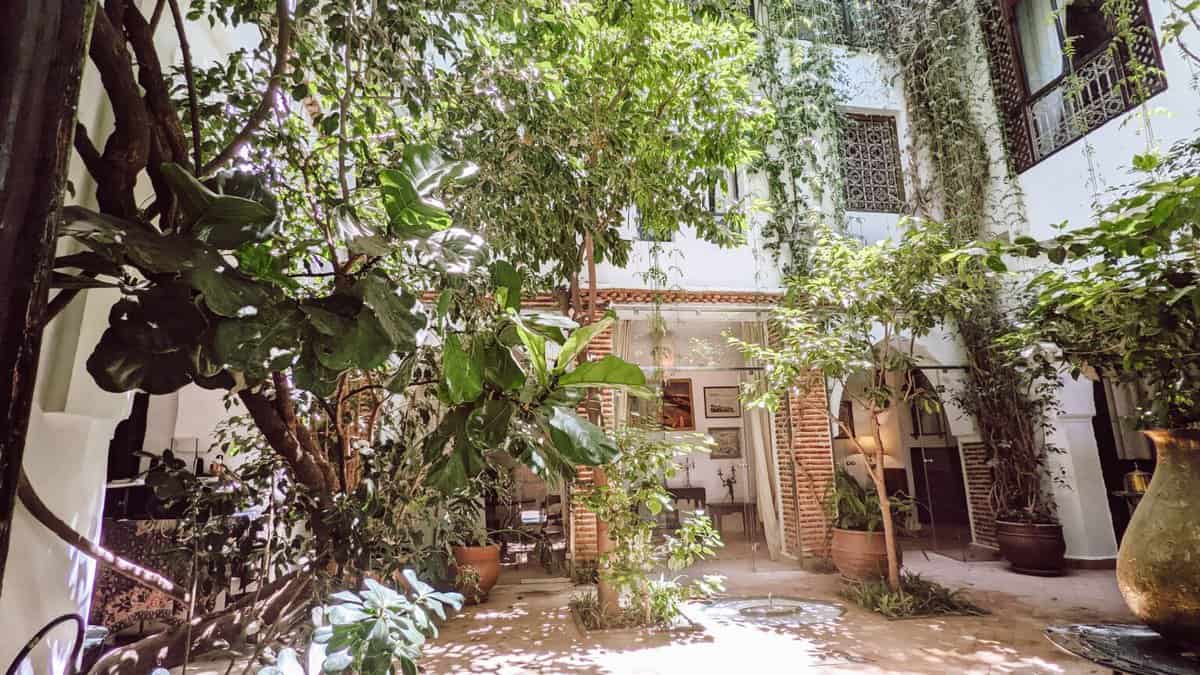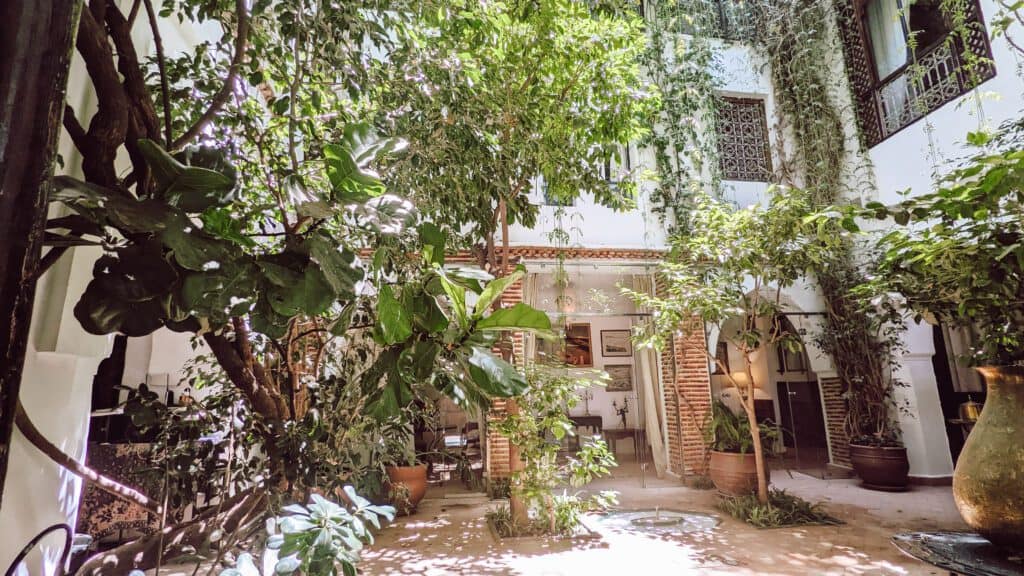 Most of the riads in Morocco have been converted into hotels or guest houses and refurbished to a high standard while preserving all their original features. They are often located in unremarkable narrow streets of the old town with an unassuming exterior but once inside, visitors are often amazed to discover hidden gems of architecture and craftsmanship and a sanctuary of relaxation they can escape to from the hectic souks of the medina.
Riads have a small number of rooms, usually no more than 6 or 7 so expect a relaxing and quiet stay with very accommodating staff.
The roof of a riad is also arranged to accommodate a terrace on which a solarium is built with a panoramic view of the roofs of the other riads in the medina.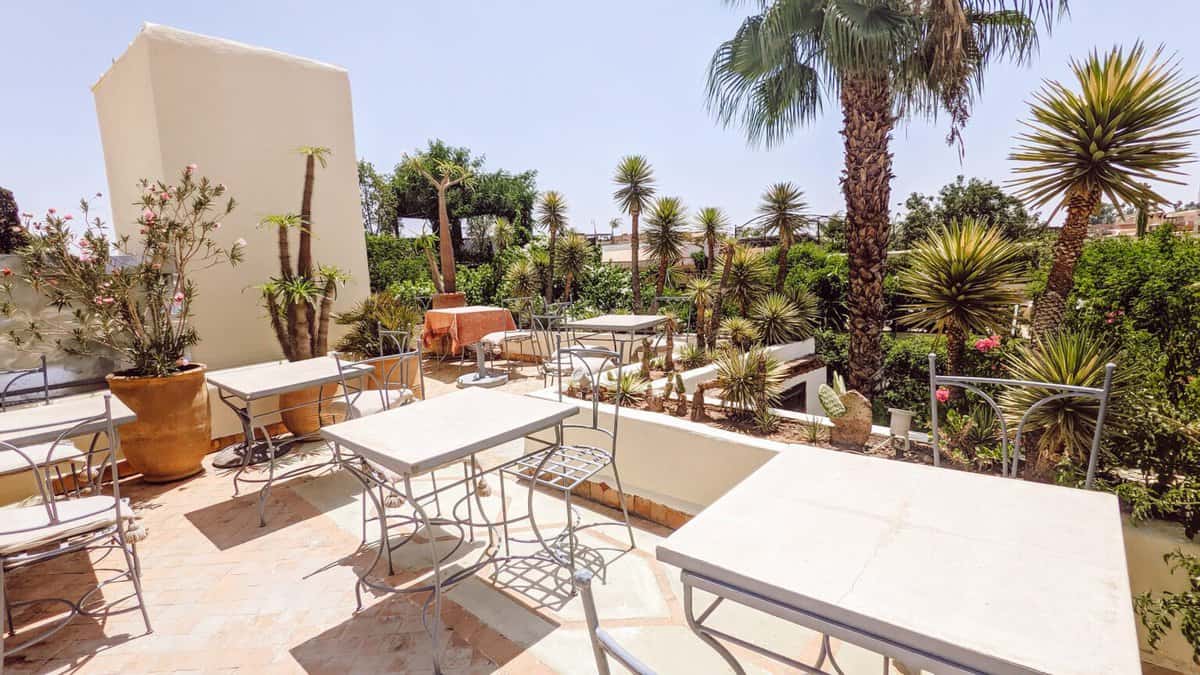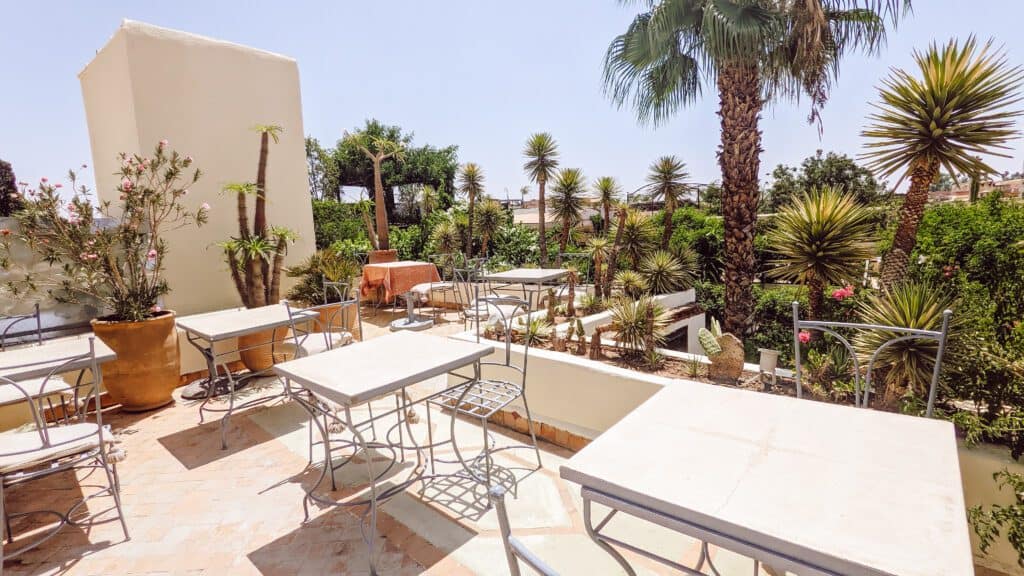 How to choose a Riad?
There are an estimated 1500 riads in Marrakech. That's an overwhelming number to choose from so it's important to know which factors you need to consider when selecting one for your stay. These include location and accessibility, airport transfer and reputation. Booking.com is my number one reference for hotel reviews and I have always been satisfied with my selection of hotels.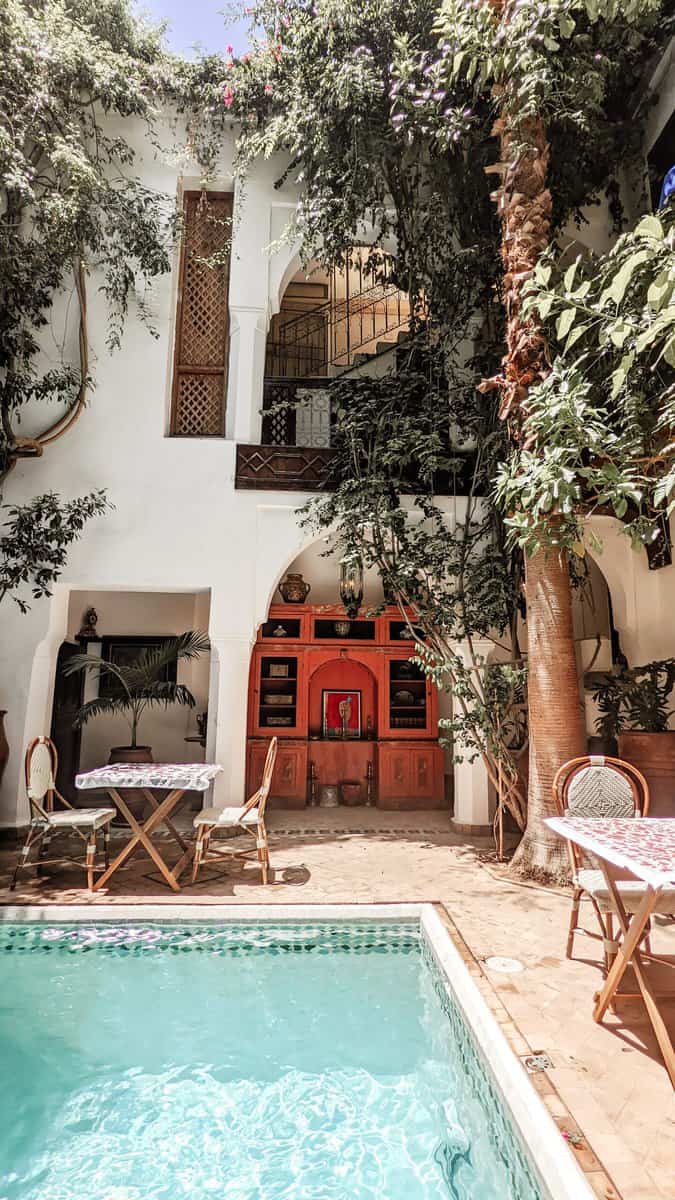 Riads come in all sorts of sizes and features, some are very traditional and allow you to have an authentic experience and be immersed in the history of the place and others have been modernised and often include a swimming pool and spa or hammam. Some riads have a concierge service and a restaurant and others showcase a love for nature through a display of lush trees and exotic plants within their courtyards.  This would also be reflected in the price as the more comforts a riad has the pricier it becomes.
If your aim is to spend as much time as possible exploring the city, choose a small budget riad which gives you ease of accessibility to these attractions. If you want a relaxing and fully immersive experience, choose a luxury riad with all the comforts.
Things to be aware of before booking a riad:
Most riads are located in the old part of the medina which make them difficult to find in the maze of bendy streets. The streets are not accessible to cars and Google maps don't work well there but a lot of riads have airport transfers and if you are coming from the city centre, they would send someone to collect you at an agreed landmark so make sure to ask if they offer this service before booking.
although most riads are in safe neighbourhoods, the roads can be badly lit in the evening so if you want to go out ask the staff if it's safe to do so.
Due to their location in popular neighbourhoods, your riad is likely to be located next to a local mosque so be prepared to be awakened by the call to prayer at dawn (on a microphone). You are also likely to hear other guests talk when they get up for breakfast in the morning since all rooms are designed to face the courtyard so If lie-ins are important to you then a riad may not be the right accommodation for you.
A lot of riads don't accept card payments onsite so make sure to ask your hotel if you need to pay in cash. They also add a local tax which is usually not mentioned in the advertised price.
Riads aim to offer a fully relaxing stay to their guests. They typically have no more than 6 or 7 rooms so don't be surprised if you are the only guest there especially in the shoulder season. Staff tend to go quiet or retreat to their rooms in the evening and rooms usually don't have a television so if you are traveling solo you might feel a little lonely in a riad.
My favourite riads in Marrakech
£££
Riad Kaiss
Featuring a rooftop terrace, a swimming pool and a hammam and located in the heart of the medina, Riad Kaiss is a 16th century building that once belonged to a Moroccan Sultan.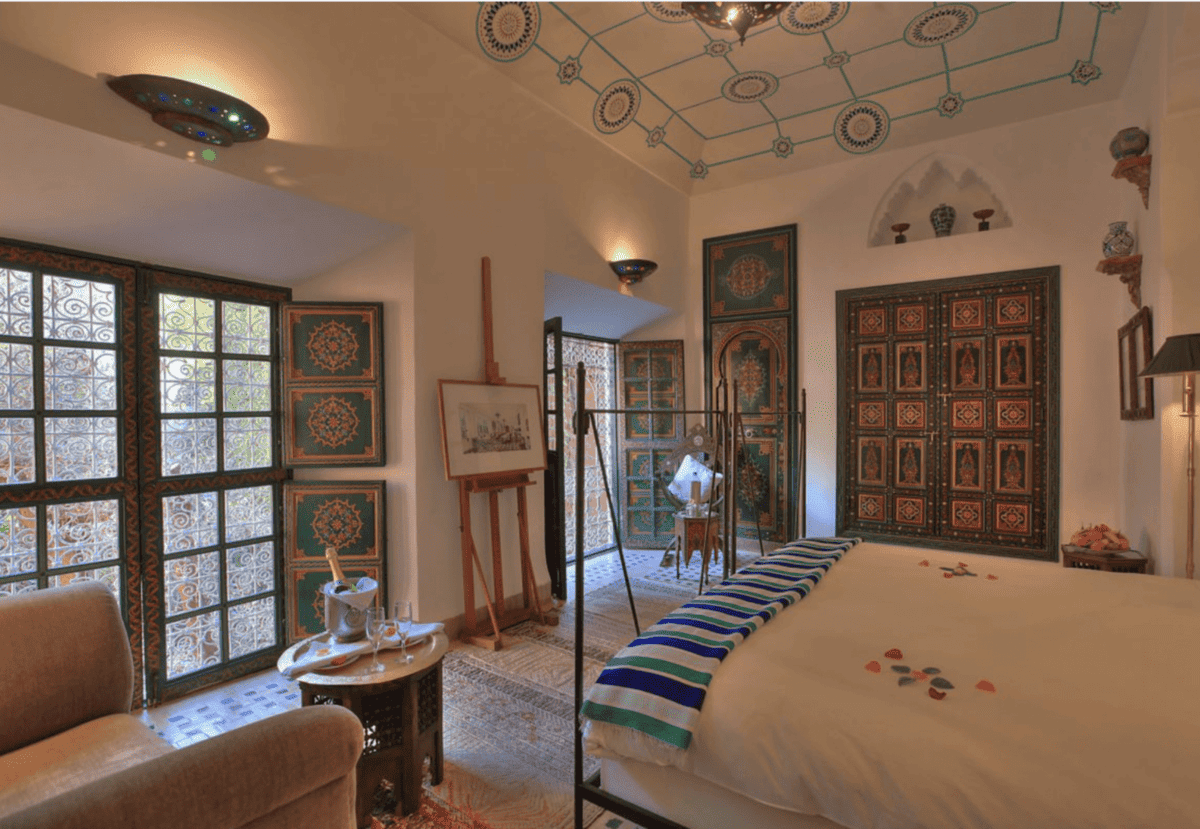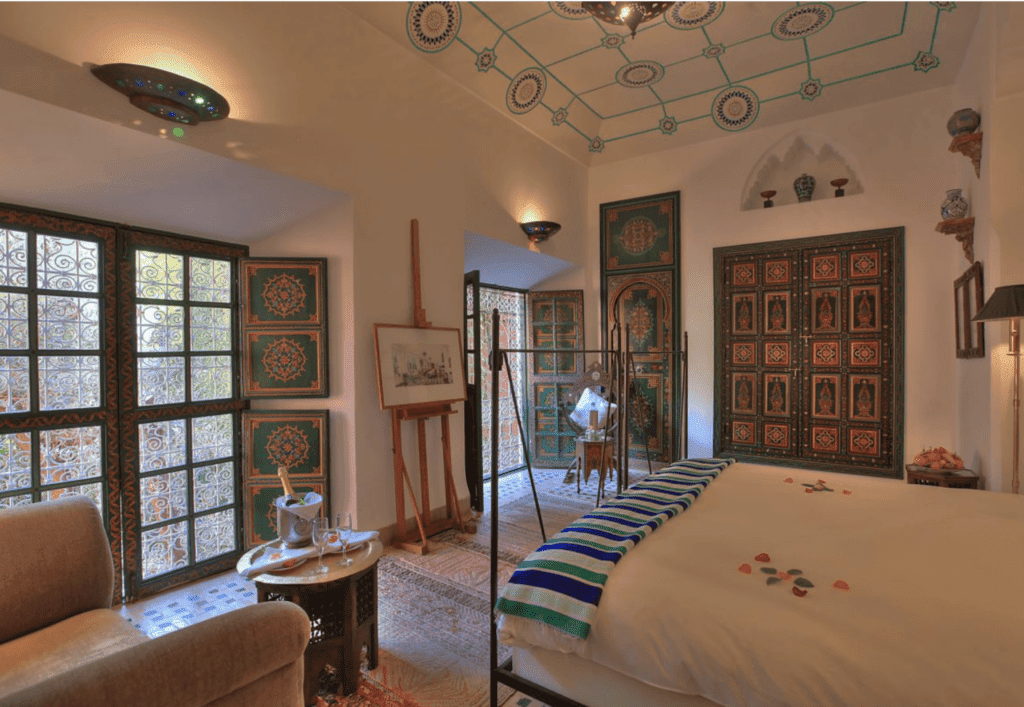 The riad was bought and restored in the 1980s and oozes luxury and elegance. From the highly decorated rooms with locally crafted fixtures and fittings and the suites featuring private outdoor sun terraces to the private bathrooms with tadelakt walls  and free toiletries. The riad also has a spa, a swimming pool and a traditional hammam. They offer several dining options within the riad and outside at their sister hotel, Dar Anika. A concierge is also available for your requests at the riad and outside if you want to arrange excursions or book transport.
Double occupancy start at £290 for a double room and £370 for a suite.
Riad Kniza
This 18th century building features 11 rooms and suites and is conveniently located within a short distance from Jamaa El-Fna square and the city's major monuments. The bed and breakfast riad includes a swimming pool, a sauna and a hammam.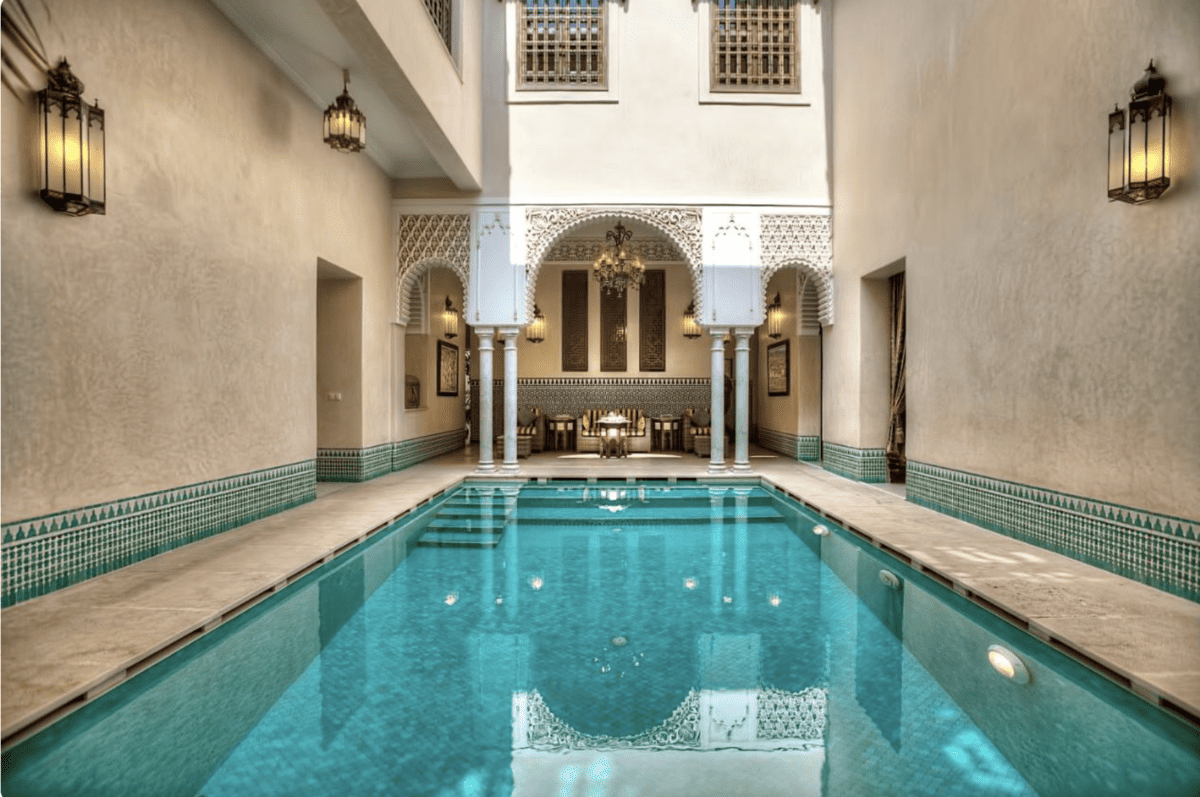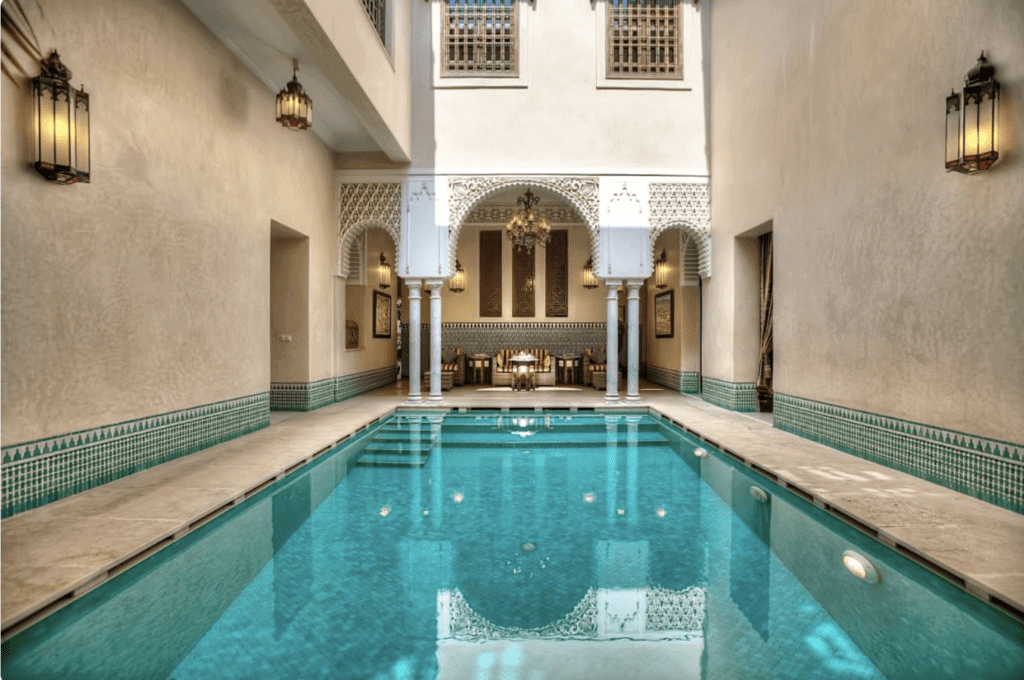 Decorated in a traditional Moroccan style with an amazing display of local antiquities, all the rooms have carved wooden furniture and a fireplace as well as a private bathroom.
Riad Kniza is run by a friendly family so expect a warm welcome and a unique experience. It has a restaurant where you can enjoy dinner in a group in one of their sumptuous Moroccan dining rooms or a more intimate meal in their roof terrace.
Double rooms occupancy starts at £200 for the superior deluxe room and £228 for the junior suite.
££
Riad Nayanour
This little oasis of tranquility is only a short walk from Jamaa El-Fna and the Jardin Secret. It has 7 bedrooms, including 2 suites, a large patio with a stunning swimming pool which is heated in winter, 2 large relaxation/reading rooms and a lovely roof terrace where they serve breakfast in the morning. There is also a terrace surrounding the swimming-pool where you can enjoy dinner which needs to be ordered in the morning.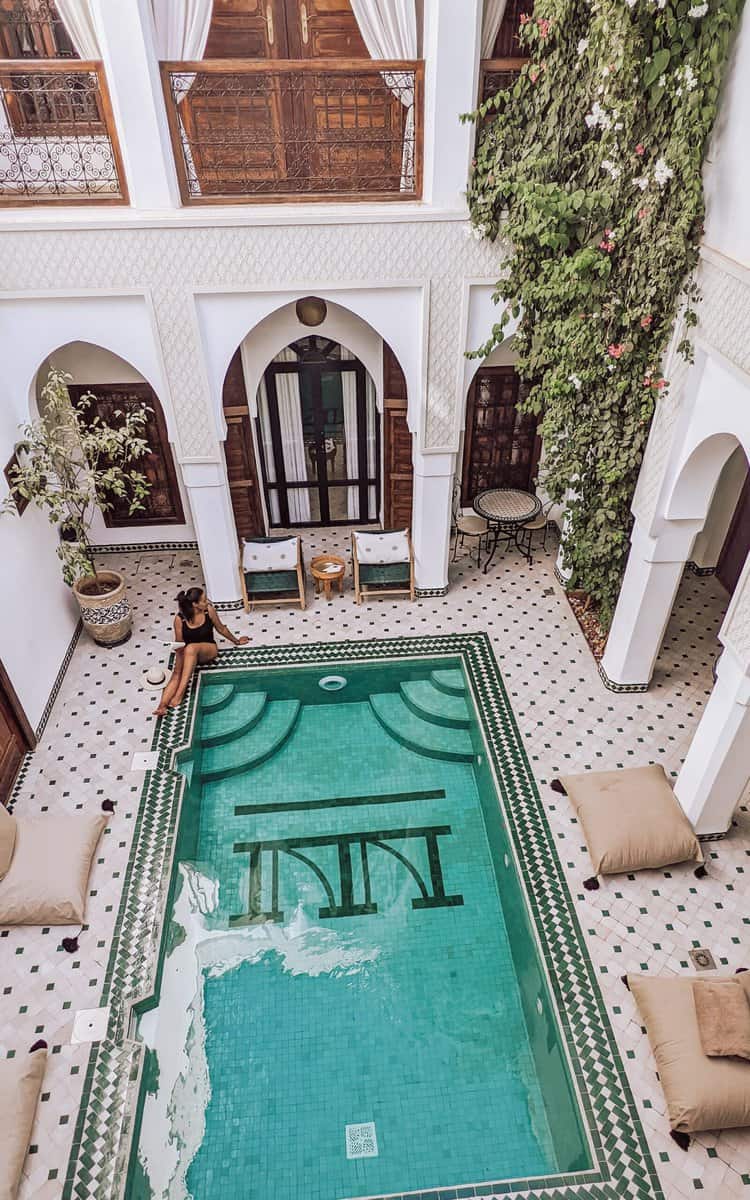 The rooms are minimalist and tastefully decorated in white and brown furniture complete with a private traditional bathroom. Riad Nayanour offers a home from home experience where you can enjoy the best of Moroccan hospitality.
Double rooms start at £110 for a standard room and £120 for a superior or deluxe.
Riyad Lyla
One of the most exotic riads in the medina, Riad Lyla features an incredibly lush garden with trees and plants hanging from balconies. It has 6 rooms including a family room and an executive suite. The rooms are large with floor to ceiling windows overlooking the canopy of trees in the courtyard and include a private bathroom with tadelakt walls and a shower.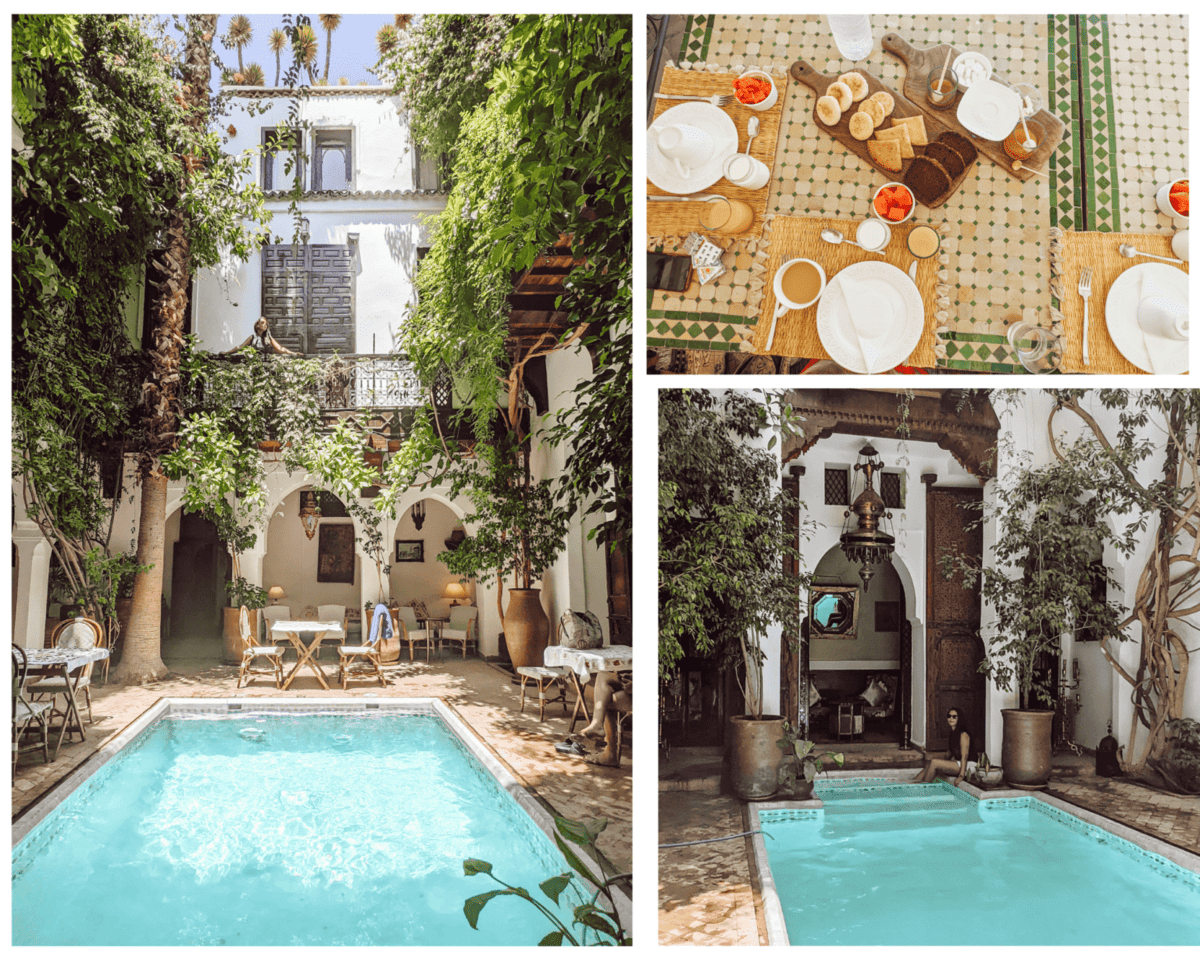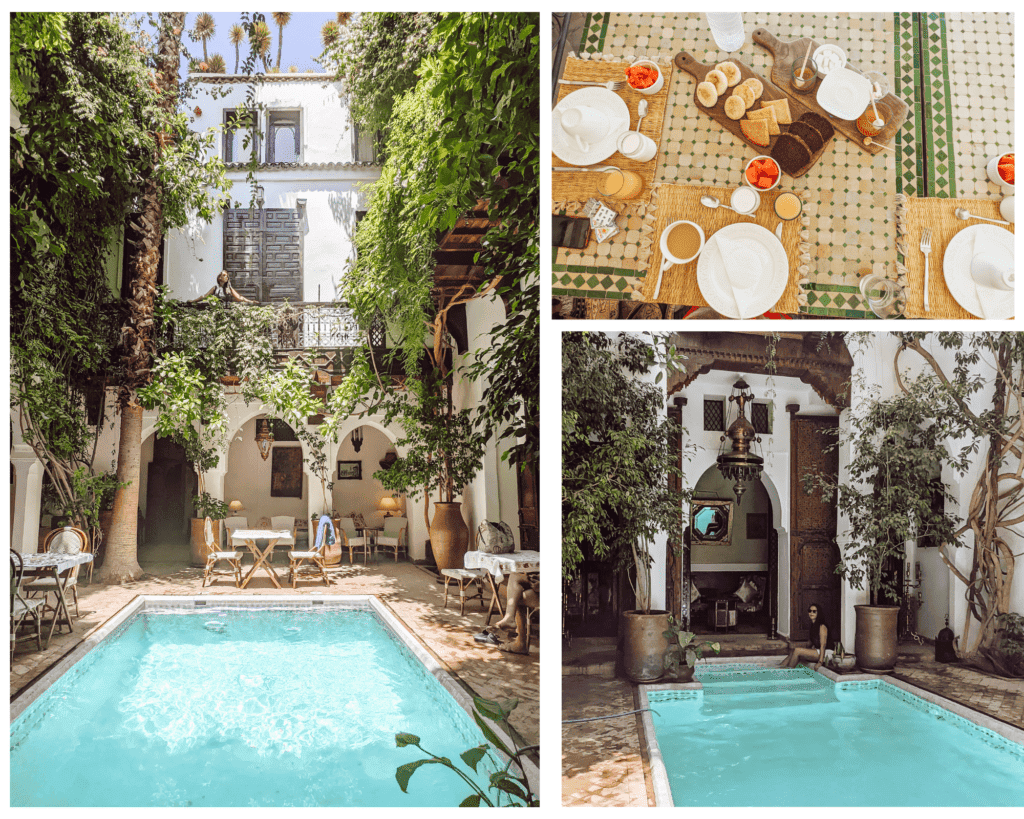 The riad has a big swimming pool, a terrace where you can enjoy a home-made dinner which needs to be ordered the day before and  a rooftop terrace offering fabulous views of the Medina.
Riad Lyla is a located a short walk from the souks of Marrakech and the Ben Youssef Madrasa.
Double rooms start at £100 for a standard room and £105 for the executive suite.
£
Riad Dar Tasnime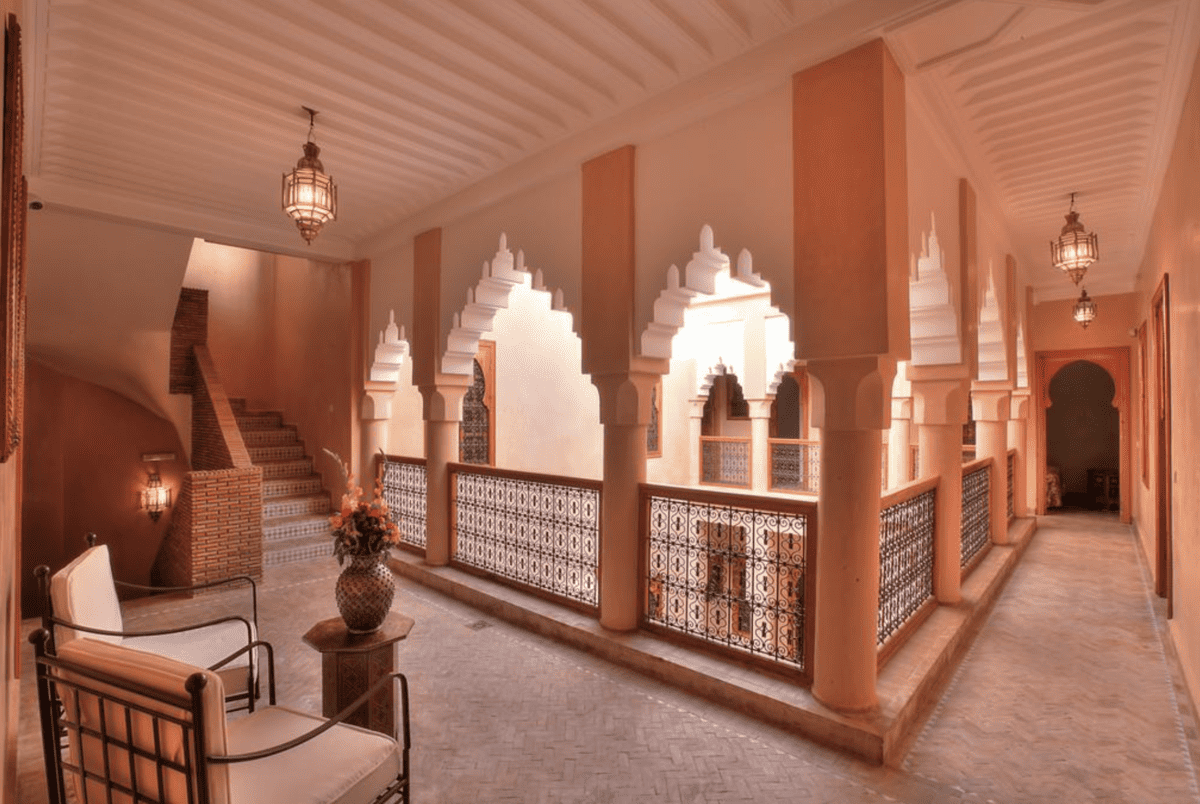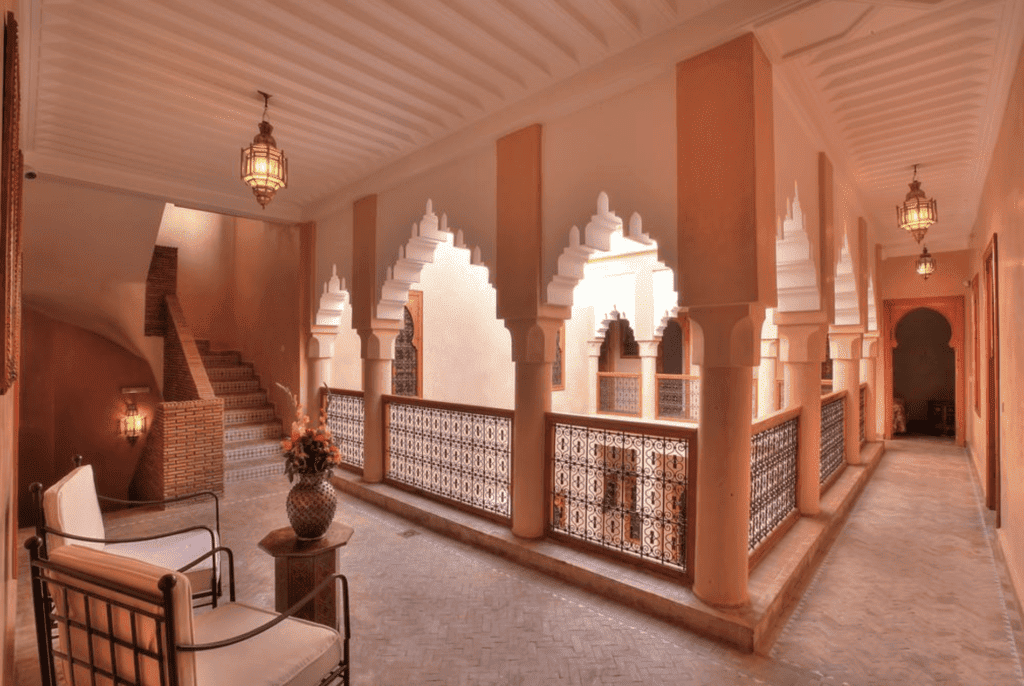 Riad Dar Tasnime is a lovely guest house in the heart of the medina. offering great value for money,
The riad has six rooms which have been completely renovated and include a ton of traditional features. Each room has its own private bathroom with a shower and free toiletries. The riad includes access to a rooftop terrace with panoramic views. This is a real authentic Moroccan house which showcases the wonderful Arab-Andalusian architecture throughout. It's the perfect place to stay if you want to experience a riad for the first time but don't want to splurge on accommodation.
Double rooms start at £65.
Ryad Hamza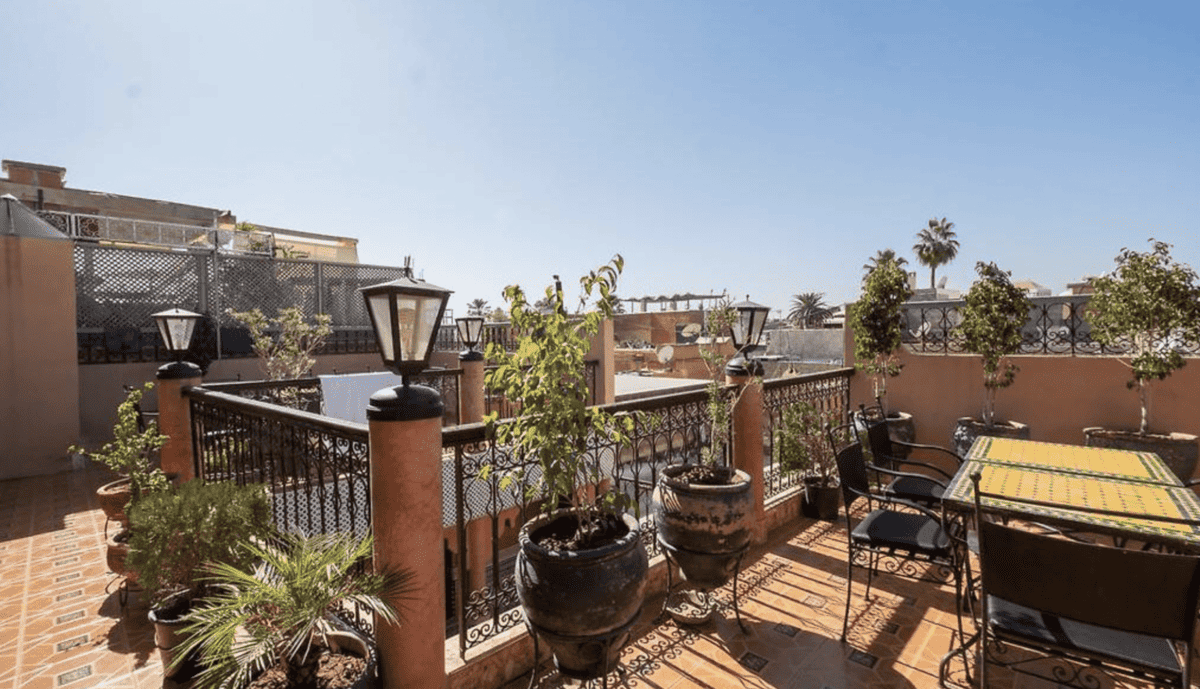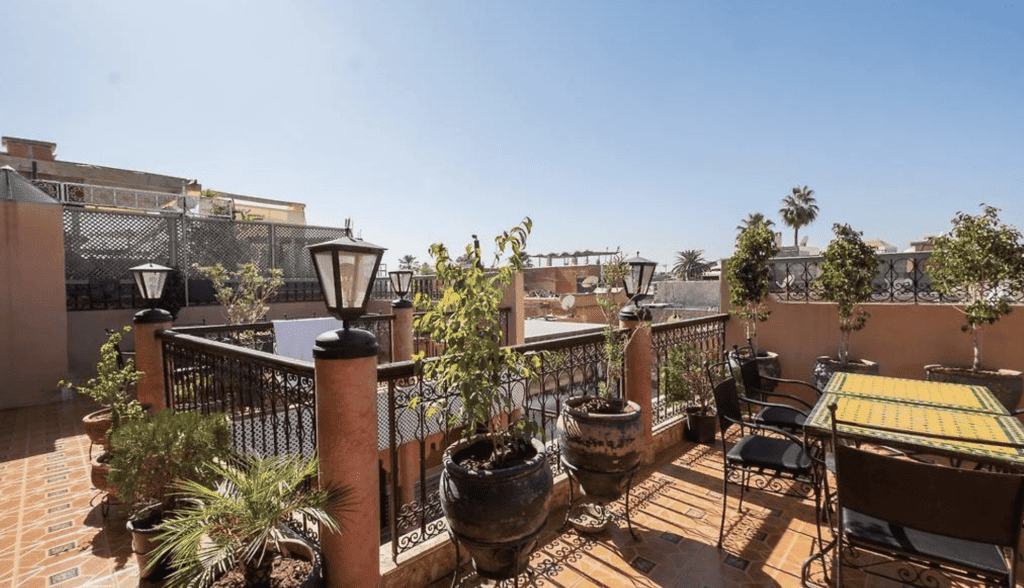 This super budget riad is packed full of stunning mosaics, colourful rooms and traditional features and is only five minutes walk from Jamaa El-Fna square and the souk. It features a lovely rooftop terrace with a garden where you can enjoy breakfast or soak up the hot sun of Marrakech.
Ryad Hamza doesn't include air-conditioning so it would be a great option for a visit in Winter. With a free breakfast and wifi, this is a gem place if your aim is to discover the city and go back to the hotel in the evening to relax and sleep.
Double rooms start at £38.
Note: prices are from booking.com for October 2022 and are subject to change .