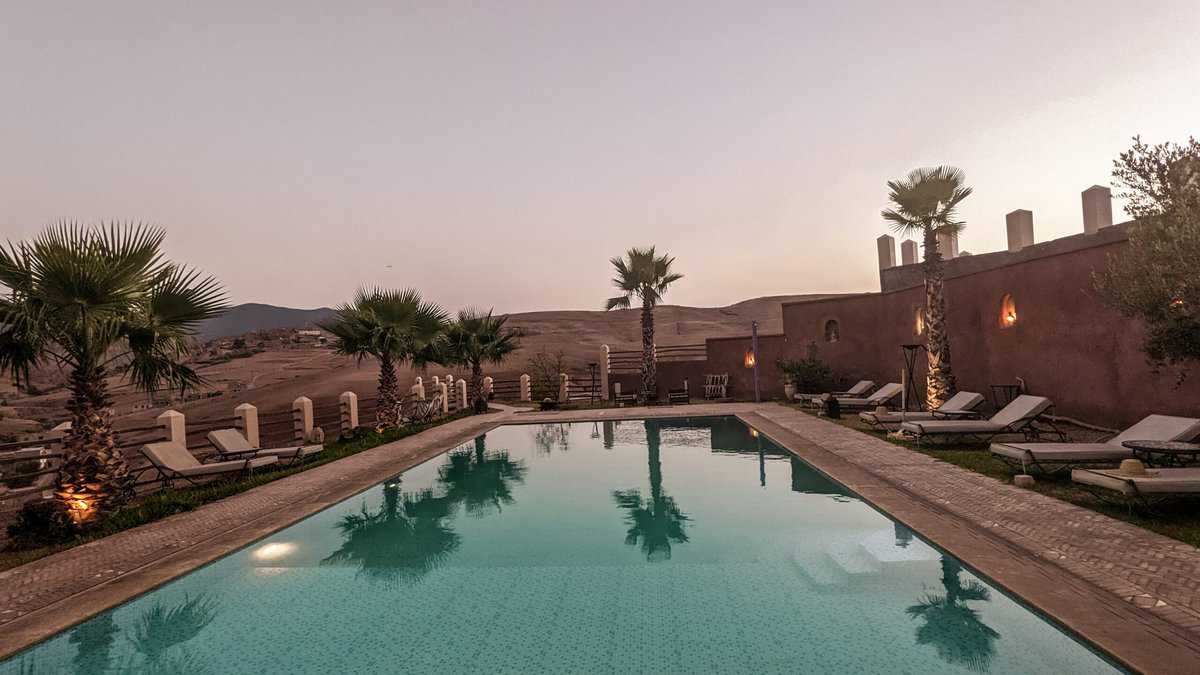 My recent trip to Marrakech culminated in a two-day retreat with my son and my sister in the Berber village of Tahanaout, a picturesque village set at the foot of the Atlas Mountains and only 25 miles from Marrakech. It's the perfect place to head to if you want to take a break from the tourist spots and enjoy some quite time with nature.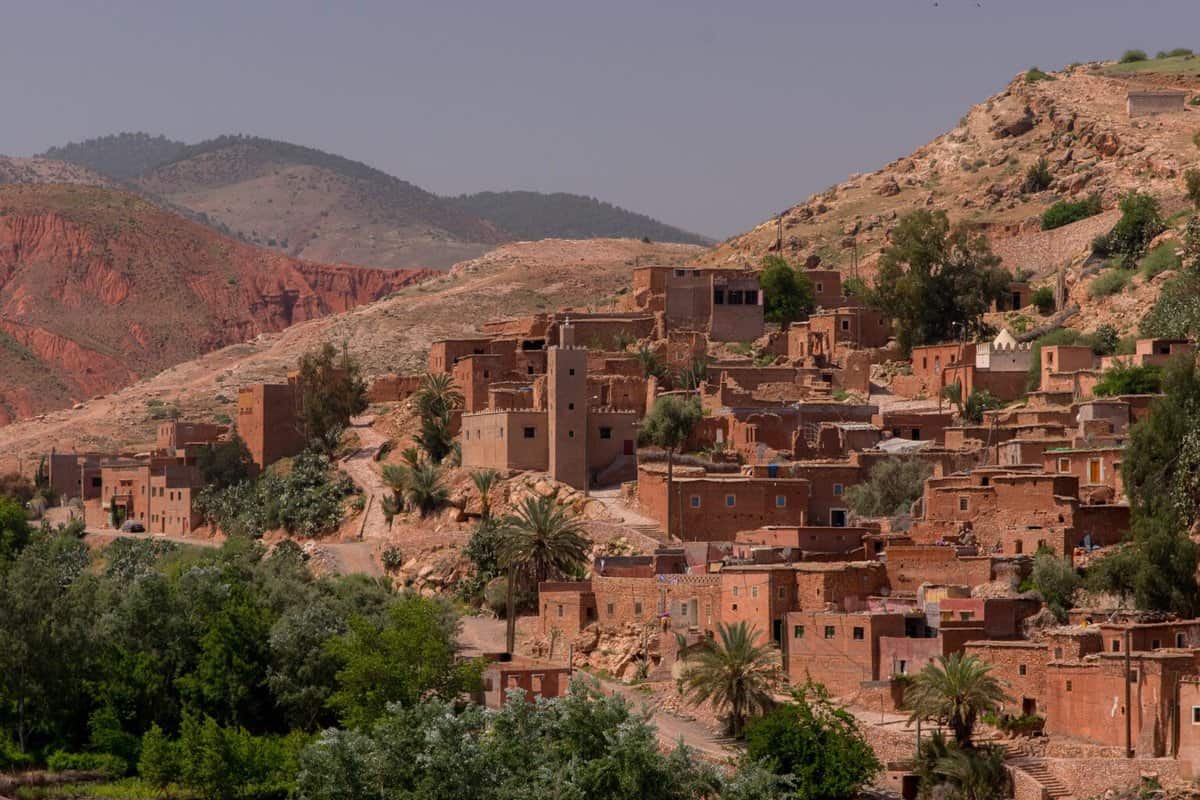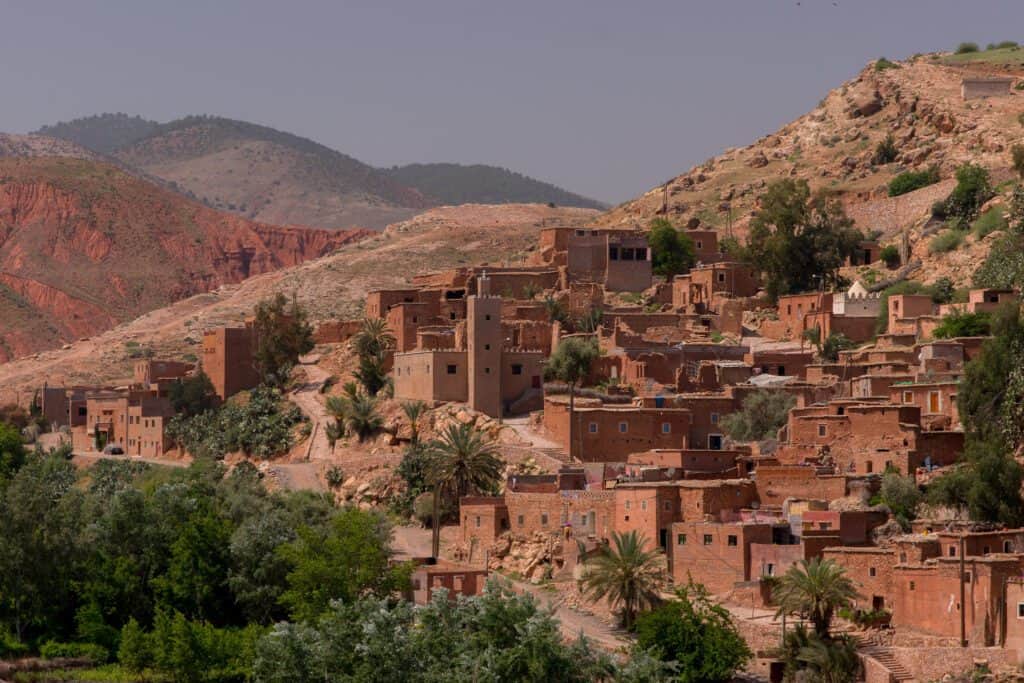 Boasting a local market and a range of cultural offerings, Tahanaout is great if you want to experience local village life where people enjoy a much slower pace of life. It's also an ideal spot for exploring the outdoors. Trekking is particularly popular in the area. Ouirgane and  Ourika Valleys are splendid spots to enjoy long walks or picnics by a waterfall.
I was after a complete sensory detox with and Tigmi Nomade looked like the perfect answer to my wish.
Getting there
You can drive or take a bus or a shared taxi from Marrakech to Tahanaout. Your hotel can also arrange a private transfer for you. Shared taxis are large SUV type of cars that can take up to 6 people. They are comfortable and air conditioned and they usually drop you off at a known landmark but you can ask the driver to drop you at your hotel or a specific point for an extra small fee. The journey from Marrakech takes around 40 minutes.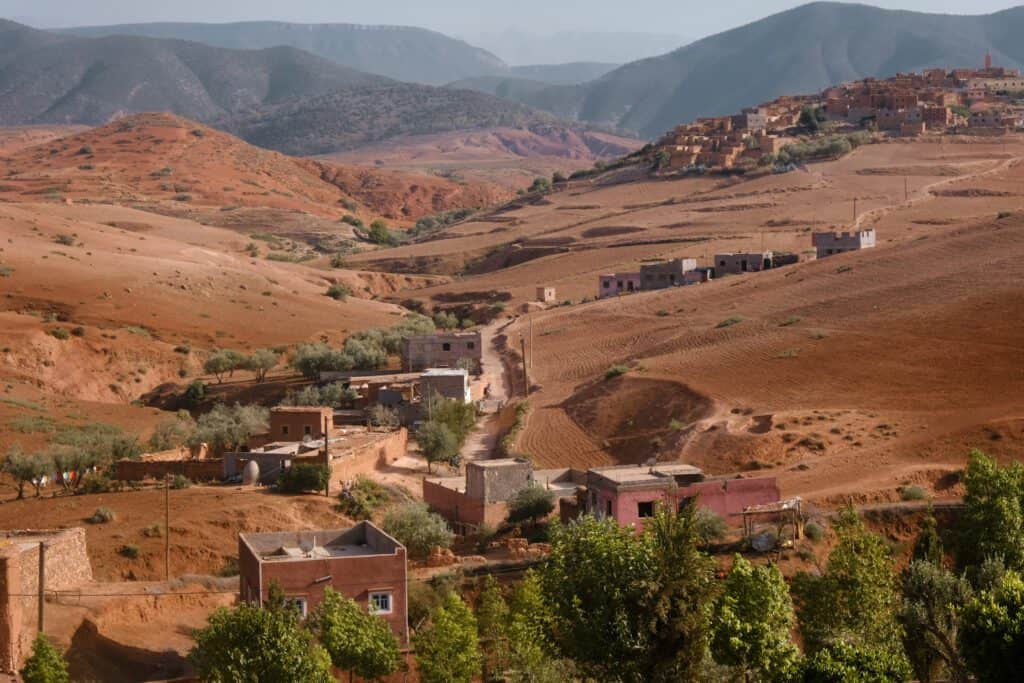 Riad Tigmi Nomade is in the outskirts of the village and not accessible by public transport. If you are driving, you would need to cross the whole village and drive up a dirt track for a mile or so before you reach the property. The owner kindly picked us up from the village where our taxi dropped us off.
The journey didn't take more than 15 minutes but Marrakech already seemed like a world away as houses became scattered and replaced by a terrain of Rocky red peaks and green valleys.
The Riad
The villa looked majestic from the car, standing alone on a hill facing a backdrop of softly rolling hills. We gasped as we spotted the beautiful garden and the huge pool. They looked better than the pictures. We were warmly greeted by the owners and the staff who informed us that we were the only guests during our short stay. We were thrilled.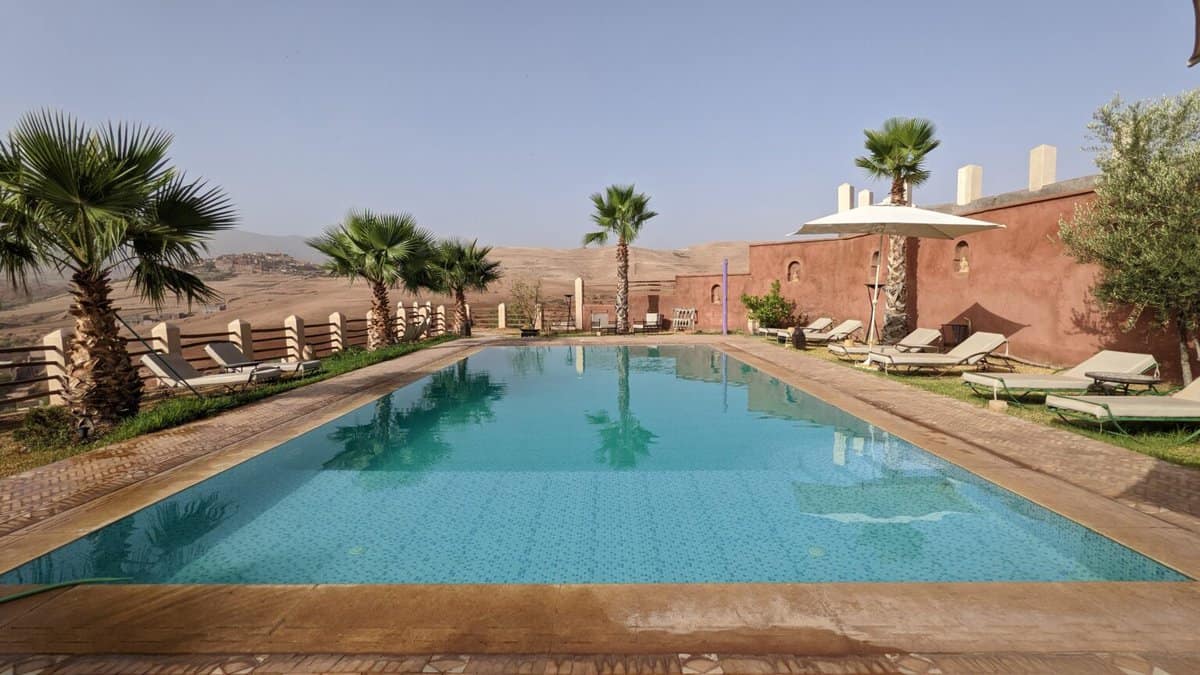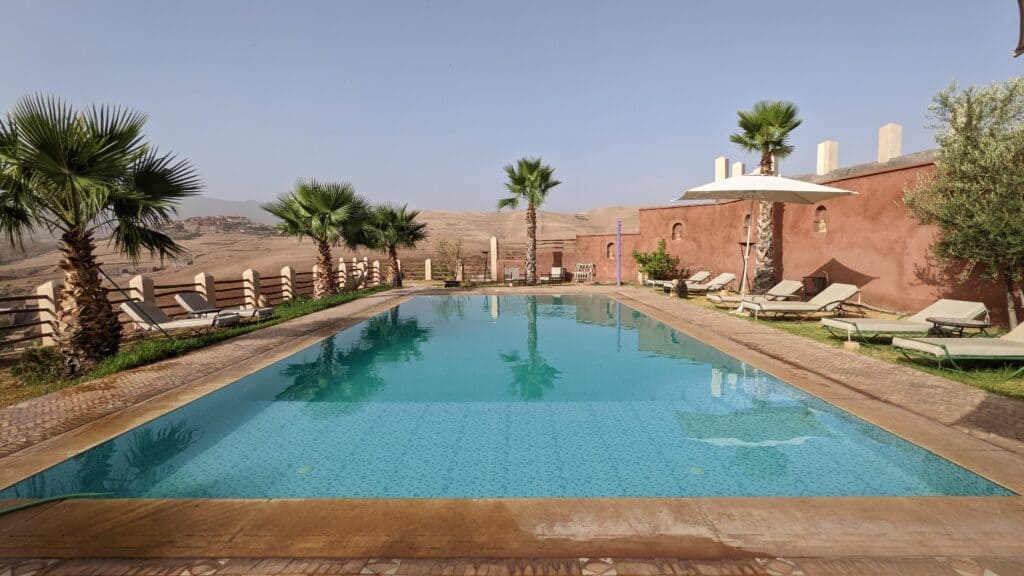 Tigmi Nomade is designed to look like a modern villa from the outside and a traditional riad from inside. At the entrance after you cross the garden,  there is an open sitting room where you will be served Moroccan tea and mint before you are taken to your room. There is a lovely courtyard with a little interior garden and fountain that connect to the back of the house.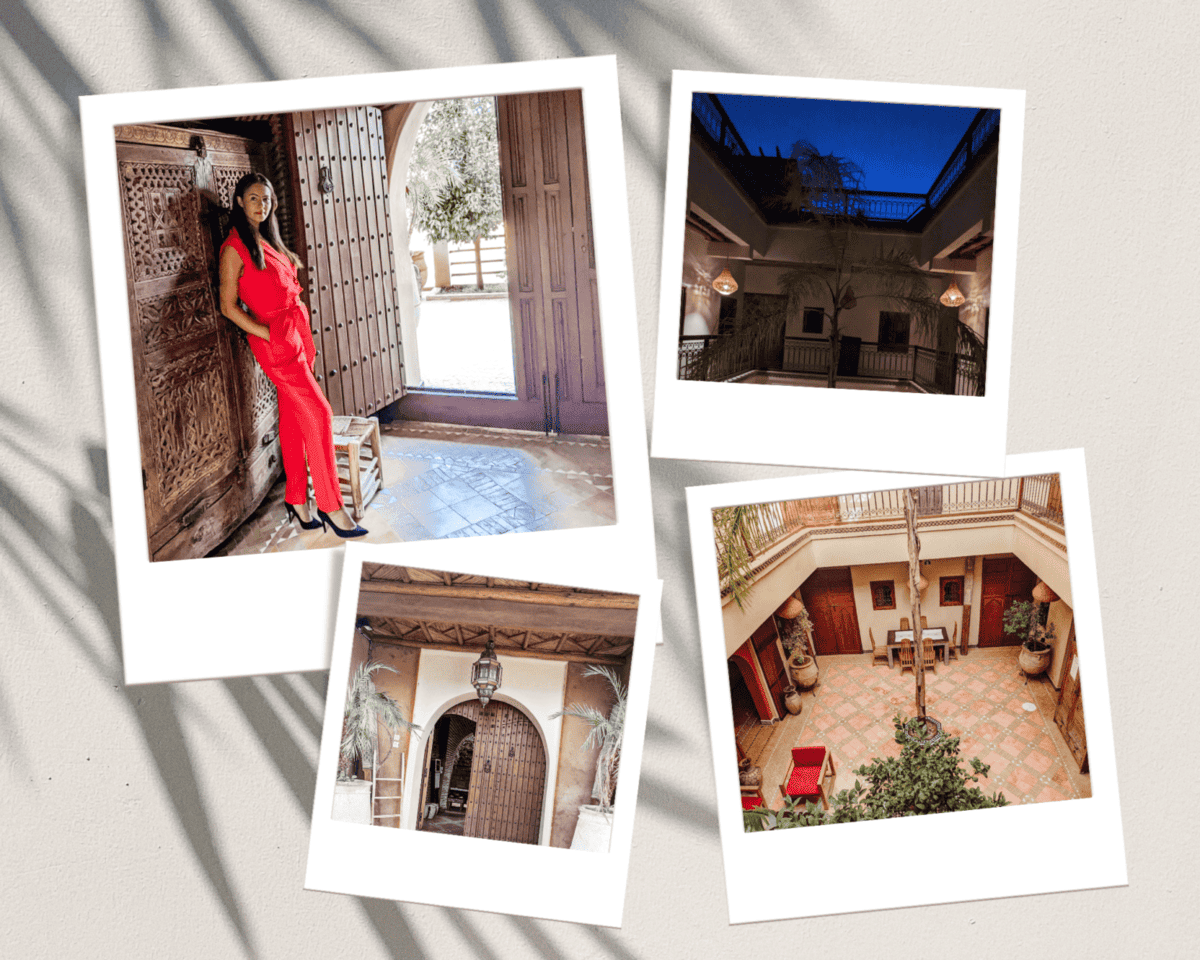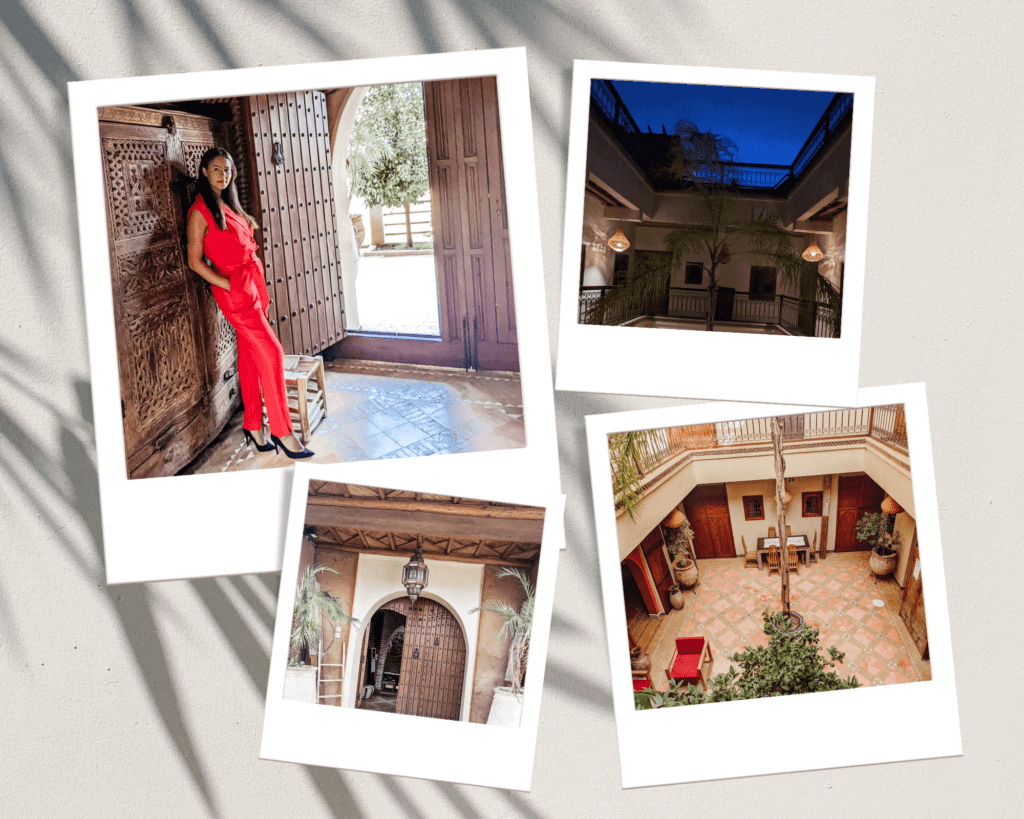 There are 4 bedrooms on the ground floor and 3 bedrooms on the first floor arranged in the traditional square layout  to face the open courtyard.
All seven bedrooms are decorated differently and named after a colour. We stayed in the Turquoise room, an elegant large family room with high ceilings and wooden beams.  It has a window overlooking the pool and a balcony with stunning views of the mountains.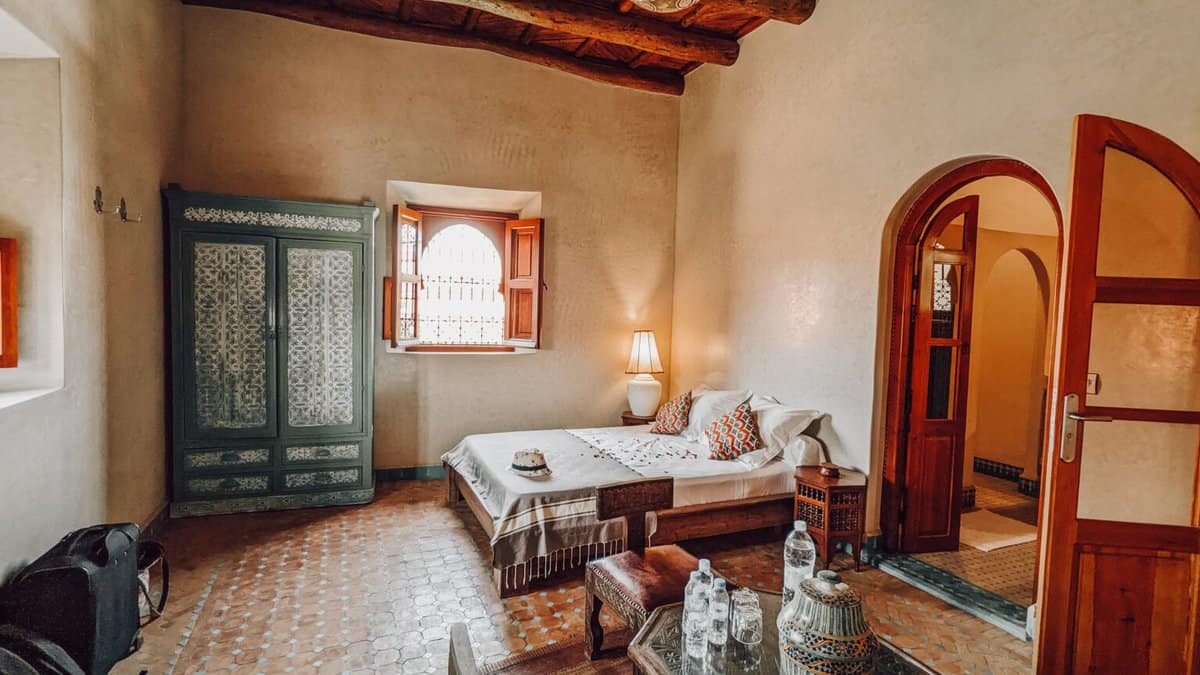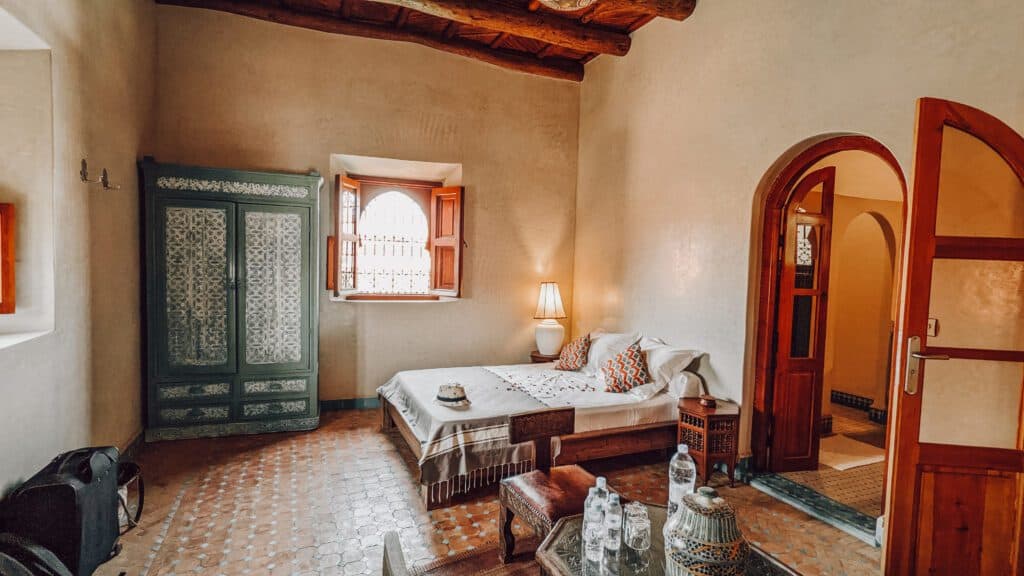 The shower room is designed to look like a traditional hammam with arched walls and a pretty turquoise mosaic basin made of Moroccan zellige.
The king size bed was comfortable and it didn't take me long to fall into a deep and relaxing sleep.
Time stands still at tigmi Nomade and I might have slept until lunchtime if it weren't for some excited sheep from the nearby farms. 100% better than my phone alarm!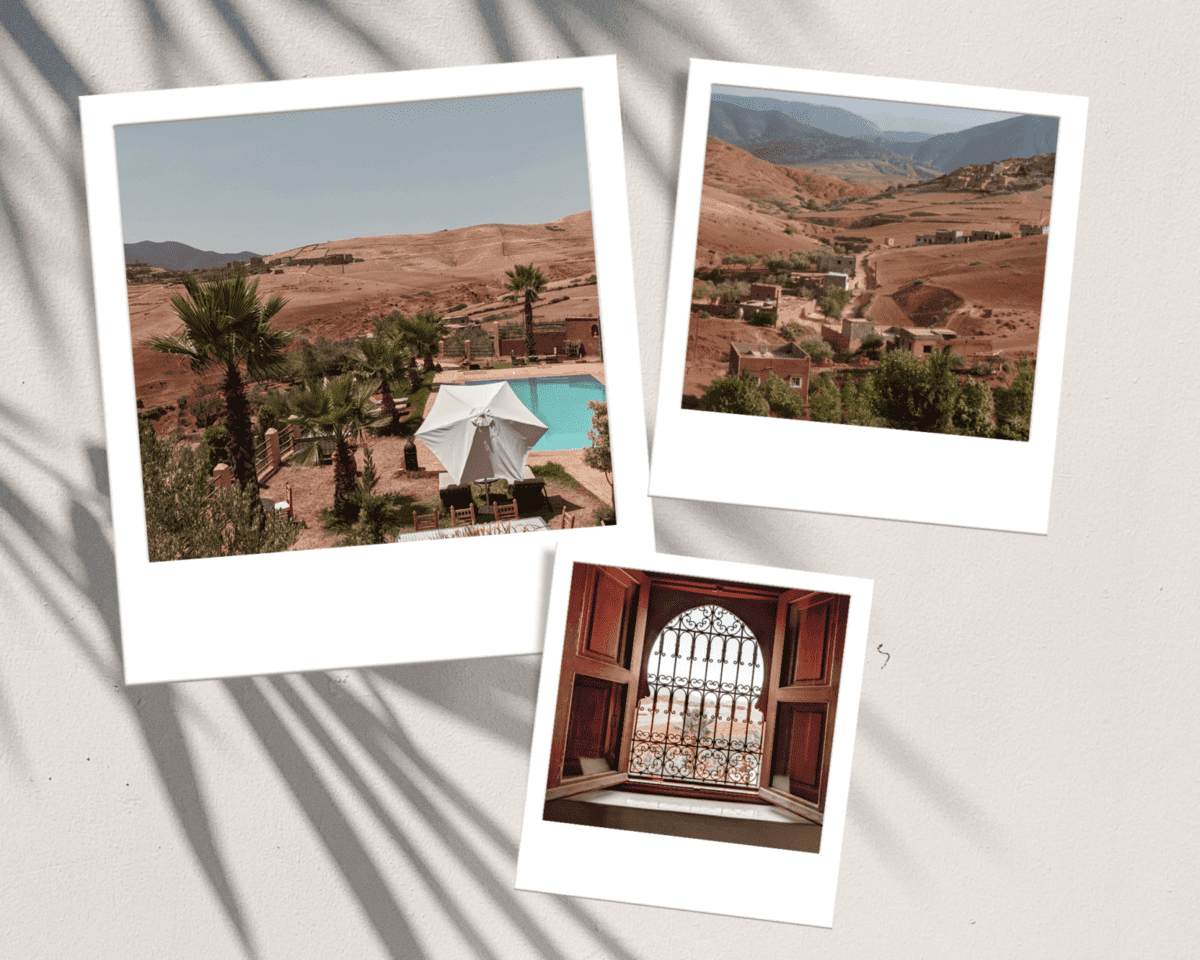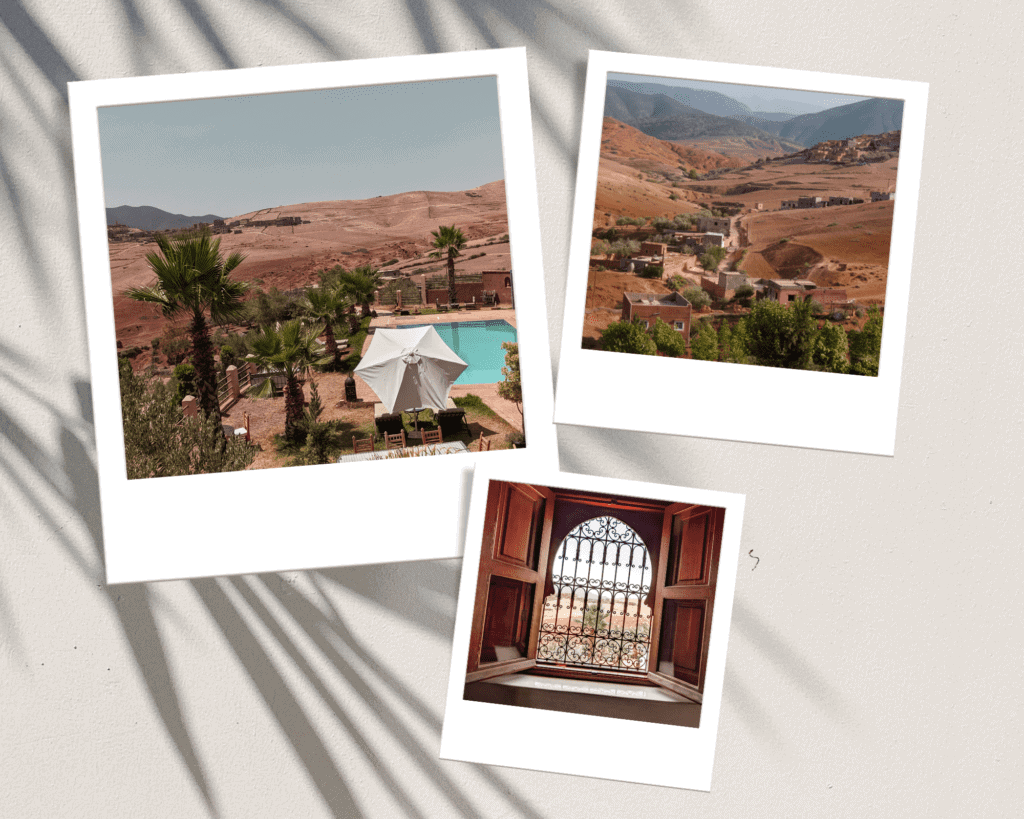 As soon as I woke up I headed to the balcony to admire the 360 ​​° view of the peaks and distant valleys and listen to the silence. There is no place for air and noise pollution in this remote desert paradise.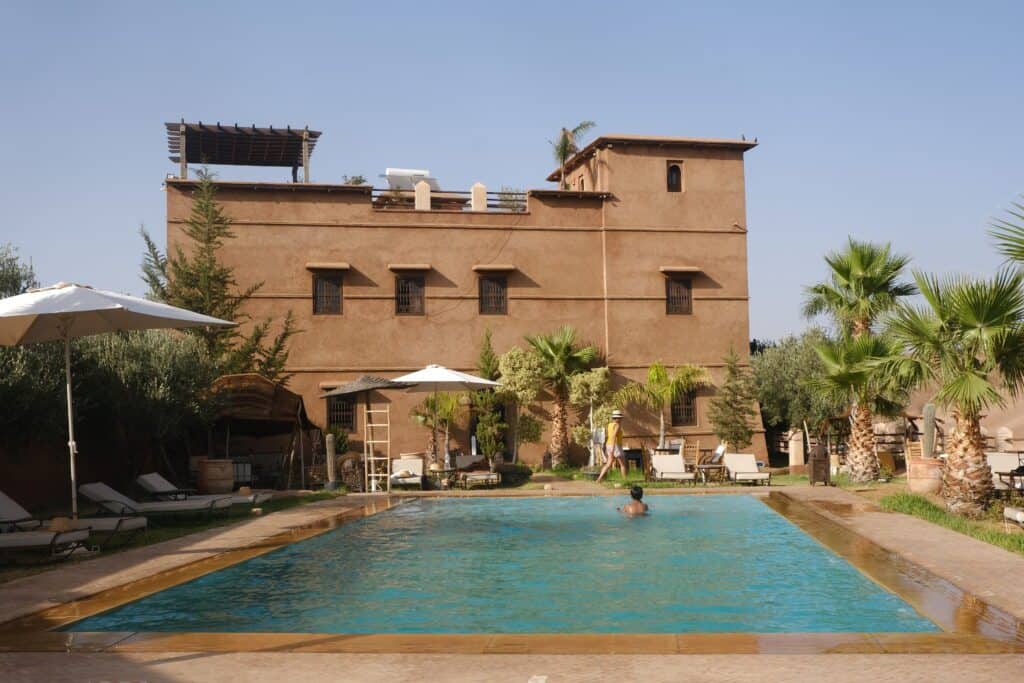 I spent most of my time  in the garden sunbathing on the many loungers that we didn't have to fight for and splashing in the pristine pool while admiring the breathtaking backdrop of hills and red clay houses. I loved watching the landscape colours change as the sun moves. We had dinner around sunset and sat in the garden in the evening to watch the spectacular night sky and brightly lit stars. I had never seen the moon so close before. It was incredible to have the whole place to ourselves. There were only 3 staff members with us who were very discreet and never bothered us so we felt entirely at home.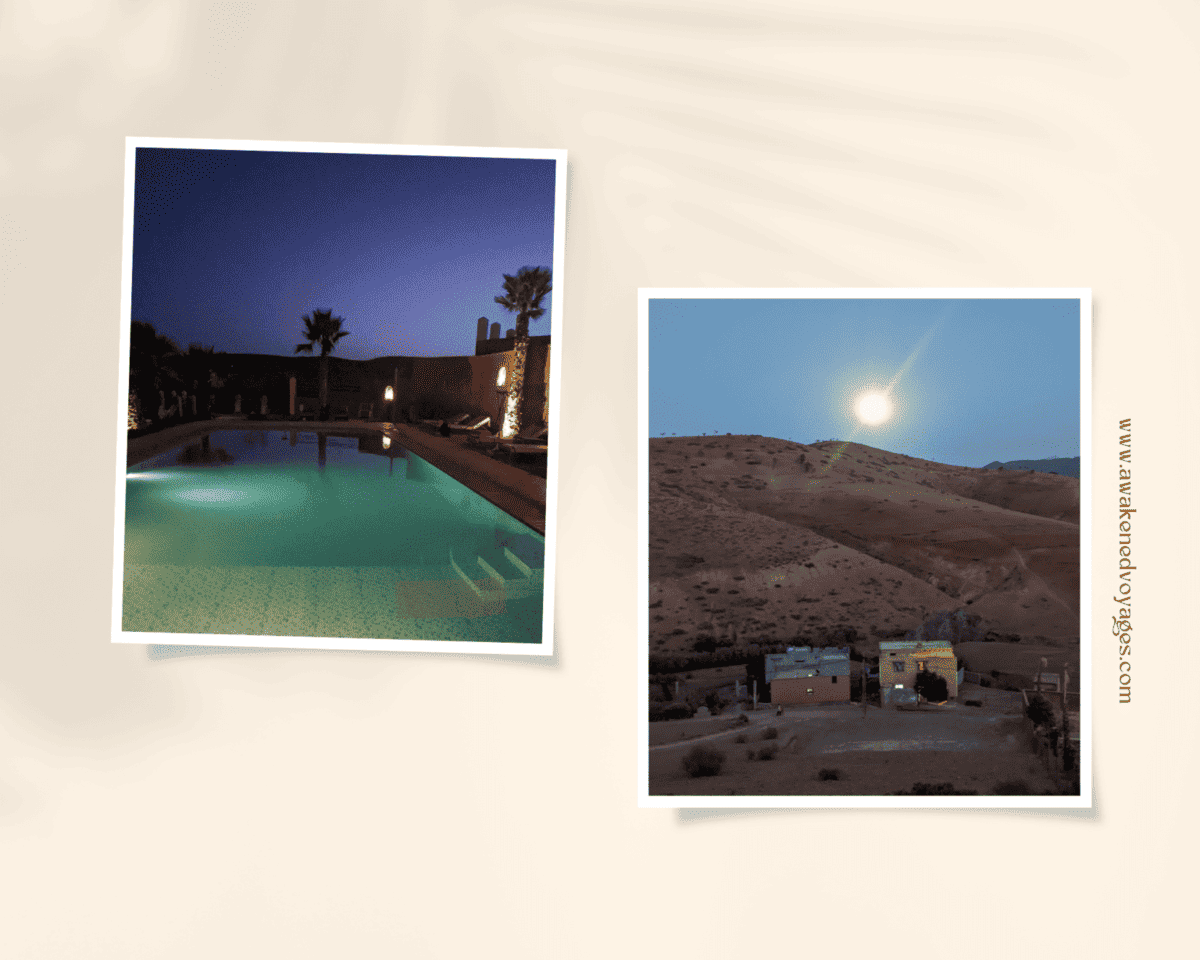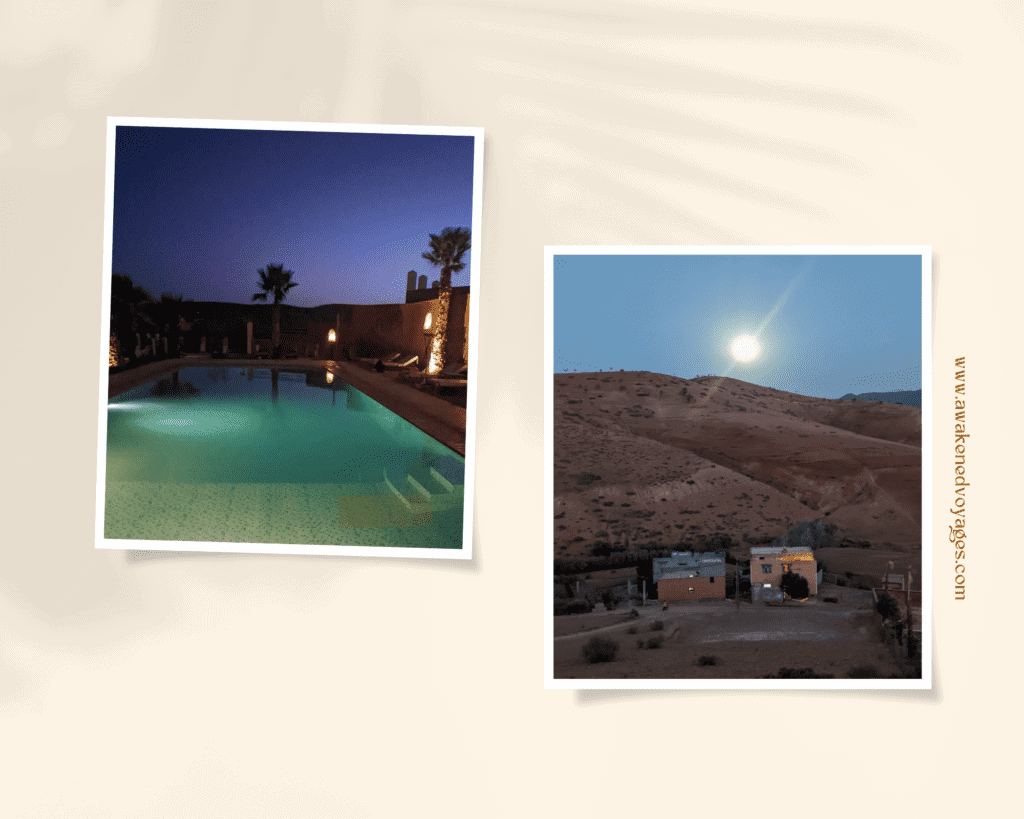 Food
We had all our meals in the garden. Breakfast is a generous affair at Tigmi Nomade. Khadija the house cook delighted us with freshly cooked bread and Moroccan pastries all accompanied by a selection of jams and freshly squeezed orange juice.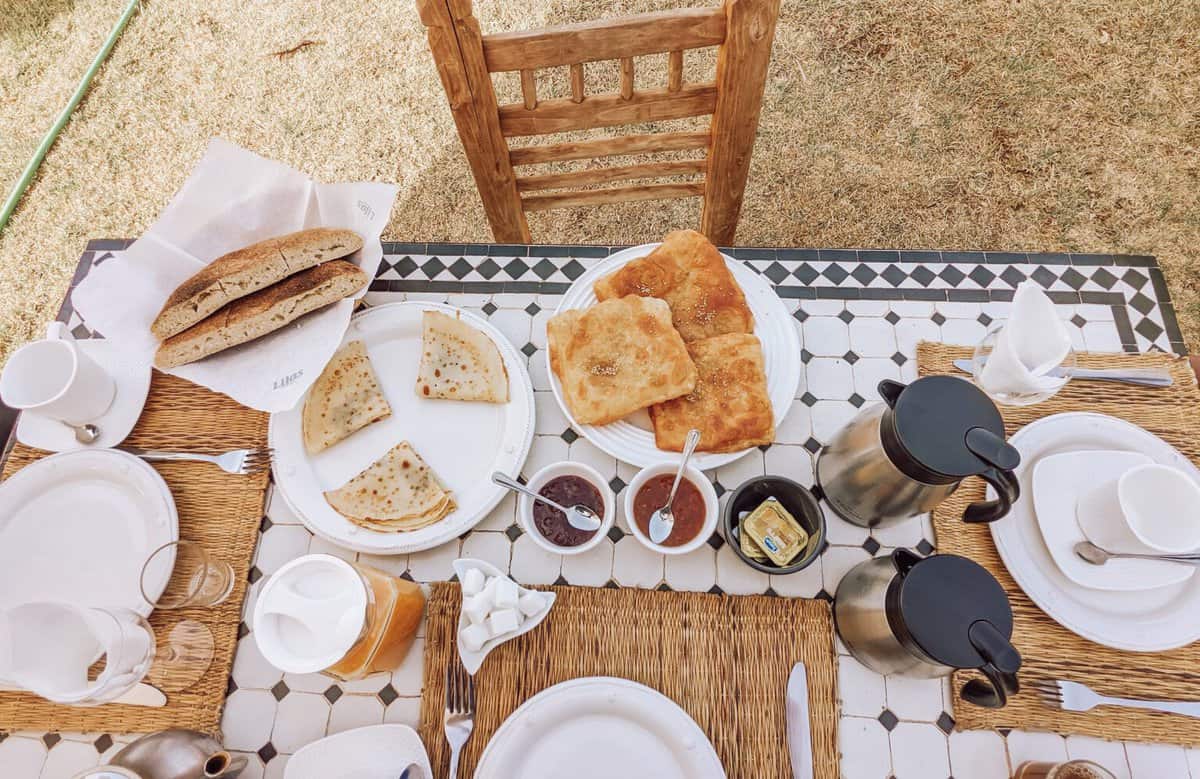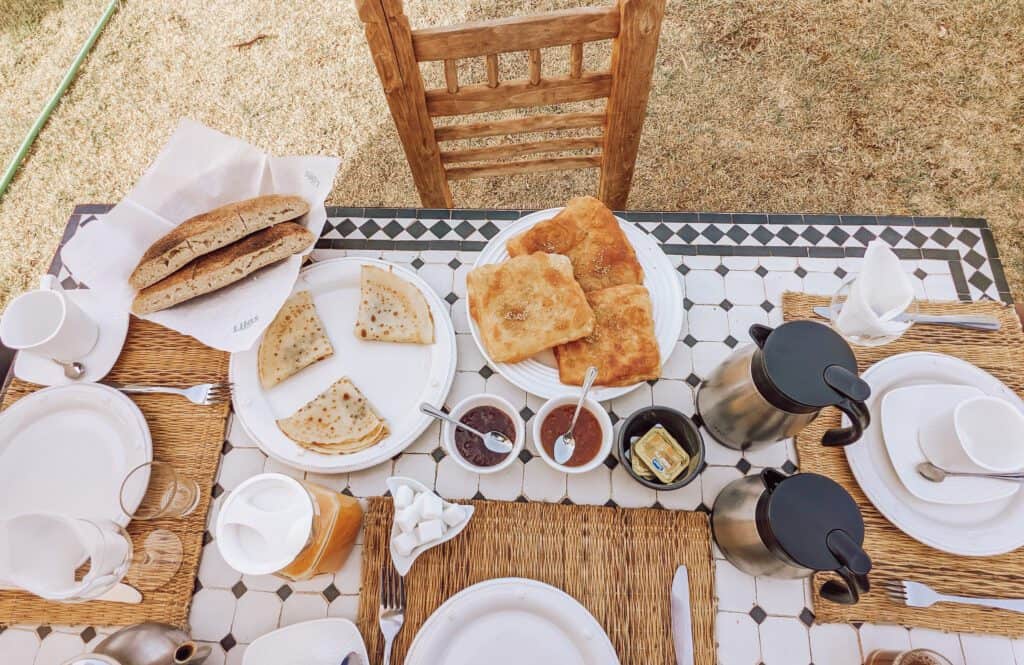 Dinner is home cooked and must be requested in advance. Khadija cooks lovely tajines using vegetables from the garden and the hotel's own olive oil. Everything was so fresh and full of flavour.
Lunch is not offered and there are no shops around so unless you have a very late breakfast, you might feel slightly hungry but you can always request an early dinner. If you have a car you can drive to the village where you find several options for a quick meal or a snack
Activities:
We didn't feel like doing much but there's plenty of activities to keep you busy at Tigmi Nomade.
You can book a cooking class where you get to visit the local village market to shop for food and bring it to make your tajine of choice with one of the house cooks.
If you are feeling adventurous, the hotel owners can arrange a number of excursions from trekking in the nearby valleys to a multi-day hike in the Atlas Mountains where they will also arrange a stay for you in a gîte or with a local family.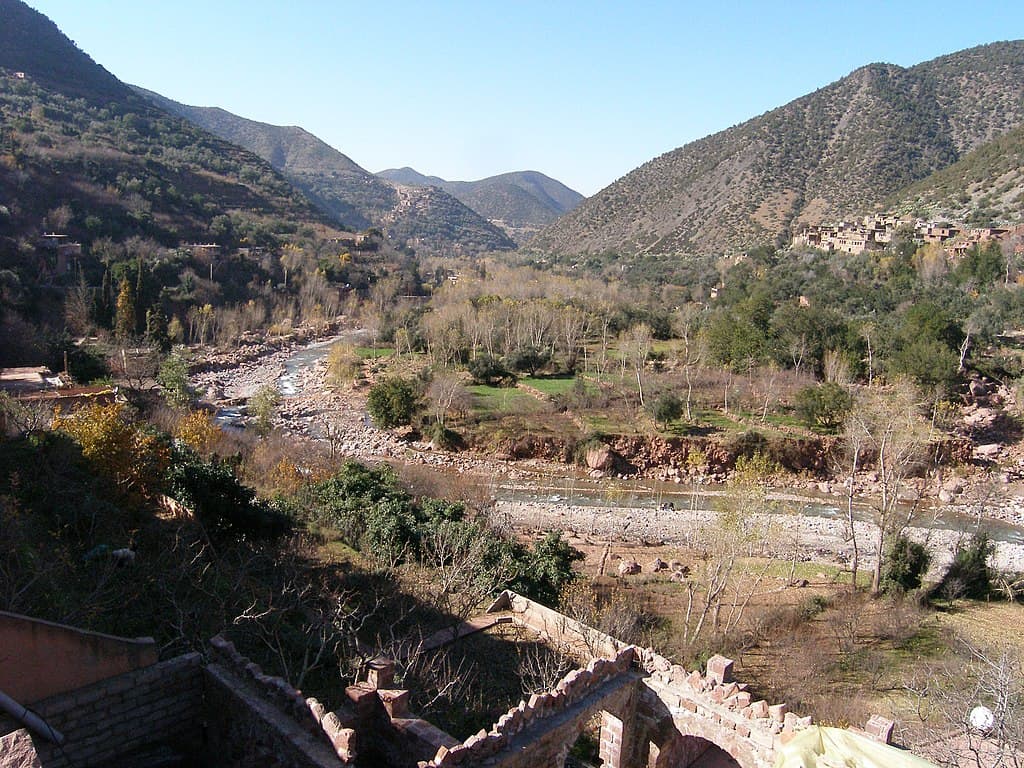 There are also horseback and camel riding activities if you don't want to walk.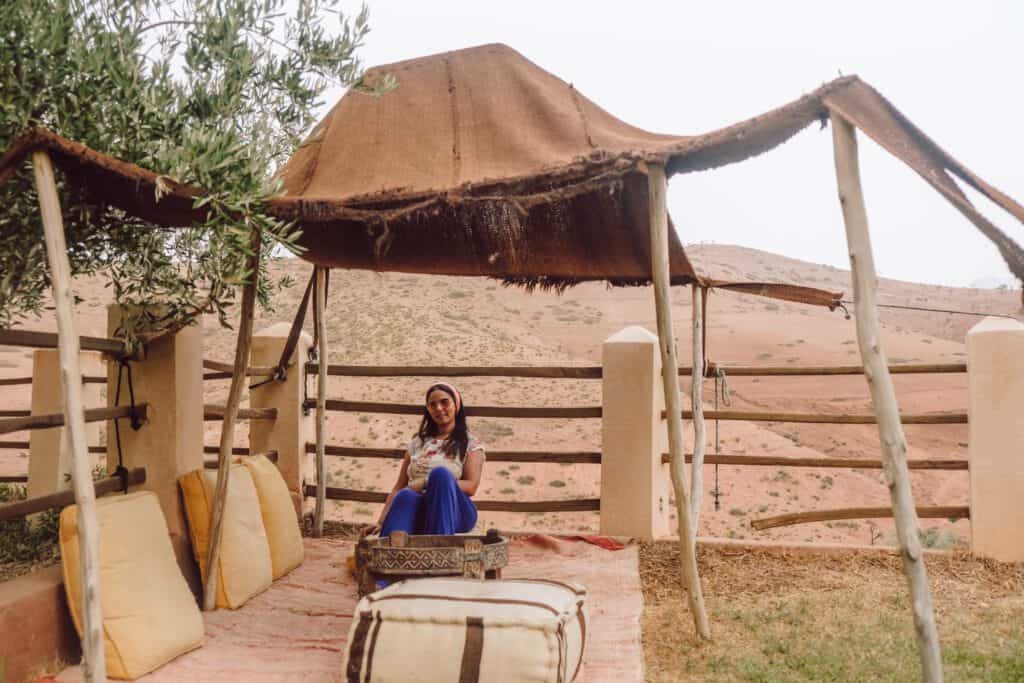 I had a memorable time at Tigmi Nomade and was able to enjoy total relaxation and decompression. I highly recommend Tahanaout village if you wish to get off the beaten track and enjoy a cure of authenticity far from the tourist spots of Marrakech
Hotel Rating
Price (2 nights minimum): £57-£80 per night
Location: 4/5
Riad: 5/5
Cleanliness: 5/5
Customer service: 5/5
Comfort: 5/5
Food: 4/5
Value for money: 5/5