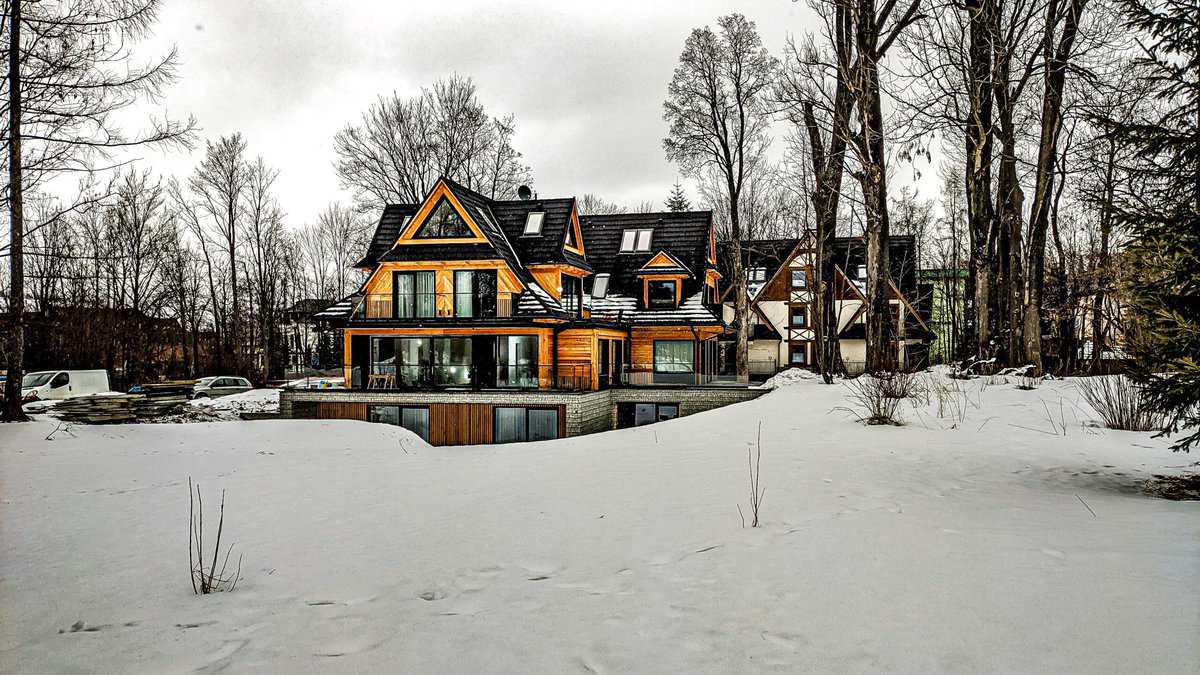 Poland has so much to offer but most people don't venture beyond the famous cities such as Krakow or Gdansk. Just 85 km south from Krakow, lies one of Europe's most beautiful destinations: Zakopane, Poland's capital of winter and gateway to the gorgeous Tatra mountains.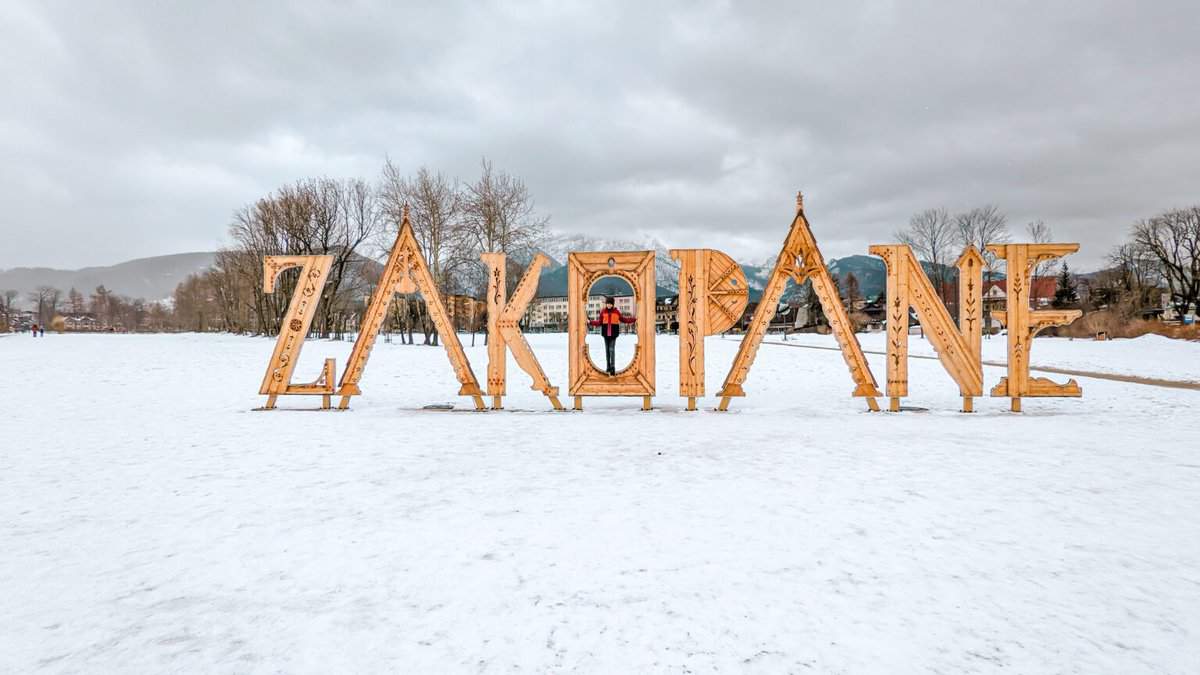 Located in the southern part of Poland and bordering Slovakia, Zakopane is a small mountain resort town located at the base of the Tatra Mountains. Nestled in a picturesque setting and home to about 28,000 people, it offers a plethora of activities and attractions for winter enthusiasts.
Getting there
Zakopane is very accessible from Krakow so you could easily combine both destinations in one trip. The quickest and most convenient way to travel is by bus from Krakow. The journey takes around 2.5 hours depending on traffic (check that there are no roadworks or you might end up sitting on the bus for much longer). Buses depart every half hour from Krakow Dworzec Autobusowy (known as MDA station) and you can get a ticket at the station or on the bus directly from the driver. You can also take the train for a more comfortable but longer journey (around 4 hours). Trains also depart from MDA station.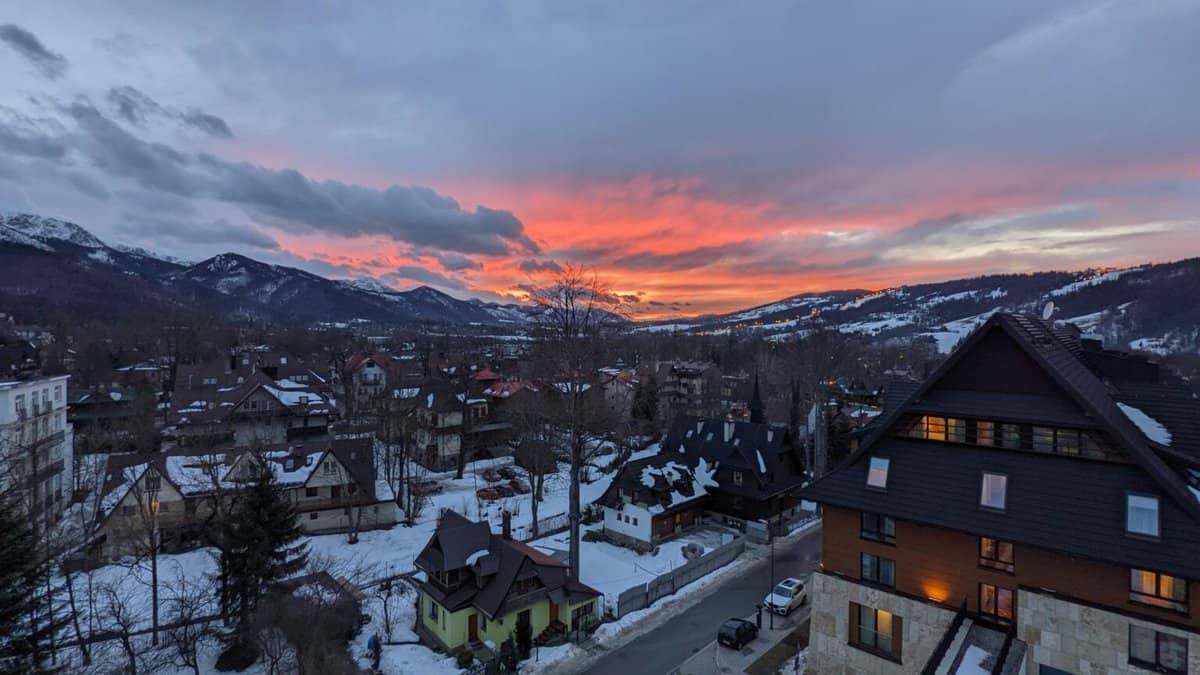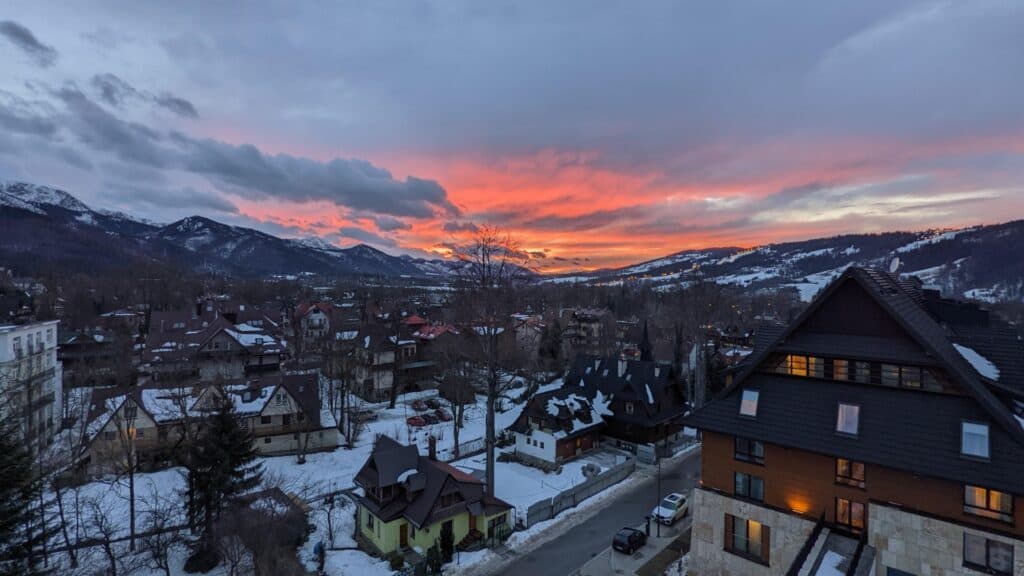 You may choose to fly directly into Zakopane but note that the nearest airport is Poprad/Tatry (TAT) which is 20 miles from Zakopane so you would still need to arrange public transport or a taxi from the airport.
Zakopane, Poland's capital of winter
Zakopane is a magical winterland known for its skiing resorts and winter sports. But you don't have to be a ski enthusiast to enjoy the variety of activities on offer. With a range of budget accommodation options, delicious food and a vibrant atmosphere, it's a great destination for solo travellers, couples and families with small kids.
Accomodation
Zakopane has a huge range of accommodation from luxury hotel chains to budget friendly bed and breakfasts. It also has a wide selection of snow chalets offering pretty views over the mountains but they tend to be far from the centre so you may need your own transport as bus services can be limited in the evening.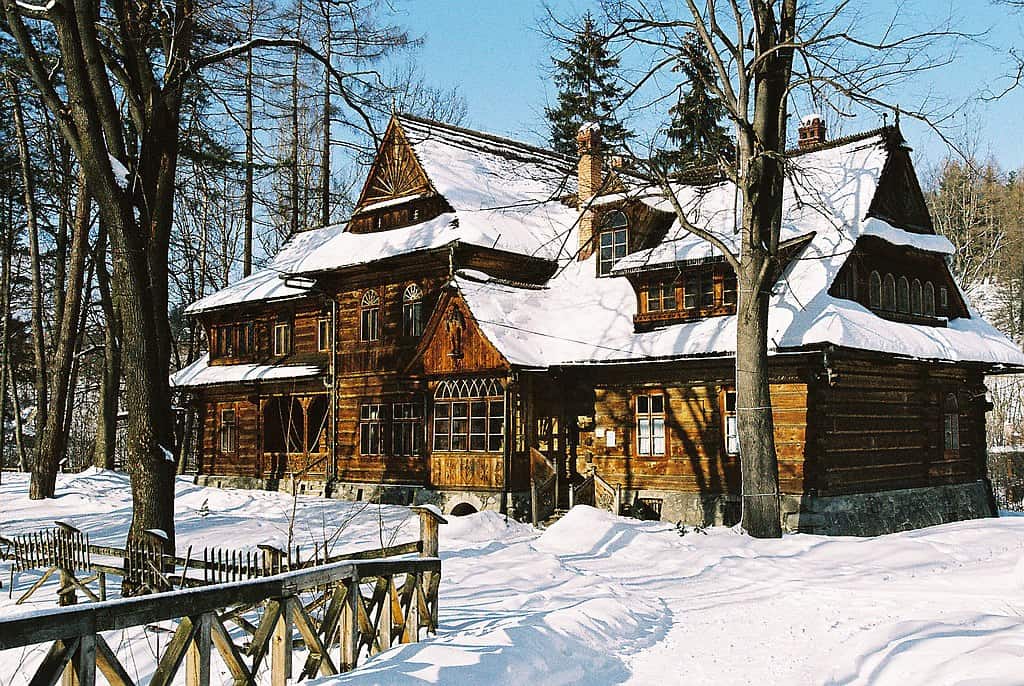 We stayed at the Radisson Blu hotel which was only a 10 minutes' walk from the town's high street of Krupówki and a short distance from several ski slopes.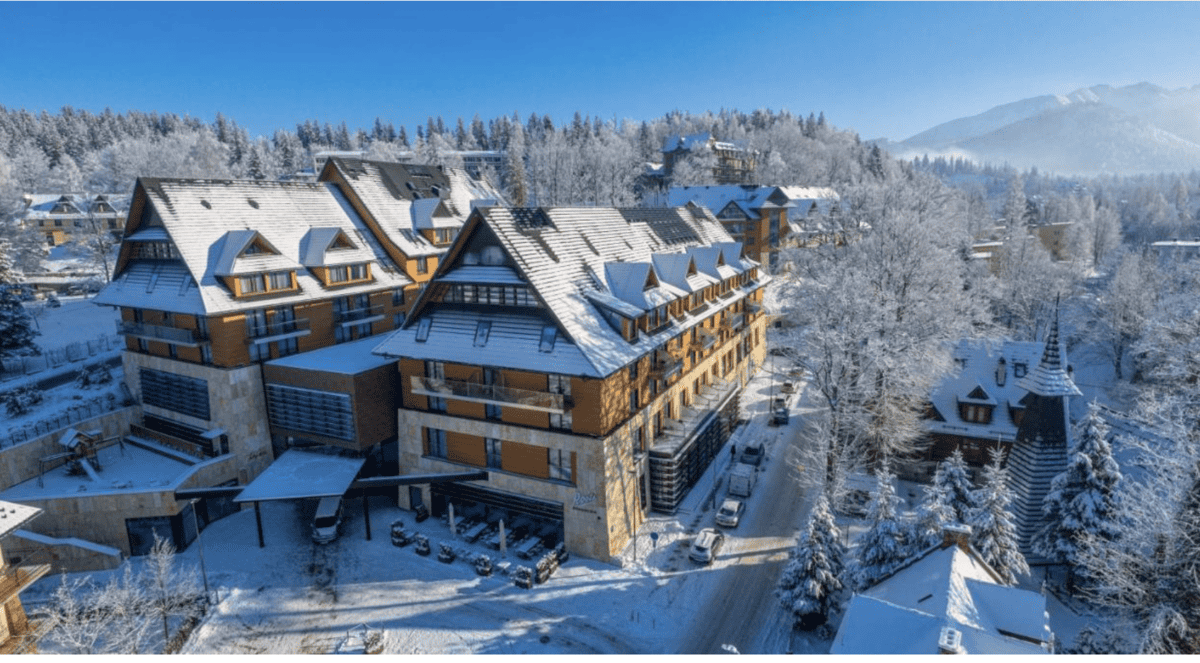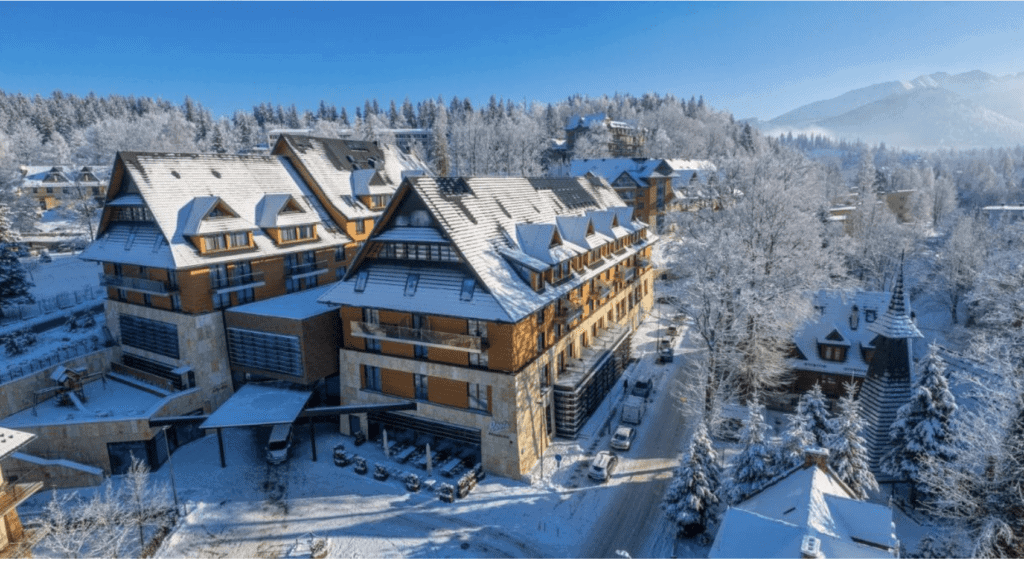 We chose the family suite which is great if you have kids, has a kitchenette, a separate bedroom and a huge balcony offering gorgeous views on the mountains.
The hotel has fabulous facilities including an adult pool and a kids pool, a jacuzzi, a cold and a hot sauna, a fitness centre and an onsite restaurant.
Top activities to do in Zakopane in Winter
Skiing
Skiing is one of the main attractions of Zakopane in winter. The Ski season is open between mid-December and early April. The town features numerous ski resorts with different levels of difficulty that cater to everyone from beginners to experienced skiers. If you only want to try skiing once or plan on spending a couple of hours each day on the slopes then Nosal, Szymoszkowa, Harenda and Gigant are good local choices as they are easily accessible from the town centre.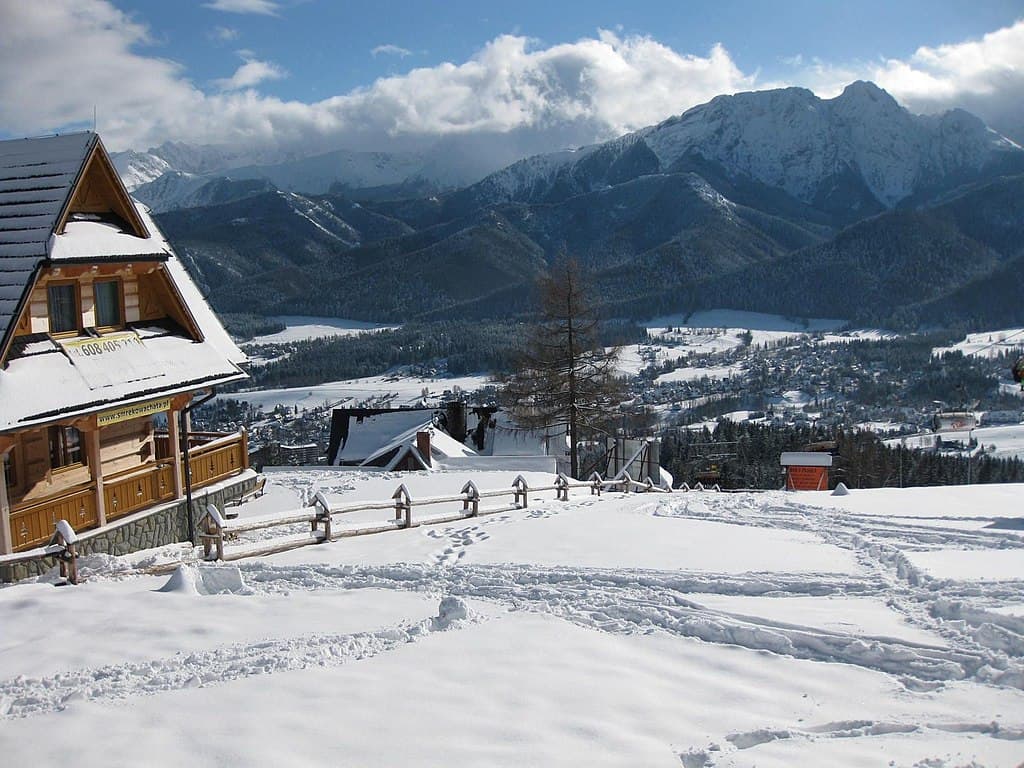 If you want to experiment different levels and slopes you can get the Tatry Super Ski pass which allows you to use one ski pass in 14 different ski areas close to Zakopane.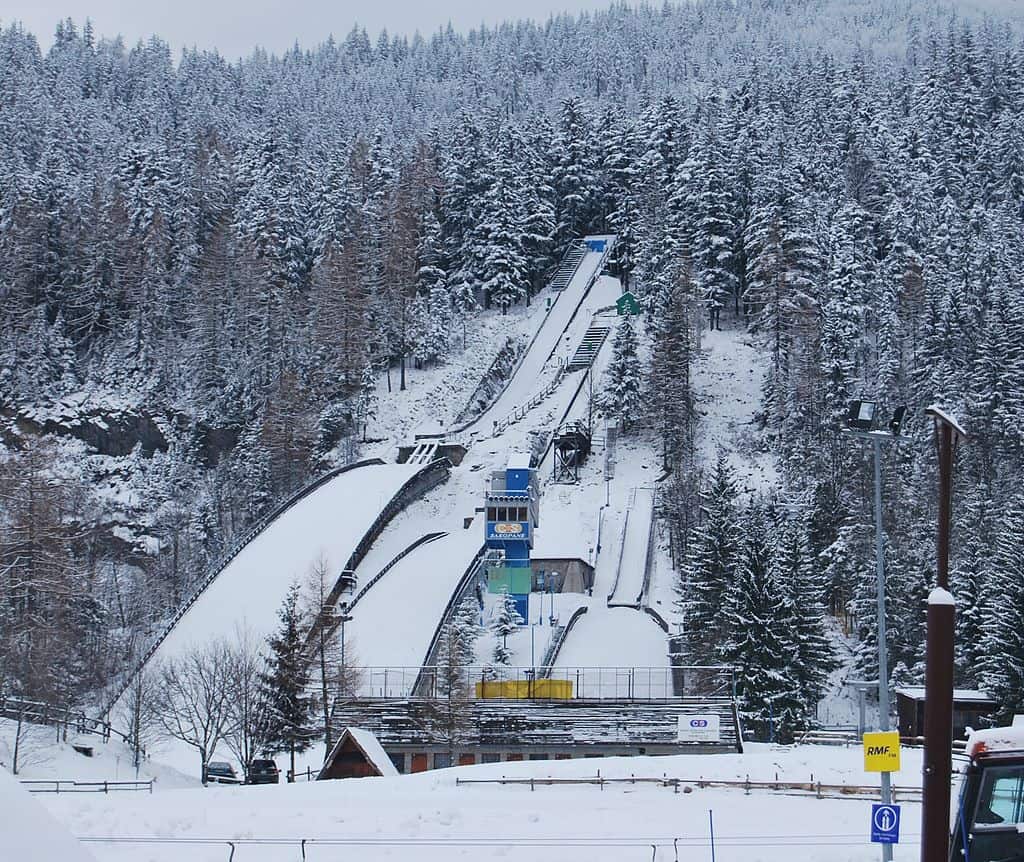 Ski jumping enthusiasts can go to Wielka Krokiew, the biggest and most famous ski jumping hill in Poland. You can hire a chair lift to go to the top of the hill from where you can enjoy panoramic views of Zakopane.
If you want an inclusive experience you can stay in Bialka Tatrzanska which is 23 km from Zakopane and one of Poland's largest and best ski resorts. Here, you can enjoy a vast array of activities from skiing for all levels to snow tubing, cross country and snowmobile tours. The resort is animated and stays open every day until 21:00. There is wide selection of bars and restaurants all over the mountain as well as a geothermal waterpark and spa. It is a popular resort though and can get overcrowded in the holiday season so plan on getting there early if you want to ski.
My son wanted a ski lesson for his birthday so it was the perfect opportunity for us all to try skiing for the first time! We booked lessons with GO!ski Zakopane and had so much fun. They were professional, reliable and our instructor was very friendly and experienced. The agency takes care of everything, they will pick you up from your hotel and take you to their offices where you get changed into full skiing gear then head to the slopes!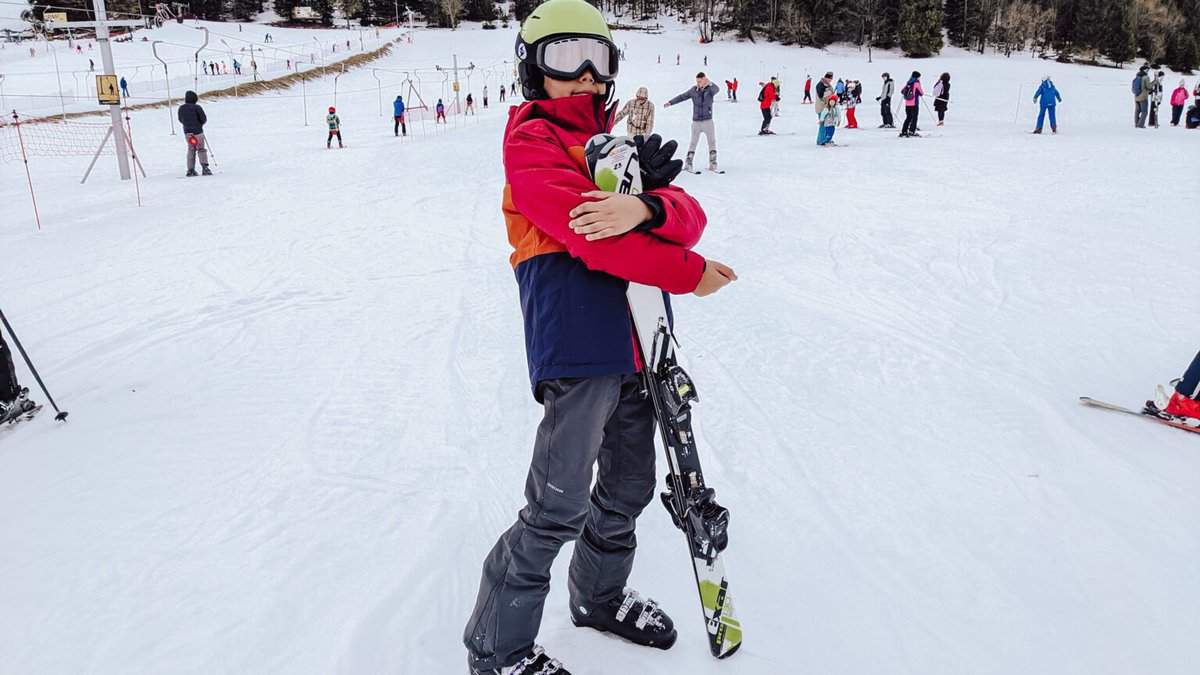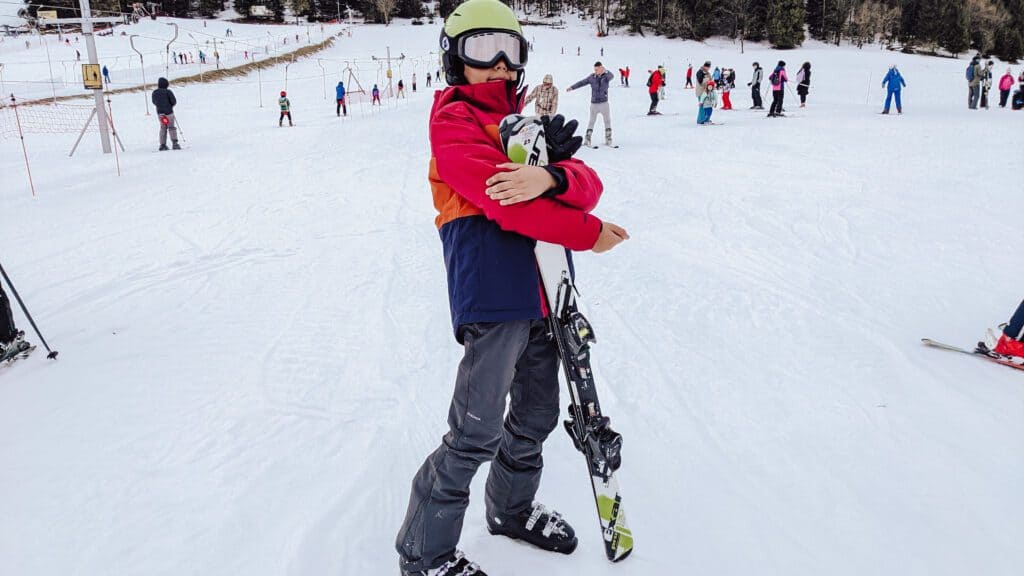 And the best part about a skiing holiday in Zakopane is the affordability. One week holiday would typically cost around £500 per person including lift passes, transfers, everyday lessons, ski hire and self-catering accommodation.
Not a fan of skiing? Worry not! You can still enjoy snow from a distance by taking a cable car into the mountains for breathtaking views over Zakopane and its surrounding countryside.
Spend hours soaking in hot pools
Anyone who knows me knows how much I love a hot pool and Zakopane is the heaven destination for hot thermal pools. The Tatras region has a huge number of natural hot springs which are rich in minerals and perfect for relaxing after a hard day of physical activity. There are six major thermal pools in and around Zakopane. They are open all year around but are particularly enjoyable during winter. Soaking into a hot deep pool in picturesque settings, surrounded by snowy mountains is the definition of bliss as far as I am concerned.  You can choose to soak in either indoor or outdoor pools that range from shallow to deep depths. The water temperature ranges anywhere between 27°C to 37°C depending on the pool type and you can enjoy the benefits of mineral-rich waters that add to the relaxation experience. These hot pools are incredibly affordable and luxurious, making them a perfect alternative to the more expensive options in Western Europe. My recommendations include the following thermal pools:
Aquapark
Aqua Park is one of the largest thermal pools in Zakopane and has the advantage of being located in the Antalowka district, not far from the town centre. It was only a 5 minute's walk from our hotel and we loved going there after skiing.
The water park offers a huge selection of attractions for all ages, from cascades and giant water slides that land you in an outdoor pool,  to indoor adults pools with massaging water jets, 6 jacuzzis and a restaurant. But its main attraction is the outdoor geothermal pool, where you can relax and bathe in  32oC, surrounded by snow and the picturesque Tatry mountains. The outdoors pool is only accessible to adults and kids over 14 years old.
Bialka Tatrzanska – TERMA BANIA
Terma Bania is located in Bialka Tatrzanska village, around 22 km from Zakopane and is part of a recreational complex which consists of the luxury Hotel Bania, great SKI CENTRE and THERMAL WATER PARK.
This water park has 8 thermal indoor and outdoor pools filled with geothermal water in a temperature of 34 – 38°C, 5 saunas, slides and mini-pools for kids.
Chocholow – CHOCHOLOWSKIE TERMY
Chochołowskie Thermal Baths is the largest thermal pool complex in Poland. Set in picturesque surroundings with a backdrop of the Tatras mountains, the place is so huge you could easily spend the whole day there. The complex offers 30 outdoor and indoor pools including 8 whirlpool pools with a temperature of 36 degrees Celsius. The outdoor pools have activities for kids and adults such as water basketball and volleyball, waterfalls, volcano, geysers of air, grid swings and climbing water. There is even a steam bath suitable for children, a gym, restaurants and the largest saunarium in the region where only over 18 are allowed as it is naturist. CHOCHOLOWSKIE THERMAL BATHS  are located in Chocholow village, around 17 km from Zakopane. There are direct buses from the centre of Zakopane that drops you right outside the complex.
Explore the colourful town
Zakopane has a very charming Old Town characterised by historic churches and typical wooden houses. Krupowki Street is the heart of the town and is very touristy but quite entertaining with its colorful artisan shops, cozy pubs where you can watch live music performances and tons of places serving traditional Polish dishes. The town is quiet during the day but comes to live in the evening. There are traditional food stalls serving regional delicacies such as Oscypek cheese, live music and light shows. It's like Christmas every night!
A short walk from the town centre you find many pretty parks where you can watch adults and kids sledding in the snow.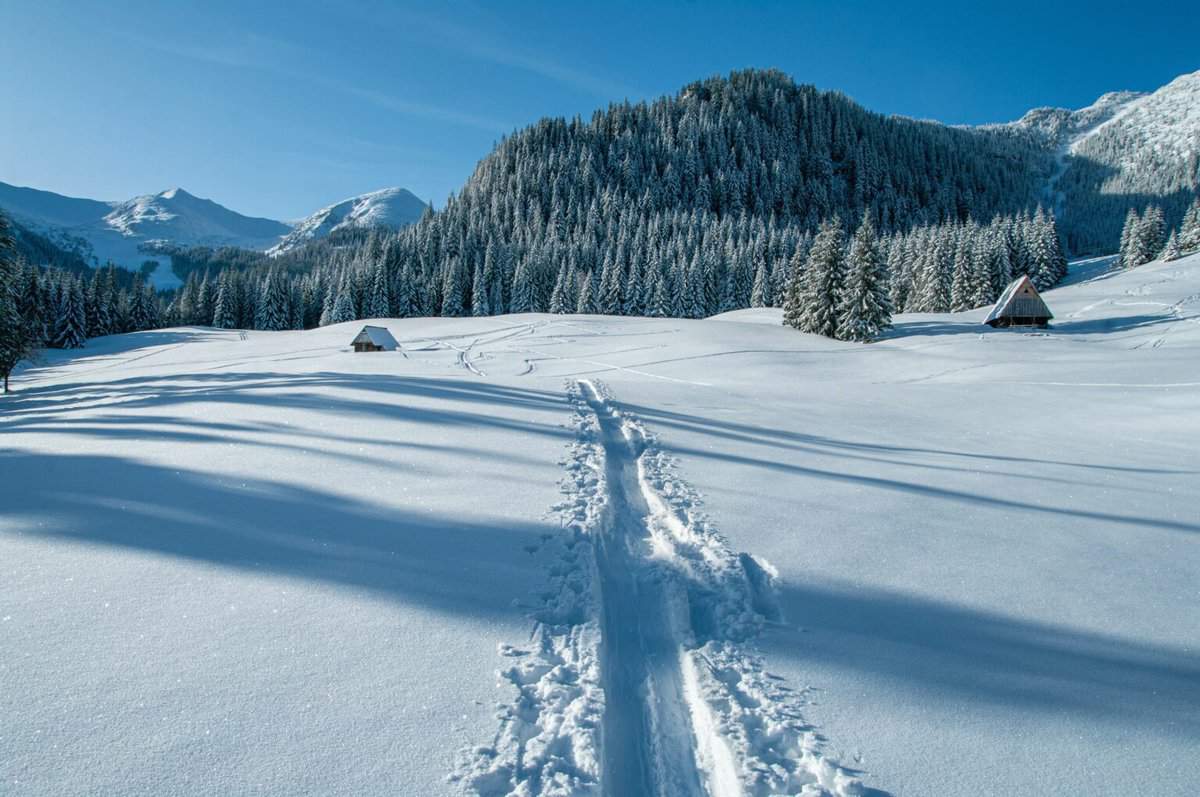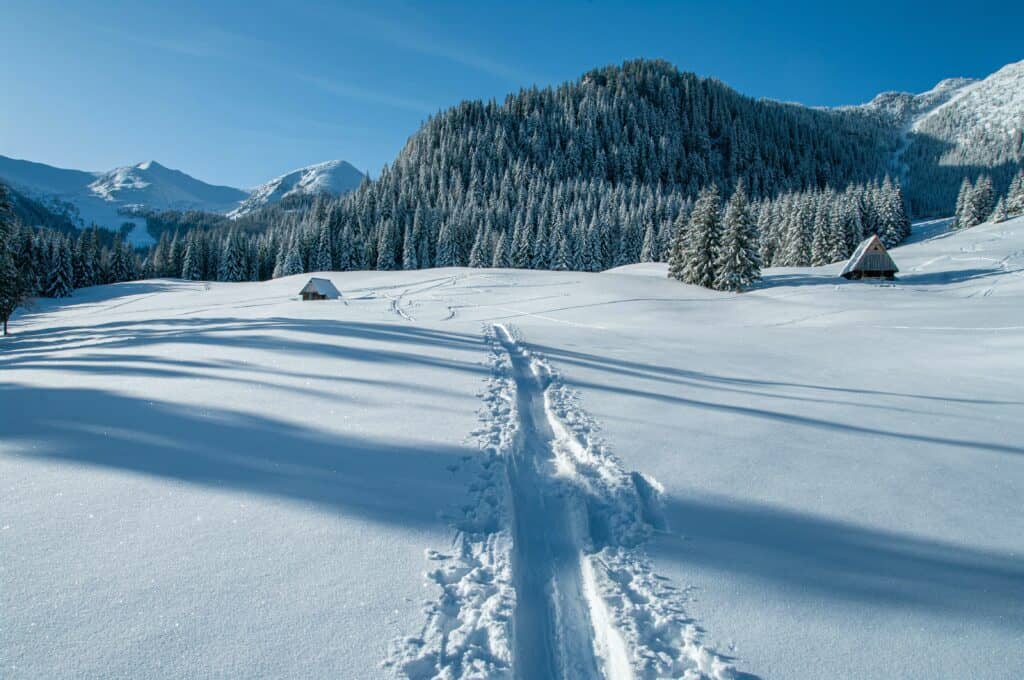 Aside from outdoor activities, Zakopane enjoys a vibrant cultural scene and has interesting museums such as Tatra Museum or Muzeum Tatrzanskiego Parku Narodowego where you can learn about the history, culture and wildlife in this area.
Visit Snowlandia
Snowlandia is a wonderful place to spend a morning or an afternoon. It's great for kids but adults would have a lot of fun too. It has a snow palace where you can climb to the top and enjoy great views from the tower, a snow castle which hosts wonderful creations from Disney, the largest snow maze in Poland which looks easy to complete but took us 20 mins to find the exit and a mini zoo.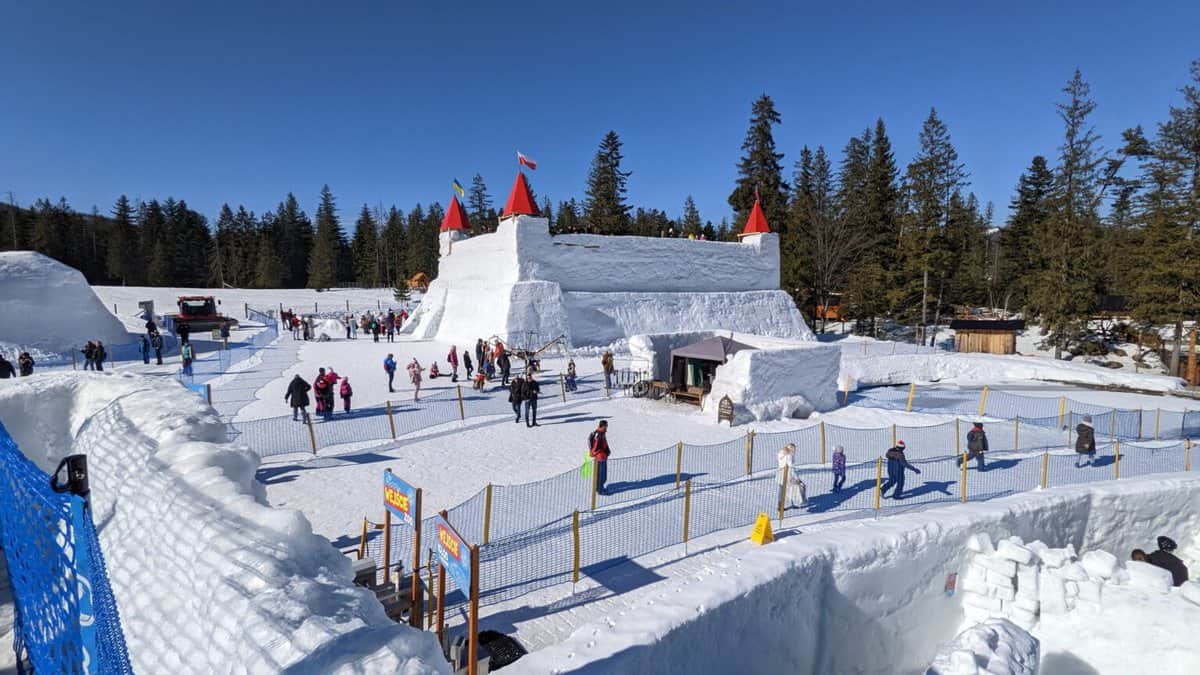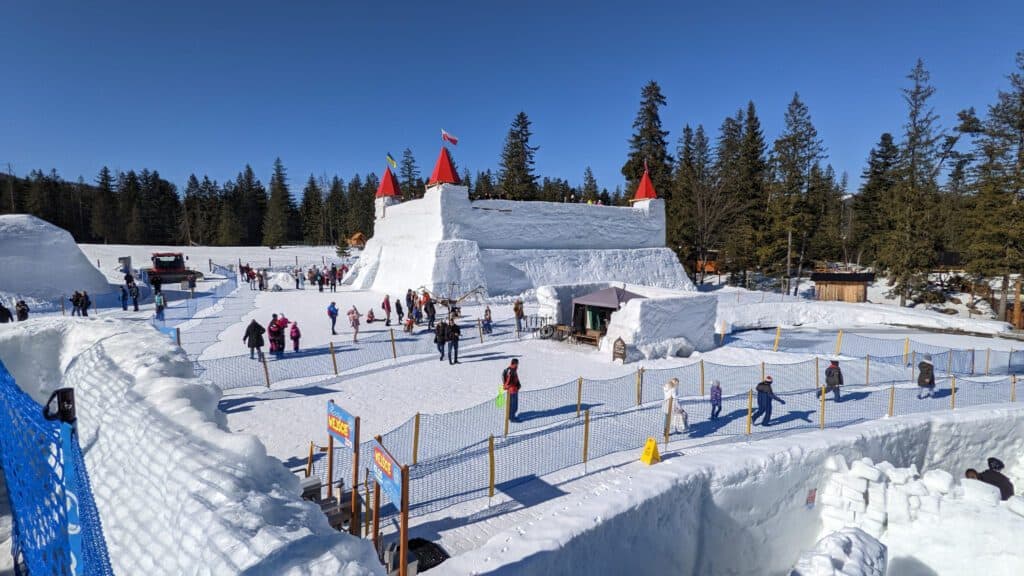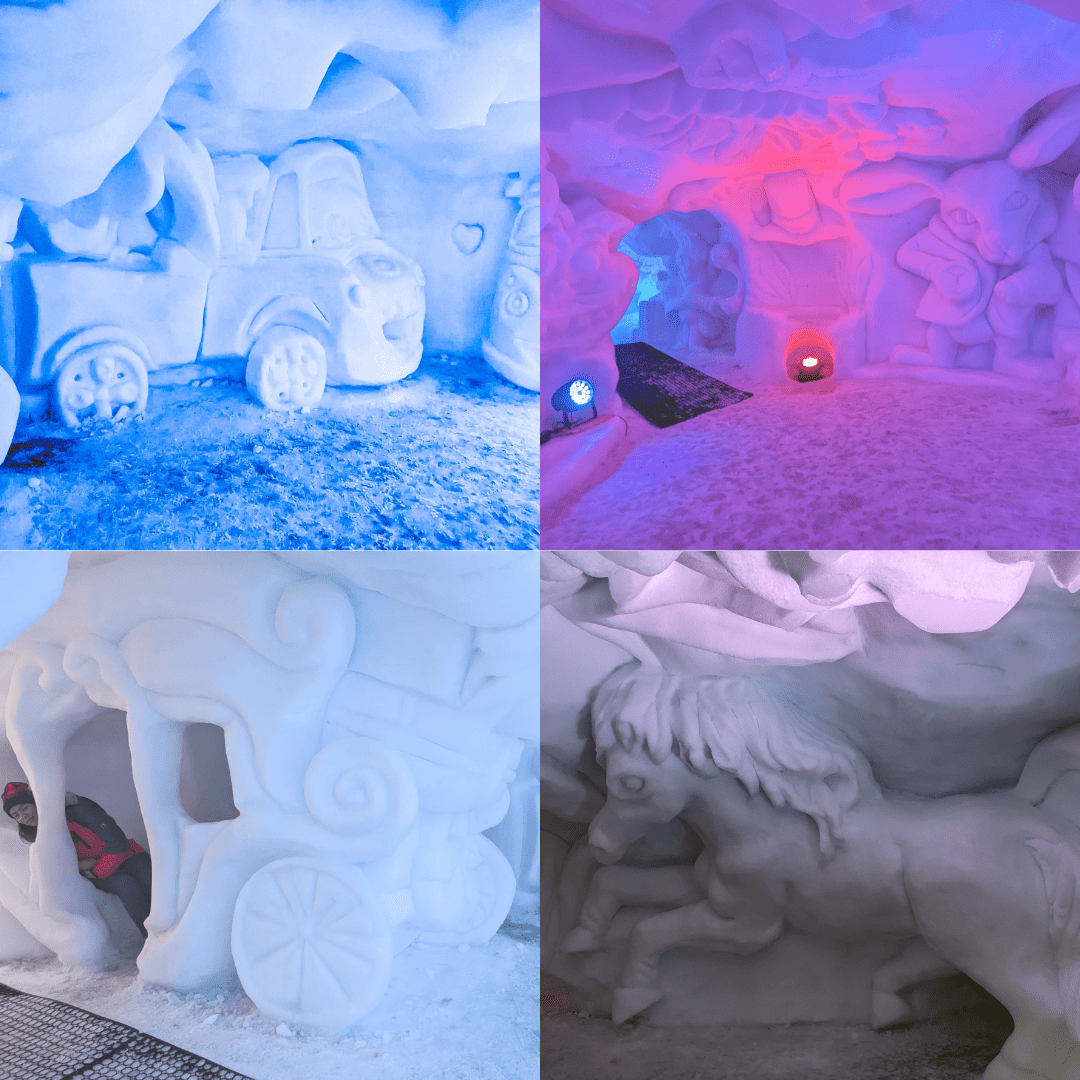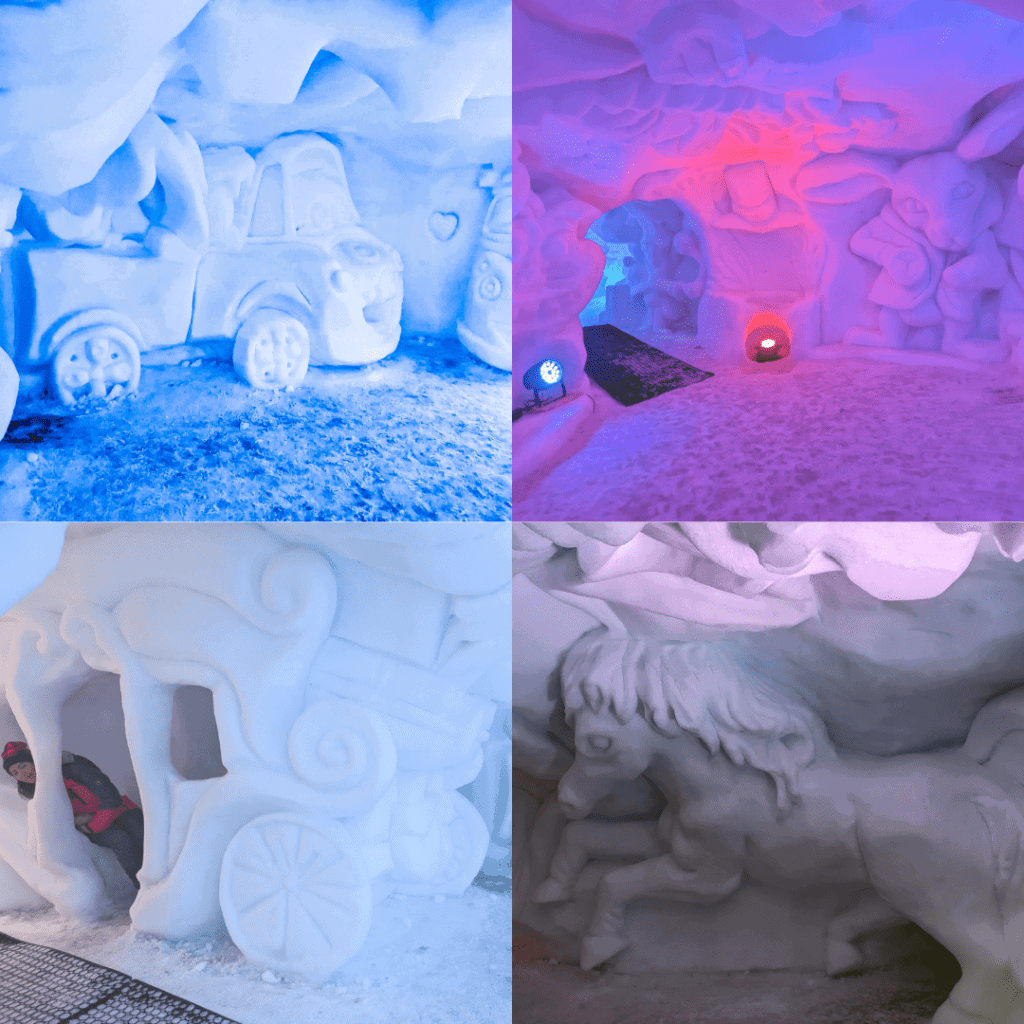 You can pay for individual attractions or get an all-inclusive ticket which is very reasonably priced (We paid £7 each for two attractions). There is also a sledging area and a small skiing area served by a lift which you can use for an extra fee. We spent around 3 hours there and had so much fun.
EAT DELICIOUS Food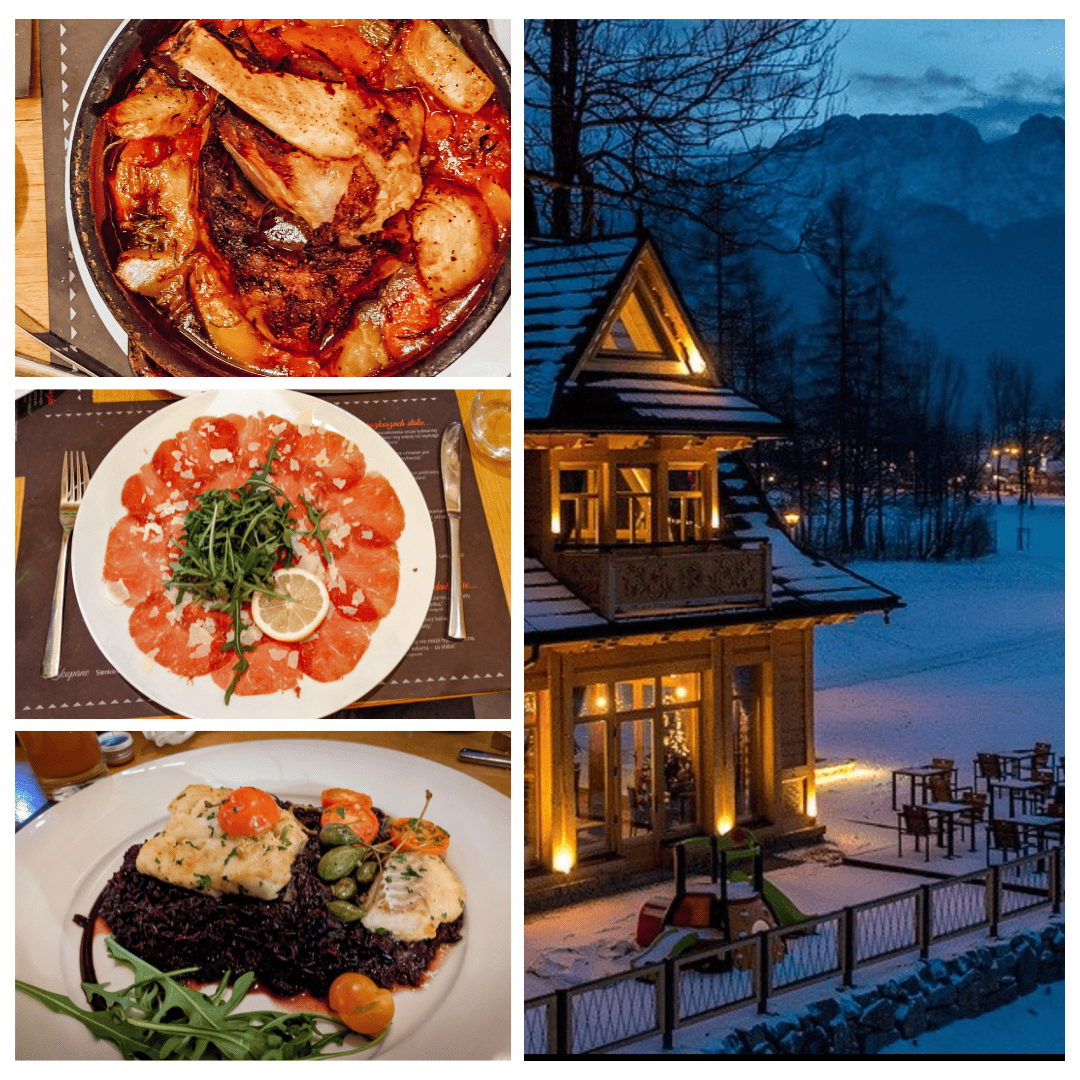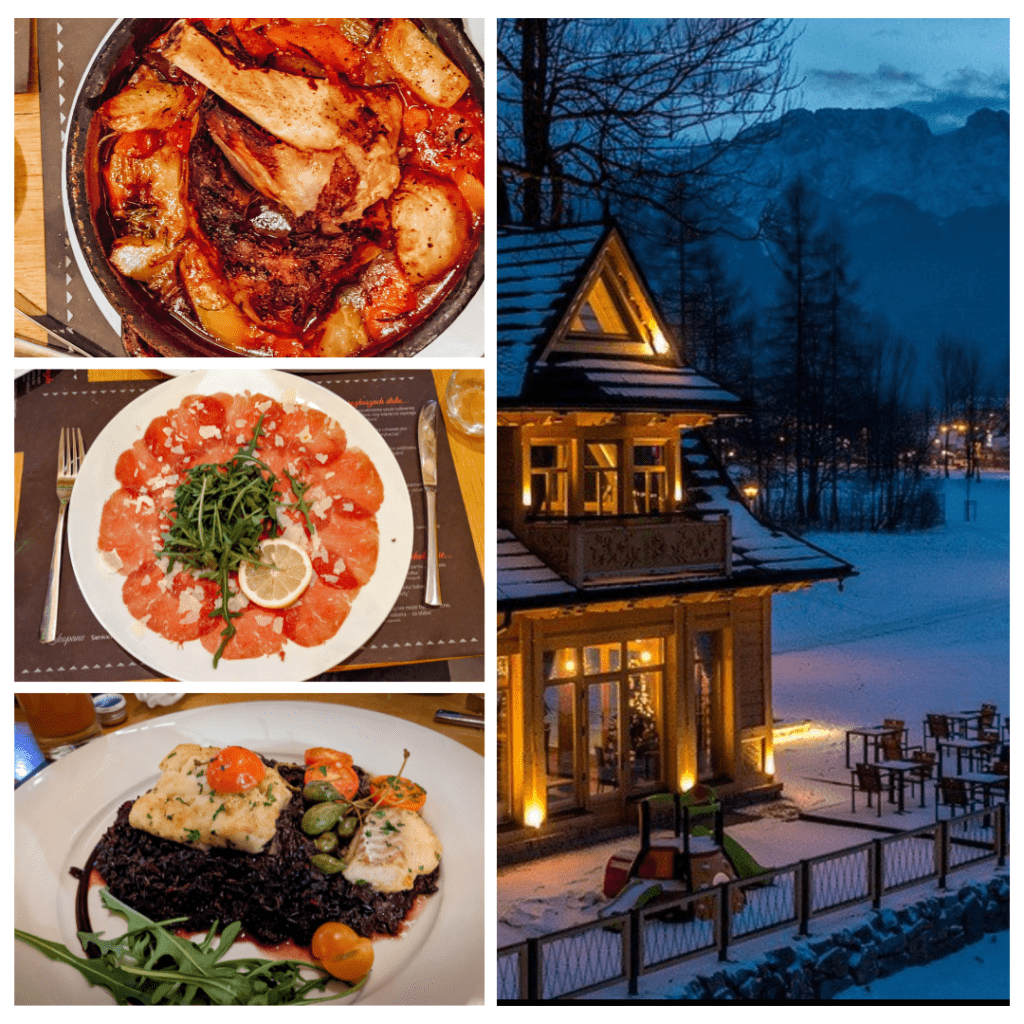 We were surprised to see so many places to eat in Zakopane. Aside from traditional Polish restaurants, there is a big Italian presence as well as several steak houses around town. We ate most our meals in the hotel but had the chance to try a couple of restaurants and I highly recommend Villa Toscana, where we had very creative Italian dishes in a cosy and warm atmosphere.
At a fraction of the price, Zakopane is a great alternative to the Swiss Alps especially if you want to try skiing but don't want to spend tons on accommodation and activities. By visiting Zakopane in winter you will have access to unique experiences that cannot be found anywhere else! From exploring outdoor adventures among snow-capped mountains to indulging in warm thermal pools  – your time in Zakopane will be nothing short of magical!