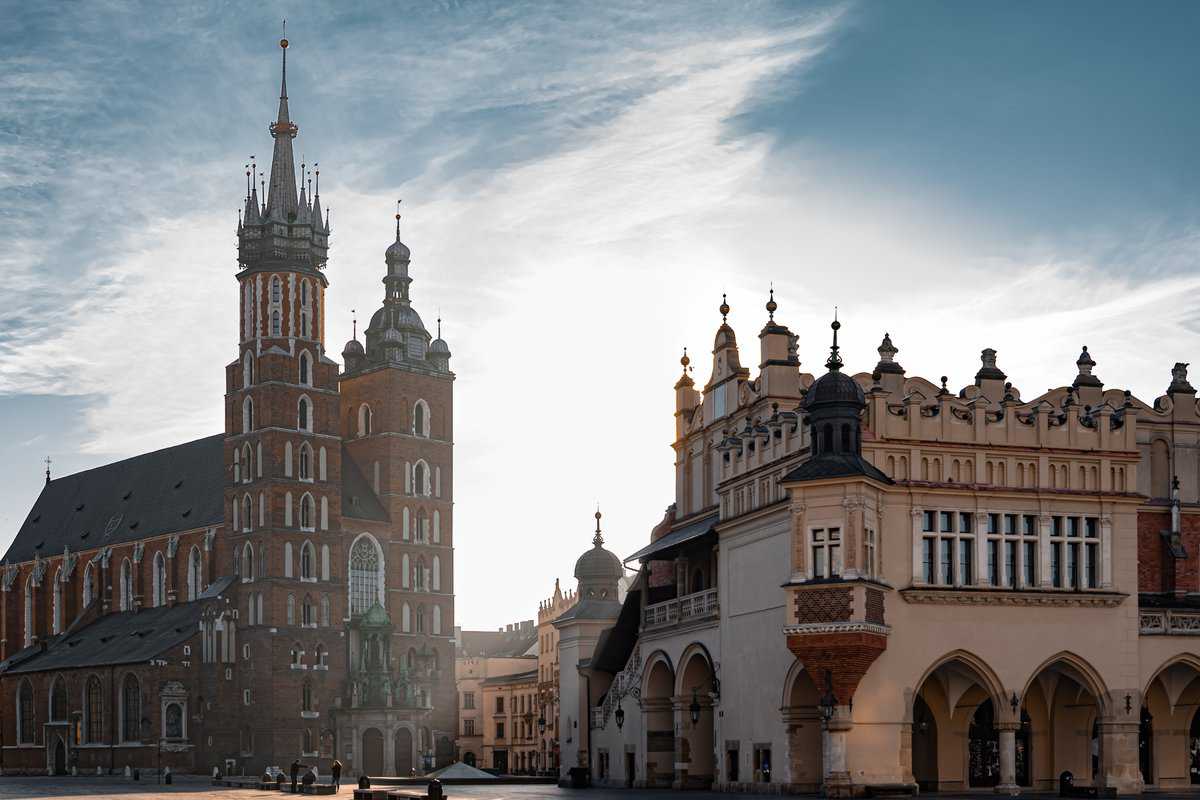 This article may contain affiliate links. That means I may earn a commission if you make a purchase through one of these links, at no extra cost to you.
Krakow is one of Poland's oldest and most beautiful cities. Located on the banks of the Vistula River, the city has been a cultural centre since medieval times and is also one of Poland's most important tourist destinations, featuring numerous attractions, historical monuments, and stunning architecture. With a population of 756,000 people, Krakow is the second-largest city in Poland after Warsaw.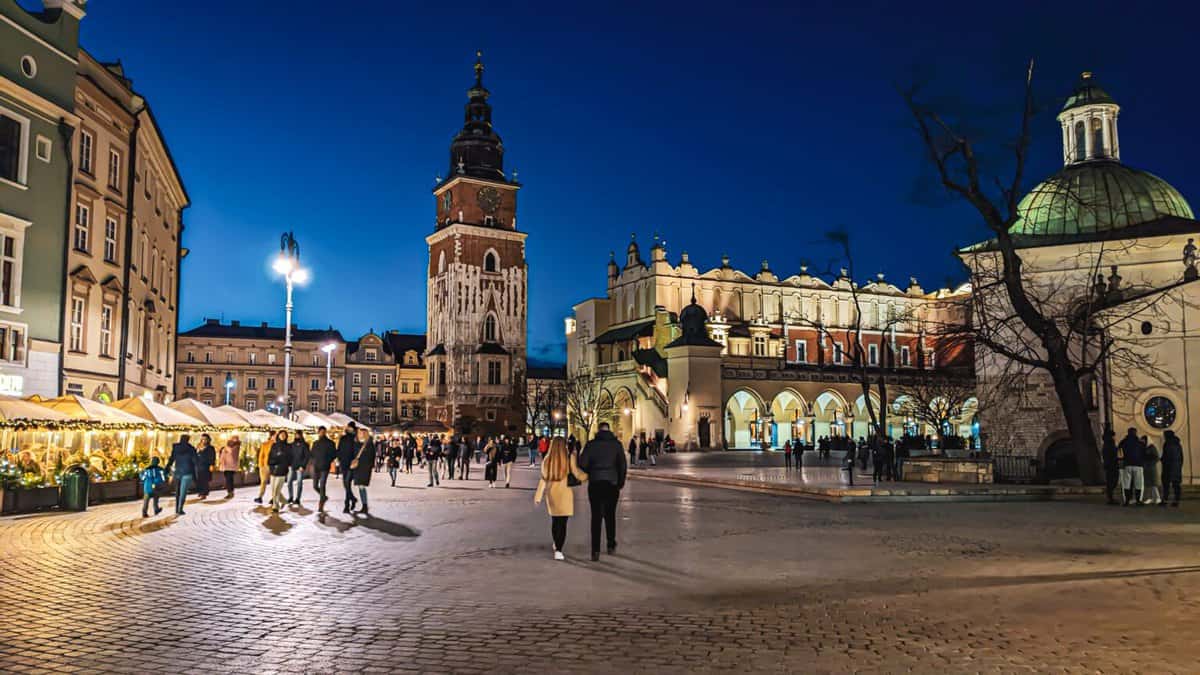 Krakow is good to visit any time of year. For outdoors' lovers Spring and Summer are great seasons to visit as they can enjoy warmer temperatures and longer days exploring the city and relaxing in its beautiful squares. If the cold temperatures don't deter you then Winter is the perfect time to indulge in Krakow's numerous activities, cozying in its pretty cafes, indulging in the spas, visiting museums or hitting the slopes in its neighbouring Tatra mountains.
I visited in Winter when it rained quite a bit but I was still charmed by its beauty. This Krakow city guide will help you map out your trip and tick off the main highlights if you only had three days to spend in the city.
Day 1
The old town square. (Rynek Główny)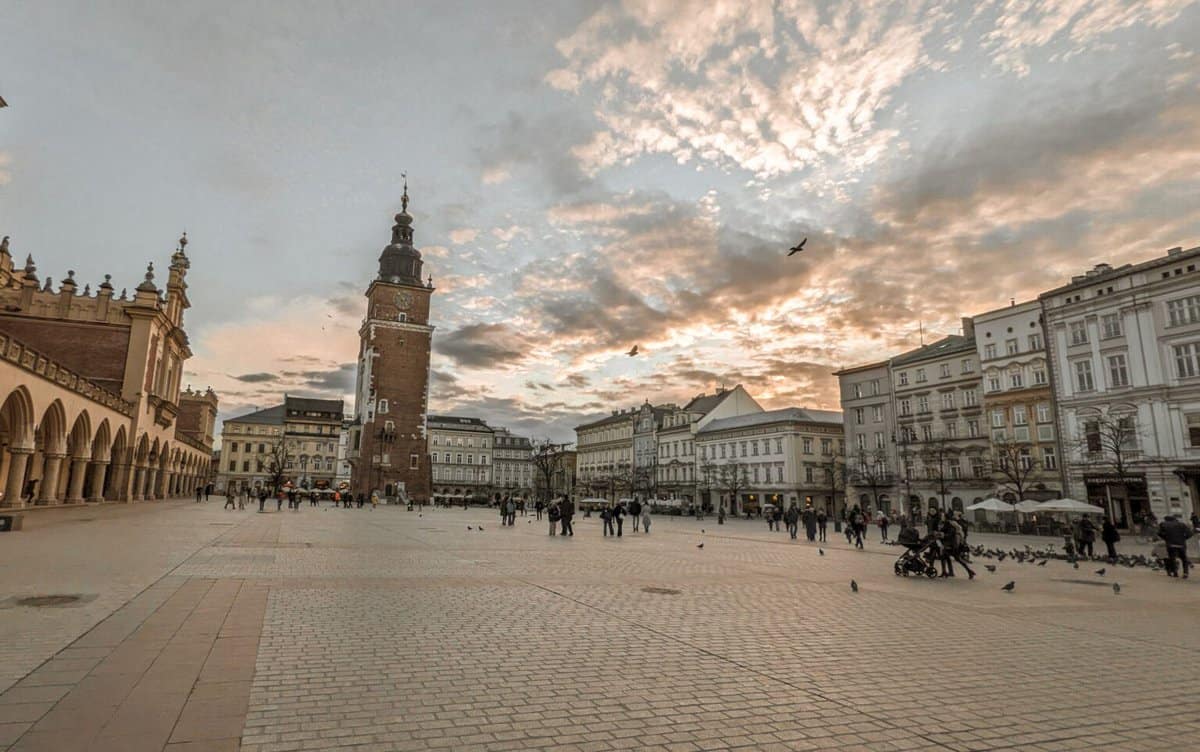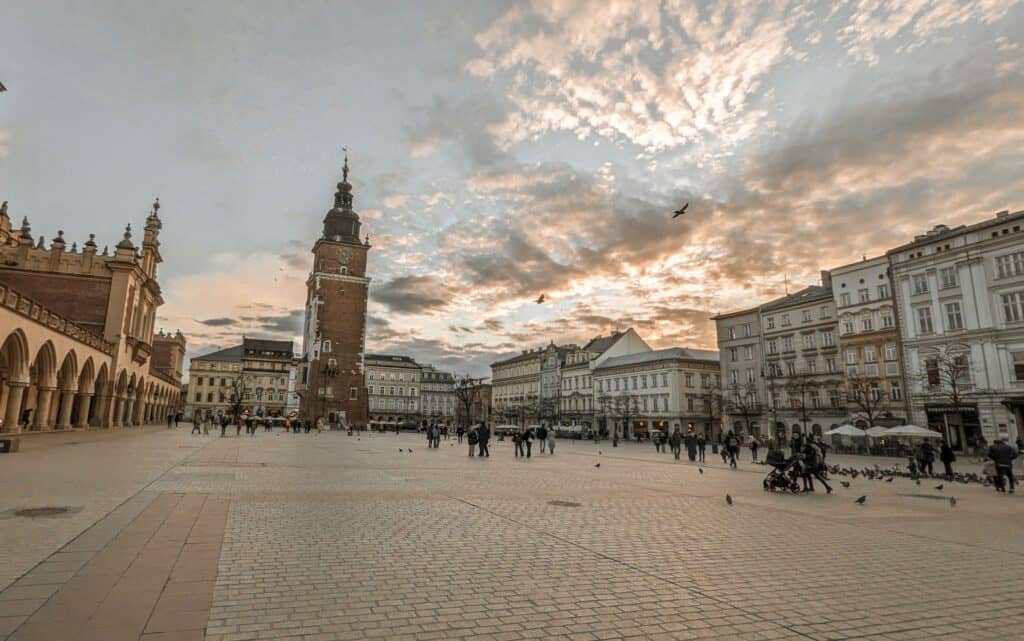 The old town of Krakow is the highlight of any visit to the city and home to some of Europe's oldest buildings and monuments, with many dating back to the 14th century or earlier. Start the morning with a hearty breakfast in the city's many cafes which are scattered around the old town square. Then take a Stroll around and explore the beautiful streets, taking in all the old architecture and historical monuments.
St Florian's Gate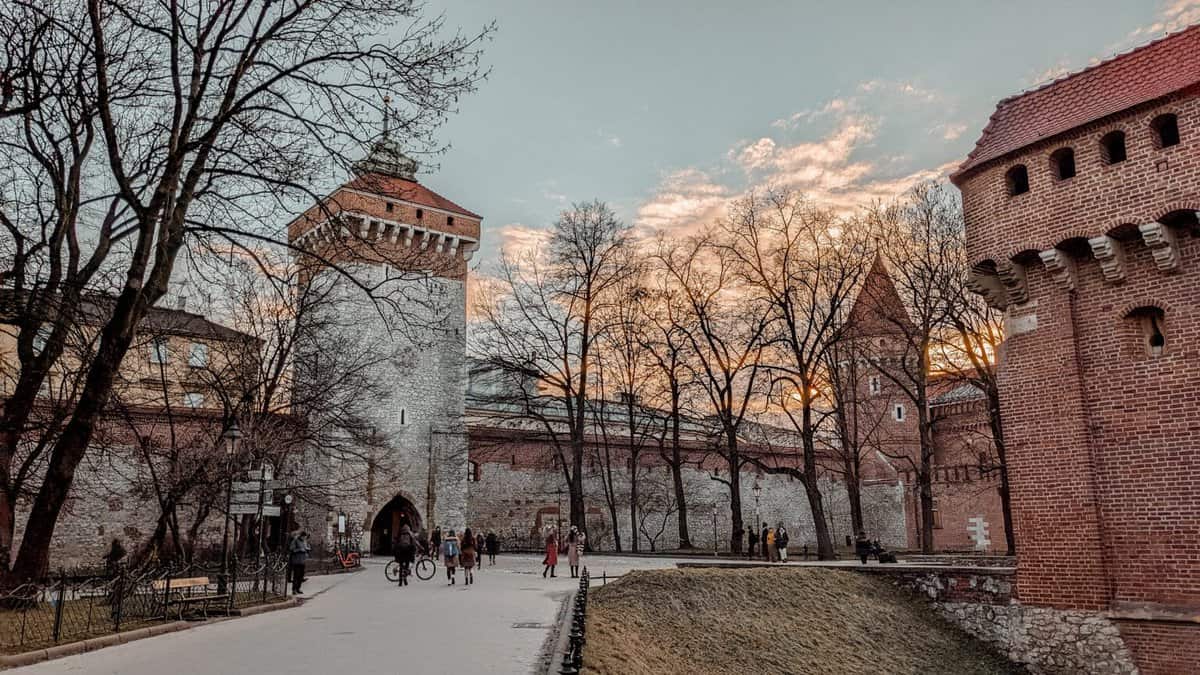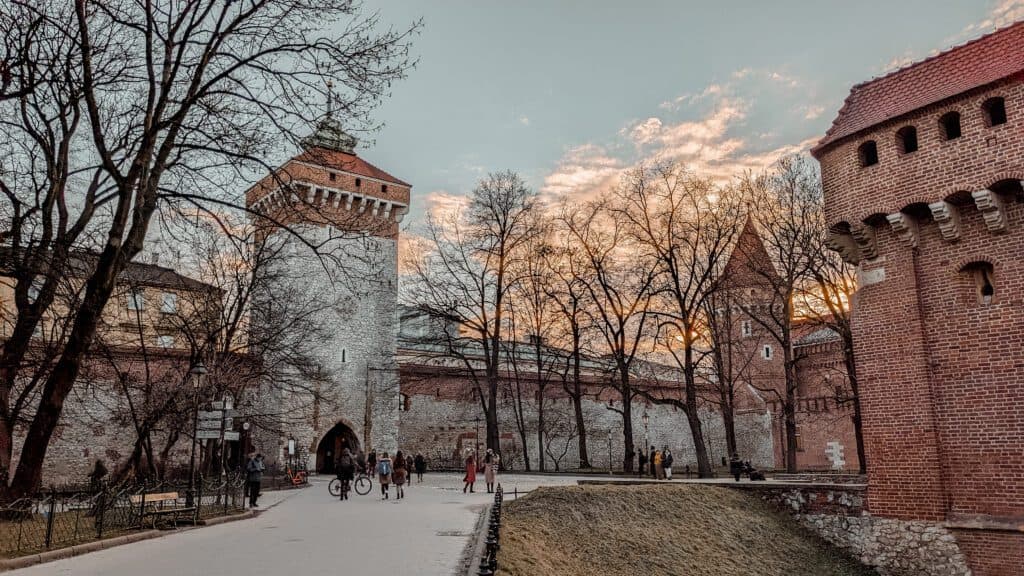 One of the most iconic landmarks in Krakow is St Florian's Gate, a fortified gateway that was built in the fourteenth century, and has been a symbol of the city ever since. It stands today as a reminder of Krakow's impressive history, and provides a great backdrop for photos.
St Mary's Basilica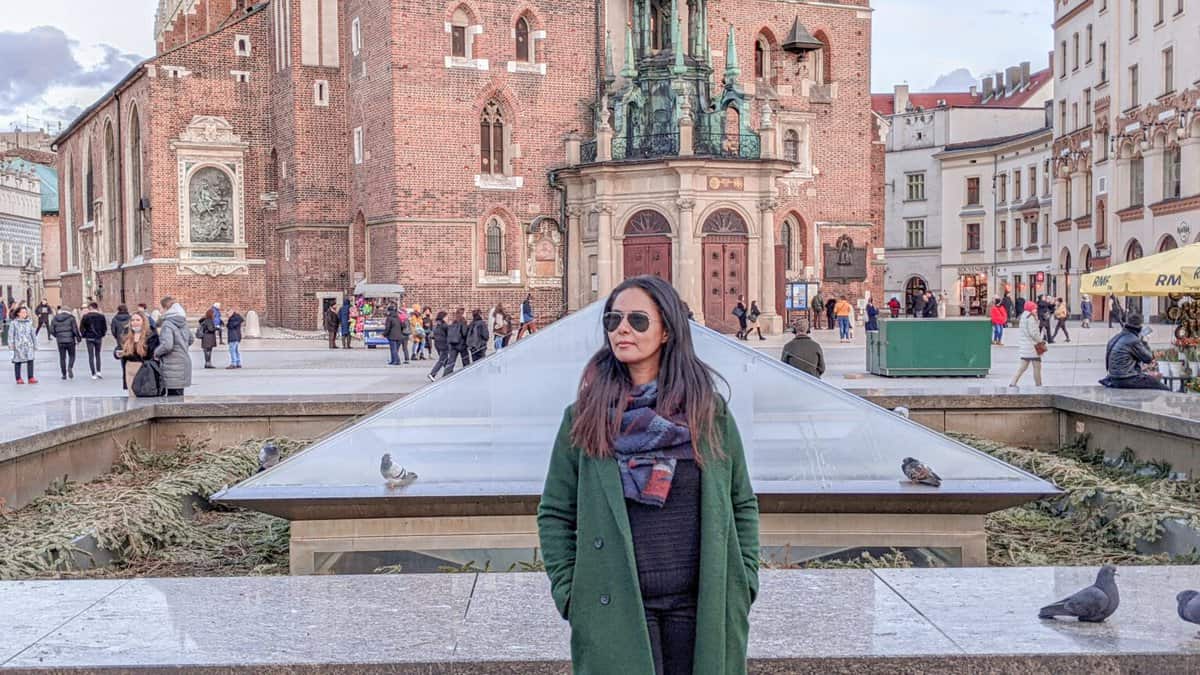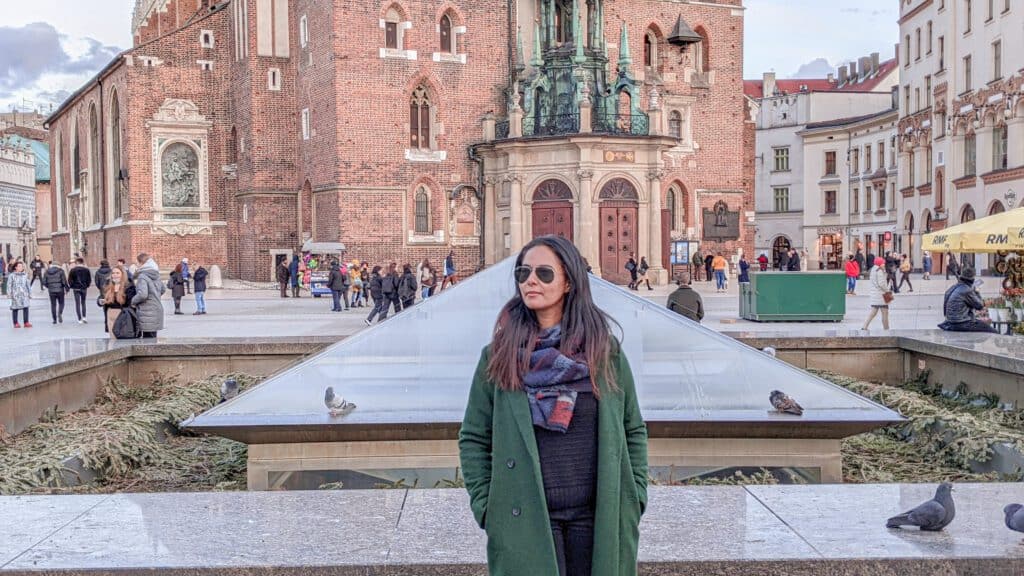 This impressive Gothic church was built in the 14th century and made into a watchtower for the city. Besides its iconic architecture, one of the famous traditions of this place is the Hejnał Mariacki  or bugle call, a five-note trumpet tune that is played every hour on the hour. The tune breaks off mid-melody in honour of the trumpeter who was playing the song to warn off the city of the arrival of the Tartars invaders in 1241 but was shot in the neck mid-tune. True story or legend, it sure does leave an impression and I recommend you don't miss it.
St Mary's Basilica is open to visitors between 10.30am and 5:30pm (times can vary). Tickets are not sold online and are purchased in a separate building outside the tourists entrance.
Town Hall Tower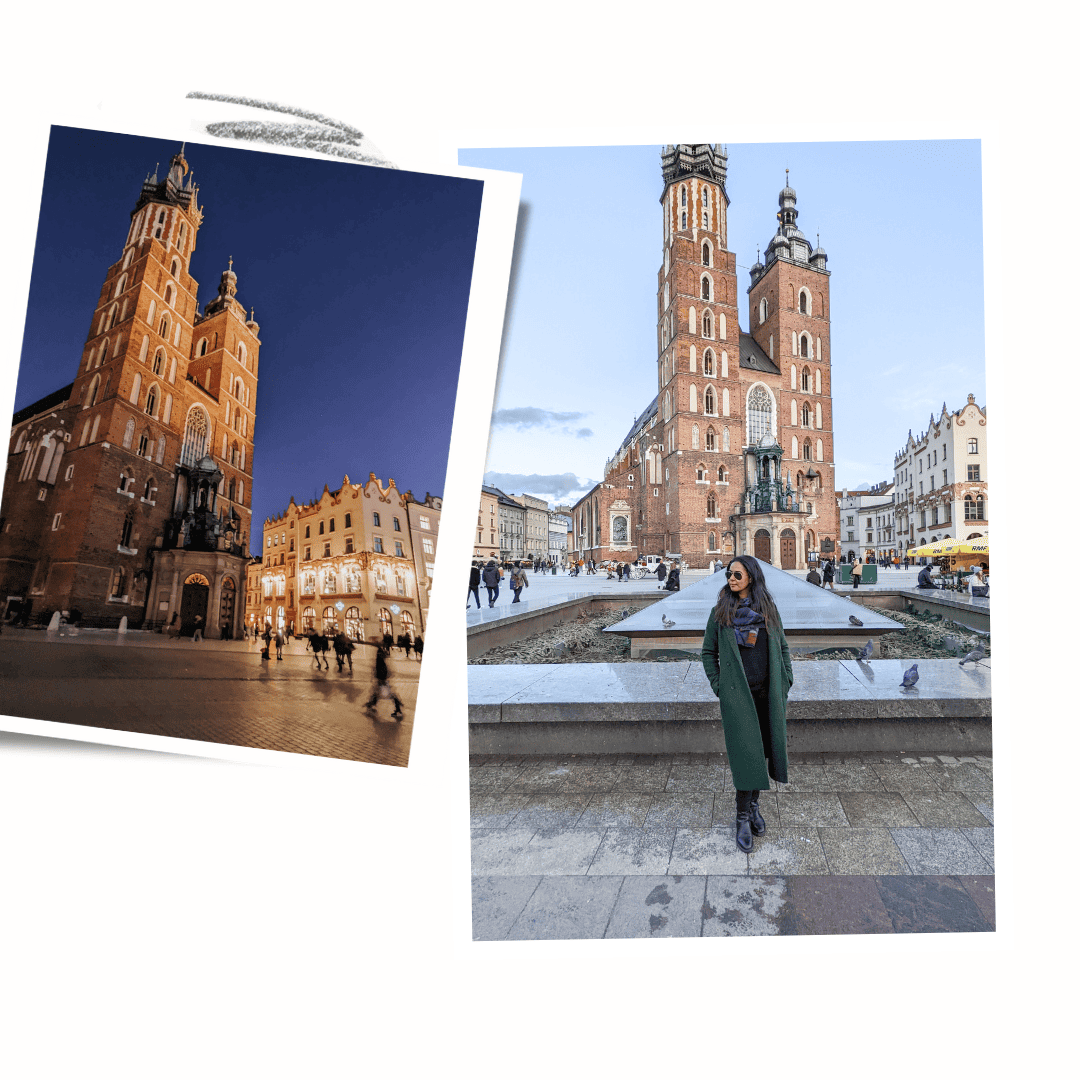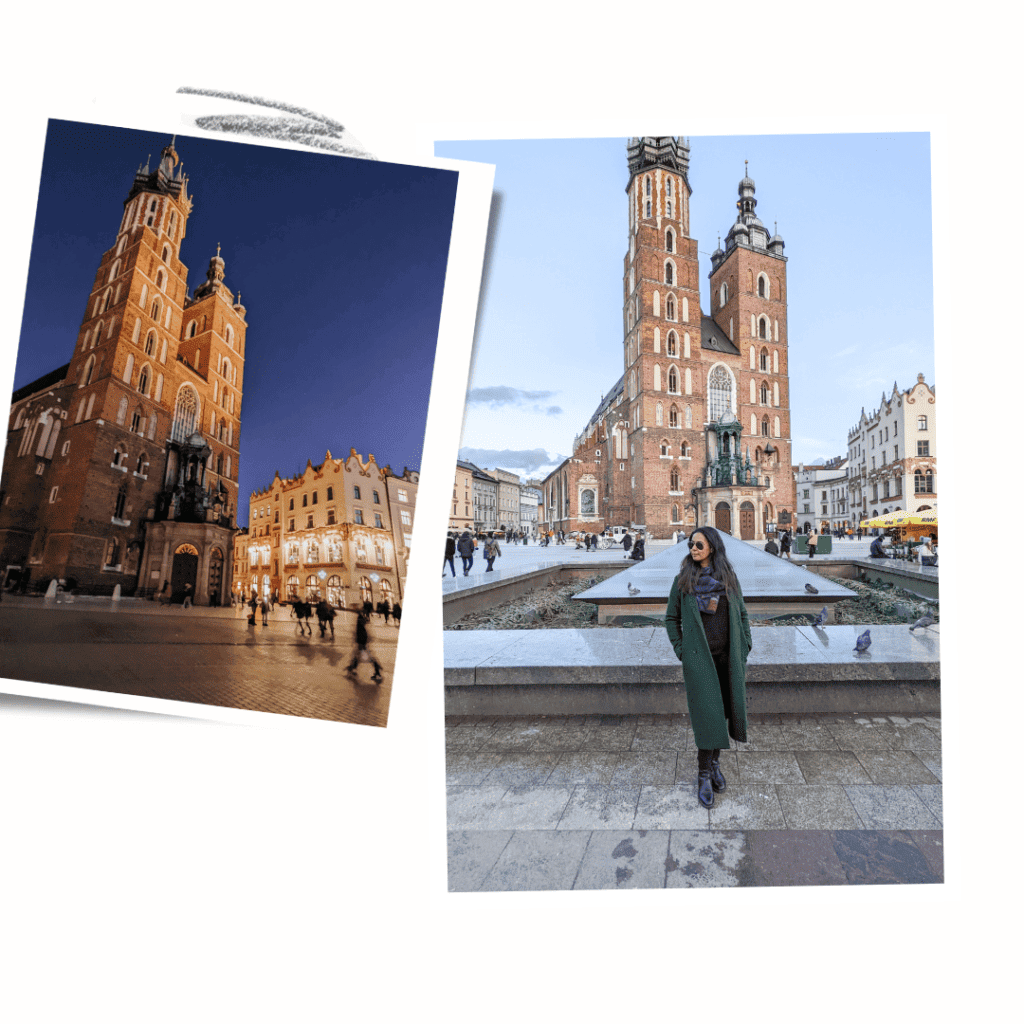 Built in the 14th century and known as Kraków's 'leaning tower,' the The 70 m Clock Tower is the last remaining element of the city's original Town Hall which was demolished in 1820.  The tower does indeed lean some 55cm since it was hit by a storm in 1703. Today, The Town Hall Tower is used by the Historical Museum of Krakow and includes information on the history of the clock tower, a series of medieval costumes and a permanent display of photographs of the Market Square Exhibition.
St Adalbert's Church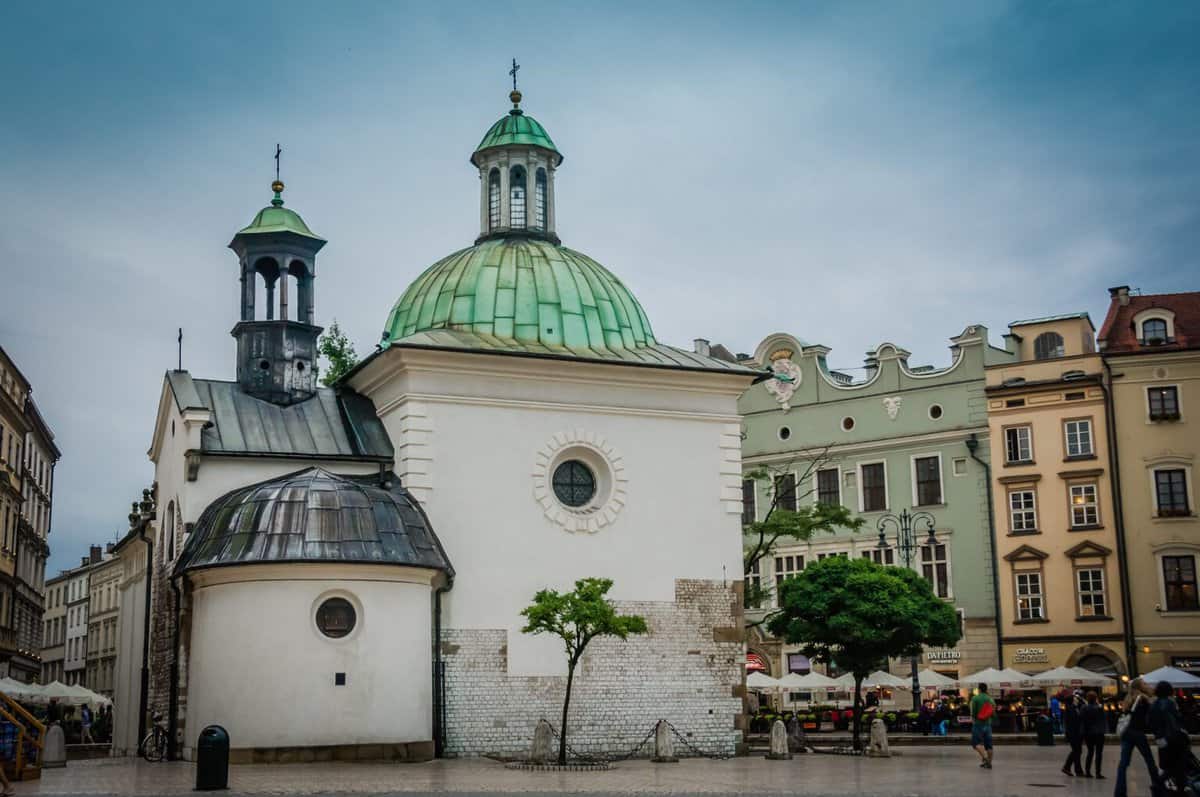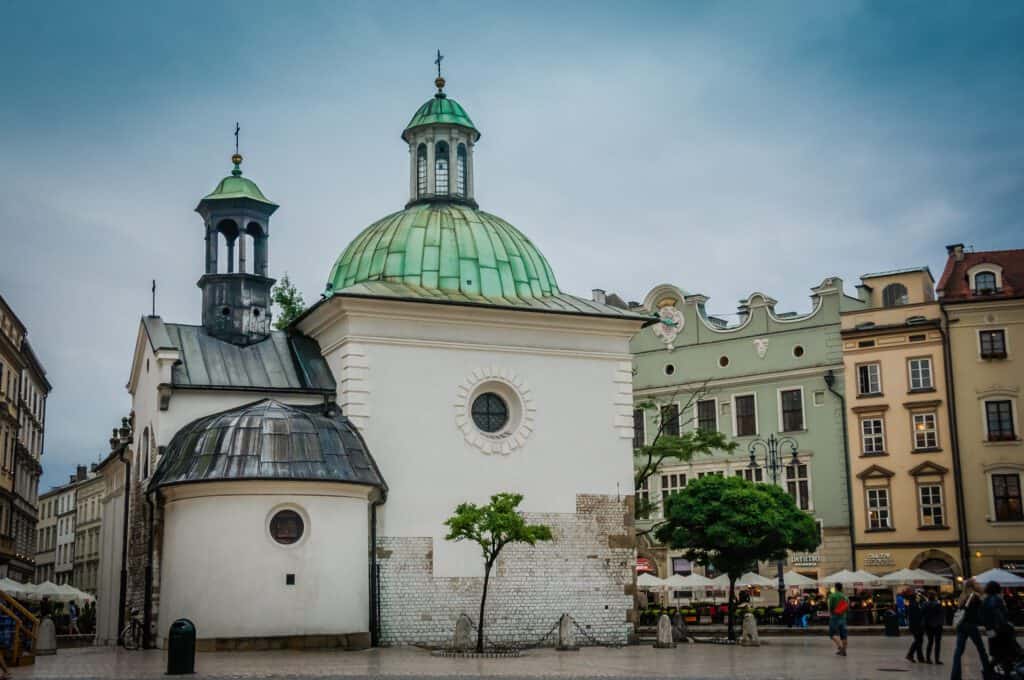 This small church located to the side of the Main Market Square and almost eclipsed by the giant clock tower is one of the oldest stone churches in Poland. Its 1000-year-old history goes back to the beginning of the Polish Romanesque architecture in the 11th Century. It looks really pretty at night when it's lit up and is worth a glance inside if you have time.
The Cloth Hall (Sukiennice)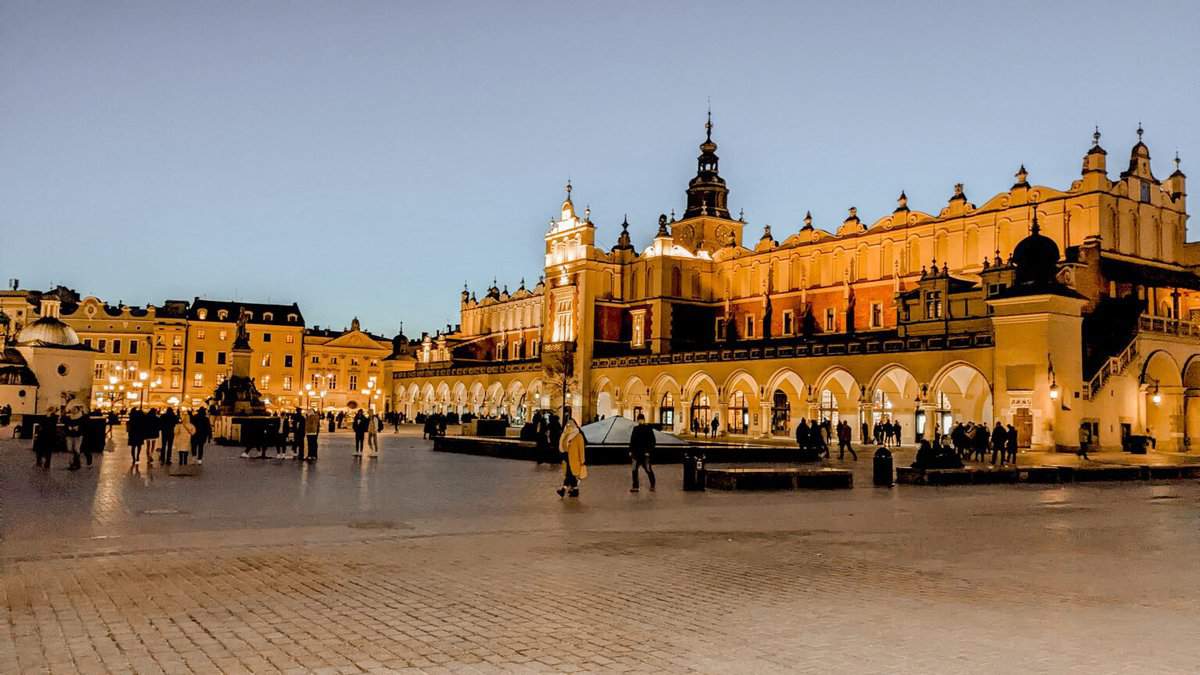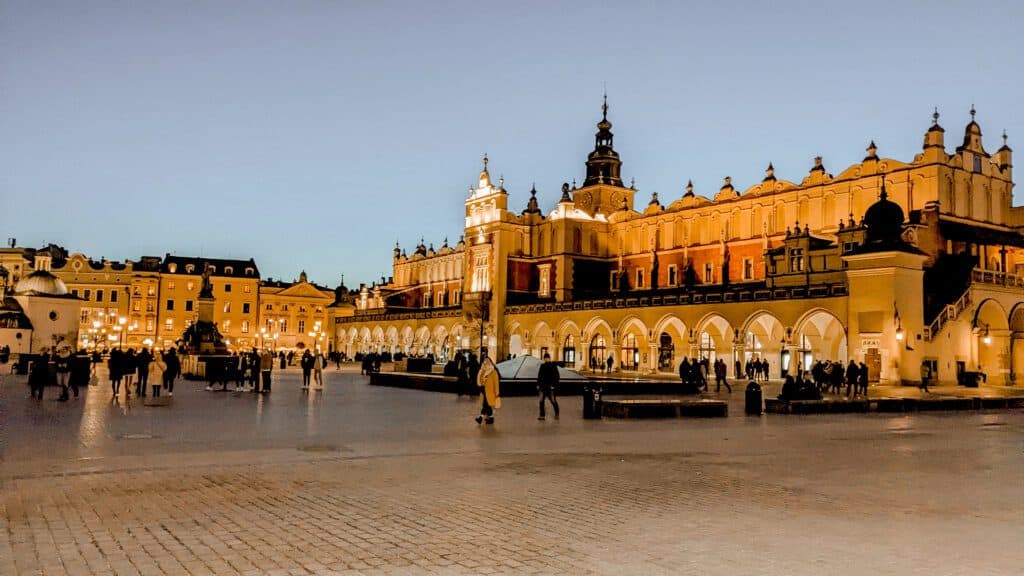 The Cloth Hall is located at the heart of Rynek Główny and was once a bustling centre of trade where merchants would gather to sell their wares – primarily cloth and textiles – from all over Europe during Medieval times. Nowadays it is an important tourist destination with shops selling souvenirs  as well as restaurants offering local cuisine.
Eros Bendato Sculpture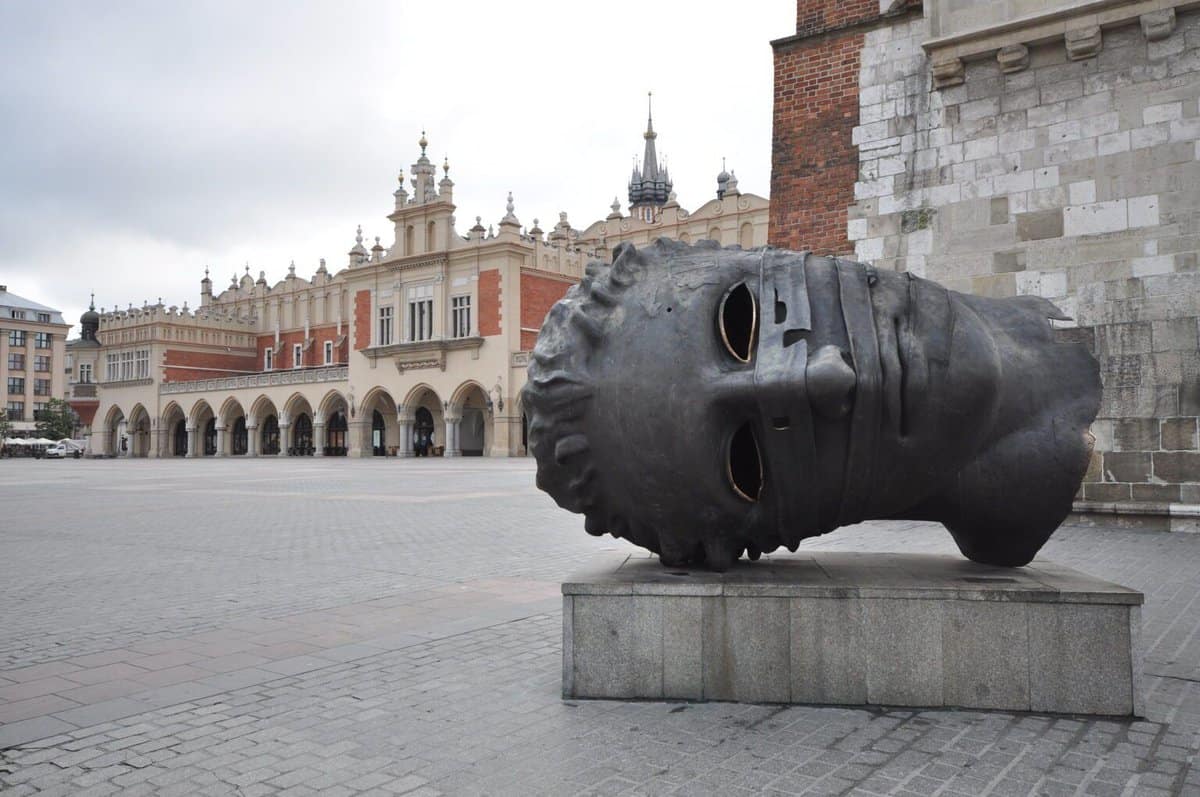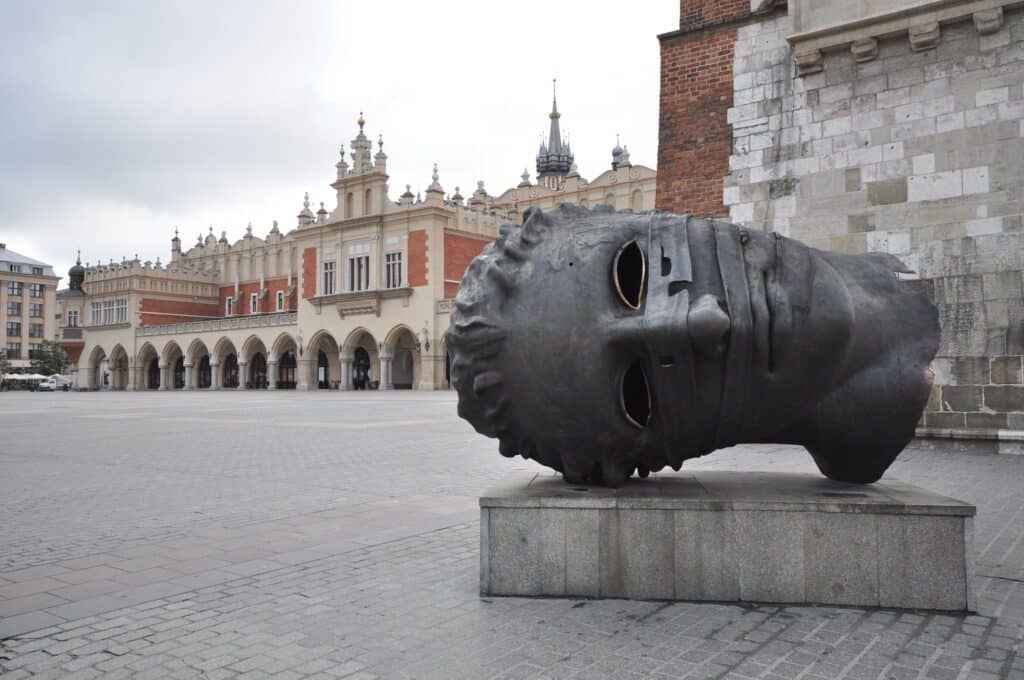 Often referred to as The Head (Głowa), this intriguing bronze statue is the work of Igor Mitoraj, one of Poland's most renowned sculptors. It sits in the Main Square, just west of the Cloth Hall and is one of Krakow's most recognisable statues and a popular meeting place for locals and tourists alike.
Wawel Castle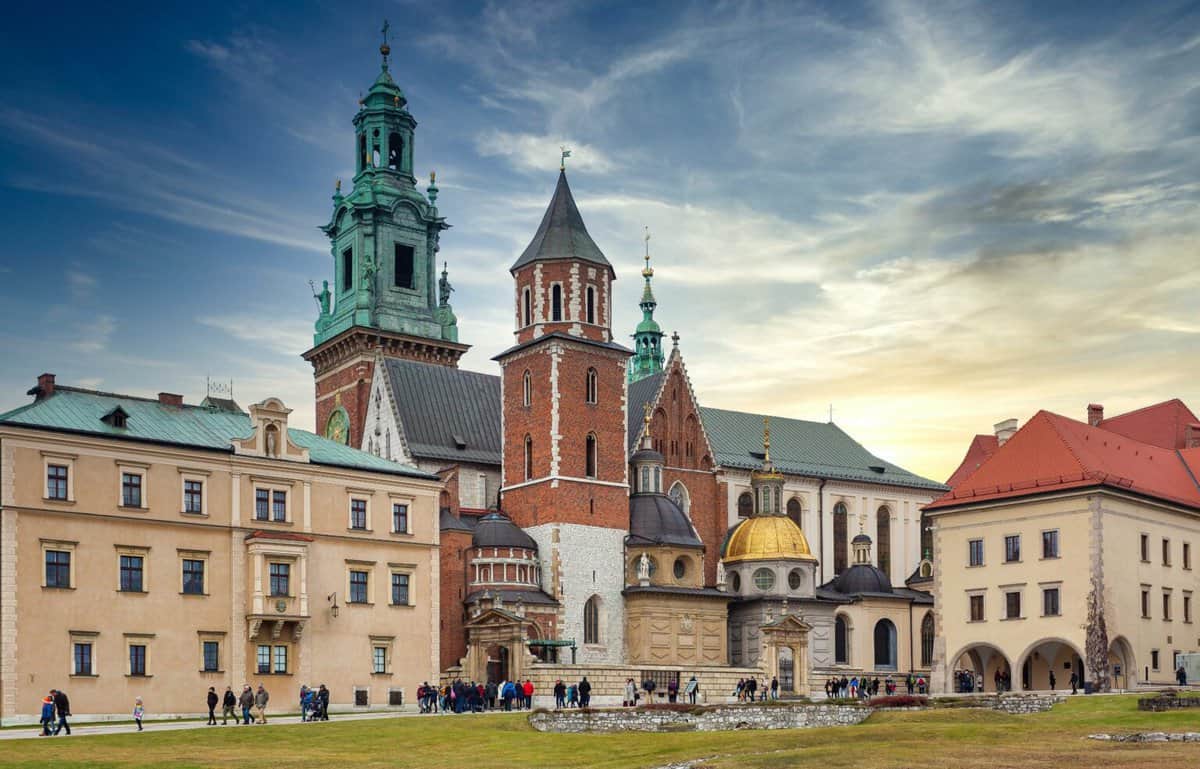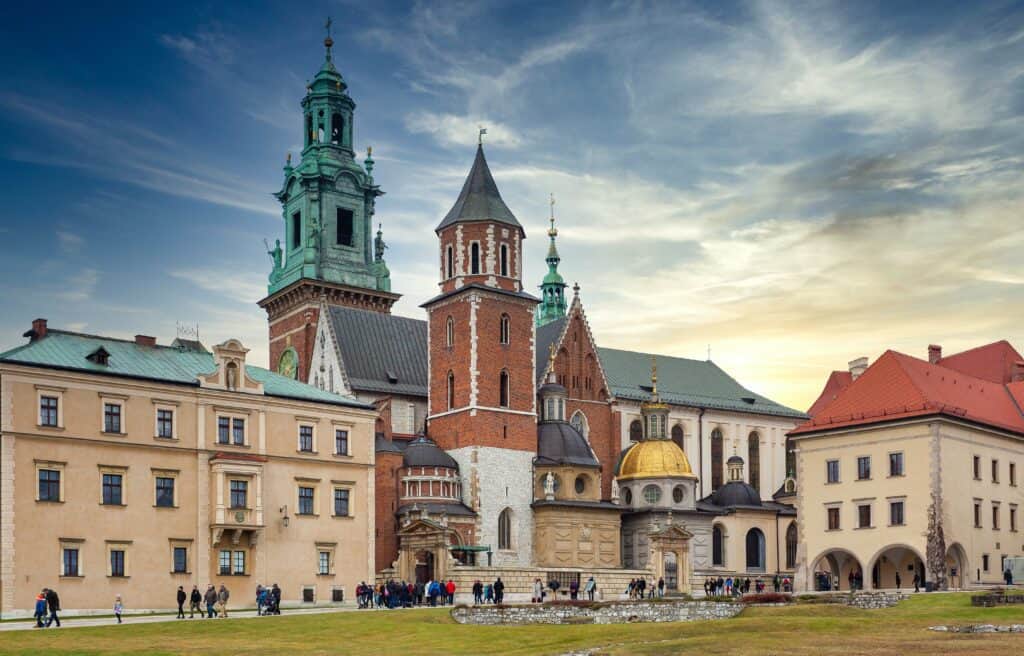 Wawel castle is another iconic attraction located on the banks of the Vistula River and overlooking Krakow's Old Town. This magnificent castle has been here since at least the 11th century and was built over many centuries by various Polish rulers. Today it is home to a stunning array of state rooms, Royal Armoury and museums showcasing priceless artifacts from the past. Additionally, you can climb to the top terrace from where you can admire panoramic views of Krakow's skyline at night.
Day 2
Kazimierz district
Krakow has one of Europe's oldest Jewish quarters, Kazimierz. Here you can find reminders of the rich history of Jewish culture that took place for centuries prior to World War II. Today it is filled with exciting shops and cafes, making it a great place to wander around the pretty cobblestoned streets, see some very old synagogues or visit museums devoted to Polish-Jewish history and culture.
The Empty Chairs at Ghetto Heroes Square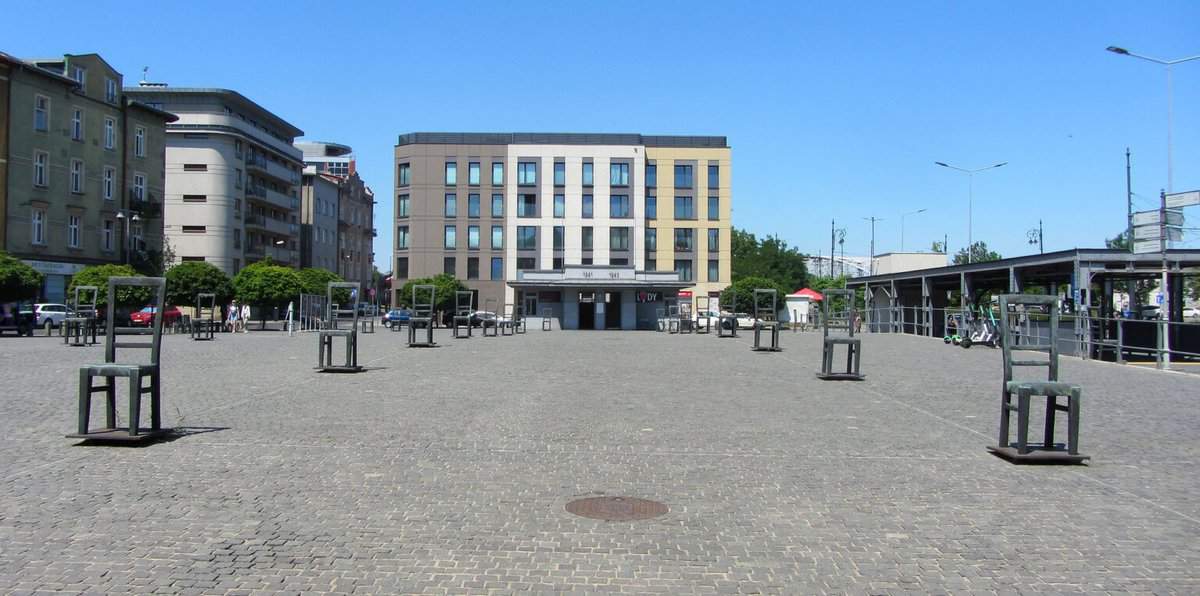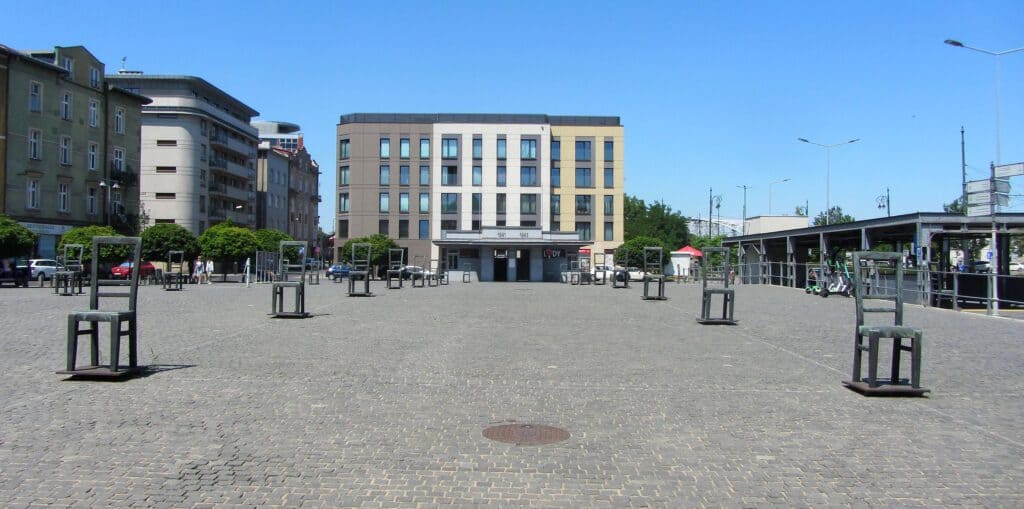 The Empty Chairs monument has become one of the most visited sites in Krakow since it was unveiled almost 30 years ago. The monument serves as both a place for mourning and remembrance of one of humanity's darkest chapters. It also represents hope for a brighter future where people stand up against tyranny and prejudice.
Schindler's Factory Museum
The Schindler's Factory Museum is another popular attraction in Krakow. This museum pays tribute to Oskar Schindler, who saved hundreds of Jews during WWII by employing them in his factory. The museum offers an authentic look at life in wartime Krakow through multimedia installations and displays featuring personal items belonging to both victims and survivors of that period.
Wieliczka Salt Mine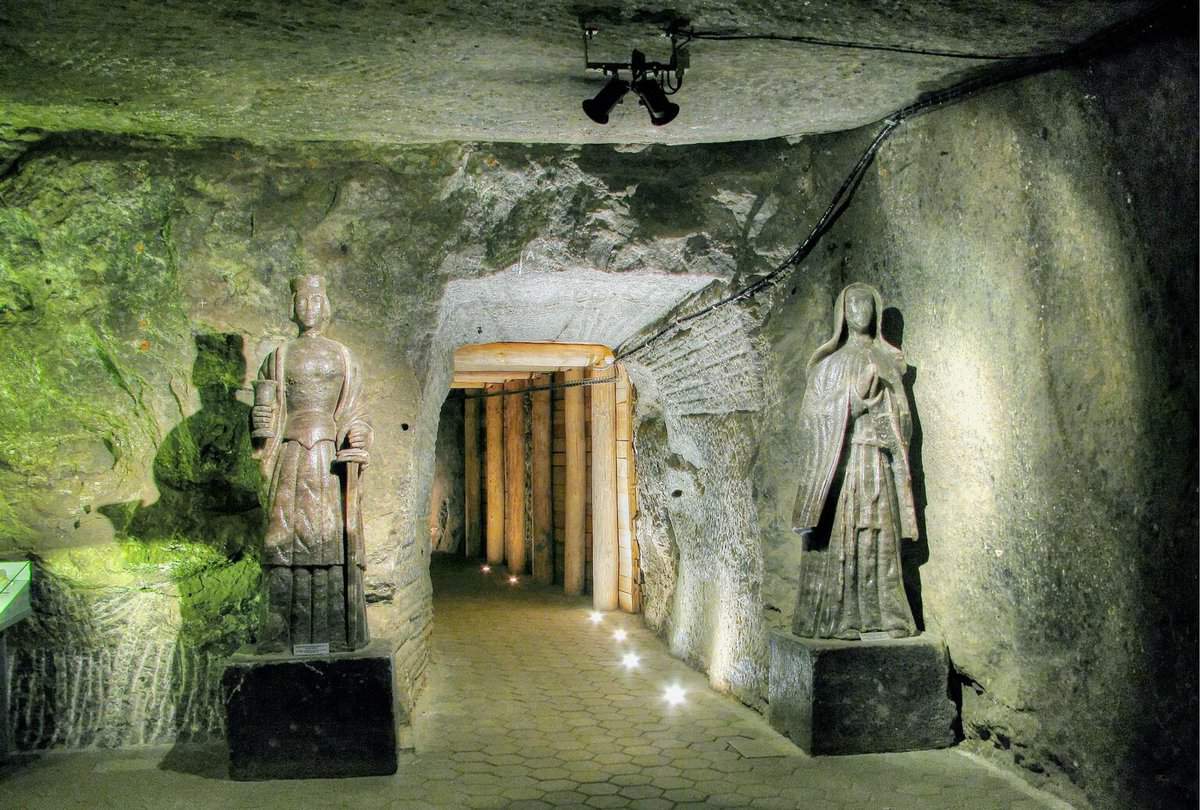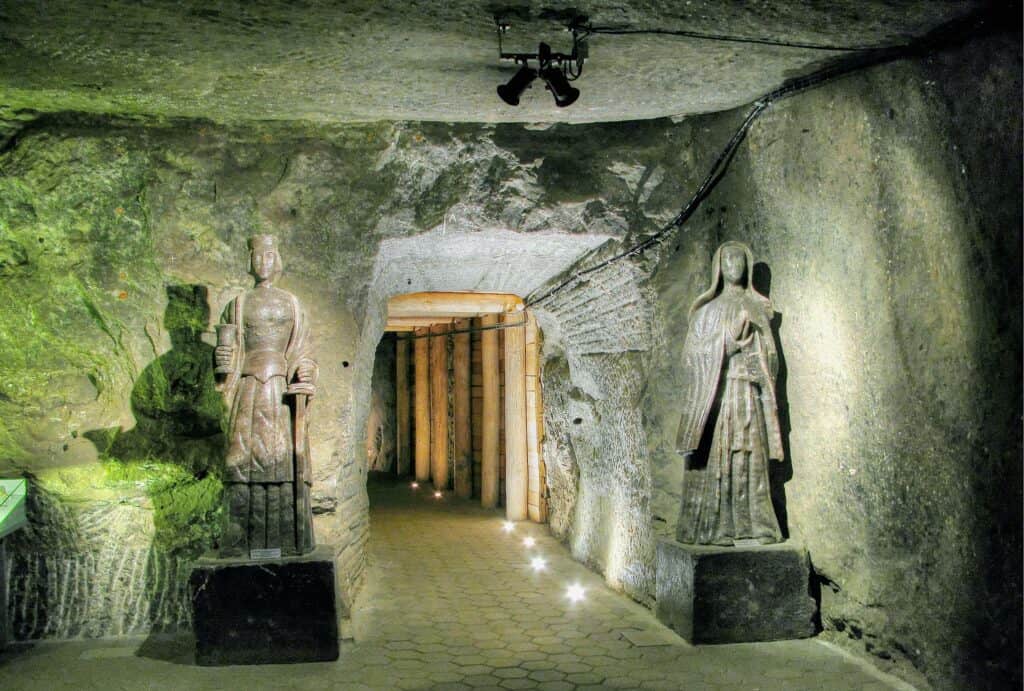 The Wieliczka Salt Mine is an incredible underground network of tunnels and salt sculptures carved out over many years by miners working there beginning as far back as the 13th century! The mine extends for over 300 km deep into the ground, making it one of the largest tourist attractions in all of Europe! Not only you get an appreciation for how hard life once was for miners but you can also admire amazing works of art carved out from salt – including chapels and statues.
Day 3
Auschwitz-Birkenau
A visit to the Auschwitz-Birkenau Memorial and Museum is a powerful and emotional experience for anyone with a desire to learn about one of humanity's most horrific chapters and pay respect to the victims. The museum is located about an hour outside of Krakow. The entire complex is huge, covering nearly 200 acres and consisting of over 150 buildings so do plan on spending at least half a day here especially as there tend to be long queues.
You can travel there by public transport and explore the museum by yourself or take guided tours from Krakow which are available in several languages and would save you tons in logistics and organisation.
Where to stay in Krakow
Krakow has stunning hotels some of which used to be old palaces and are true architectural gems. It also has great boutique and budget hotels which are centrally located as well as some very chic private accommodations. Some recommendations include:
Hotel Unicus Palace
This 5-star hotel is in the heart of Krakow's main square and offers early check-in and late check out. Set in a gorgeous building, it has an indoor pool, a hot tub and a hammam. The hotel has also a restaurant serving Italian and Mediterranean cuisines.
Bachleda Luxury Hotel Krakow MGallery Hotel Collection
This hotel is only 450 yards from Wawel Castle and offers the ultimate luxury experience. Boasting an on-site spa, an indoor pool with hydro massage and water jets, a dry sauna as well as an international restaurant and gorgeous rooms furnished to the highest standards, it's the perfect gift you can give yourself if your aim is a relaxing and comfortable stay.
Leonardo Boutique Hotel Krakow Old Town
This cute hotel is conveniently located in the old town and offers great value for money. it has a range of bedrooms from single to Deluxe suite. All the rooms are sleek and tastefully decorated and they offer a very tasty breakfast.
Hotel Pod Różą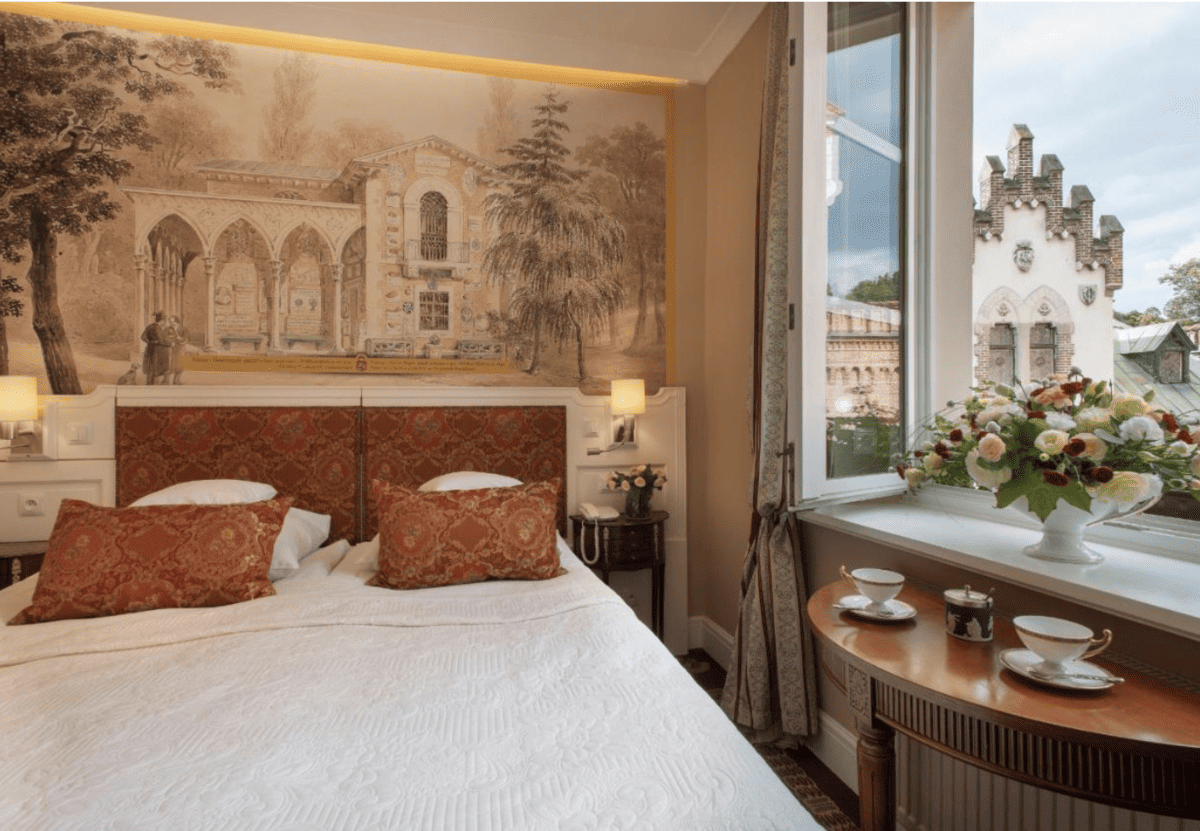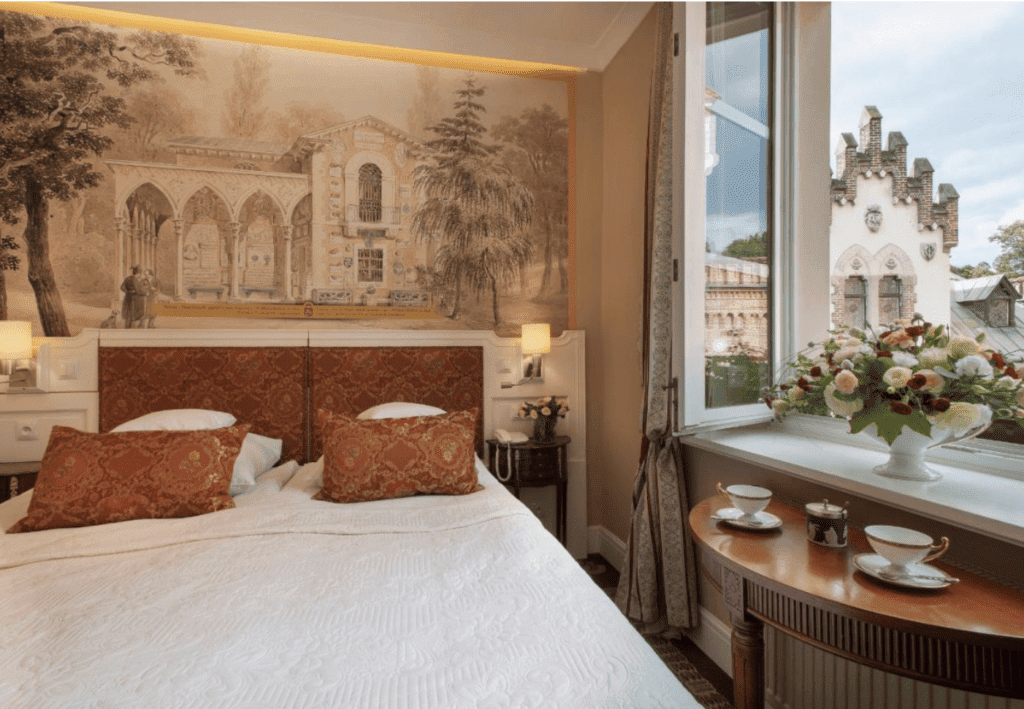 This elegant hotel sits opposite the St. Florian's Gate in a quiet location. The rooms are spacious and decorated in a vintage fashion so perfect for history lovers who want to be transported back in time. They have an on-site restaurant offering local cuisine and plenty of amenities and cafes next door.
We wanted to be close to the train station so we stayed in this gorgeous private apartment in a newly renovated building which was only a 10 minute's walk from the main square. I was surprised how beautifully sleek and well furnished it was for the price we paid.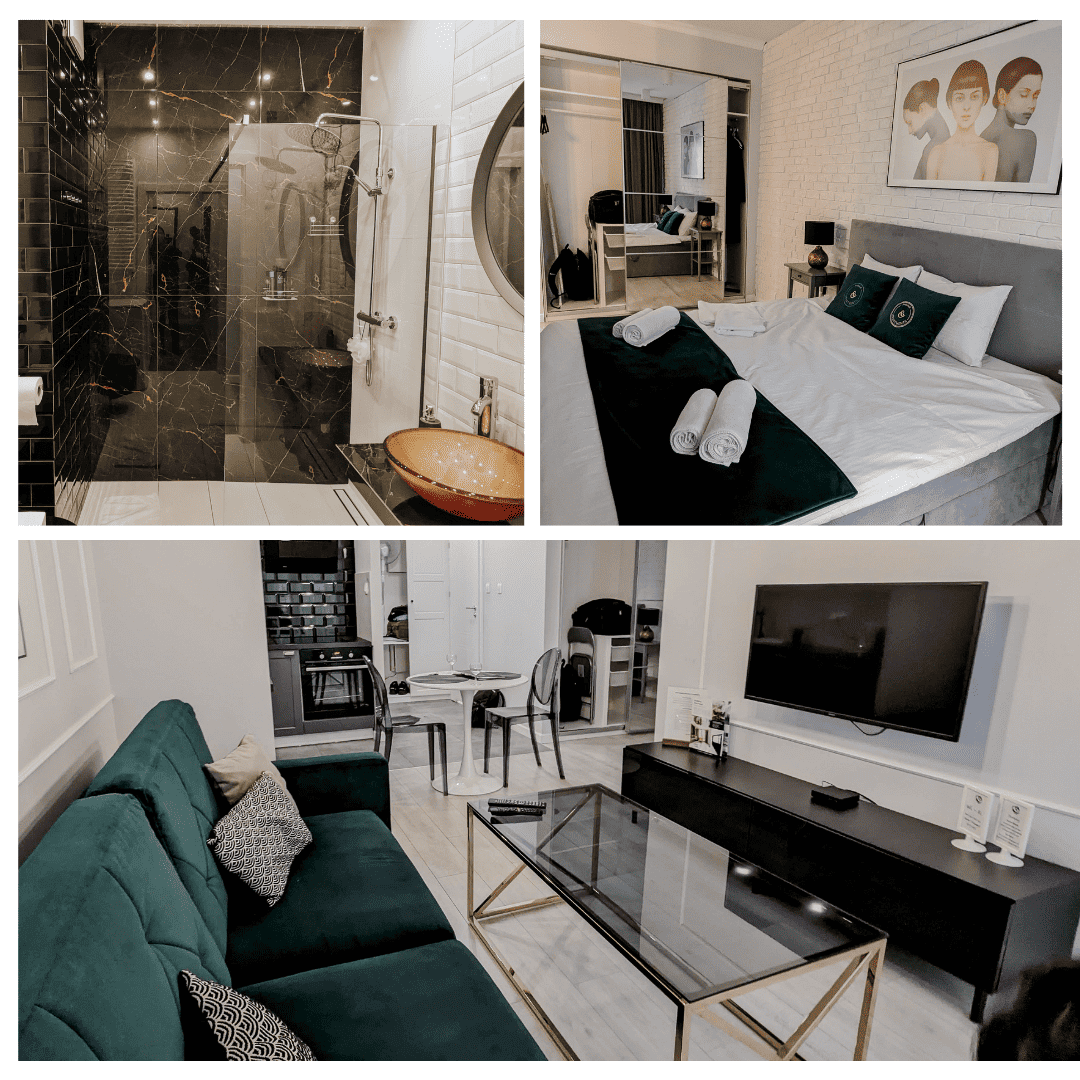 Where to eat in Krakow
Krakow has a strong coffee culture and a large number of hipster cafés and restaurants for such a small city so if you are a foodie you'll be in a for a treat.  Some favourite places include:
Café Camelot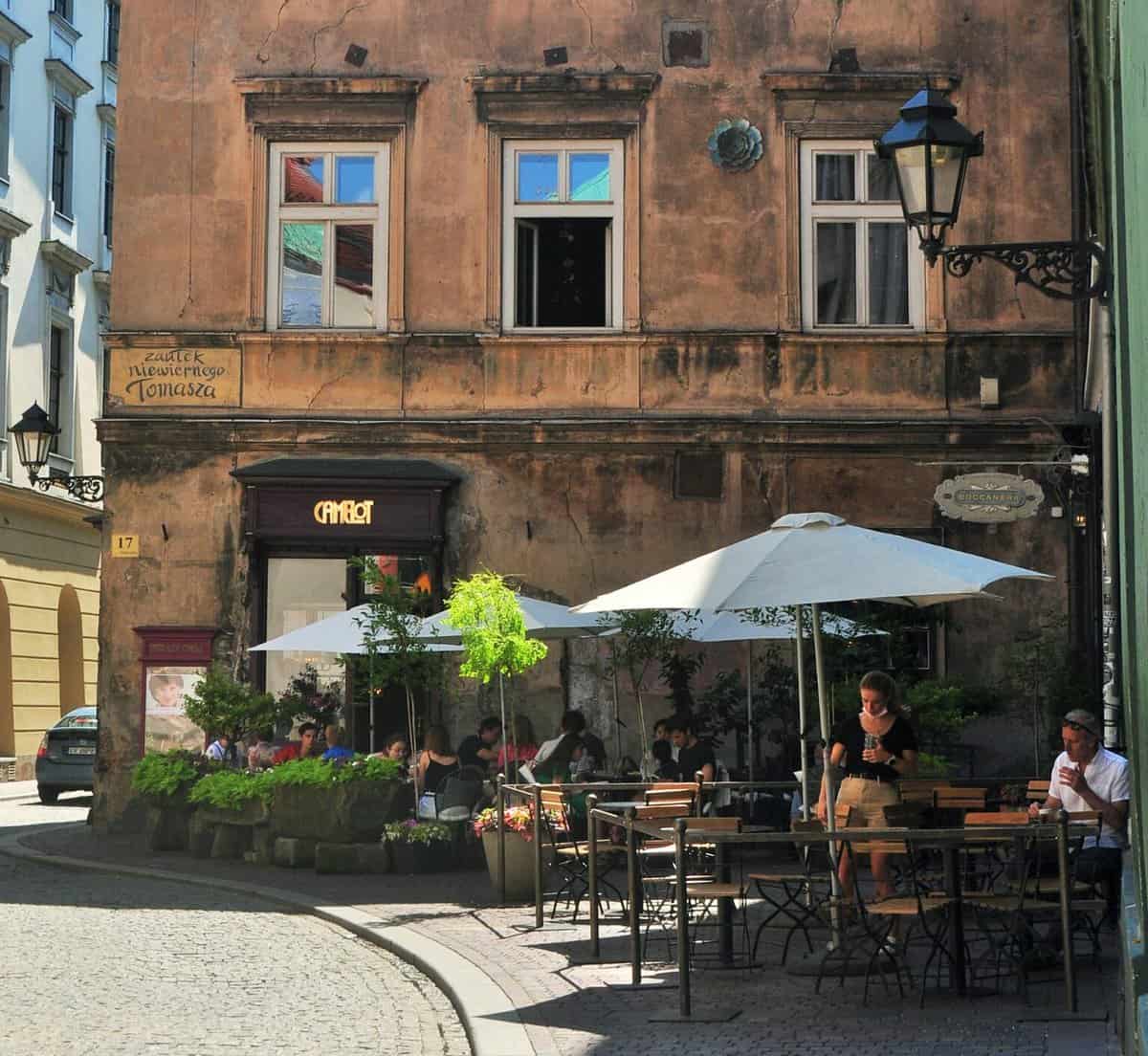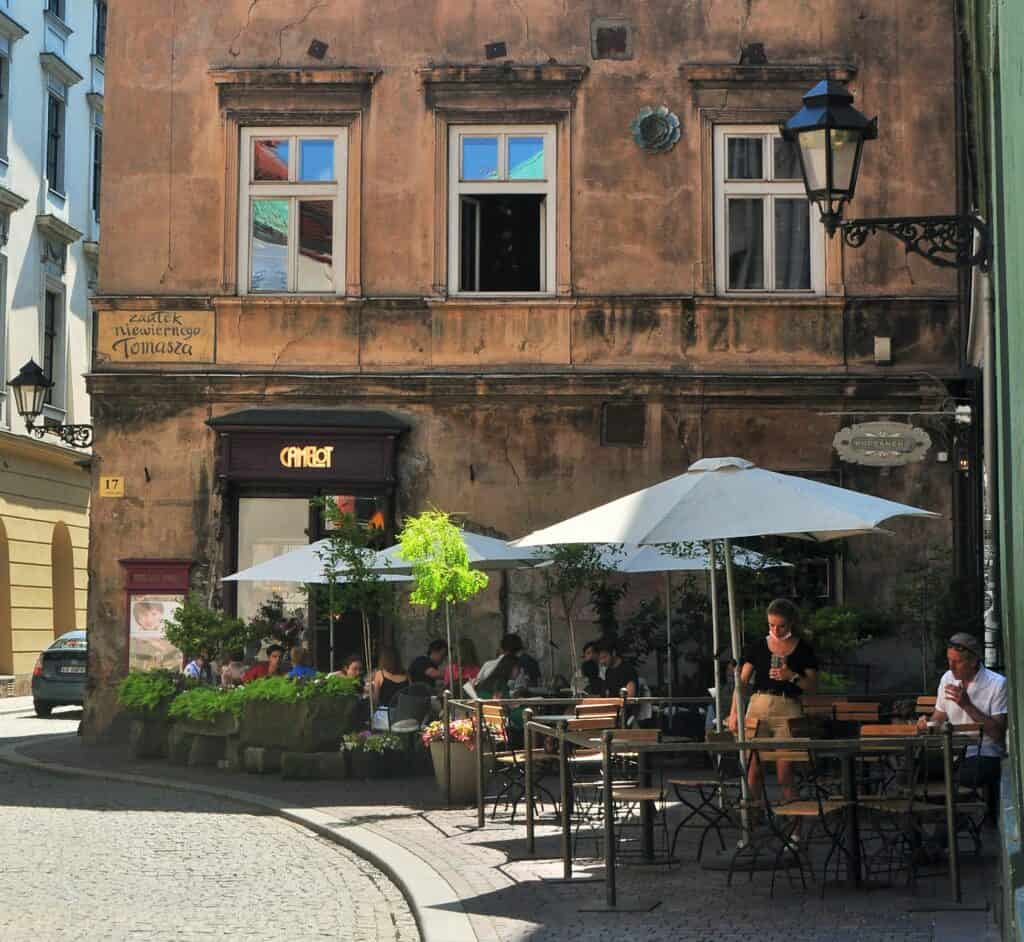 One of the best cafes in Krakow. It's located in a quiet street in the old town and has a bohemian façade and artistic vibe. They do great brunches and have a huge menu and generous portions so make sure you are hungry before you go.
Europejska Cafe/Restaurant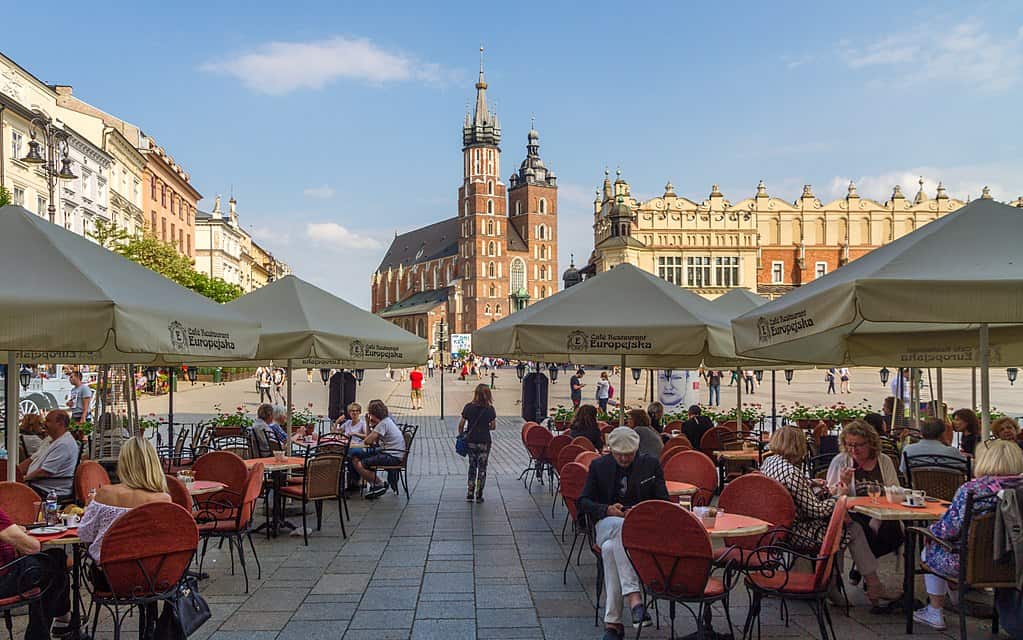 If you like places steeped in history then you would love this art-deco restaurant-café which is set in the historic Krzysztofory Palace in the old town and has been open since 1929. The interior boasts spacious rooms with 17th century Classical architecture. They serve a variety of meals from breakfasts to three course dinners. Sit on the terrace facing St. Mary's Church Tower and listen to the bugle call while enjoying one of their delicious hot drinks or fine wines.
La Petite France, Krakow
For a slice of France in Krakow head to this cosy bistro restaurant located in a quiet street very close to main square where you can enjoy a selection of delicious dishes. They do great baguettes, savoury tarts, snails, mussels and all the classic French desserts.
Amarylis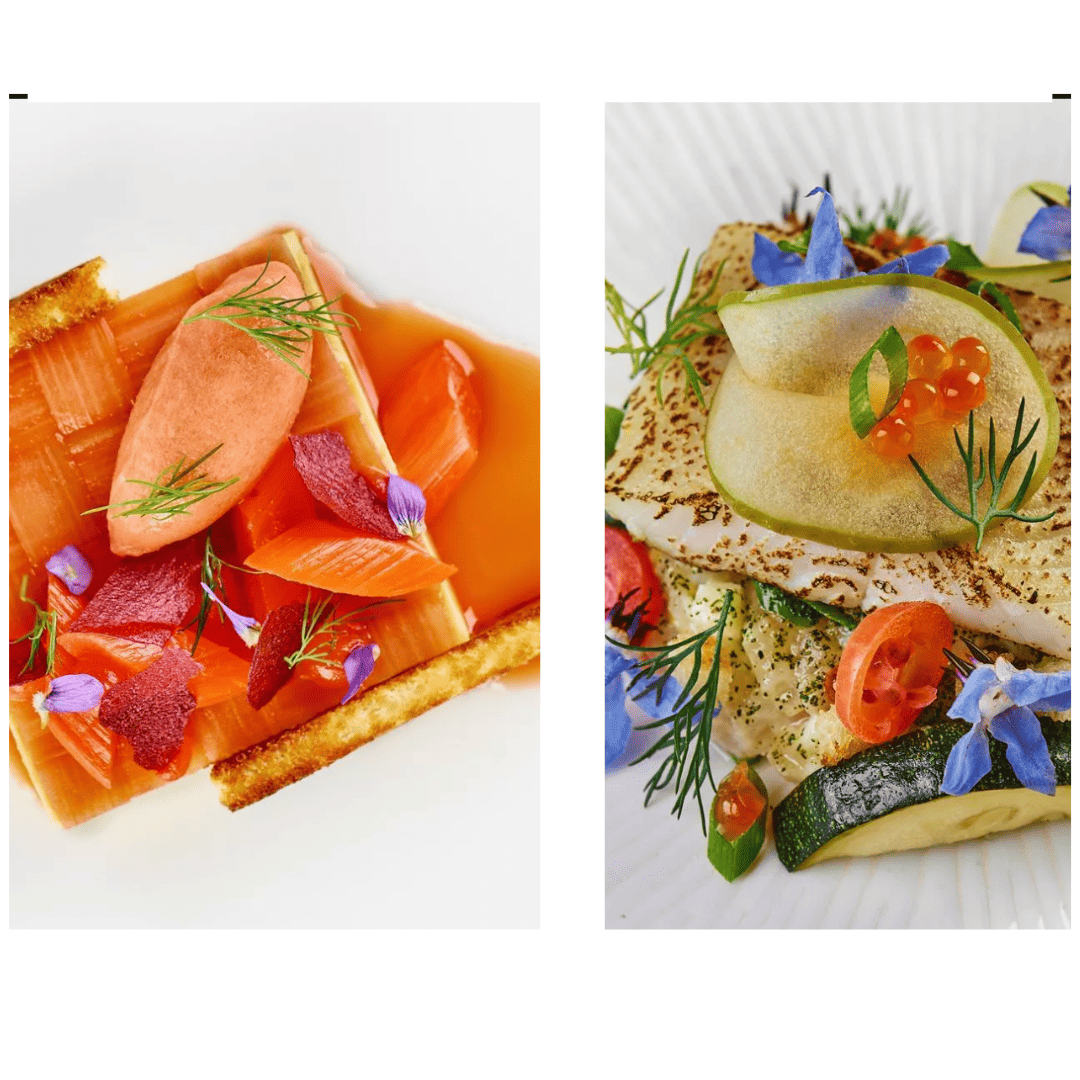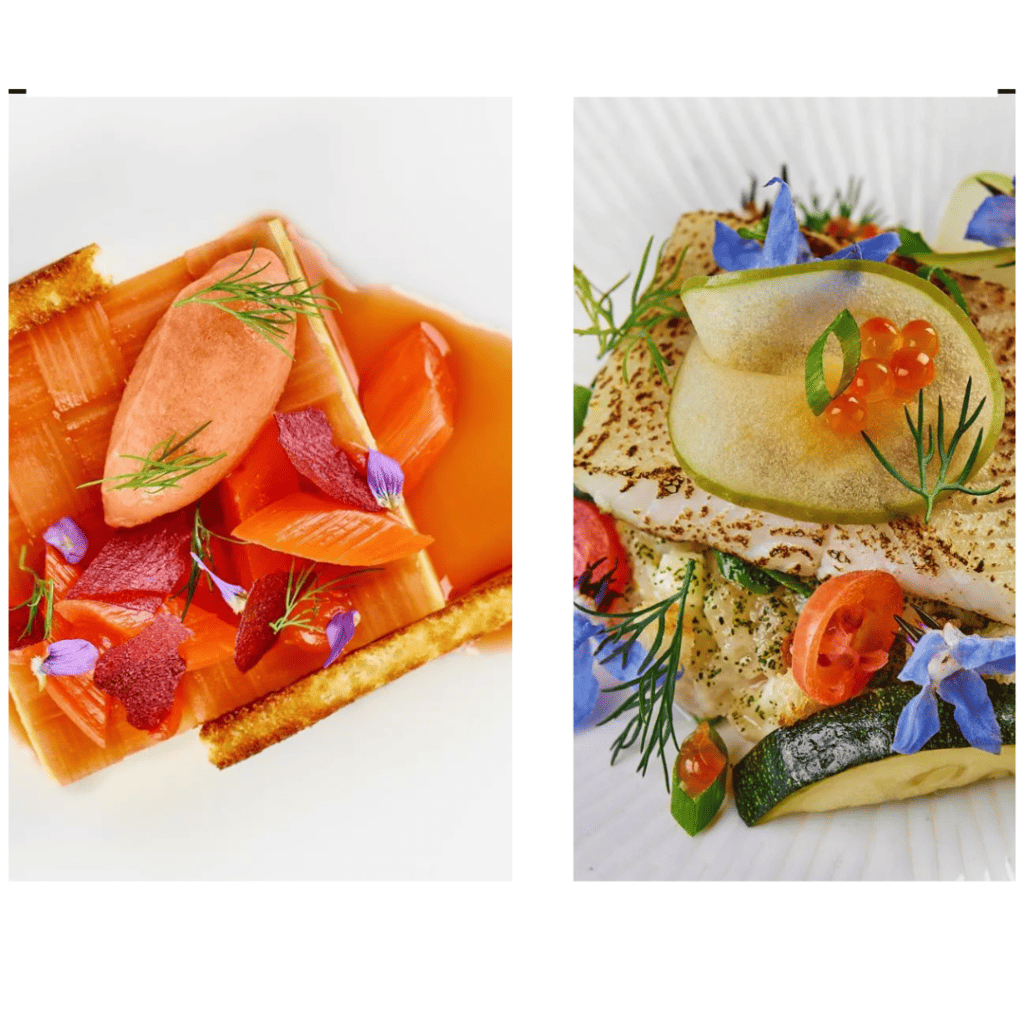 This award winning and regularly featured restaurant in the Michelin guide is the perfect place to head for a celebration or a special treat. They do a great 4-course tasting menu that combines flavours from around the world and is cooked in a highly innovative way. The atmosphere is friendly and welcoming and on weekends you can enjoy a live Jazz performance.
Rubenstein
Kazimierz district is home to several atmospheric and authentic eateries and Rubenstein is one of them. It's actually a hotel and restaurant, named after cosmetics designer Helena Rubestein who was born in the building. The restaurant serves authentic Polish cuisine and offers a very welcoming service from start to finish.
Overall, Krakow offers a unique combination of modern city amenities alongside centuries-old monuments and natural beauty spots making it one of my favourite destinations for a weekend getaway and I hope this Krakow city guide will entice you to give it a go!