Istanbul travel guide for first time visitors (+ 4 day itinerary)
Istanbul is one of the top 10 trending destinations in 2023. This travel guide and 4 day itinerary is packed with practical tips and up-to-date information to help you make the most of your first visit.
Istanbul is the largest city in Turkey, located on the Bosphorus Strait with a foot in the Asian and European continents. It has been a major trading centre since antiquity, serving as a bridge between cultures and civilisations throughout its long history. Known as Constantinople for centuries, it became home to the Ottoman Empire for over 600 years, which left its mark on its unique culture and architecture. Today, Istanbul is a vibrant metropolis with over 15 million inhabitants (as of 2022) and millions of visitors from all around the world who come to discover its rich history and stunning sights.
Turkey had a serious inflation crisis in the last few years but this had a positive impact on its tourism as the loss of its currency value made Turkey a very affordable destination for tourists from Europe and other continents. The Turkish lira is slowly recovering and cities such as Istanbul are still very affordable in 2023 but as tourism continues to make a strong comeback, prices will likely continue to rise in the next few years.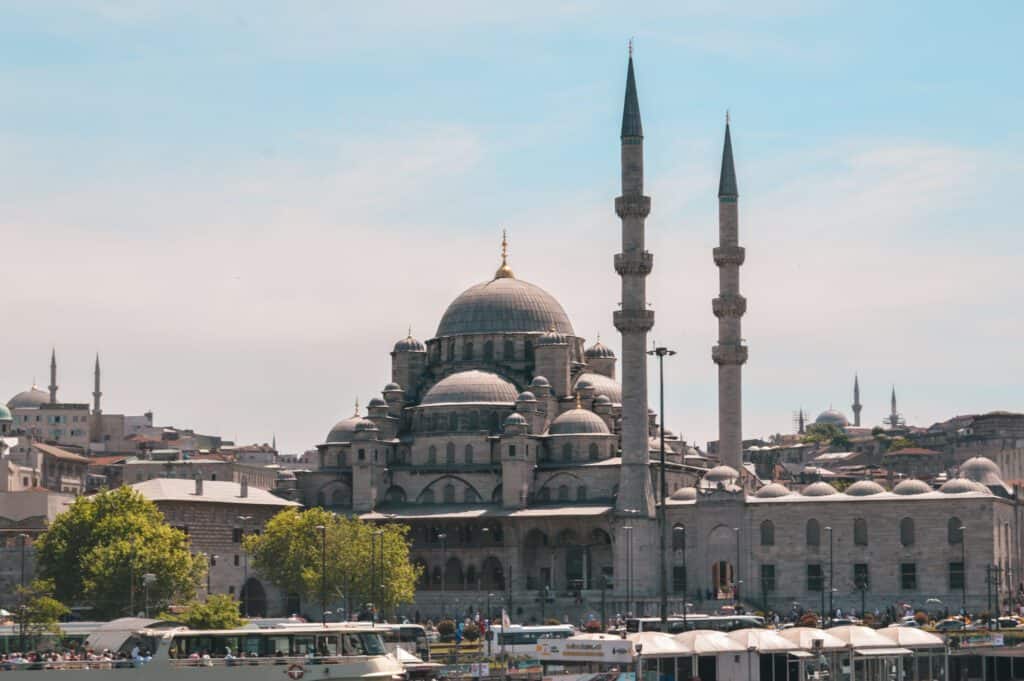 stanbul travel guide and 4 day itinerary
Istanbul is so big it needs planning otherwise it can quickly feel overwhelming.  It's a city that deserves to be savoured slowly over a few weeks or even months . However, most people don't have the luxury of unlimited time and so choose to spend only a few days. This travel guide and 4 day itinerary will help first time visitors navigate their way around Istanbul and have an enchanting and stress-free experience. 
Day 1 
Sultanahmet
With its stunning architecture and rich cultural heritage that spans many centuries, Sultanahmet is the beating heart of Istanbul and deserves at least one full day.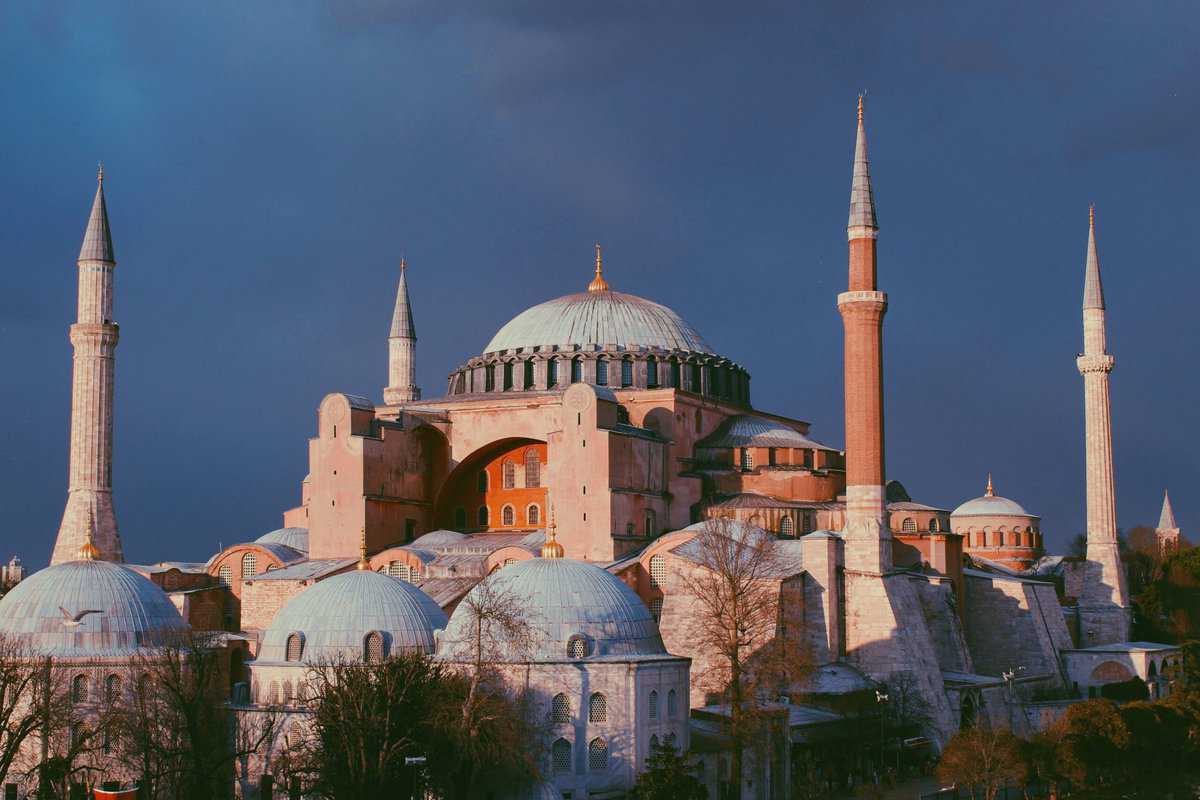 Start your journey at Hagia Sophia, one of Istanbul's most recognisable landmarks. Built as a Greek Orthodox cathedral in 537 AD, this magnificent building was converted to a mosque after being captured by the Ottomans in 1453, marking its place in history as the largest Christian church for nearly 1,000 years. In 1934, it was declared a museum by the secularist leader Mustafa Kemal Atatürk then converted back to a mosque in 2020. The impressive structure is instantly recognisable by its domes and intricate mosaics and you will marvel at the craftsmanship that went into its construction more than 1,500 years ago including marble columns, and ornate Arabic calligraphy. Hagia Sophia looks beautiful at night when it's lit up so make sure to walk past it if you are in the neighbourhood.
Entrance fee: Free for all outside prayer times. Long trousers required for men and headscarves for women. Shoes must be removed before entering.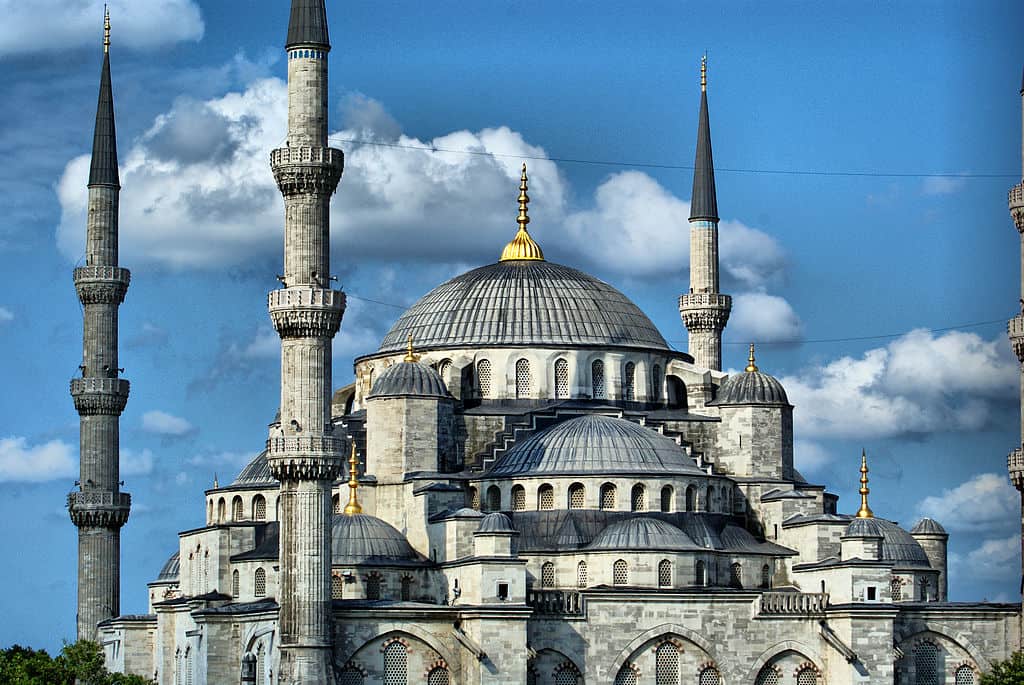 Opposite Hagia Sophia sits another must-see attraction in Sultanahmet: the Blue Mosque, also known as the Sultan Ahmet cami. built between 1609 and 1616 by Ottoman architect Sedefkar Mehmed Agha. This mosque stands out from other buildings due to its six minarets, as well as its spectacular 20,000 blue Iznik tiles that adorn its interior walls.
Entrance fee: Free for all outside prayer times. Long trousers required for men and headscarves for women. Shoes must be removed before entering.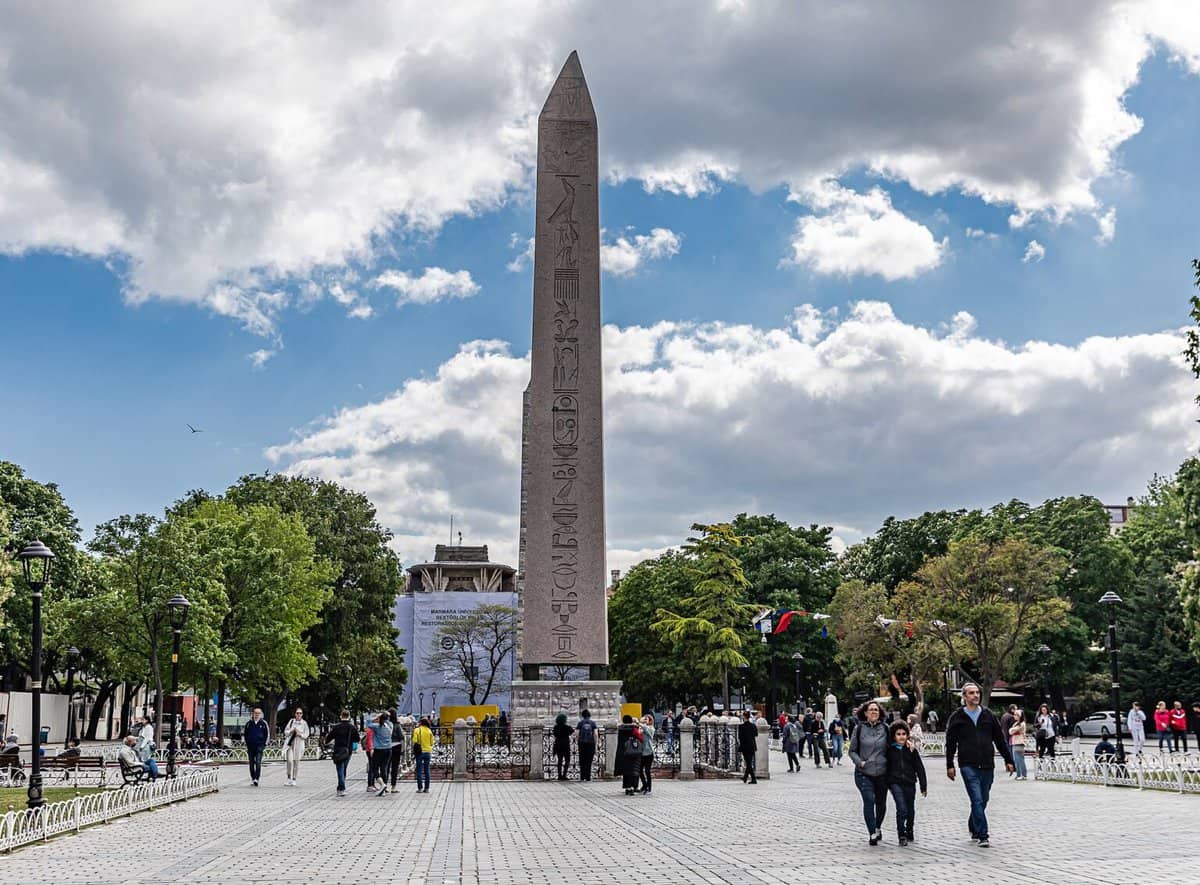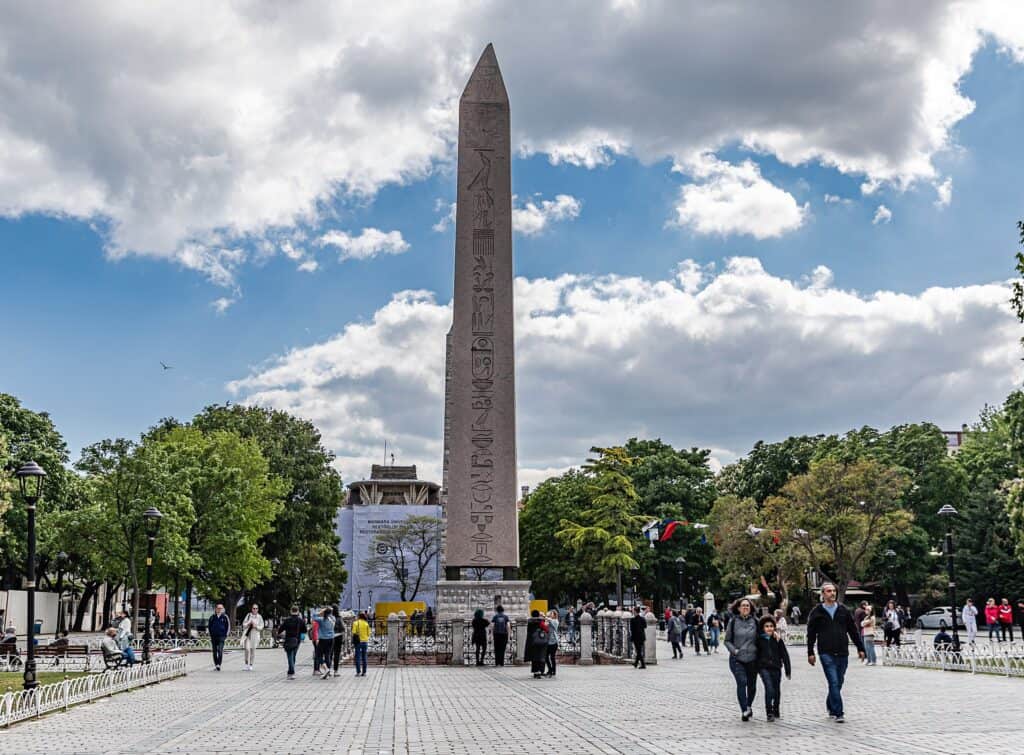 Not far from these two monuments is the Sultanahmet Square or Hippodrome of Constantinople, which was originally built by Emperor Septimus Severus in 203 AD. This rectangular plaza served as an entertainment arena and political centre for many years, and it still retains much of its original grandeur today. The Obelisk of Theodosius stands proudly in the centre of the hippodrome and serves as a reminder of Roman engineering techniques and design. On the east side you will find another impressive monument – the Serpentine Column – which dates back to 479 BC.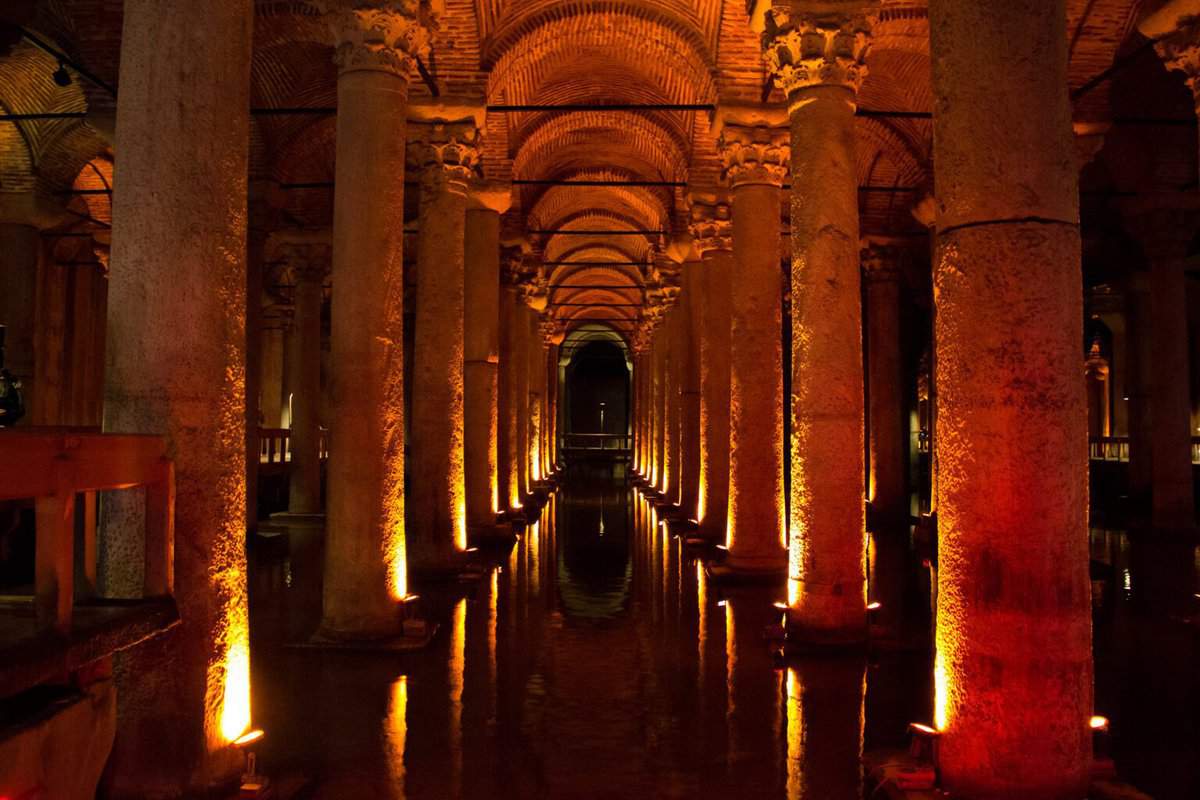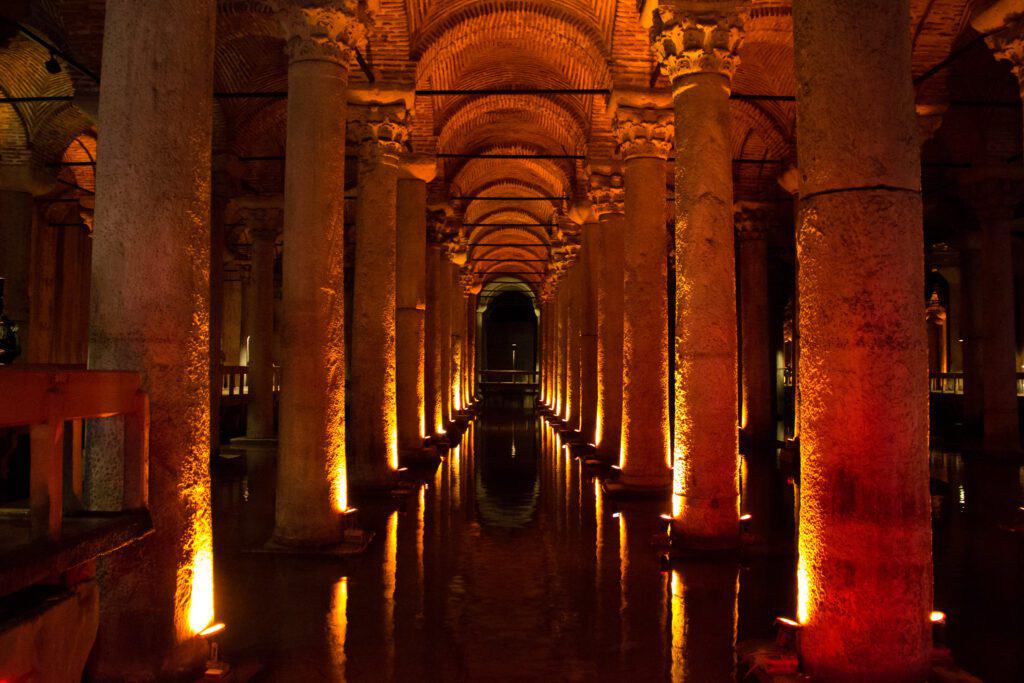 Next stop is the Basilica Cistern, located a 5 minutes' walk from the Hippodrome. This ancient underground vault – once used to store water – was built during Byzantine times to supply drinking water to nearby palaces; although today it's filled with calm murky waters that reflect its arched ceilings which are supported by 360 marble columns all decorated with ornaments and carvings of bulls' heads or Medusa sculptures. This is such a fun place to visit especially if you have kids! It also stays refreshingly cool all year round due to its underground location so a good place to escape the hot summer sun!
Open every day between 09:00 am and 19:00. Tickets costs 190 Turkish Lira/ £8.32
If you still have hours left in the day head to the Topkapi Palace, also known as the Seraglio. This fairytale looking palace served as the administrative center of the Ottoman Empire From the 1460s to1856 and was the main residence of its sultans until the 19th century.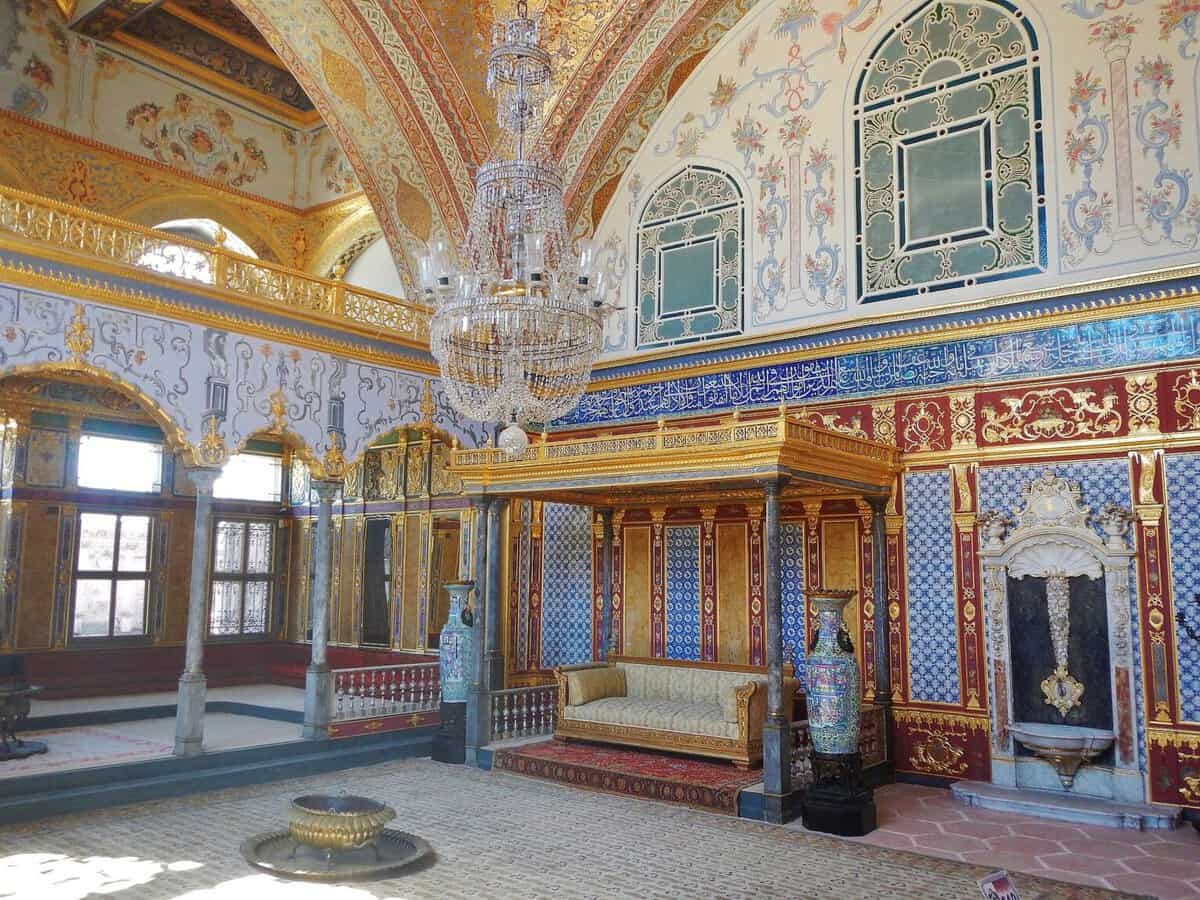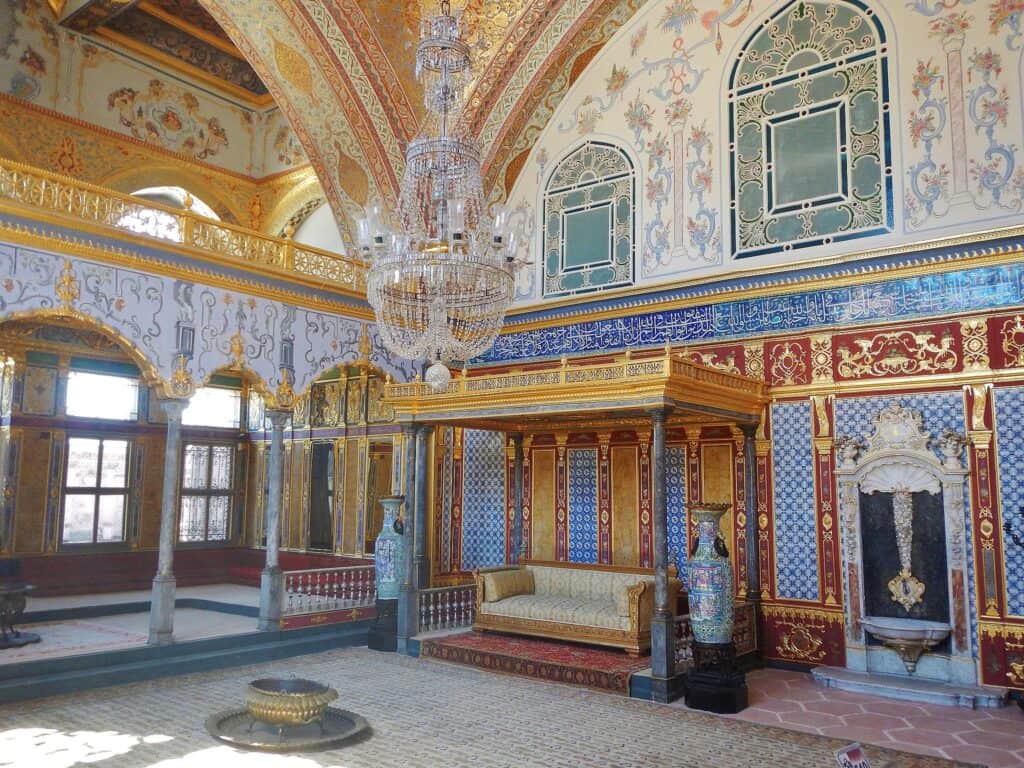 The palace boasts impressive harem quarters within which sultans lived until it was converted into a museum. Today it showcases royal relics including jewellery sets, rococo-style fountains, several pavilions and a throne room. It also has beautiful gardens so try and go late in the afternoon so you can relax in the gardens and enjoy a beautiful sunset.
Open every day between 09:00 am and 18:00. Tickets costs 500 Turkish Lira/ £22.
Day 2 :
Boat cruise
This is my favourite activity to do in Istanbul and I highly recommend you don't skip it! Try to do it on a clear sunny day if possible. It's a unique opportunity to take an unforgettable tour of the strait between Europe and Asia, and soak up the history in one of the oldest cities in the world.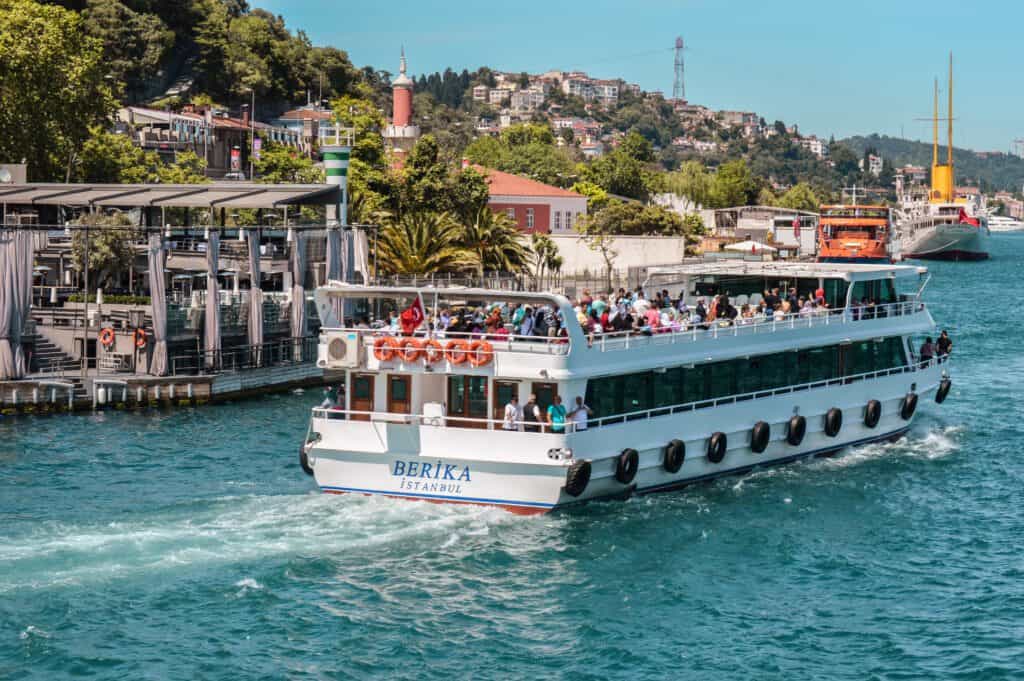 The boat takes you past the mosques, palaces, and fortresses that line both banks of the Bosphorus. As you cruise by these monuments you can truly appreciate their grandeur and beautiful architecture.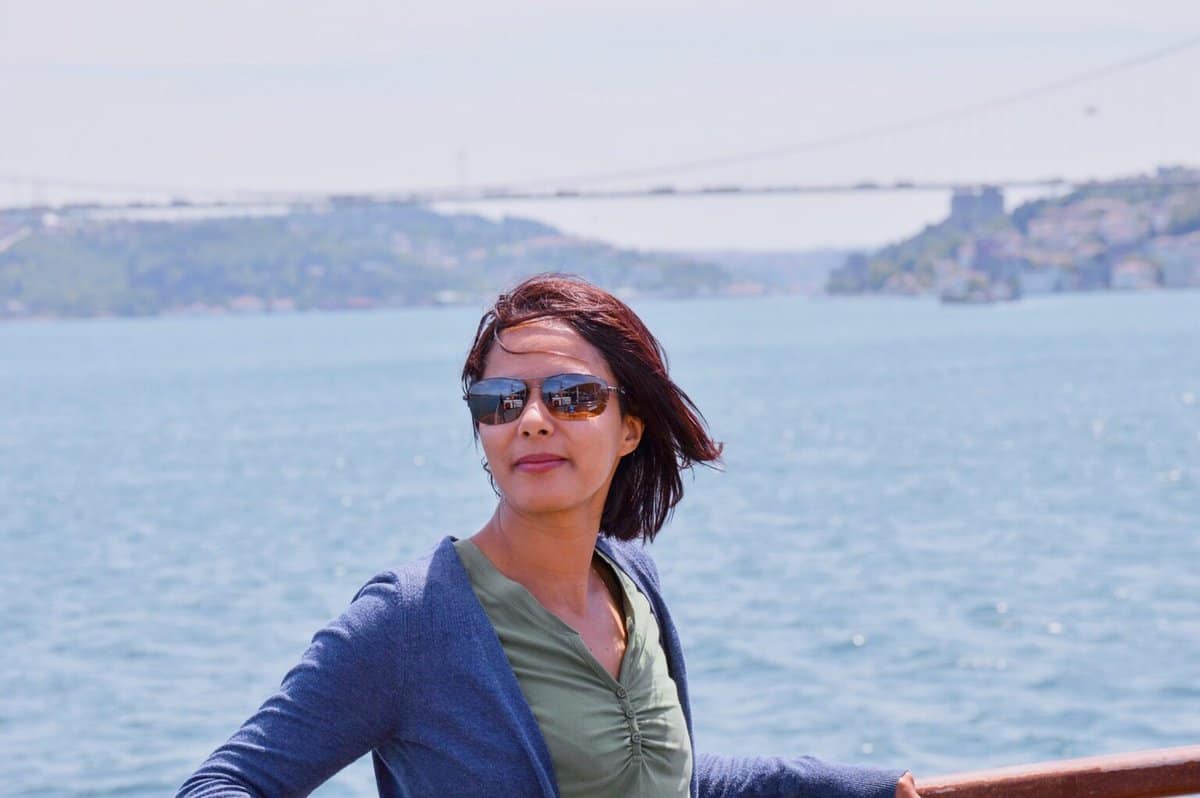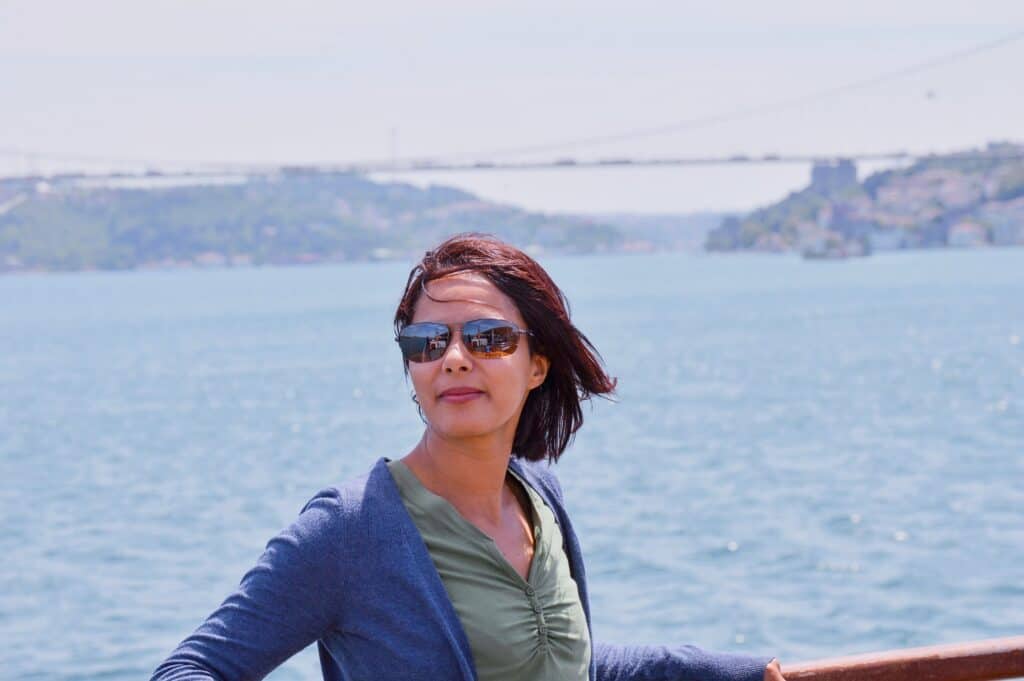 You can do a full Bosphorus cruise or a short one.
The Full Bosphorus Tour lasts 6 hours and includes a 1.5 hour journey along the river to the Black Sea, then a 3 hour stop in Anadolu Kavağı, a pretty fishing village where you can have a leisurely lunch and visit Yoros castle,  before heading back on a 1.5 hour return journey.
You can also do a full bosphorus cruise by night but it is not available in all seasons. 
If you are pressed for time the short Bosphorus circle is a great 2-hour tour that takes you through the same route so you can still see all the historical monuments and cross the bridge to the Asian side and back without getting off the boat.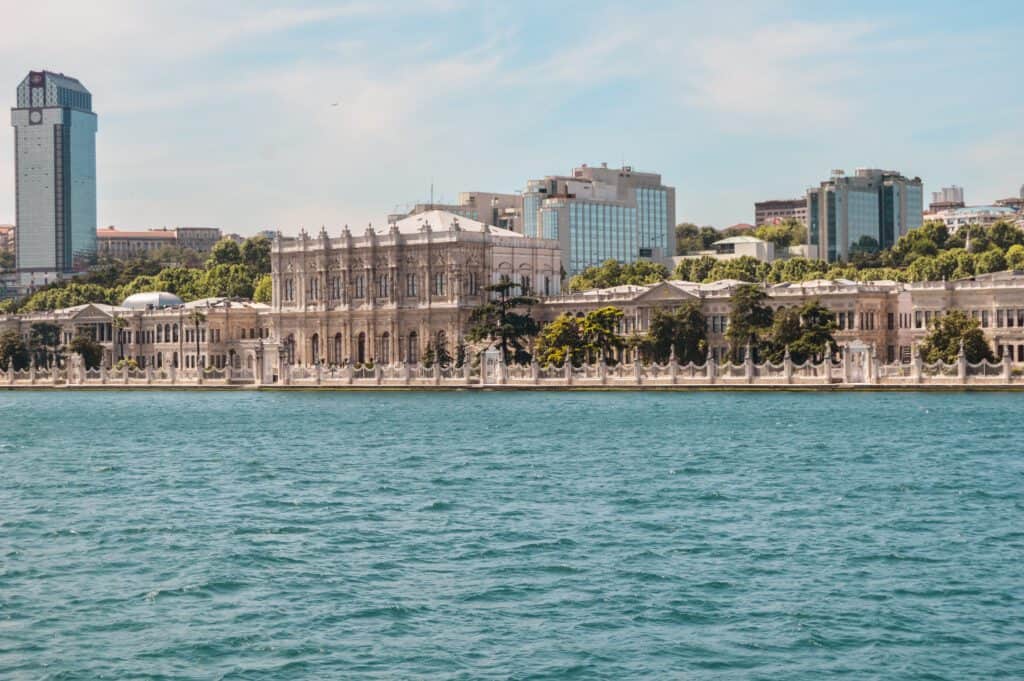 There are other types of cruises such as the sunset cruise and the night dinner cruise where you can enjoy live entertainment and a meal on the boat.
You can book the short, long or night cruise with  Şehir Hatları, Istanbul's official ferry company. You can buy tickets online or from their ticket offices located on the left docks of Eminönü when coming off the Galata Bridge. The ferry runs everyday from  Eminönü docks and costs 65TL (round trip) per person for the long cruise and 32TL(round trip) for the short cruise.
An alternative to the cruise and my personal  recommendation would be to take a single ferry ticket (domestic trip) to Kadıköy using your Istanbul Kart and spend the day exploring the Asian side of Istanbul. This is a much cheaper option and offers a fully immersive experience. The Asian side is a total contrast to the European side. It's very laid back and less touristy and you get a glimpse into how the locals live. There are some great shopping options and places to eat in Kadıköy.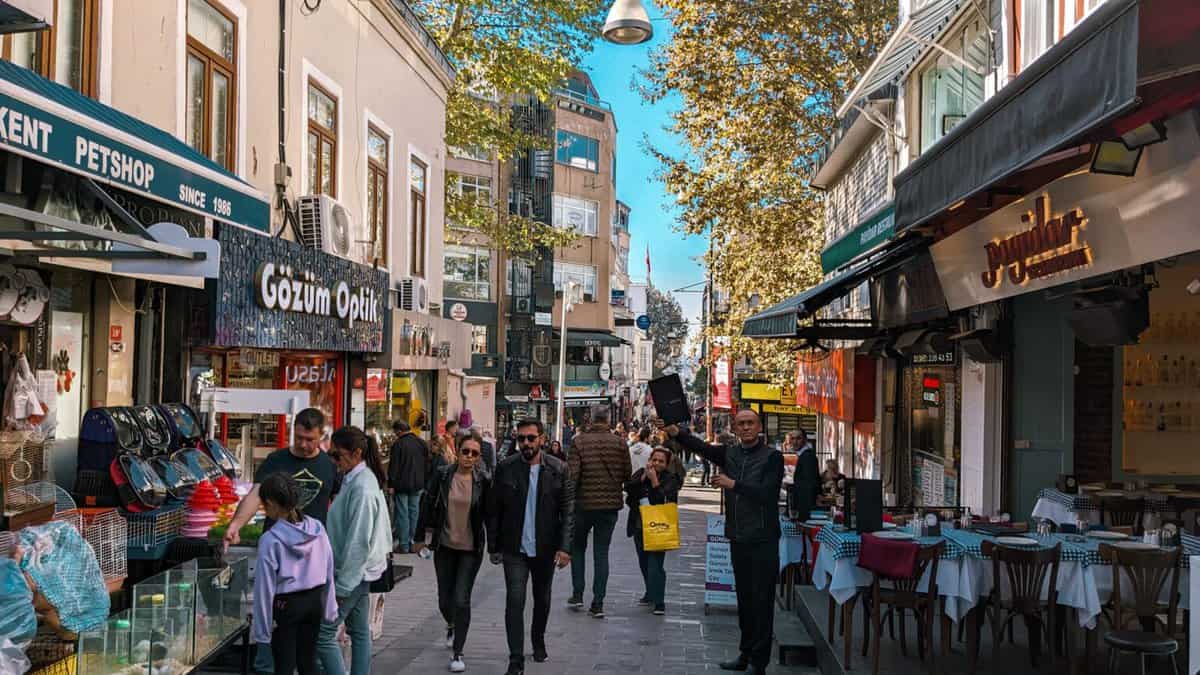 A signle ride on the ferry costs 15 TL. The ferry departs from both Eminönü and Karakoy stations. 
Day 3
The Grand Bazaar and Taksim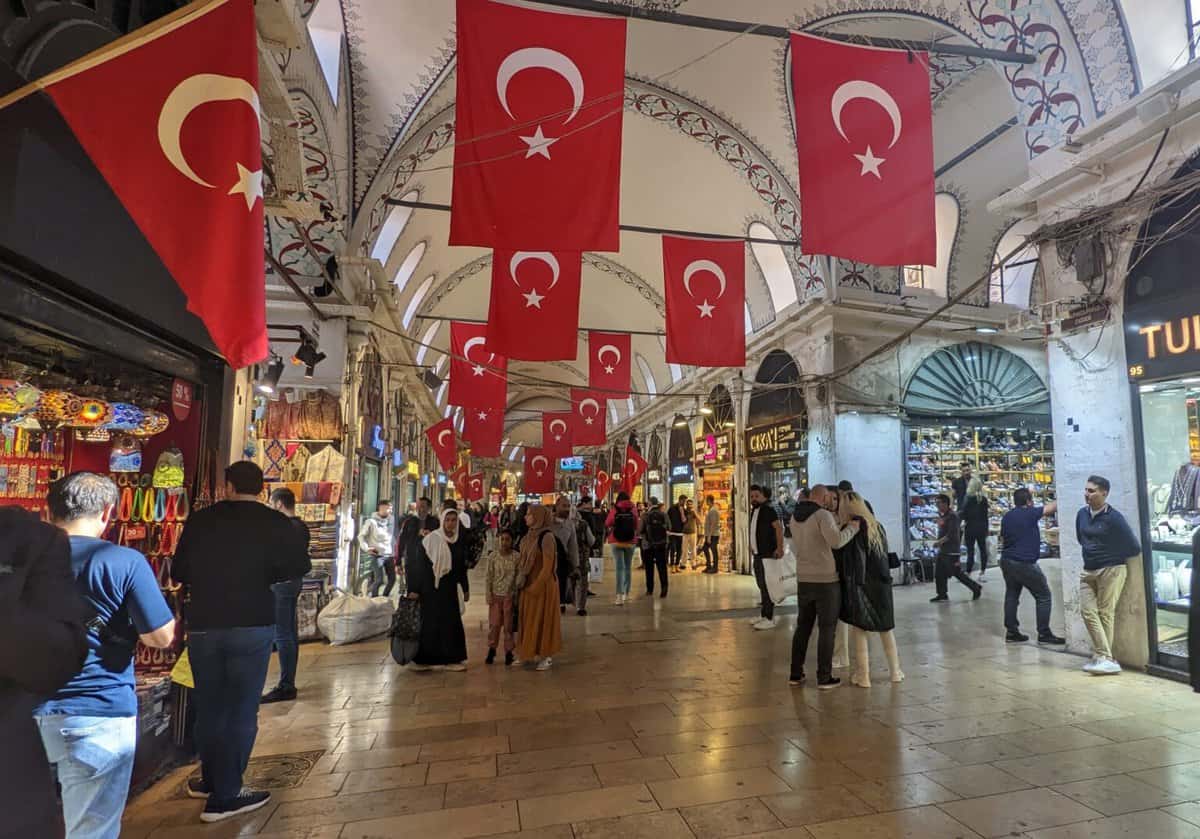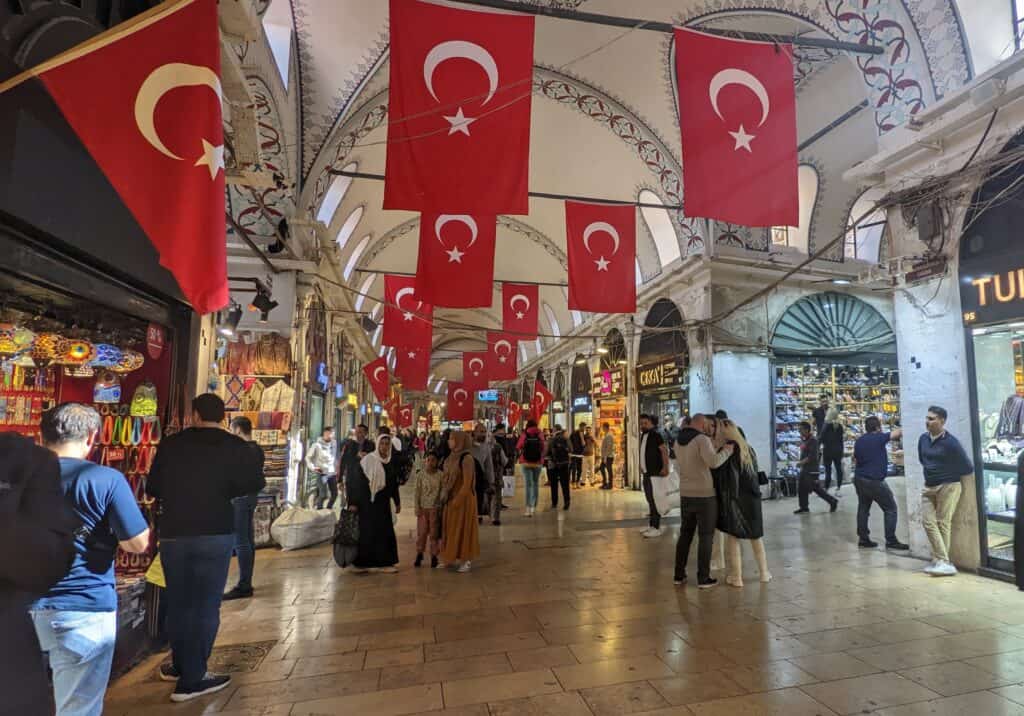 Spend the morning at the Grand Bazaar, one of the world's oldest and largest covered markets. This place is a feast for the eyes with its decorated arcades and over 4000 shops selling everything from hand-made jewellery to souvenir items, traditional Turkish carpets and even fake designer brands. It's easy to spend hours here or get lost as the bazaar has 21 gates serving different streets so it's good to map your route and plan ahead. The good thing is that the place is so huge it never feels crowded even when it's busy but I like to visit early in the morning or mid-afternoon.
Open daily except Sunday from 8 am till 8 pm.
If you haven't had your fix of shopping yet, take the metro to Taksim in Beyoğlu district for a more modern shopping experience.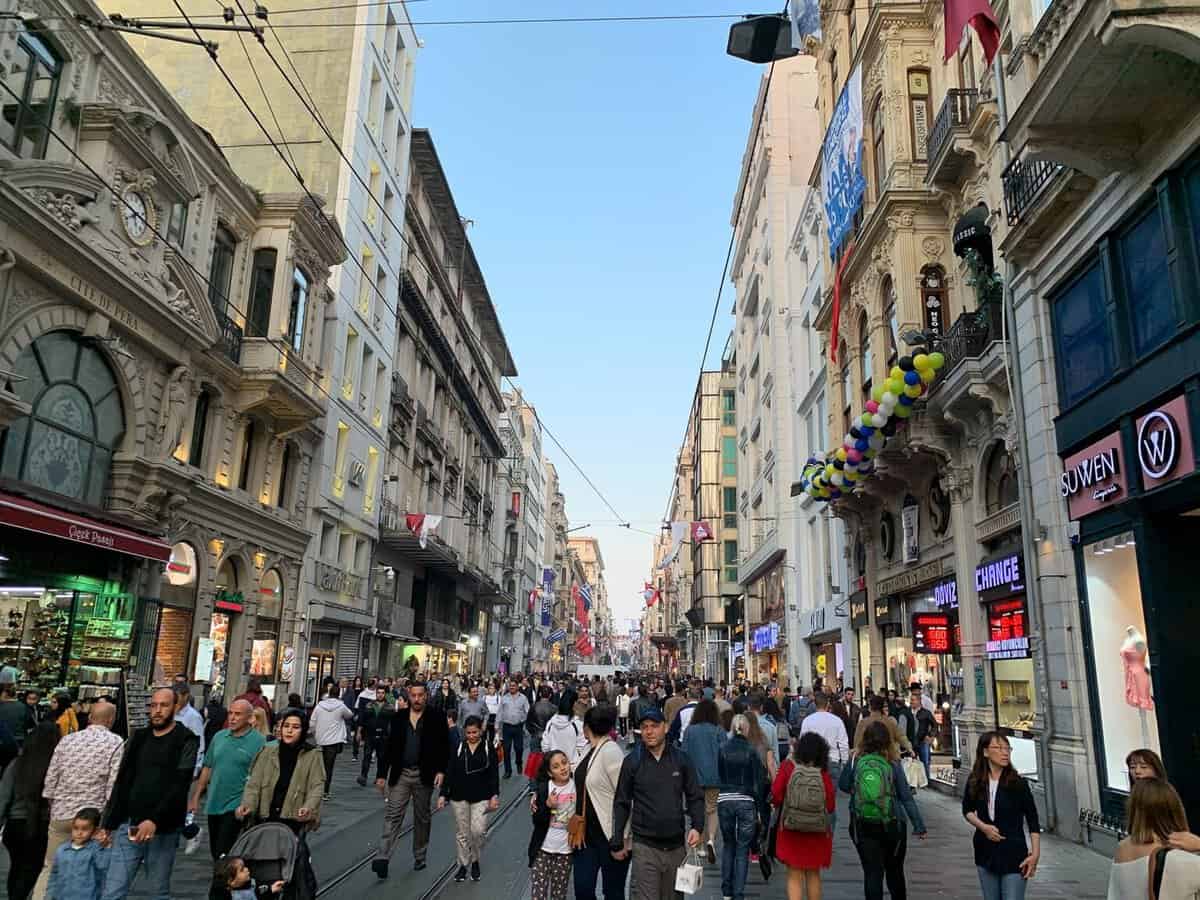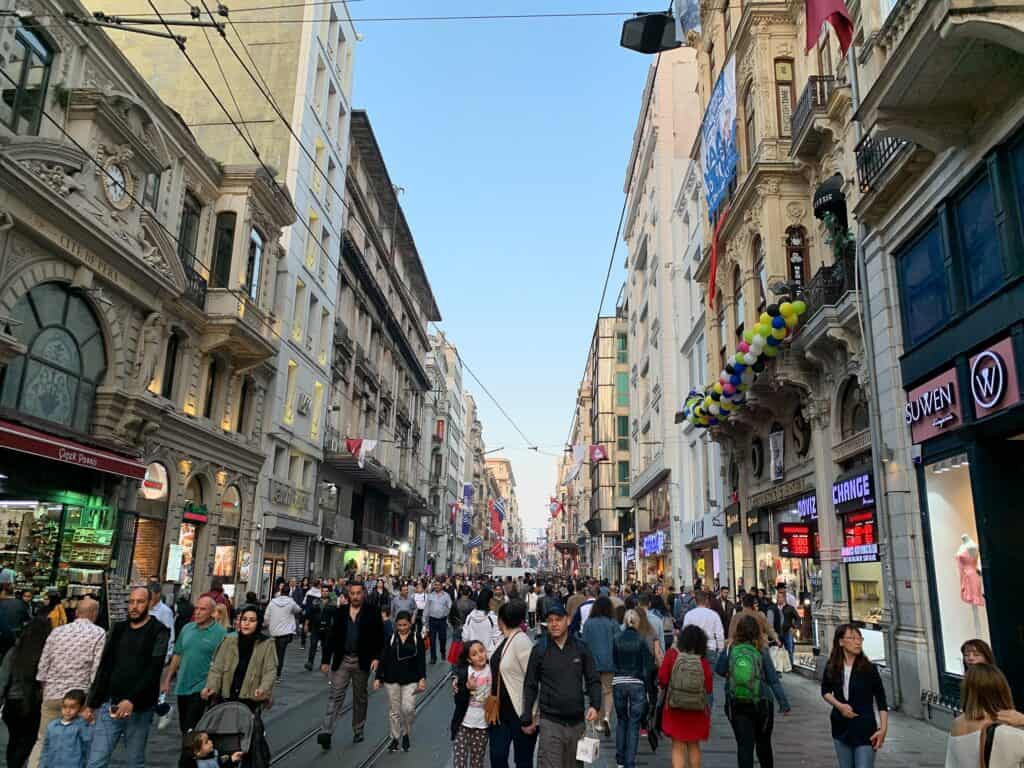 Istiqlal avenue is one of the busiest streets of Istanbul and is dotted with shopping malls, clothing shops and make up retailers including some outlets for big brands.
From Istiqlal street walk to Taksim Square, Istanbul's busiest square where Istanbulites like to gather to celebrate events or protest against the government in front of the monument of the Turkish Republic.
The evening atmosphere in Taksim is quite pleasant as locals and tourists fill the streets and shops but it can get very crowded.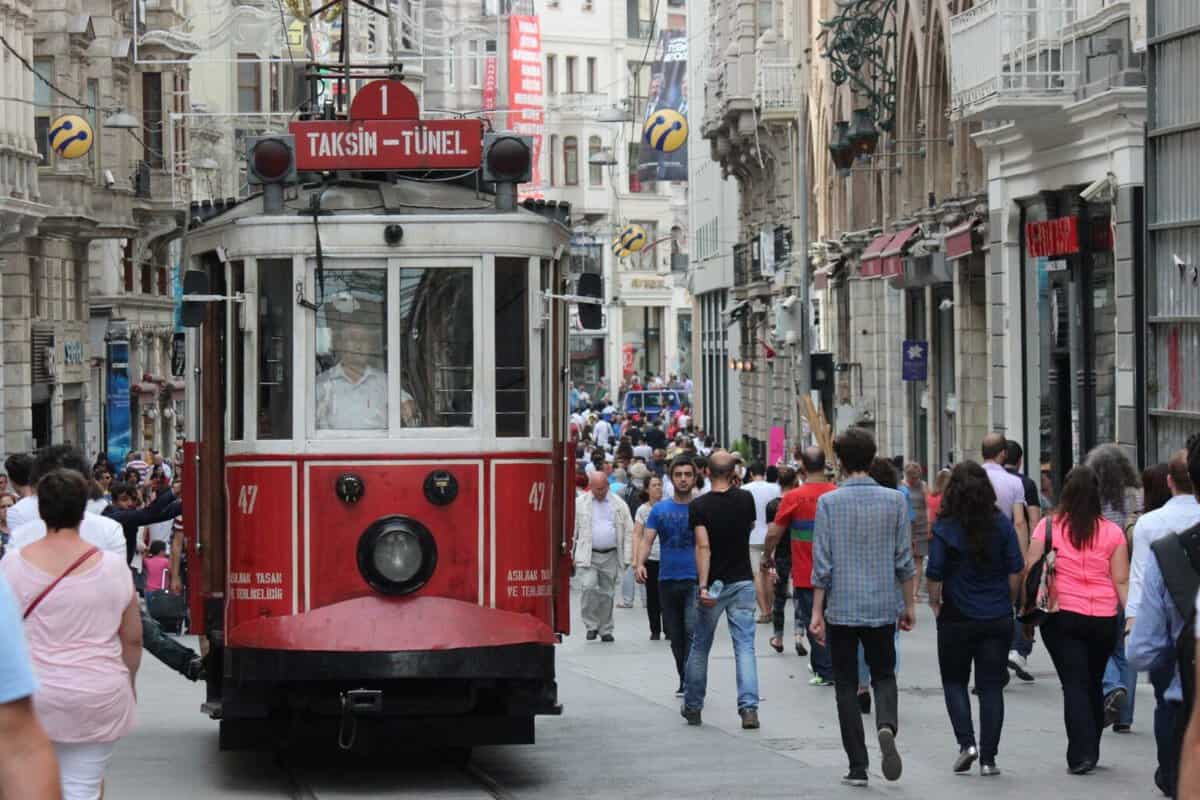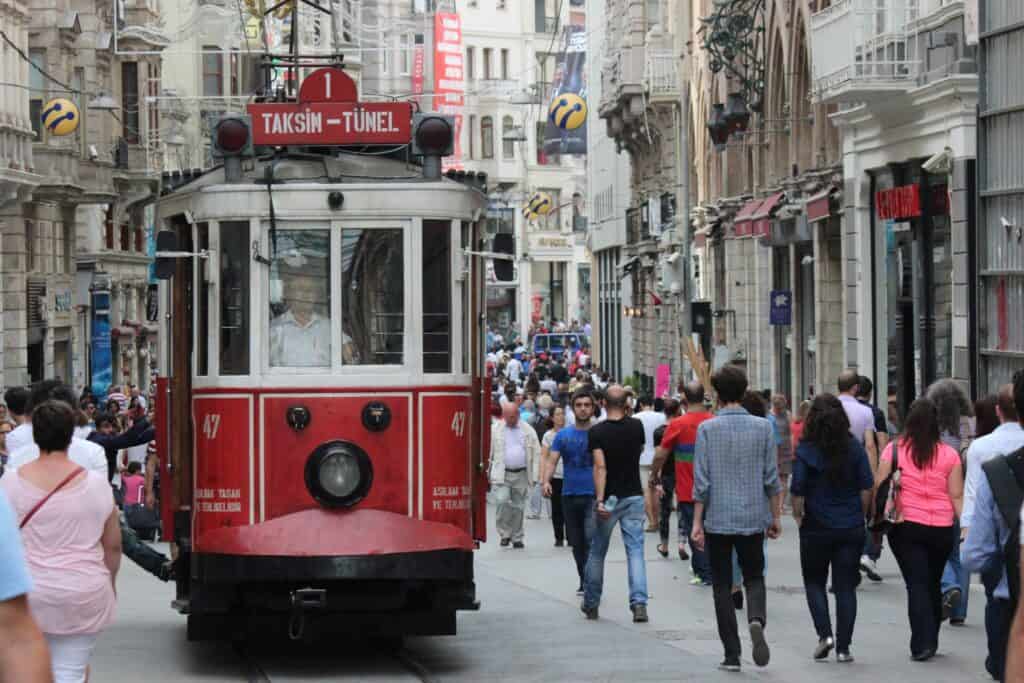 You can stop and eat at numerous street food eateries, grab an ice cream with a performance or ride the nostalgic red tramway which connects Tünel Square and Taksim Square
Day 4 
Ortakoy and Beyoğlu
Ortakoy is one of the most popular and lively areas in the neighborhood of Besiktas. Located under the Bosphorus Bridge, it's renowned for its charming cafes and restaurants as well as shopping galleries and boutiques but its most known attraction is undoubtedly  Ortakoy Mosque, one of the most photographed places in Istanbul.
Ortakoy is very laid back and you can spend a nice few hours just walking around Ortakoy Square, or sitting in one of its charming cafes and watching the crowds. If you visit on a sunday, there is a street market in the square where you can mingle with the locals and buy handcrafts and local souvenirs.  
For your last afternoon and evening head back to Beyoglu district and wander through the cobblestone streets and up to the Galata Tower.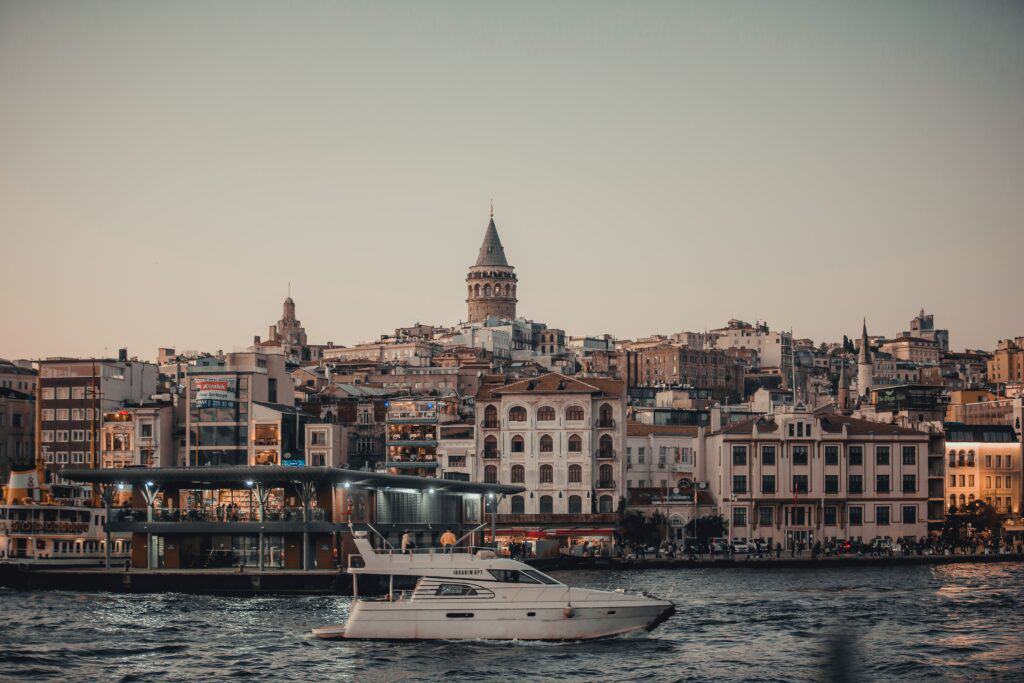 You can take the elevator to the top and enjoy 360-degree aerial views of Istanbul skyline.
You can also immerse yourself in culture as Beyoğlu is home to many museums, entertainment venues, bookshops and art cafes.
How to get around
Istanbul is huge and has one of the craziest traffic in the world which is an experience in itself. It also has a great network of public transport which makes getting around quite easy.
You can travel from the airport to the city centre by bus but they only go as far as Taksim where you would need to change buses or take (a very crowded) tram if your hotel is in a different area. Not ideal when you have luggage and don't know where you are going. I always recommend taking a taxi from the airport. You will find plenty of yellow taxis at the exit and these are usually organised in a queue and you have to stand in line so there's no first come first serve system. Only get in a taxi if they agree to put the meter on. A taxi from Istanbul Attaturk aiport to Sultanahmet should cost no more than £25 and £20 from Sabiha Gökçen Airport.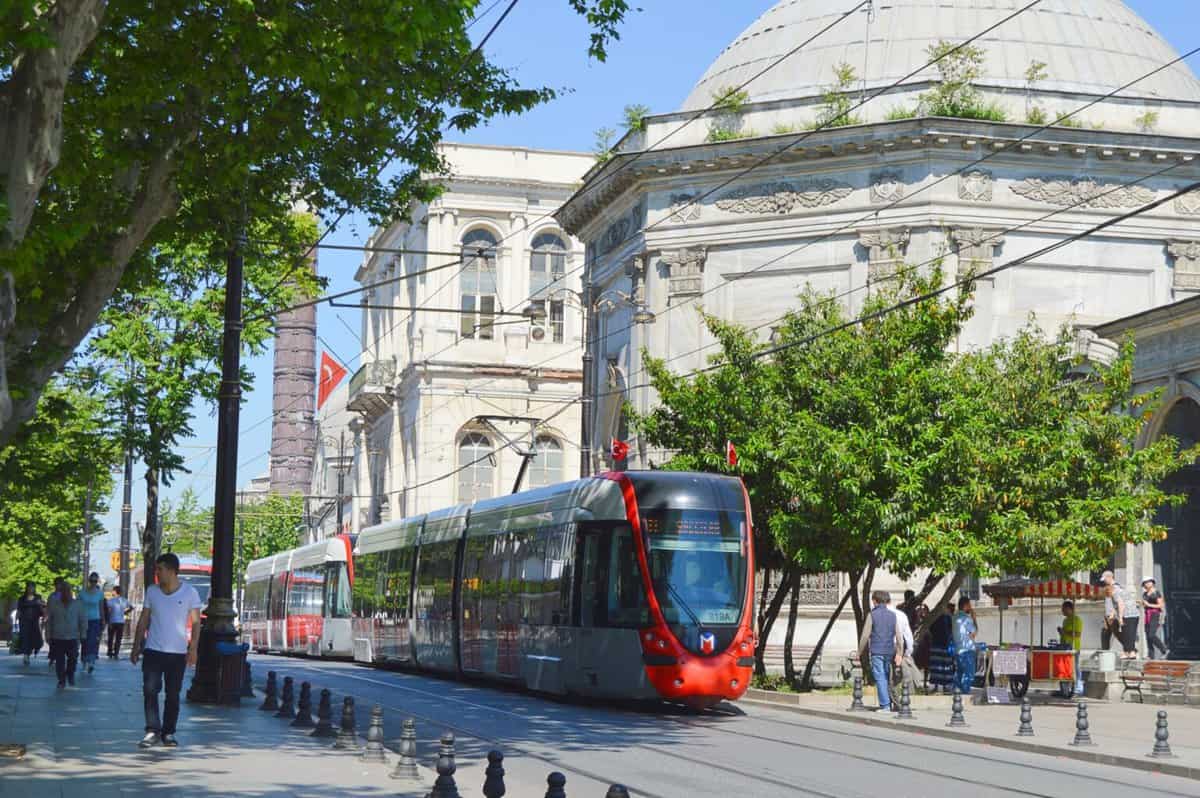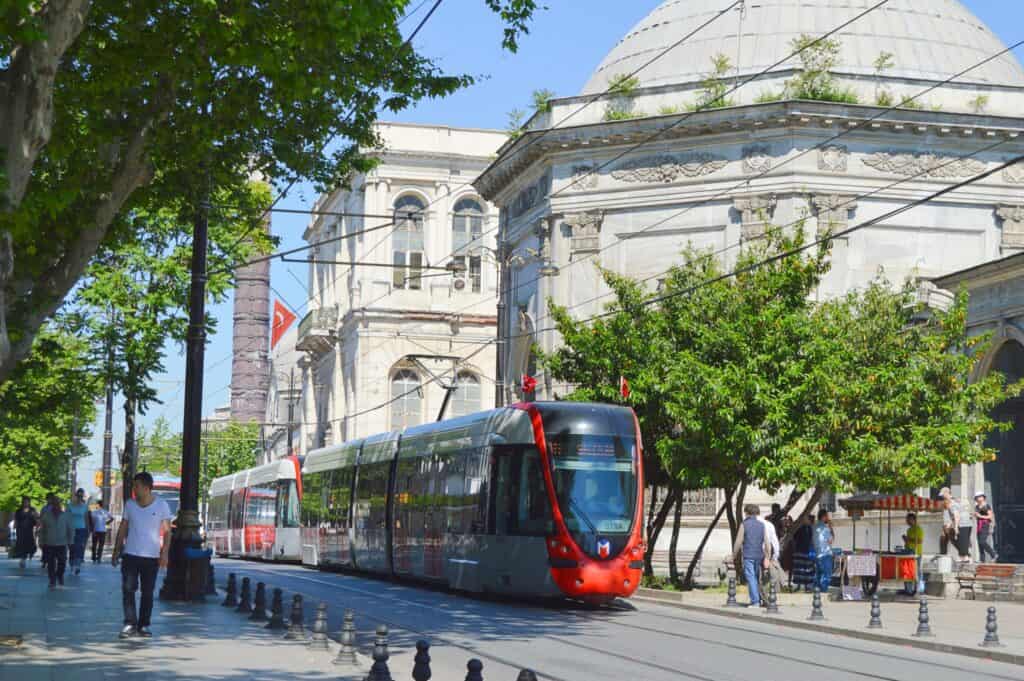 The airport is the only place I would recommend taking a taxi from and to. Trying to get a taxi anywhere else in Istanbul will result in a very stressful and frustrating experience. You would be lucky to have one stop for you and when they do, most refuse to put the meter on and will quote you ridiculous prices for very short distances.
Getting the Istanbul Kart is the best way to get around the city. Istanbul kart is a prepaid card which gives you unlimited access on buses, metro, trams and ferries for the number of days you stay. You can get it at the airport or from the yellow machines located all around the city next to the metro and train stations. It's also worth asking your hotel if they have them as some hotels give them out for free or lend them to their guests for the duration of their stay. The card costs 10TL empty and you need to top it up as you go at the yellow machines or put a lump sum which would last you the whole trip and saves you time. Children under 6 travel for free.
The tram is also great for going around the city. There are three lines that serve all the major districts and run from 6 am until midnight. It's best to avoid using the tram at rush hours as it can get very crowded.
Best area to stay
 Each district in Istanbul has its own unique characteristics but which area is best would depend on your personal needs and preferences.
There is an abundance of accommodation ranging from budget friendly B&Bs to luxurious hotels.
I always recommend staying in Sultanahmet as a first time visitor to Istanbul. It's the heart and soul of the city and home to its most iconic landmarks. Sultanahmet is walking friendly so you don't need to rely on public transport to get from one place to another. The evening atmosphere is very lively as locals and tourists fill the atmospheric restaurants, shisha cafes and cute bakeries.
It's also well served by public transport when you need to visit other areas.
Eminönü is a great area to stay if you want to be in the heart of the action. You can roam its busy streets, sit in the square and people watch, shop in the Grand and spice Bazaar or take the ferry to the Asian side.
Eminönü is also close to many authentic and culturally interesting neighbourhoods such as Balat which is still home to Greek and Jewish Orthodox communities. You can take a walk along the colourful streets, visit local galleries and synagogues or enjoy a drink in one of its hipster cafes.
Both Sultanahmet and Eminönü are great areas for families as there is no shortage of things to do.
If you are a solo traveller in search of the best nightlife then Beyoğlu is the place to be.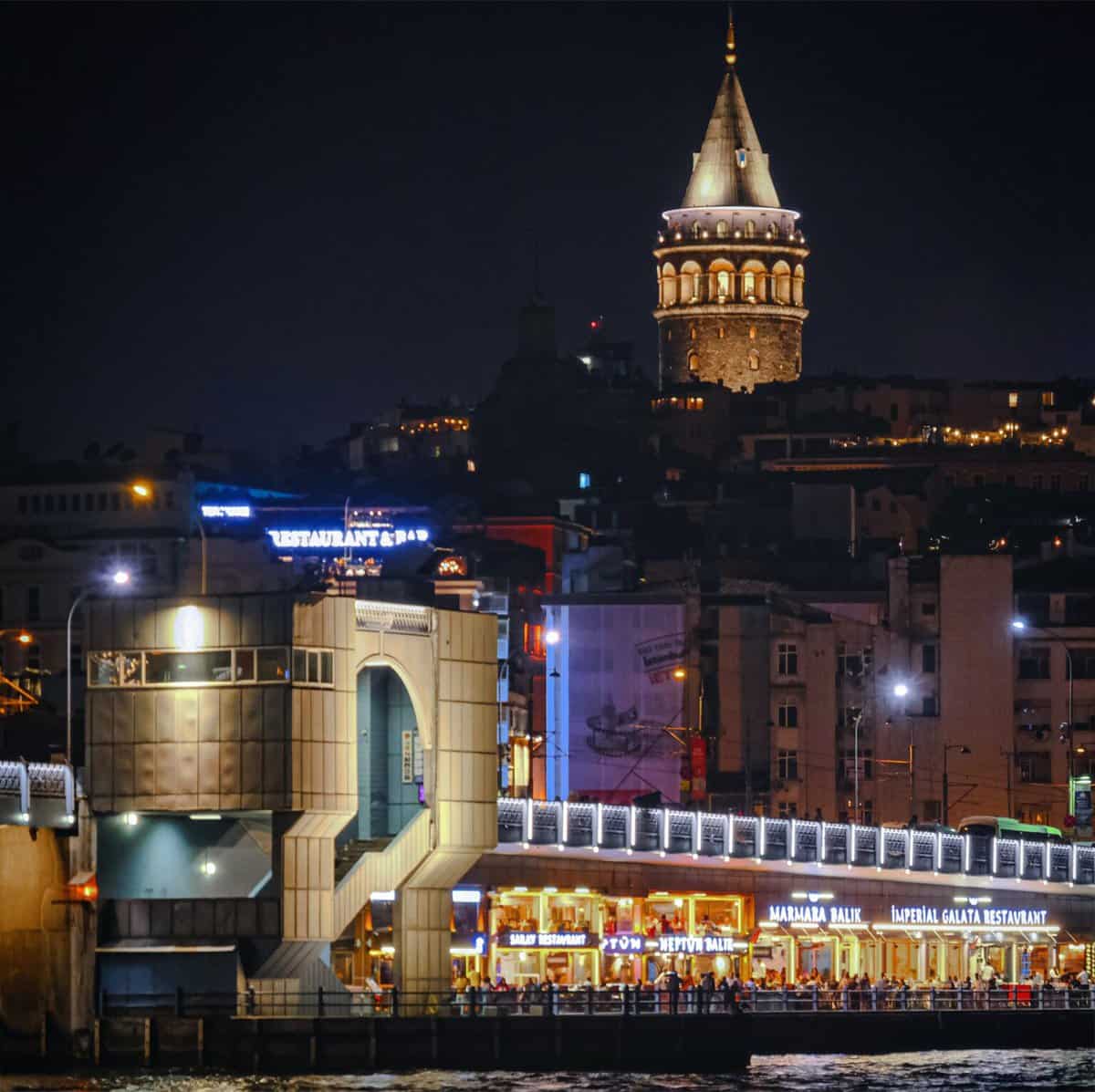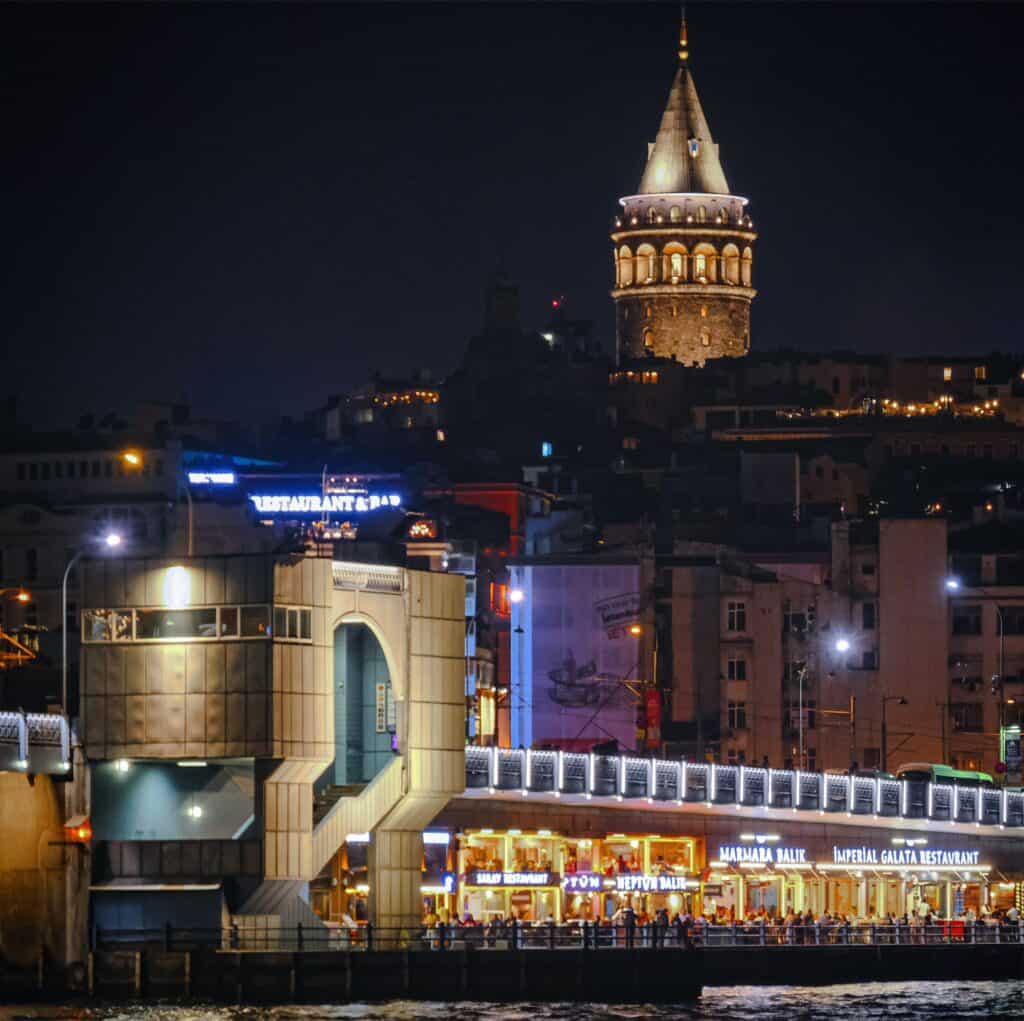 With its trendy cafes, rooftop terraces and chic boutique hotels, it's a favourite among the expat community, couples and those seeking a dose of modern life Istanbul. Beyoğlu is a huge district which includes areas such as Cihangir, Galata, and Karakoy.
My personal favourite area to stay is Kadıköy on the Asian side as it's the most authentic district and has some really cool coffee shops and restaurants but I wouldn't recommend it on a first time visit unless you don't mind using the ferry as your main form of transport.  
Best time to visit Istanbul 
 Istanbul has a temperate climate, with hot summers and cold winters. The best time to visit is during the shoulder season, from April to May or September to November. Both Spring and Autumn are mild with little rain and plenty of sunshine. Hotel prices are low and you will be able to enjoy the city without the crowds.
Istanbul Top Tips
Get the

Istanbul E-pass

. It's a sightseeing pass that gives you free access to all top attractions and museums and can be great value for money. You can get a 2,3,5 or 7 day E-pass. just download the app, get the QR code and you're good to go.
Download the Istanbul city map app (City Maps 2Go). it's a great navigation tool and you can use it offline or when you don't have access to WIFI.
If you must take a taxi, use the app BiTaksi. It's not quite Uber but the prices are a lot cheaper than the yellow taxis.
Don't try to see everything on your first visit. You most likely won't and might end up feeling exhausted and overwhelmed. Istanbul is a wonderful city full of surprises. You will appreciate it more if you take your time in exploring. 
Don't be scared to speak to the locals. Istanbulites are friendly, sociable and love to help. They also love children and animals and will make you and your family feel very welcome.
Cash is still king in Istanbul so always carry some change as you never know when you might need it. There is also a strong tipping culture in restaurants so it's always good to be prepared.
Change your currency in Tukey for better rates and avoid exchanging at the airport or at the hotel. The area around the grand bazaar has the best exchange rate.
Avoid ATMs so you don't incur you bank fees but if you must use one ING Bank ATMs offer the best rates.
Use a card that doesn't charge fees oversees such as

Starling bank

.
Have you been to Istanbul? What was your first visit like? Share your tips and suggestions below so other readers can benefit from your experience too.