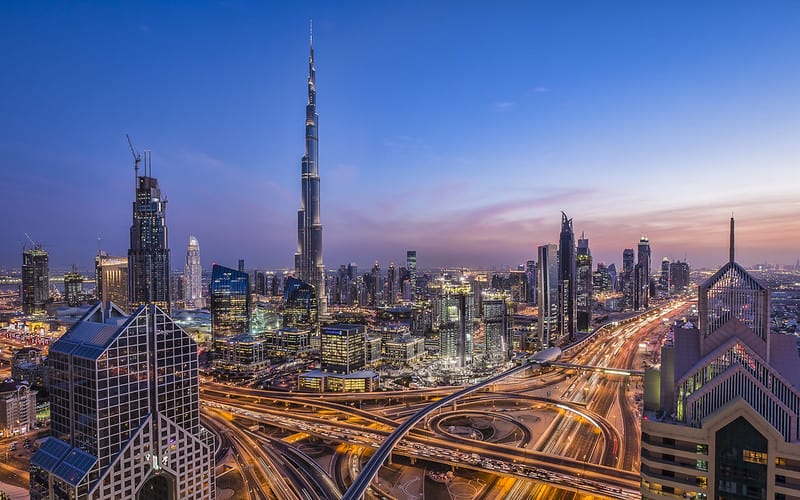 Dubai is one of the most vibrant cities in the world, with its unique blend of modern architecture, luxurious shopping destinations, and stunning beaches. Visiting Dubai for a week will give you the opportunity to see plenty but with so much to see and do, it can be overwhelming to plan the perfect itinerary. In this article, I will guide you through some of the best and unique experiences you can do on your first visit to this incredible city.
Disclaimer: Any products and recommendations in this article are the result of my personal experiences and careful research so if you book or purchase anything through these links I may earn a small fee at no extra cost to you.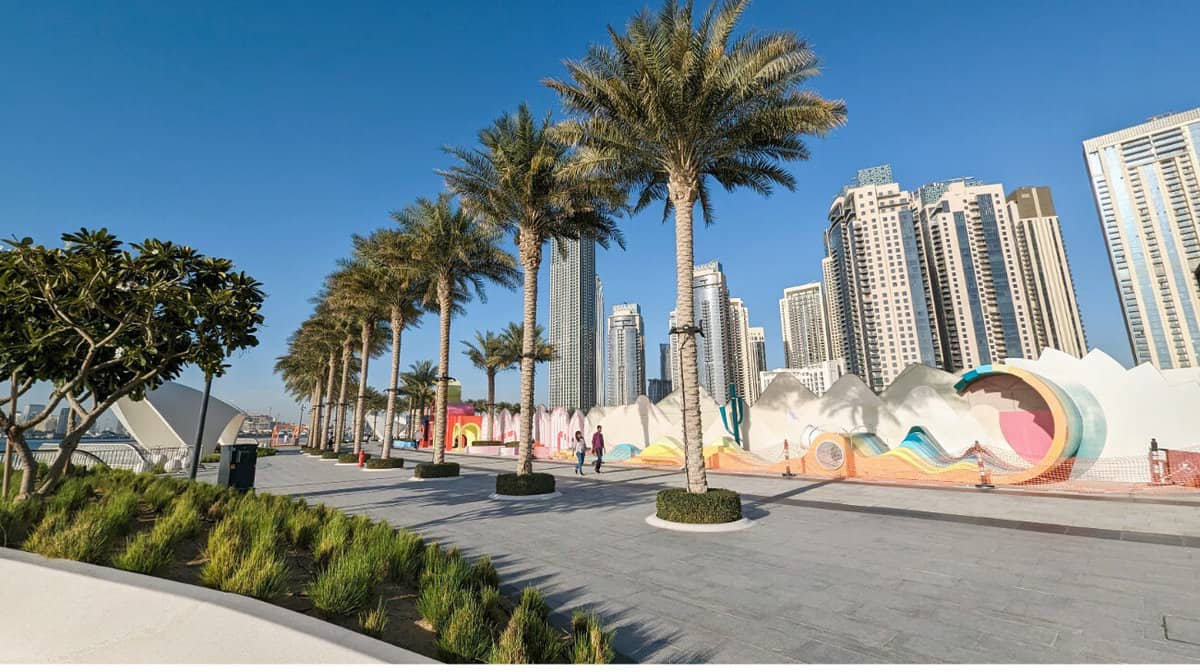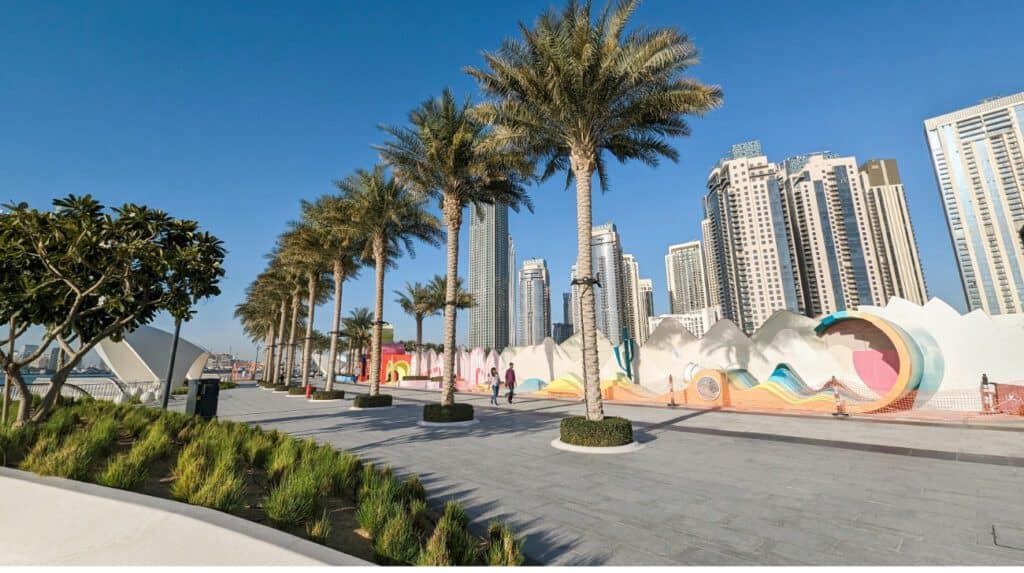 For years, I resisted travelling to Dubai because I thought I would hate it. I had been to Abu Dhabi on a brief business trip in 2012 and took an immediate dislike to it. I managed to sneak out one afternoon and visit the mosque which was stunning but apart from that I got tired pretty quickly of looking at high rise builds and there was a distinctive lack of tourism infrastructure at the time. I travel for authentic, off-the-beaten-path experiences and thought Dubai would be just another giant metropolis with dizzying heights and convoluted shopping malls. But I kept hearing positive feedback from friends who had returned many times and this year I finally caved in and convinced my husband to book an all-inclusive holiday do Dubai to escape the gloomy British winter and I must admit, I was wrong in my assumptions. I liked Dubai a lot and will probably return in the future.
How to get there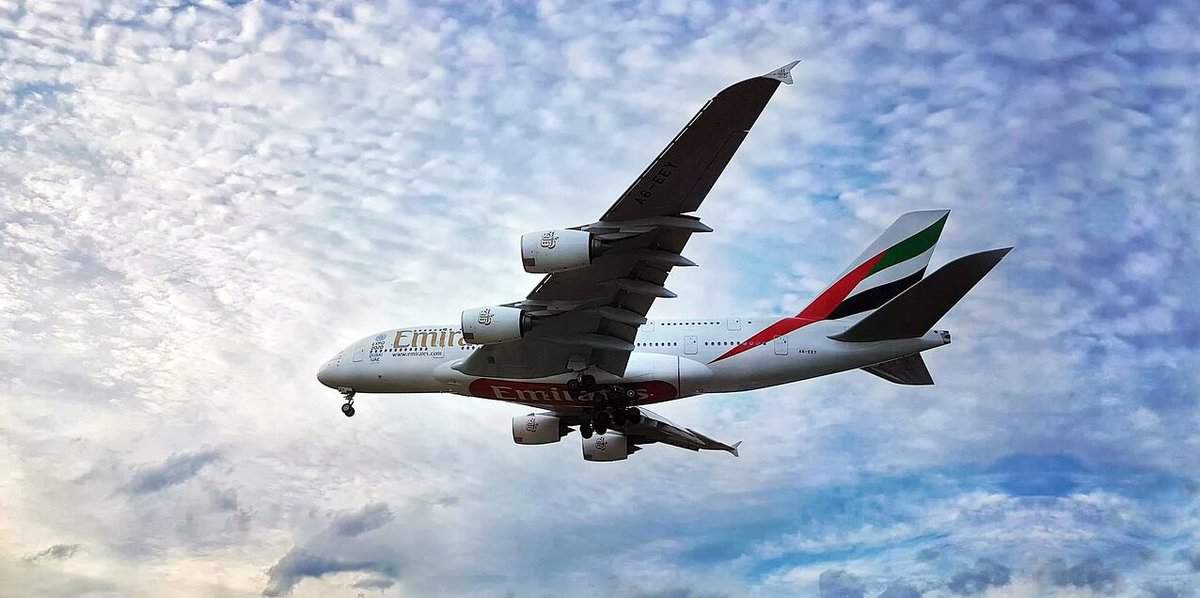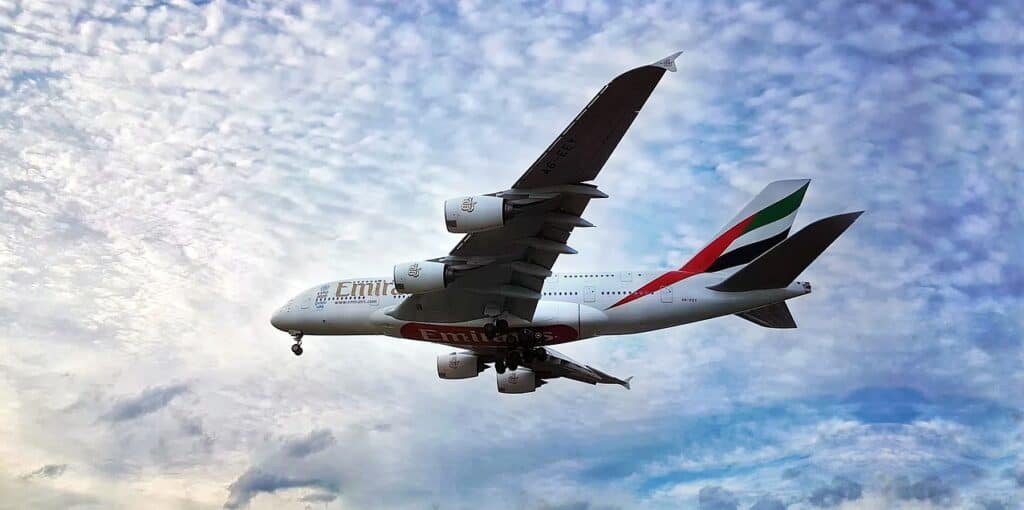 Many airlines, including Emirates, British Airways, and Etihad Airways, offer direct flights from major UK airports to Dubai International Airport. Flights can be quite expensive when booked separately so we booked a package holiday with Travelbag and were offered a great deal. The flight time from London to Dubai is only 7 hours on a direct flight which makes Dubai a very attractive option for a winter getaway.
Best time to visit
The UAE has one of the best climates and apart from July and August when the temperatures reach scorching levels and the humidity is very high, the weather is very pleasant the rest of the year. The winter Season (November to March) is very mild and the best time to visit Dubai in my opinion. The temperatures range from around 15°C (59°F) to 25°C (77°F), there is plenty of sunshine for sunbathing and the sea is warm enough for swimming and most importantly there is 0 humidity. This is the best time to enjoy the outdoors, beaches and desert activities.  Bear in mind that this is a popular season for travel so expect some crowds in the most popular attractions and higher accommodation prices.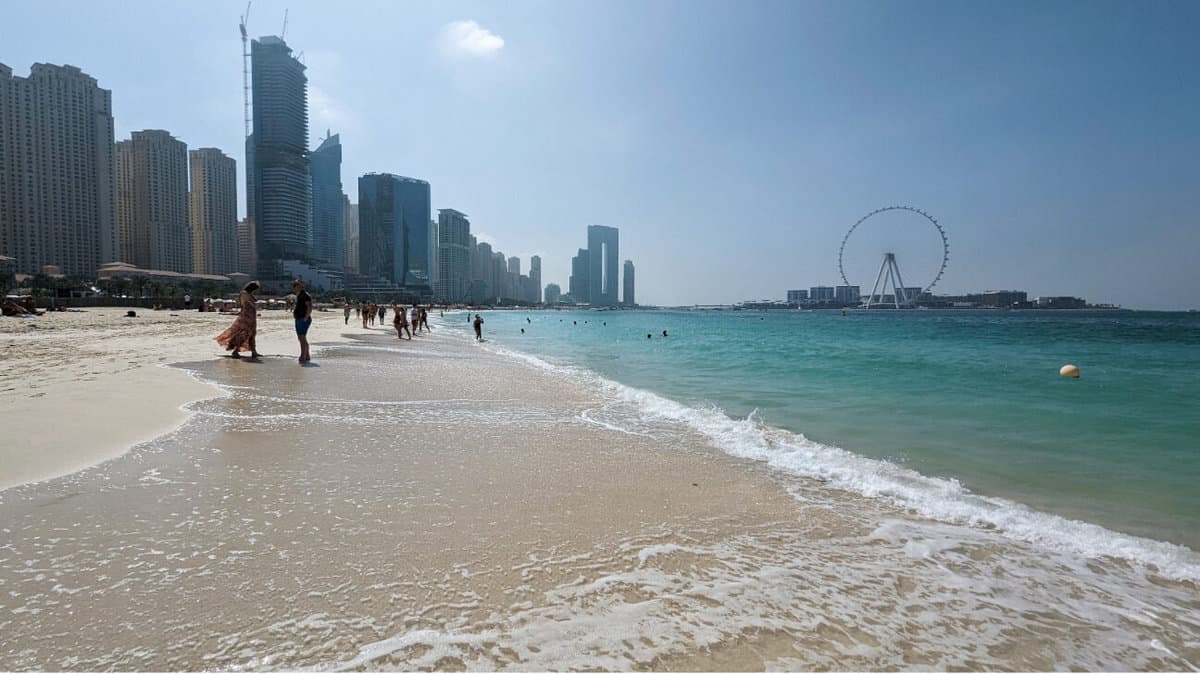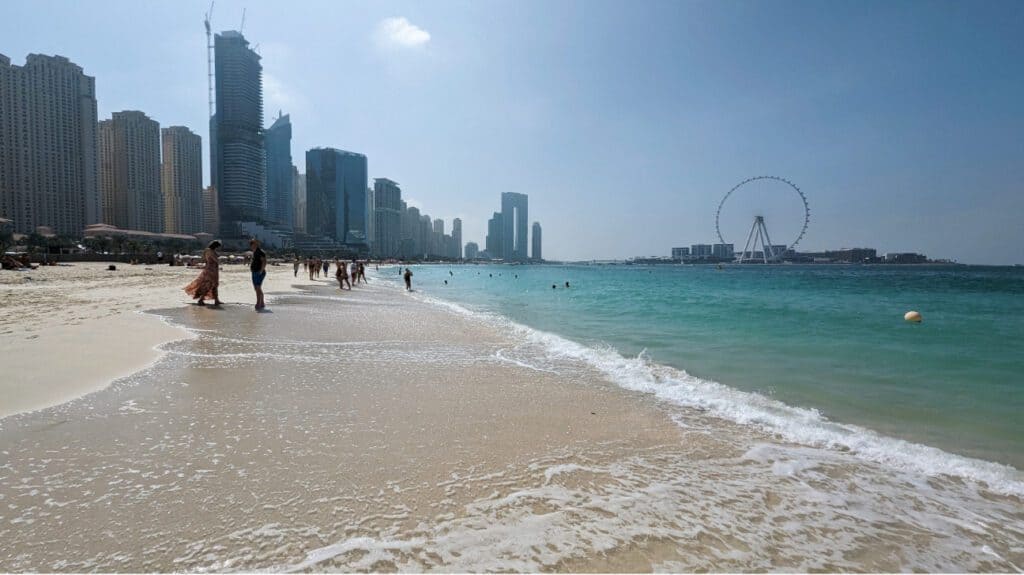 Summers in Dubai are harsh and extremely hot but if you enjoy shopping malls and indoor activities then you may take advantage as this season is very "budget-friendly", accommodation prices tend to be heavily discounted and many attractions offer special offers.
First impressions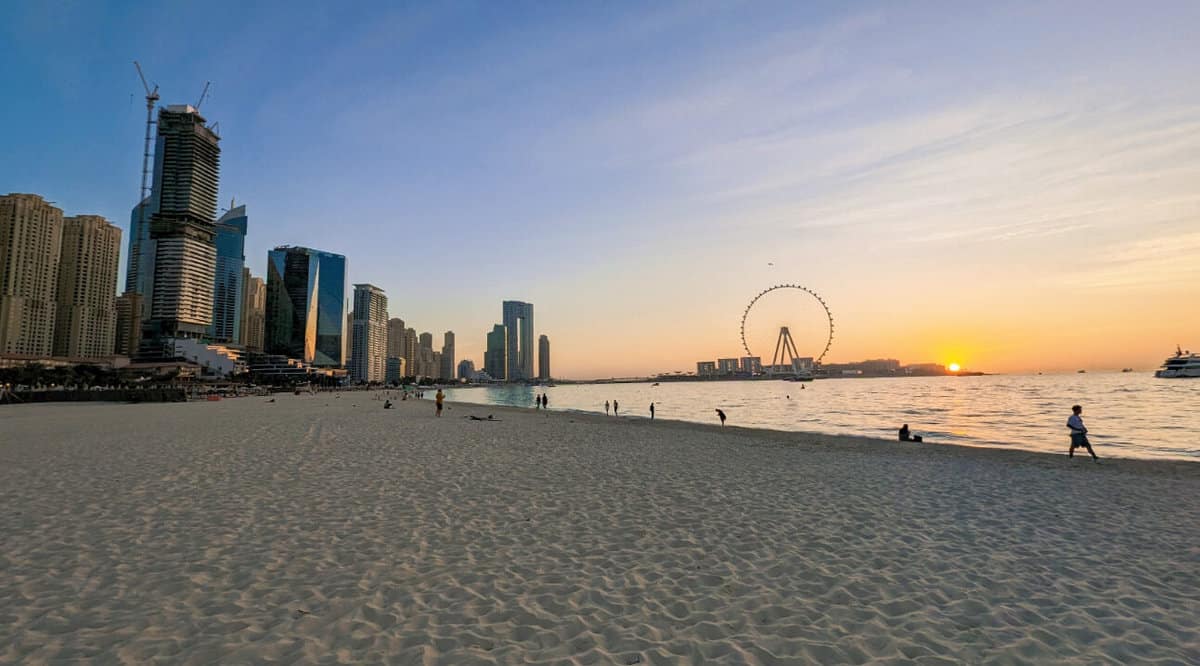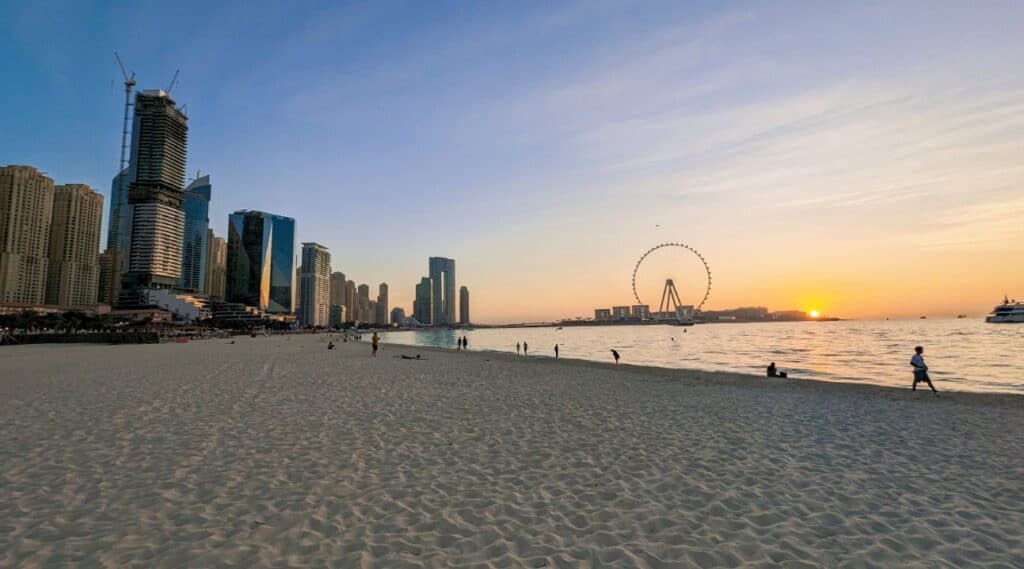 It's clean. I mean so clean you could lick the floor and your antibodies would probably get a boost. And I am not just talking about indoor surfaces, even the streets and roads where traffic is crazy are pristine looking. You don't see  litter on the pavements. When you look up the skyscrapers there's always someone dangling off a rope to clean windows. And the sand is so white and fine it looks like it's been filtered by hand. I was seriously impressed and a little despondent at how dirty London looks in comparison. 
The locals are nowhere to be seen: I knew that foreigners who live in the UAE outnumber the Emiratis but I was still expecting to meet a few locals in the traditional outfit. Apart from the official who stamped our passports at the airport and few shop keepers in the Gold souk,  I don't think we have met any local people in Dubai, nor have we heard any Arabic spoken anywhere we went. Seriously, where do they all hang out?
The ostentatious lifestyle is over the top and tacky. Everywhere we went, it felt like everyone had won the lottery and was on a mission to show off their newly acquired wealth. The cars on JBR Walk looked more like characters from Transformers than normal cars.
 It's incredibly safe. You can leave your valuables on a public bench anywhere in the city and come back half a day later and they'll probably still be there. We walked in remote areas and got stranded one evening in an unlit street because we run out of data and couldn't book an Uber but we didn't feel unsafe at all and just carried on walking until we got to the main road and were able to find a taxi.
The law is very strict. So many things that we take for granted are punishable by law in Dubai and may cost you thousands of ££££ in fines such as eating and drinking on public transport, crossing roads outside of pedestrianised areas, swearing or sending a "rude" emoji on a Whatsapp chat and even driving a dirty car! I'd be in jail forever if these laws were applicable in the UK.
How to spend a week in Dubai
There is a plethora of amazing experiences to do in Dubai and you would need more than one visit to do them all but here are some of my favourite recommendations for anyone visiting this part of the world for the first time.
Burj Khalifa at the top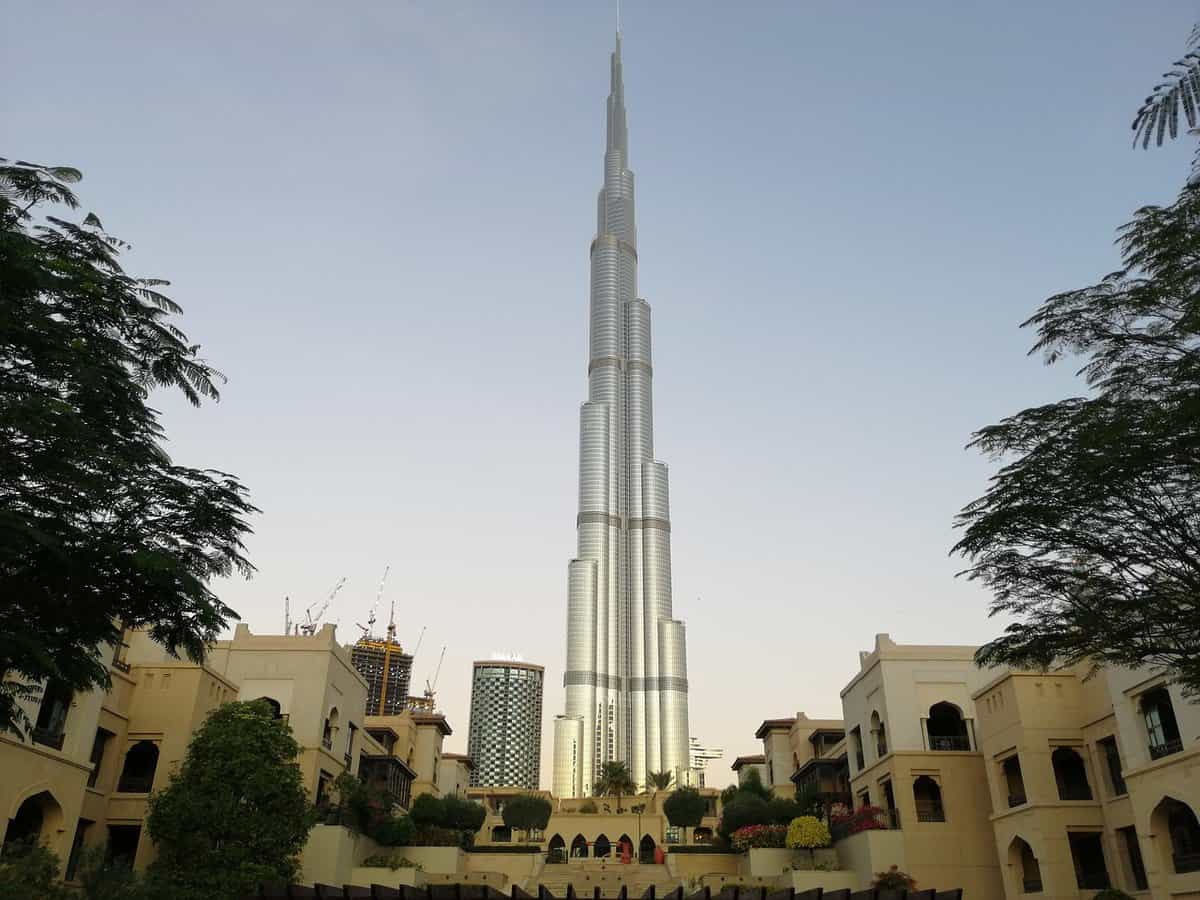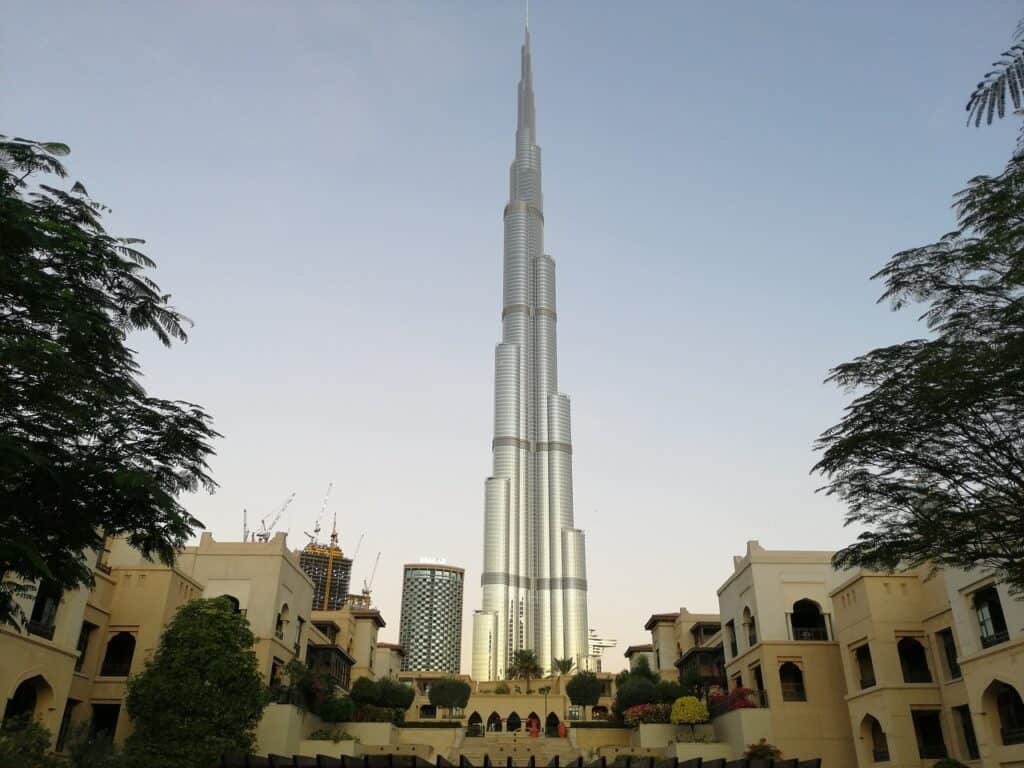 Burj Khalifa is an architectural wonder and an iconic symbol of modern engineering and a visit to the top will take you through a fascinating journey. At 829.8 meters, it is the tallest skyscraper in the world. The elevator ride itself is a thrilling experience as it ascends at an astonishing speed, whisking you to the observation decks in a matter of seconds. As the doors open, you will be greeted by breath-taking panoramic views of Dubai's skyline stretching as far as the eye can see.
The experience is further enhanced by multimedia presentations which allow visitors to learn more about the building's construction and the vision behind it.
The best time to visit top of the Burj is at sunset time. If you plan your visit strategically you can witness the views during both daylight and night-time hours. But keep in mind that this is also one of the busiest times so you need to be armed with patience and be prepared to share the space with several other tourists. If you'd rather avoid the crowds, then a sunrise visit is worth getting up early for. Not only you will be rewarded with spectacular sunrise views s but you will have the place to yourself and tickets include a free light breakfast!
Visiting Hours are as follows:
Sunday to Thursday from 10 AM till midnight (last admission at 11 PM)
Friday to Saturday from 8 AM till midnight (last admission 11 PM)
Prime hours: every day from 4 PM to 6:30 PM
Timings are seasonal and subject to change, so always check the official Burj Khalifa website for the most up-to-date information before planning your visit.
I recommend checking the official ticket website for last minute offers or buying with GetYourGuide as they often have discounts.
Dubai Creek Harbour
Dubai Creek Harbour is a new development project which is set to offer a unique blend of modern architecture, cutting-edge technology, and traditional culture.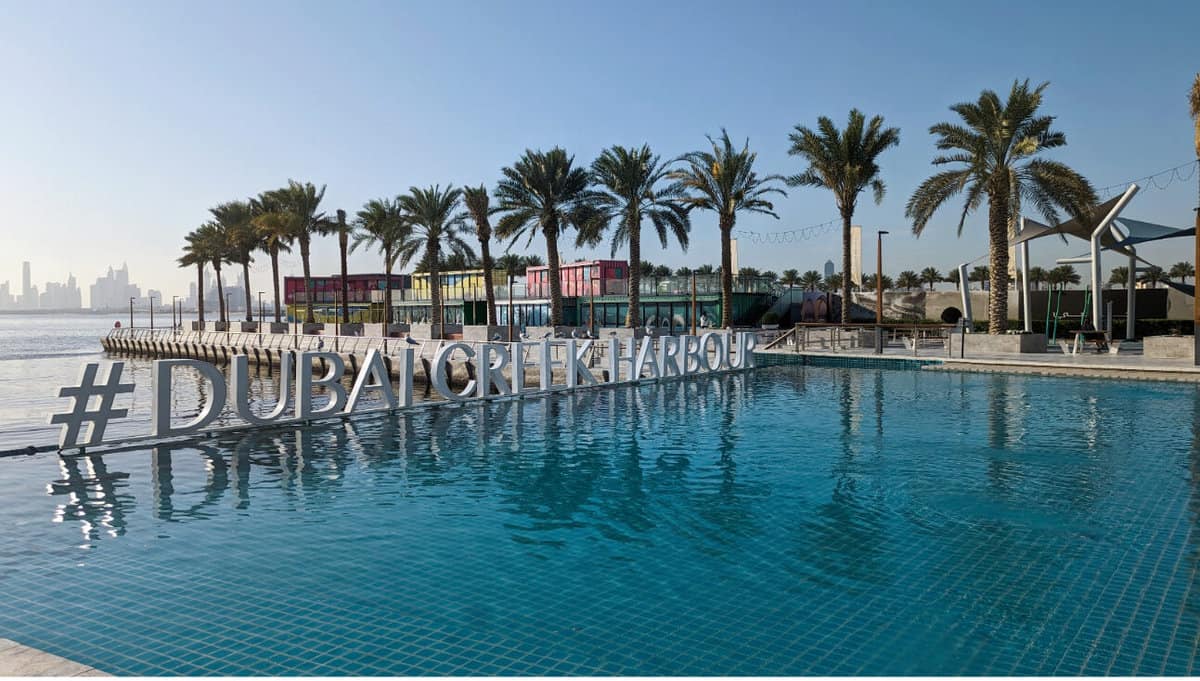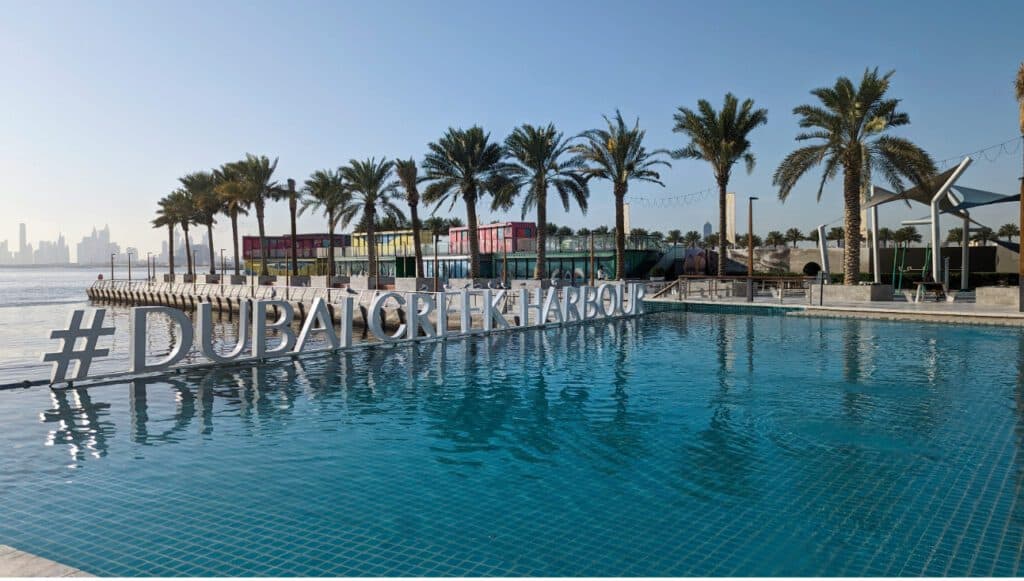 The project is designed to be a new urban centre for Dubai, with a focus on sustainability, innovation, and community and will feature a mix of residential, commercial, and cultural spaces, all interconnected by a network of pedestrian-friendly streets and walkways.
The centrepiece of Dubai Creek Harbour is the Dubai Creek Tower, which is set to become the tallest building in the world.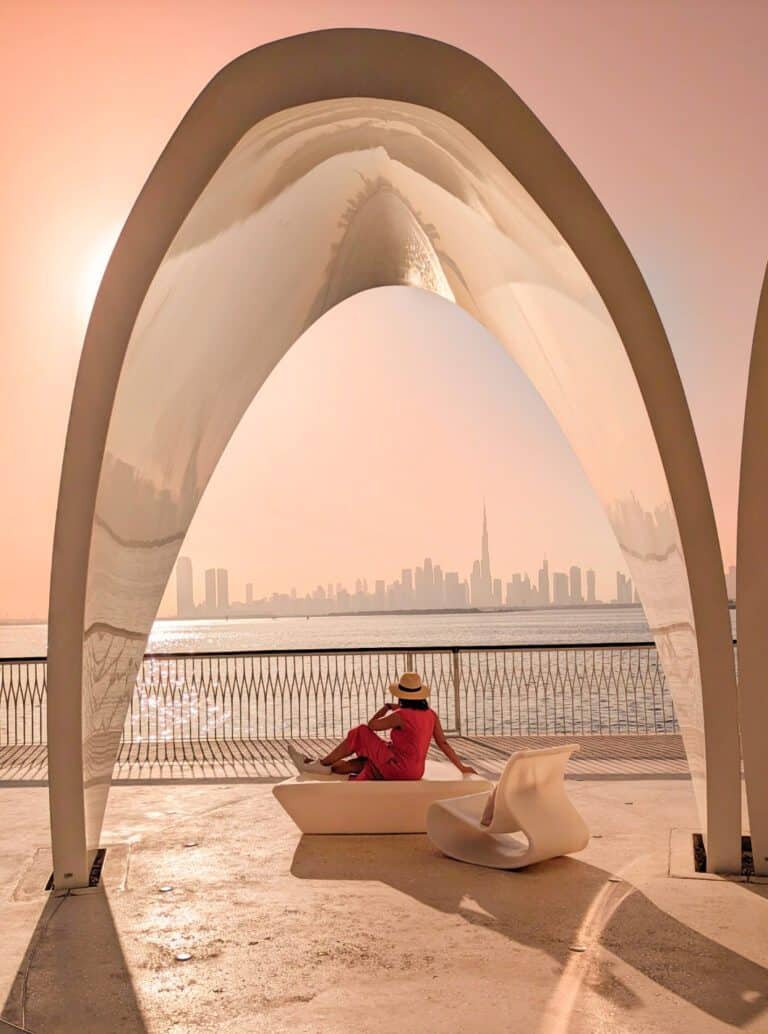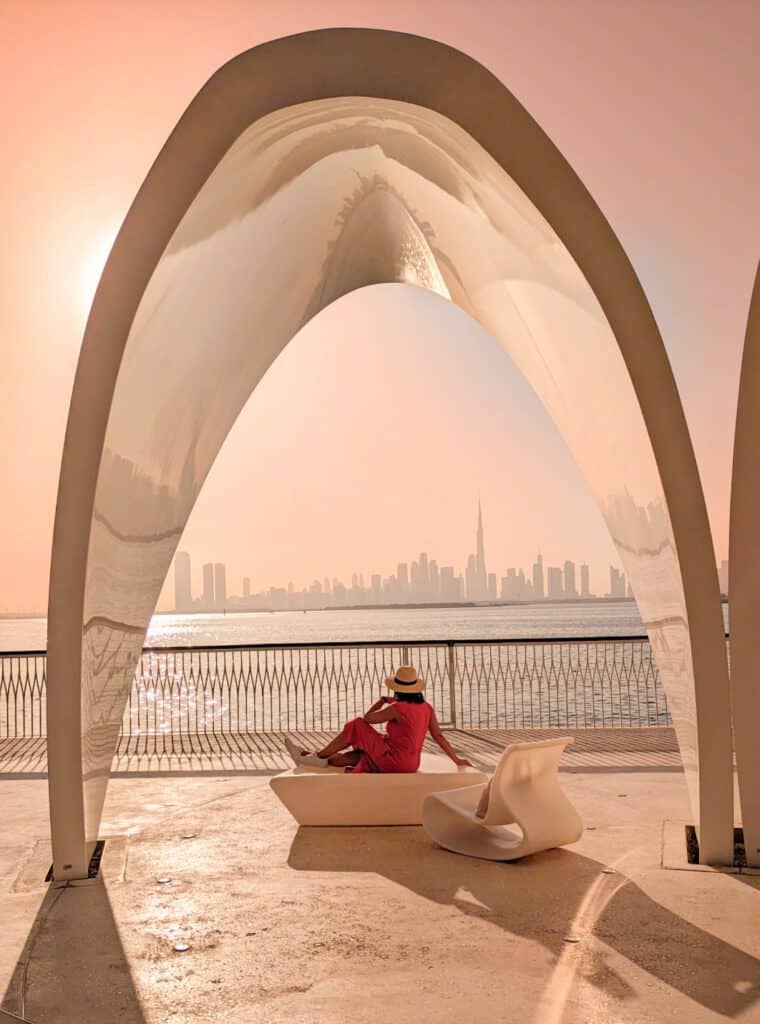 This is one of the best areas to spend a leisurely afternoon and witness gorgeous sunsets. There are green spaces, art installations, kids play areas and several viewpoints to see the Dubai skyline from across the harbour.
Dubai Marina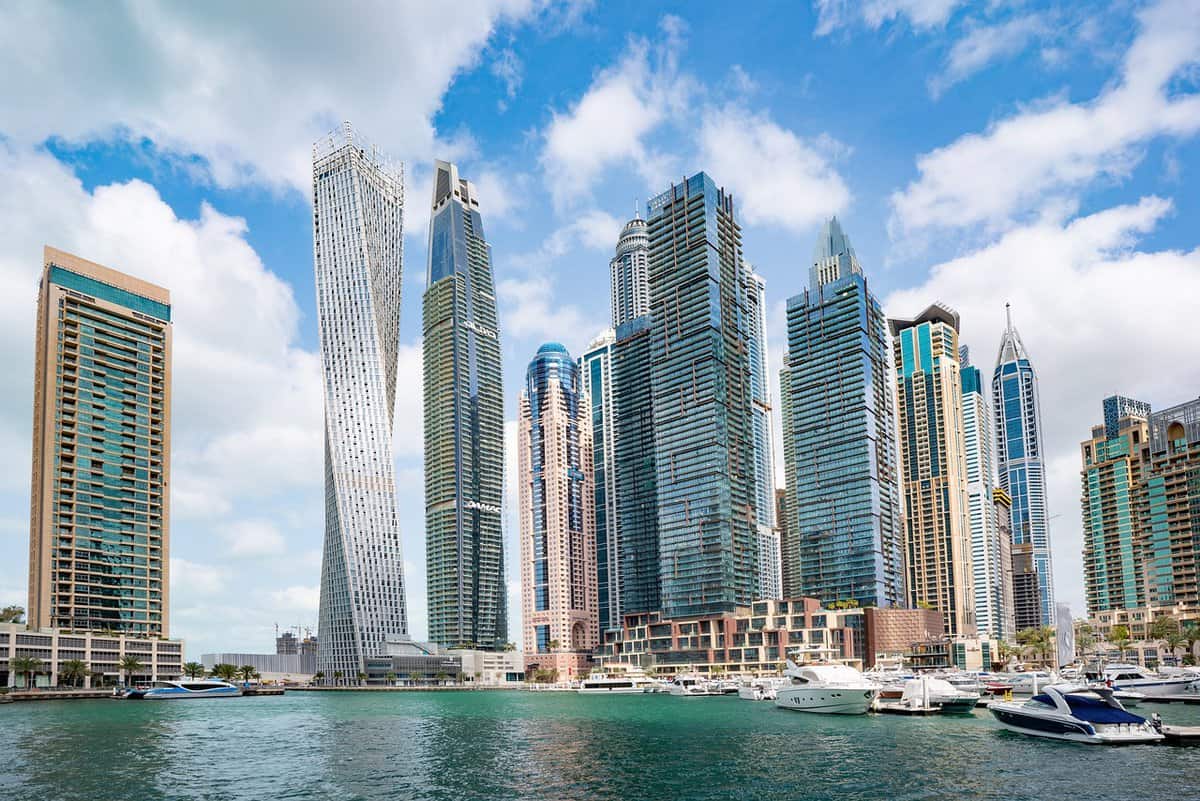 I am not a huge fan of man-made marinas but the Dubai marina is like no other and is the only area I visited more than once. It's an architectural marvel that combines luxury, innovation, and vibrant city living.
The marina, which spans over 3 kilometres, is lined with stunning waterfront promenades and an array of luxurious yachts and boats. You can take a leisurely stroll along the walkways and breathe in the refreshing sea breeze while soaking up the stunning views of towering skyscrapers.
There are many great places to eat as well from fine dining restaurants to trendy cafes and casual eateries. It also has a large mall (Dubai Marina Mall) which would delight shopping lovers. Thrill-seekers can enjoy many activities including a ride on the marina Yacht Club's jet ski!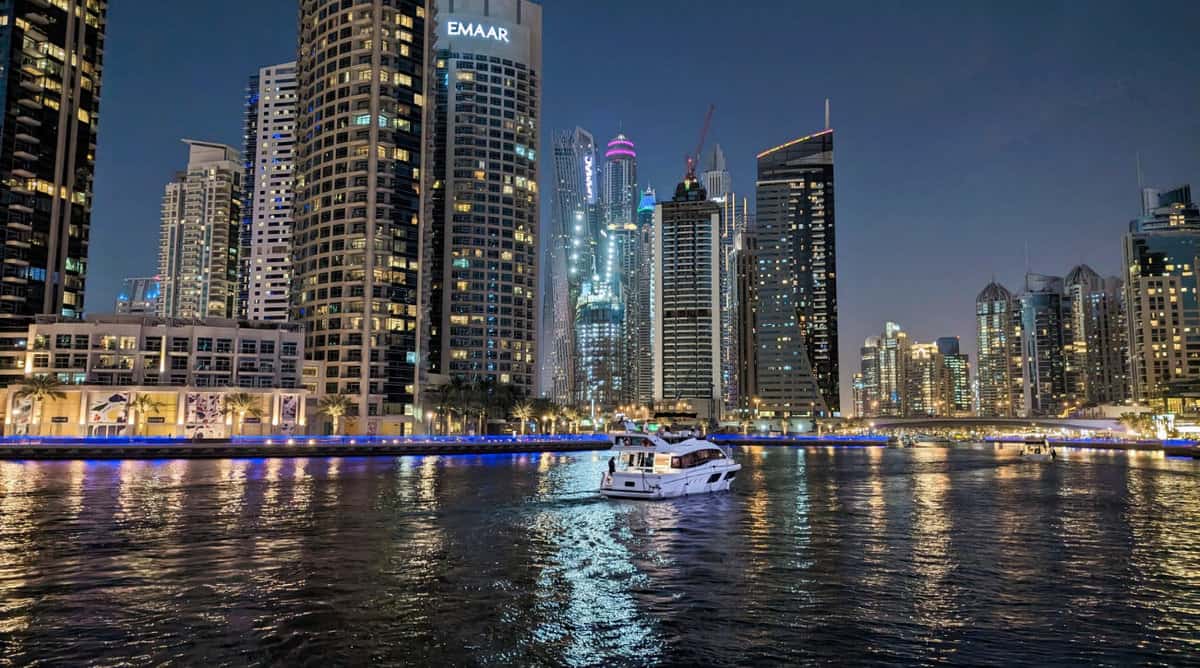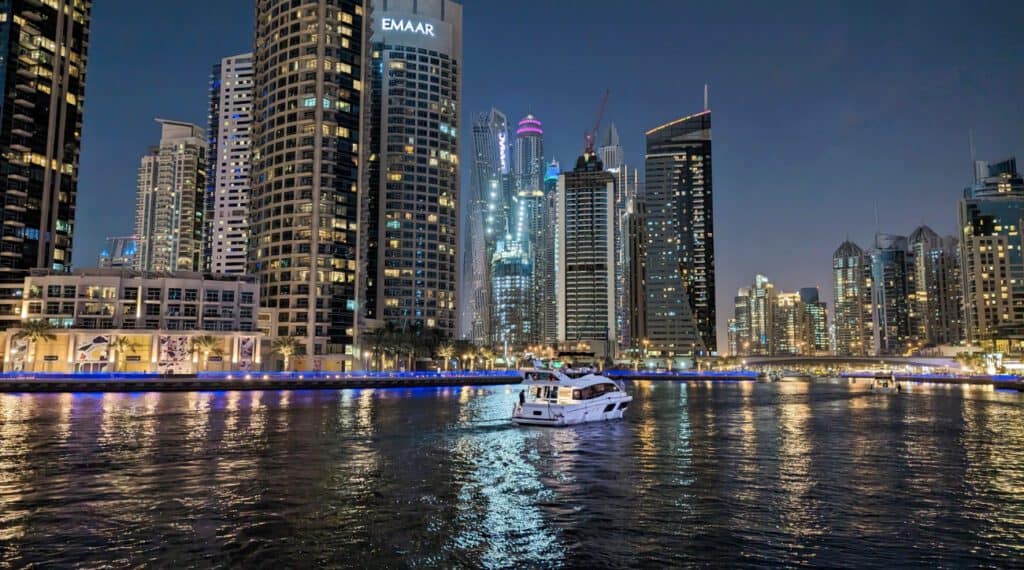 I highly recommend a visit in the evening as that's when the marina really comes to life and you can appreciate the innovative architectural designs and ambiance. There are several entertainment options including live music and boat parties.
The Walk and JBR beach
Adjacent to the Marina is JBR (Jumeirah Beach Residence), a residential district with many upscale hotels and restaurants and one of the best areas to stay in Dubai.
It has a beach promenade, known as "The Walk". The pedestrianised area is lined with trendy cafes, high-end shops, and gourmet restaurants and would make a great day out. From the Walk, you can find your way to JBR beach, a slice of paradise in the Arabian Gulf. The beach is postcard-perfect and exudes tranquillity and beauty with its crystal-clear blue waters and warm sands stretching for miles. The beach is mostly private as access is reserved to the hotels in the area but it has a large public area which offers a range of facilities, including play areas, beach volleyball courts, and designated swimming zones with lifeguards on duty.
Water sports activities are also available including jet skiing, paddle boarding, and parasailing.
Those seeking to relax and forget the world will find plenty of seating areas and loungers with parasols. There are several restaurants and cafes offering a wide range of cuisines. Jumeirah beach also offers great viewpoints for watching incredible sunsets!
The Palm Jumeirah
The Palm Jumeirah is one of the most outstanding achievements in modern engineering and design. The man-made island in the shape of a palm is visible from space and stretches into the Arabian Gulf, creating an additional 520 kilometres of coastline. You can make a day out of it and visit all the attractions on the island. Getting to the palm is easy as you can take a taxi, the metro or use the monorail which offers a more scenic route and stops at every attraction on the island. The monorail operates seven days a week from 9am to 10pm. Ticket prices start from AED 10 for a single trip.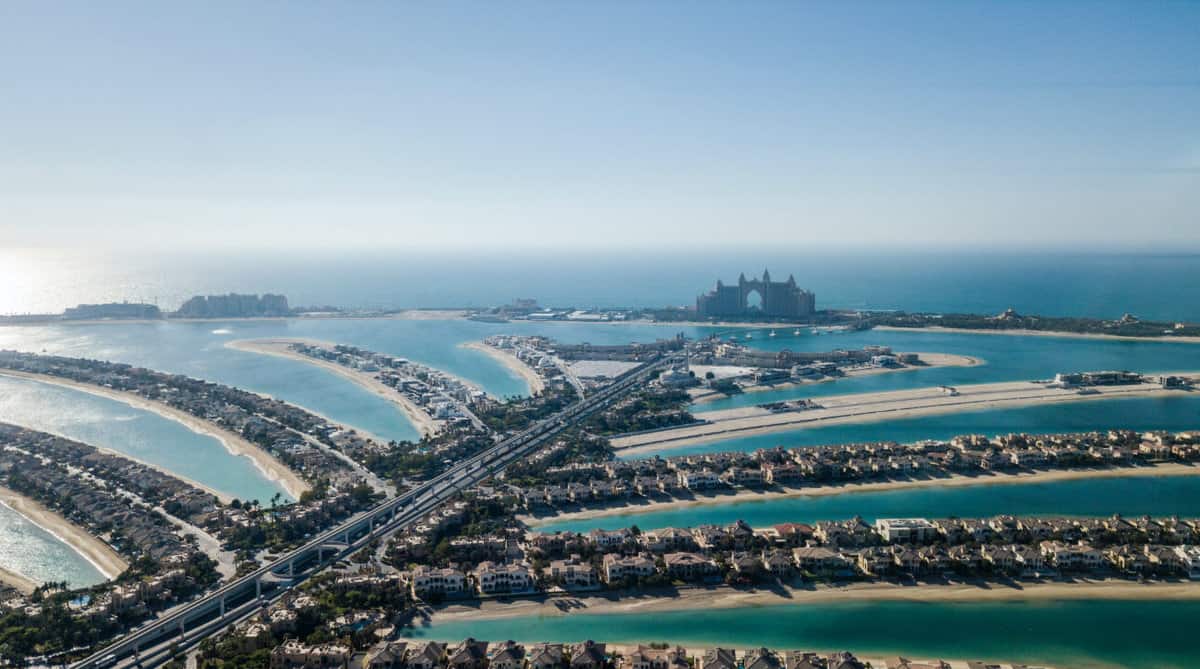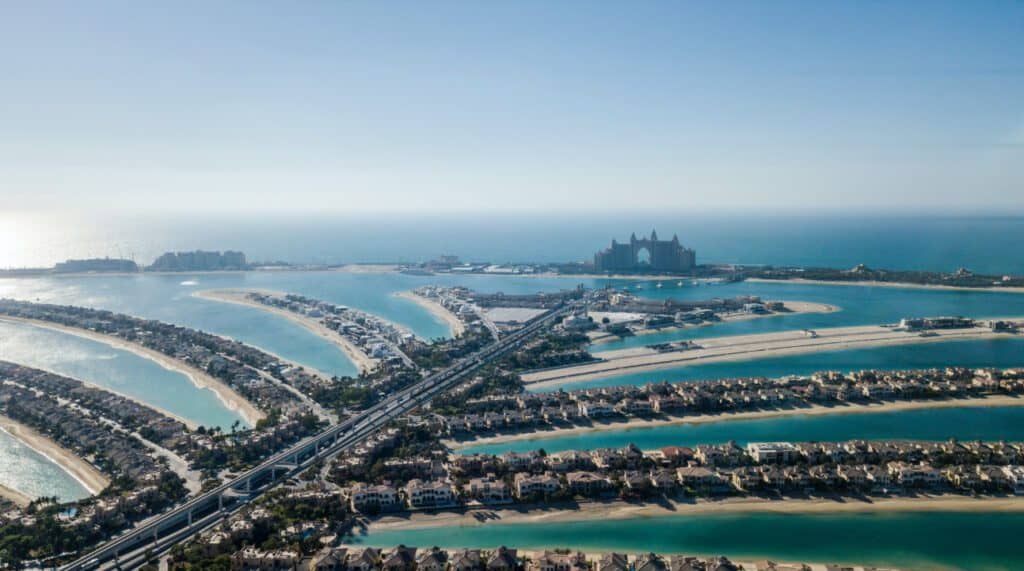 Two of the major attractions to see in the Palm Jumeirah are the Palm Sky Observatory and Atlantis hotel.
5.1 The Palm Observatory
The Palm Observatory is an observation deck located on the 52nd floor of the Palm Tower which offers 360-degree views of this incredible man-made island, the Arabian Gulf, and the skyline from an outdoor terrace.
The Palm Observatory is open daily from 10:00 am to 10:00 pm. Tickets cost AED 125 for adults, AED 95 for children aged 6-12, and AED 65 for children under 6. Sunset time is the best time to visit but as always expect crowds as it's a popular time.
5.2 Atlantis the Palm
Atlantis The Palm is a luxury hotel and resort complex which is themed after the lost city of Atlantis.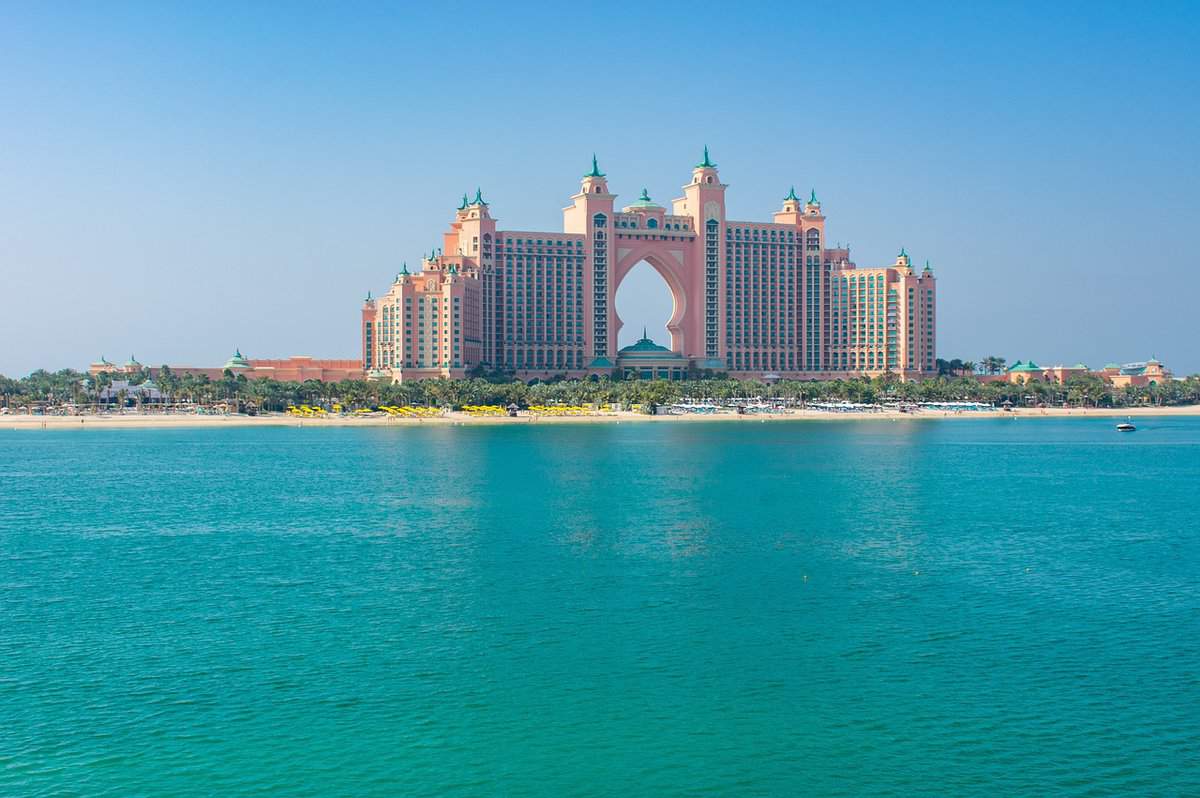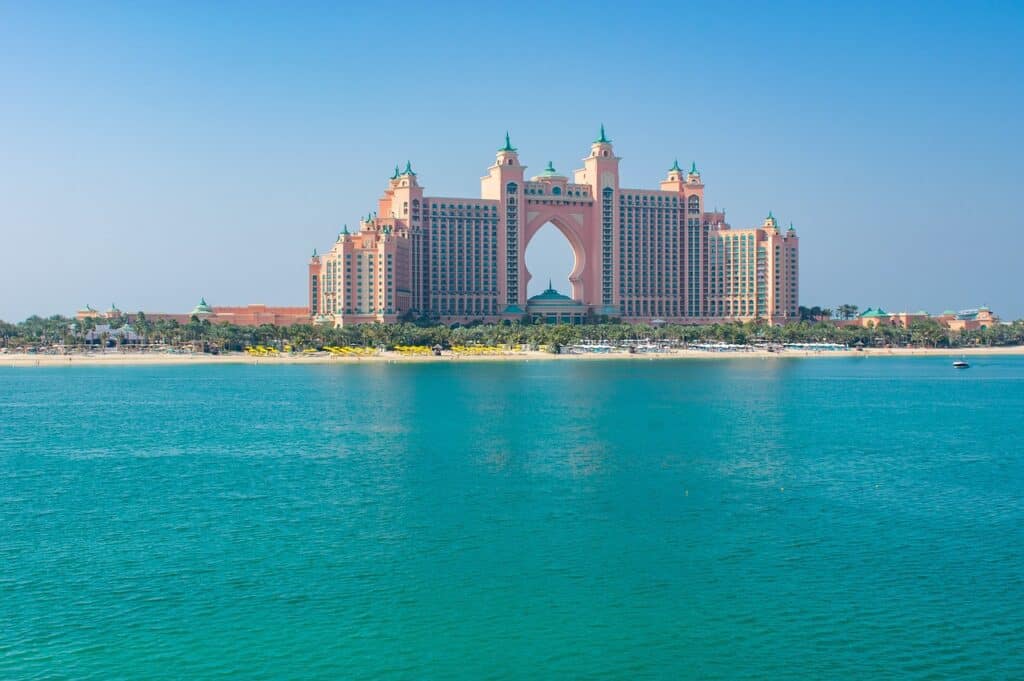 In addition to its incredible accommodations featuring 1,500 rooms and suites, it also features a water park, an aquarium, a spa, and a variety of restaurants and bars including Gordon Ramsay's restaurant "Bread Street Kitchen And Bar ".
Atlantis The Palm is a popular tourist destination and has been featured in several films and television shows, including "Mission: Impossible – Ghost Protocol" and "The Amazing Race."
Some of the top things you can do at Atlantis The Palm include:
Aquaventure Waterpark: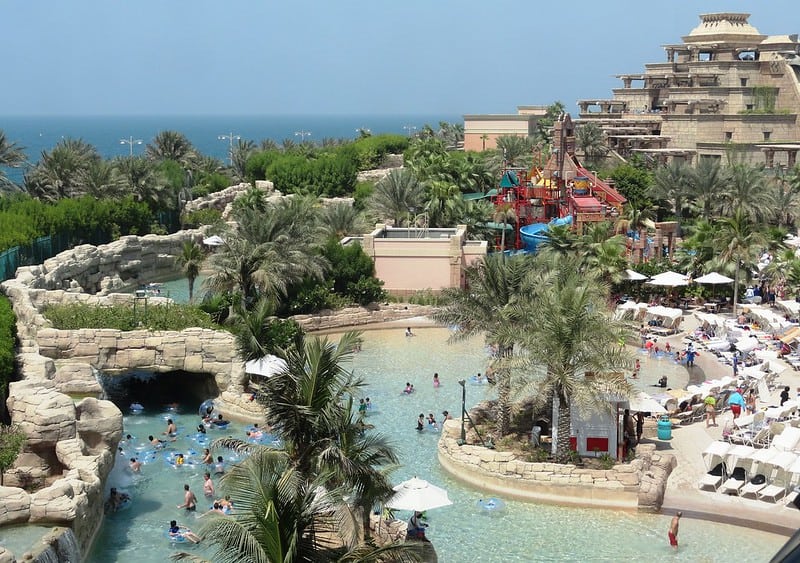 The largest waterpark in the Middle East with over 105 rides and slides, as well as a lazy river and a wave pool. Great fun for the whole family, especially if you have kids.
The Lost Chambers Aquarium: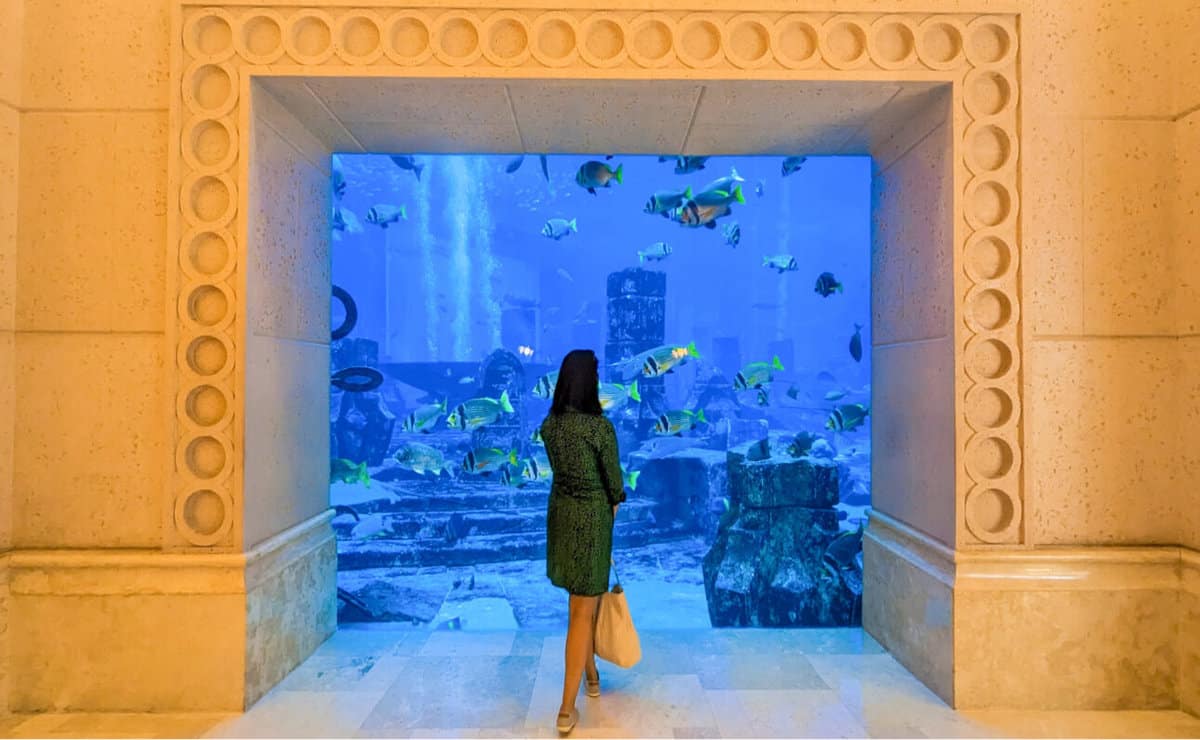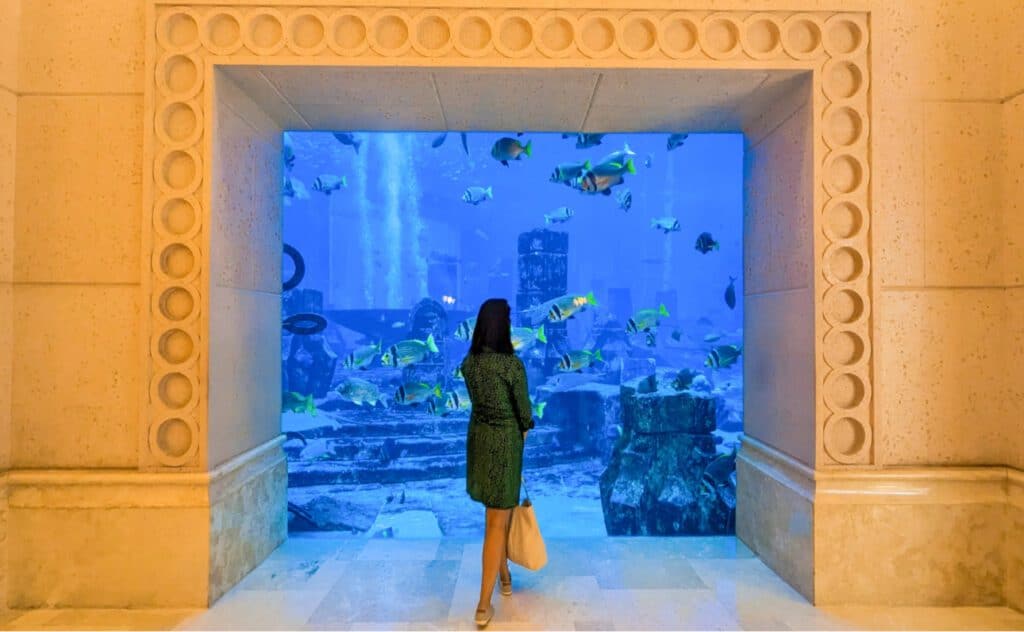 This underwater attraction is home to over 65,000 marine animals, including sharks, rays, and jellyfish. It is one of the largest aquariums in the world and home to some of the most impressive and colourful marine species I have ever seen. You will have a chance to witness an enchanting world beneath the waves as you stroll through a 30-meter-long transparent tunnel.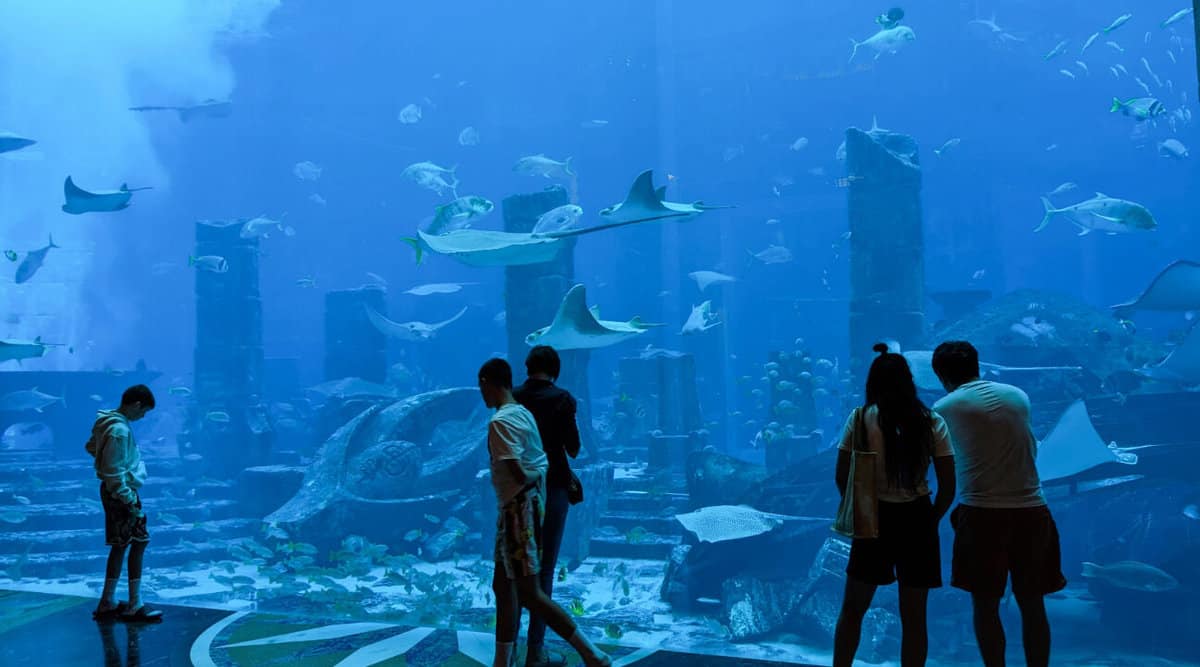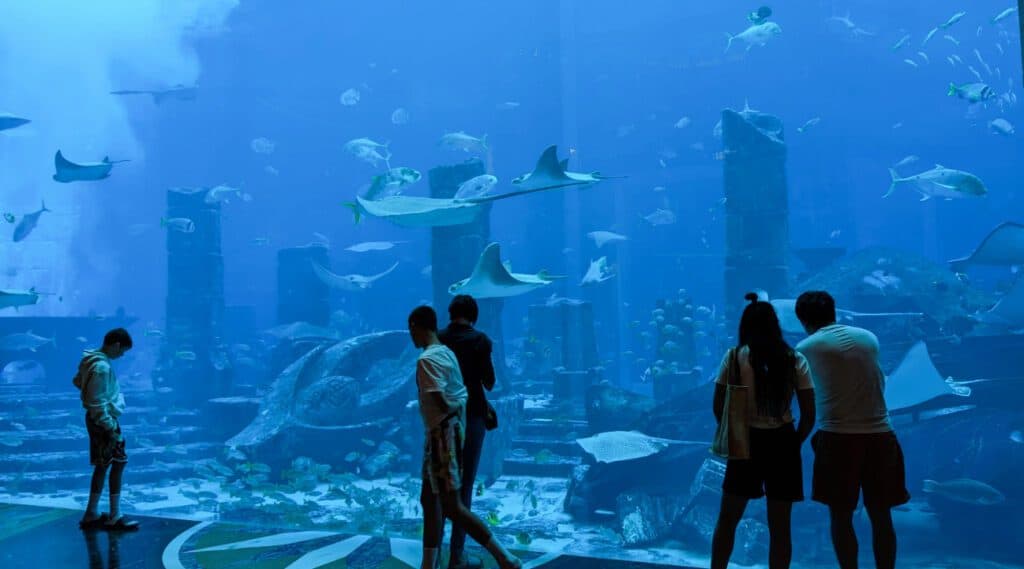 You can experience this underwater world even closer by scuba diving and snorkelling into one of the lagoons. This experience is available to non-certified divers as well.
For the budget-traveller, there is plenty of free things to do in the Palm Jumeirah. You can visit the lobby and shopping area of Atlantis, spend a day relaxing in one of the beautiful sandy beaches, take a walk along the boardwalk, window shop in "Al Nakheel" shopping mall, visit the Jumeirah mosque, admire the waterfront from the Pointe and watch the fountain show in the evening.
Sunset at Burj Al Arab
Burj Al Arab needs no introduction as everyone has seen at least pictures of its incredible design, in the shape of a dhow, a traditional Arabic sailing vessel. Considered a masterpiece in modern architecture and often named the world's best 7-star hotel, a great PR strategy to attract guests and visitors since there is no such thing as a seven-star hotel; Burj Al Arab is one of the most visited hotels in the middle east. Unfortunately, unlike many other places in the UAE, it is not open to the public and unless you are a guest or part of the super-rich elite, the only other way to access parts of the hotel is via a lunch or afternoon tea reservation where you can visit the lobby and the Skyview lounge on the 27th floor.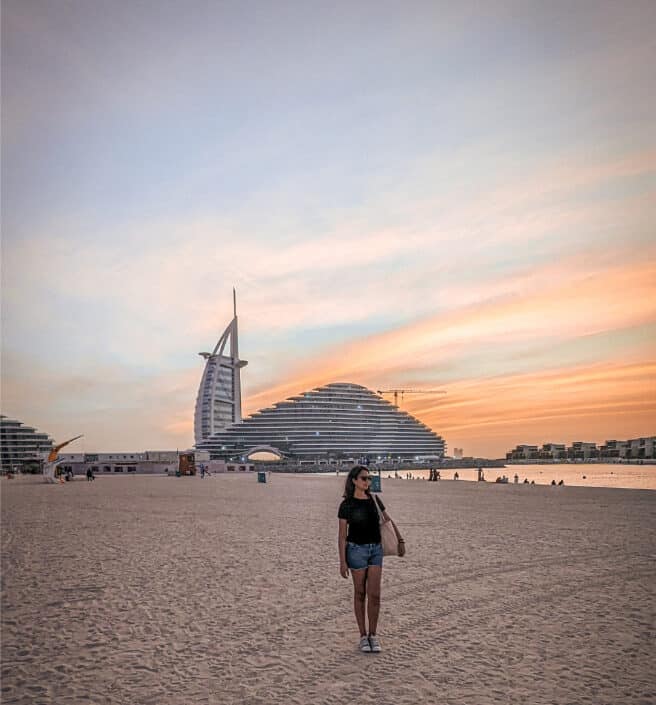 But there are other viewpoints from which you can admire the building from far. The best one used to be Sunset Beach which is off Jumeirah Beach Road (not to confuse with JBR beach) and from which you could witness stunning sunsets. Sadly, this view is now partially obstructed by a new hotel which spoils the view a little but the sunset views are wonderful nonetheless and totally worth a stop by.
Sky Views Observatory
Sky Views Observatory is an observation deck located on the 52nd and 53rd floors of the Address Sky View hotel. It offers stunning 360° views of the city skyline, including iconic landmarks such as the Burj Khalifa, Dubai Fountain, and Dubai Mall. The observatory provides a unique perspective of the city as you walk on a glass floor that allows you to look straight down to the ground below. This is a great way to get a bird's eye view of the city but may not be for everyone. If you are a thrill-seeker then this is a real fun experience not to miss! There is also a glass Slide from the 55th floor to the 54th floor which kids would love but do plan on going early as the queues for the glass slide are too long in peak hours.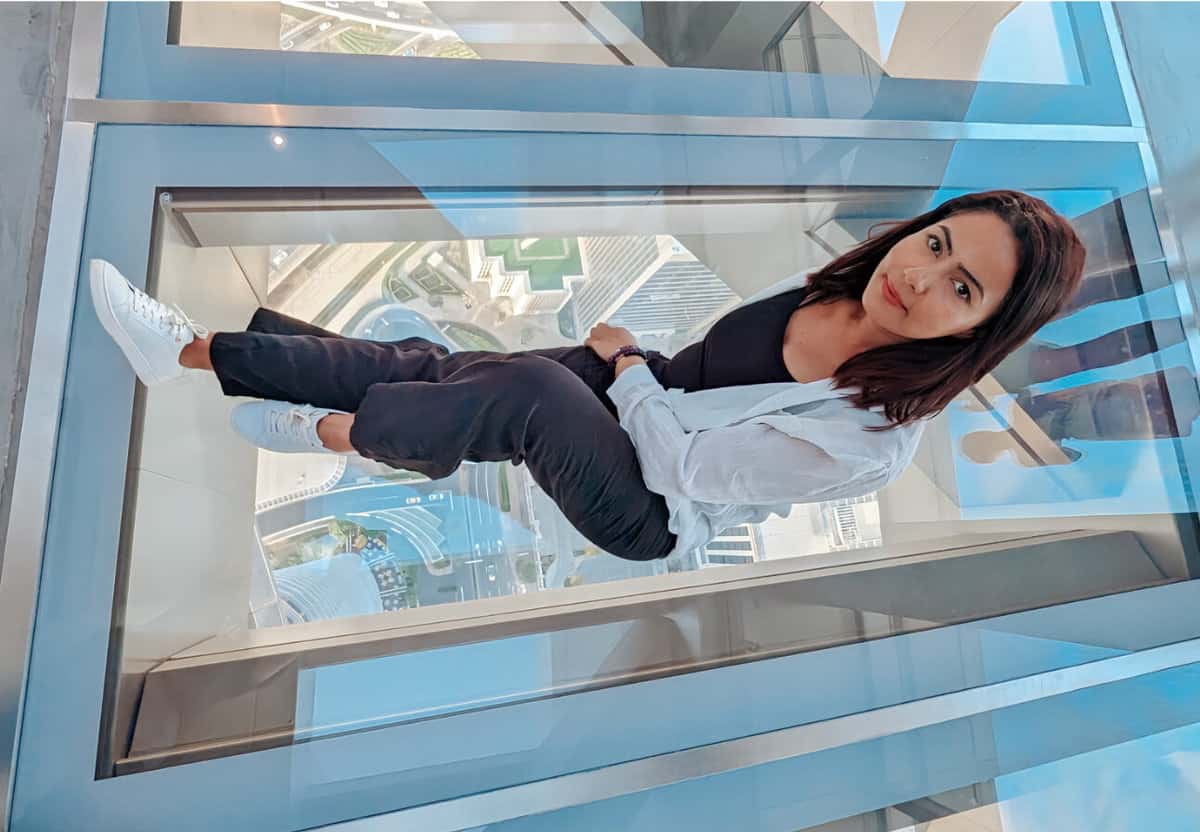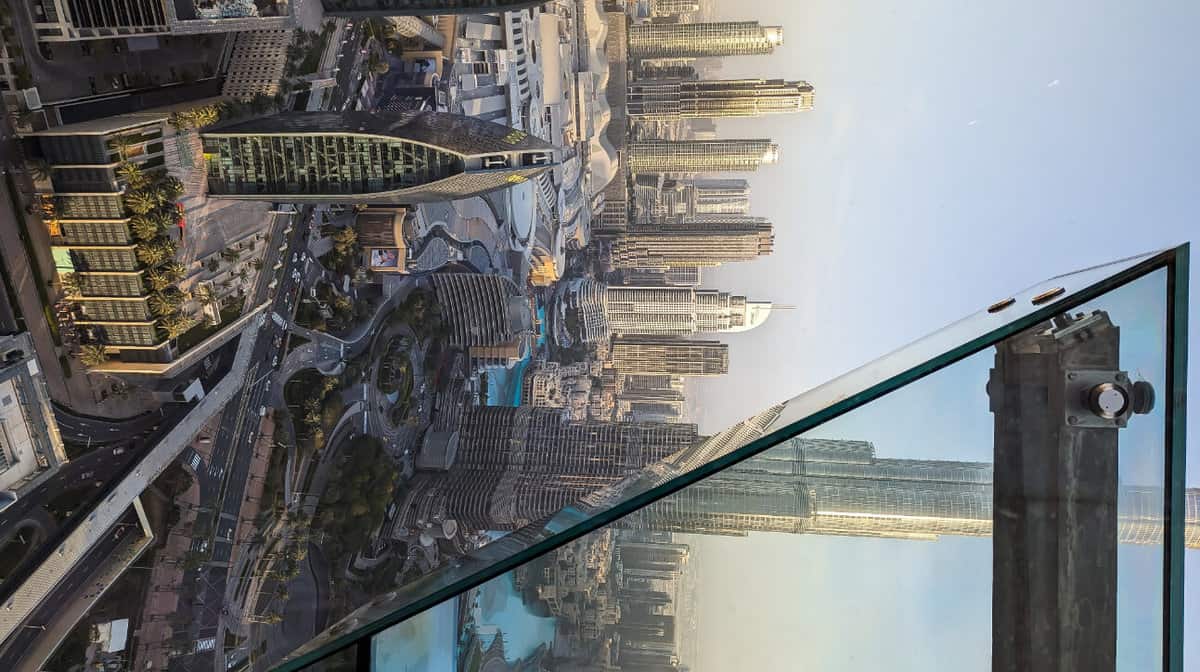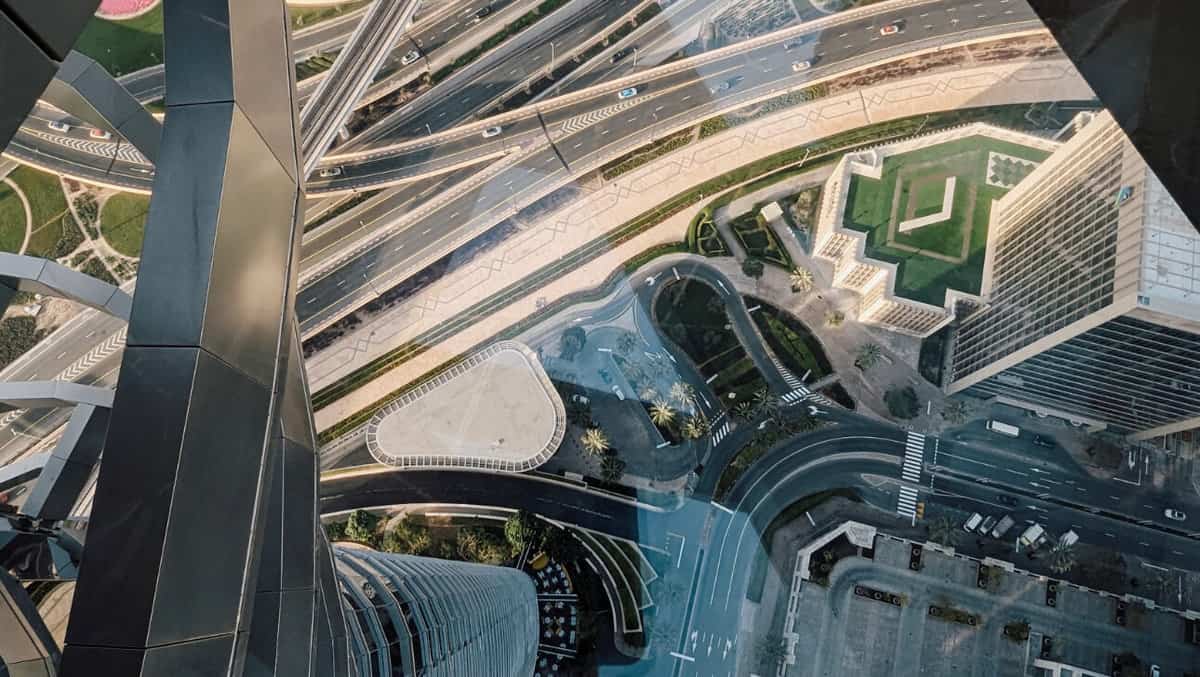 If you are a complete adrenaline junkie they also have an experience called the Edge Walk where you do a full circle hands-free walk outside of the building, with no windows or any barriers, on a ledge which encircles the top of the Tower's main pod, over 219.5 above the ground. Would you dare? Let me know in the comments!
Al seef district and Al Fahidi Historical neighborhood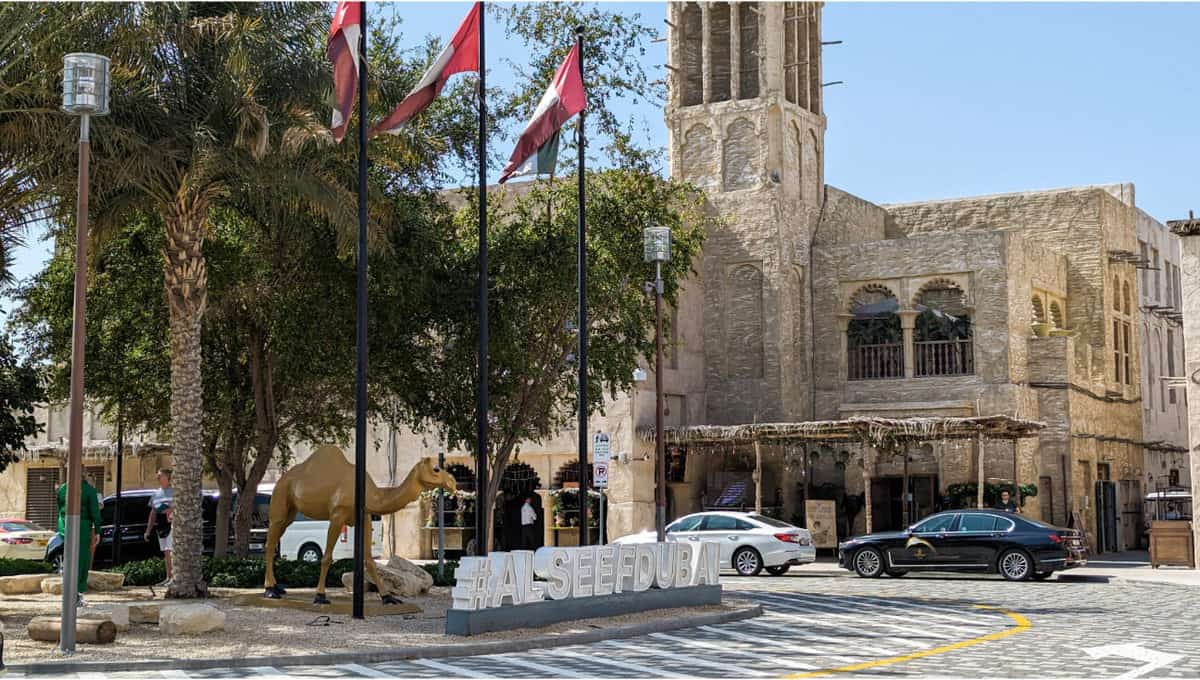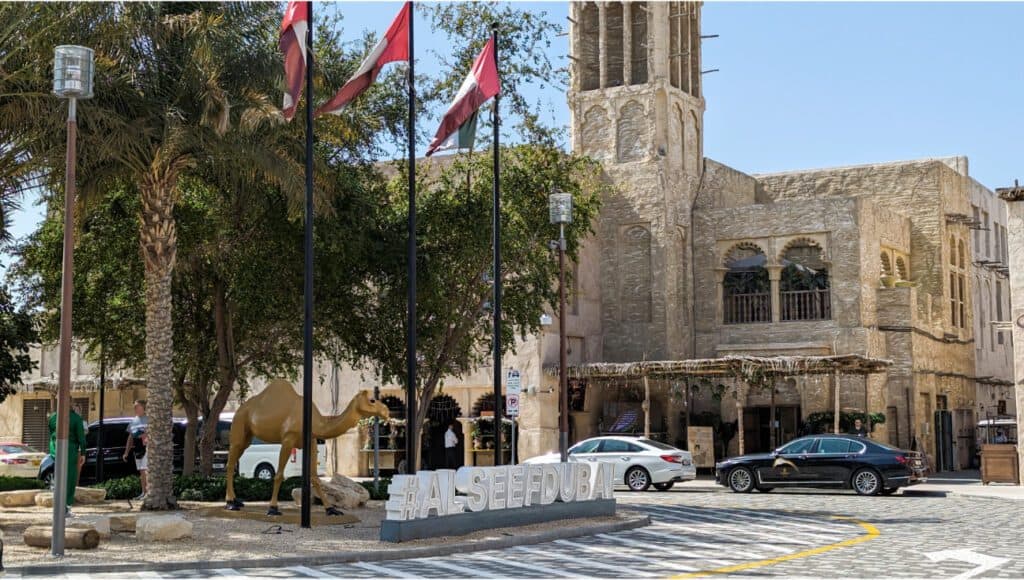 Al Seef District is a waterfront promenade located along the old Dubai Creek. It was designed to resemble a traditional Emirati heritage village, showcasing the architectural and cultural elements of old Dubai. You can take a walk in the narrow lanes and the open-air markets and admire the traditional architecture or watch local artisans at work. There are shops where you can buy souvenirs and cafes and restaurants serving traditional food.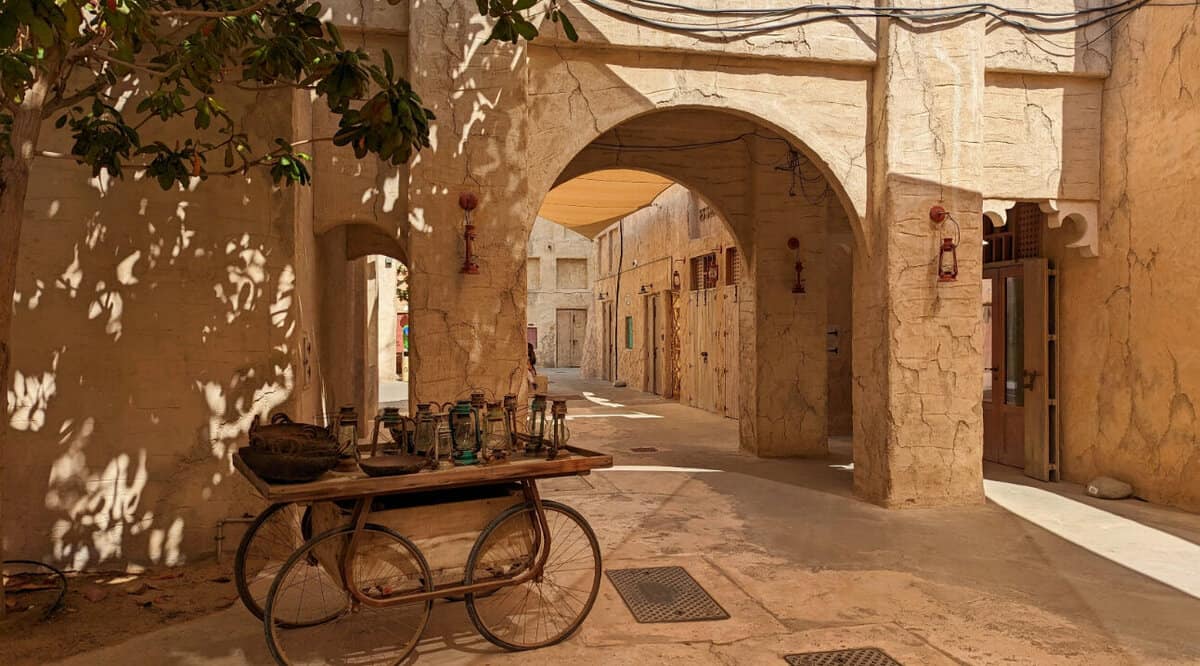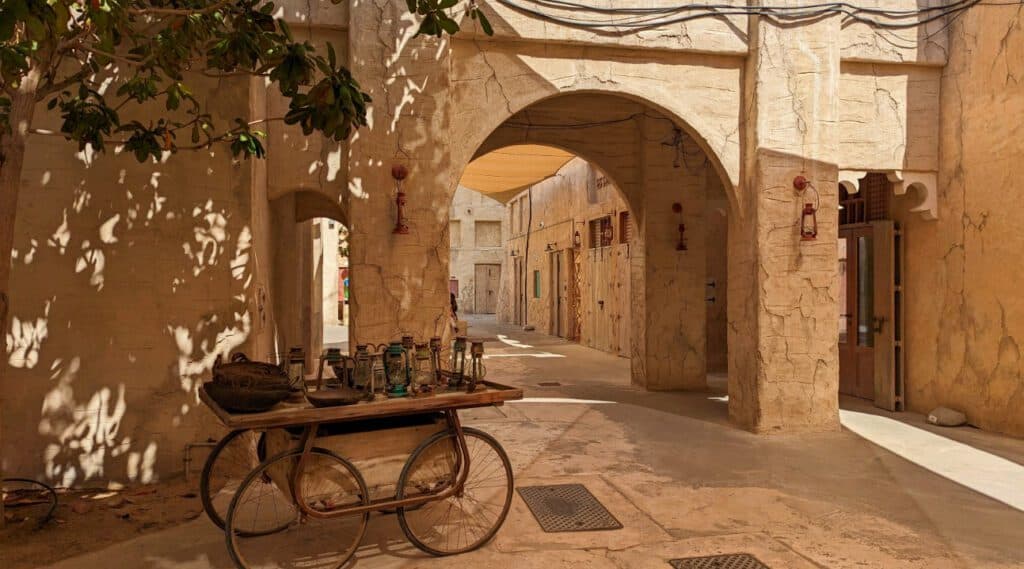 In the same area you'll find Al Fahidi Historical Neighbourhood, also known as Al Bastakiya. This is one of the oldest residential areas in Dubai that dates back to the late 19th century. The whole area is very atmospheric and provides a glimpse into Dubai's past before the city's rapid development. You'll find several art galleries, museums including the Dubai museum which is housed within the Al Fahidi Fort, the oldest existing building in Dubai. I very much enjoyed spending a couple of hours in this area, it provided a nice respite from the bustle of the city and the high-rise buildings.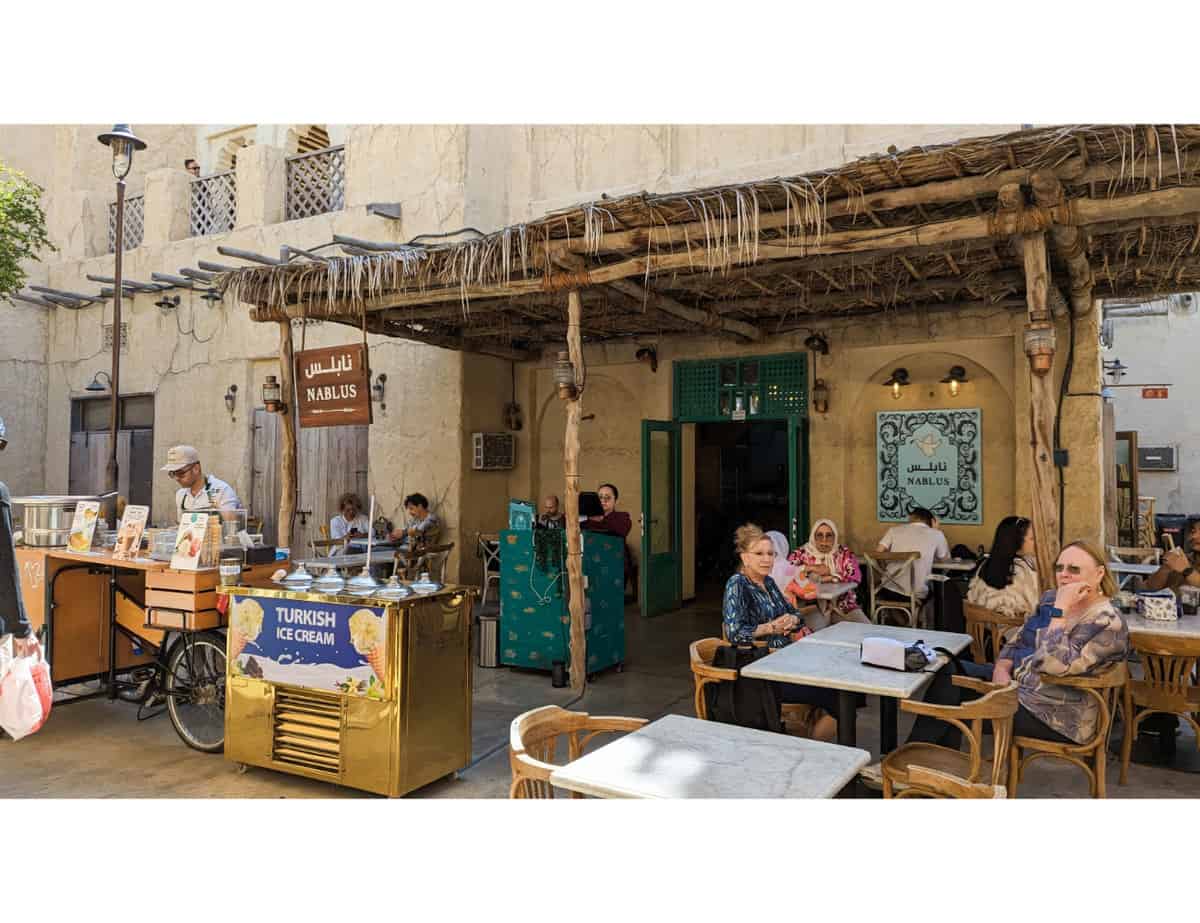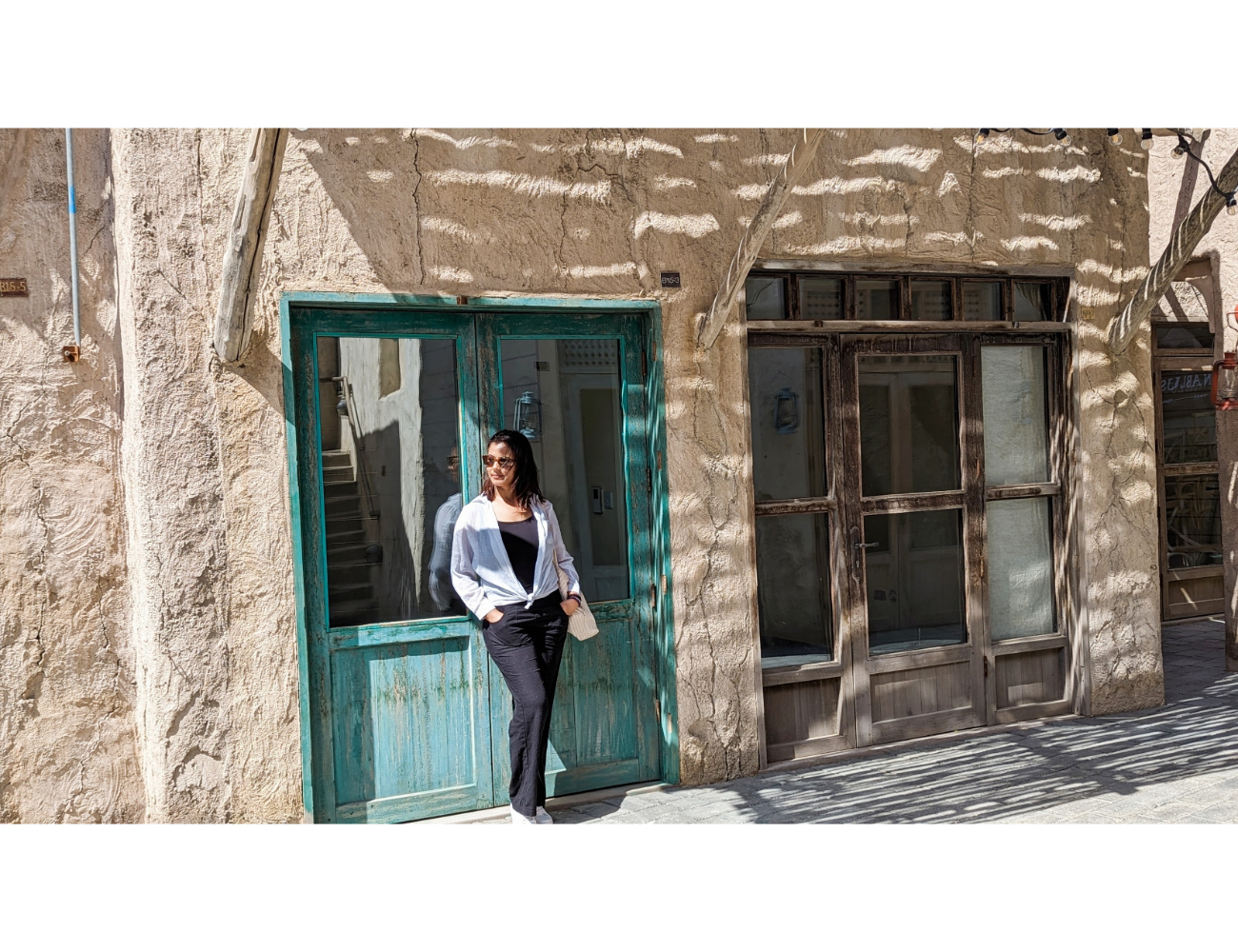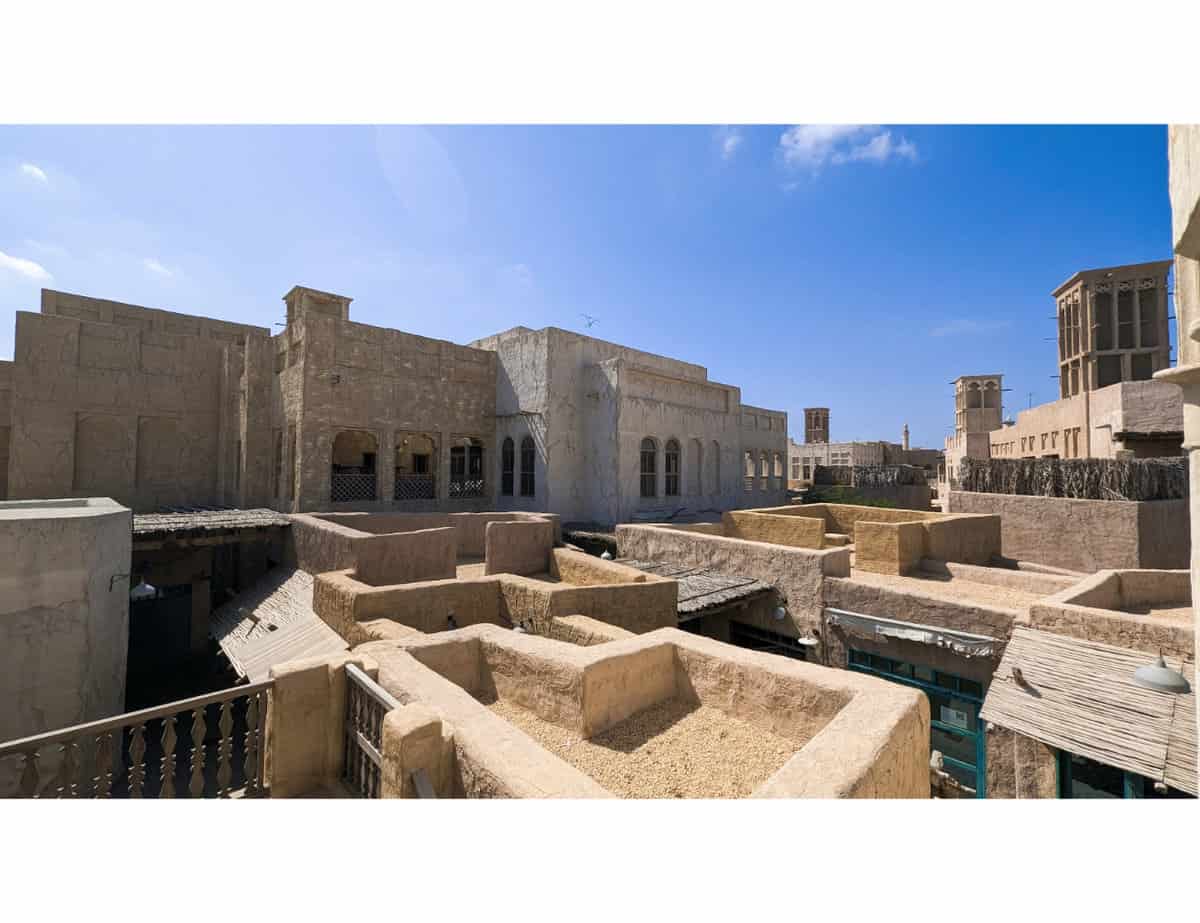 Dubai old creek and Deira
Dubai Old Creek and Deira are two interconnected areas  that hold significant historical and cultural importance. The old creek is the original one and should not be confused with the newer Dubai Creek Harbour (see section 2). In fact, we ended up in Dubai Creek Harbour by accident as I didn't know there was an old and a new creek so I picked the first one that came up on the Uber search!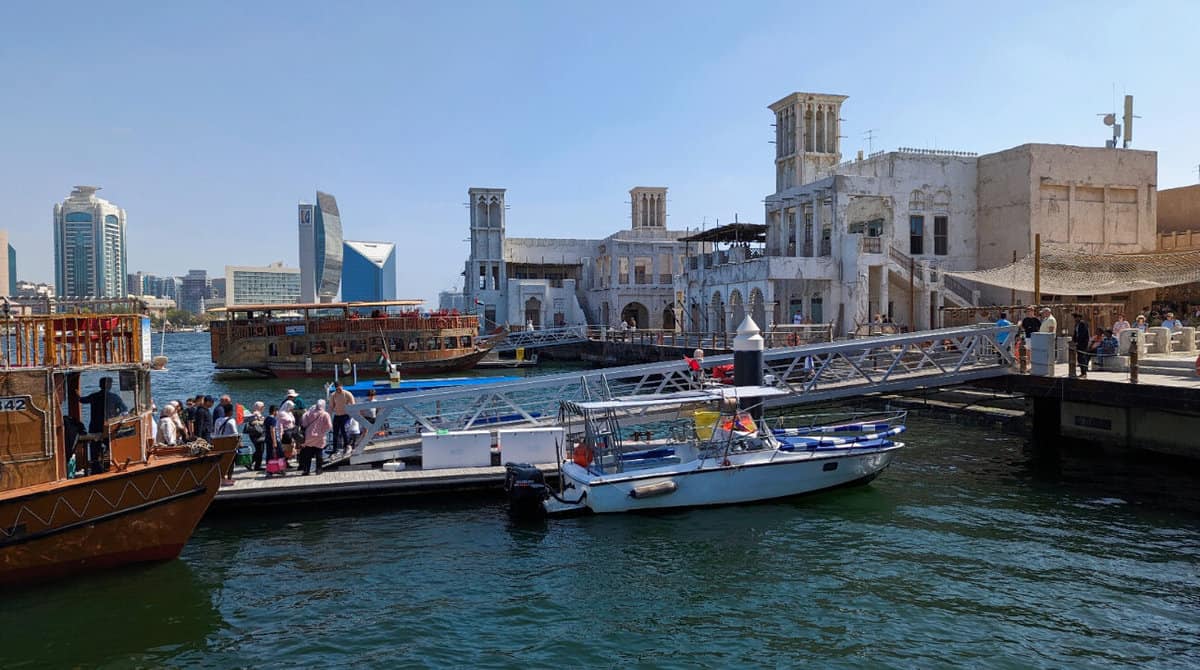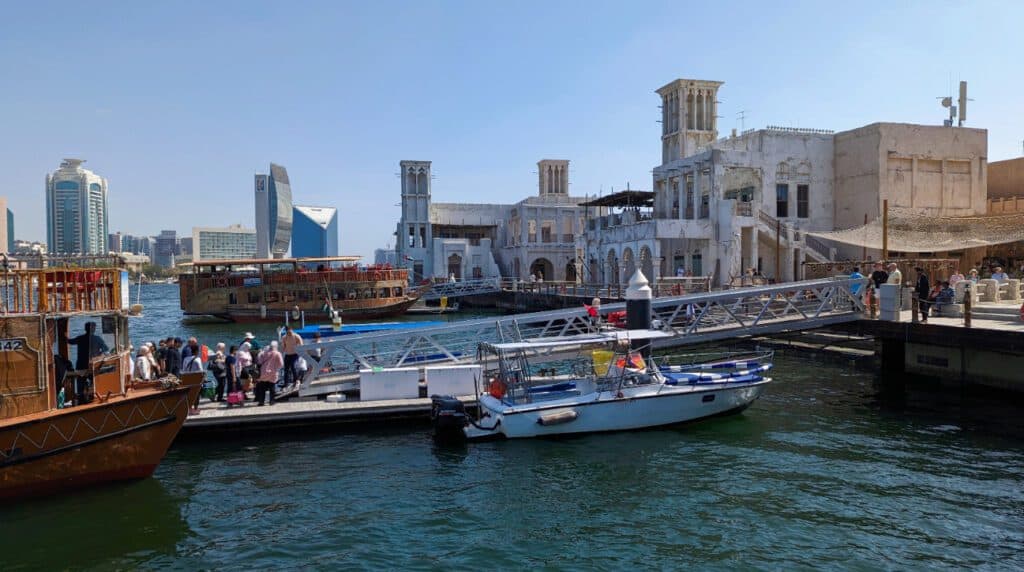 The Old Creek is in the old part of Dubai and is also known as Khor Dubai. It's a natural saltwater inlet that divides the city into two sections: Deira to the north and Bur Dubai to the south. It has historically served as a port for trade and fishing activities and played a pivotal role in the growth of Dubai as a trading hub.
One of the most charming activities to do in Dubai creek is to take a traditional abra (wooden boat) ride across the creek and soak in the scenic views of the city's skyline. The creek is lined with traditional dhows and modern yachts, creating a picturesque scene.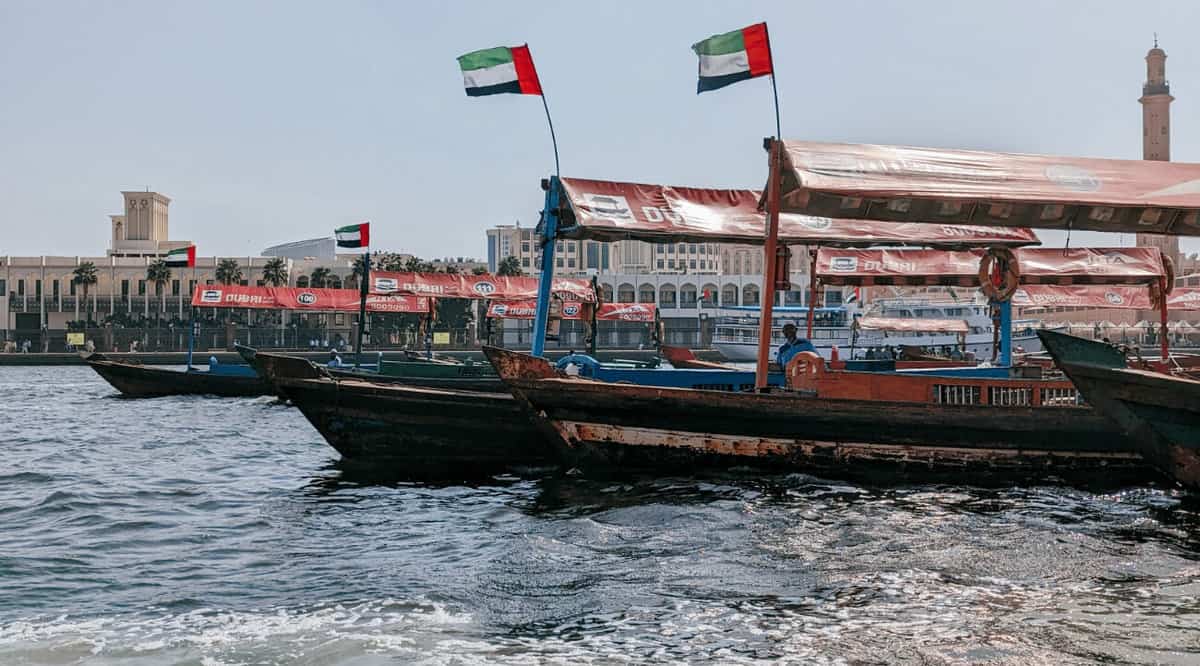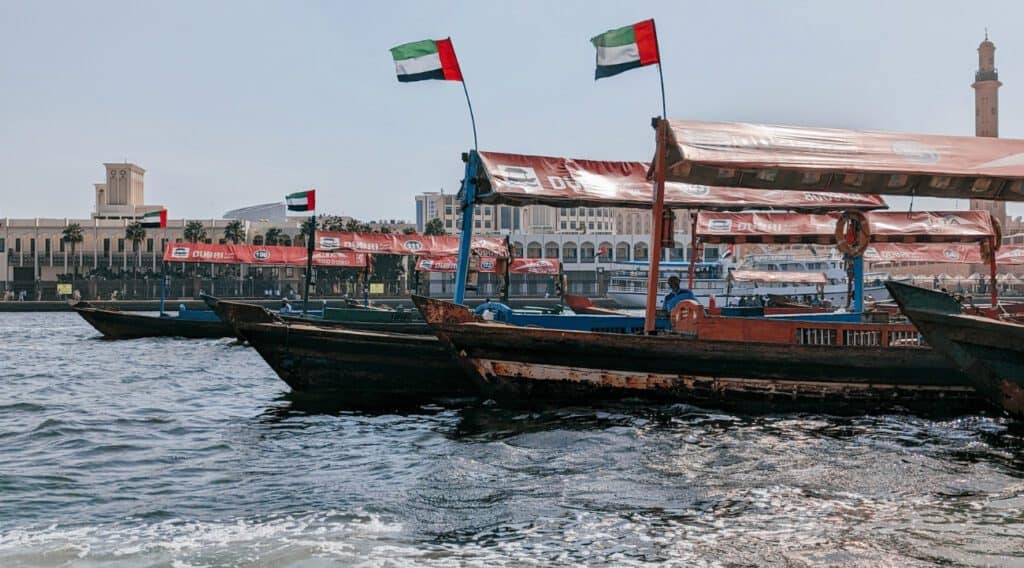 From the creek you cross the water to Deira, which is one of the oldest districts in Dubai on the eastern side. Here you will find a different vibe with bustling markets, traditional souks of textiles, spices and the famous Gold and Spice Souks.
The area is also known for its diverse culinary scene, with numerous restaurants and street food stalls offering a wide range of delicious and affordable local cuisines.
Yacht cruise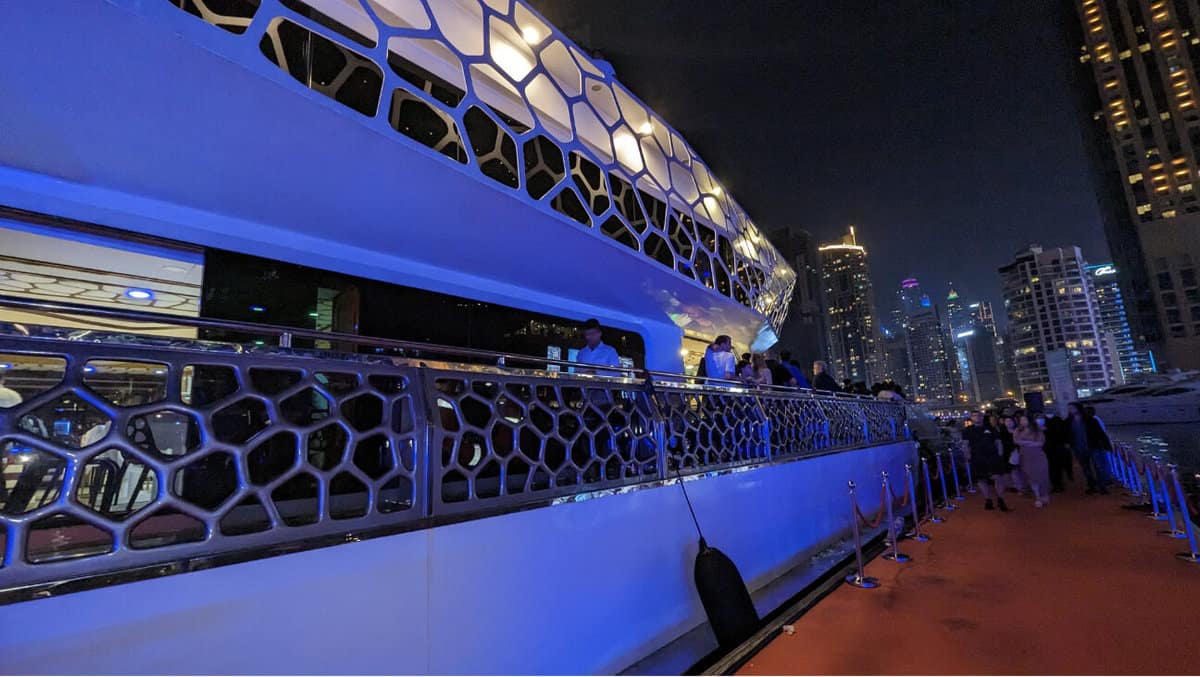 I love boats and always try to do a short cruise when I visit a new place but a cruise in Dubai is the ultimate luxury experience. You can do a day or a night cruise. I was sponsored by GetYourGuide for an evening yacht cruise and it was a really fun experience. The starting point is the Dubai Marina where you board the luxurious boat and embark on a leisurely journey for 3 hours while soaking the spectacular skyline and illuminated iconic landmarks such as Ain Dubai (Dubai eye) and Atlantis. The cruise includes a buffet dinner, complimentary drinks and great entertainment.
Rooftop swimming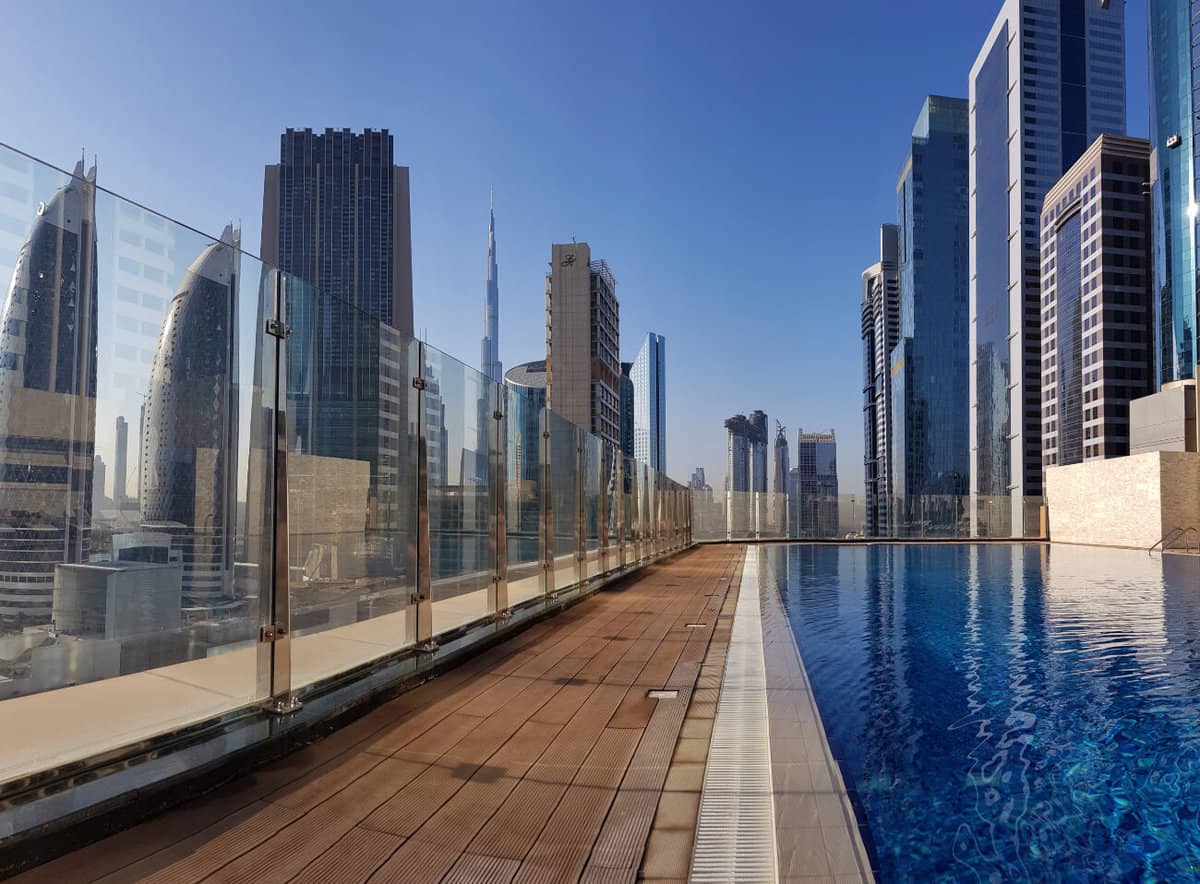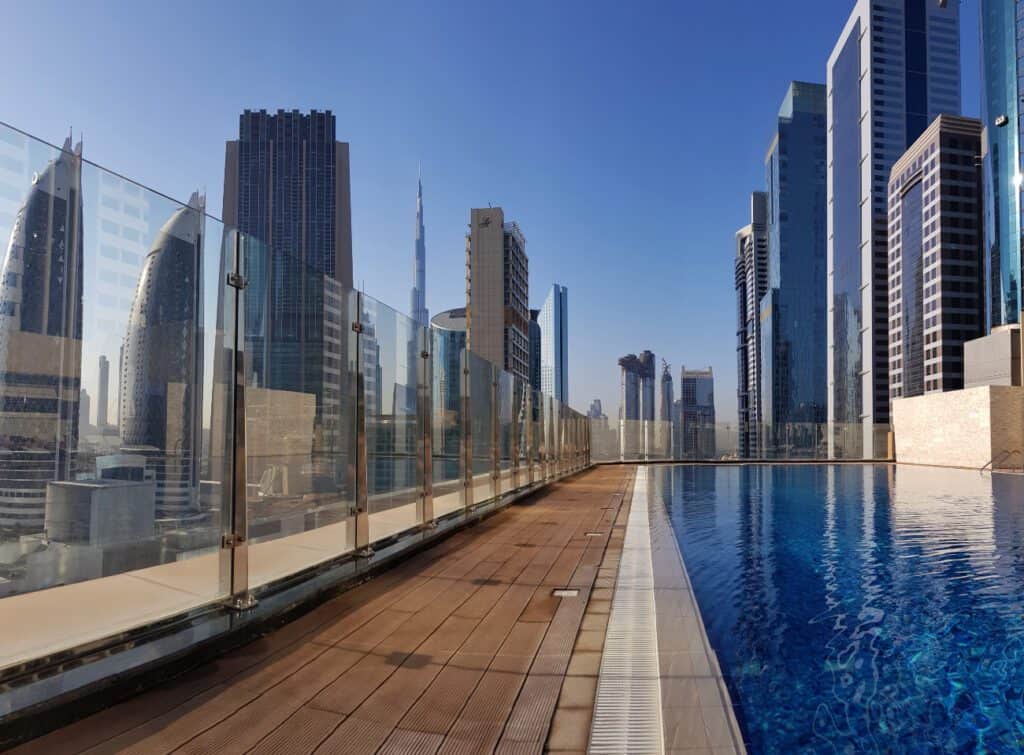 Swimming in a rooftop pool is an incredible and unique experience and Dubai offers the perfect setting and has a ton of them. The experience provides an exclusive and luxurious ambiance where you can unwind and swim in a private setting while enjoying panoramic vistas all around. A lot of these rooftop pools are part of hotels and priority is given to their guests but many others such as
Aura Skypool and CÉ LA VI let external visitors book a swimming slot. These tend to get booked up weeks in advance and can get very busy in weekends but try and book a breakfast slot if you can as they are quieter and you get to enjoy a nice breakfast with your luxurious swim.
La Mer beach
La Mer Beach is a trendy and vibrant beachfront development that spans over 1.2 kilometres of pristine white sand, a crystal-clear lagoon, and a lively atmosphere.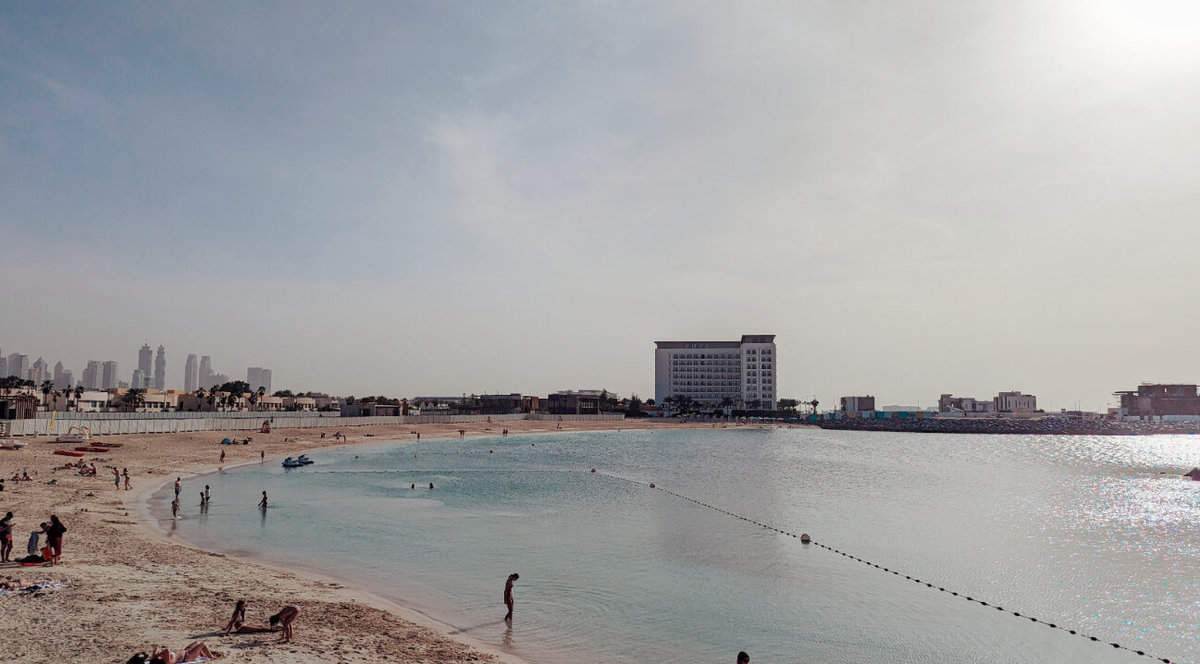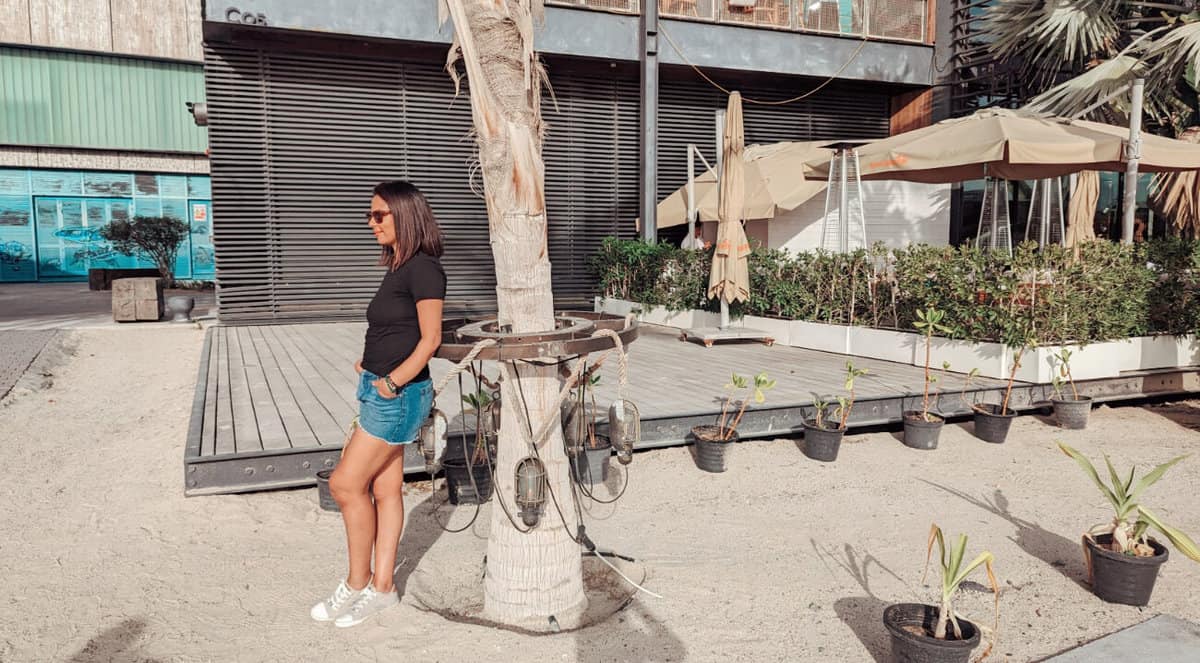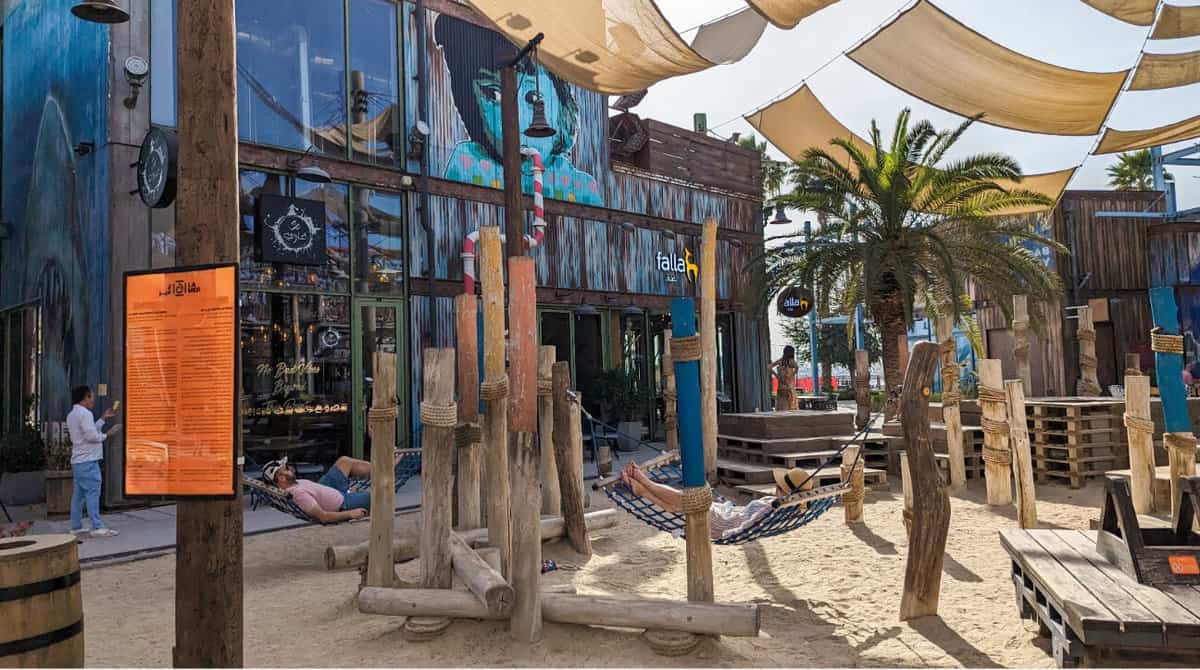 The area is relatively new and still growing but it's perfect for those seeking a more tranquil beach experience. It features a beautiful boardwalk that offers stunning views of the rising skyline and the Arabian Gulf, as well as colourful streets dotted with different shops and eateries. This is not yet a crowded area but I suspect it will become popular very soon once it's fully developed so if you visit Dubai in the coming months and want a relaxing day by the beach head to La Mer. If you have children, there are plenty of play areas and the lagoon is very shallow and perfect for swimming. Just opposite the beach you'll find another popular waterpark called Laguna Waterpark.
Ibn Battuta mall
Dubai is famous for having the largest shopping mall in the world. But it also has some less known gems such as Ibn Battuta Mall which was my favourite. The mall has a unique concept and is inspired by the travels of the famous 14th-century Moroccan explorer, Ibn Battuta. Each one of its six courts is decorated according to a specific theme, representing different regions which Ibn Battuta visited during his travels. The regions represented are China, India, Persia, Egypt, Tunisia and Andalusia. Each section features intricate carvings, mosaic tiles, and vibrant colors and captures the essence and culture of each region.
The mall has over 270 shops, 50 restaurants, and a wide range of entertainment options, including a cinema and a bowling alley.
Day trip to the mountains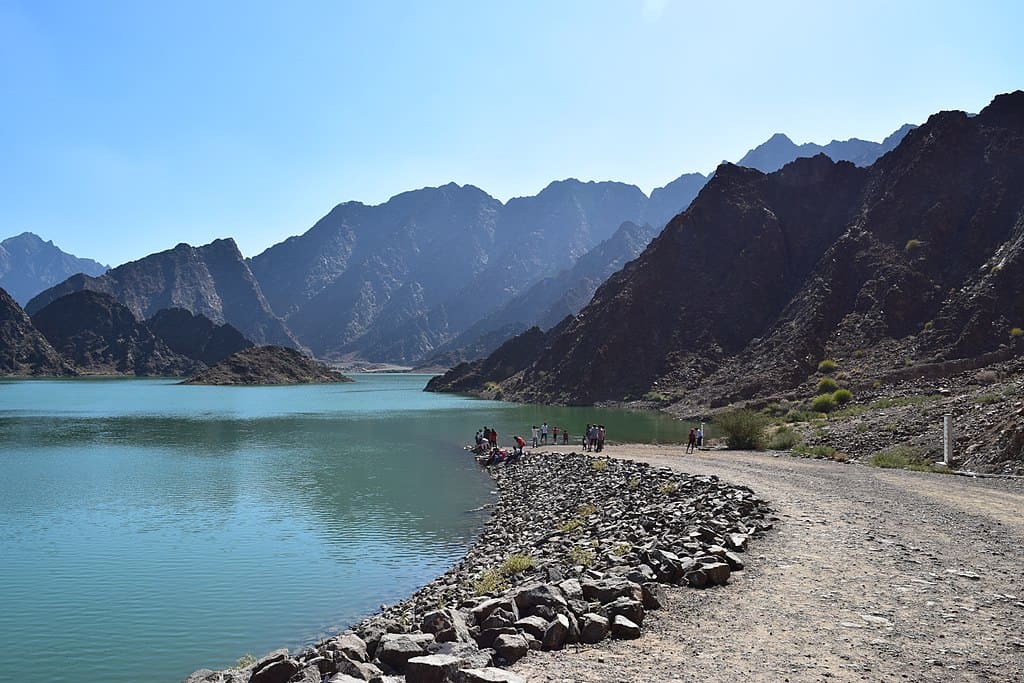 if you get hit by a sensory overload, get out of the city and explore the natural reserves. Dubai is surrounded by mountains and stunning desert landscapes. You can camp in the desert and enjoy stargazing or visit the Hatta Mountains which are located 130 km southeast of Dubai and offer various trails for hiking and trekking. You can also do a day trip to other Emirates or even other countries such as Oman!
Dubai mall and fountain show
 I left this one last because I am not a fan of malls and find them stressful . The Dubai mall is the largest in the world so I had to check it out and was expecting it to be airy and uncluttered with plenty of space to sit and people watch but it was too crowded and confusing and after 30 minutes my anxiety levels were hitting the roof. If you like malls and shopping then you will be impressed as the vast number of shops, cafes and food courts is pretty amazing. There is a big aquarium inside the mall as well and you can combine the ticket with Burj Khalifa but I heard from many sources that the Atlantis Lost Chambers was a better experience so we went for that one instead. There is an indoor ice rink, a cinema complex, an indoor fountain and plenty of entertainment for kids including Kidzania but I recommend going early in the morning and avoid weekends if you don't like crowds.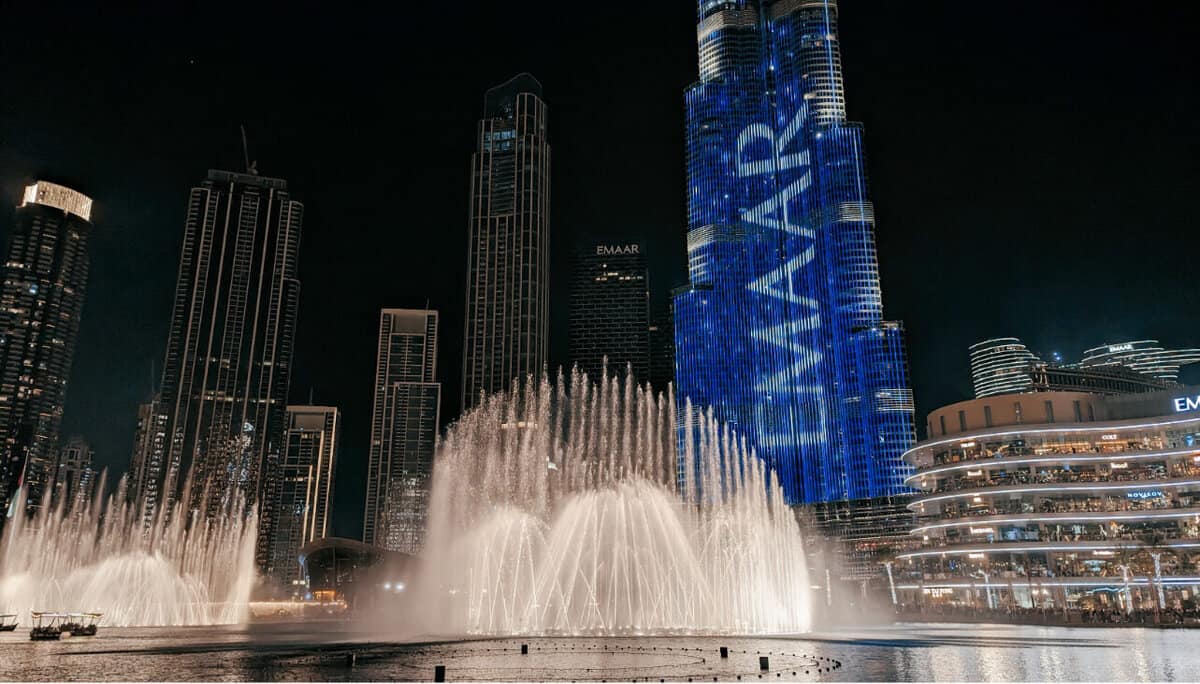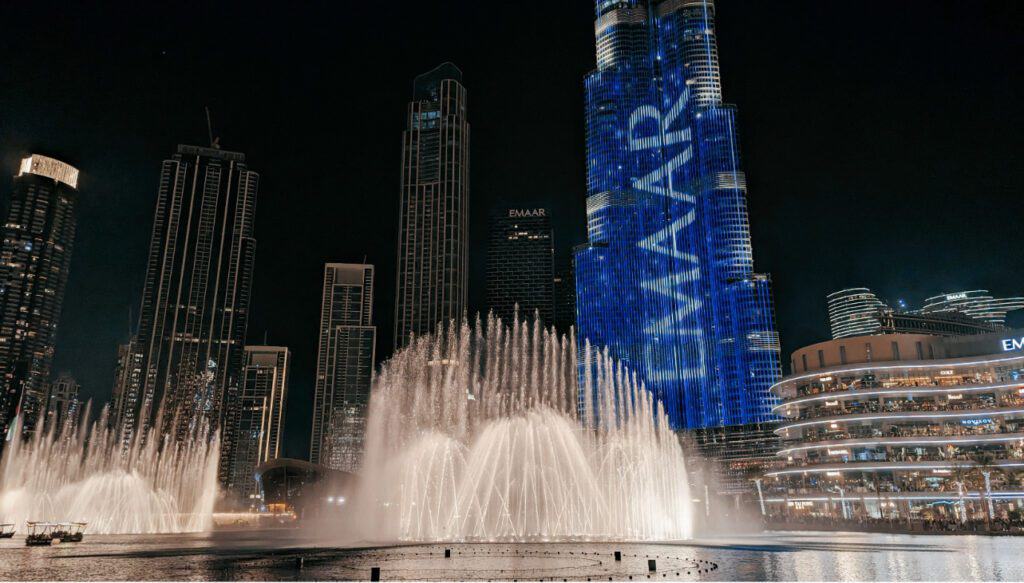 We did manage to catch the fountain show outdoors. This is a choreographed fountain show, where water jets are synchronised with music and offer water displays and light effects. The show operates daily from 6 PM and runs every half-hour until late at night. Each performance lasts 5 minutes. It's a visually stunning display but again too crowded and not well organised if you watch it from the waterfront promenade outside the mall. A better spot would be from one the mall's restaurants and cafes which have an outdoor seating. For a unique perspective, you can also watch the show from a traditional abra (water taxi) on the Burj Lake to get a closer view of the water jets.
Dubai is constantly evolving and there is always something new to see and do but these recommendations in my opinion are the most unique to the city and will make your trip special if you are visiting Dubai for a week. 
Which of these experiences would you be most curious to try? Let me know in the comments.