Spotlight on: Le Royal Méridien Beach Resort & Spa Dubai
This is a full review of Le Royal Méridien Beach Resort & Spa where I stayed in Dubai. This article is not sponsored and my views are based on my personal experience.
Note that there are 4 Méridien hotels in Dubai but only one Le Royal Méridien in Dubai.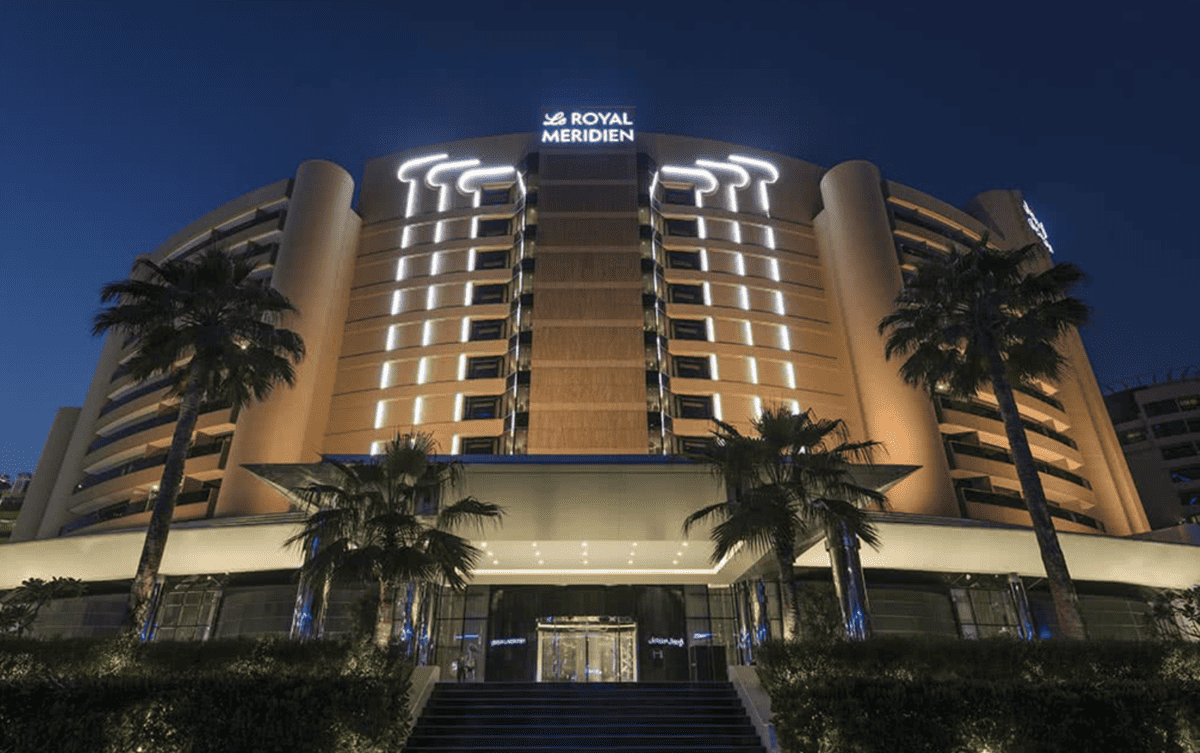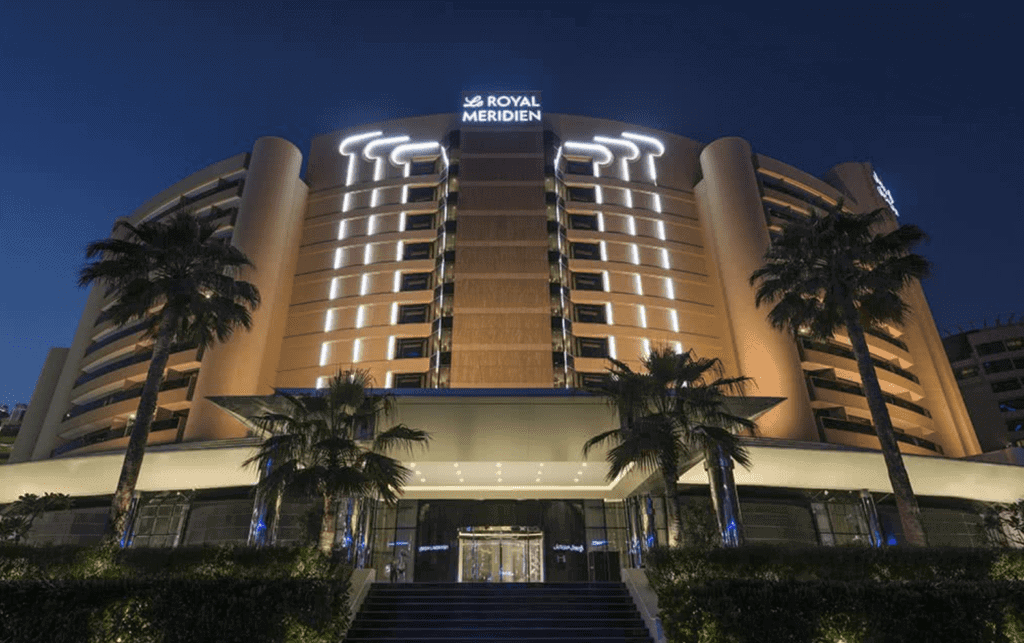 I have only done an all-inclusive package twice, once in Mexico because we stayed in a very remote area of Puerto Vallarta which would have required us to drive 40 minutes daily to get to the nearest town and the second time in Dubai because it was the most cost effective option.
And maybe we were lucky or I'm just very good at doing research but both experiences have been outstanding!
It's no secret that Dubai is an expensive holiday destination. Flights alone can cost a small fortune and when you add the cost of accommodation, food and all the attractions (because let's face it, you don't go to Dubai to just sit on a public beach every day), things can quickly mount. I booked our week holiday package with Travelbag. Their deals were the most competitive when compared with every other travel agent. I was very specific about what kind of hotel I wanted to stay in and where and the Méridien ticked all the boxes.
Le Royal Meridien Resort and Spa Dubai : A Luxurious Oasis of Comfort and Relaxation
Le Royal Meridien Resort and Spa Dubai is a true gem in the heart of JBR (Jumeirah Beach Residence). This is one of the older hotels built in the area and at first glance, can look a bit old fashioned from outside with its sandy walls and modest 17 floors compared to the newer high-rise towers but once inside, it's a completely different story. The hotel has recently been entirely renovated and sports a fully modern, minimalist and very swanky design. It's also a Marriott Bonvoy so if you are a member of the program, you get some pretty cool perks with your stay.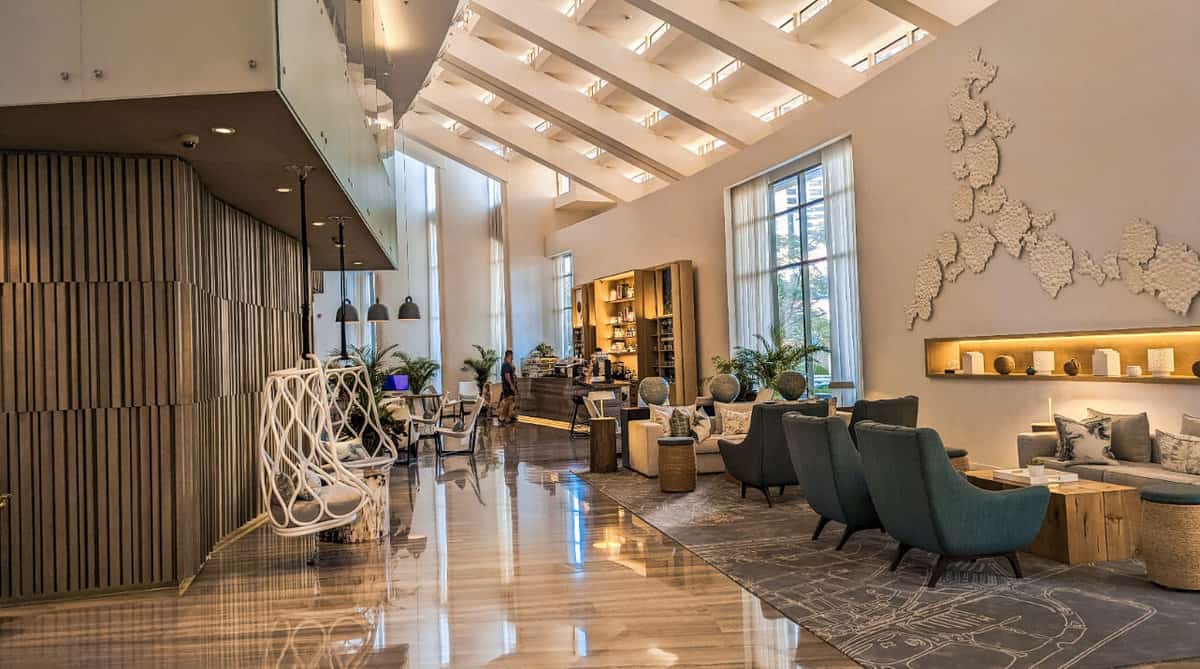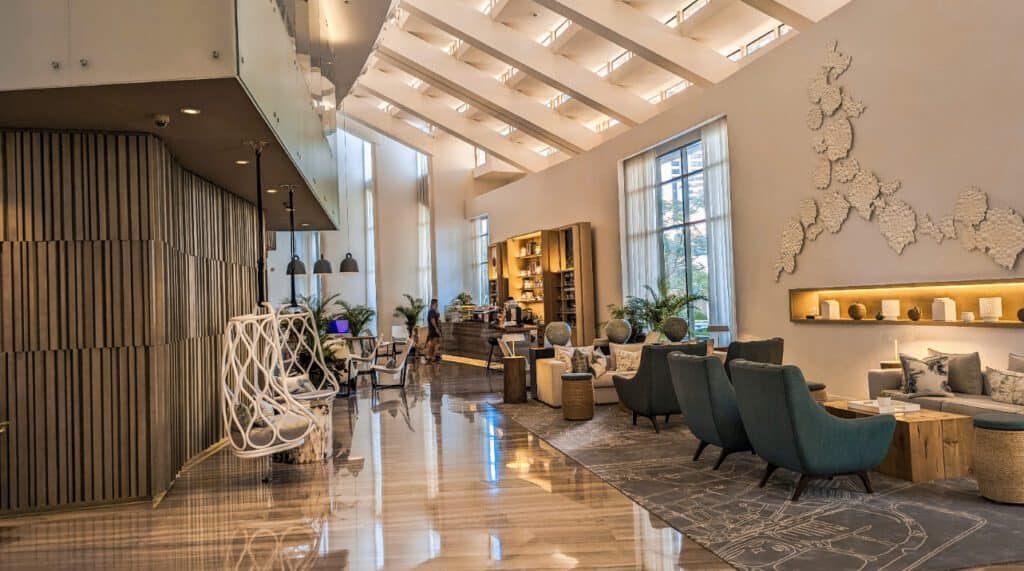 The resort has 508 rooms and suites all spread across three buildings and boasts a big range of facilities to keep you pampered and entertained for days on end. The outdoor space is as stunning as the inside with 19 acres landscaped gardens, 3 swimming pools and a private turquoise beach. But the real stars of the show are the hotel personnel who provide first class customer service.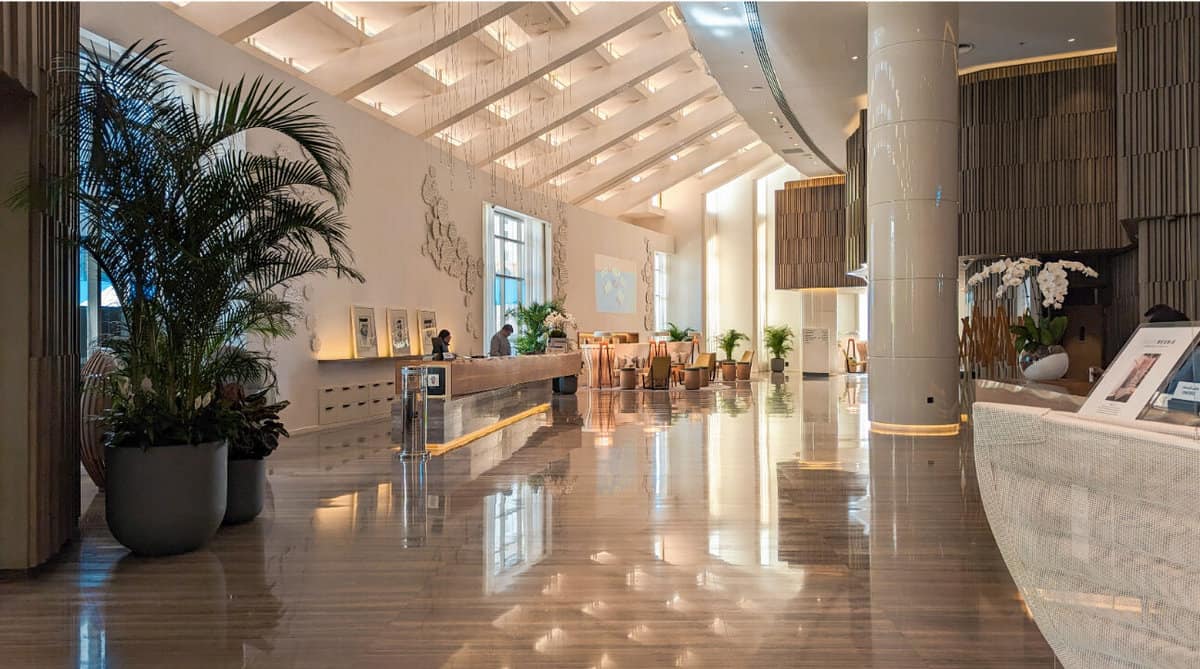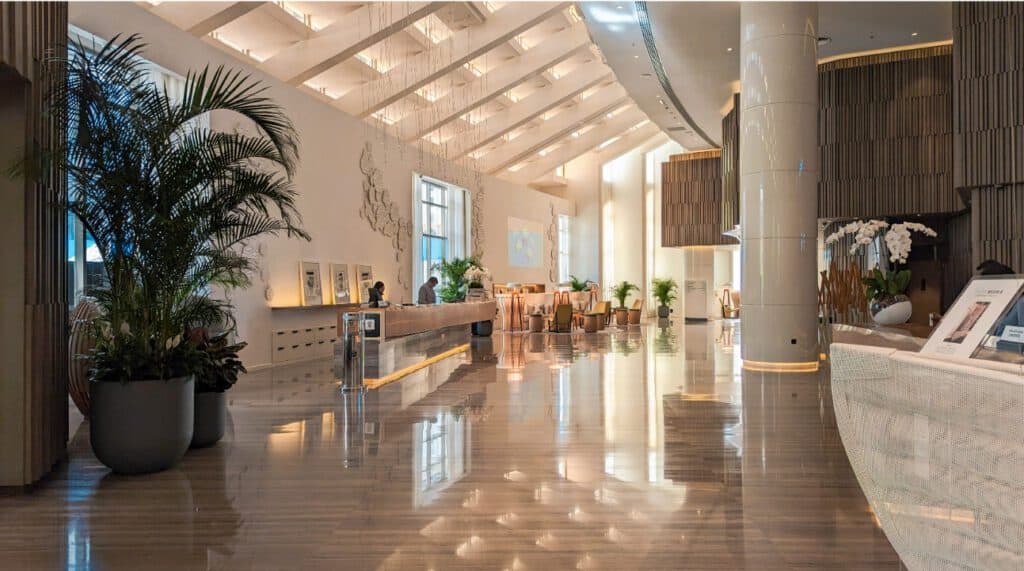 From the moment we arrived, we were treated like royalty. Our flight landed at 8 am and we were at the hotel by 9 am. We were greeted with smiles and asked to wait at the reception where we were offered cold drinks. We knew check in wasn't until noon and were prepared to spend the morning lazing around the pool until our room was ready but to our surprise, we were offered an upgrade to one of their incredible suites.
Accommodation
Our family suite was huge with a large living area, a terrace, a master bedroom with the most comfortable queen bed and plush pillows and walk in wardrobes! The room was cleaned and refreshed every day and a fruit platter would await us when we came back from sightseeing. Nothing was too much asking from the staff, you can stop anyone anywhere in the building and they would go above and beyond to meet your demands and make sure you are having a wonderful time.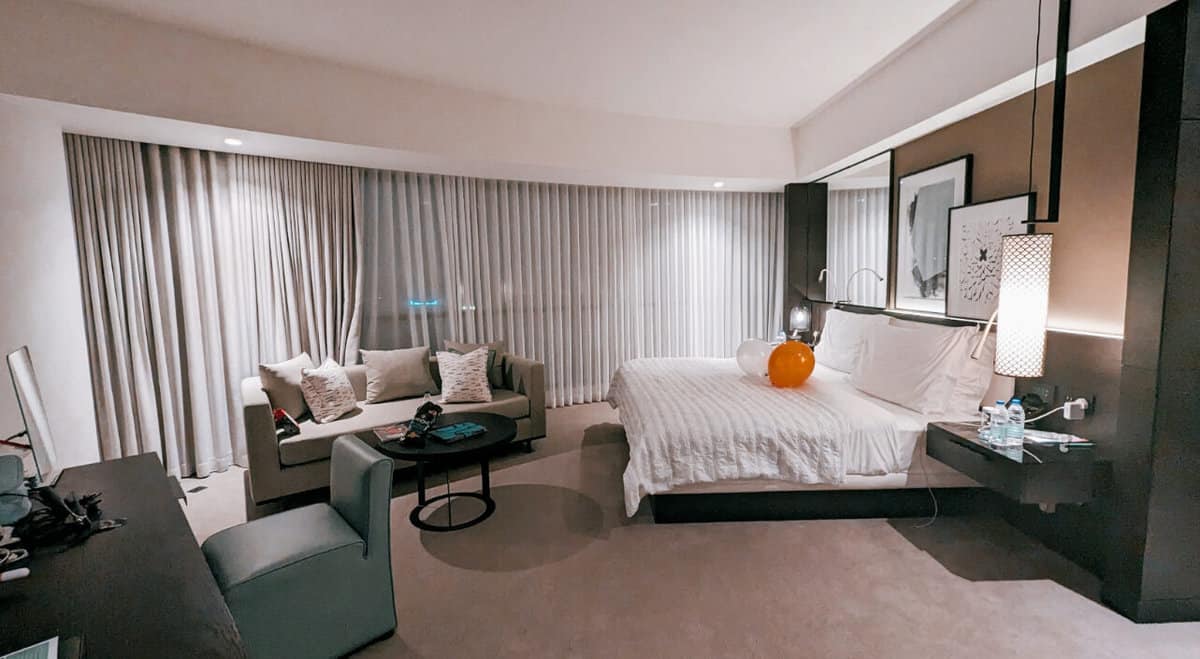 We were also greeted by the reception manager who noticed that my son's birthday was only a few days away. Two days later, we came back to our room to find it all decorated with balloons and a lovely chocolate birthday cake waiting on the table.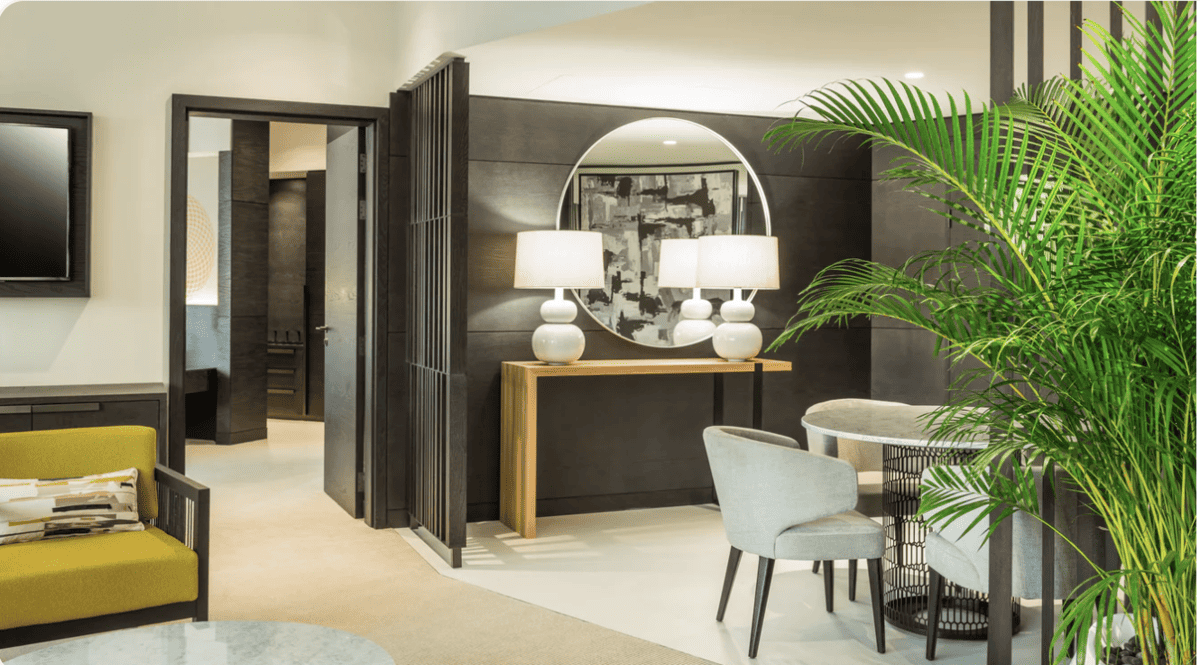 In addition to the standard, deluxe rooms and suites, the hotel also has club rooms, Executive suites, a Presidential suite and an apartment suite. All these come with access to the hotel's Club Lounge and a range of complimentary facilities including afternoon tea and evening cocktails. 
Facilities
The Royal Meridien Hotel and Spa offers a wide range of facilities to its guests. The hotel has a state-of-the-art fitness centre with a range of sports equipment and a relaxation area. It also has squash courts and a water sport centre.
There is a Roman themed Spa which features a wide range of rejuvenating treatments, including massages, facials, and body wraps, all delivered by highly skilled therapists in a serene and tranquil setting. You can also choose between 5 Hammam pools, saunas, steam rooms, and Jacuzzis.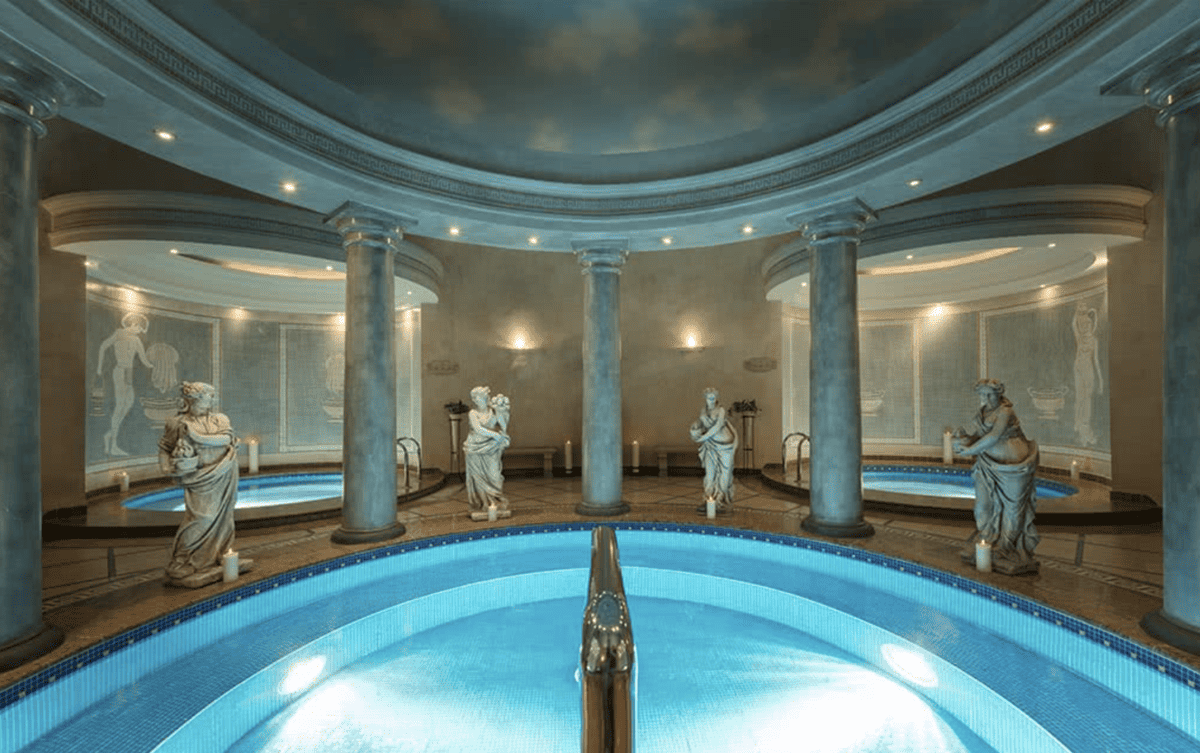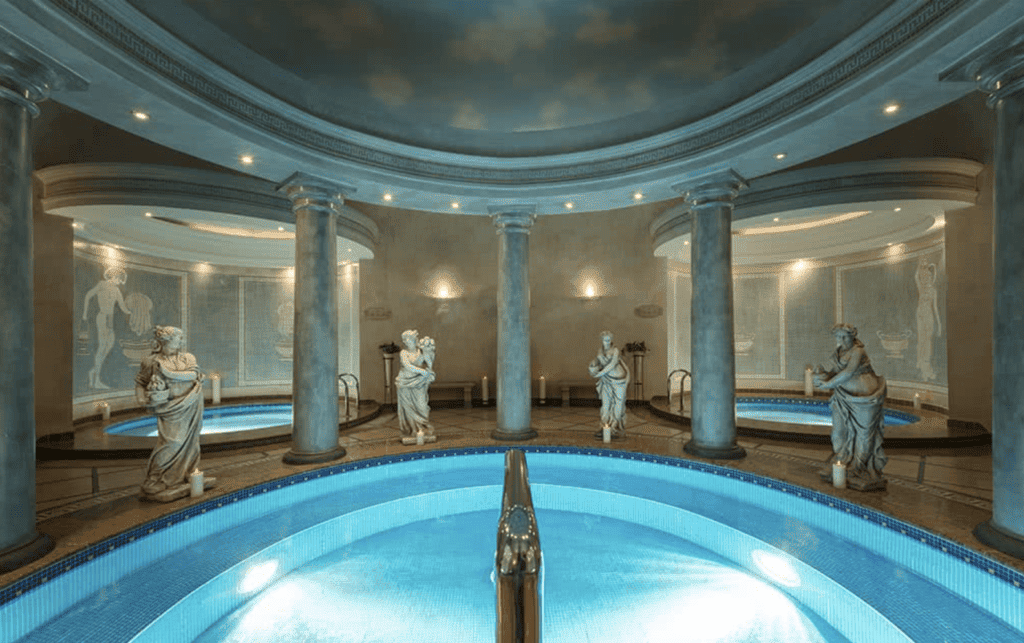 The hotel has three swimming pools, one with a swim-up bar, an infinity pool and a splash pool for small kids. The pools are surrounded by lush gardens and lead through a footpath to the beach area where you find plenty of sun loungers and umbrellas.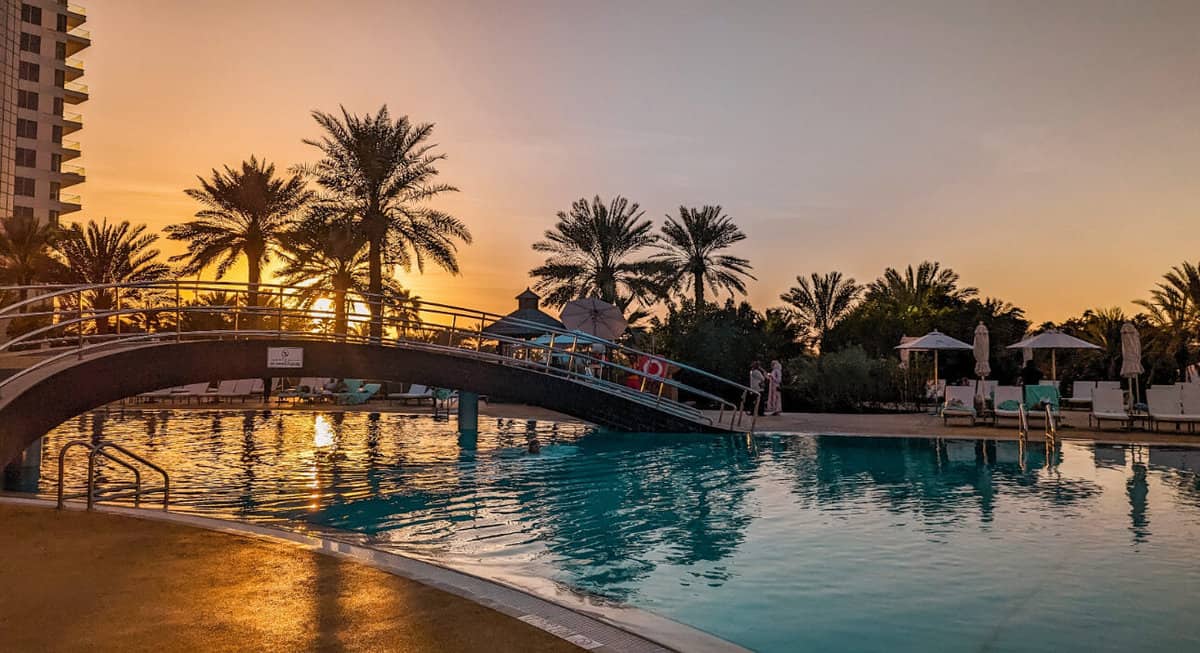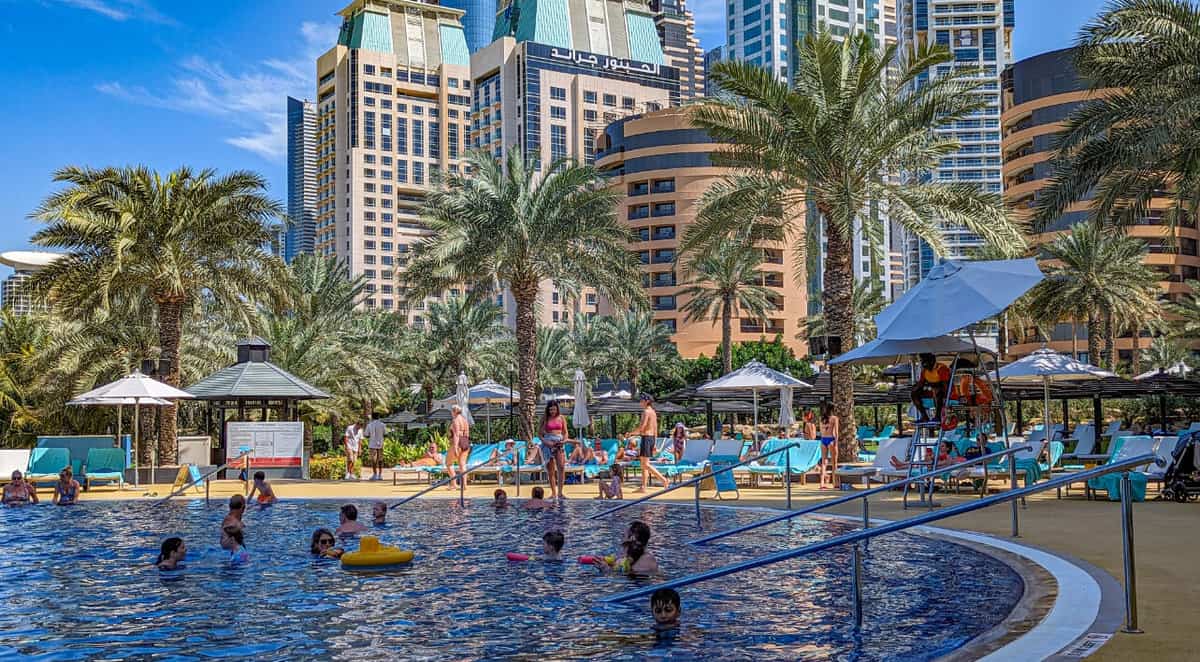 The beach area is exclusive to the hotel's guests and located on a pristine stretch overlooking turquoise waters and the impressive Dubai Skyline. You can spot Atlantis the palm and the new Royal Atlantis hotels from a distance and watch as private jets fly past you to drop off celebrities.
Families with kids can expect a very relaxing holiday as the hotel caters for all their needs. There is a kids club and a teens club where my son spent many afternoons playing video games or musical instruments.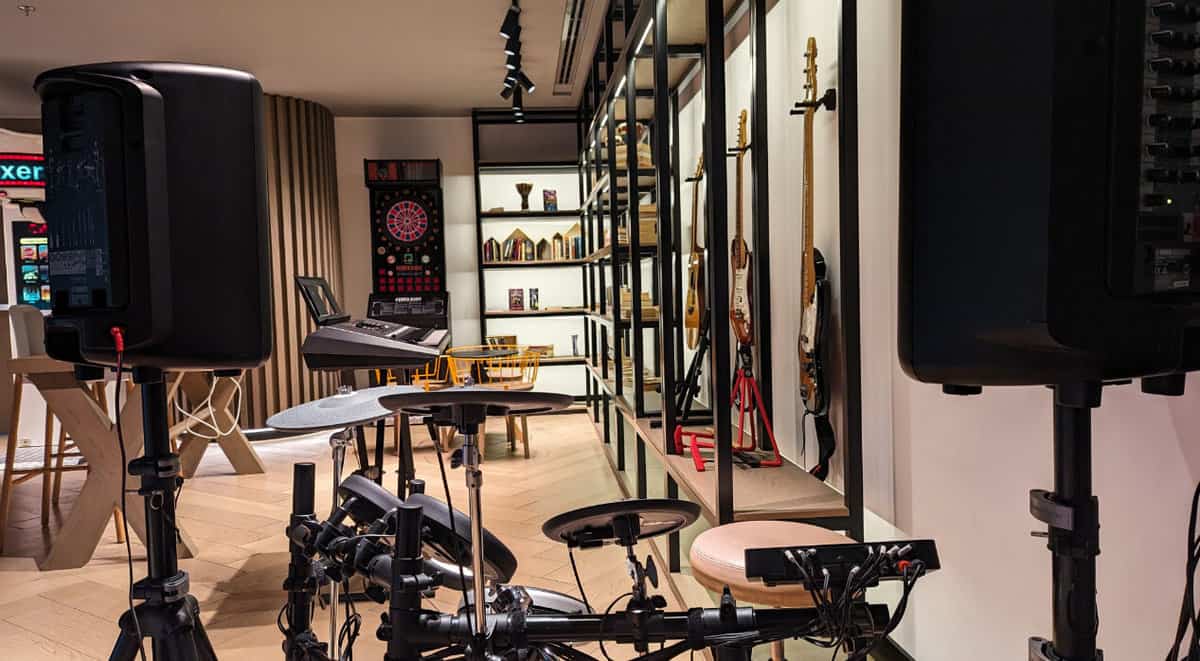 Culinary Delights
Le Royal Meridien takes gastronomy to a whole new level with its exceptional dining options. The resort boasts 8 world-class restaurants, each offering a unique culinary experience. We were on the half board package and had breakfast and dinner at the hotel. Even the buffet is excellent with a huge variety of innovative menus made with the freshest seasonal ingredients and cooked to a very high standard. If you know me well, you would know I don't usually think highly of hotel buffets as they can be poor and unsophisticated but I wholeheartedly recommend the buffet at Le Royal Meridien's Brasserie restaurant. The other restaurants at the hotel are the following:
Indya by Vineet
This restaurant serves modern Indian cuisine and was our favourite. The food was modern and exquisite and the service was impeccable.
Rhodes Twenty10
Steakhouse opened by the late British chef Gary Rhodes. Serves traditional and modern British cuisine.
Geales
Seafood restaurant which offers delicious menus with the option to dine inside or on the terrace outside.
Zengo
Asian restaurant which Offers a mix of cuisine from the Far East.
Shades
Sports bar and grill in a relaxed pub style environment. ideal for sport lovers who don't want to miss the action from the latest sporting events. They have large indoor and outdoor screens.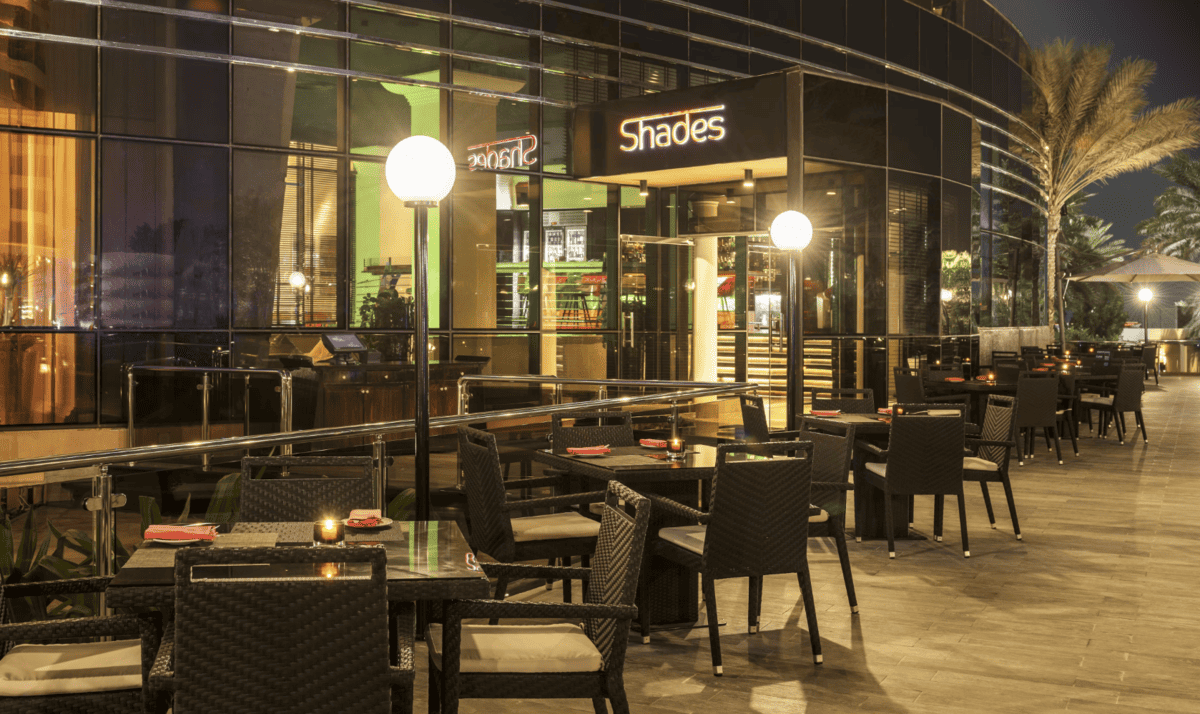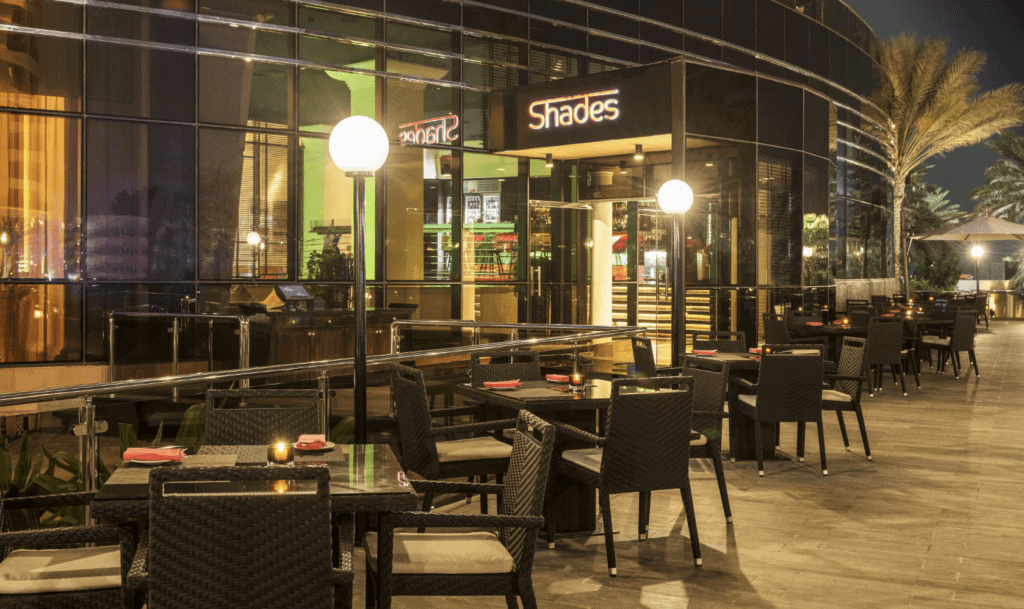 La Strega
Italian cuisine lovers can enjoy all their favourite classic dishes here.
Maya Mexican Kitchen + Bar
Award winning restaurant with a lovely setting. They serve Mexican favourites including sharing style plates which are great for large groups and families.
Al Khaima
This restaurant with a beachside setting offers traditional Middle Eastern cuisine from classic Mezzeh to delicious grills.
Le Deck 
Poolside restaurant that serves Mediterranean cuisine during the day and refreshing cocktails when the sun sets.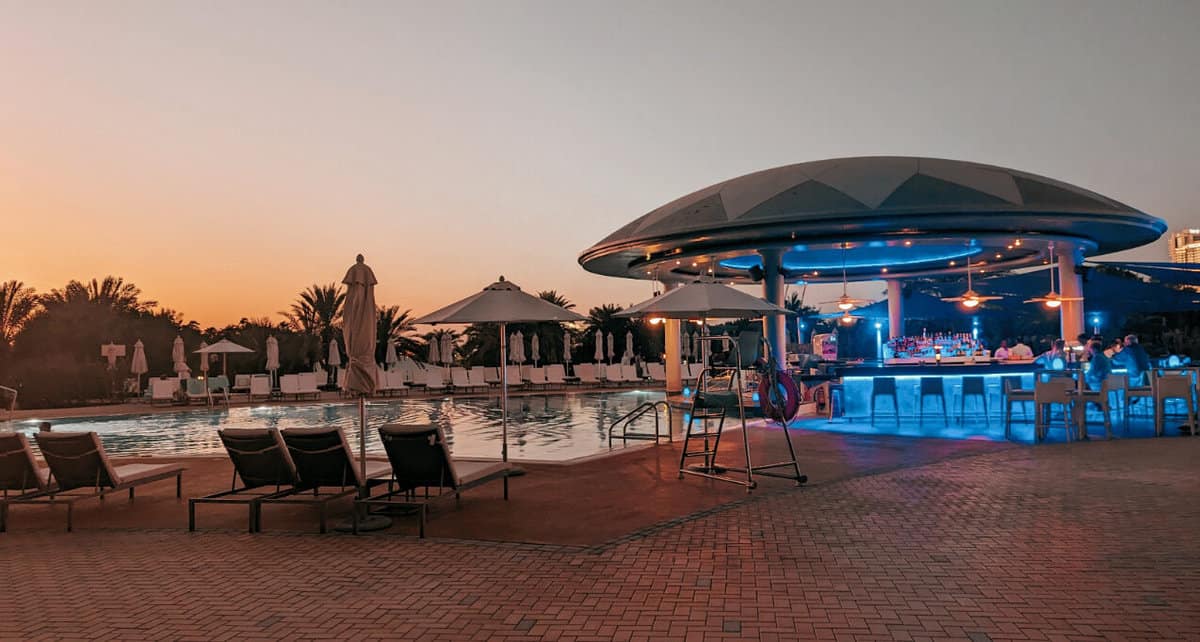 All of the restaurants are open for breakfast, lunch, and dinner and you can use the half board option to eat at any of them either during lunchtime or in the evening.
Le Royal Méridien Beach Resort & Spa has a sister hotel called The Grosvenor hotel. A stay at either hotel gives you access to the facilities and restaurants in the other one. The Grosvenor is located on the Marina side and there is a daily complimentary shuttle that travels between the two hotels every 20 minutes. We had dinner at the Grosvenor hotel one evening and while we enjoyed the gorgeous views over the marina from its terrace, we thought the food a  Le Royal Méridien was much better.
Le Royal Meridien Resort and Spa Dubai stands as a testament for the pinnacle of comfort, luxury, and relaxation which Dubai is famous for. It caters to the needs of both professional travellers seeking a relaxing break in the sun and families looking for a memorable getaway.
The exceptional service, luxurious accommodations, world-class dining, and the resort's commitment to exceeding guest expectation ensures that every aspect of your stay is worth the investment.