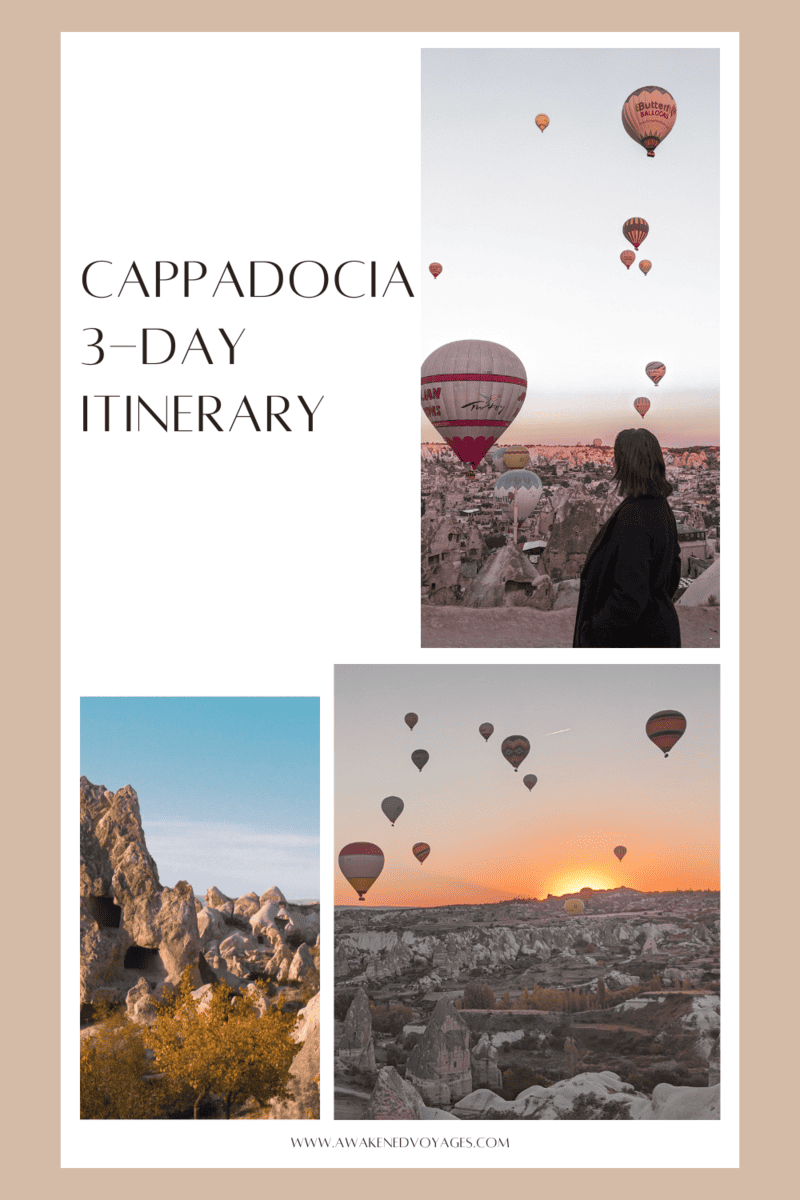 Cappadocia is a region in central Turkey known for its unique and otherworldly landscapes. The area has been inhabited since prehistoric times and is home to numerous ancient ruins and archaeological sites. This Cappadocia 3-day itinerary will help you discover this enchanting part of Turkey, you will explore ancient cave dwellings, hike through fairy-tale landscapes, and take to the skies in a hot air balloon for breathtaking views.
This itinerary can also be done over two days but if like me you prefer to take your time and immerse yourself in experiences then I recommend you do it over 3 days.
Any products or recommendations in this article are the result of my personal experiences and careful research, so if you book or purchase anything through these links, I may earn a small fee at no extra cost to you. 
best time to visit
Cappadocia is not a city but a region in Central Anatolia that covers the provinces of Nevsehir, Kayseri, Aksaray, and Nigde. It has a rich cultural and historical heritage, most of it present in villages and towns such as  Göreme, Urgup, Uchisar, and Avanos.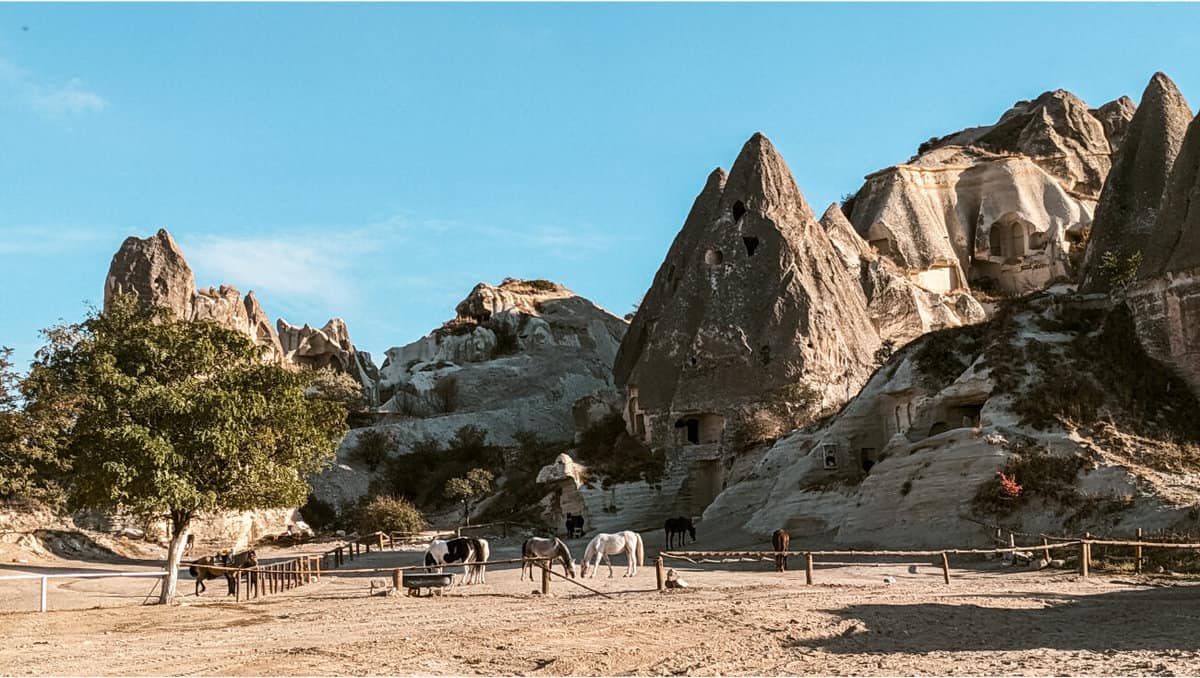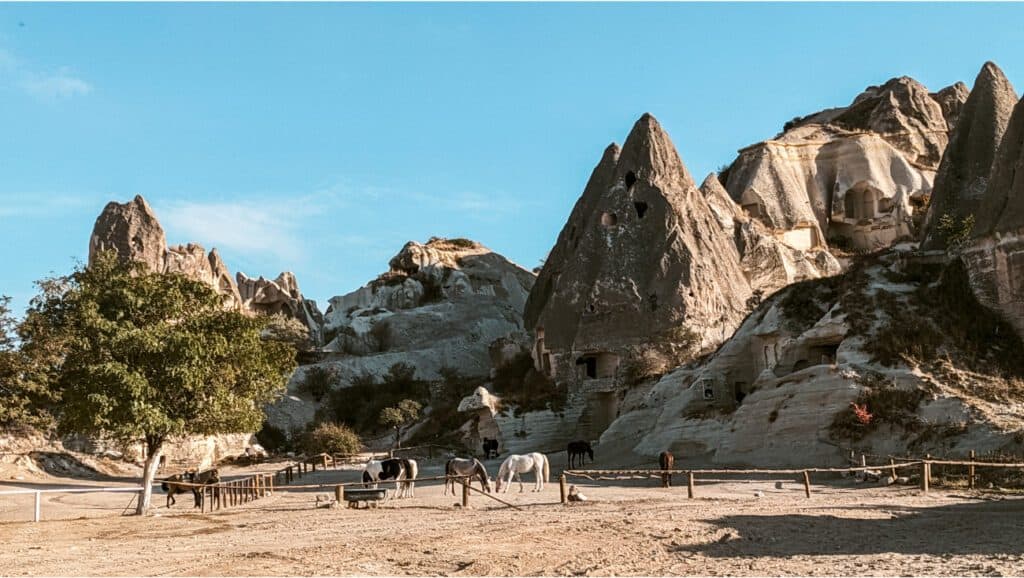 The best time to visit Cappadocia is during the shoulder seasons. Spring (April to June) or Autumn (September to November) are when the weather is mild and there are fewer crowds.
Summer (July to August) can be very hot and crowded, while winter (December to March) can be freezing and snowy, making it difficult to explore the outdoor attractions of the region.
Getting there
The quickest way to get to Cappadocia is by flying directly from Istanbul. There are several airlines that operate daily flights from both Istanbul Airport (IST) and Sabiha Gokcen Airport ( SAW). I flew with Pagasus Airlines from SAW for £50 return. Depending on the season and month, flights can be cheaper or more expensive.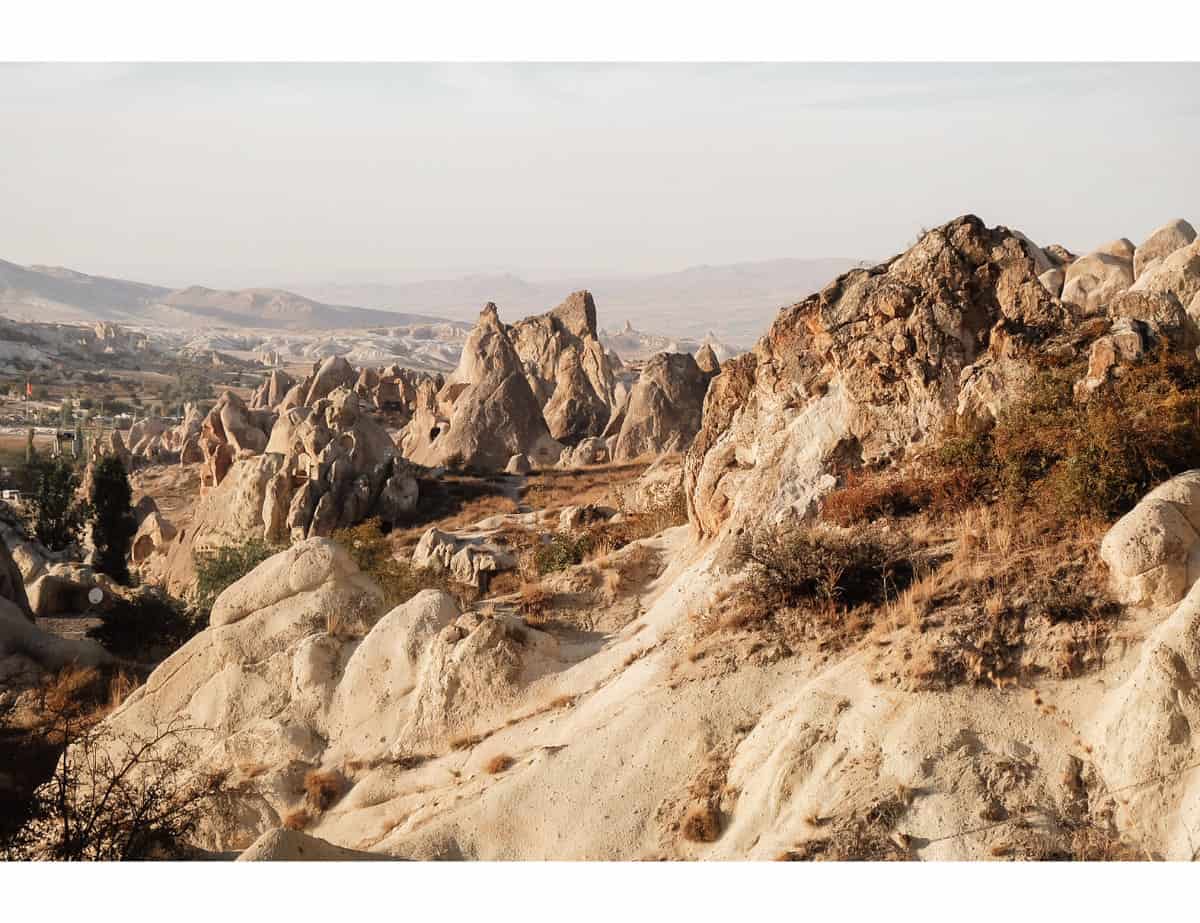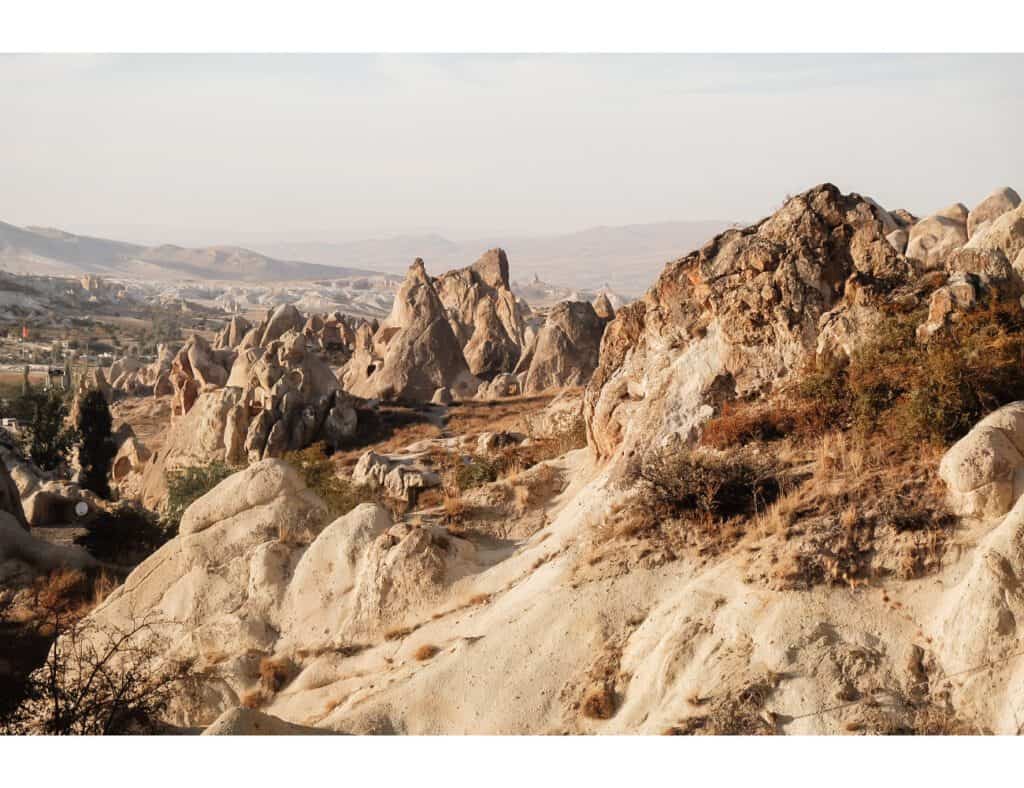 The flight takes about 1 hour and 20 minutes and will take you into one of Cappadocia's two airports, Kayseri Airport and Nevsehir Airport. Both airports are about 1 hour drive from Göreme. The best way to travel to Göreme is via shuttle Service. This service can be arranged in advance by your hotel and costs 10 Euros per person but you can also get a ticket at the airport upon arrival.
If you don't want to take a flight, you can hire a car and drive from Istanbul to Cappadocia. The journey takes about 8-9 hours, depending on traffic and the route of your choice.
Cappadocia 3-day itinerary
Day 1:
Göreme
Most people who visit Cappadocia choose to stay in Göreme. Göreme is a small town in the heart of Cappadocia. It's home to some of the biggest attractions in the region including the famous fairy chimneys.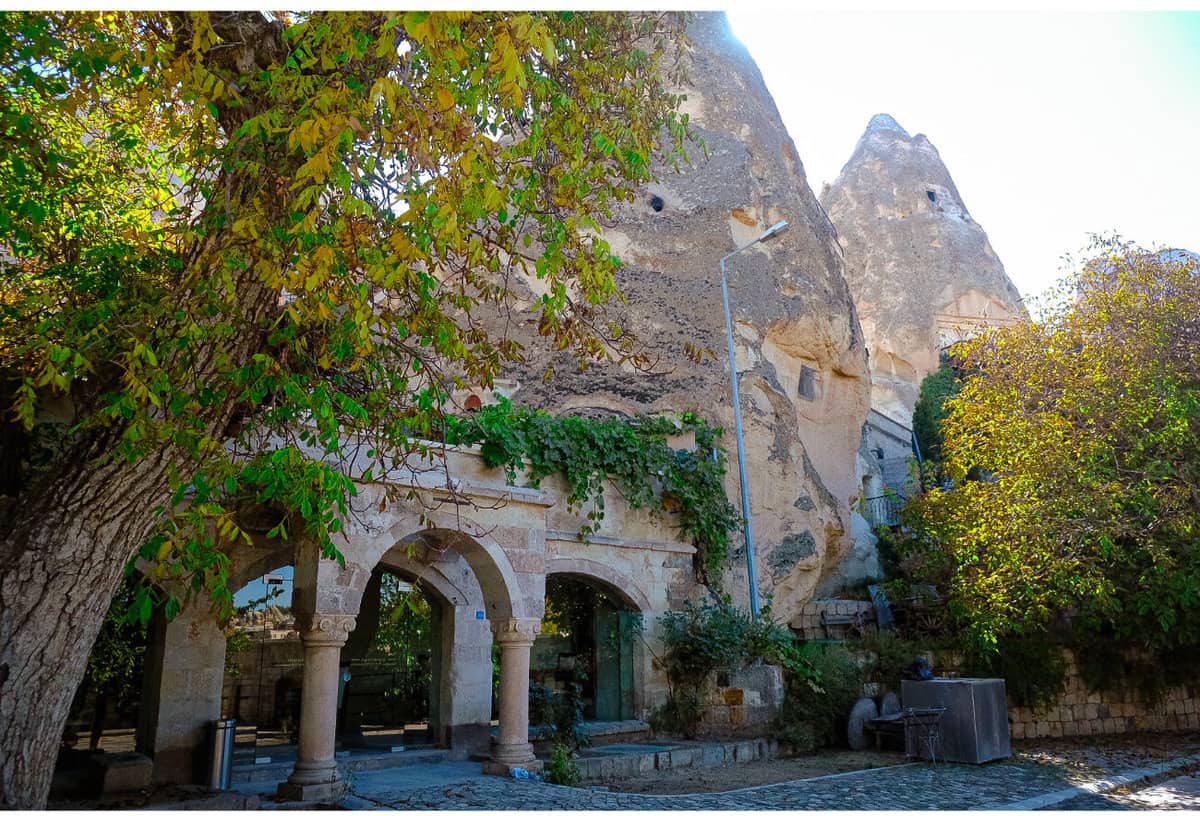 Göreme is also where you find the cave hotels which are unique to Cappadocia. Once you check in at your hotel, head out to explore the town and marvel at its unusual and breath-taking landscapes. Göreme has a very charming traditional architecture, with many buildings made from the same soft tuff rock that characterizes the rest of the region.
The geological formations in Cappadocia were formed over millions of years by a combination of volcanic activity, erosion, and weathering. The region was once covered by a thick layer of volcanic ash, which was deposited by ancient volcanic eruptions. Over time, this ash was compacted and solidified into a soft, porous rock called tuff.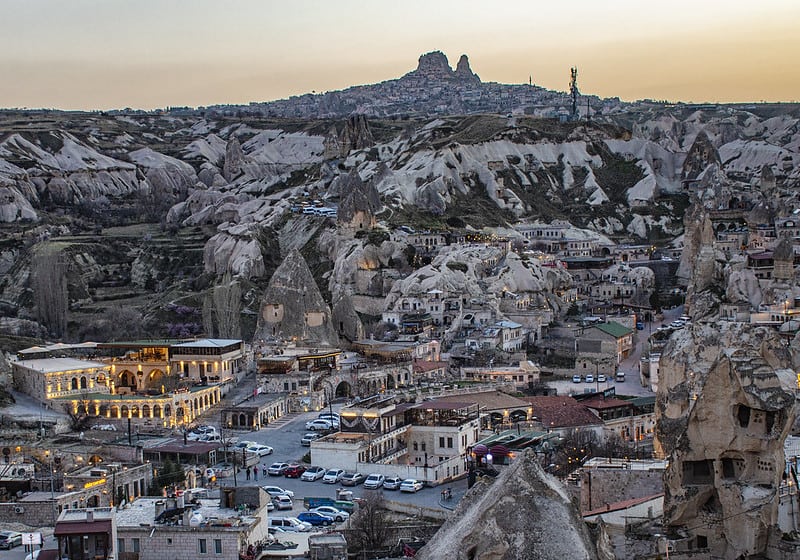 As the tuff was exposed to wind and water, it was eroded and shaped into the unique formations that we see today. Wind and rain carved deep valleys and gorges into the landscape, while frost and thaw cycles caused the tuff to crack and break apart into strange shapes and formations.
Göreme is compact and very walkable but has many narrow streets and alleys and it's  easy to get lost, so pack a map or use Google Maps if possible. You can also download Google Maps and use them offline. Surfaces tend to be uneven and rocky in most parts so it's important to wear comfortable walking shoes.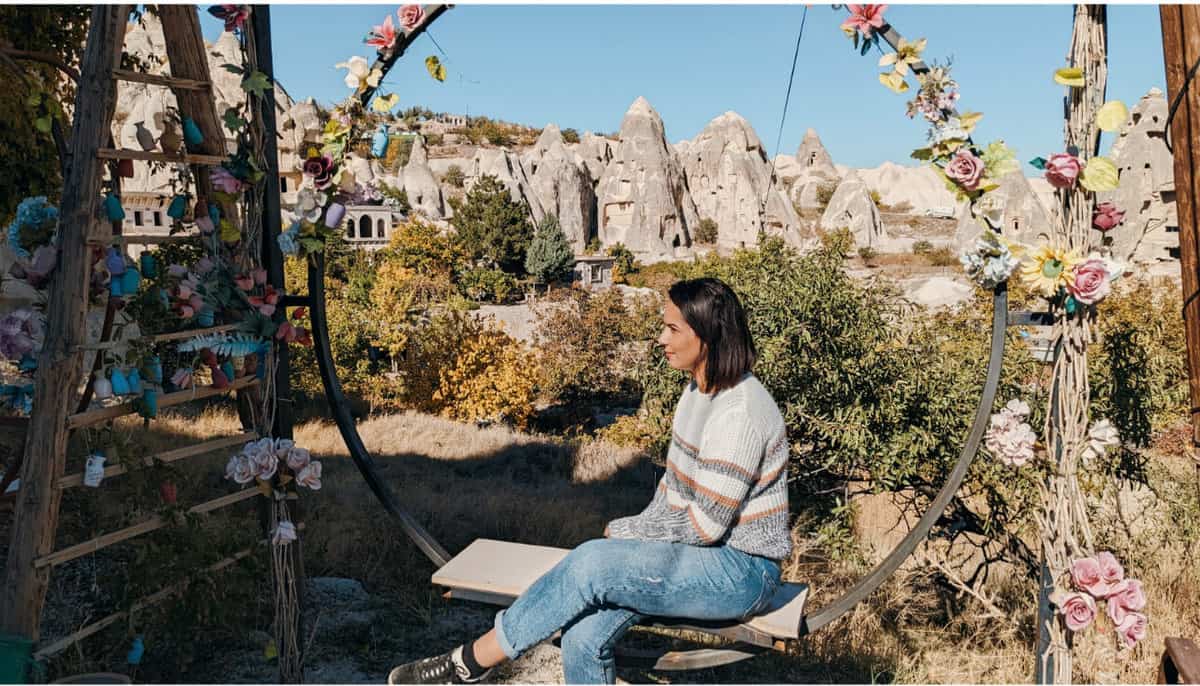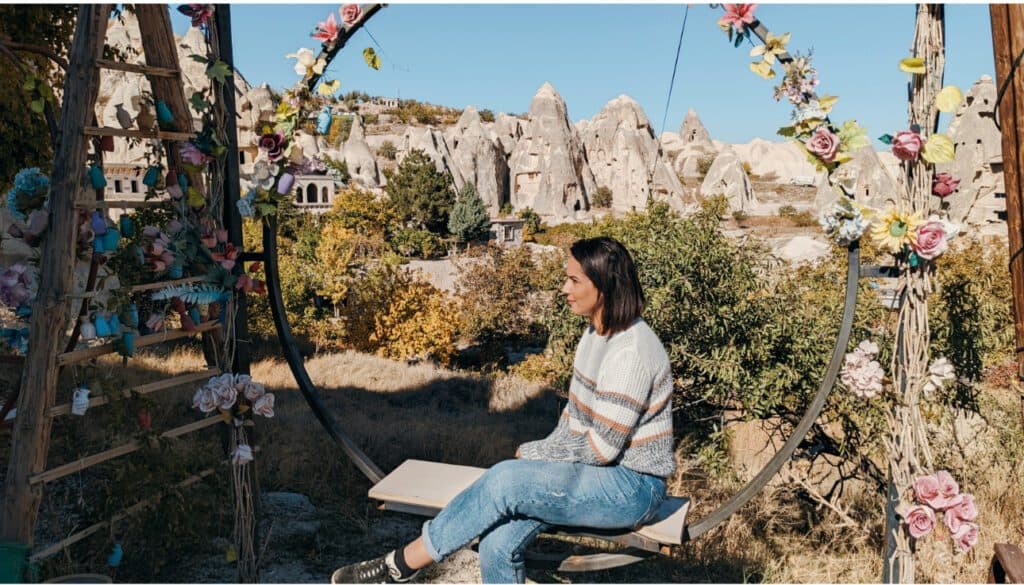 Though you can see most things in Göreme on foot, hiring a car gives you the added flexibility and the opportunity to explore the region further and see some stunning gems.
Göreme has a small centre which is quiet during the day but gets busy in the evening. The main street is lined with craft galleries, carpet shops, restaurants and tour companies.
From there you can join many walking trails which form the Göreme national park. Some take you quite far and others are more local and can be done in under an hour. We loved walking up hills and stopping every few minutes to take in the views.
Grab lunch in one of the many restaurants lining the main street (Müze  Caddesi).
Göreme Open Air Museum
In the afternoon, head to Göreme Open Air Museum. You can take a taxi from the town centre or walk if you like. It's an easy to moderate uphill walk that takes around 20 mins. The Göreme Open Air Museum is a UNESCO World Heritage Site and is widely regarded as one of the most important cultural sites in Turkey.  It's a mind-blowing site that consists of rock-cut churches and monasteries that were carved into the  rock formations by early Christian monks between the 4th and 13th centuries. The site includes caves with breathtaking frescoes that depict religious scenes and several churches and chapels with intricate architectural details.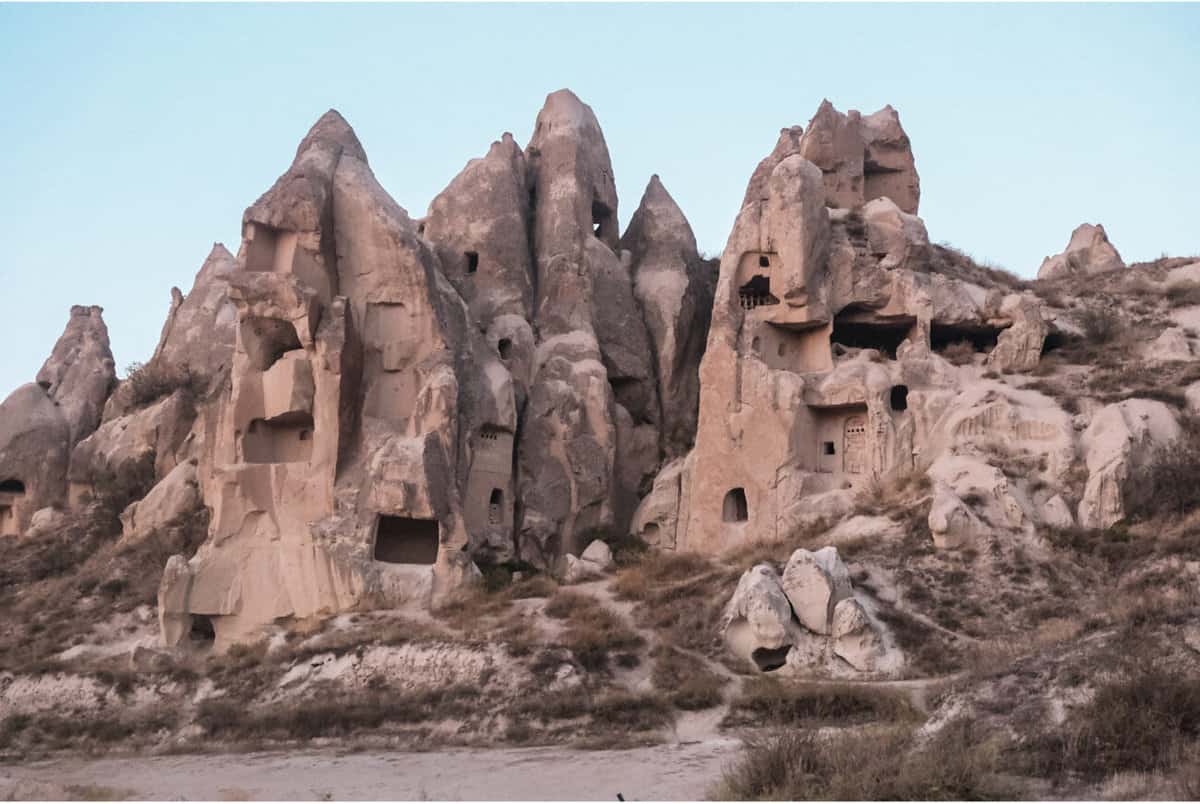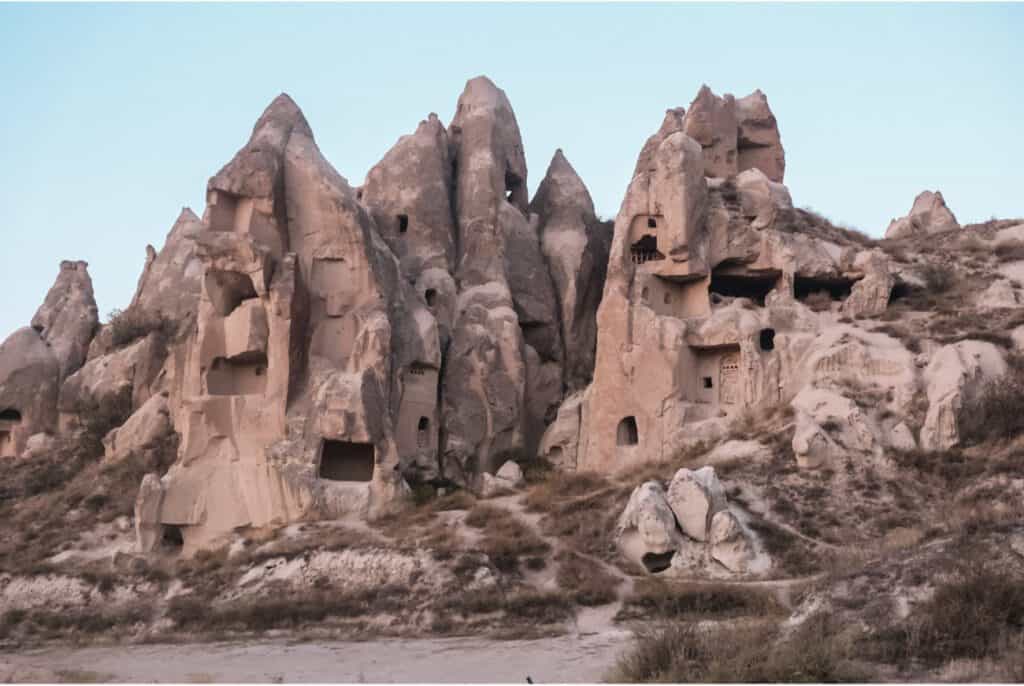 On the highest point of the valley, you find the most famous of the museum's churches, the Dark Church, which takes its name from the fact that it originally had very few windows. The lack of light helped in preserving its precious frescoes in vivid colours, which depict many religious moments such as the Nativity, the Betrayal by Judas and the Crucifixion.
On leaving the open air museum, across the road you find the Buckle Church, one of Göreme's biggest churches, which includes an underground chapel and a newer church, built a 100 years later.
A visit to the open museum should take around 2 hours. Tickets cost 150 TL and a separate ticket is required for the Dark church which costs 50 TL (2023 prices). Photography is not allowed inside the churches.
Head back to Göreme for dinner and a stroll in the city centre before going back to your hotel.
Day 2
Hot air balloon activity
Hot air ballooning is a major activity in Cappadocia and the main reason people choose to go there.
Cappadocia's majestic landscapes look even more awe-inspiring and breathtaking from the vantage point of a hot air balloon.
There are over 20 hot air balloon companies in the region, some of which have been operating since the 1980s, when this activity started. Always do your research before choosing a tour company. Online reviews and forums are a good source of information. You can also ask your hotel for recommendations.
It's always good to book your tour at least a couple of weeks in advance as they get booked up quickly, especially in the high season.
I always book experiences through  GetYourGuide as they use reliable companies and knowledgeable guides
The balloons typically launch very early in the morning, just before sunrise as the wind conditions are better when the air is cool and the balloons have a better chance of rising high, so you need to get up early and leave your hotel when it's still dark, but you will most likely be picked up by your tour company in a minibus alongside guests from other hotels. It's worth noting that if you stay outside Göreme you may have to arrange your own transport to the balloons take off site.
The balloons fly for around an hour, drifting over valleys and canyons, past ancient cave dwellings and rock formations, and offer a unique perspective on the region's rich history and cultural heritage. Some tour companies also include a traditional Turkish breakfast upon landing.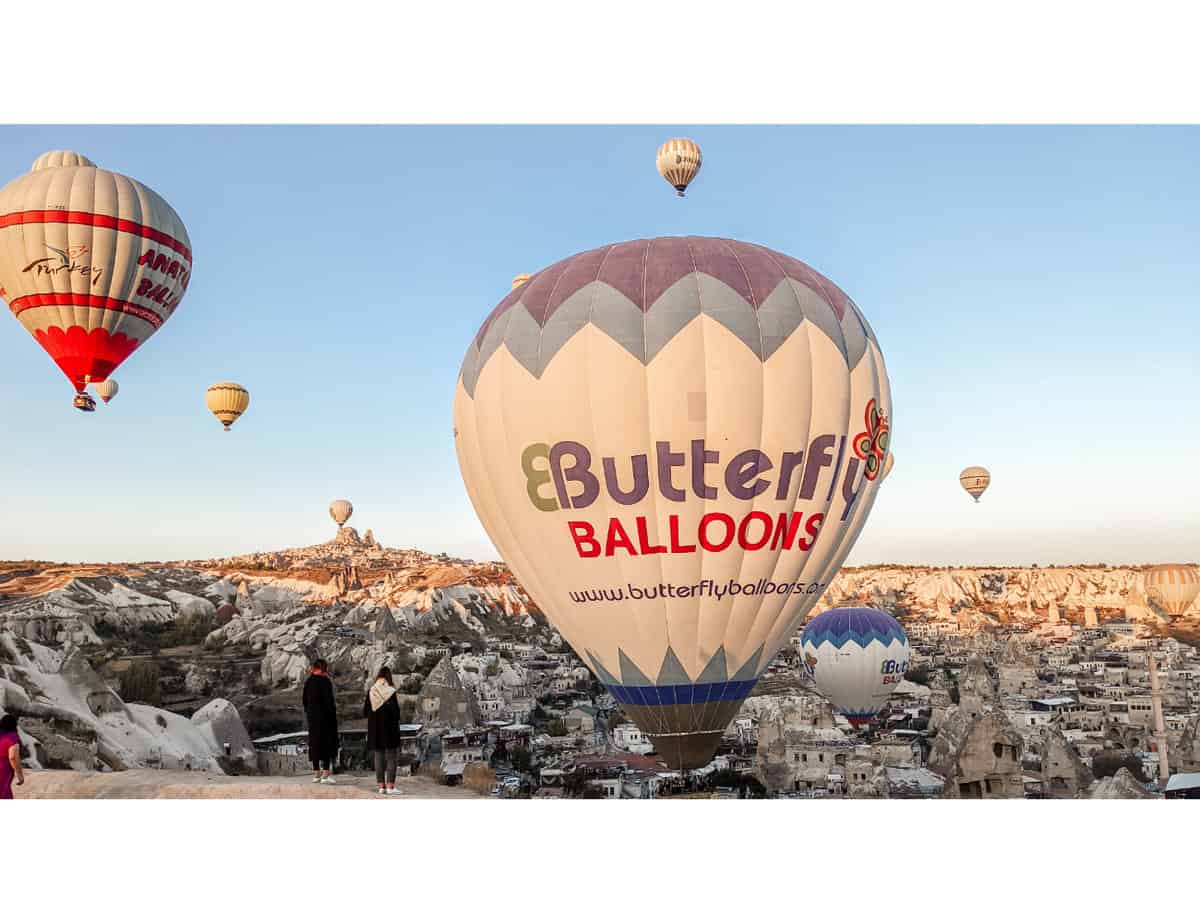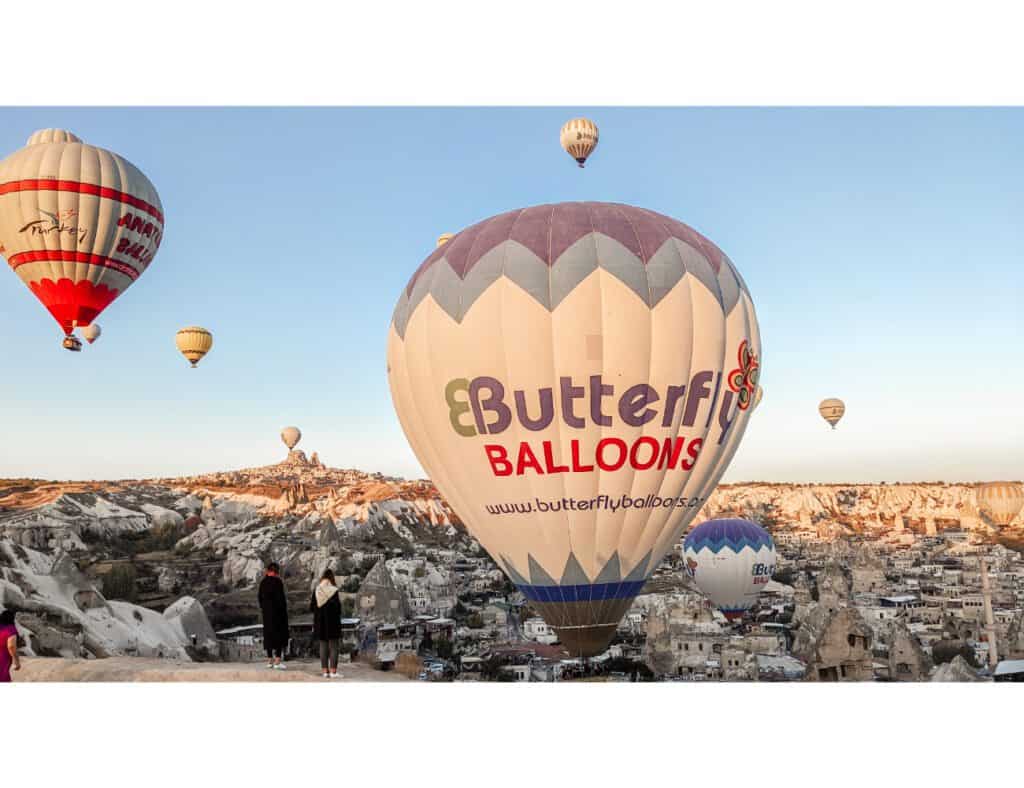 There are different air balloon packages but most tour operators offer both "comfort flights" and "standard flights". Comfort flights tend to have fewer people in the basket and the flight tends to be about 15 to 30 minutes longer than standard flights. Classic flights can fit between 16 and 28 people, while Comfort baskets fit 16 passengers only.  You can also opt for a private tour for a special occasion. Many companies include other perks in their packages such as post-flight Champagne but these tend to be more expensive.
Top tip: if you are only spending 2 days in Cappadocia, book your air balloon ride on your first day. Sometimes rides get cancelled due to bad weather so companies reschedule flights for the following day, so give yourself another chance in case this happens to you.
underground cities
Cappadocia has 200 underground cities but only a few of them are open to visitors. Your hot air balloon tour will finish around 8 am and you will be dropped off at your hotel around 9 am. After breakfast, head to either Kaymakli or Derinkuyu. Both underground cities are interesting but have some differences.
Derinkuyu is considered to be the largest underground city in Cappadocia with eight levels extending down to a depth of around 85 meters and including an impressive underground architecture made of tunnels, rooms, and staircases.
Kaymakli is smaller than Derinkuyu and is thought to be slightly younger. It was first open to the public in 1964 and is one of Cappadocia's most well-preserved underground cities. Kaymakli has very narrow passages which require you to crouch down and may not be ideal for claustrophobic people.  
Derinkuyu uses the same tunnel for going in and out which usually causes people to wait until it is empty again, while Kaymakli uses different tunnels for access,
If you have a car you can visit both underground cities on your own but it's best to hire a local guide to benefit from their knowledge and make your visit more interesting.
Kaymakli is around 20 km of Göreme and requires a car.
 Derinkuyu is located about 40 km of Göreme and requires driving but you can also do it as part of a tour which makes it slightly better value than Kaymakli but it's also the busiest out of the two.
Tickets to both underground cities costs 60 TL (prices from Feb 2023).
Fairy chimneys
On your way back to Göreme, make a stop at the fairy chimneys. These tall, cone-shaped rock formations were created by volcanic eruptions and erosion over thousands of years and can be found throughout  Cappadocia.
Some of the most impressive fairy chimneys are about 4 to 5 km from Göreme and can be visited on foot or by taxi.
Paşabağ or Monks Valley has the best collection of fairy chimneys in Cappadocia.
Love valley has an impressive set as well and you can climb to the top for some incredible views. Love valley is also a popular sunrise viewpoint so book a taxi in the morning if you want to see the balloons rise but note since it's a popular spot it can get very crowded.
Day 3
On your final morning, make sure to get up before sunrise to watch the balloons rise over Cappadocia. This is a truly breathtaking sight which shouldn't be missed. Even if you have done the balloon ride the day before, seeing them from the ground offers a completely different perspective.
If you are staying in a cave hotel, it will most likely have a terrace from which you can watch the spectacle. You can even ask them to wake you up just before the balloons start rising. If your hotel doesn't have a terrace, you can walk to one of the viewpoints in Göreme, the easiest one to get to from the town centre is Sunset point  which can be accessed via a steep hill. You can just type sunset point in your google map and it should find it. There is a small entrance fee (5TL) but it's totally worth it.
Another viewpoint is Uchisar castle but that's quite far to walk to when it's still dark unless you have a car.
uchisar
Uchisar is another site that's famous for its natural rock formations and stunning views. It's about 3 kilometers east of Göreme and it would take you approximately 10 minutes by car or 30 minutes on foot to reach it. You can climb up to the castle which is carved on the rock on the highest point in Uchisar and provides stunning panoramic views of the region. There are also many restaurants, cafés, and shops in Uchisar where you can enjoy local cuisine and buy souvenirs.
Avanos
From Uchisar you can drive or take a taxi to Avanos. You can also take a bus from Uchisar bus station. They run regularly through the day and take 20 mins to reach Avanos. Avanos is a very charming town located on the banks of the Kizilirmak River. The river is known for its red clay soil which has been used for pottery for thousands of years. Avanos has many pottery shops and workshops which you can visit as well as several historical sites and outstanding areas of natural beauty.
It also has a rich local culture, which you can experience by visiting museums, local restaurants and markets.
Turkish spa 
For your final afternoon and evening in Cappadocia, treat yourself to a traditional Turkish bath or hammam. A Turkish bath is a unique and relaxing experience that involves steam, exfoliation, and massage. There are many bathhouses in Göreme that offer different packages but make sure you book in advance.
Accommodation
if possible, I highly recommend staying in a cave hotel in Göreme for an unforgettable experience. These hotels are carved into the soft volcanic rock formations that characterize the region and have a unique architecture and natural insulation in the walls which creates a serene and peaceful environment. The rooms maintain a comfortable temperature all year-round, keeping you warm in winter and cool in summer.
There is a big number of cave hotels in Göreme, ranging from cosy rooms with rustic charm to luxurious suites with modern amenities including swimming pools and spas. The interiors are often adorned with traditional Turkish motifs and furnishings, adding to the authentic atmosphere. But the highlight of these accommodations is their outdoor terraces or balconies which offer stunning panoramic views of the surrounding valleys and from which you can watch the balloons rise in the morning.
We stayed in the Elite Cave Suites Hotel which was perfectly located only 5 mins walk from the city centre and 2 mins walk from sunset hill. The hotel is very charming and the rooms were large, very warm and comfortable. It had an extended terrace over two floors from which we enjoyed breathtaking panoramic views of the valleys and the balloons.
Sultan Cave Suites is another stunning property that features big rooms with traditional decorations and antiques furnishings. They have one of the best locations in Göreme and a huge terrace where you can have a luxurious breakfast and watch the balloons.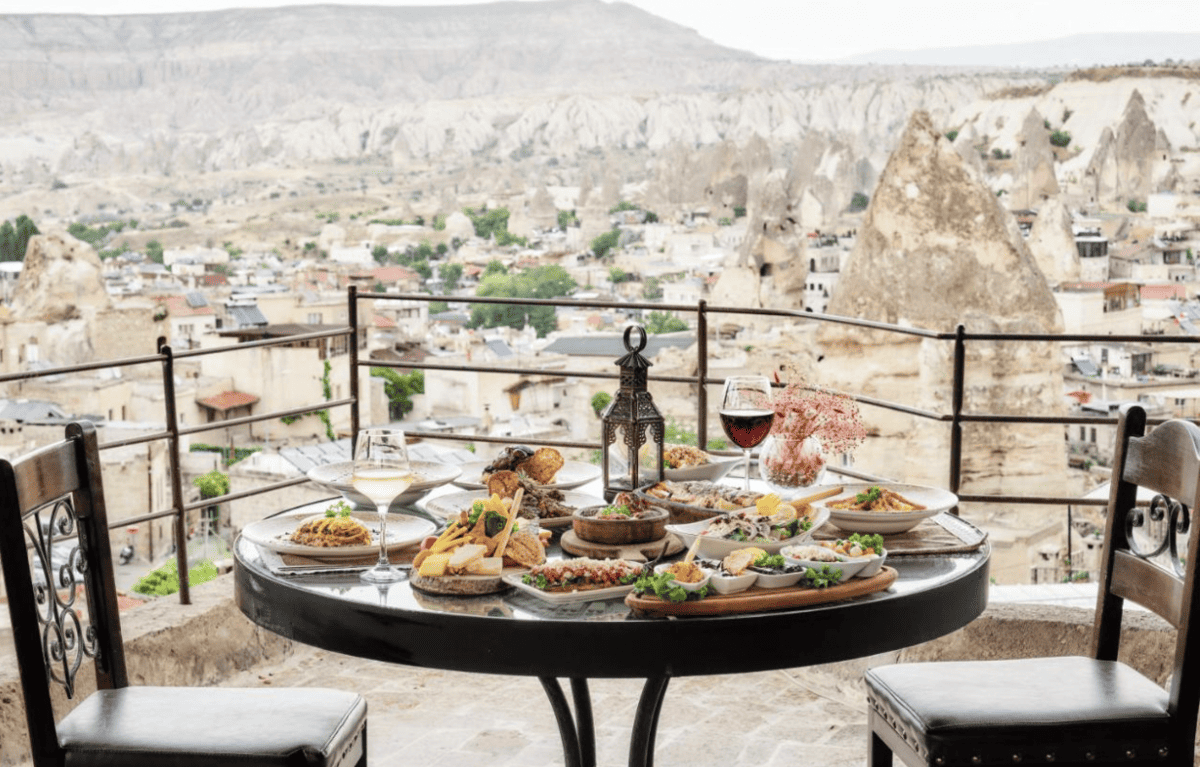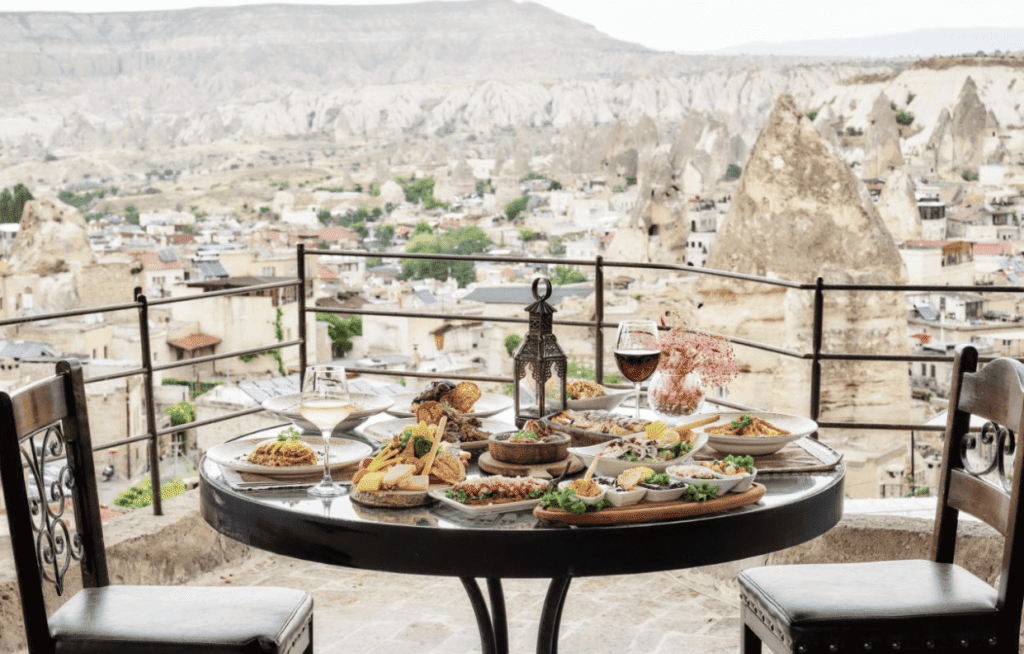 is a beautiful hotel which combines tradition and elegance. The rooms and large and beautifully decorated and it has a lovely swimming people which would be ideal if you travel in the summer.
food
Cappadocia's cuisine is heavily influenced by the region's history and geography and is incredibly delicious!
The main speciality in Cappadocia is the Testi Kebab, also known as "Pottery Kebab,". This is a meat stew cooked in a clay pot called "testi" that is sealed with dough and then baked in a wood-fired oven. When it's time to serve, the pot is cracked open at the table, revealing the aromatic and tender meat stew inside.
Other dishes include Manti, which are Turkish dumplings, similar to ravioli and usually filled with minced meat and served with yogurt and garlic sauce and Gözleme which is a traditional Turkish flatbread made of thin dough and stuffed  with meat, cheese or potatoes.
Some of my favourite restaurants in Cappadocia include:
Göreme Han Restaurant-
they do all the classic dishes but their Adana kebab and Kuru fasulye (white beans stew) were the best I've ever tasted.
Dibek-
They are famous for their testi kebab which has to be ordered 24 hours in advance.
Revithia Cappadocia-
Great restaurant in Urgup if you are looking for a fine dining experience with a bit of culture. Their 8 course tasting menu is exquisite and the staff elaborate on the origin and history of every dish.
Nazar Borek and cafe-
One of the loveliest views in Goreme. The restaurant is a little out of town but you can get there easily with Google maps. The owner, Rafik, is a charming character with a wonderful sense of humour and will delight you with stories and delicious food.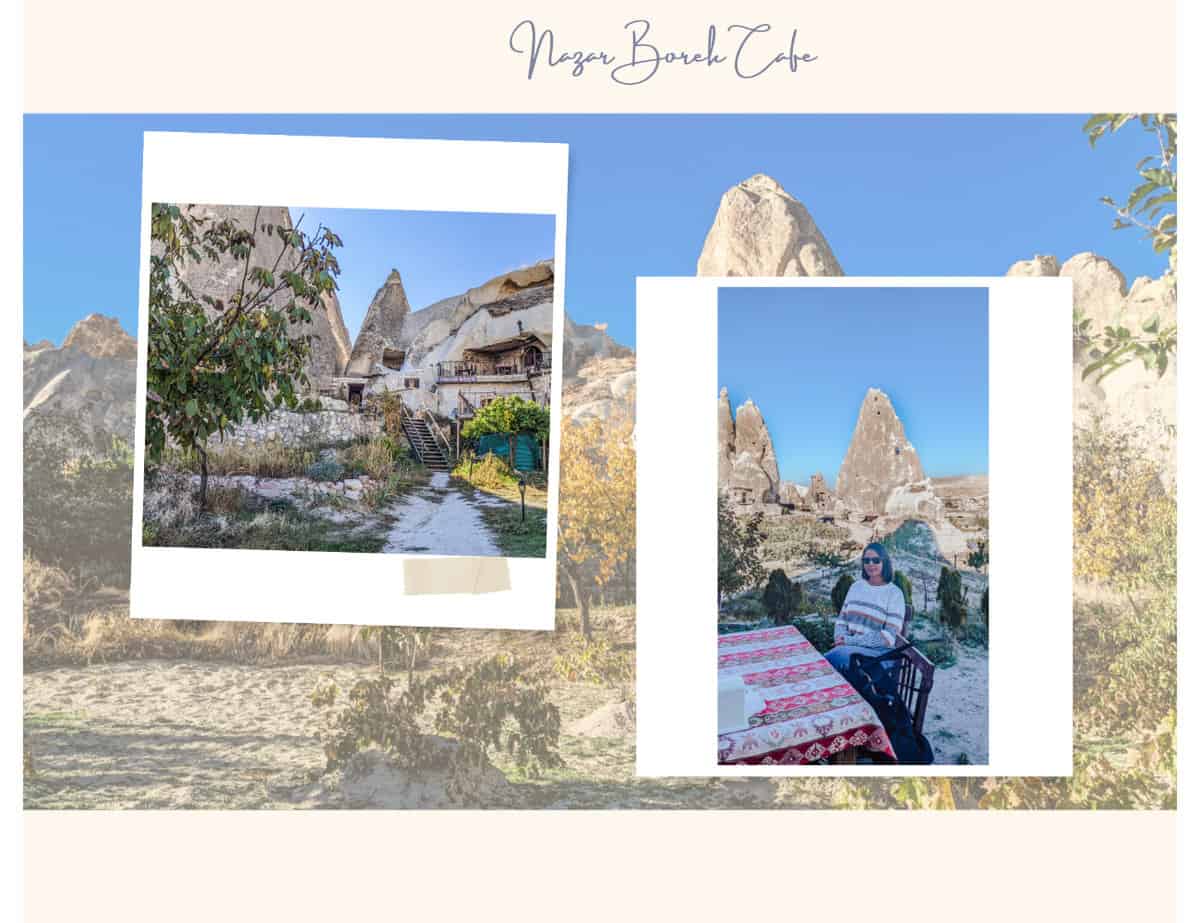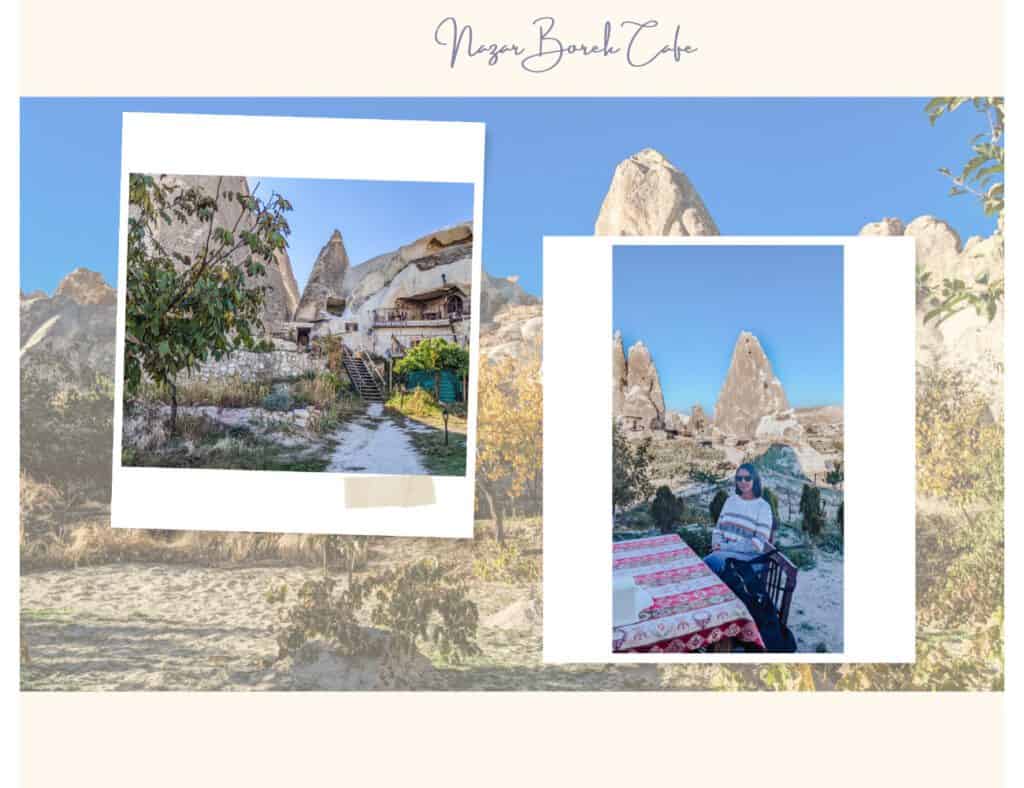 Bizim Ev Restaurant-
Lovely restaurant in Avanos set inside a cave and with a rooftop terrace where you can eat and enjoy the views. Their testi kebab is one of the best in the region.