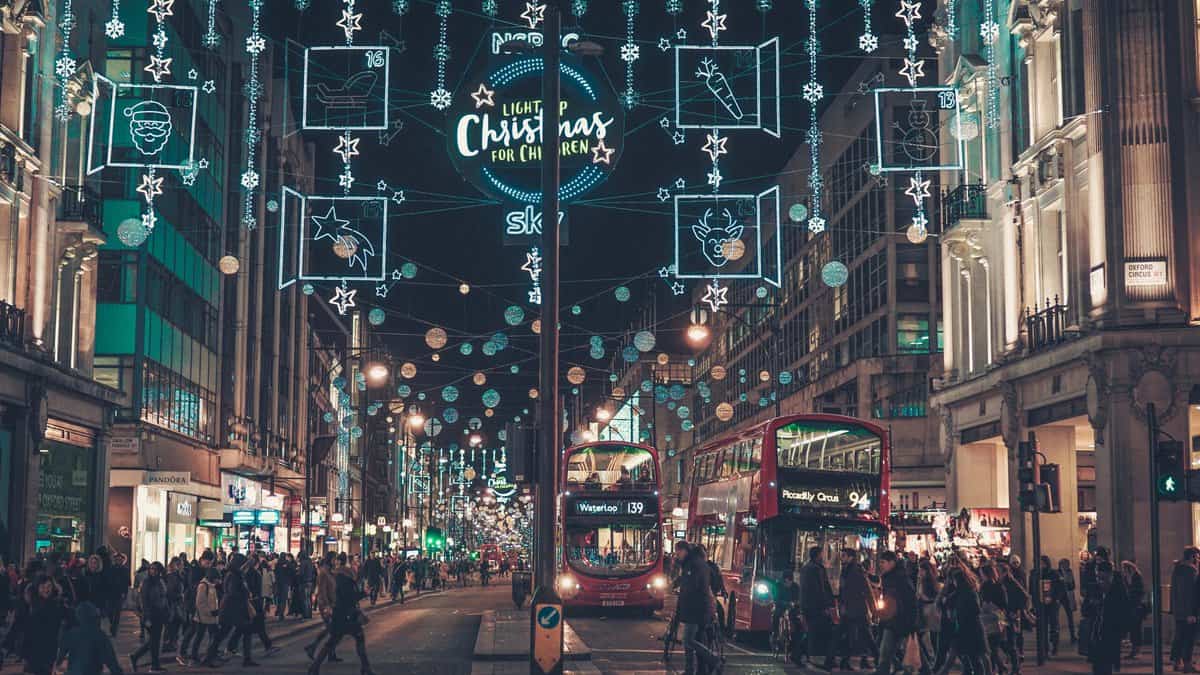 As much as I love autumn and its warm colours, the short dark days always get me down. Thankfully the holiday season is upon us and London is looking dazzling as ever ready for some Winter cheer.
Below are 14 fun activities to do between now and the New Year in the capital.
Let there be light!
No other place does Christmas lights like London. It has the world's largest Christmas lights display as more than a million LED lights illuminate the city's major landmarks.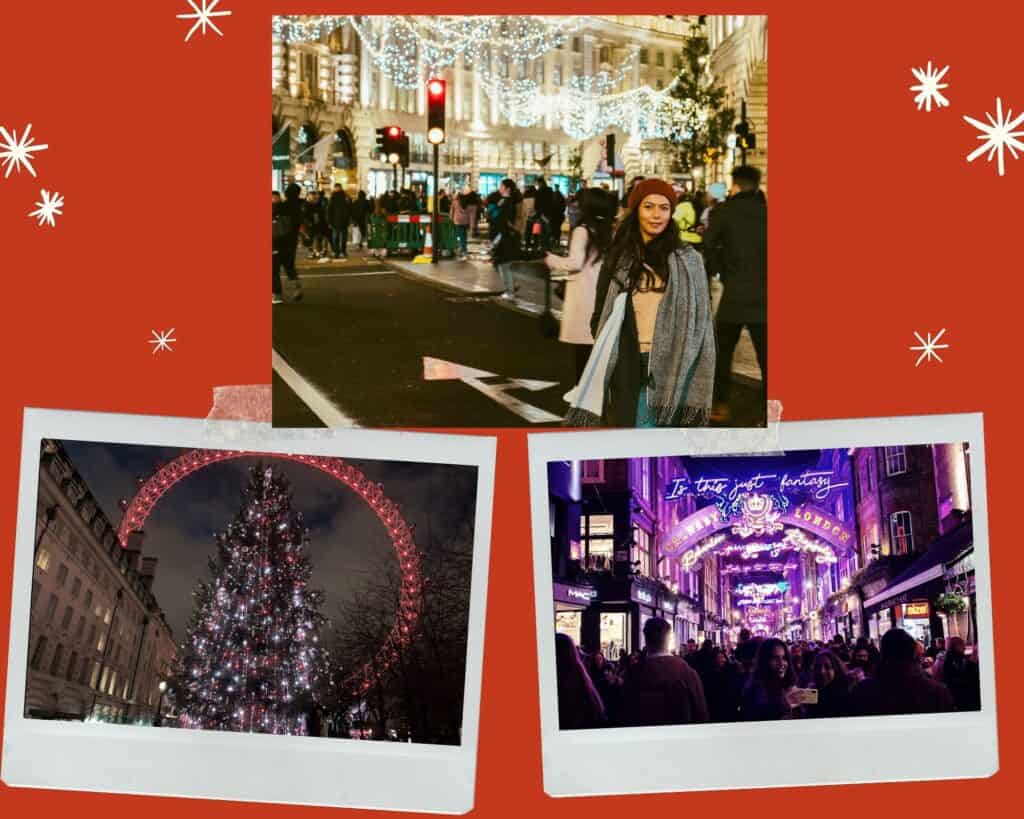 Take an evening stroll in Oxford Street and Regent Street and marvel at the light trails and the golden angels soaring high above the buildings. Carnaby street looks like an outdoors neon museum (they run a light show with a different theme every year) and Covent Garden becomes a Christmas village with dazzling light installations, the tallest Christmas tree in London and heated Al Fresco dining. This year, Covent Garden will be hosting its own Christmas Sandwich Festival from the 15th to the 24th of November.
From Covent Garden market, you can wander into the little quieter streets where you can look at the decorated shops and take some Christmas selfies away from the crowds.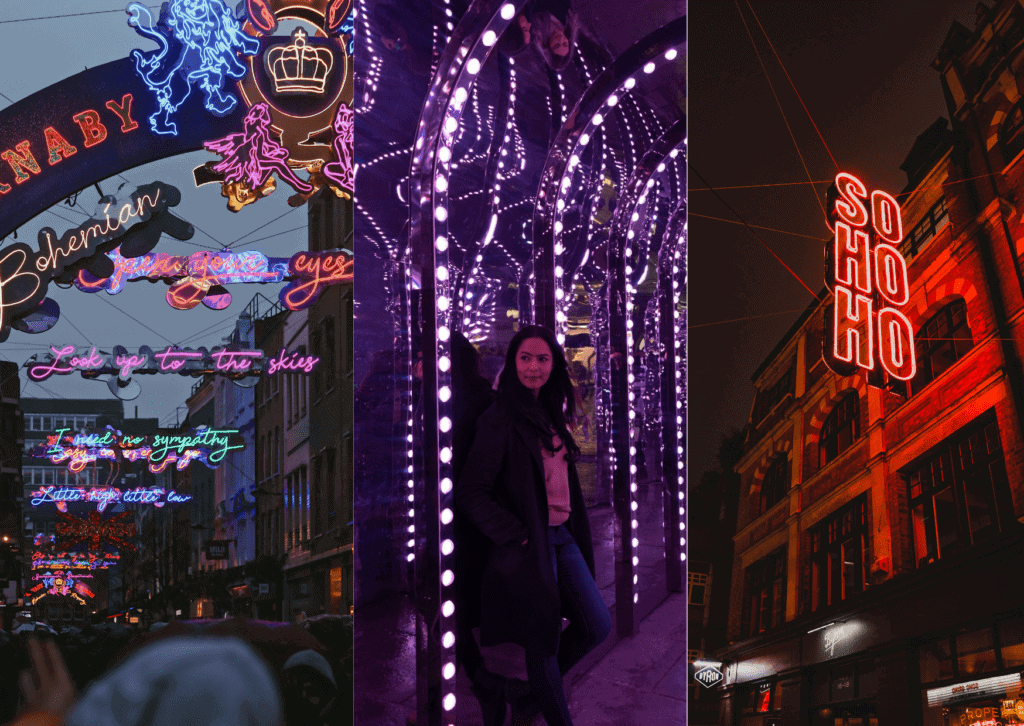 Another place to watch a dazzling display is  Kew Gardens , as you follow a mile-long route of decorated trees, through a tunnel of light and into a garden pond that splashes jets of light and Christmas tunes. There are also rides for kids and plenty of snacks. Great fun for the whole family. Open between Nov 16th to Jan 8th from 4:20 pm – 10 pm. Standard advance adult: Off peak £21.50/ Peak £28.00.
Tour the Christmas Markets
London may not have the sparkling, snowy Christmas markets of Central Europe but it sure has a fine selection of markets that bring the magic of Christmas to the city.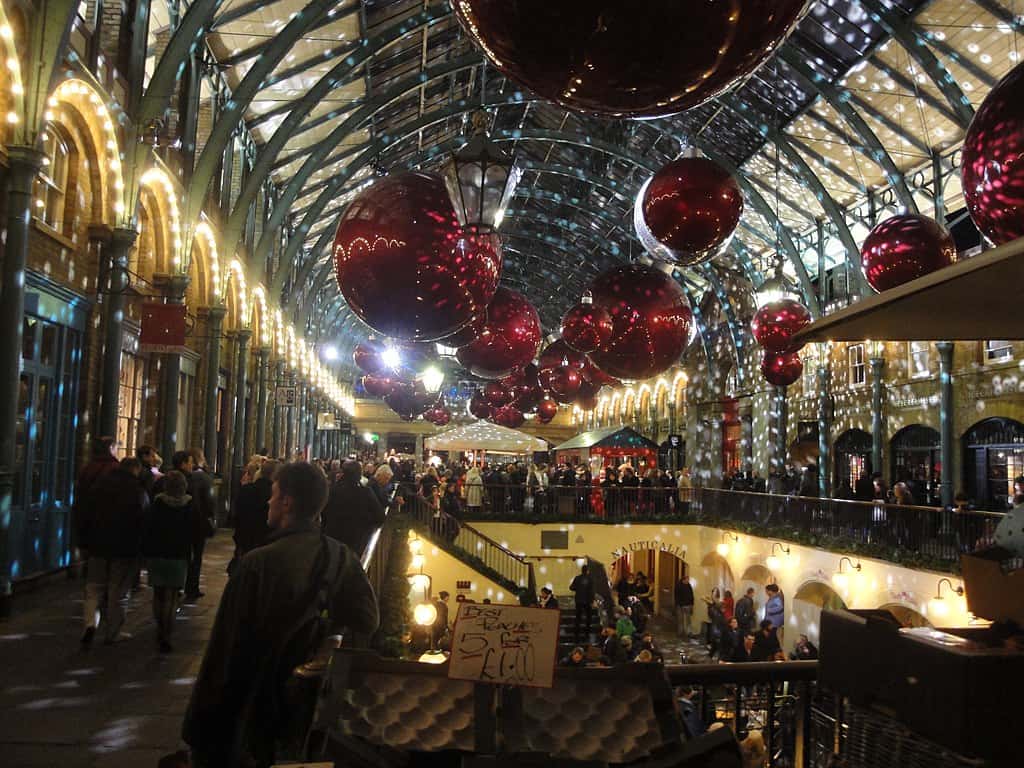 Some of my favourites are:
Borough Market
This historic market  has been around for hundreds of years and is worth the visit outside the Christmas period as well. You will find plenty of food stalls from around the world and amazing delicatessen food such as cheese and artisan bread. December promises to be very festive as the market will host choirs and buskers as well as cookery classes by top chefs. It does get pretty busy but you don't need to stick around as It's only a short walk from London Bridge so you could buy your food and eat it while enjoying some of the capital's best views.
Open from Nov 15th to Jan 9th from 4:20 pm – 10 pm.
Southbank,  Trafalgar Square and  Leicester Square  all have pop up markets which are perfect for an evening stroll under twinkling lights while sipping mulled wine and sampling delicious street food.
Christmas by the River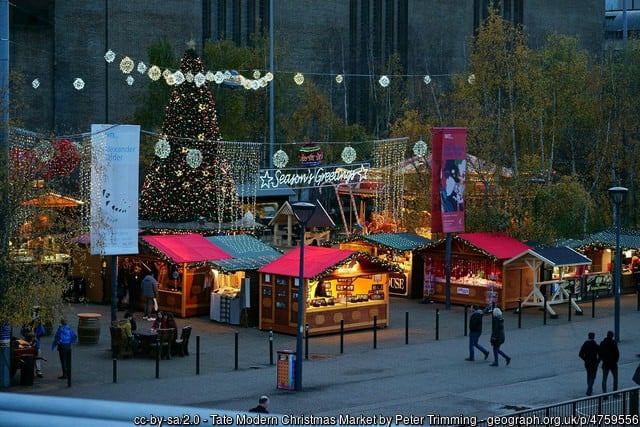 With over 60 winter cabins dotted alongside the riverside, against the backdrop of Tower Bridge and the City skyline,  Christmas By The River is one of the prettiest and best placed markets to enjoy some of London's favourite landmarks. You'll find tons of stalls selling food, hot drinks and small gifts as well as free entertainment including outdoor film screenings and choir performances. Runs between Nov 15th and Jan 2nd. 11 am to 10 pm.
Ride a magical Christmas Train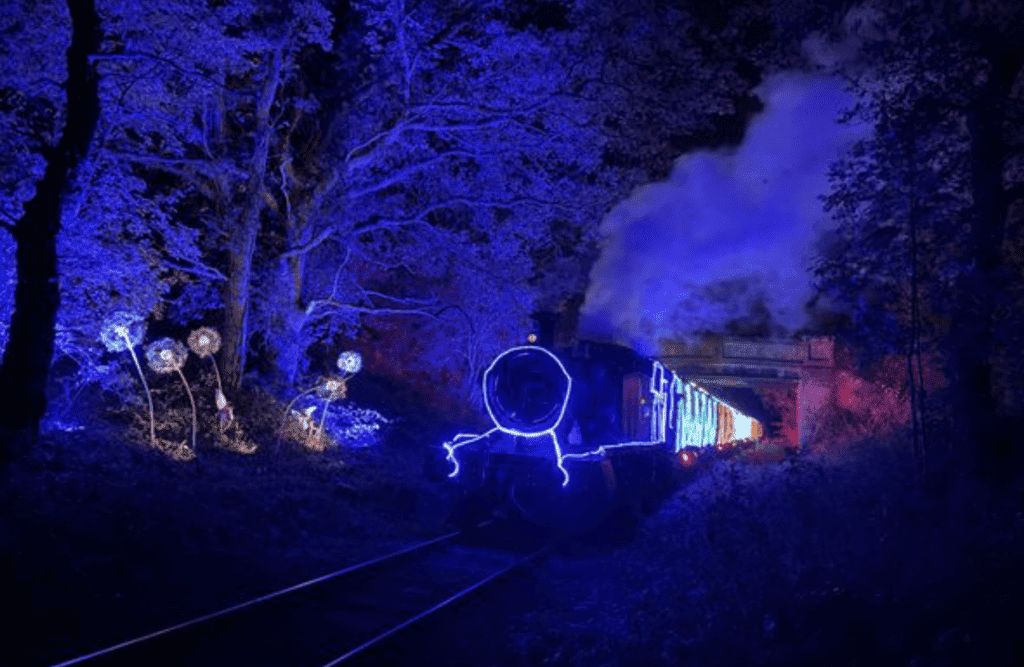 The Epping Ongar Railway  is one of London's hidden gems; a steam railway tucked up beyond the end of the Central line, in one of London's few abandoned tube stations that still welcome trains. Between November 18th and January 15th  you can enjoy a festive ride in a vintage train with enchanting lights and music, in a specially designed show that highlights their stations, woodlands, and rural setting. Tickets cost £20. 
visit Hogwharts in the snow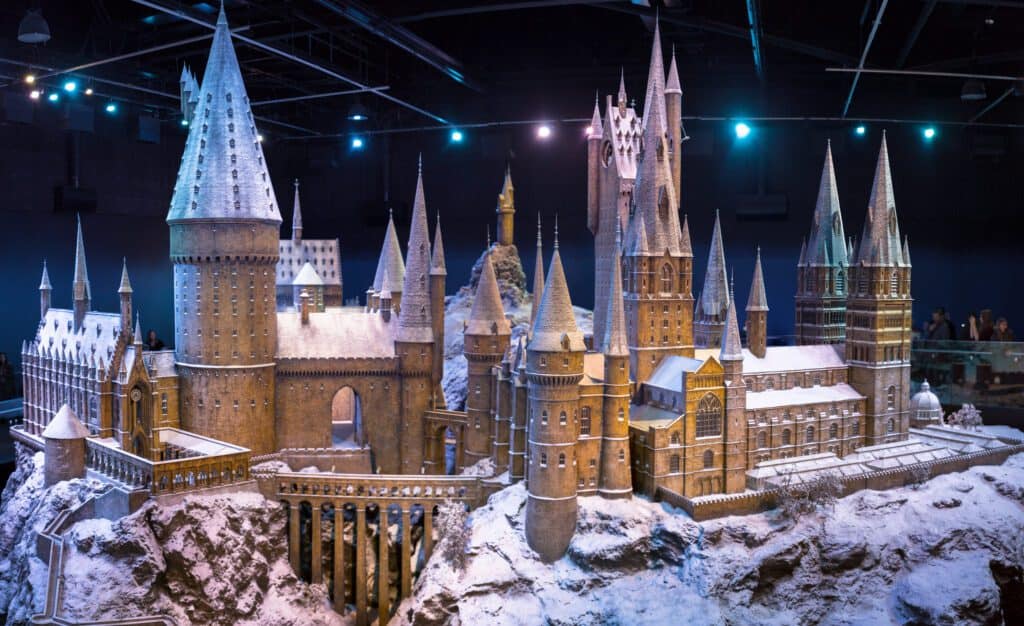 A must do for any Potterhead and Christmas fan! Hogwarts In the Snow is an annual event at Harry Potter Studios in London that sees the studio tour and sets transformed into a winter wonderland. Diagon Alley and Hogwarts Castle are covered in a blanket of snow and Hogwarts Great Hall has the Yule ball decorations. You'll see breathtaking decorations including a Chocolate Frog Christmas Tree and your favourite characters cosying up by fireplaces.  It's the ultimate magic experience! Nov 15th- Jan 12th. 
Cosy up to a movie in front of a giant screen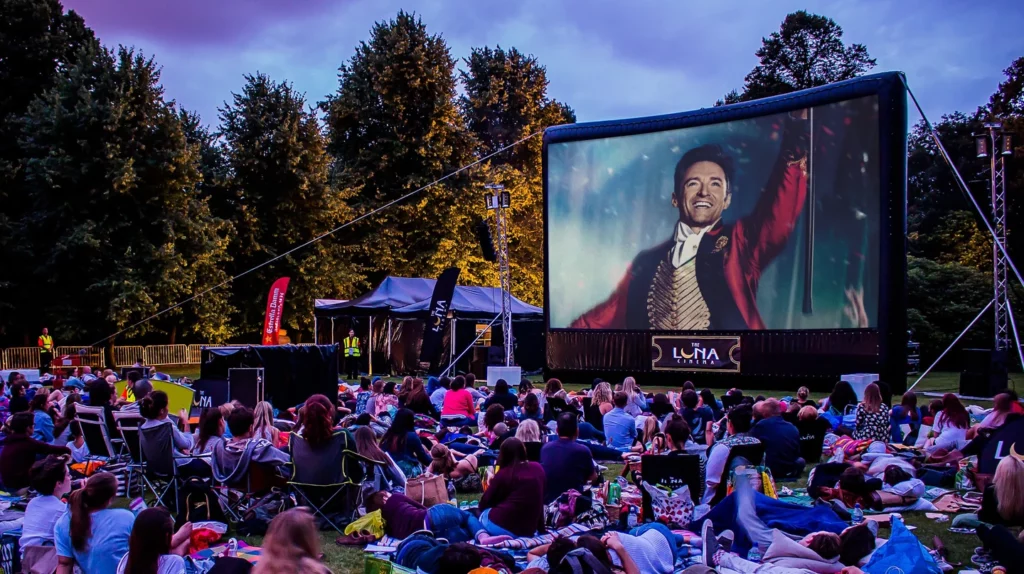 Is it even Christmas if you haven't binged on the seasonal classics? curl up in style in one of the capital's pop up cinemas. Try one of  Luna's indoor venues with their themed packages or go for the magical Christmas experience at The Backyard Cinema.
see More lights at Lightopia London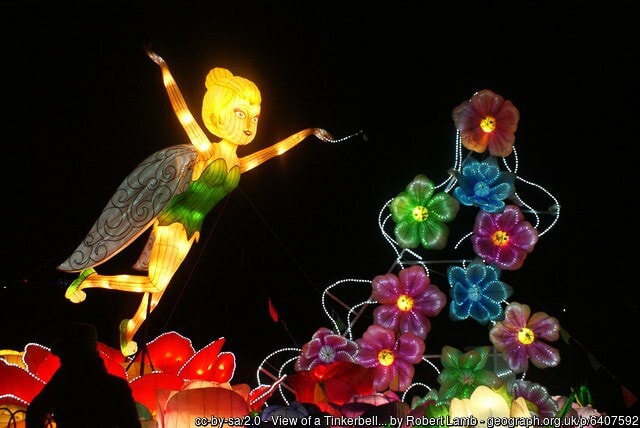 If flying angels weren't enough to put you in a festive mood, head to Crystal Palace for the most immersive illumination experience. This award-winning multi-sensory festival  features a 2 km light trail which includes 22 trees representing unity and growth. Tickets are available on the Lightopia website. Nov 17th  Nov until Jan 2nd.
Unleash your inner skater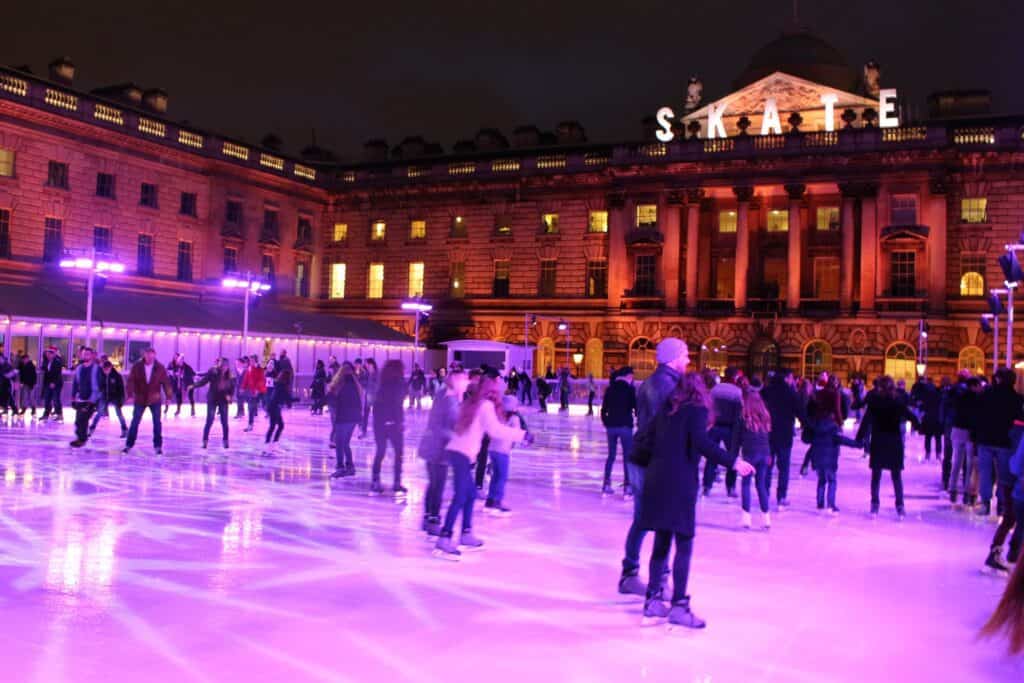 Spin around one of the most beautiful neoclassical courtyards in the country. Skate At Somerset House has become a very anticipated winter event in recent years. You can choose a day session or make the most of their popular late-night skates with DJ soundtracks and plenty of hot chocolate or cocktails at the Moët & Chandon skate lounge. From Nov 16th until Jan 15th . Adult tickets £10- £22.
Watch London sparkle from high above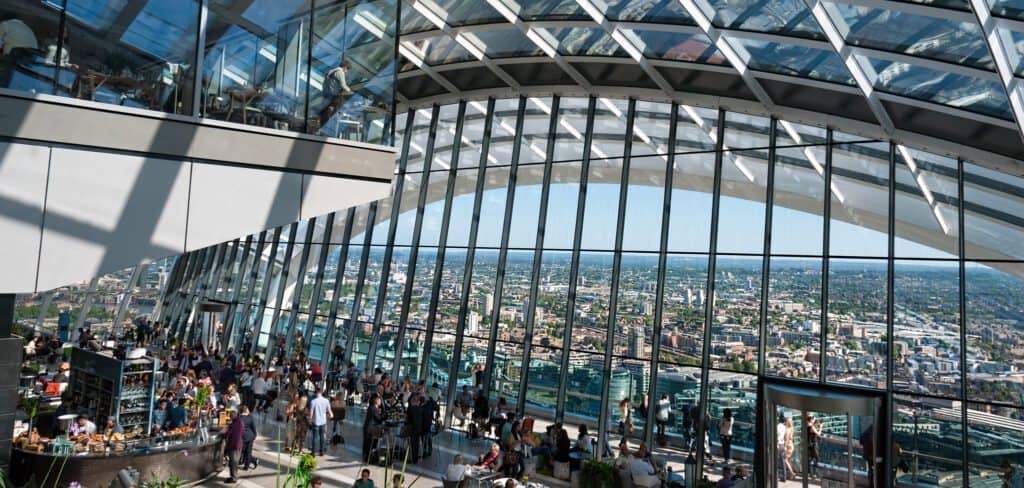 The Sky Garden is a wonderful venue to visit any time of the year and the only free rooftop venue of London but you must book a free visit weeks in advance as it's hugely popular. They also host ticketed events in the evenings and on weekends where you can dance and dine in style with one of the most gorgeous views of London.
Hop on a Christmas cruise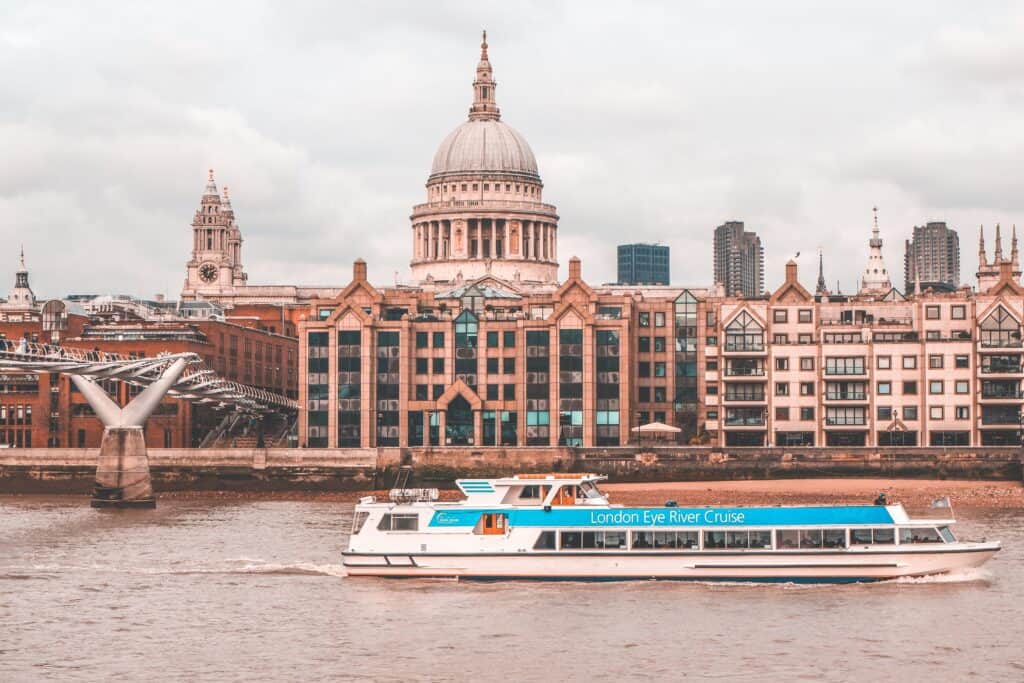 London looks magical from the water! If you don't like walking or using the underground, you can enjoy London's iconic sights from a boat with great food and live entertainment. City Cruises have a range of experiences for different budgets. Just make sure to wrap up warm!
Indulge In a Shopping Spree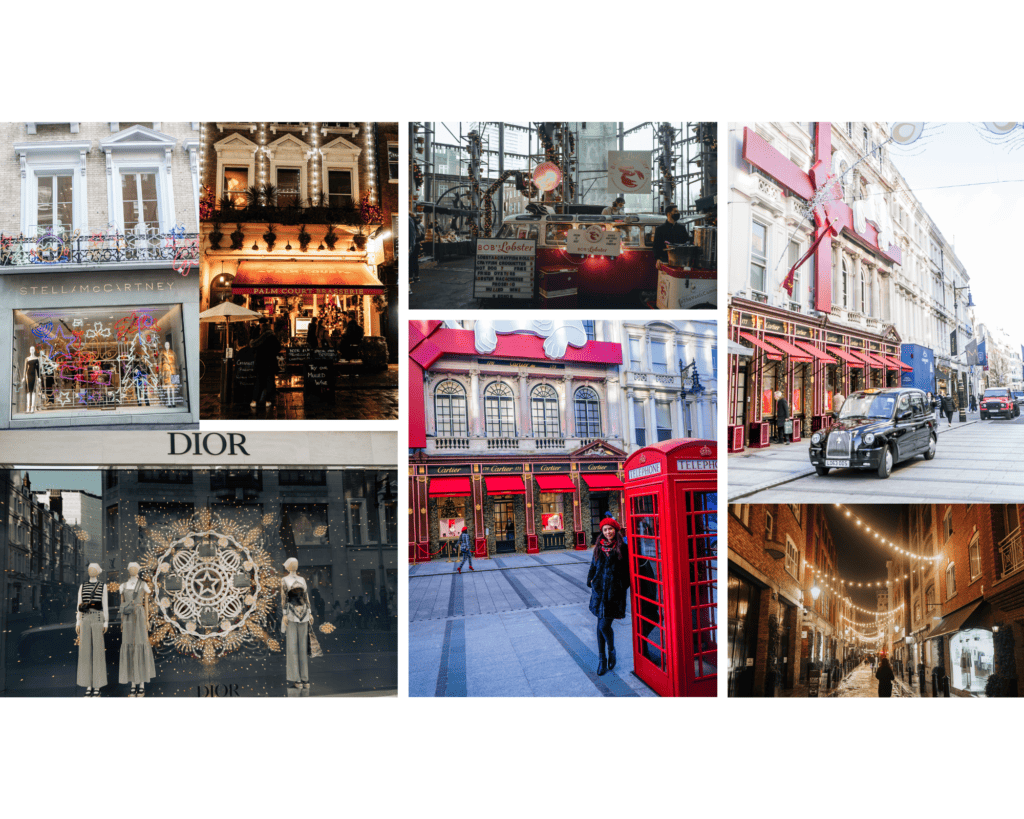 London has a very eclectic shopping scene and it gets even quirkier during the Christmas season.
You can spend a whole day hopping between huge department stores and small indie boutiques. Whether you are into vintage furniture, trendy art, books or food, there's plenty of choice at some of the capital's favourite shops from Selfridges, Harrods, Liberty to The London Review Bookshop, Hamleys, The Beauvoir Deli, the Cheesboard, the list is endless! Even the charity shops around the city's most exclusive neighbourdhoods are guaranteed to stock up on vintage clothing and rare jewellery. And the lavish decorations will for sure keep you entertained.
Christmas at Windsor Castle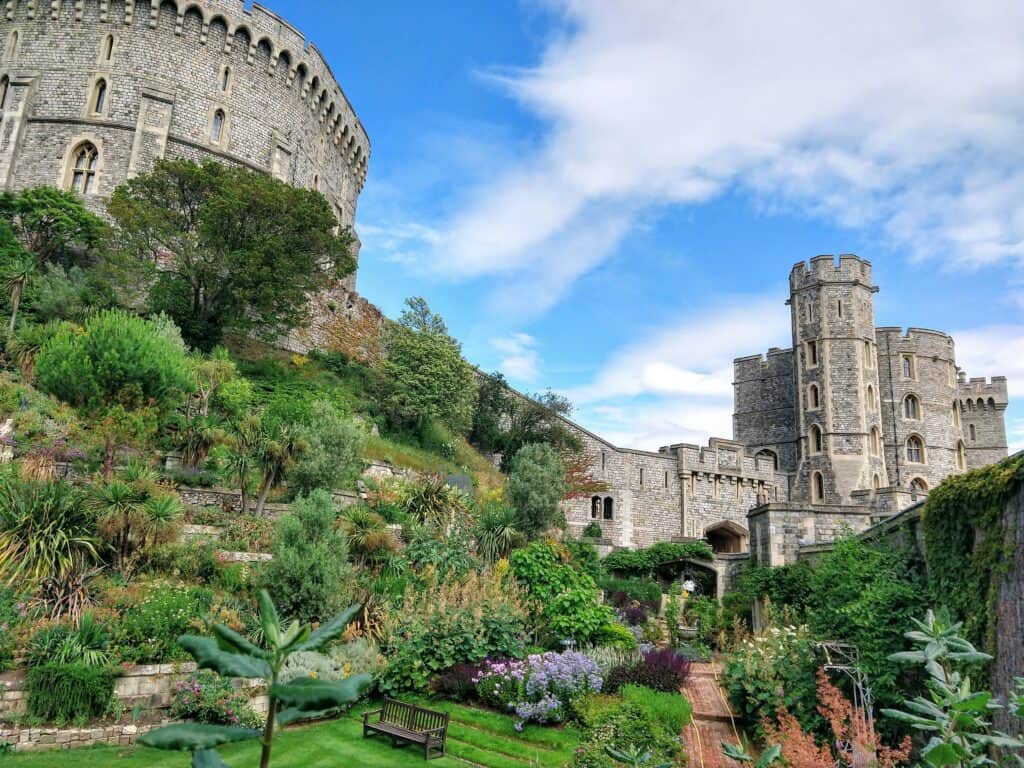 The Royal palaces were in the spotlight during the Queen's funeral this summer and if you have always wanted to visit one you now have the chance to see one of the prettiest and my favourite castle in England in all its Christmas glory. Windsor Castle is only an hour away by train from London and is well worth the visit. The magnificent State Apartments will shine and dazzle with a wonderful display of decorations, Christmas lights and a 20-foot-high Nordmann Fir tree. Open to visitors from Nov 4th until Jan 2nd.
Go to a Christmas Ball
This one is the ultimate Christmas experience and is not cheap but hey, you only live once! If glamming up is your thing then Morden Hall is hosting a Gatsby themed Christmas ball at their sumptuous Georgian Country Manor House. In addition to waltzing your way through their beautiful venue, the ball also includes a 3 course festive meal including drinks.
Visiting London but not a fan of Christmas?
If you are a scrooge or just want to enjoy an unconventional experience, head to Hyde Park on Christmas day to watch members of the Serpentine Swimming Club compete in one of the quirkiest and oldest traditions since 1864, a 100 yard swimming race. You can't join the race as it's only open to members but you can just turn up in your warm coat and hot chocolate and cheer the swimmers. The race starts at 9 am on the south bank of the lake close to the Serpentine Café (the old pavilion). Free event.