Iceland Summer Road Trip
I was very lucky to visit Iceland and go on a summer road trip in 2020 when the world was still closed and only a handful of countries in Europe were open for tourism. Iceland was being praised for not just flattening the curve of the pandemic but virtually eliminating it and it was the best trip myself and a group of friends photographers could have wished for after 4 months of lockdown.
Iceland's natural beauty is truly awe-inspiring, but when you only have a few days to visit, it can be overwhelming to decide where to go, which sights to include and which ones can be left out. My summer road trip will help you narrow down your options and plan the perfect itinerary for your Iceland adventure.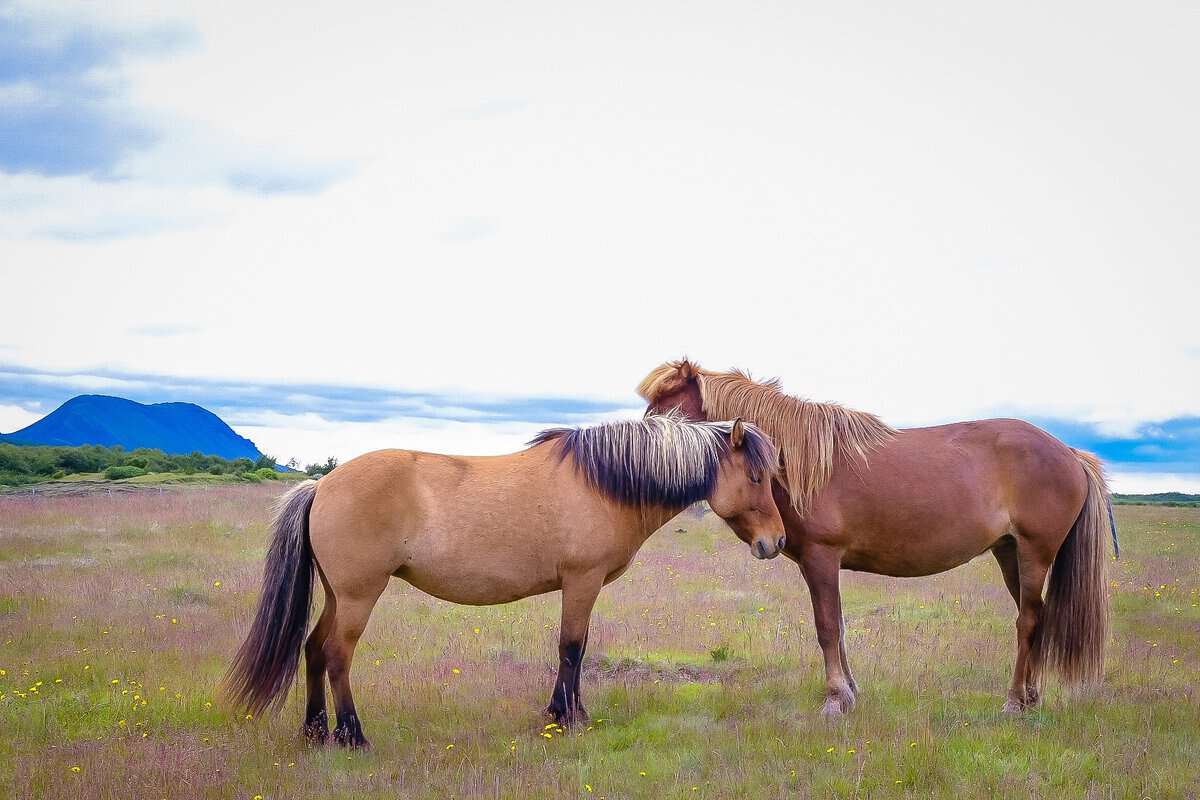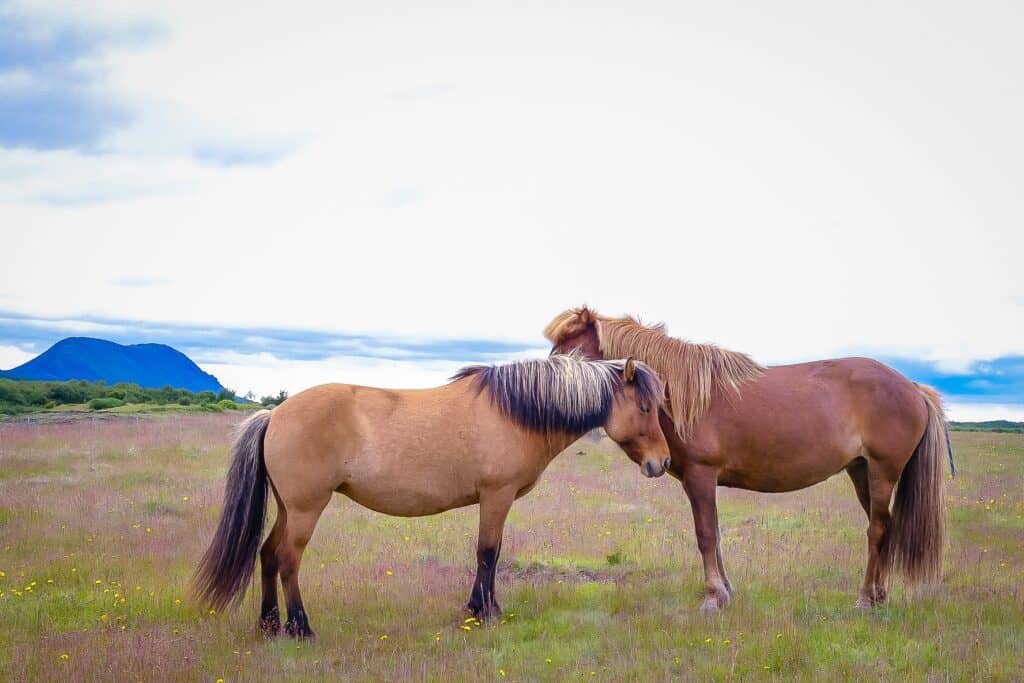 Iceland summer road trip
12 epic things to do on a 5-day road trip 
Iceland is the perfect destination for a road trip. With vast open roads and things to see every few miles, travelling by car is the most sensible option. Besides, most of the scenic spots are far out of towns and quite remote and you won't be able to get to them without a car or a camper van.  You may choose a tour company but you won't have control over your schedule and the freedom to travel at your own pace as you would if you were travelling in your own vehicle.
Reykjavik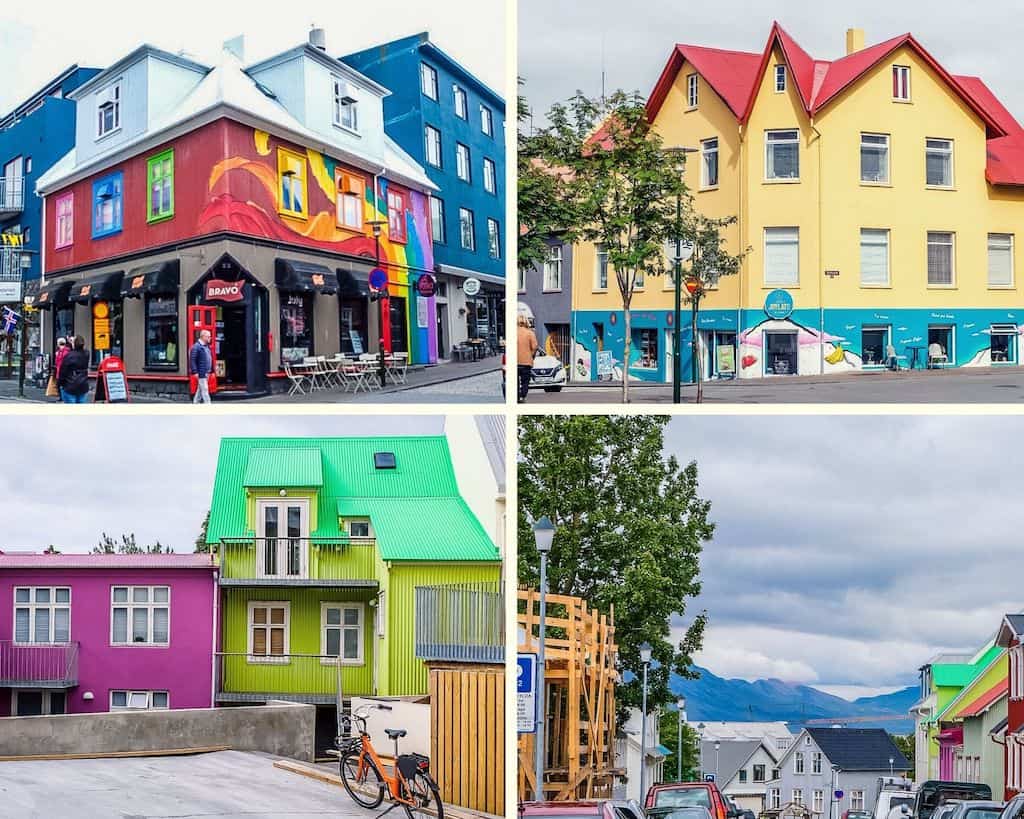 Despite its small size and population of 200,000, Reykjavik (which translates as smoky bay) is a vibrant city that packs a ton of charm and offers many opportunities for fun. You will most likely fly into Reykjavik airport so don't miss the opportunity to spend some time visiting the capital. The city is best explored on foot; start from the high street where you will find the main shopping streets, Laugavegur, Bankastræti, Austurstræti, Lækjargata, and Skólavörðustígur. The shops have eccentric decorations and sell great Icelandic designs which you won't find anywhere else.
From there you can continue exploring the colourful neighbourhoods with their unique architecture and street art. Don't miss the Hallgrimskirkja Church and its beautiful architecture.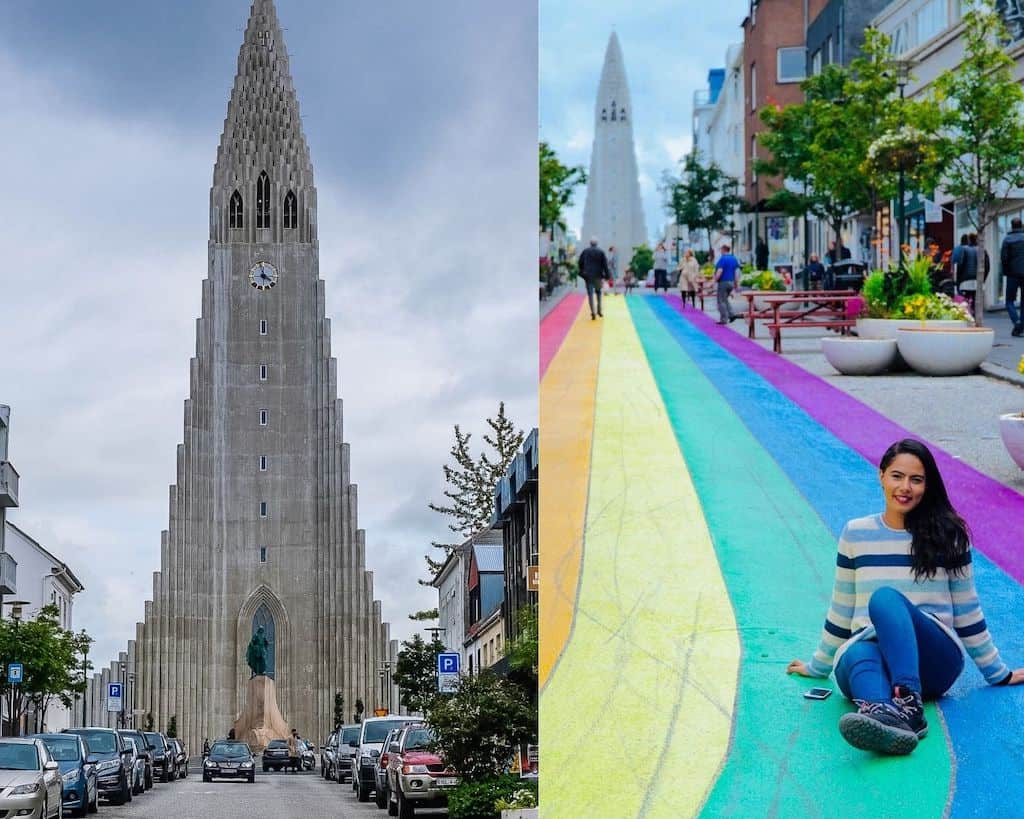 If you are into museums Reykjavik is home to several ones (check that they are open before planning a visit). Alternatively, head to the old harbour where you can book a whale watching tour. The old harbour is also where you can find some of Reykjavik's best restaurants.
Blue Lagoon
I almost didn't visit the blue lagoon since I knew Iceland had many natural pools and hot springs where you can swim for free. The price can be a little prohibitive but we were lucky as there was a 50% discount as an incentive to attract tourists back in the country so we booked our tickets online and I'm so glad we did. The blue lagoon is one of the most breathtaking places I have ever seen and the first place I will head to on my next visit to Iceland. It is a proper pool, deep and large and hot enough to soak in for hours without freezing, unlike the hot springs which tend to be shallow and prone to winds. The organisation was second to none, the facilities were very luxurious and although we had to book a slot, there was no time limit for how long we could stay and since there were very few tourists in the country there were no queues or crowds inside the pool. The lagoon is only a short drive from Reykjavik and I highly recommend you don't skip it.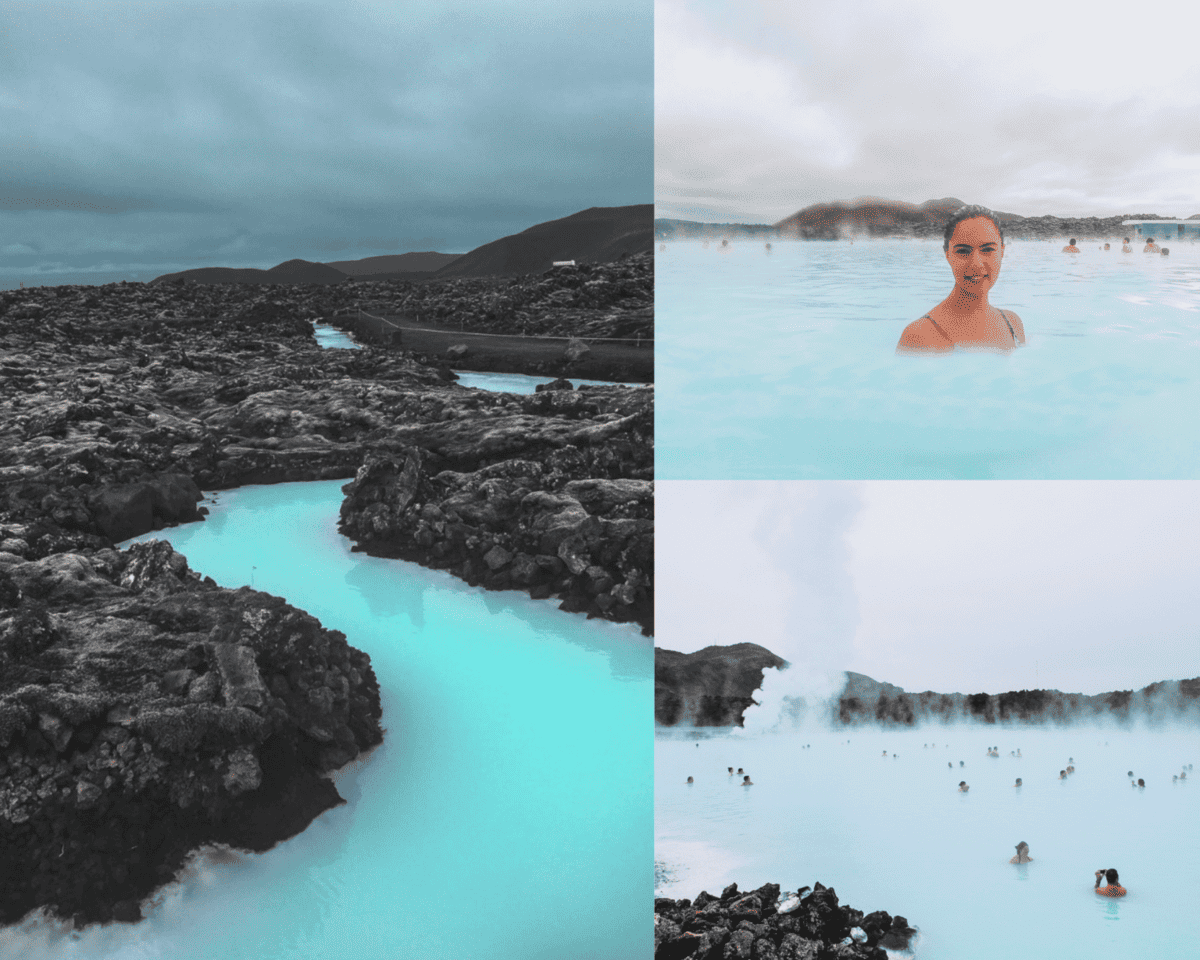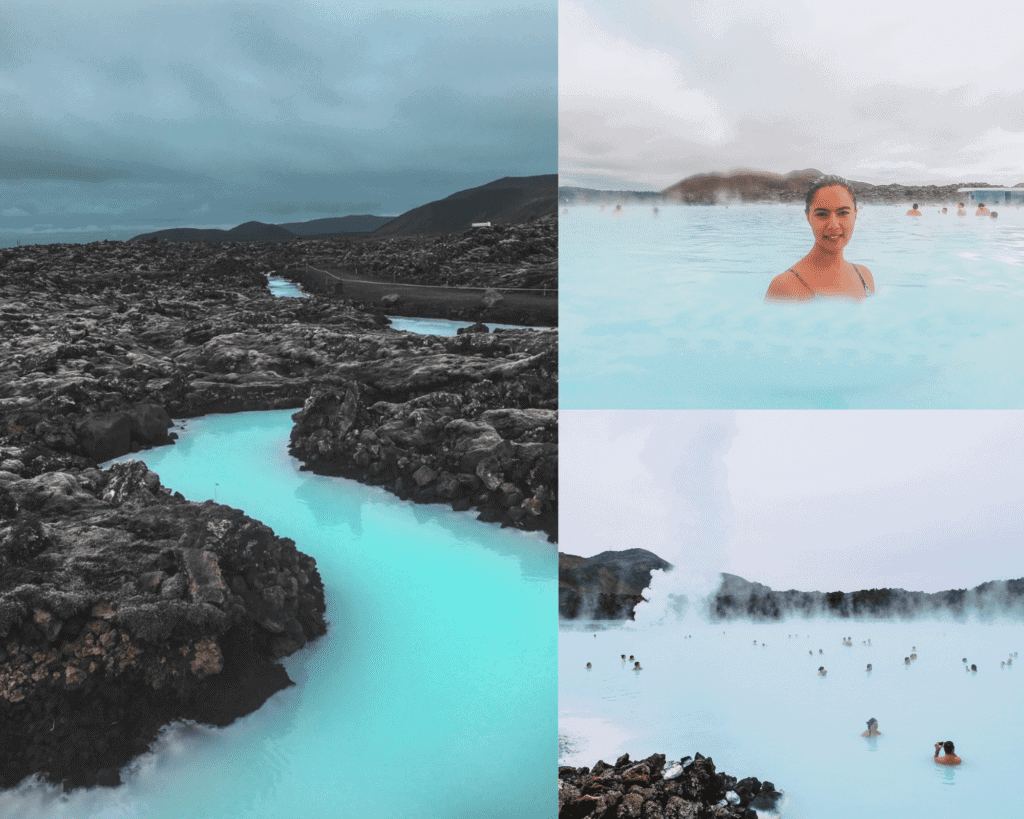 Blue Lagoon top tips:
Tickets must be purchased online so try to 

book

a few weeks in advance if possible to get your day and slot of choice. Prices are also dynamic depending on the season so make sure you check ahead for any deals
Plan on spending at least 4 hours to fully enjoy the experience and get the benefits of all the facilities (I loved the sauna just as much as I did the pool). There is no limit on how long you can stay inside so make the most of it!
Book the first slot of the day or one of the last ones in the evening to avoid the crowds (not the very last one if  you don't want to be kicked out too soon) 
The Blue Lagoon is located only 20 minutes from Kavlfakik airport so if you were spending only one day in Reykjavik, head to the lagoon straight from the airport!
Bring a pair of slippers or flip-flops, a brush and a hair tie if you don't plan on getting your hair wet (I don't recommend you do as the silica in water can make your hair brittle and very dry).  Everything else such as shampoo, soap and towels is provided in the Comfort package which is the basic package.
Don't wear jewellery to the pool as it may get damaged by the minerals in the water. If you did accidentally wear them, you get access to a private locker where you can leave small items.
Bring a Gopro or a waterproof cover for your phone if you want to take photos inside the pool.
Driving Route 1 (Ring Road)
If you love road trips then you would find driving along The Ring road an enchanting experience. The Ring road or Route 1 is Iceland's main motorway and covers 1332 kilometres(828 miles). It may be possible to drive the whole road in 24 hours but I wouldn't recommend that (unless you don't mind getting a speed ticket). To really enjoy and remember the experience  you'd need no less than 7 days. The route is dotted with spectacular scenery, from epic waterfalls and beaches to glaciers and fjords so be prepared to stop every few miles to take photos, another advantage of visiting in the summer as you don't have to worry about getting lost in the dark.
Driving the Golden Circle would be a good start if you are planning to venture into remote areas of the country. The Golden Circle is a 190 miles (300 km) route from Reykjavik which covers some of the most famous landmarks and can easily be done in one day.
Haifoss Waterfall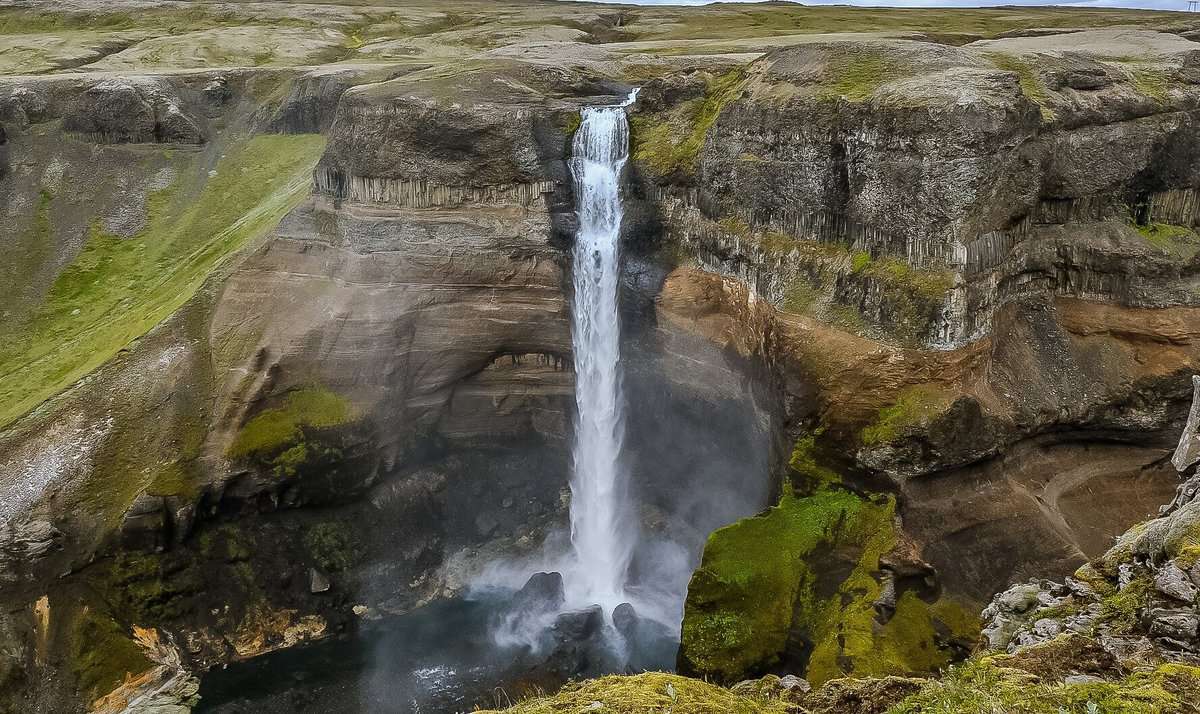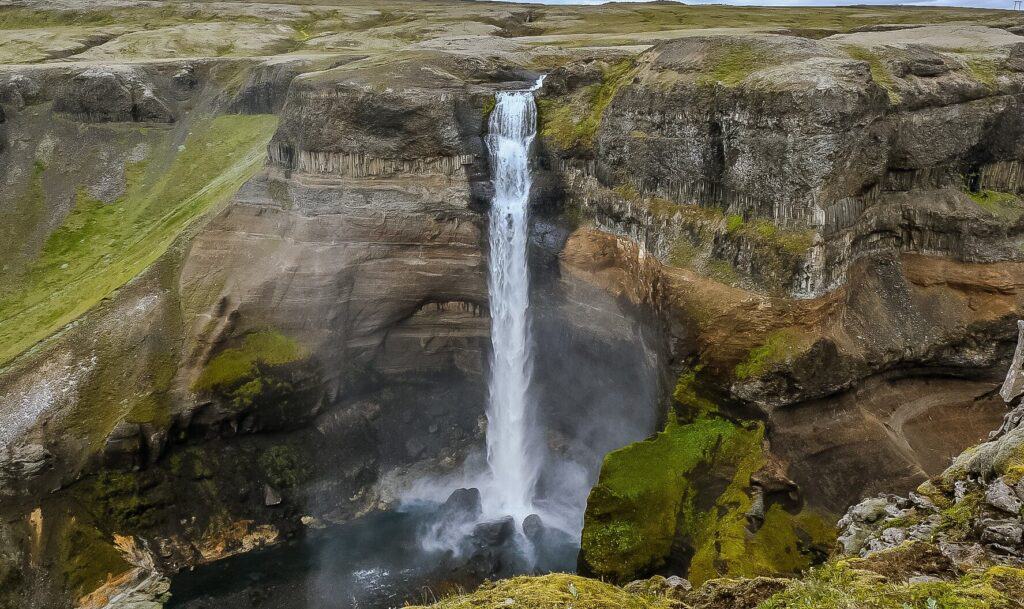 In southern Iceland, at the edge of the highlands, a region marked by strong volcanic activity, runs the Fossá river, a spring water tributary of the glacial river Þjórsá. This watercourse winds through the regions of Iceland, surrounded by a sumptuous desert made of rocks and grass and becomes Háifoss waterfall as it tumbles down a huge cliff and lands 122 meters into the canyon before quietly continuing its course.
This sight alone is worth the visit as Haifoss is not on the golden circle and many tourists tend to skip it but you would be missing out on seeing one of the tallest and most majestic waterfalls in the world. Haifoss is around 2.5 hours from Reykjavik and the drive there requires a decent vehicle as the road is rocky and prone to potholes but it's an easier drive to do in Summer than in Winter.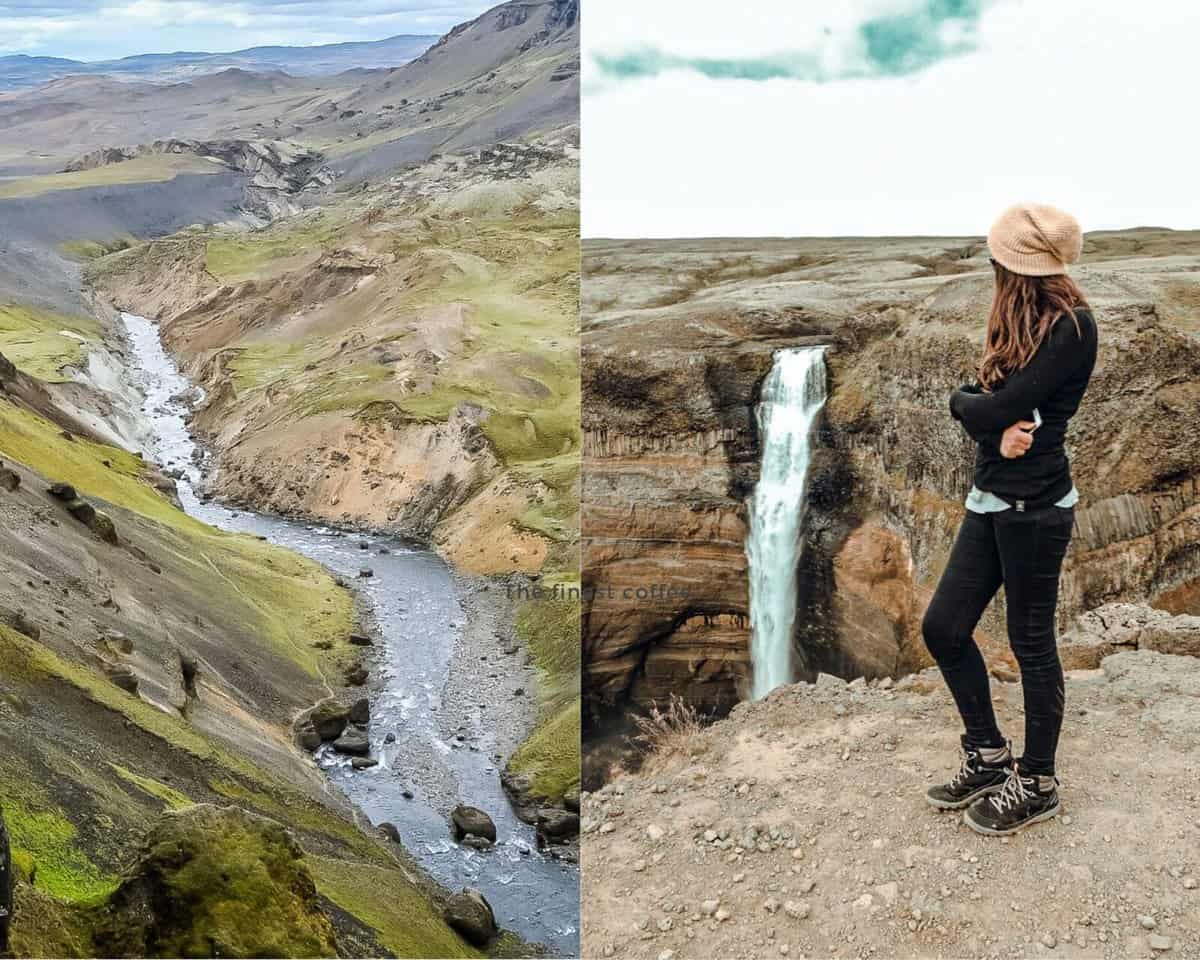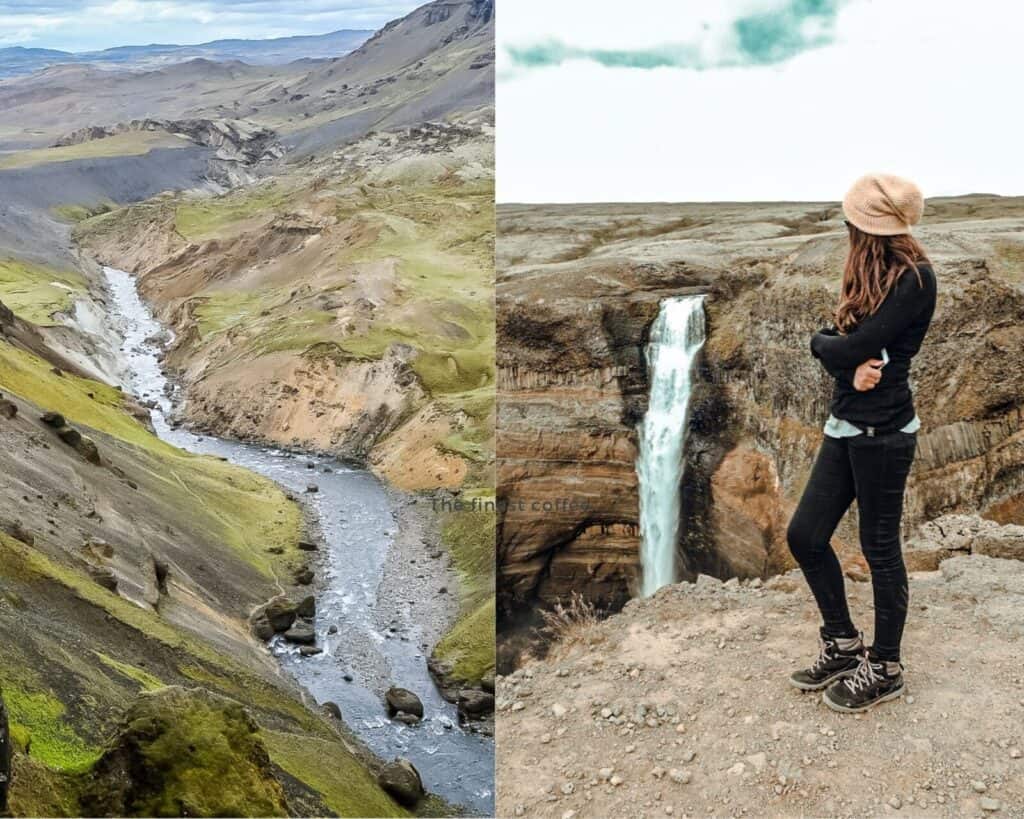 Haifoss has a neighbour, a smaller waterfall called Granni, which flows from an adjacent gorge and also drops into the canyon. I would love to go back and hike to the foot of the waterfall to experience it from a different angle.
Jökulsárlón glacier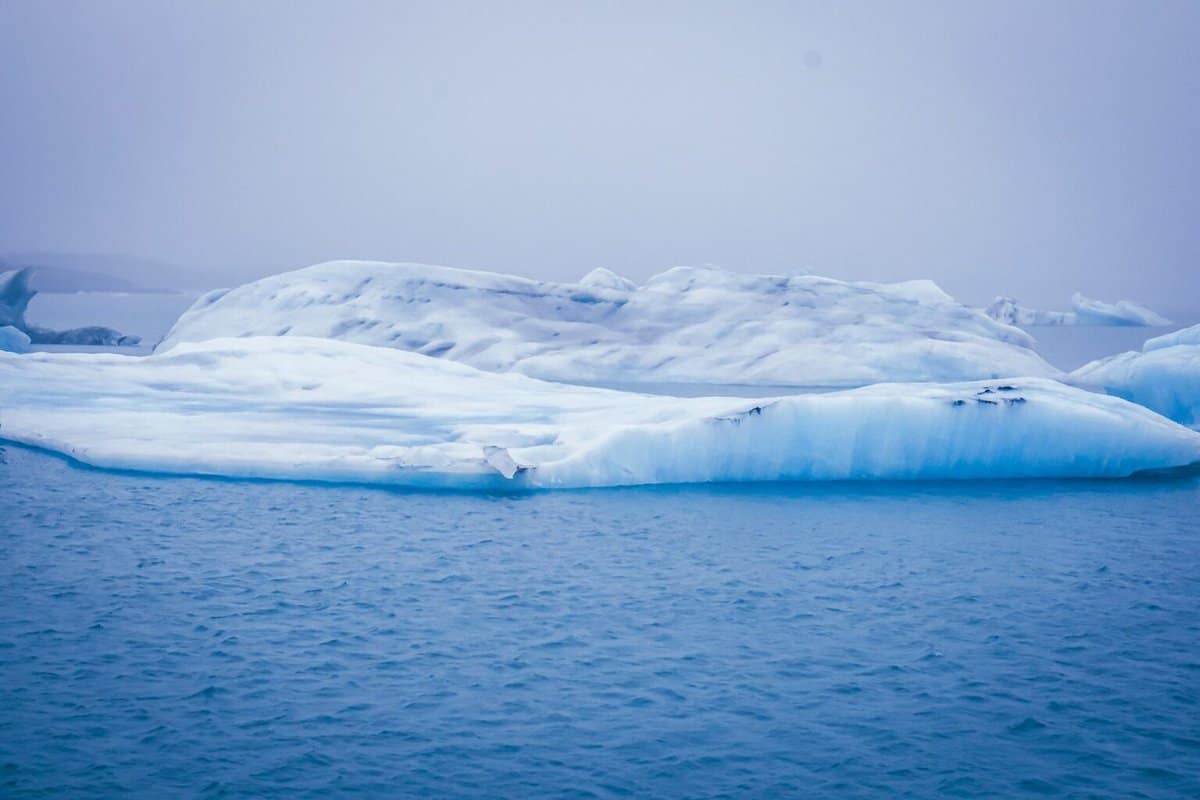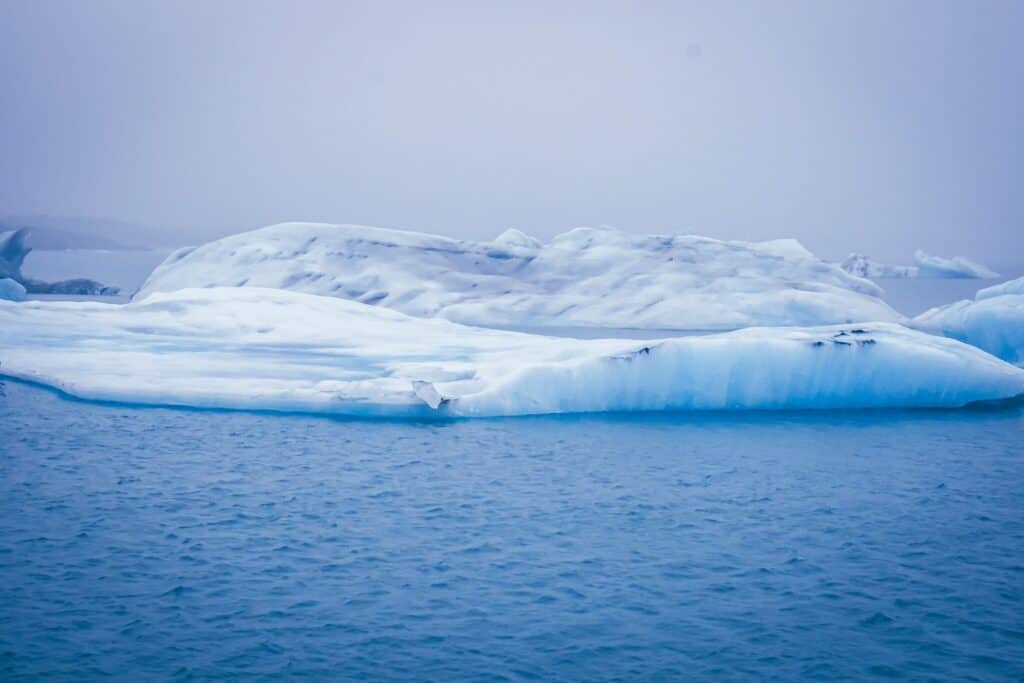 Hundreds of years ago, if you visited Jökulsárlón Glacier Lagoon you would have found nothing but pure frozen ice. But due to global warming, the once frozen landscape started to shatter and reemerge as icebergs  floating in strikingly blue water, eventually  forming one of the  deepest and most beautiful glacial lakes on Earth.
The lake has quadrupled in size since 1970 and is still growing. So far it covers an area of 18.2 km2, at 248 m making it Iceland's deepest lake.
Top Tip: Book a boat tour to get as close as possible to the huge icebergs. Tours run between April and October and you can book either a zodiac or an amphibian boat
tour
Diamond Beach 
I've been obsessed with Diamond beach for years but even my wildest dreams didn't prepare me for the breathtaking experience I had when I finally visited this incredible place.
Diamond beach (real name Breidamerkursandur) is located next to Jökulsárlón glacier lagoon. Its nickname is due to the huge chunks of glistening ice which look like diamonds lying on black sand after they have floated around Jökulsárlón Glacier Lagoon. Holding the ancient pieces of ice was the highlight of my trip and I ended up taking a ridiculous amount of photos until my camera got soaking wet.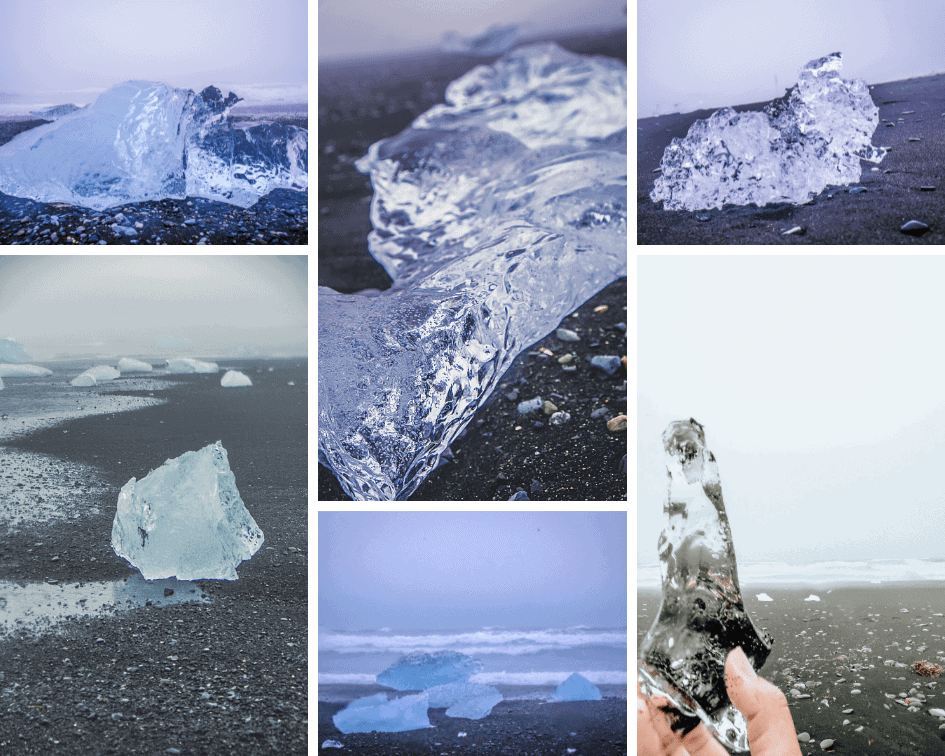 Jökulsárlón Glacier Lagoon and Diamond beach are located directly on the Ring Road but the drive from Reykjavik takes around 5 hours. Doing the round trip in a day may be achievable in the summer months but will be tiring so it's best to find somewhere to stay along the way and spend a couple of days visiting the area. One cool thing about visiting the beach more than once is that it looks different every time as the icebergs melt and are replaced by new ones of different shape and size!
Seljalandsfoss Waterfall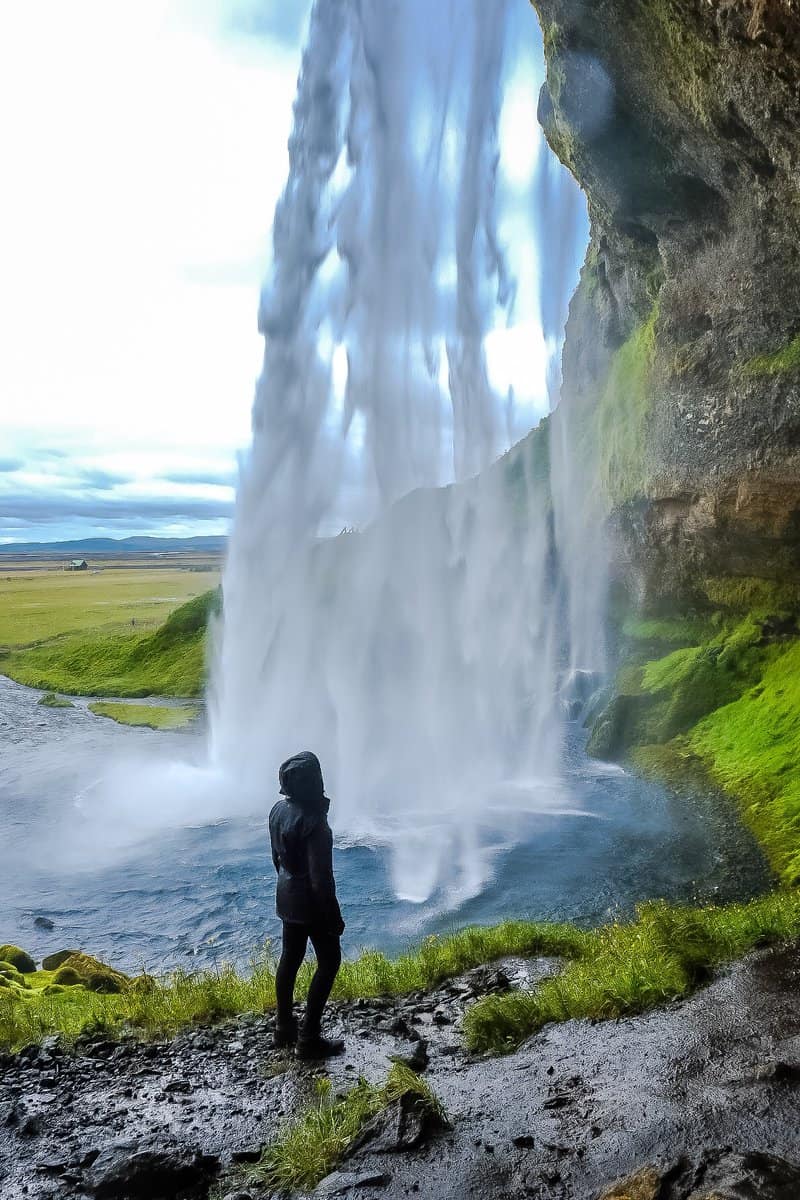 Situated along the south coast and easily accessible via the ring road, Seljalandsfoss stands impressively tall and is visible from a distance as you approach it from the main road. The waterfall is fed from the waters of the glacier-topped Eyjafjallajokull volcano and cascades down steep cliffs before it drops 65 metres into a pretty meadow. But the main attraction of the place is its water curtain. Seljalandsfoss is one of the very few waterfalls in the world where you can walk behind the water, the view is totally jaw-dropping and if you are lucky to visit on a sunny day you may spot a double rainbow! Be prepared to get absolutely soaked and bring a raincoat but I promise you it's totally worth it.
Svínafellsjökull Glacier
You are likely to make a stop at Svínafellsjökull glacier on your way to Jökulsárlón Glacier Lagoon.
Svínafellsjökull is one of thirty outlet glaciers originating from Vatnajökull, a monster ice cap that covers the surface of Iceland on a territory as big as Corsica. 8400 km² of frozen ground with an average ice thickness of 1000 meters, enough to make you feel chilled to the bone until you learn that under this frozen whiteness lurk the flames of hell from at least 8 volcanoes, two of which are among the most active in the region. Iceland is truly the land of ice and fire!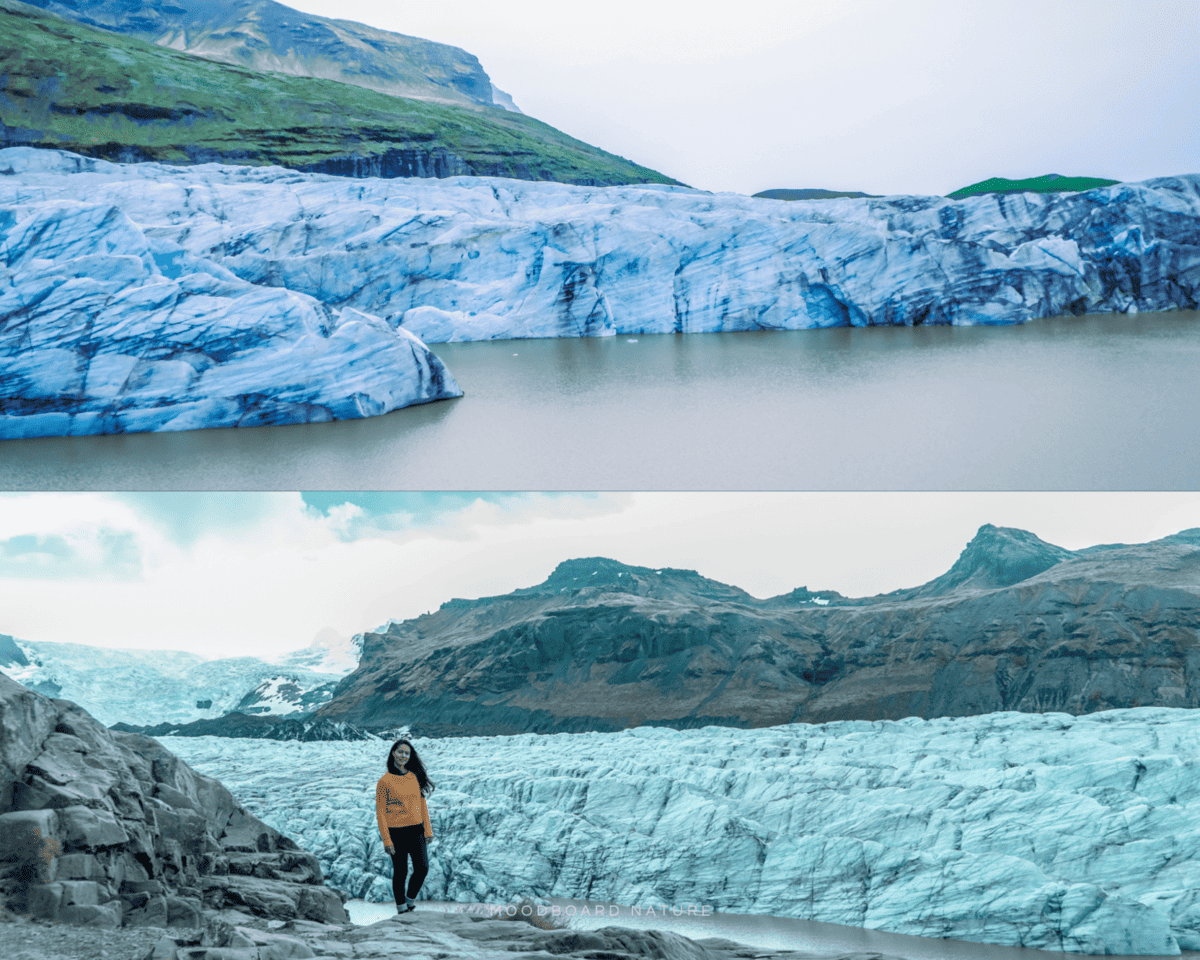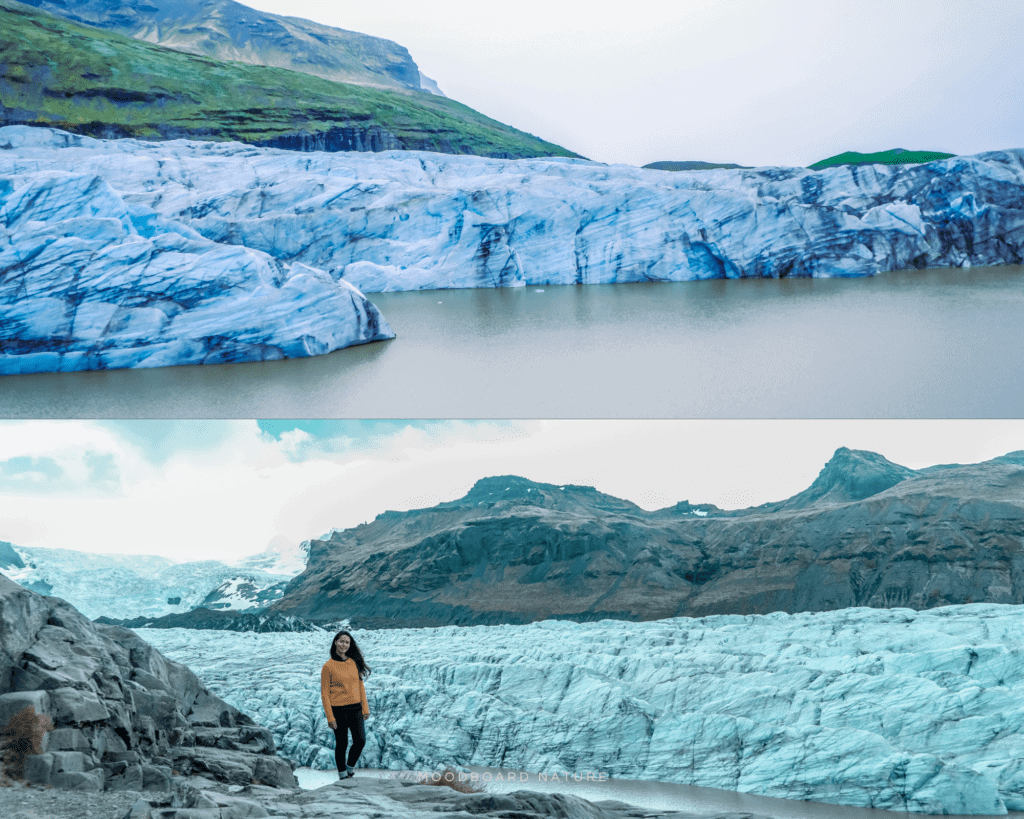 Located in the famous Skaftafell Park, Svínafellsjökull is 8 kilometres long and 800 meters wide. From the car park, a short hike  allows you to get quite close to the glacier and admire its surreal beauty. Large ice ridges in stunning shades of blue and white and covered in black volcanic dust stand out in the lagoon which in contract has a brown colour caused by the ash deposits from past eruptions. And if you felt like you were on the set of a film, you'd be quite right as that's where they filmed Interstellar. 
You can also hike Svínafellsjökull glacier if you feel brave but keep safety in mind as the glacier is riddled with cracks and crevasses so it's always recommended to use a professional guide or tour company.
Sólheimasandur plane wreck
A plane wreck on a desolate black beach. Another surreal landscape in Iceland, this time not crafted by nature but this doesn't make it any less impressive.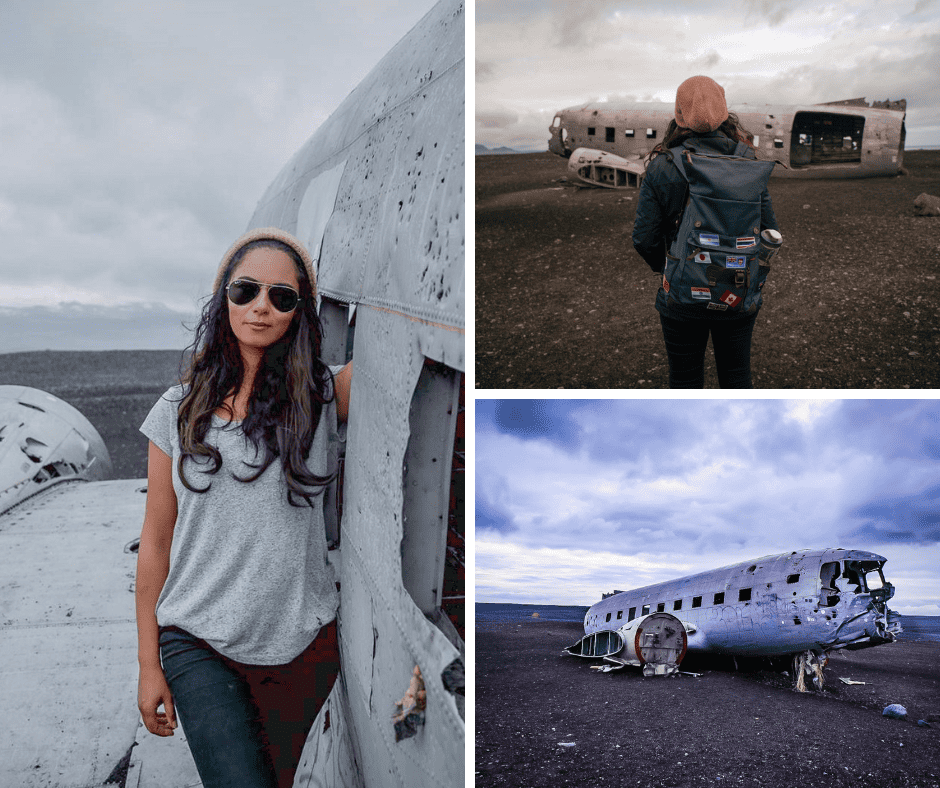 In 1973 a US Navy plane crashed onto Sólheimasandur beach in South Iceland. Luckily the pilot managed to perform an emergency landing on the beach and everyone survived, though it's hard to believe they did when you take a close look at what's left! The U.S. military salvaged the usable pieces and left the rest on the beach.
Sólheimasandur is located on Iceland's Southern coast right off the Ring Road, between Skógafoss waterfall and the town of Vik. In the past you could drive up to the beach and park next to the plane but the site became very popular after it was featured in movies, commercials and a Justin Bieber's video so the owners banned access to vehicles to prevent crowds from tearing up the land and parking anywhere. The only way to get to the beach is by parking off-road and walking a couple of miles each way. It's not a hard walk to do but it is a pretty flat scenery. As you get closer and get a glimpse of the beach and eventually the plane wreckage you realise it was worth it!
Þjófafoss  Waterfall
Iceland has an abundance of waterfalls but each one is unique and worth the visit. Þjófafoss is one of the most picturesque waterfalls in Southern Iceland. It is part of the river Þjórsá, the longest river in Iceland and located in the middle of Merkurhraun lava field mountain. Its location offers a perfect viewing platform with Bürfell mountain standing majestically behind the turquoise falls.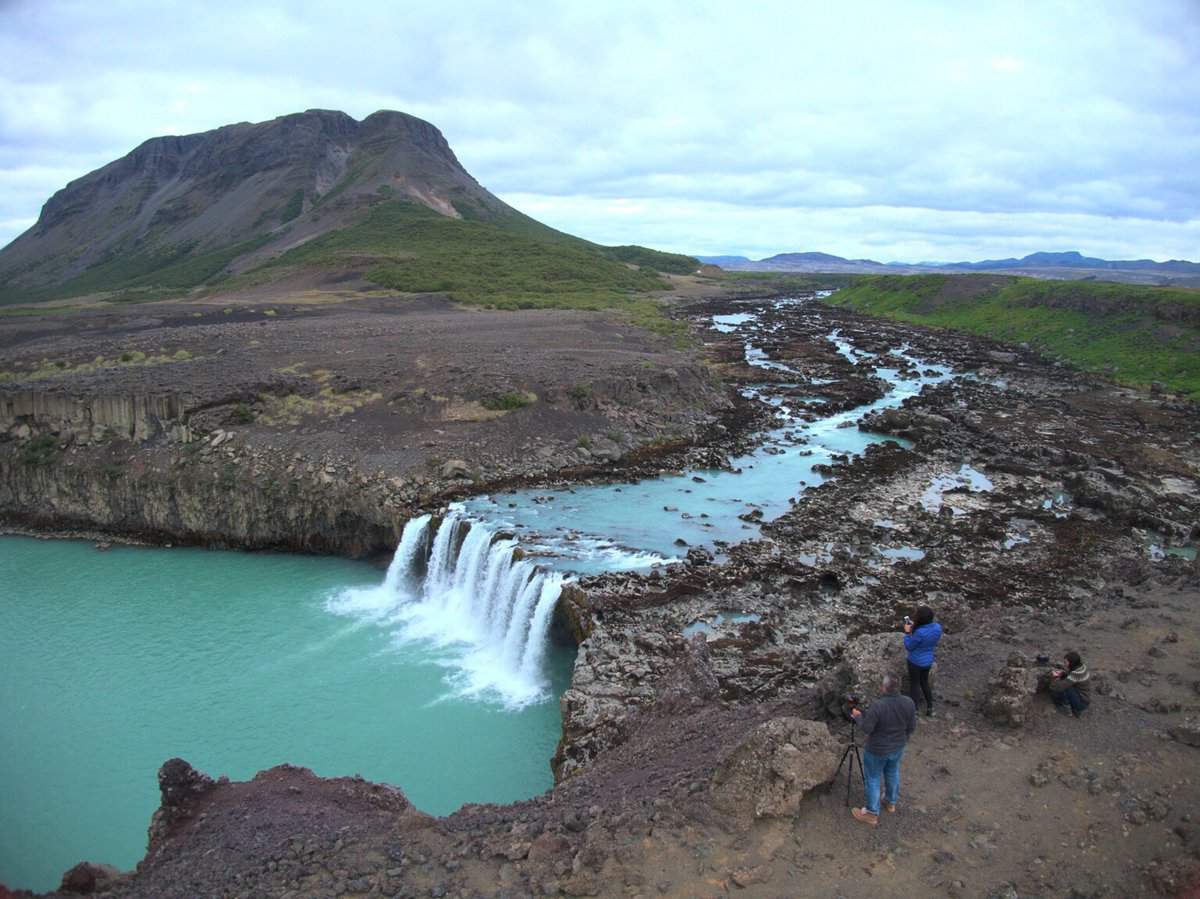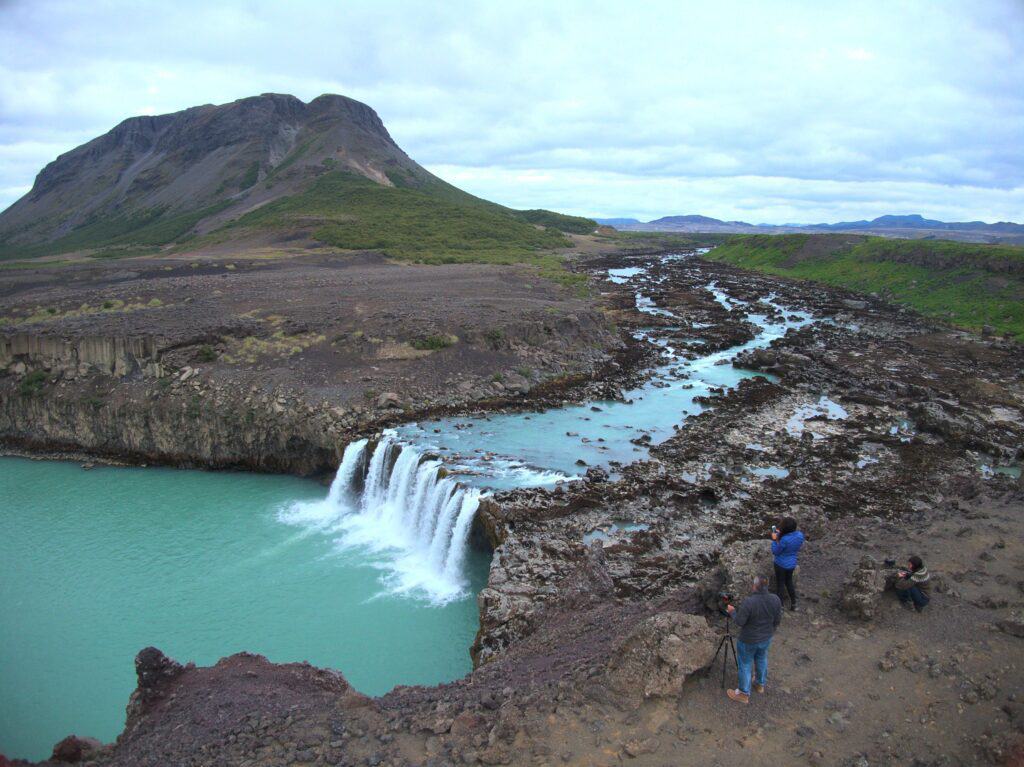 The river was Incorporated into a large hydroelectric system above Þjófafoss and as a result the volume of the falls has been greatly reduced from their natural levels, which gives the water its stunning teal colour.
Þjófafoss means "thieves falls" because, as legend has it, thieves were taken there and drowned for their crimes. But don't let its grim past deter you; Þjófafoss is full of inspiration especially if you are into landscape photography.
Fjaðrárgljúfur canyon
We almost didn't visit Fjaðrárgljúfur (have fun trying to pronounce that!) as it wasn't on our list of places and none of us had heard of it. It turned out to be only a 10 minutes drive from our Airbnb near the  village of Kirkjubæjarklaustur so we visited on a rainy afternoon but the weather added more drama to the landscape and it ended up being a very enjoyable photography session.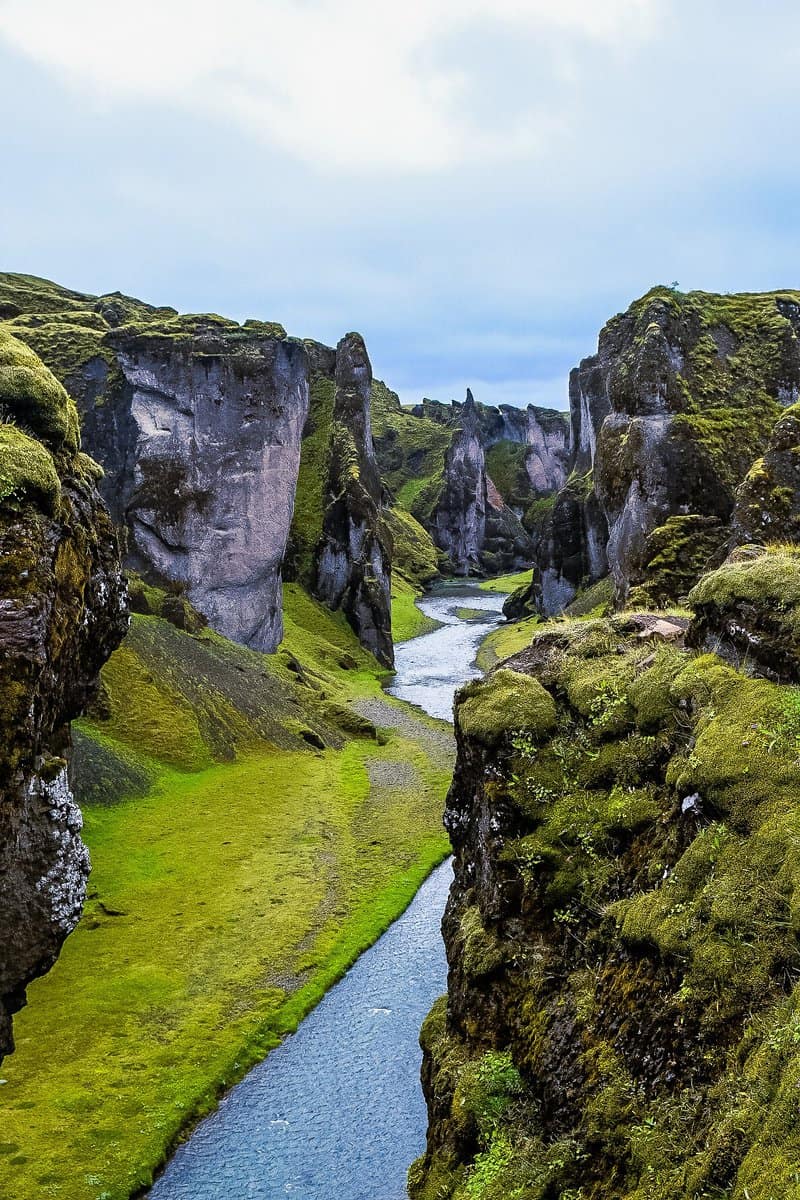 Fjaðrárgljúfur is a canyon of the Fjaðrá river which is thought to have formed at the end of the last Ice Age, about 9000 years ago due to the progressive erosion by flowing water from the giant glaciers through the rocks. The result is a canyon which is up to 100 metres deep and 2 kilometres long.
It's a fairytale-like place with its sheer narrow walls and serpentine river. You can walk along the canyon all the way to the top. It's quite a long hike but recommended as the view is constantly changing and ends with a beautiful waterfall but if you don't fancy hiking you can still walk down to the base of the canyon as you leave the car park and enjoy a panoramic view of the place.
Reynisfjara Black Sand Beach
I've had my first black sand beach experience in Iceland and since then I made it my mission to visit every black beach in the world (there aren't many).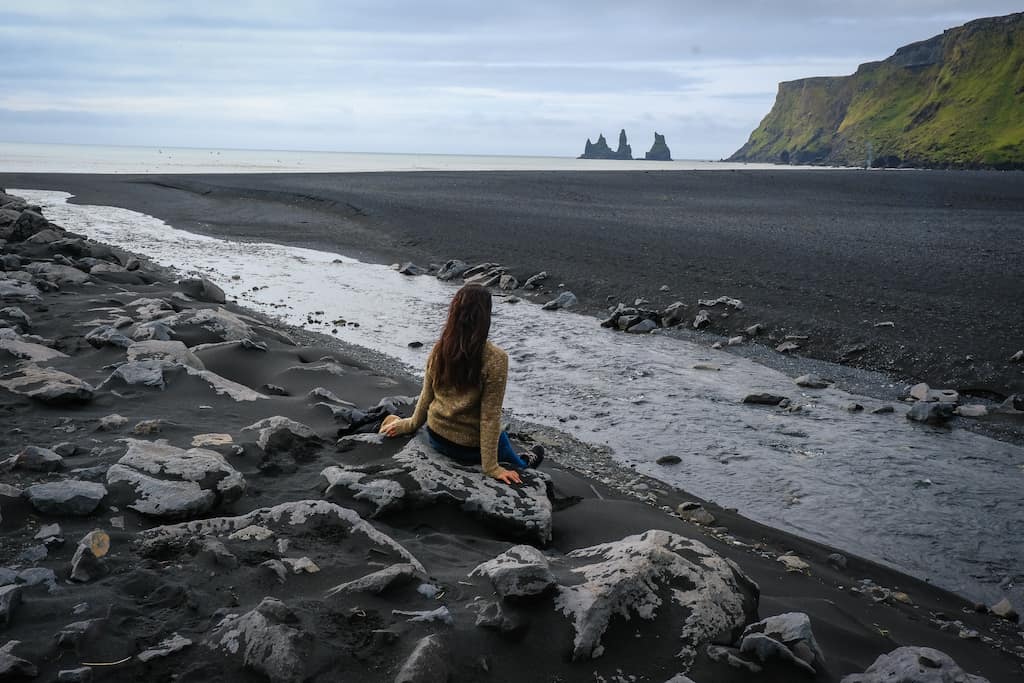 Though it's reputed to be dangerous and the prospect of sunbathing let alone swimming there is non existent, Reynisfjara is a masterpiece crafted by mother nature with its angular basalt columns and jet black sand which strikes a perfect contract against the white foam as the waves rise and fall down like a soothing carpet. It's no wonder that In 1991, National Geographic voted it as one of the Top 10 non-tropical beaches to visit on the planet.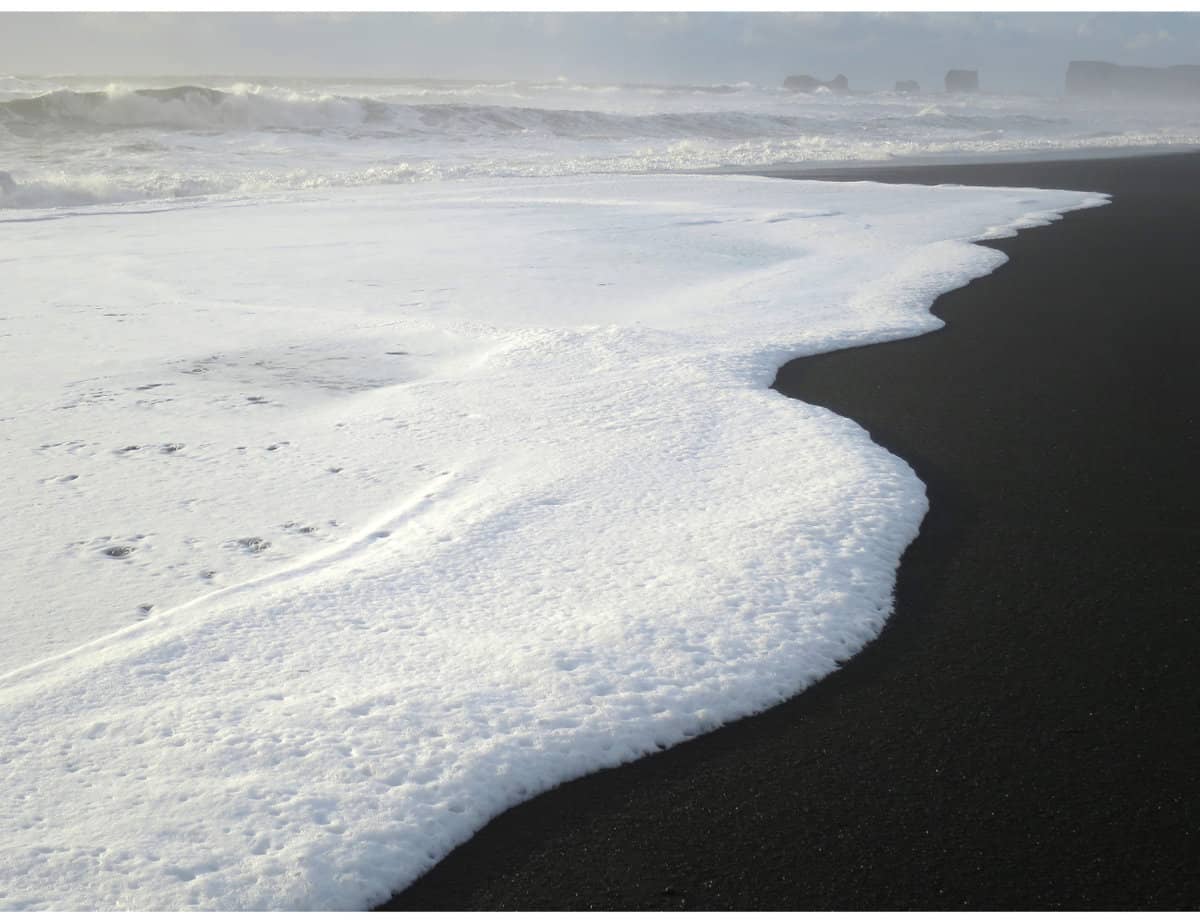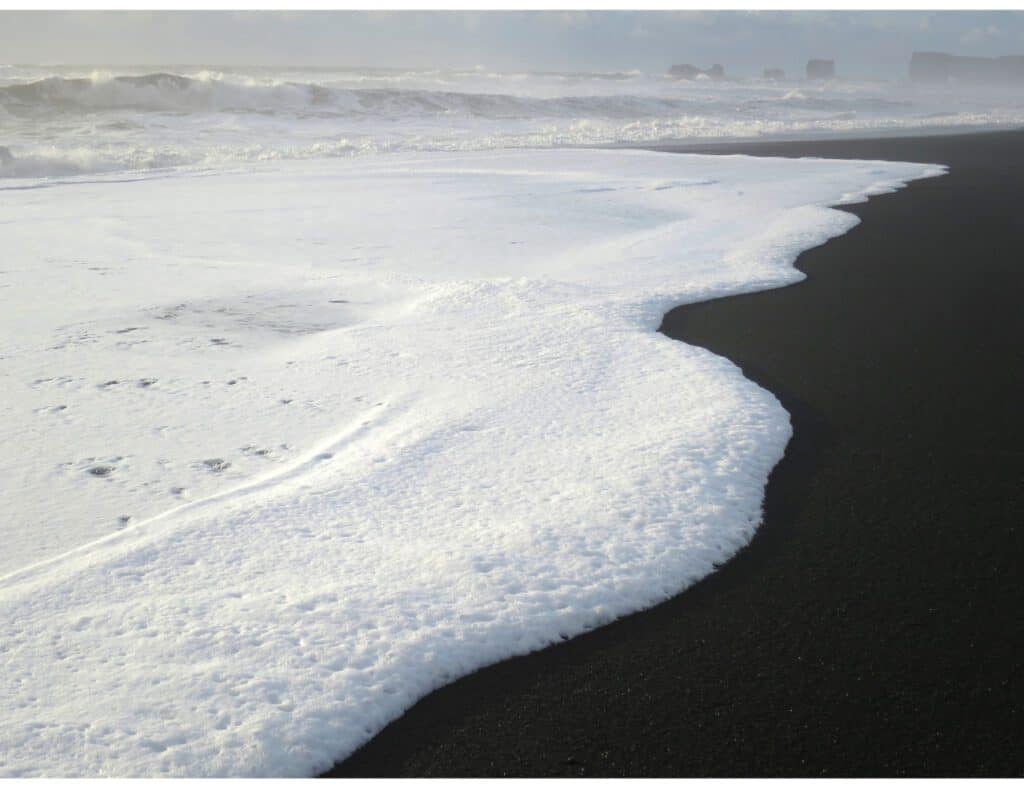 The beach is located 180 kilometers southeast of Reykjavik, between the Dyrhólaey peninsula and the pretty village of Vík. It's an easy stop to make if you are heading to Jökulsárlón glacier and can be combined with other sights as well. I can't recommend it highly enough.
Skógafoss Waterfall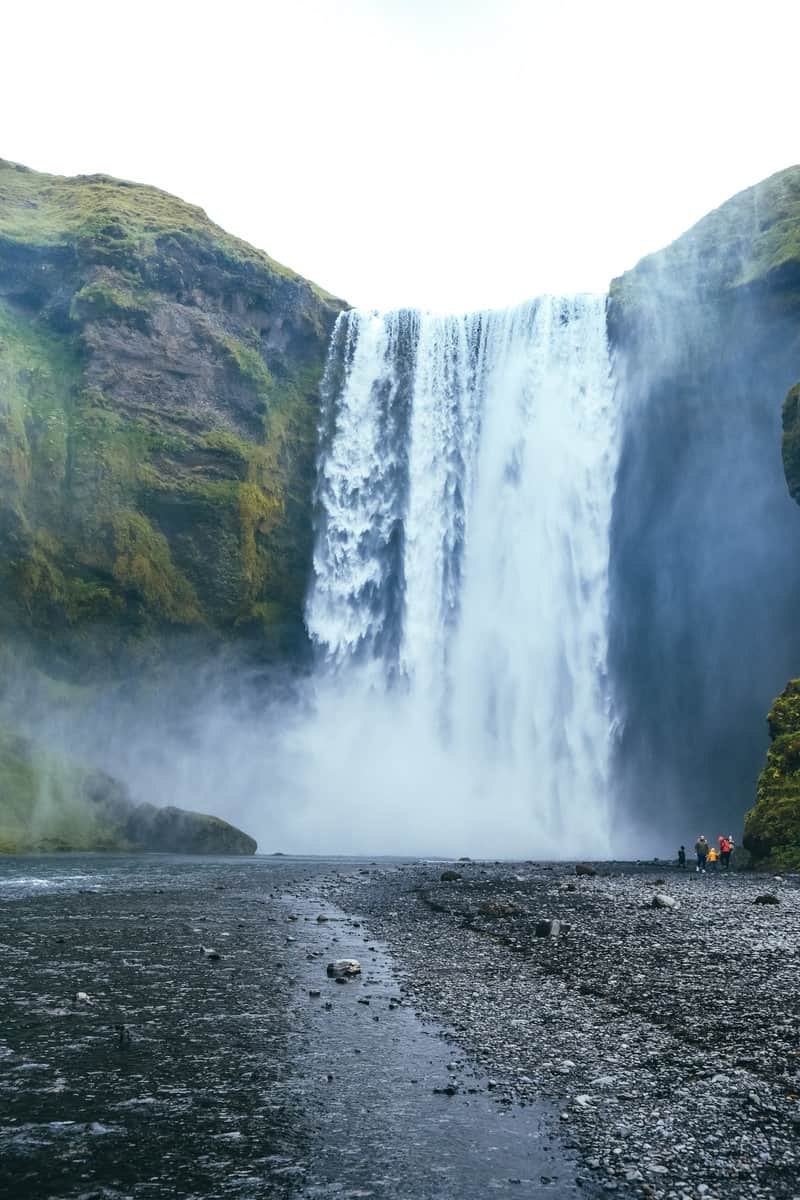 I couldn't finish my list without mentioning another waterfall. I still don't know which waterfall is my favourite or if I have a favourite at all but Skogafoss is surely the most imposing and majestic of the ones I saw. With its height of  60 metres and width of 25 metres, its deafening sounds and the thick fog of its water jet, Skogafoss is nature's way of telling us to let go and run wild and free.
You can hike up to a nearby bridge to see the waterfall from above but it's really best admired from the bottom as you can get close and experience its awe-inspiring beauty. It's an overwhelmingly powerful waterfall though so caution is required as is a raincoat!
I hope this summer road trip inspires you to a book a holiday to Iceland. The biggest advantage of visiting in the summer is that you get to experience the midnight sun where the sun remains visible for almost 24 hours a day during the summer solstice (June) and the skies never really darken in July and August, which provides ample opportunities for outdoor activities and long drives.