Slovenia 5-Day Itinerary For First Time Travellers
Are you planning a visit to Slovenia but don't know where to begin? This suggested  Slovenia 5-day itinerary will show you the best that this country has to offer so you can skip the planning and focus on enjoying every moment. 
I remember the first time I saw a picture of Lake Bled  some 7 or 8 years ago. The colours were so vivid I thought it was a painting. I made a mental note then to add it to the top 100 places to see before I die. Then in 2019, I came across a travel competition where the final prize was a trip to Slovenia. I didn't enter the competition but was curious to find out more about this prize destination, so a quick search brought back the most incredible photos of dramatic landscapes, lakes and Soča valley! I knew then that this place couldn't wait any longer and 6 months later, I set off on the best solo trip I've taken to date.
slovenia 5-day itinerary for first time travellers. 
Day 1
Ljubljana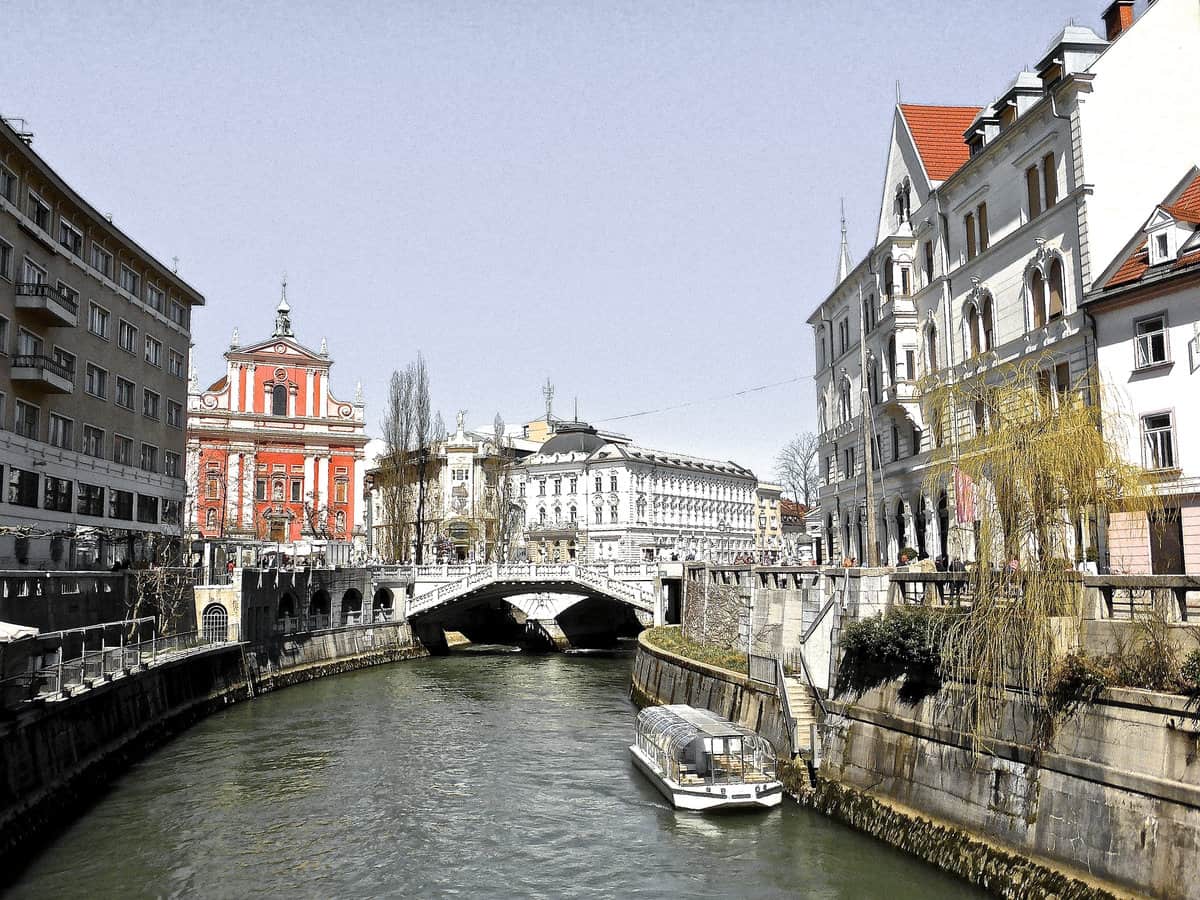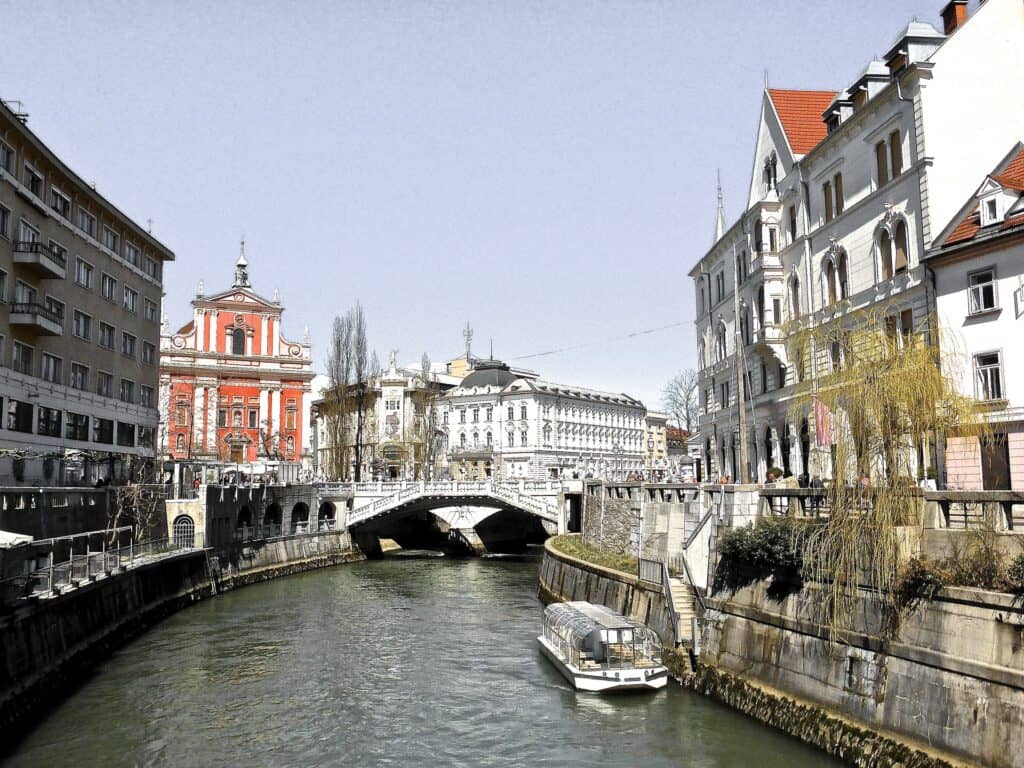 I arrived in Ljulblana on a sunny Friday afternoon in August and met Andreja who is a journalist in a local radio. Andreja had reached out to me on Facebook after I posted some questions on Slovenia in a travel group. She also happens to be a tourist guide on weekends so I got first hand knowledge on all things to do which was fantastic. I didn't refer to any guide during my whole trip.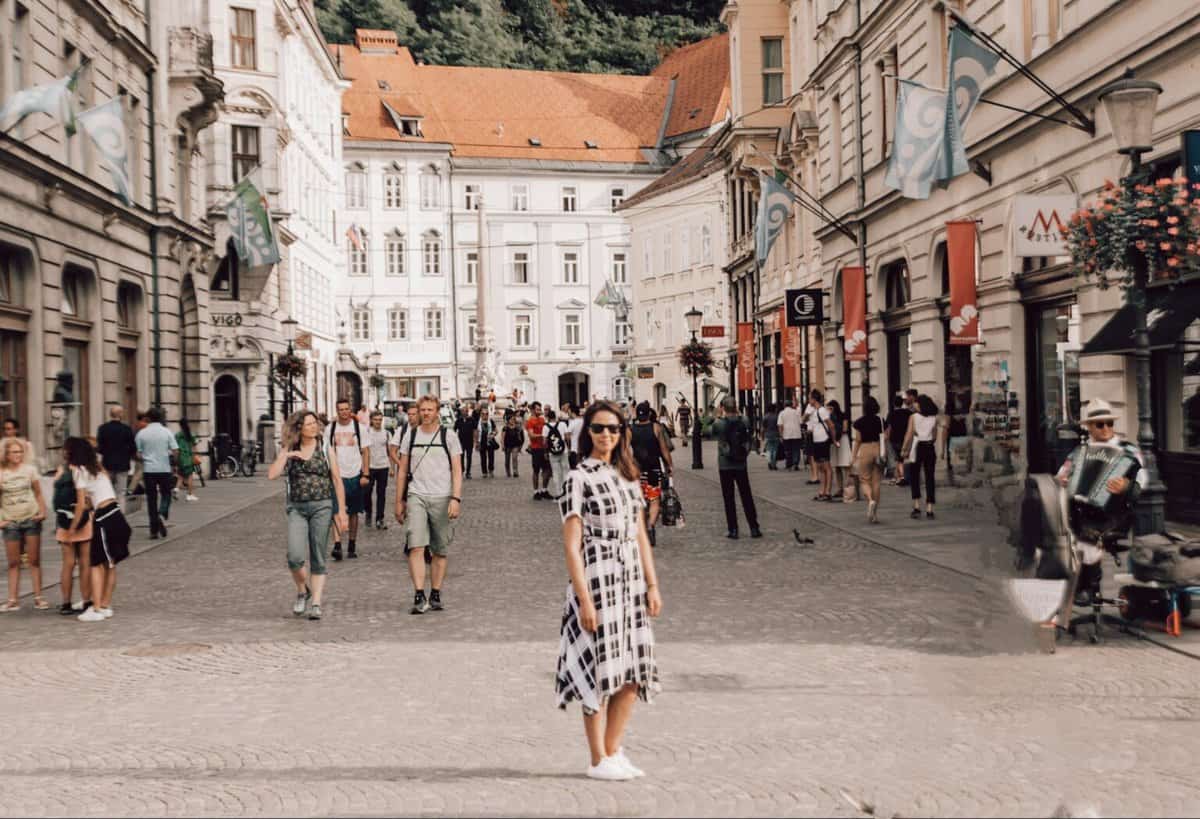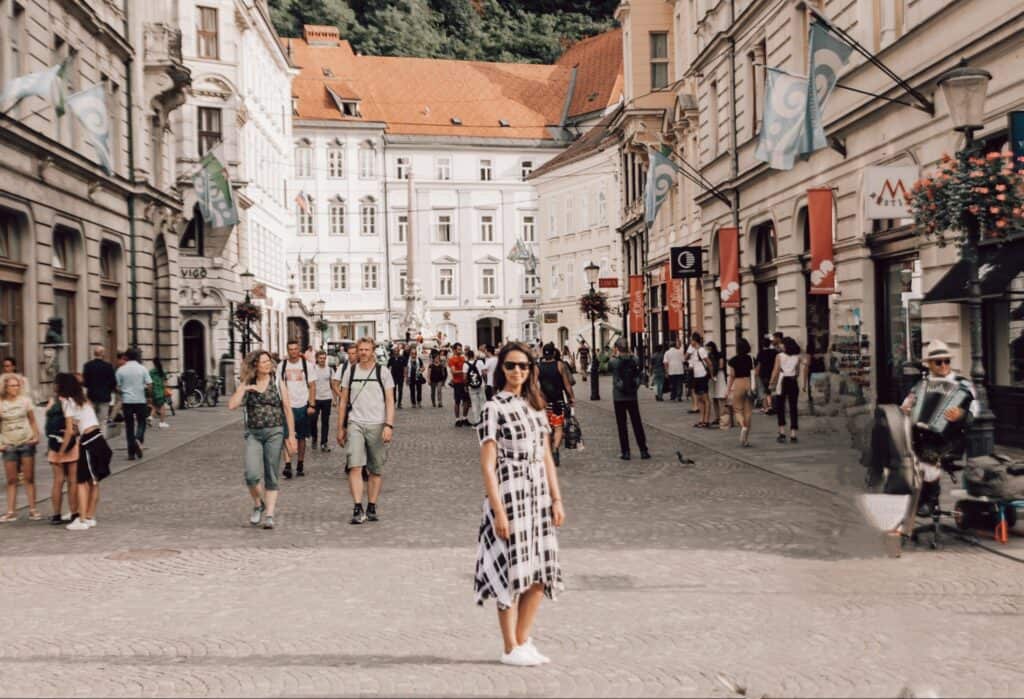 Ljubljana is an incredibly charming city. It has the quaintness of old medieval towns and the cultural prowess of big cities. Large squares, cobbled streets, bridges and postcard-pretty buildings are very reminiscent of cities such as Prague or Krakow. Live music and food festivals take place in the city centre most Fridays in the evening. You can walk along the canal or sit in one of its many restaurants alongside the bridge for an Alfresco dining experience. Andreja took me on a ride in her car around the city then we had dinner in a local restaurant where I had the chance to sample local delicacies. We finished the tour with a walk along the Triple bridge, taking in the jovial atmosphere of live music while Andreja delighted me with anecdotes and historical facts about the city.  
Slovenians are very proud of their cultural heritage. Ljubljana is one of the few cities in Europe that doesn't showcase statues of military or political personalities. Instead, a statue of its most beloved poet, France Prešeren sits proudly in the square named after him at the foot of the Triple bridge.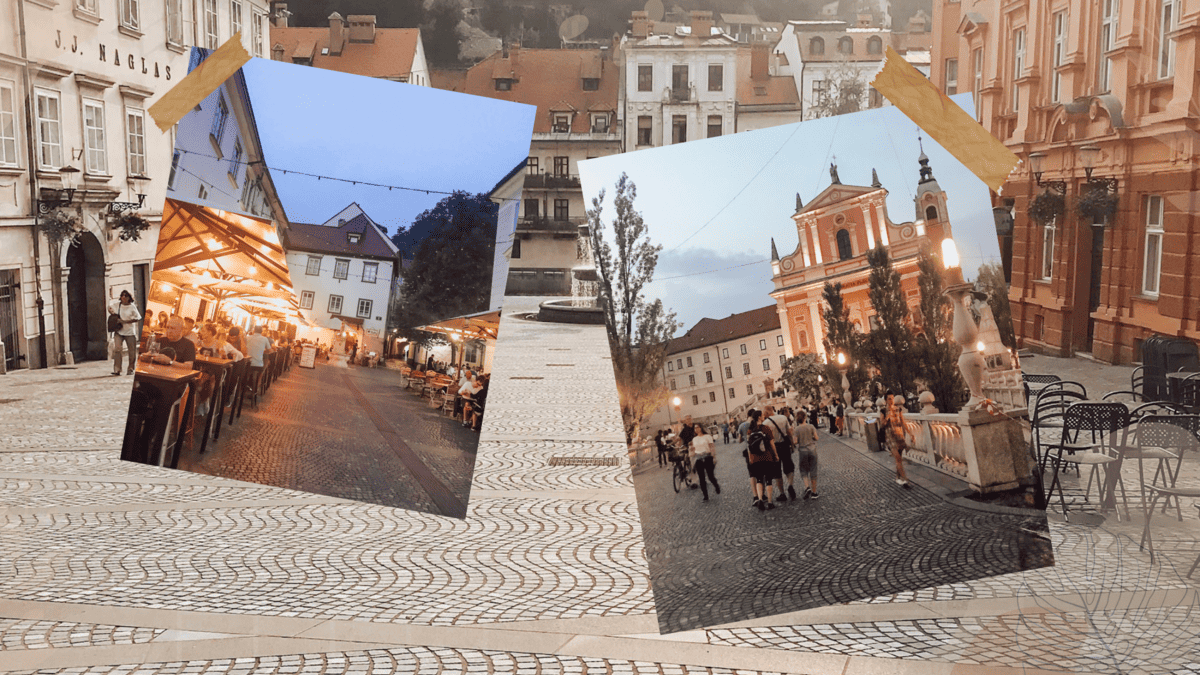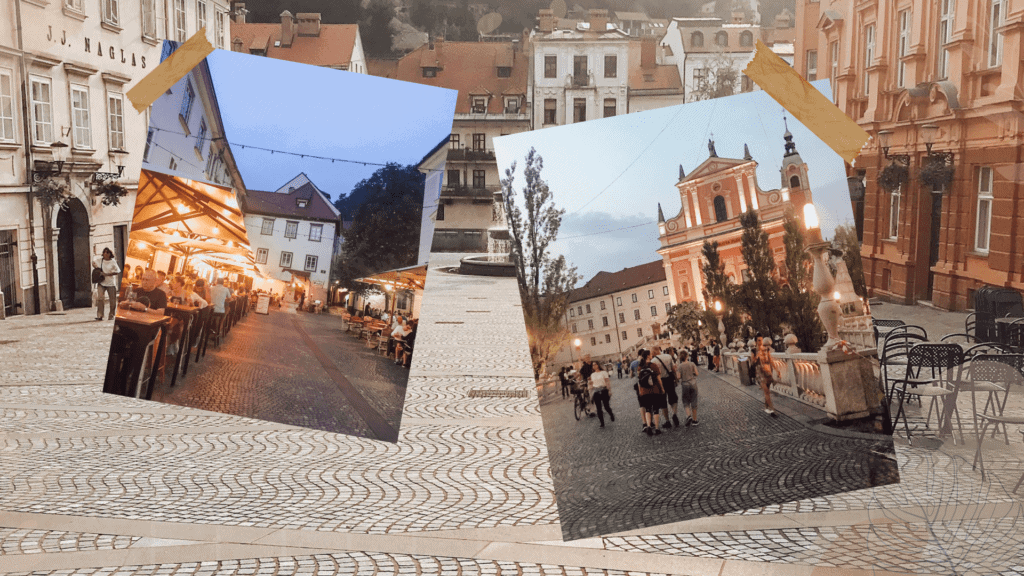 Getting around Ljubljana is very easy. The city is compact, safe and heavily pedestrianised. There are whole areas which are traffic free so walking or cycling around the city is a very enjoyable experience. 
Public transport in the city is excellent with buses being the most common way of transport by locals and tourists. There are bus lines that connect all parts of Slovenia and even other countries as well such as Croatia and Italy. 
Other things you can do in Ljubljana
Climb to the top of Ljubljana Castle
This is a lovely walk you can do anytime of the day especially in the summer. I did it on my last day and got up at 6 am as I wanted to take some pictures of the city when it was still sleeping. It's an easy (but a little steep) 10–15 mins walk from the Central Ljubljana Market in Vodnik Square via Študentovska path. Once at the top of the hill, you will be rewarded with a bird's eye view of the beautiful streets, houses and markets of the Old town. 
If you want to avoid the steep climb, you can ride on the funicular for only 4 Euros each way. 
Take a tour in Metelkova mesto
This is a former military barracks that was transformed into an alternative culture and art hotspot. Metelkova is home to numerous galleries, clubs and bars where visitors can enjoy music, art and dance performances. Go during the day to explore the urban landscape and street art, or at night if you are in the mood for partying as the place becomes alive with music and underground DJs entertaining the crowds all night.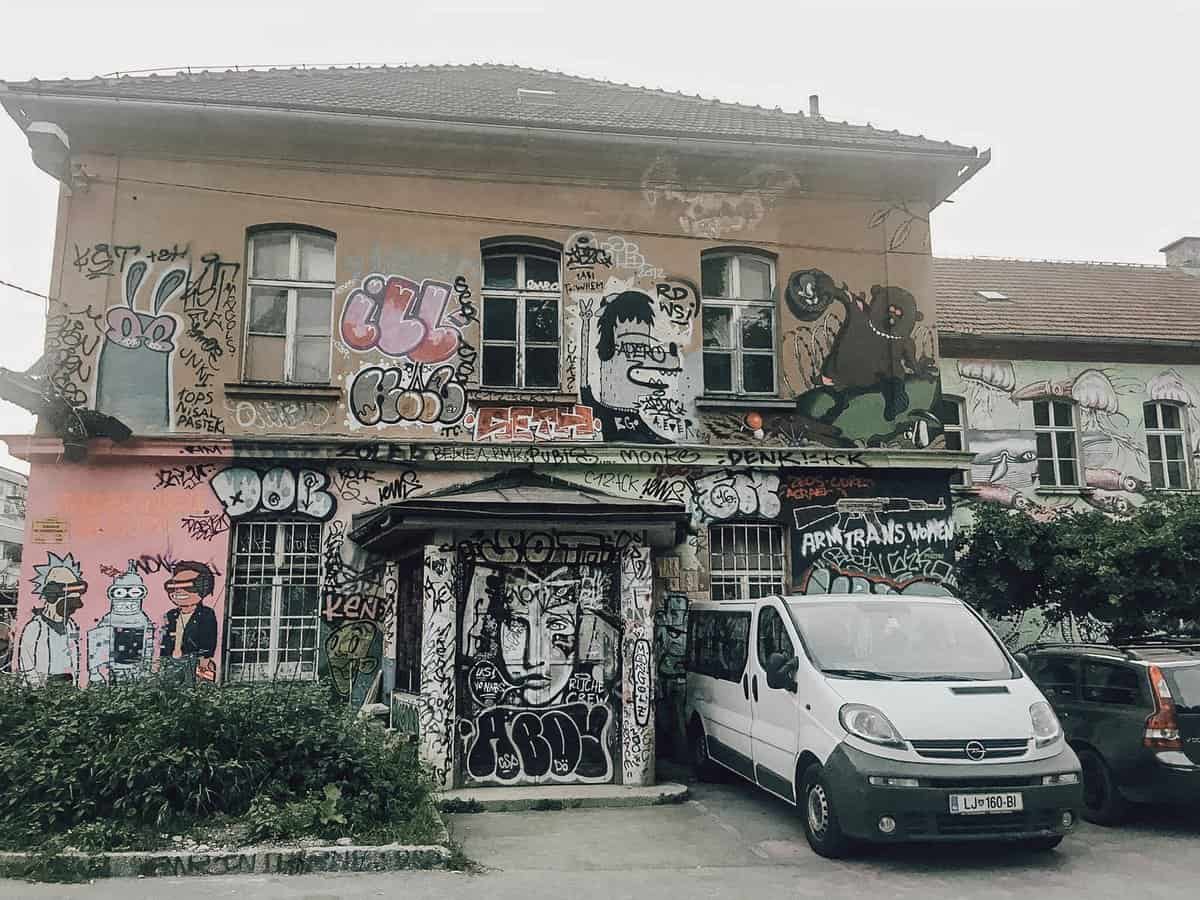 Visit the local market and open kitchen
Ljubljana markets are one of the best places to find fresh local produce as well as handmade souvenirs from local artisans. The central market is located in the Vodnikov trg and Pogačarnev trg squares and has an indoor and outdoor section where you find everything from traditional Slovenian delicacies to handmade jewellery and crafts. The market is open daily but the best part is the Open Kitchen (Odprta kuhna) which takes place every Friday from mid-March until the end of October. This is a unique food market where chefs from  all over the country prepare various dishes national and international and sell them on the market. You can sample a selection of food or grab a plate and join the locals in the square while enjoying live music. It's a great experience not to be missed. 
Day 2
Lake Bled: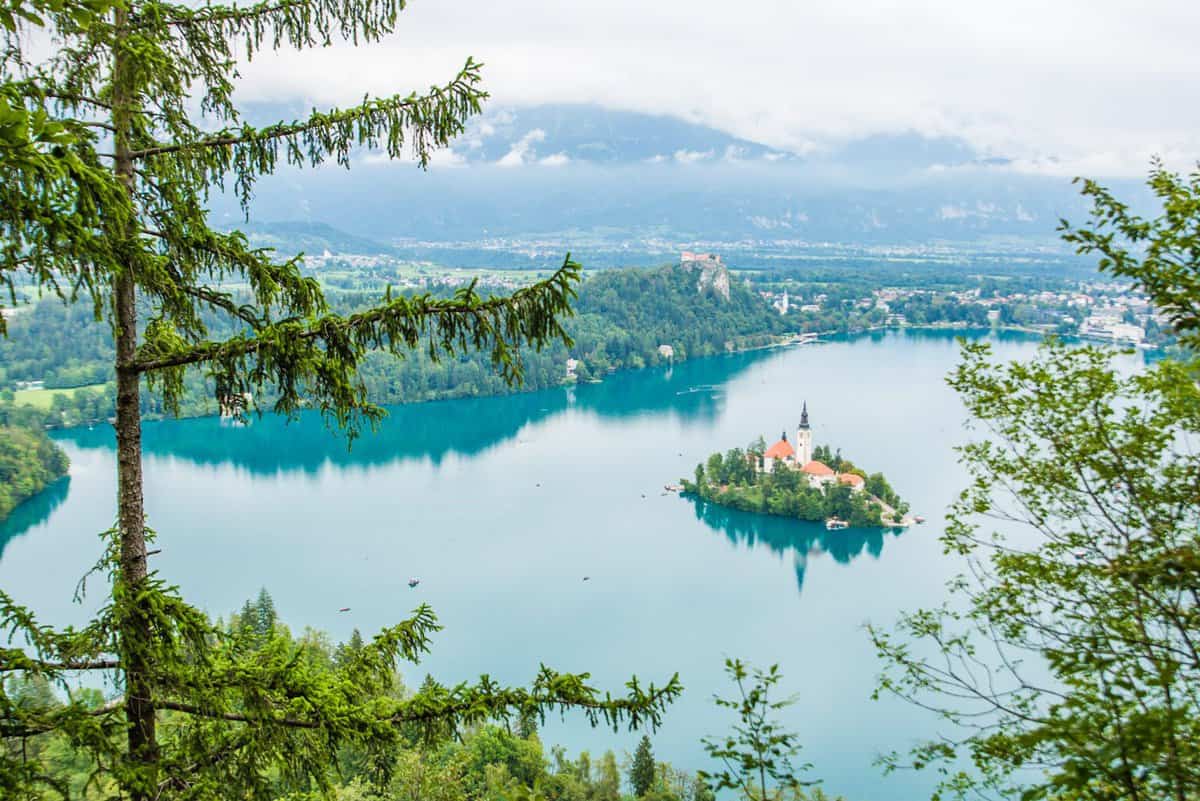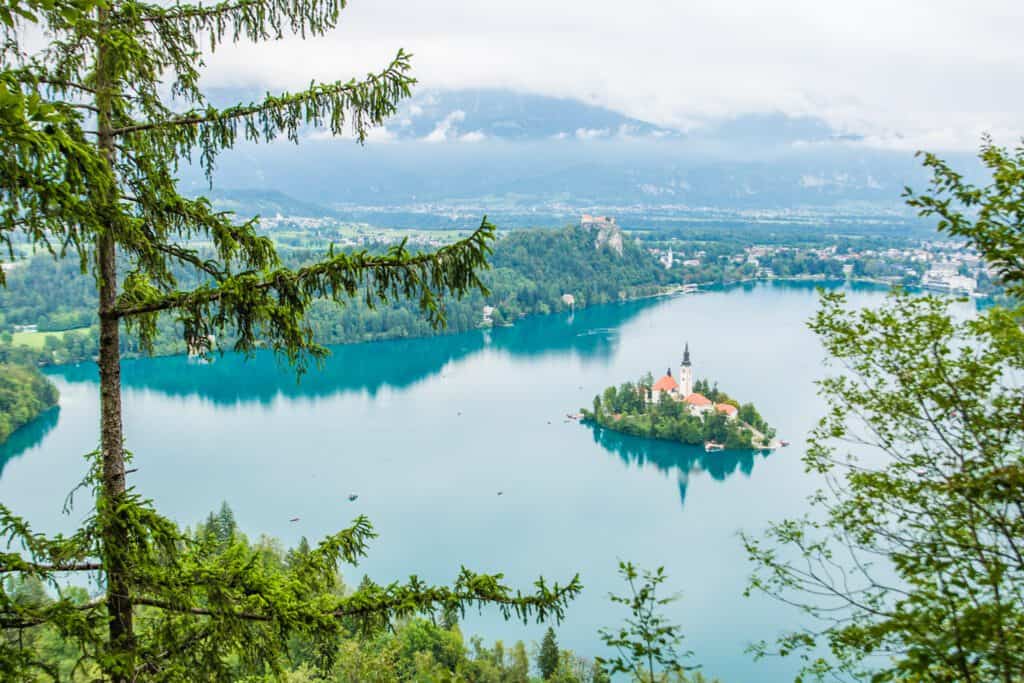 Bled is as stunning and peaceful as it looks in photos so a visit to this iconic lake should be at the top of your list.
There are plenty of activities to do in Lake Bled, but it's best to plan your visit in advance and get there early to make the most of it. You can spend as little as two hours in Bled or the whole day if you wish. There are plenty of activities to keep you busy especially in the summer.
The best way to start your visit is by walking all around it. The walk is circular and should take you between 1-2 hours or more if like me you tend to stop every five minutes to soak up the views and take photos.
You can also hike to one of the hills above the lake for creative photography. The best viewpoint in my opinion is Mala Osojnica.
You can also discover the lake by boat, paddle board or  swimming which is a very popular activity in Summer!
Checkout my list of fun things to do in and around Bled.

Day 3
Vintgar Gorge 
Andreja suggested I visit this gorge which is only 4 km from Lake Bled but I had planned to go hiking in the morning and visit lake Bohinj in the afternoon and didn't think I would have time to fit in another attraction. I had spent the previous night in the mountains and woke up to torrential rain so both hiking and Bohinj were no longer an option. I stopped in Bled for lunch and a stroll before heading back to Ljubljana but the sun made a reappearance in the afternoon and as I had a lot of time to kill I remembered Vintgar Gorge and decided on a last minute visit. I am so glad I did.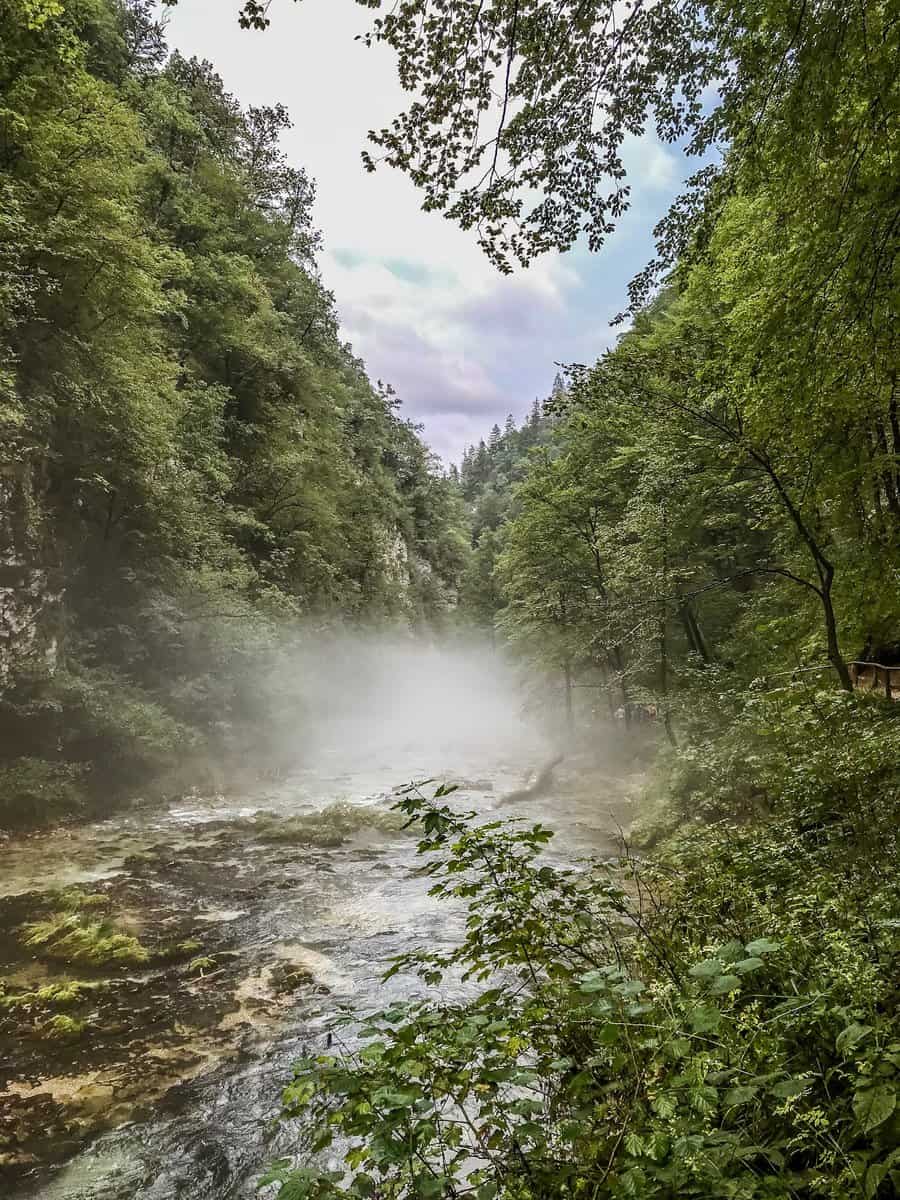 This enchanting river is one of the most beautiful places to visit in Slovenia. Located in Triglav National Park, it was discovered in 1891 and made accessible to the public in 1893.  The gorge has been carved out by the crystal clear Radovna River, which created many pools and rapids that end in a giant 13 m waterfall, Sum Falls, the largest river waterfall in Slovenia. The Slovenians did an impressive job at building broad walks which run along 1.6 km and provide a fun and very Indiana Jones- like experience for adults and kids as you are momentarily suspended over the gushing river, looking directly into the emerald water and if you are lucky you might even spot giant fish swimming.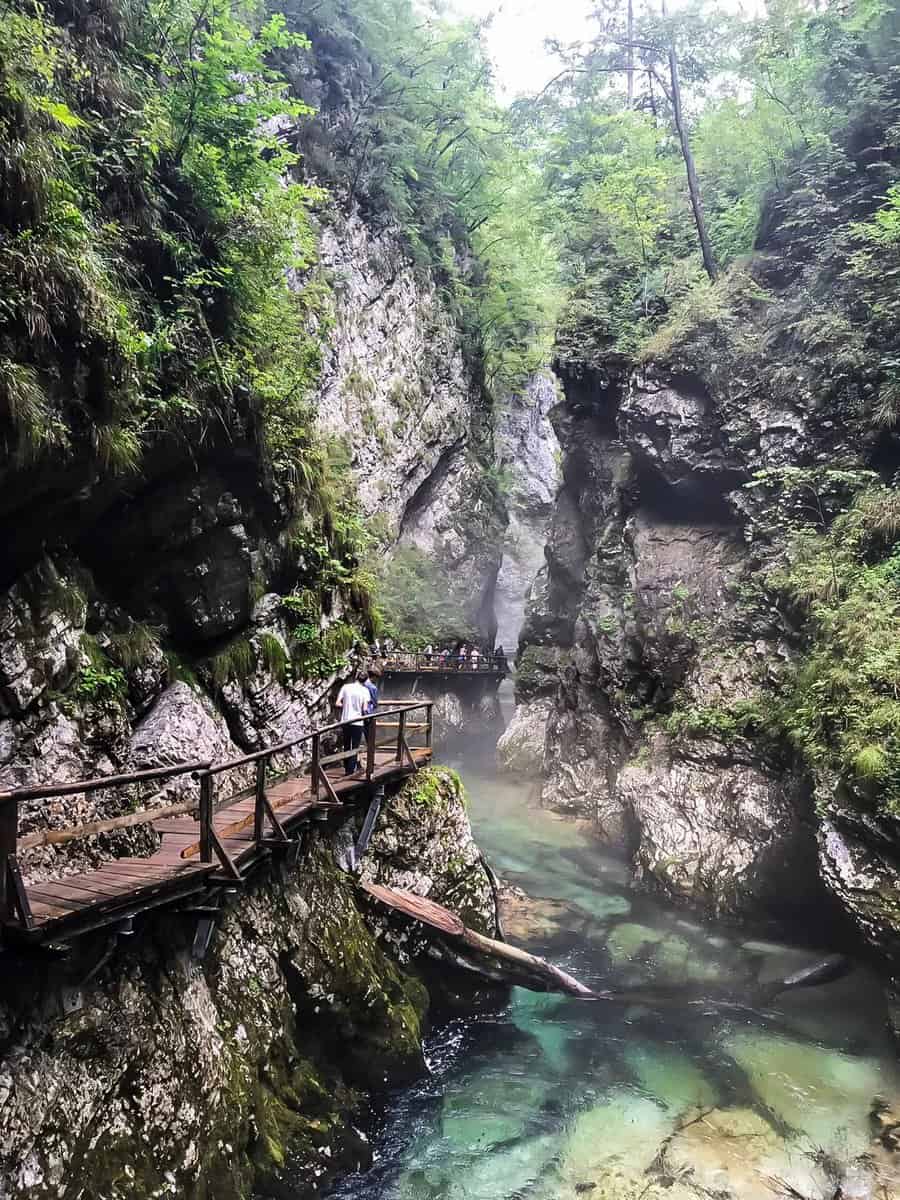 Vintgar gorge is one of Slovenia's most visited attractions nowadays but a lot of people choose to skip it and prefer to head to nearby attractions. I highly recommend you stop by especially as it's so close to Bled and visiting it should take you no more than 2 hours. 
Lake Bohinj
Lake Bohinj is an outdoor enthusiast's paradise. From hiking and cycling around the lake to kayaking and swimming in its waters, there are plenty of ways to explore this spectacular wonder of nature. As much as I loved the breathtaking beauty of Lake Bled, Bohinj is where I felt the most at peace. I had planned to spend a whole afternoon there but it rained buckets that day so I saw it briefly on my Soca Valley tour and witnessed a gorgeous sunset while there.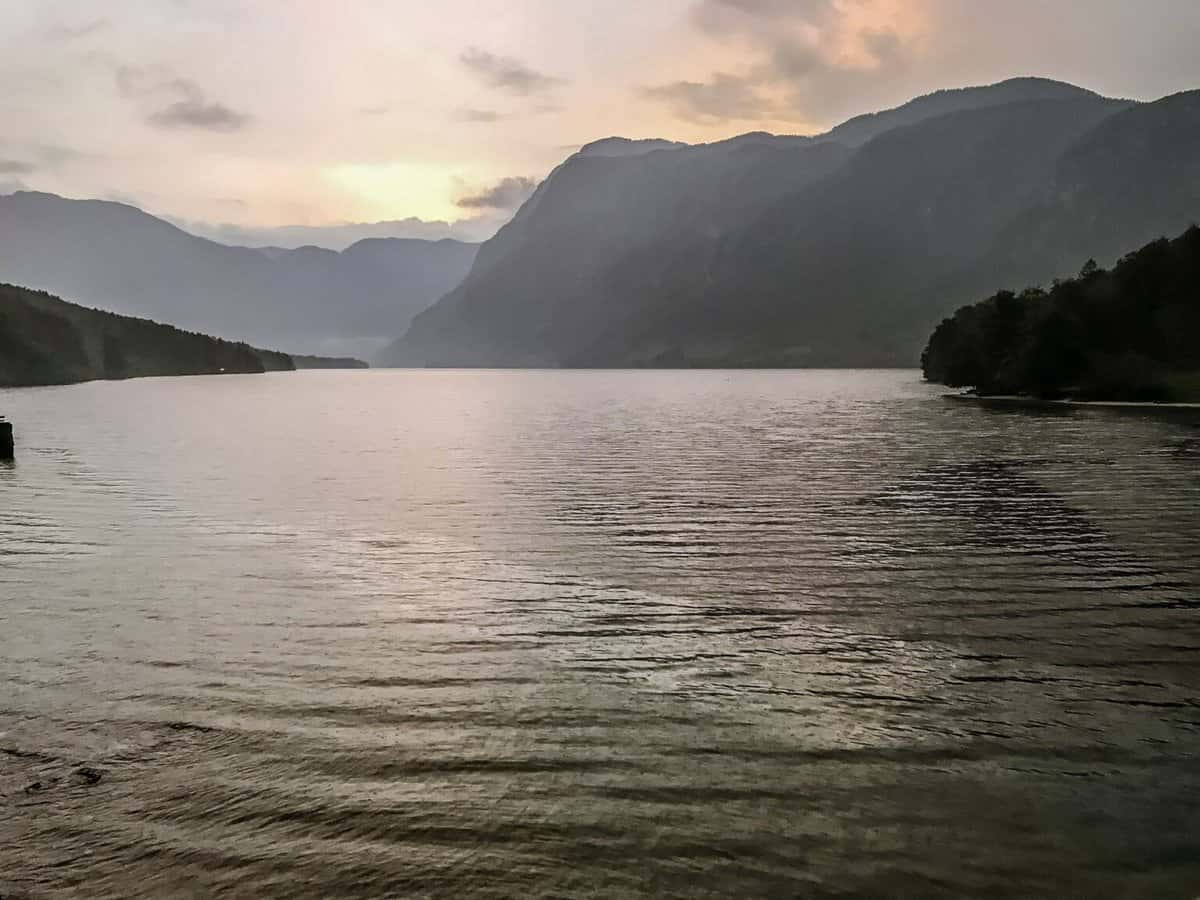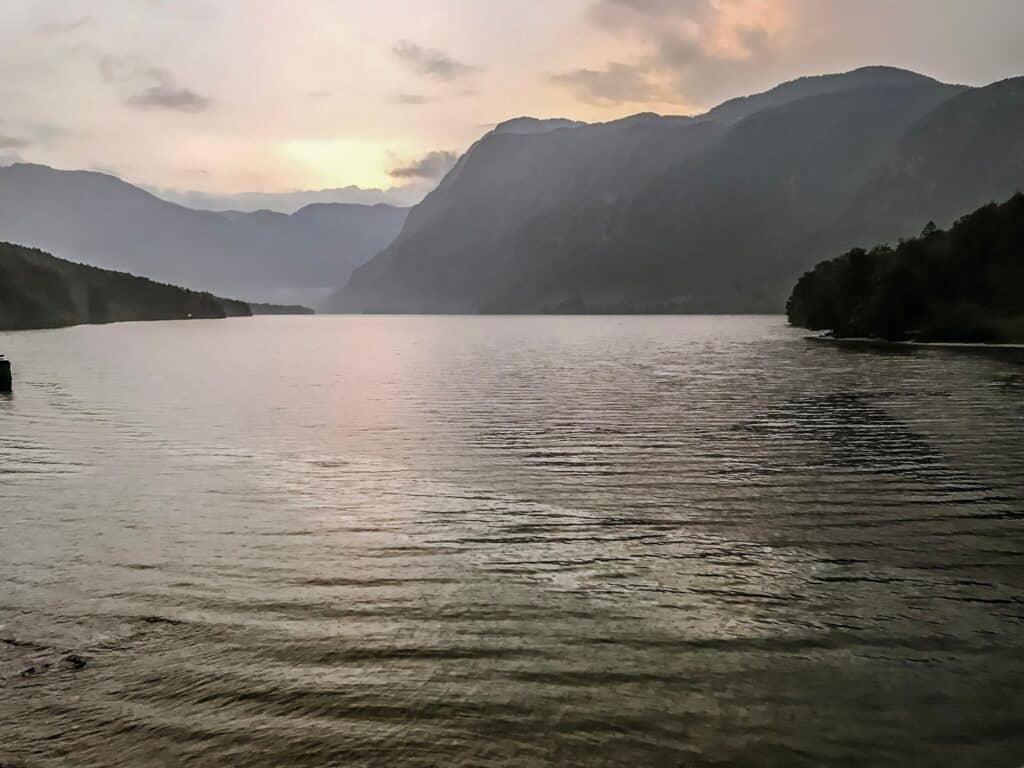 Soča Valley and Triglav national park
. 
You are serene as the mountain air,
You are loud as the vigorous
Chant of the highland youth –
You are splendid, daughter of the heights.

 

-Simon Gregorčič – To the river Soča
Soča river is the reason I decided to visit Slovenia. When I first saw the pictures on the internet, I thought the colours of the water were enhanced or photoshopped as it sometimes looked green, sometimes blue and other times white. In the end, I decided that the only way to find out would be to see it for myself.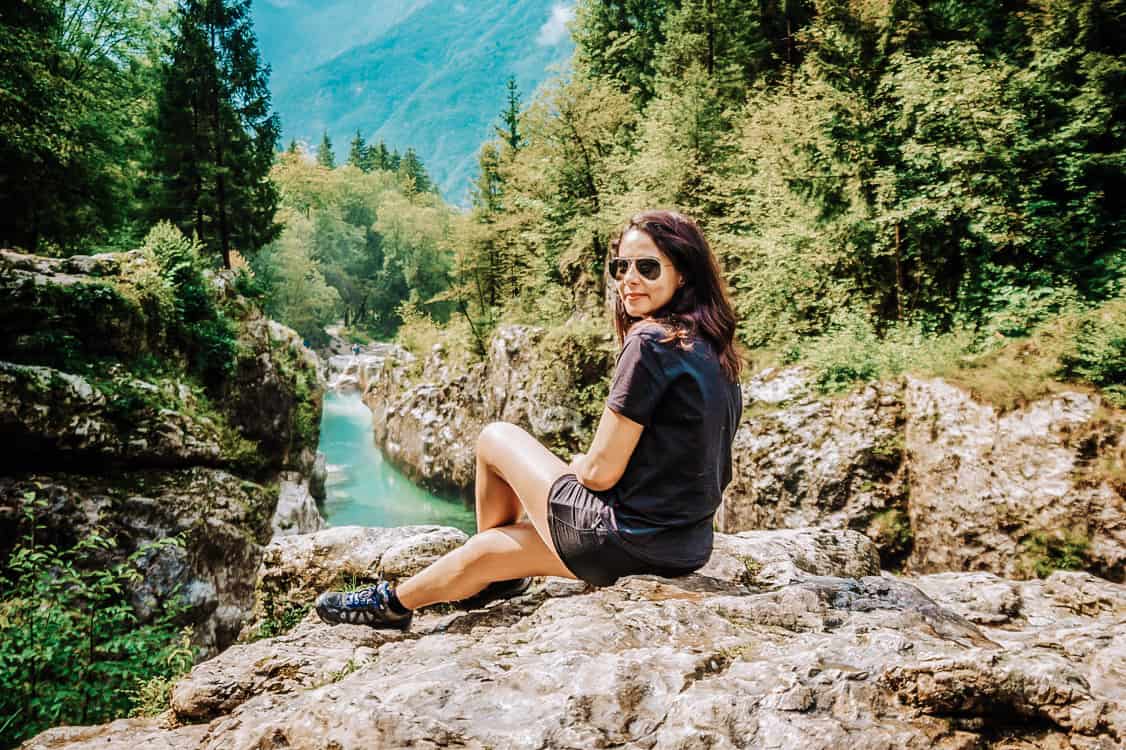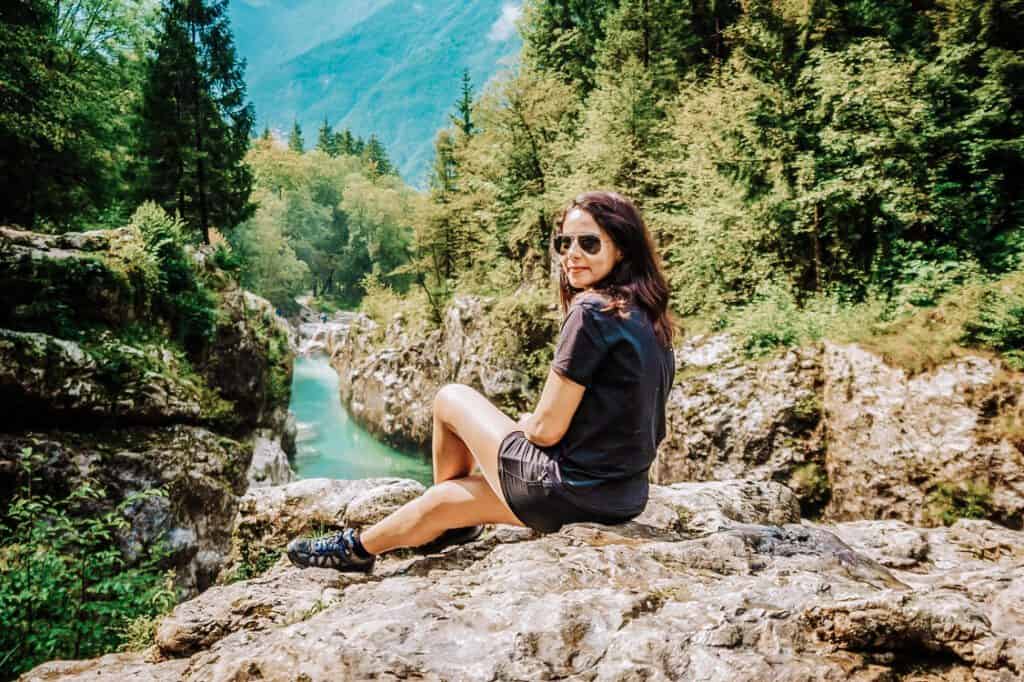 Featured in The Chronicles of Narnia (Prince Caspian edition), Soča valley is a 138-kilometre-long river that flows through western Slovenia and northeastern Italy. It's also known by its Italian name, Isonzo.  The river is part of the Triglav National Park and runs past the towns of Bovec, Kobarid, Tolmin, Kanal ob Soči and Nova Gorica. Getting there by public transport is not easy and I haven't seen any buses or coaches when I was there so they probably only go as far as Bovec or Kobarid and from there you might be able to get a taxi. I did contemplate hiring a car for the day but read that the roads can be quite narrow and tricky to navigate so in the end I booked a tour with Mamut tour agency and I'm so glad I did. The roads are indeed bendy and narrow and would require a very experienced driver. If you are planning to drive I recommend you do your homework as the river is quite long and the trail is over 20 km long and not all of it is accessible or interesting to see. Only a limited portion of it hosts the scenic white rocks and gorges, so map your route in advance or you might end up wasting quite a lot of time trying to locate them.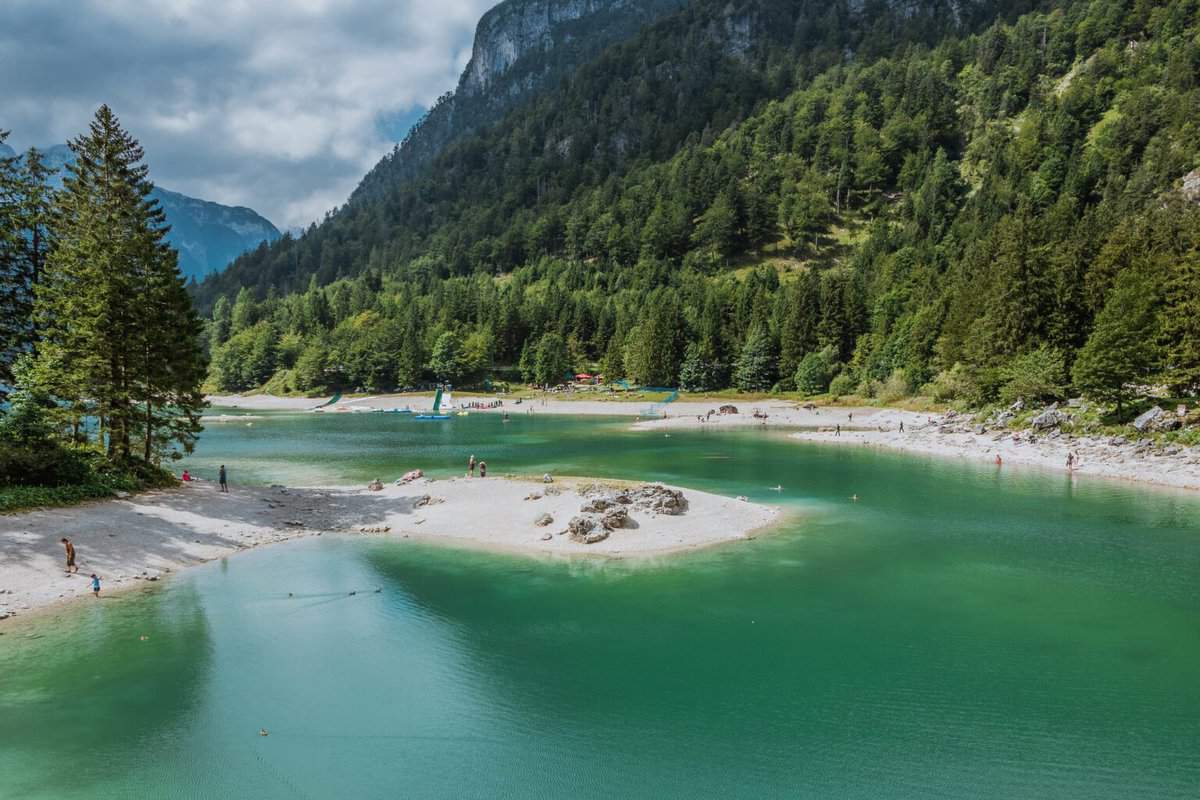 The region also comes with its share of bloody history. It's hard to believe that this idyllic valley was once the scene of the largest mountain battle between Italy and the Austro-Hungarian Empire during World War I. This cultural and historical heritage is preserved in the Kobarid Museum.
PIRAN
I couldn't leave Slovenia without visiting the coast. Slovenia has a small coastline that stretches over 46 km to the Adriatic Sea. The Slovenian Istria comprises three small coastal towns, Koper, Izola, and Piran. You can visit all 3 towns in one day but I wasn't driving and didn't want to spend the day hopping on and off buses so I chose Piran because it's the one I was most interested in visiting.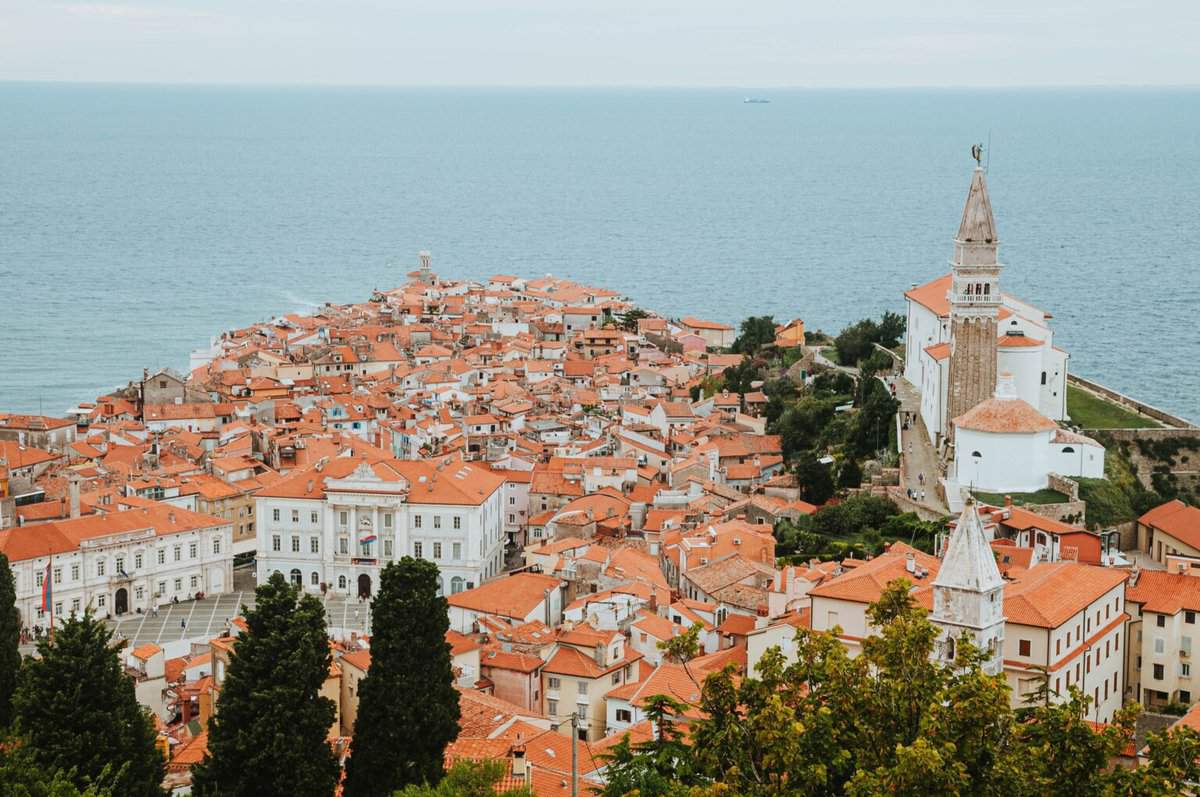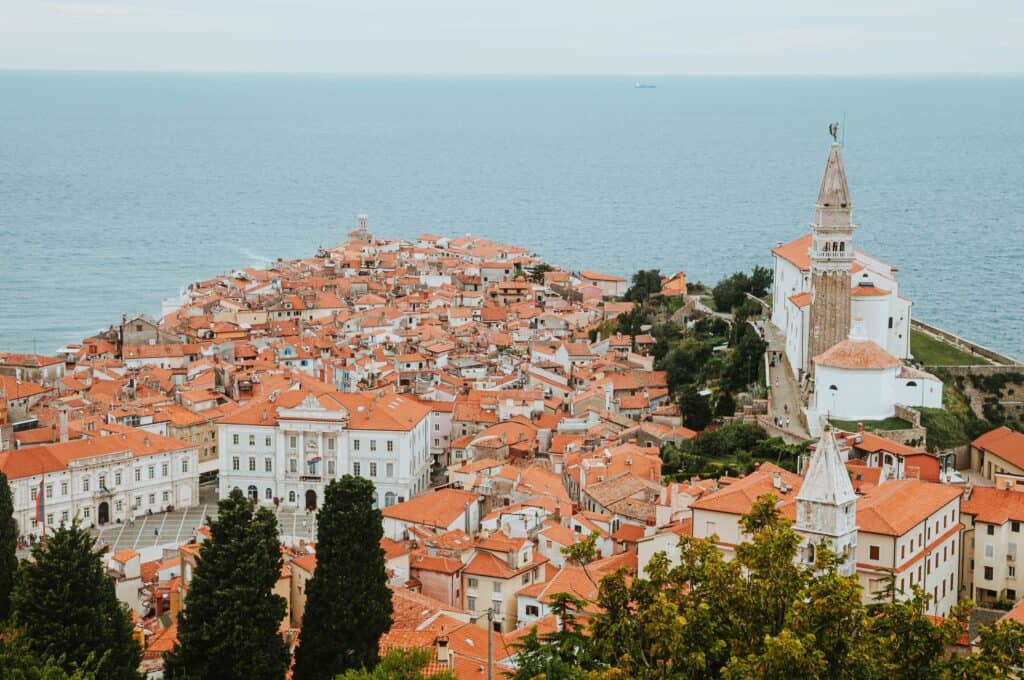 With a colourful main square, medieval walls, a bustling harbour, and lots of great seafood restaurants to choose from, Piran is one of Slovenia's best small towns to visit in the summer.
The historic harbour town is incredibly charming and reminiscent of other Adriatic cities such as Dubrovnik or Kotor but has an instant Mediterranean feel left by half a millennium of Venetian rule and found in the Gothic architecture, narrow alleyways and delicious cuisine.
How to get there?
There are direct flights from London to Ljubljana and the flight time is just under 2h30. Flights can be inexpensive if you travel in the shoulder season. I travelled in August in the peak of the summer holidays when direct flights were expensive so I flew with Ryanair to Venice and from there I took a 2 hours FlixBus to Ljubljana. 
What is the best Time To visit Slovenia?
This depends largely on what type of experience you're after. If you like the outdoors and want to indulge in hiking or skiing then summer (June-August) or winter (November-March) are the best seasons for travel. If you are looking for a more relaxed holiday then go in spring (April-May) or autumn (September-October) when temperatures are pleasant and there are less crowds.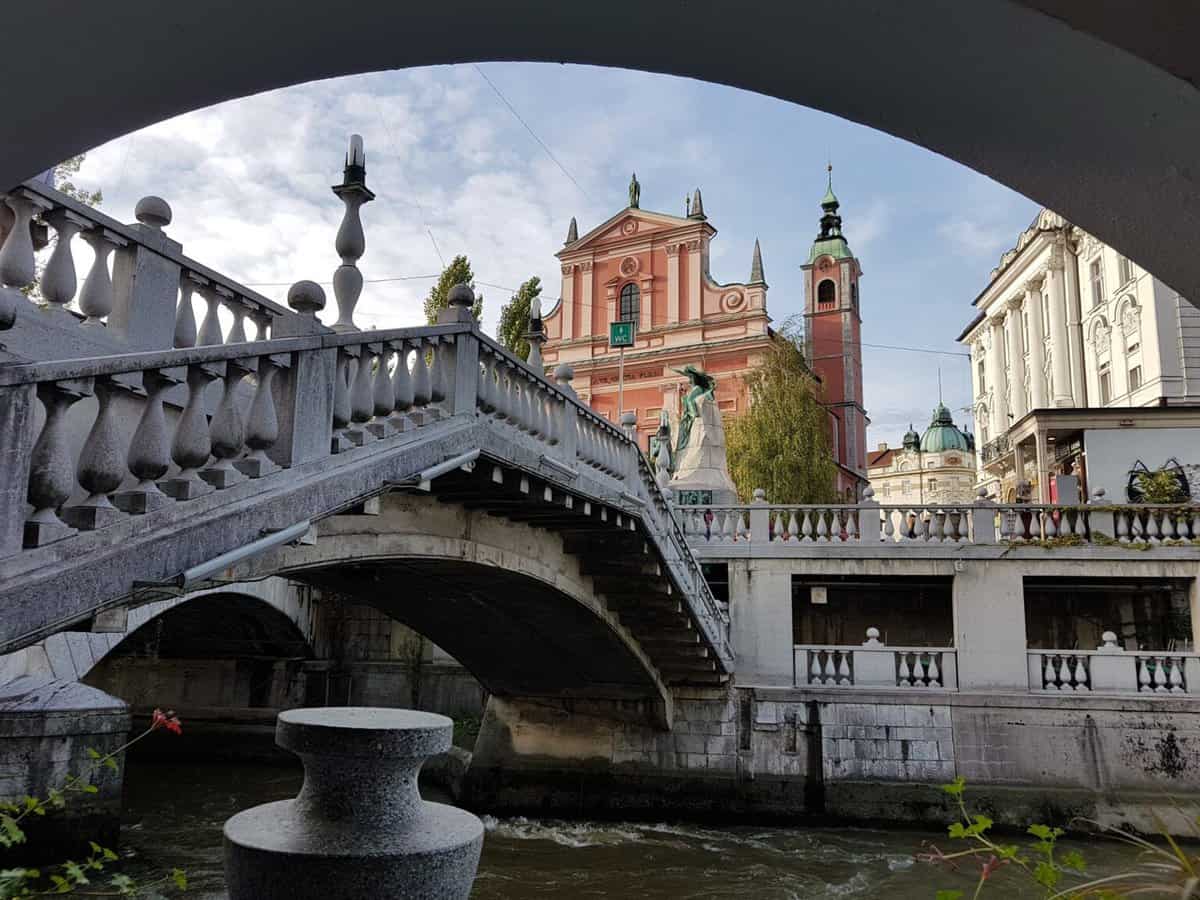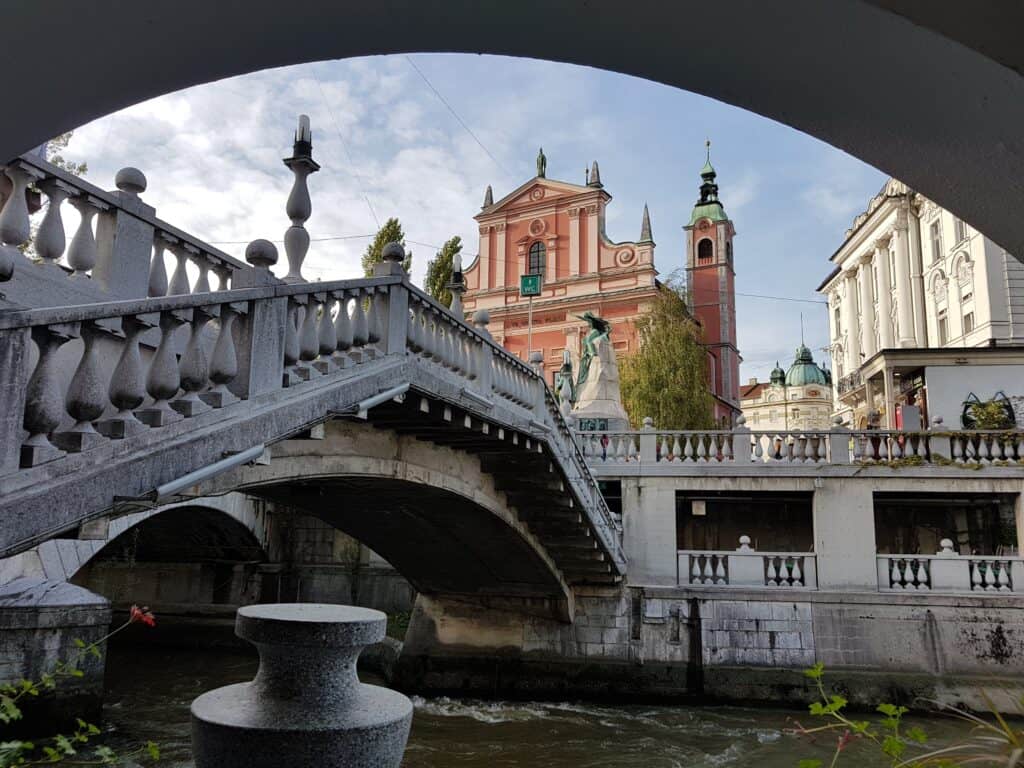 Is Slovenia expensive?
Slovenia is pretty affordable compared to other European nations but prices can still vary depending on the season and type of experiences you're after. There is plenty of accommodation for all budgets and food prices range from €5-€20 per meal depending on where you eat. Travelling by public transport is quite affordable and reliable but if you want to see a lot then a rental car is a better option.  
Is Slovenia Safe For Solo female Travellers?
I travelled solo everywhere in Slovenia and felt very safe. I found the locals to be very helpful and respectful.  As with any destination, you should always be aware of your surroundings and stick to public places. It's also best practice not to carry large amounts of cash and make sure you take a travel insurance particularly if you are planning to engage in outdoors activities.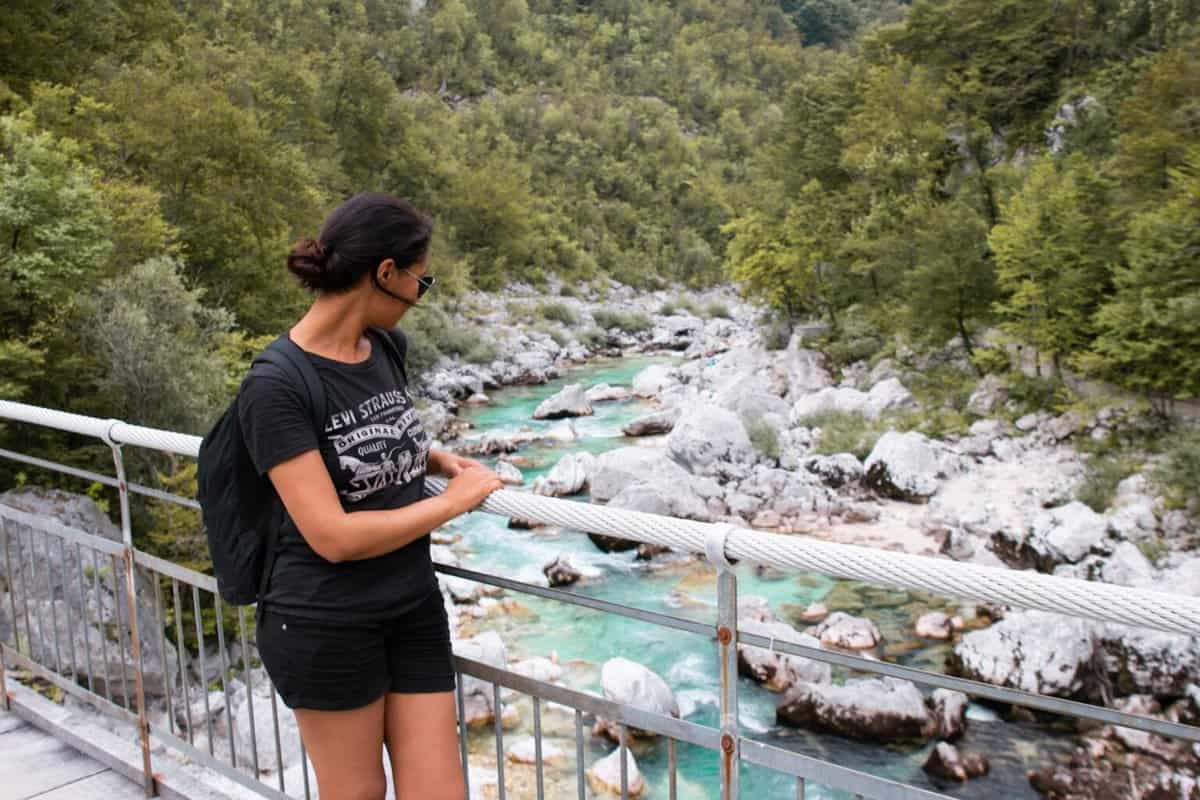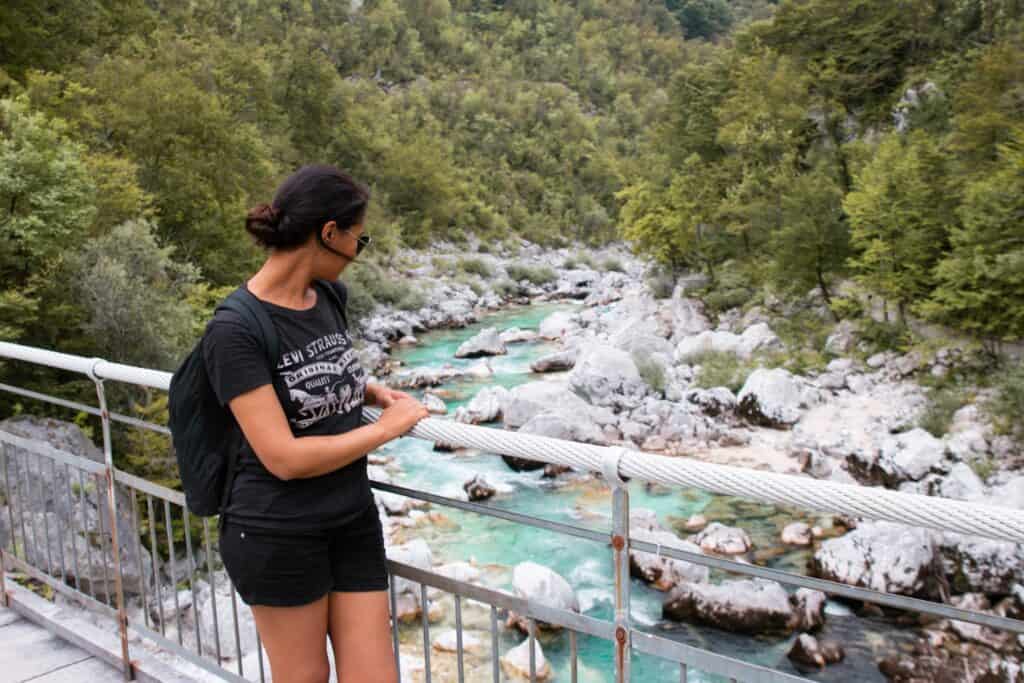 There is still so much in Slovenia that I would love to see and do but this 5-day itinerary is ideal for first time travellers who like a bit of adventure and a lot of quality time exploring. 
Have you been to Slovenia? did you choose a different itinerary? why don't you share your suggestions and tips in the comments below.